This list of healthy smoothie bowl recipes are the perfect way to start your morning. There are so many options to fall in love with!
There is something for everyone here! Smoothie bowls are my favorite breakfast because they are filled with nutrients and keep me full all morning long.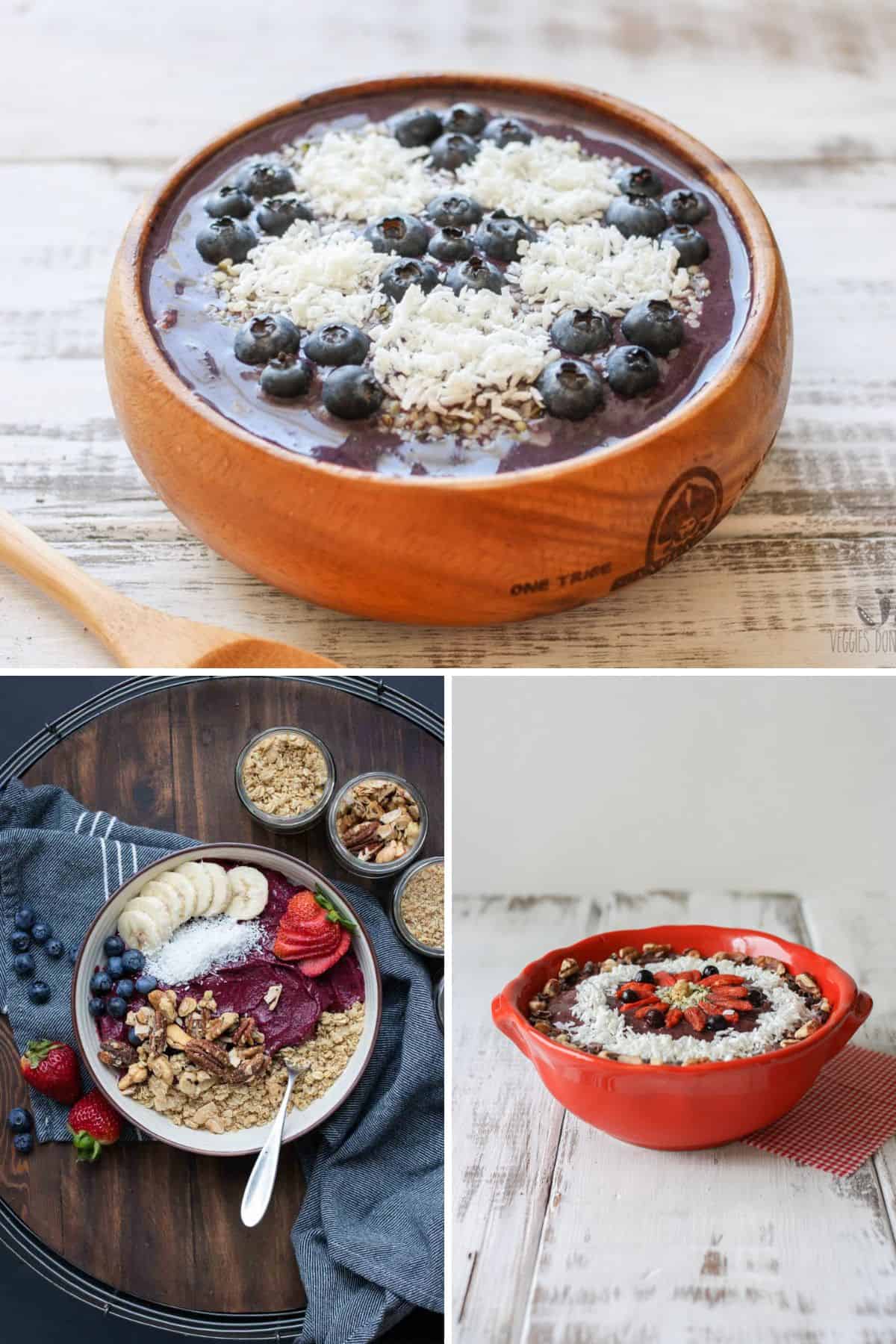 After showing you how to make the best thick smoothie bowl, I wanted to have a place to share all my ideas for smoothie bowl recipes. We mix and match so we never get bored!
There's something great about sitting down to a breakfast smoothie bowl loaded with all kinds of delicious toppings! They're fresh, healthy, taste great, and with the right mix of ingredients can keep you full for hours!
How to Make a Thick Smoothie Bowl
Before we get to all the yummy smoothie bowl ideas you need to know how to make one!
For all of the ideas below, the directions are the same you would follow from my post on how to make a thick smoothie bowl (which has extra detail and tips). Do the following:
Put frozen fruit into a blender.
Pulse to chop into small pieces, you almost want it shredded.

Make sure you pulse and not blend so that it doesn't get stuck.

Add the milk and nut butter if using.
Blend or pulse on low while stopping to move the mixture around. If you have a vitamix, the tamper will work well for this.

Do not blend on high or the heat will melt the mixture.

Once it is the consistency of a thick frozen yogurt, pour into a bowl and serve topped with the toppings you want!
How to Make a Smoothie Bowl Thicker
If your smoothie bowls aren't as thick as you'd like, you can always add in any of the following to make them even thicker:
Extra frozen fruit
Protein powder
Frozen avocado
Chia seeds
Oats
Healthy Smoothie Bowl Recipes
This list is a compilation of our favorite flavors of smoothie bowls. A few are recipes here on the site, but others are just ideas we put together. Try out these smoothie bowls for breakfast, as a snack or really any time of day!
Smoothie Bowl Ideas:
Spinach Banana Smoothie Bowl
1 ½ cups frozen banana
½ cup spinach
4-6 tablespoons milk
1-2 tablespoons almond butter
Tropical Smoothie Bowl
½ cup frozen pineapple
½ cup frozen banana
½ cup frozen mango
4-6 tablespoons milk
1-2 tablespoons almond butter
Peanut Butter and Jelly Smoothie Bowl
1 ½ cups frozen berries of choice
4-6 tablespoons milk
1-2 tablespoons peanut butter
Piña Colada Smoothie Bowl
1 ½ cups frozen pineapple chunks
3-5 tablespoons coconut milk
1 tablespoon lime juice
Strawberry Smoothie Bowl
1 ½ cups frozen strawberries
4-6 tablespoons milk
1-2 tablespoons almond butter
Green Smoothie Bowl
½ cup frozen kiwi
½ cup frozen avocado
½ cup frozen banana
½ cup spinach or kale
4-6 tablespoons milk
Chocolate Peanut Butter Banana Smoothie Bowl
1 ½ cups frozen banana
4-6 tablespoons milk
1-2 tablespoons peanut butter
1-2 tablespoons cocoa or cacao powder
Mango Smoothie Bowl
1 cup frozen mango
½ cup frozen banana
4-6 tablespoons milk
1-2 tablespoons almond butter
Mixed Berry
½ cup frozen blueberries
½ cup frozen blackberries
½ cup frozen raspberries
4-6 tablespoons milk
1-2 tablespoons almond butter
Peanut Butter Banana Smoothie Bowl
1 ½ cups frozen banana
4-6 tablespoons milk
1-2 tablespoons peanut butter
Strawberry Banana Smoothie Bowl
½ cup frozen strawberries
1 cup frozen banana
4-6 tablespoons milk
1-2 tablespoons almond butter
Acai Bowl
1 cup frozen acai berries
½ cup frozen bananas
4-6 tablespoons milk
1-2 tablespoons nut butter of choice
Orange and Pineapple Smoothie Bowl
1 cup frozen pineapple
½ cup frozen oranges
4-6 tablespoons orange juice
1-2 tablespoons almond butter
Peach Smoothie Bowl
1 cup frozen peaches
½ cup frozen banana
4-6 tablespoons orange juice or milk
1-2 tablespoons almond butter
Blueberry Muffin Smoothie Bowl
1 ½ cups frozen blueberries
4-6 tablespoons milk
1-2 tablespoons oats
Banana Smoothie Bowl
1 ½ cups bananas
4-6 tablespoons milk
1-2 tablespoons almond butter
Apple Pie Smoothie Bowl 17
1 ½ cup frozen apples
4-6 tablespoons milk
1-2 tablespoons oats
1 tablespoon maple syrup
dash of cinnamon
Pumpkin Smoothie Bowl
1 ½ cups frozen pumpkin purée
4-6 tablespoons milk
1-2 tablespoons almond butter or oats
a sprinkle of pumpkin pie spice (optional)
Smoothie Bowl Recipes on the Site