Feeding your child healthy baby food as they grow and develop is so important. There are so many options from homemade to store bought!
Feeding your baby can be so overwhelming. This guide will help you navigate all you need to know with how to get started and what food is best!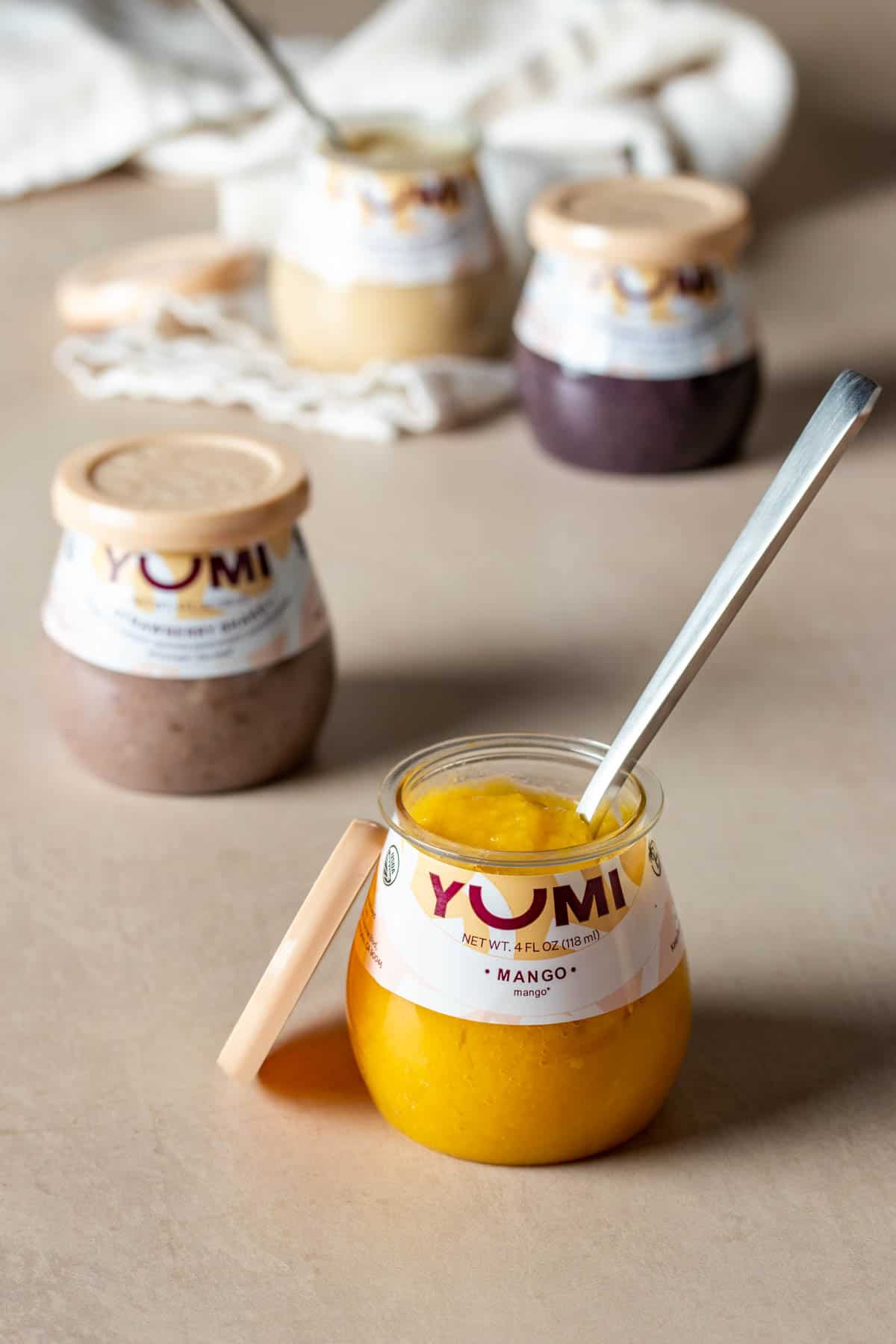 This post was sponsored by Yumi but the content and opinions expressed are fully my own.
This post was originally published on September 18, 2015.
Starting solids with your baby is an exciting but confusing time! Which is why I am breaking it all down and giving you the info you need, without all the confusing messages. There is no wrong choice; you simply need to make the decision that is best for you and your family.
Feeding your baby delicious plant-based food is the best gift you can give. That being said, us moms are stretched thin as it is, and those bottled ready made foods are just so tempting.
But so many are just nasty! Personally, I would never feed my kids anything I wouldn't eat myself. So I am always on the hunt for baby and toddler foods that are made with, well... real food. One of my favorite brands is YUMI , it's real food and actually tastes like it!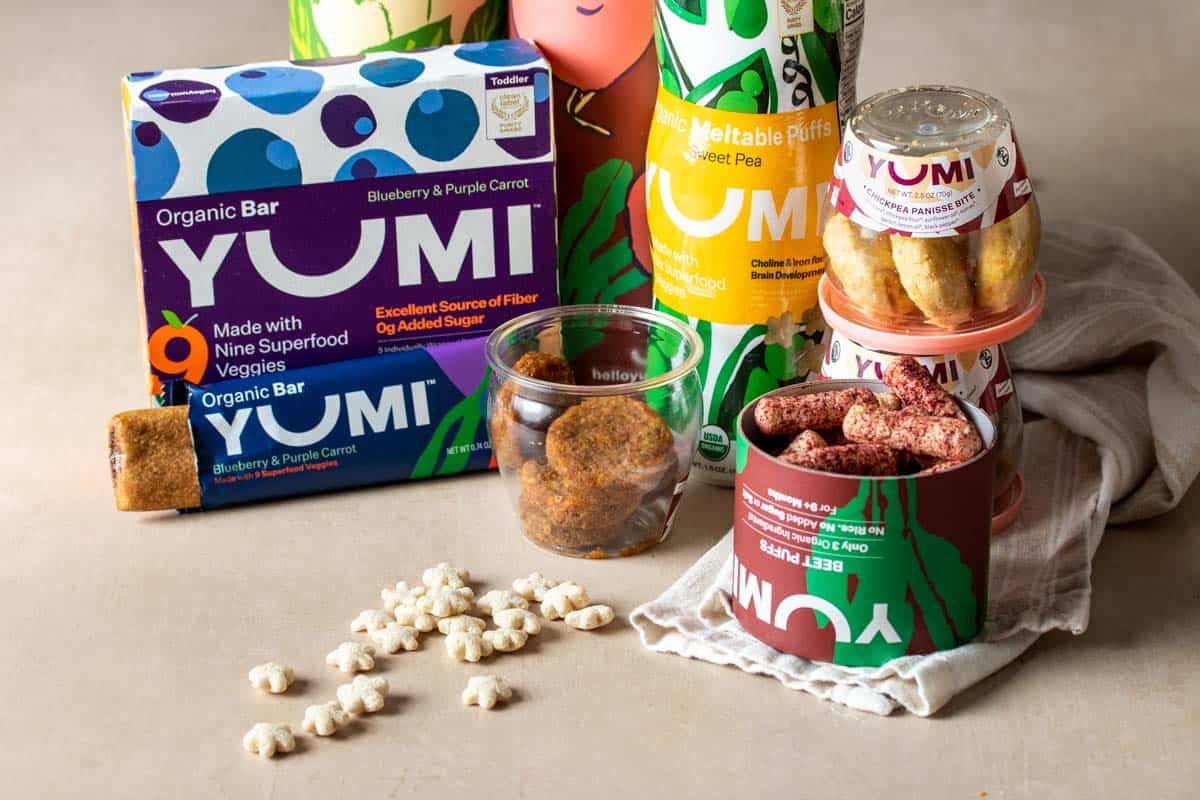 Tips for Starting
I can't stress enough the importance of developing a palate for foods EARLY. A baby's taste buds are uber sensitive. Taste buds actually stop regenerating as we age, so that's why you see so many older people loading on the salt. So it's really important to take advantage of a baby's sensitive tastes.
Having them feel the real flavors of veggies, fruit and even spice and seasonings at a young age will pave the road to better eating later on. Which is why it's so important to either make your own or find quality store bought baby food.
People just gawk at all the different foods my kids will eat and try. Fortunately, and unfortunately for our wallet, they rarely, if ever, order off the bland kids' menu.
Is your baby ready for solids?
The American Academy of Pediatrics suggests holding off on giving your baby anything other than breastmilk or formula until they show signs of readiness. For most, this is around 6 months.
Signs of readiness:
They're able to sit up on their own
They can hold their head up on their own.
They don't push solid foods out of their mouth with the tongue-thrust reflex.
They have begun to develop their pincer grasp (the ability to grab things with their thumb and index finger).
They show an increased interest in watching you eat.
You've gotten the go-ahead from your child's pediatrician.
Dos and Don'ts
If you and your child's pediatrician have established your baby is ready to start eating baby food, here are some tips:
Talk to your doctor about high allergen foods like nuts, soy, etc.
Consult your doctor about foods that could cause an infection for children under 1, such as honey; and cow's milk, unpasteurized dairy, or undercooked meat, fish, etc. if you are not sticking to plant based.
It's a good idea to introduce foods one at a time and wait 3-4 days after exposure to make sure there are no reactions.
Also take caution with highly acidic foods like tomatoes, pineapple, citrus, and even spicy things. Different babies can tolerate these types of foods at different times.
Watch out for choking hazards like popcorn, raisins, chips, nuts, raw and firm fruits and veggies, and whole grapes.
Make it a fun experience by keeping things positive. It is a process that takes time!
Eat as a family. Babies are more likely to eat if everyone else is, plus it boosts the fun.
As messy as it will be, let them try to feed themselves. This is not only fun, but it allows them to have control, which will help them be more open to new flavors and textures.
Fun fact, did you know it may take a child seeing a food 10-15 times before they will try it or decide if they like it? So keep on offering over and over, even if they make that oh so adorable yucky face!
The Best Brand of Baby Food
One of the best baby food brands is YUMI. They have a variety of flavors of baby food for all of the different stages.
First food singles with a thin consistency and thicker single ingredient purees
Two ingredient blends
Multiple ingredients
Mashables that feature texture and grains
Pinchables that can be picked up
Bites, which are solid food and can honestly be snacked on by anyone!
As if the selection wasn't enough, here are all the reasons I love them:
They use high quality, organic ingredients sourced from local farmers.
They use actual science and a board of nutrition and pediatric experts to decide what is best for the kiddos.
No added sugar
No preservatives
No G.M.O.s
Gluten free
None of the 9 big allergens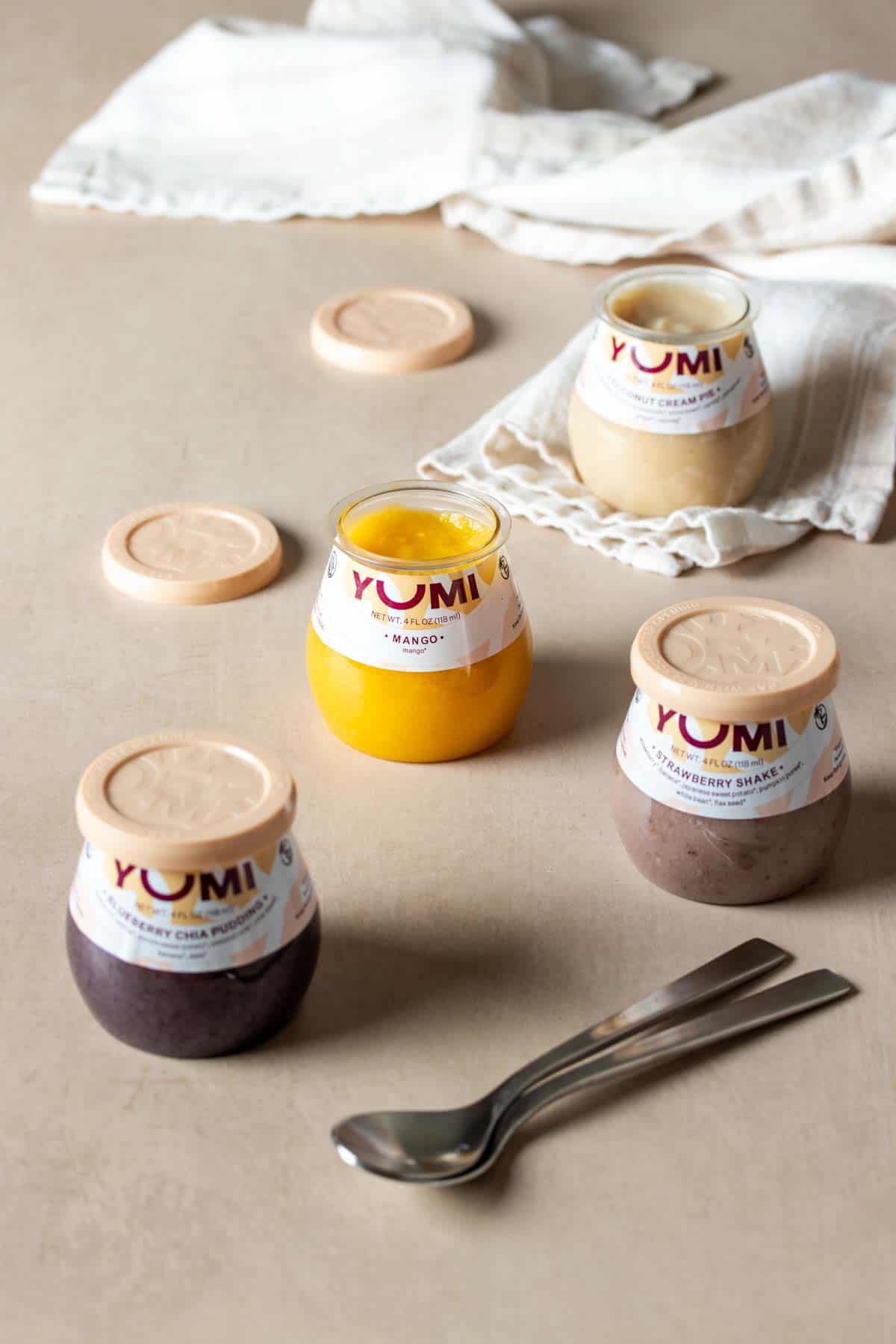 Best First Foods for Baby
OK, so you're ready to start solids, but what's the best baby food to start with?
Keep it simple at first. Don't use salt, but spices like oregano, cinnamon, basil...it's all awesome stuff to have them try out.
If you're using store bought baby food, make sure the ingredients match the stage your baby is in. Trusted brands like YUMI do their research and create the best foods for each stage of feeding.
Here are some general guidelines to follow whether you use store bought baby food, make your own, or a combo of each!
Stage 1: Start Simple
Introducing veggies one at a time (give each one alone for 3-4 days in a row to make sure there are no reactions) at first is highly recommended.
While it isn't scientifically proven, the idea of getting them in on the savory vegetable flavors first is ideal. If you have had the most amazing sweet fruit, then broccoli may not be as appealing to developing tastes.
Foods we started with:
avocado
zucchini
yellow squash
other summer squash
peas
green beans
pumpkin
cauliflower
Then moved on to the sweeter veggies:
carrot
sweet potato
butternut squash and other winter squashes
After that, we incorporated the leafy greens and textured veggies:
spinach
kale
chard
broccoli
potato
Then we introduced fruits:
banana
peach
apricot
apple
pear
nectarine
Stage 2: Mixing it up
Start introducing blends of flavors.
First, we introduced beans mixed with our veggies:
lentils
black
white
pinto
garbanzo
black eye
Then we mixed in fruits with some veggies or mixed them within themselves:
apple and zucchini
pears and pumpkin
peaches and carrots
Finally, we incorporated non-spicy spices and seasonings as we mixed different veggies and/or fruits together:
cinnamon
cumin
basil
oregano
dill
cilantro
parsley
thyme
Stage 3: Soft chunks
After this point, we simply used our nightly meals to feed our babies. With each child, we moved through these steps at different paces, letting them guide us with what they tolerated. Beans were introduced very slowly for our second who seemed to be more sensitive, but other things were moved on to quicker.
As they learn how to navigate feeding themselves, you can give them more whole soft foods, but cut in thin enough pieces so they don't choke.
It's best to read how your baby reacts to each thing and follow the advice of your pediatrician.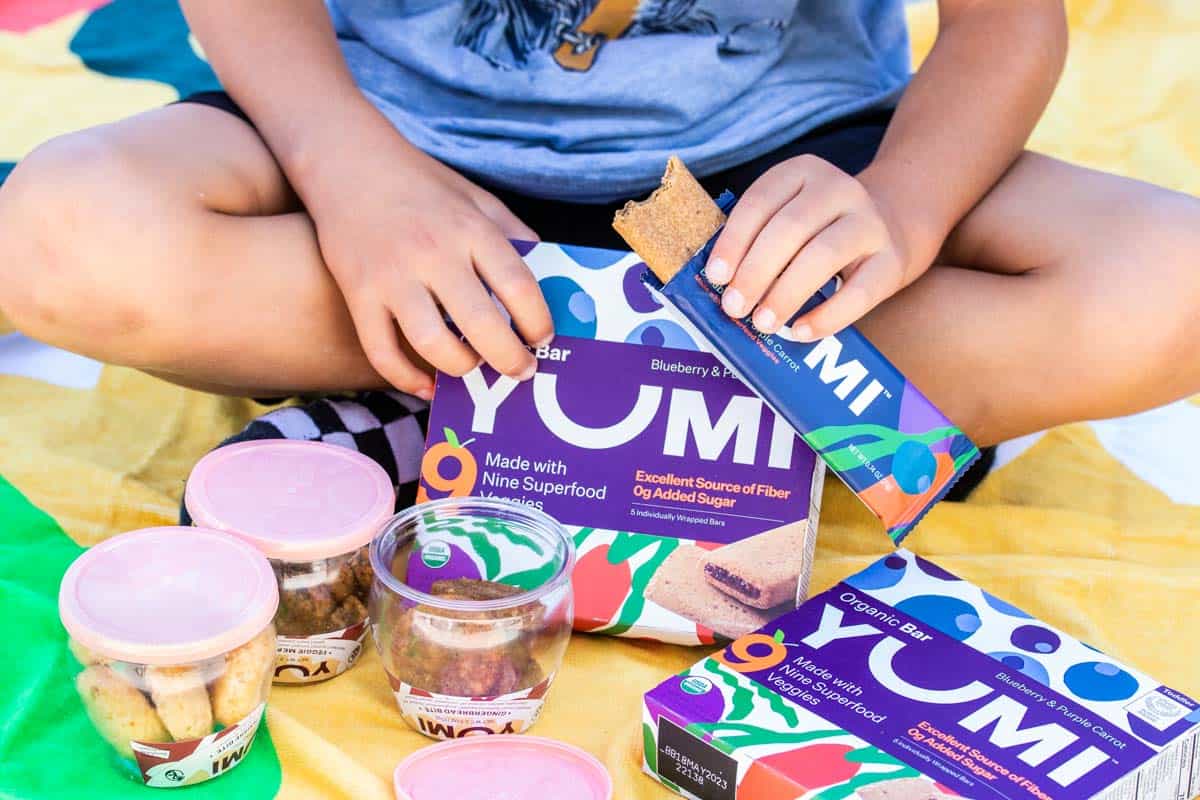 How to Make Baby Food
Having healthy ready to eat baby food is so important. Whether you need the convenience of amazing brands like YUMI baby food, or have time to make your own, it's great to have options.
If you're looking to make some homemade baby food, here are some tips and tricks to get your started:
Steam or roast the veggies and firm fruit like apples.
Mix with your liquid of choice, water, breastmilk, or formula are all excellent options.
Add a little at a time until you get a thin but still substantial consistency.
You can also add in baby oatmeal, multigrain cereal, or other grain of choice in order to thicken it.
If the flavor is a bit too tart, you can incorporate banana, avocado, sweet potato, or applesauce to tone it down.
Manually mash and mix by hand, or use a food processor or blender! If you use a blender, you'll need at least 1 cup of ingredients for it to mix properly.
I have also added baby and kid food ideas in the notes section on many of my recipes, so that you can use one meal for the whole family from baby to adult. And if you have a grandma in there with no teeth, it works too!
Even meals like my vegan moussaka can easily be used to feed the littles too, simply follow my notes on how to do it. If there is a recipe you love that doesn't include the tips in notes, get in touch and I can add it for you!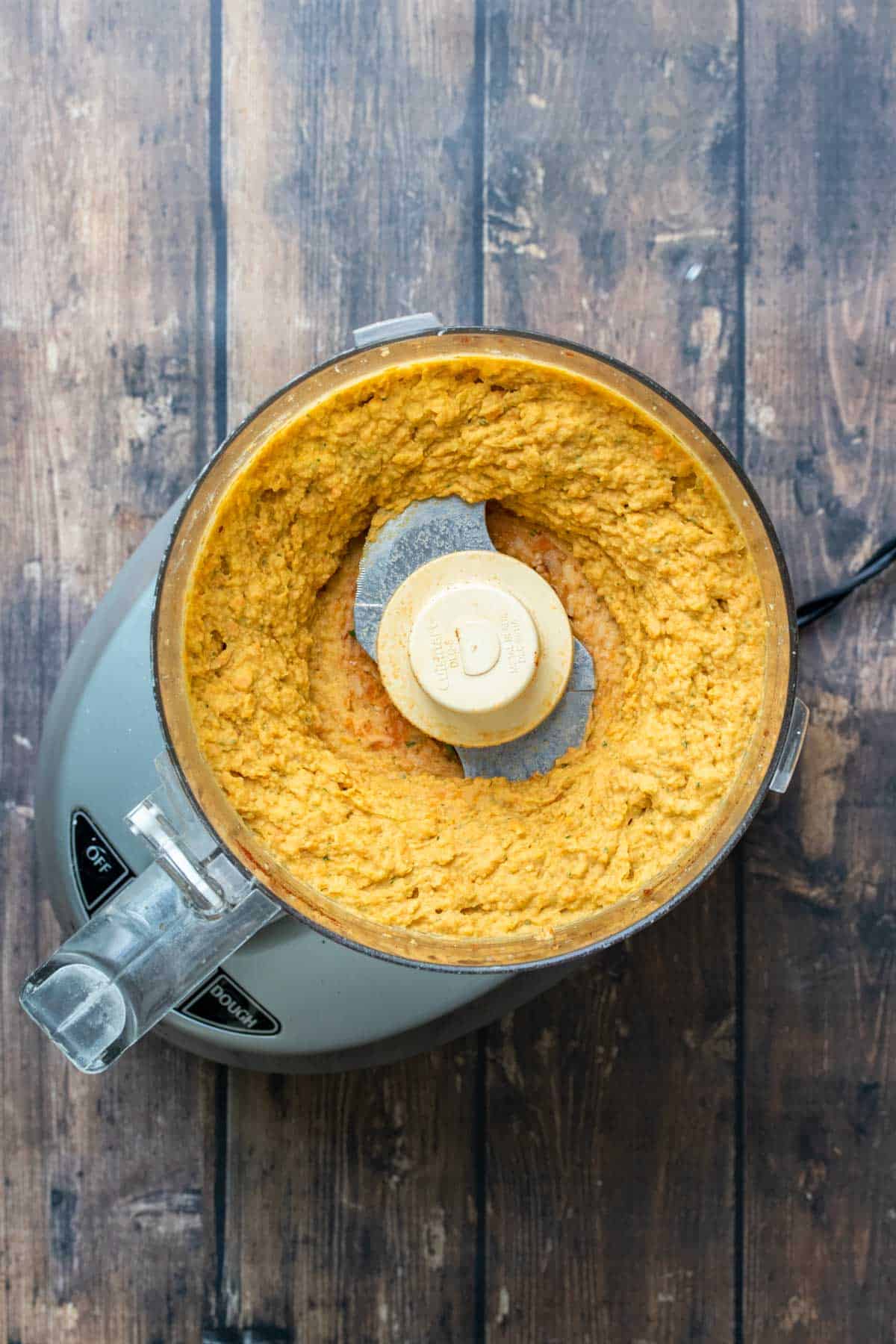 Healthy Baby Food Recipes
Once you get the simple purées down, start adding in more flavor! These plant based recipes are great for every member in the family. They're either ready to serve to babies, or are easily adapted.
Storage Tips
Fresh baby food is best within 3-5 days when stored in the refrigerator.
If you need to keep it longer, pour the purées into ice cube trays and freeze until solid. Then, transfer to an airtight container and freeze for up to 3 months.
If you buy baby food, the best brands, ones that use real food like YUMI, will have a best buy date. Oftentimes they will also give tips on freezing the food until you are ready to use it to make it last longer.
For YUMI baby food, you can freeze and keep it good to eat until the best buy date. But if you keep it in the refrigerator, make sure to use it within 7 days.