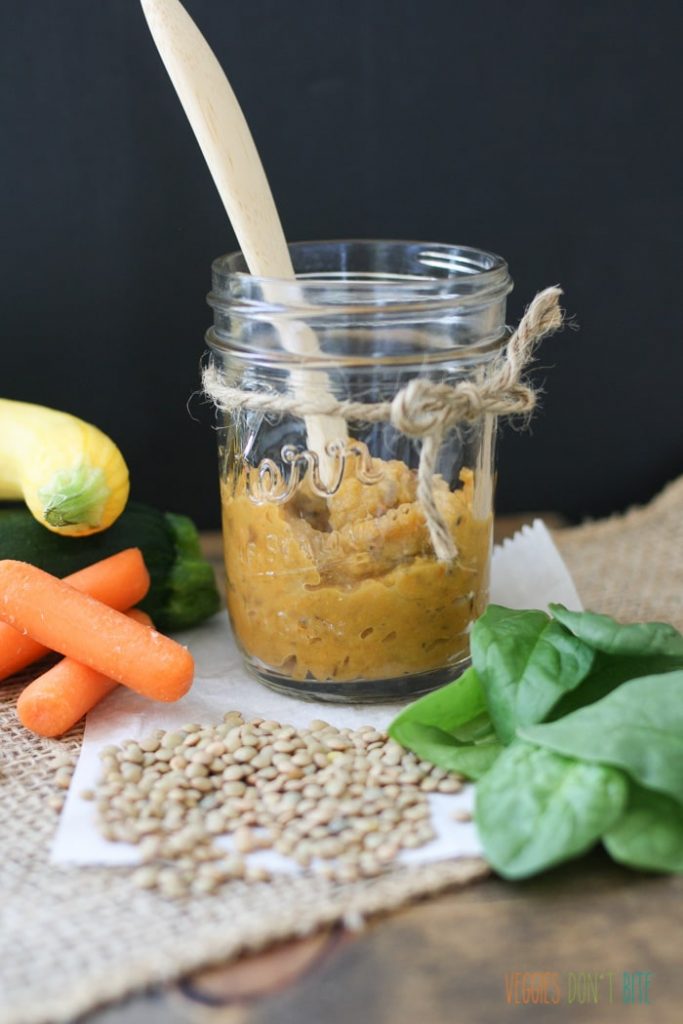 Feeding your baby delicious plant based food is the best gift you can give. That being said, us moms are stretched thin as it is and those bottled ready made foods are just so tempting. But have you ever tried them?! They. Are. Nasty. Most of the ones I've tried at least. I mean personally I would never feed my kids anything I wouldn't eat myself. So I dedicated myself to only giving them home-made delicious food that I too would put in my belly. Lucky for you, I have documented my progress, collected tips and ideas, and now I officially have baby and kid food ideas in the notes section on my recipes. One meal for the whole entire family, from baby to adult. And if you have a grandma in there with no teeth, it works too! Check out the category of recipes here and start trying out your new easy way to put dinner on the table!
You may be wondering, "What are the benefits of all this good food?" "Why is this so much better than the bottled stuff?" Well, other than the obvious answer of real home-made food is just healthier, it also tastes so much better and more like real food. I can't stress enough the importance of developing a palate for foods EARLY. A baby's taste buds are uber sensitive, taste buds actually stop regenerating as we age so that's why you see so many older people loading on the salt. So it's really important to take advantage of a baby's sensitive tastes. Having them feel the real flavors of veggies, fruit and even spice and seasonings at a young age will pave the road to better eating later on. People just gawk at all the different foods my kids will eat and try. Fortunately, and unfortunately for our wallet, they rarely if ever order off the bland kids menu. The waiter is always shocked when we order normal meals for them. They actually enjoy eating and trying out lots of different flavors. I strongly believe it's because I not only made my own food, but introduced so many flavors to them early on. Don't be shy, season the food you give your babies! Lay low to zero on the salt, but spices like oregano, cinnamon, basil…it's all awesome stuff to have them try out. Fun fact, did you know it may take a child seeing a food 10-15 times before they will try it or decide if they like it? So keep on offering over and over, even if they make that oh so adorable yucky face!
All of the baby food recipes here are for the baby already established with food. But how do you get there? Everyone is different on their approach, and you should always ask your doctor for advice before trying out solids, but here's the approach we took and how we got our little guys to the stage where they were eating it all! Foods to hold off on and talk to your doctor about are the high allergen foods like nuts, soy, etc. Also take caution with high acidic foods like tomatoes, citrus and even spicy things. Different babies can tolerate these types of foods at different times.
Stage 1: Introducing veggies one at a time (give each one alone for 3-4 days in a row to make sure there are no reactions)- steam or roast and then mix with liquid of choice until you get a thin but still substantial consistency. You can also add in baby oatmeal, multigrain cereal or other grain of choice in order to thicken it.
Foods we started with: avocado, zucchini, yellow squash, other summer squash, peas, green beans, pumpkin, cauliflower
Then moved on to the sweeter veggies: carrot, sweet potato, butternut squash and other winter squashes
After that we incorporated the leafy greens and textured veggies: spinach, kale, chard, broccoli, potato
Then we introduced fruits: banana, peach, apricot, apple, pear, nectarine
Stage 2: Mixing it up
First we introduced beans mixed with our veggies: lentils, black, white, pinto, garbanzo, black eye
Then we mixed in fruits with some veggies or mixed them within themselves: apple and zucchini, pears and pumpkin, peaches and carrots
Finally we incorporated non spicy spices and seasonings as we mixed different veggies and/or fruits together: cinnamon, cumin, basil, oregano, dill, cilantro, parsley, thyme
After this point we simply used our nightly meals to feed our babies. With each child we moved through these steps at different paces, letting them guide us with what they tolerated. Beans were introduced very slowly for our second who seemed to be more sensitive, but other things were moved on to quicker. It's best to read how your baby reacts to each thing and follow the advice of your pediatrician. But one thing for sure, is that home made food is always better than prepackaged!
Please feel free to get in touch with any questions you may have, I'd be happy to share what worked with us and our family!
Happy eating!