The flavor of this roasted carrot hummus recipe is unreal! Get ready to blow your guests away with this creamy, rich, mouthwatering vegan dip!
Once I start eating this, I literally can't stop. From crackers, to pretzels and any veggie I can dip in. It's not only healthy it's something I crave daily!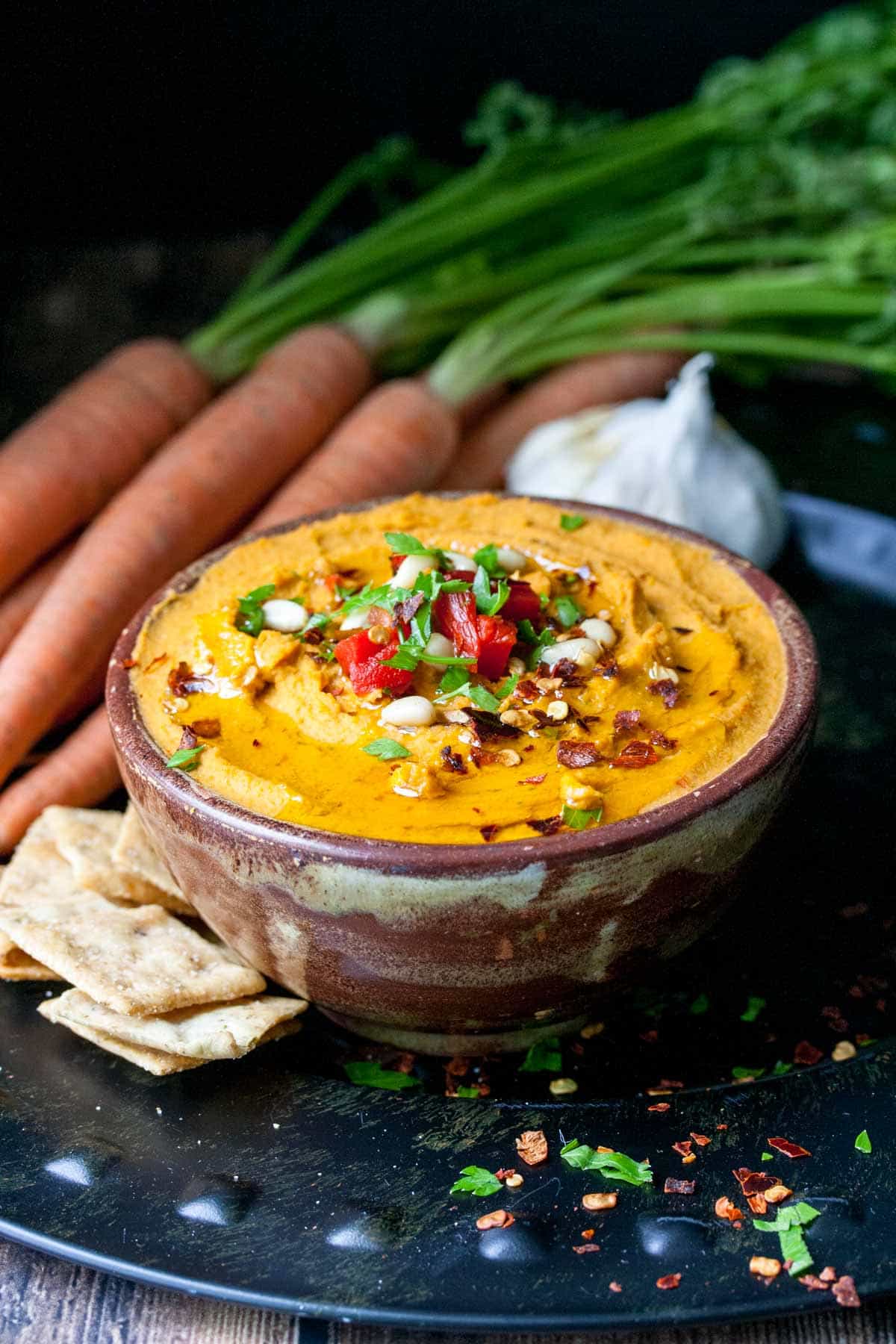 This is a sponsored conversation written by me on behalf of Simple Mills. The opinions and text are all mine.
This post was originally published on 8/28/17
I love hummus of all kinds, my Greek hummus being a childhood favorite, and this new carrot hummus is the perfect addition to my hummus rotation!
How to Make Carrot Hummus
This hummus recipe is like traditional hummus meets fancy food. The flavors blend together perfectly, and the use of white beans instead of chickpeas adds a layer of creaminess that's perfect for this dip!
Ingredients
Here is what you need to get this made:
To roast the carrots
Carrots
Shallots
Garlic
Broth
Lemon juice
Seasonings
To make the hummus:
Roasted carrots
White beans
Pine nuts
Lemon juice
Parsley
Seasonings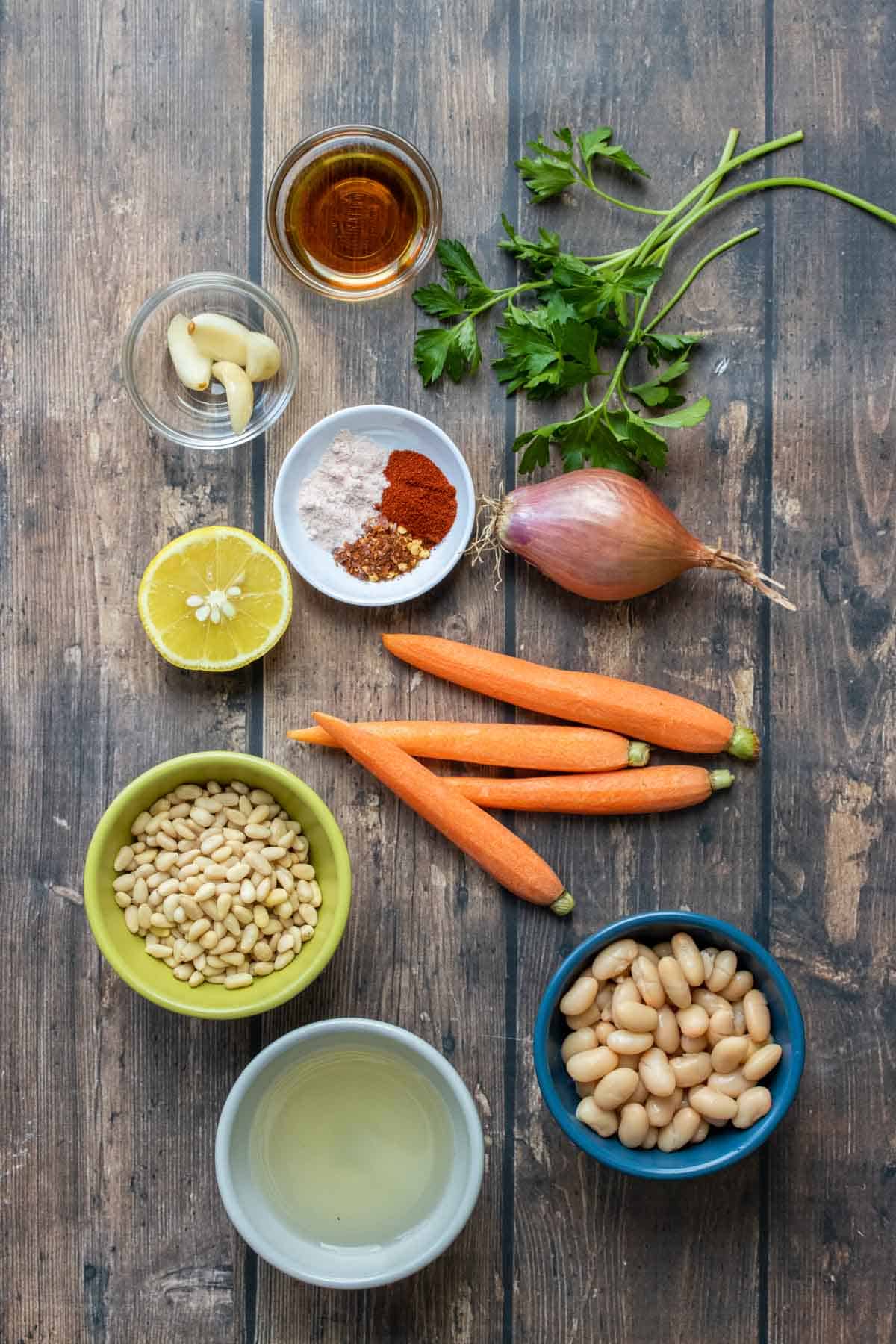 Step by Step Instructions
This hummus takes a little extra step to get that delicious roasted carrot flavor, but it's so worth it! Other than that it's super easy.
Roast the carrots.
Add to a food processor.
Blend it all together.
Serve!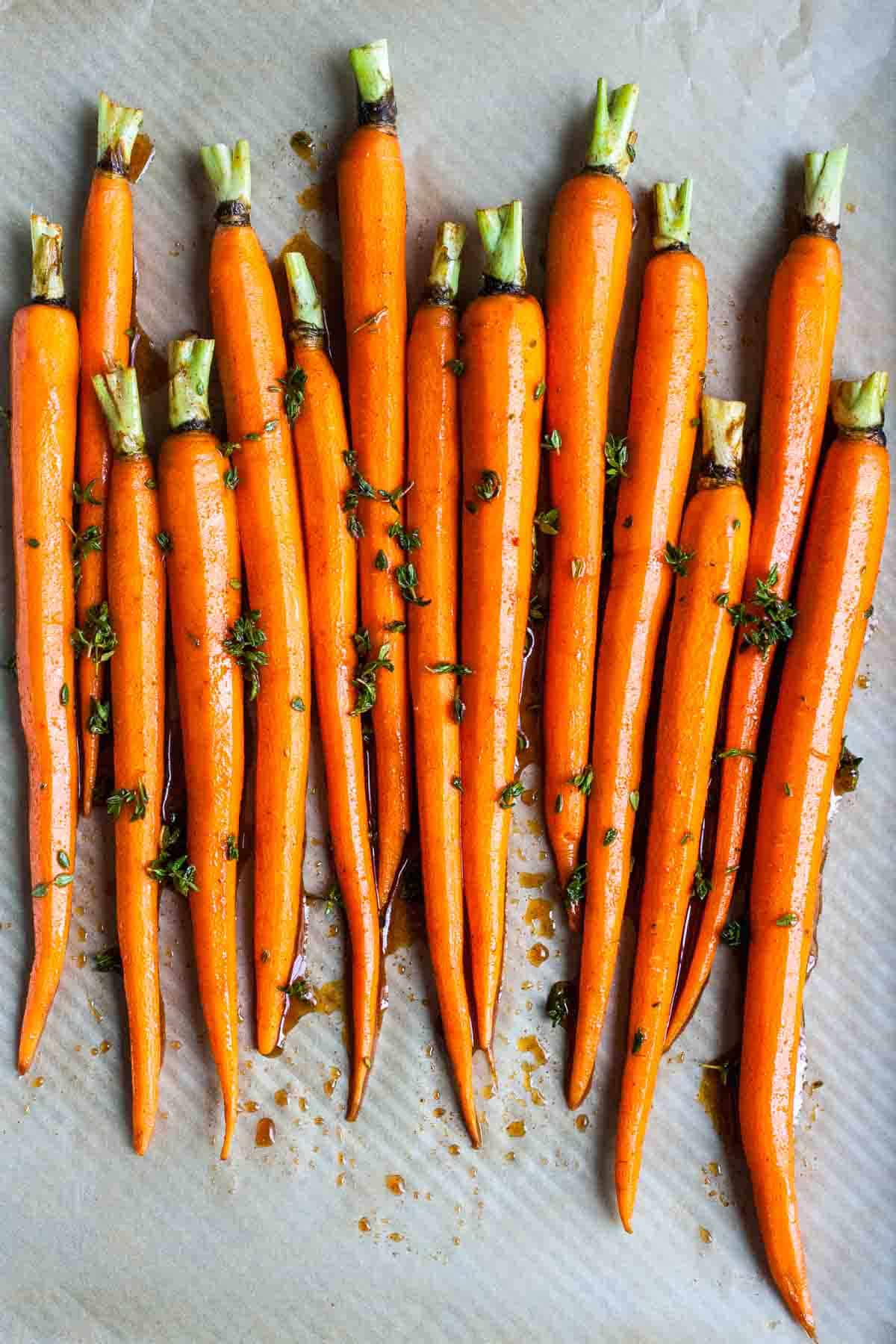 Serving Suggestions
When it comes to food I love texture. Since hummus is soft, I love pairing it with something crunchy. The crackers from Simple Mills are some of my favorite! Amazing texture, great taste. And my kids love them!
Not only are they made with a short list of ingredients, but you know what the ingredients are and they are all simple and whole food based! They have a variety of flavors plus are gluten-free so safe for me to eat.
There is one more thing that made me love these crackers. They are strong! You can dip them without the cracker crumbling. I know, weird of me to mention, but there is nothing worse than a million crumbled crackers in your dip that get mushy and pretty much ruin it. EWE.
In addition to crackers, offer a variety of dippers such as the following:
Pita Bread
Carrots (for extra carrot flavor!)
Celery
Bell Peppers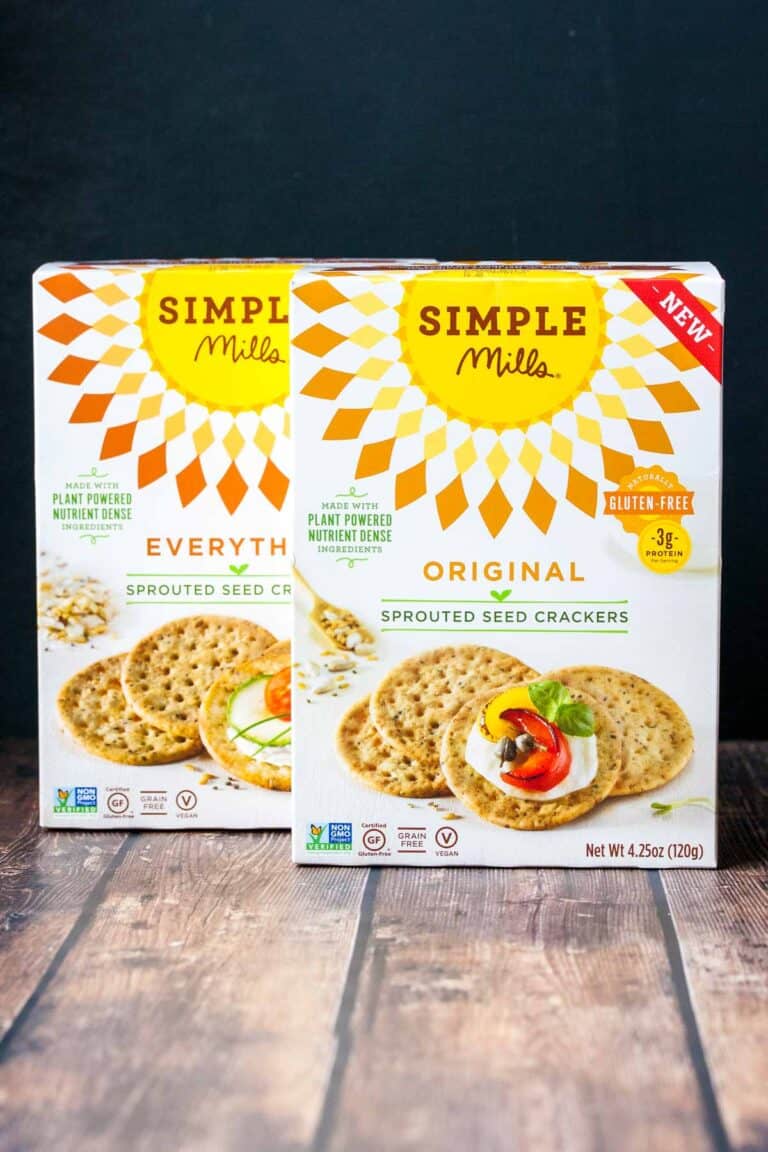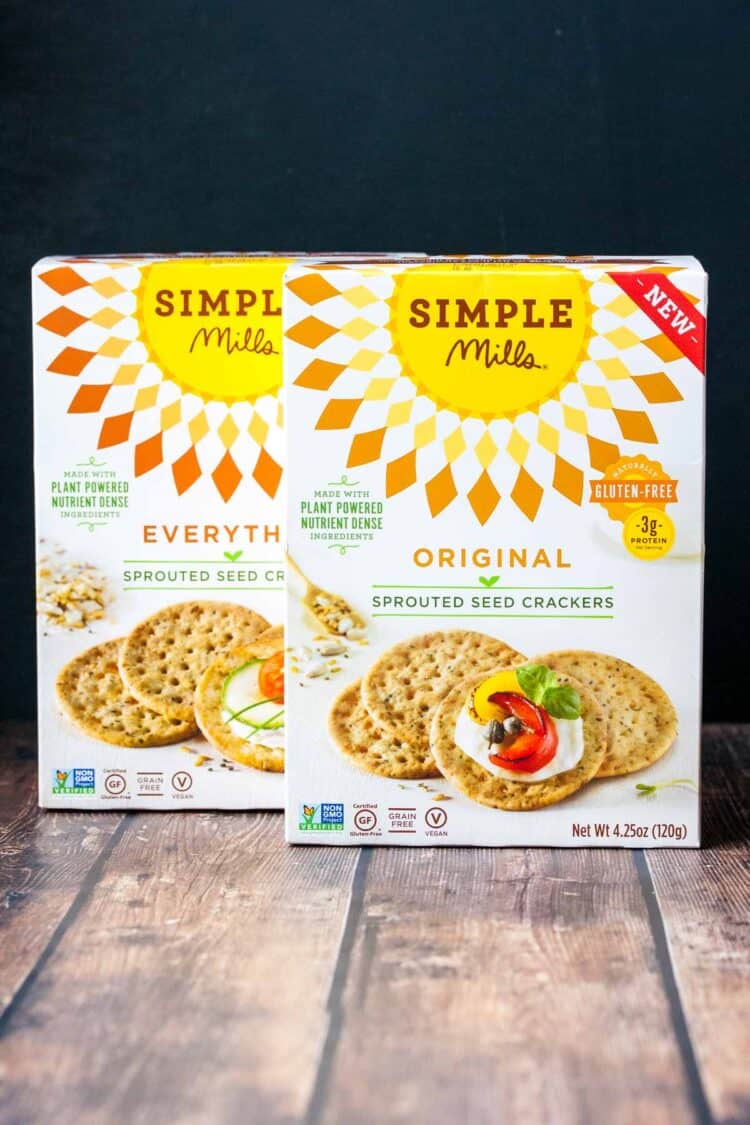 Or, make this a fun kid activity and let them decorate the crackers! First spread the roasted carrot hummus on the crackers and let them load with toppings like:
Chopped roasted red pepper
Pine nuts
Fresh Parsley
Crushed red pepper flakes
Drizzle of olive oil
Olives
More Uses for Hummus
Don't stop at dipping! Try it in any of these tasty ways:
As a spread for your sandwich
A topper for baked potatoes
Thin it out and use it as a salad dressing
Put it on toast
Use it to decorate and make cute things (plus keep your kids busy, bonus yes!)
Preparation Tips
When choosing which type of bean you should use, think about the end result you want.
I used white beans instead of chickpeas because I love the creamy flavor they add as well as the smooth texture.
The chickpeas give a more bean like flavor and make it more light and fluffy in my opinion.
Any type of carrots works here, but I prefer the regular large carrots. When roasted these give a more traditional flavor and are amazing!
A food processor will give you the smoothest texture. A blender can also work, but make sure you have a tamper tool to get everything mixed in.
Common Questions
How long will hummus last in the refrigerator?
Hummus should last about a week in the fridge. After that it starts to lose flavor and go bad. Keep it in an airtight container for best results
Can you freeze carrot hummus?
Yes! I do it all the time! Just put in an airtight container, lay a piece of plastic wrap on top of the hummus so it covers the top and helps prevent freezer burn and then cover.
Are carrots and hummus good?
Not only do I love dipping carrots in hummus, because crunch, but adding roasted carrots into the hummus brings the flavor to the next level! It adds veggies, more nutrients and basically makes a perfect dip.
More Vegan Dips
Snack on any of these plant based recipes next time hunger strikes: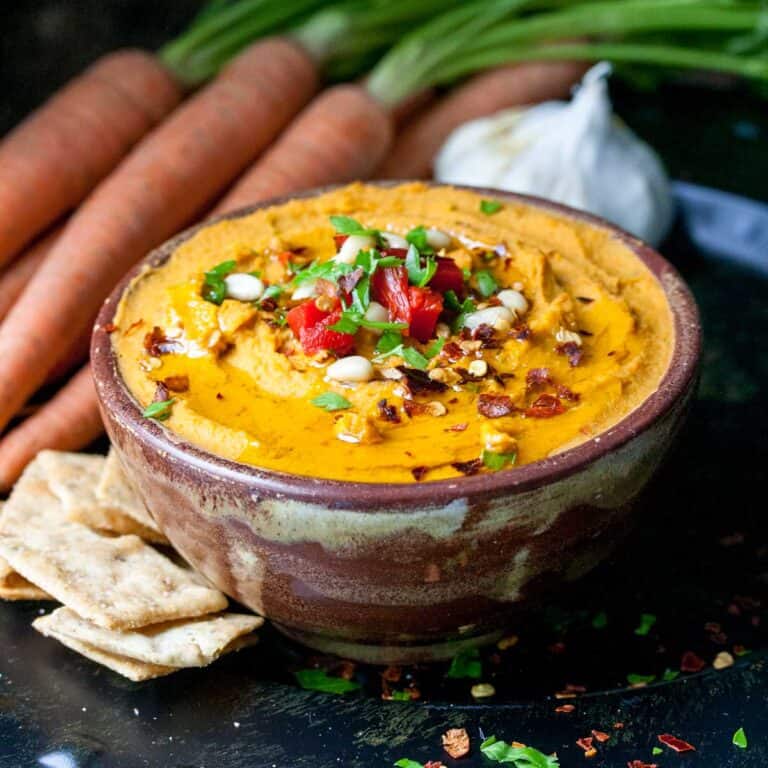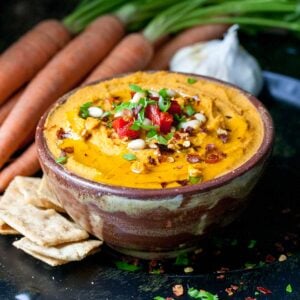 Roasted Carrot Hummus Recipe
The flavor of this roasted carrot hummus recipe is unreal! Get ready to blow your guests away with this creamy, rich, mouthwatering vegan dip!
Ingredients
For roasting:
1 cup chopped carrots , about 6-7 medium sized carrots
2 tablespoons chopped shallots
4 cloves fresh garlic
¼ cup veggie broth or 2 tablespoons olive oil and 2 tablespoons veggie broth , low sodium if nedded
1 tablespoon maple syrup
1 teaspoon fresh lemon juice
1 teaspoon crushed red pepper
½ teaspoon smoked paprika
½ teaspoon sea salt
For the dip:
Roasted carrots from above
15 ounces cooked white beans , drained and rinsed (about 1 can)
¼ cup veggie broth , low sodium if nedded
2 tablespoons pine nuts (see note)
1 tablespoon fresh lemon juice
1 tablespoon fresh chopped Italian , flat leaf parsley
½ teaspoon sea salt (optional, may be salty enough with the roasted carrots)
¼ teaspoon smoked paprika
Optional for garnish:
Chopped roasted red pepper
Pine nuts
Fresh Parsley
Crushed red pepper flakes
Drizzle of olive oil
Instructions
Combine all of the ingredients for roasting and place in a glass baking dish. Bake at 400°F/200°C for 30-35 minutes, until the carrots are beginning to brown and get soft.

Meanwhile, add the dip ingredients into a food processor. Once the carrots are done roasting, place everything from the baking dish into the food processor as well. Blend until smooth.

Garnish with optional ingredients.
Notes
You can substitute the pine nuts with walnuts if preferred. Or if there is a nut allergy you can use pumpkin seeds or omit altogether.
Make sure you know how spicy the crushed red pepper you use is. We had no spice issues but depending on the one you use it could be spicy and you may want to add less.

You can also make this a fun kid activity by gathering toppings like thin strips of carrots, olives, fresh parsley leaves, chopped red peppers and pine nuts and allow kids to create funny faces and creatures with the crackers. Use the hummus as a "glue" to hold everything together.

This makes about 2 cups hummus, serving size is ¼ cup
Recipe by Veggies Don't Bite, visit our site for more great plant-based recipes.
Nutrition
Calories: 98kcalCarbohydrates: 16gProtein: 5gFat: 2gSaturated Fat: 1gPolyunsaturated Fat: 1gMonounsaturated Fat: 1gTrans Fat: 1gCholesterol: 1mgSodium: 155mgPotassium: 284mgFiber: 3gSugar: 3gVitamin A: 2882IUVitamin C: 4mgCalcium: 39mgIron: 1mg
Nutrition and metric information should be considered an estimate.
Never miss a recipe!
Sign up here and get a FREE quick and easy meal guide!