Easy to make but with a fancy feel, this roasted carrot hummus is the perfect transition treat as we move from summer to fall! The flavor is unreal! Great as a healthy snack or appetizer.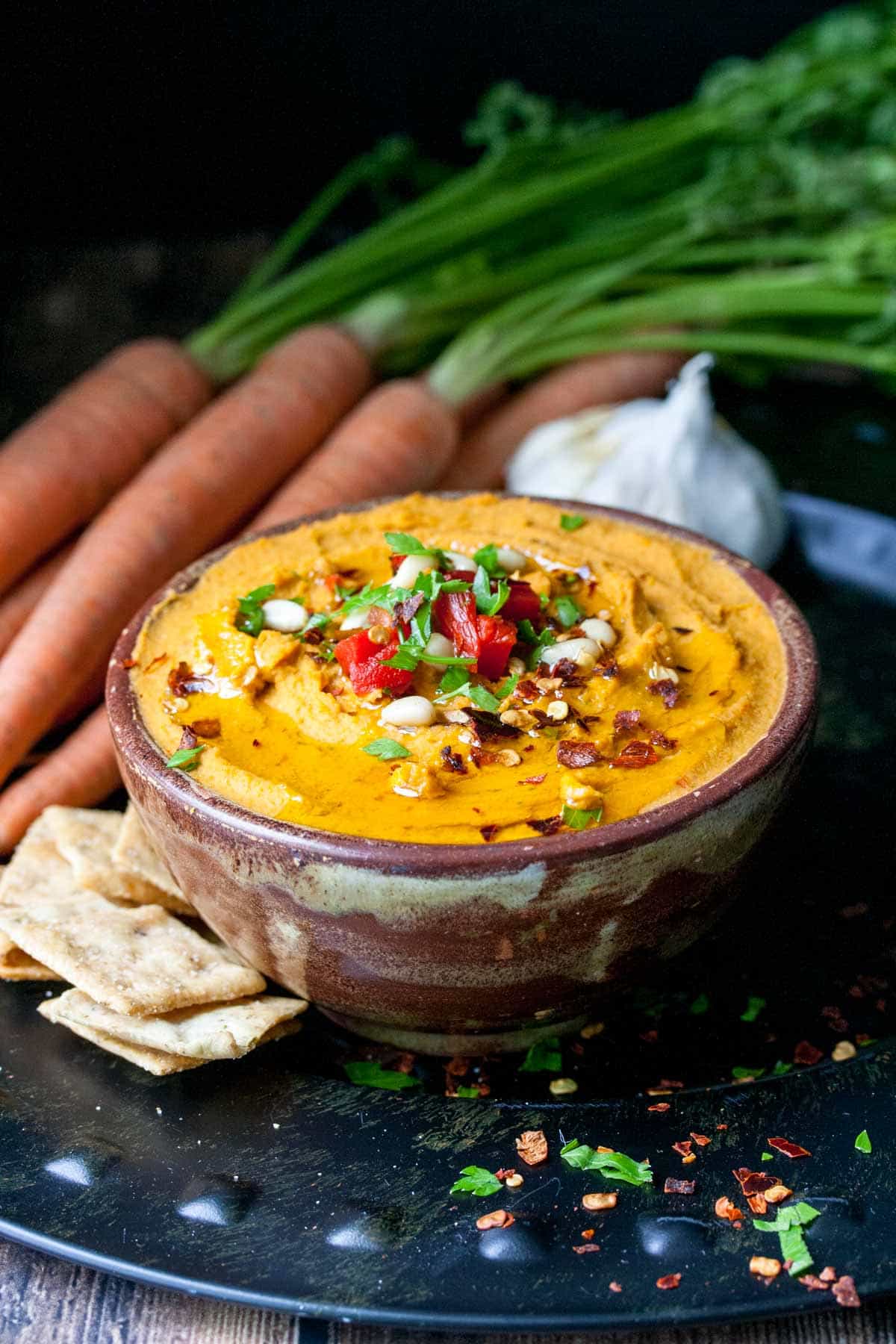 This is a sponsored conversation written by me on behalf of Simple Mills. The opinions and text are all mine.
The warmness of fall and light and airy feel of summer come together in the most perfect dip begging for some amazing crackers. Easy to put together but with a fancy feel, this roasted carrot hummus is the perfect transition treat as we start a new season!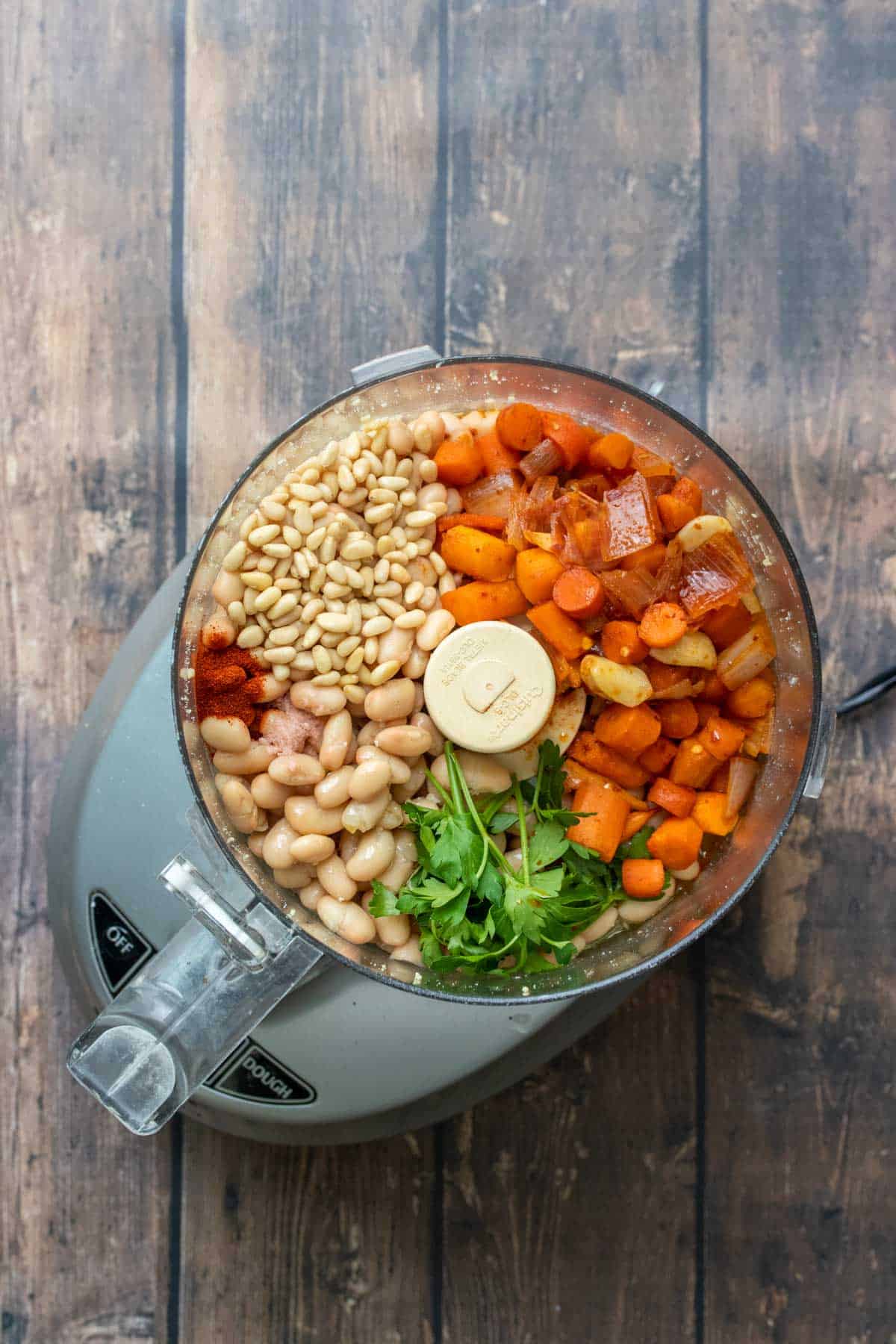 Anyone else drowning in life?!
I'm going to own this one outright, back to school is killing me. The schedules and lunches and organization that was all lost during our care free summer is back with a vengeance and I am having a hard time jumping on the train. I need a slower transition before I completely combust.
The first thing I am tackling is food. With both my big boys in school this year, I have double the starvation. Have you ever seen 2 little children take down a pantry of snacks? It's not pretty. If I have to hear, "But MOM I am hungry!" one more time, I may lose it.
My children are food machines. I need a farm/grocery store in my yard!
As soon as I am done cleaning up from meal/snack number 1, I am being asked for another one! I mean, come on people. Can I sit for like a minute?! The answer to that question is NOPE. And then something magical happened.
I began developing this recipe for Simple Mills. Kids love carrots. Kids love hummus. Why not combine the two? And why not add some amazing crackers to the mix?! And while we are at it, we just need to turn this into a time sucking activity. I got one glorious hour of zero whining and zero I'm hungries. WIN WIN WIN.
Yes! Let's play with our food!
The boys had the BEST time playing with their food. This roasted carrot hummus was the perfect pair with the crackers by Simple Mills. These crackers are awesome. Not only are they made with a short list of ingredients, but you know what the ingredients are and they are all simple and whole food based! No artificial alien like things that you have to look up, and even then don't understand.
Say no to wimpy crackers!
There is one more thing that made me love these crackers. They are strong! You can dip them without the cracker crumbling. I know, weird of me to mention, but there is nothing worse than a million crumbled crackers in your dip that get mushy and pretty much ruin it. EWE.
So when I realized that my kids create fun little faces without the tantrum of a broken cracker, but I can also eat dip without mushy cracker bits, I knew this was love at first bite! (see what I did there, HA!)
The cracker of all crackers!
So here you have it folks, a snack this is filled with nutrient dense awesome ingredients your kids will love. You also have a wide variety of flavors so you never get bored, my kids are foodies and need to be kept on their toes!
Between the four types of sprouted seed crackers, and the six types of almond flour crackers, I will keep them satisfied forever. And don't think you're getting a wimpy flavored cracker here either, these are the perfect mix of delicious but not overpowering.
As if all this wasn't enough, for all you allergy peeps out there, these are certified gluten-free and free of grains, dairy (minus the few cheddar flavors), soy, corn & artificial colors, flavors & preservatives. All this and this awesome combo keeps them full for hours…mommy combustion averted.
Here are all the things you can do with this roasted carrot hummus and Simple Mills crackers:
Easy lunch: cracker and hummus "sandwiches" or send them to school separately as a dip
After school snack: have veggies, crackers and hummus ready on the table for hungry kiddos
Allergy friendly school party snack
After school activity: make silly faces with different veggies, crackers and hummus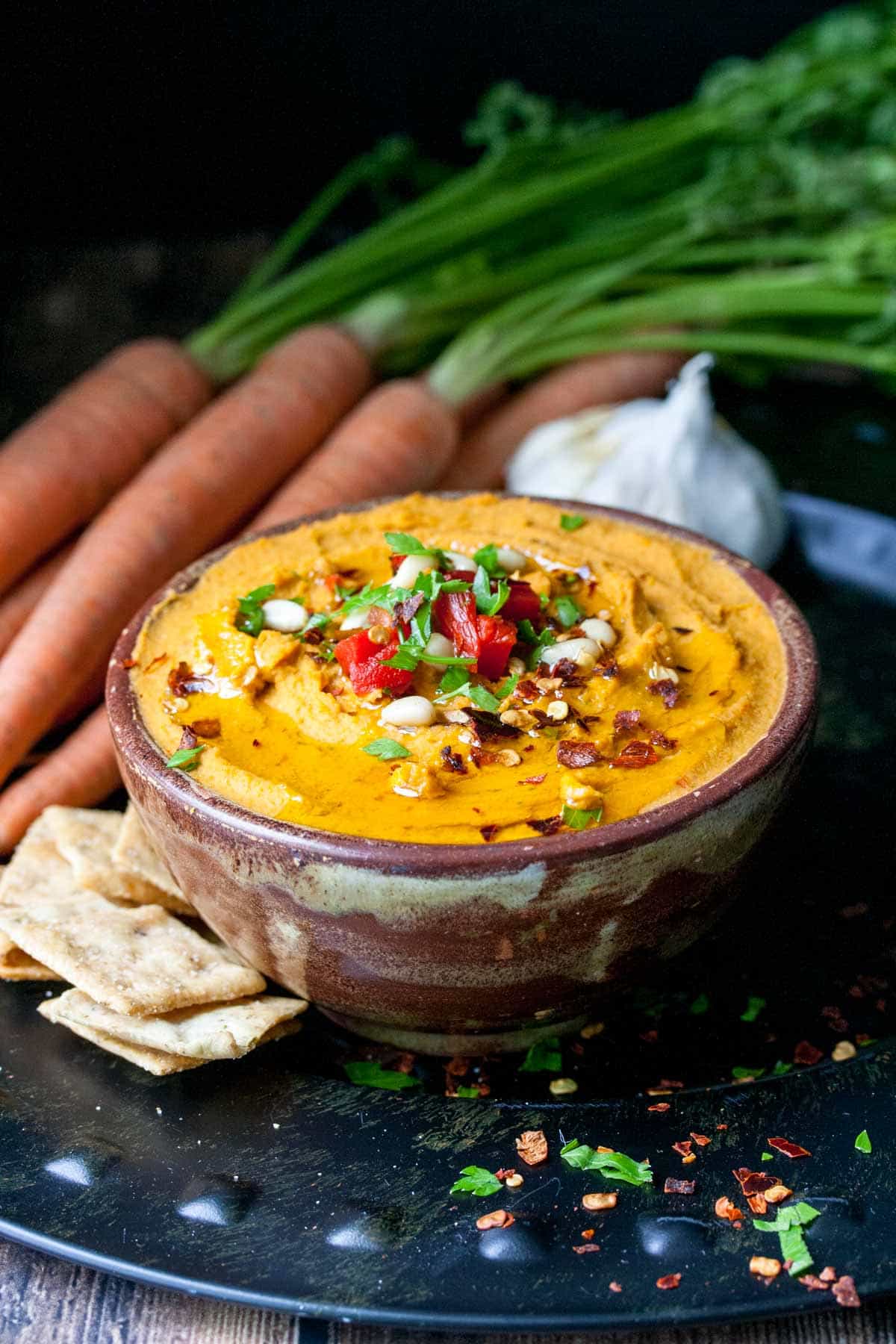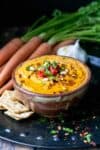 Roasted Carrot White Bean Hummus
Easy to put together but with a fancy feel, this roasted carrot hummus is the perfect transition treat as we move from summer to fall!
Keyword:
healthy dips, healthy snacks
Ingredients
For roasting:
1

cup

chopped carrots

about 6-7 medium sized carrots

2

tablespoons

chopped shallots

4

cloves

fresh garlic

1/4

cup

veggie broth or 2 tablespoons olive oil and 2 tablespoons veggie broth

, low sodium if nedded

1

tablespoon

maple syrup

1

teaspoon

fresh lemon juice

1

teaspoon

crushed red pepper

1/2

teaspoon

smoked paprika

1/2

teaspoon

sea salt
For the dip:
Roasted carrots from above

15

ounces

cooked white beans

, drained and rinsed (about 1 can)

1/4

cup

veggie broth

2

tablespoons

pine nuts

see note

1

tablespoon

fresh lemon juice

1

tablespoon

fresh chopped Italian

flat leaf parsley

1/2

teaspoon

sea salt

1/4

teaspoon

smoked paprika
Optional for garnish:
Chopped roasted red pepper

Pine nuts

Fresh Parsley

Crushed red pepper flakes

Drizzle of olive oil
Instructions
Combine all of the ingredients for roasting and place in a glass baking dish. Bake at 400°F/200°C for 30-35 minutes, until the carrots are beginning to brown and get soft.

Meanwhile, add the dip ingredients into a food processor. Once the carrots are done roasting, place everything from the baking dish into the food processor as well. Blend until smooth.

You can also make this a fun kid activity by gathering toppings like thin strips of carrots, olives, fresh parsley leaves, chopped red peppers and pine nuts and allow kids to create funny faces and creatures with the crackers. Use the hummus as a "glue" to hold everything together.
Recipe Notes
You can substitute the pine nuts for walnuts if preferred. Or if there is a nut allergy you can use pumpkin seeds or omit altogether.
Make sure you know how spicy the crushed red pepper you use is. We had no spice issues but depending on the one you use it could be spicy and you may want to add less.
This makes about 2 cups.
Nutrition Facts
Roasted Carrot White Bean Hummus
Amount Per Serving
Calories 196
Calories from Fat 36
% Daily Value*
Fat 4g6%
Sodium 631mg26%
Potassium 567mg16%
Carbohydrates 32g11%
Protein 9g18%
Vitamin A 5765IU115%
Vitamin C 7.8mg9%
Calcium 78mg8%
Iron 2.4mg13%
* Percent Daily Values are based on a 2000 calorie diet.