Creamy gooey cheesy goodness without the actual cheese! You will be amazed at how this combination of veggies and spices create this out of this world creamy vegan cheese sauce!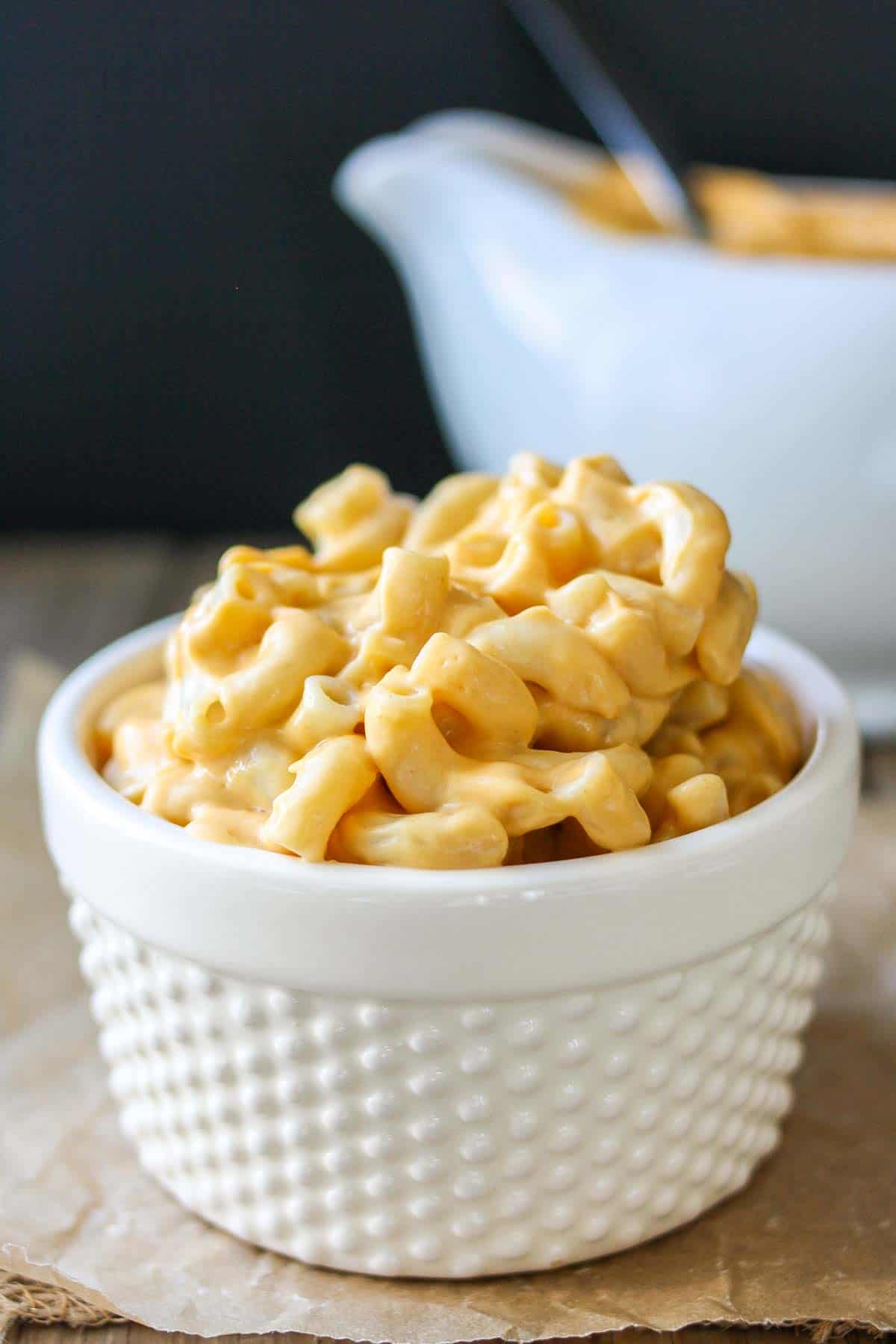 This recipe was originally published on 7/8/2015
A good cheese sauce is a must have staple in any diet, vegan or not. I mean, what's better than sitting down with a bag of tortilla chips and some gooey creamy salty cheesy dip? When that dip is no other than a vegan cheese sauce made out of whole foods. That's what. Don't think it's possible? Plants really are magic friends.
Ingredients for vegan cheese sauce
Two years. That's how long I wasted my money trying vegan cheese sauces. Some were decent, some straight up didn't even deserve the trash. My biggest complaint? Nutritional yeast. Sorry friends, but it just does not taste cheesy to me. Which is why no yeast was harmed in the making of this vegan cheese sauce.
So what did I harm? Veggies. My goal was to create a sauce that didn't make you bloated, puffy or gross. Basically like every dairy filled processed cheese sauce out there made me feel. But I so wanted that flavor again, so I stuck to my guns and didn't quit until I had a cheesy like deliciousness I couldn't stop eating.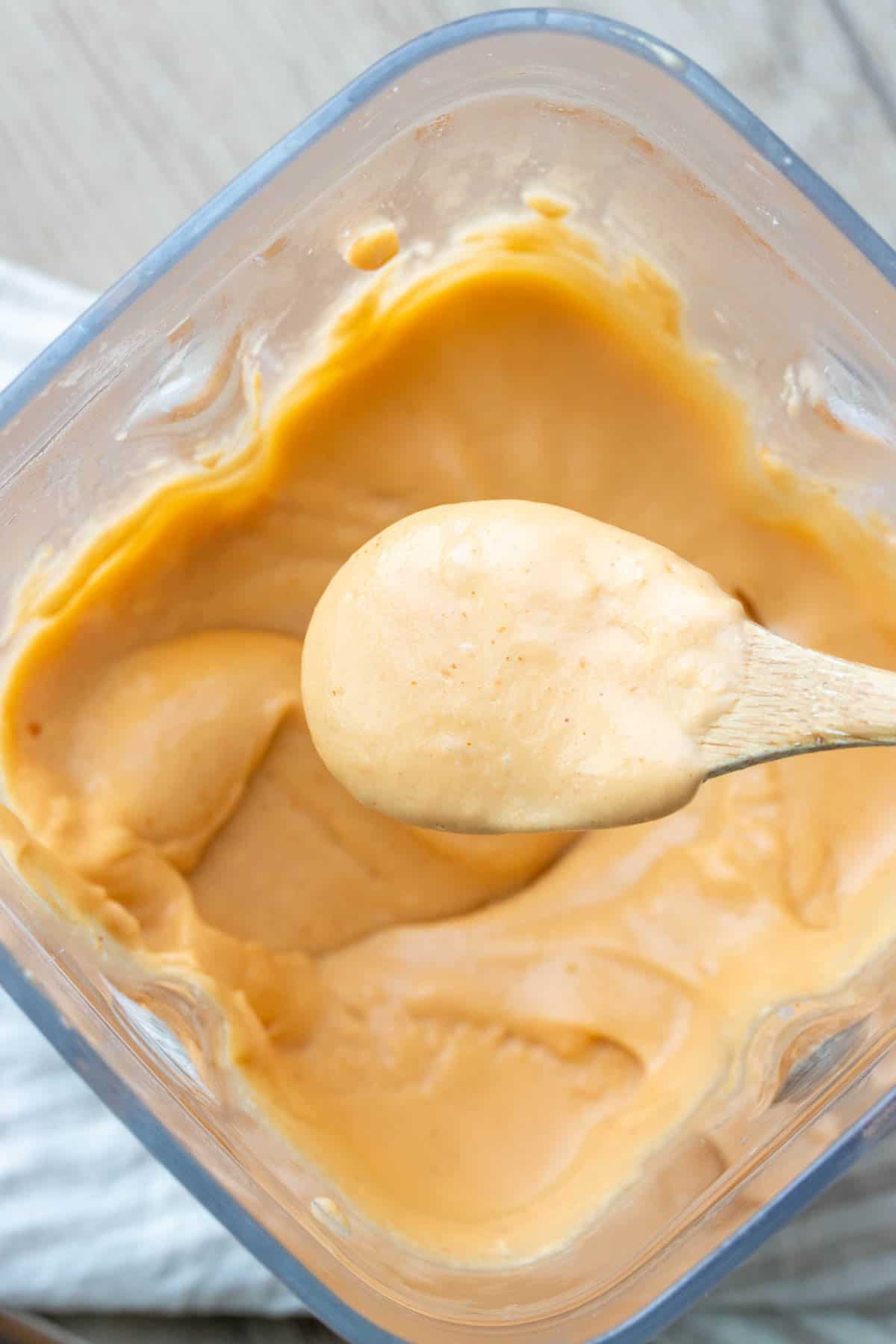 I came across my idea for this through a mistake I made when trying to puree some potatoes for the pizza crust for my Thai Chickpea and Veggies Pizza. I put the potatoes into my Vitamix at full speed instead of the food processor, because frankly I was just too lazy to get it out, and the result was a gooey, stretchy, sticky mess. Which of course reminds me of cheese and the rest is history!
So veggies became the base of this crazy idea of mine, and of course my key to creaminess, the heavenly…cashew. Now if you're reading this and think, DANG I CAN'T HAVE NUTS! I'm so very sorry. But we can, and I needed to pull all the stops to get that ultimate vegan cheese flavor. I have had a few people make this without the cashews, and they still gave it a thumbs up.
Substitution ideas
I tried a variety of combinations for this, I did after all spend years of trial and error, and cashews were what hit the nail on the head for me. Feel free to try another nut (if you can't have cashews, I'd try macadamias or walnuts. Maybe pine nuts.)
You can try the sunflower seed idea that others use to create nut free cheese sauces, but in all honesty it wasn't for me. But if you try something different, please make sure to let me know what worked and didn't so others can learn as well!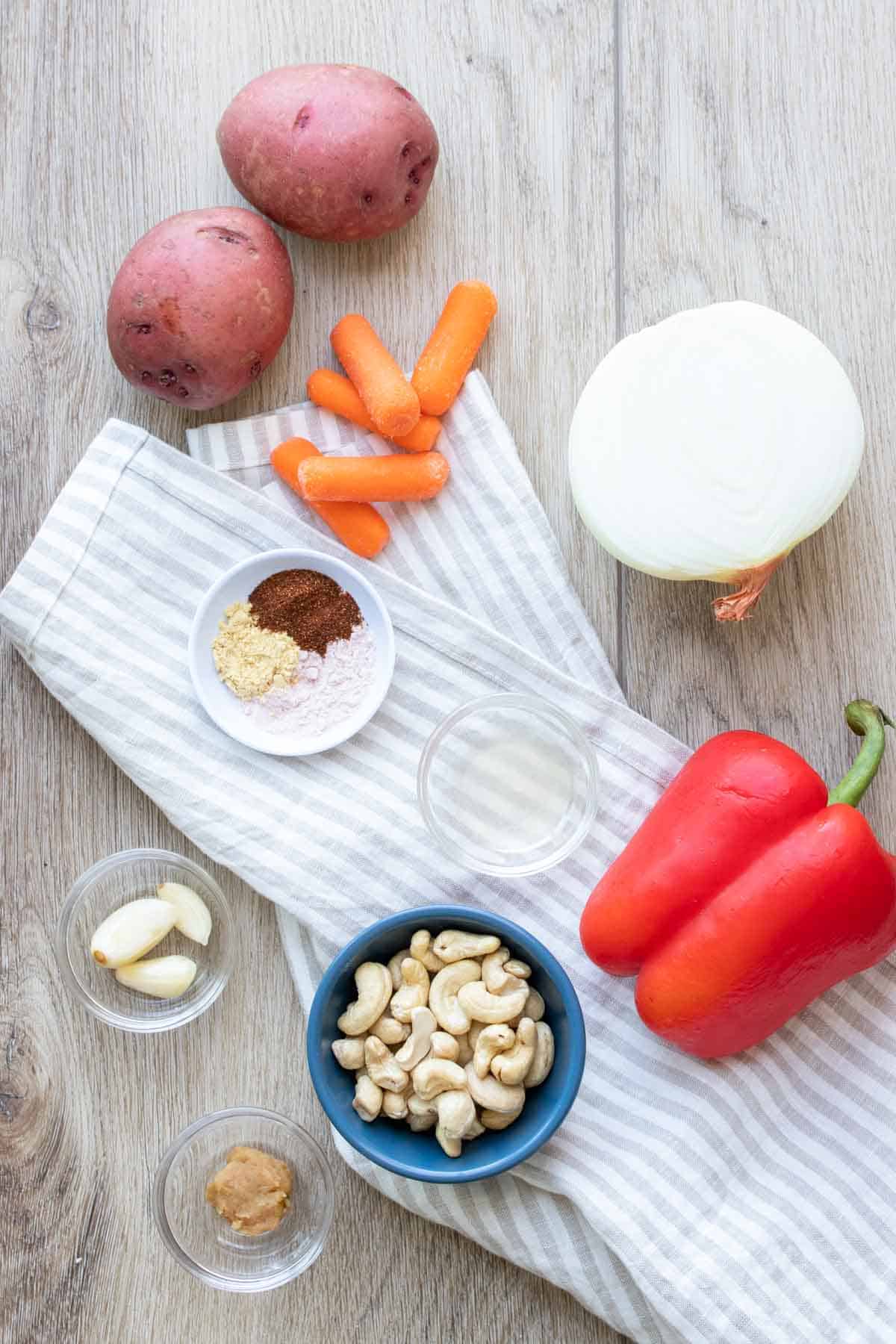 Tips and tricks
When it comes to creating magic, there are few key things to remember:
Follow the darn recipe. Please. Unless you are trying this nut free or subbing white miso for the chickpea variety, please please try this the way it is written. And if you don't, and it turns out awful, for the love please don't rate this as a bad recipe when you didn't follow directions.
You do not need a high speed blender, like a Vitamix, to make this. If you have a regular good blender you can still get creamy awesomeness by grinding the cashews with a coffee grinder. I have had to do this and it actually works! Grind them dry and simply add to the blender with everything else. You can also soak them overnight before boiling with the veggies, but this still may not give as creamy of a result as the grinding.
When you measure the veggies, measure them packed in not just loosely scooped up.
You can freeze this so you can have vegan cheese sauce at your fingertips any time! When you defrost, leave it on the counter all day so it can slowly come to room temp. Then slowly heat it in the microwave and stir well. Don't be weirded out be the firm consistency, it will become saucy again! You can heat it up on the stove if you want, but you may need a drizzle of milk to help it thin out.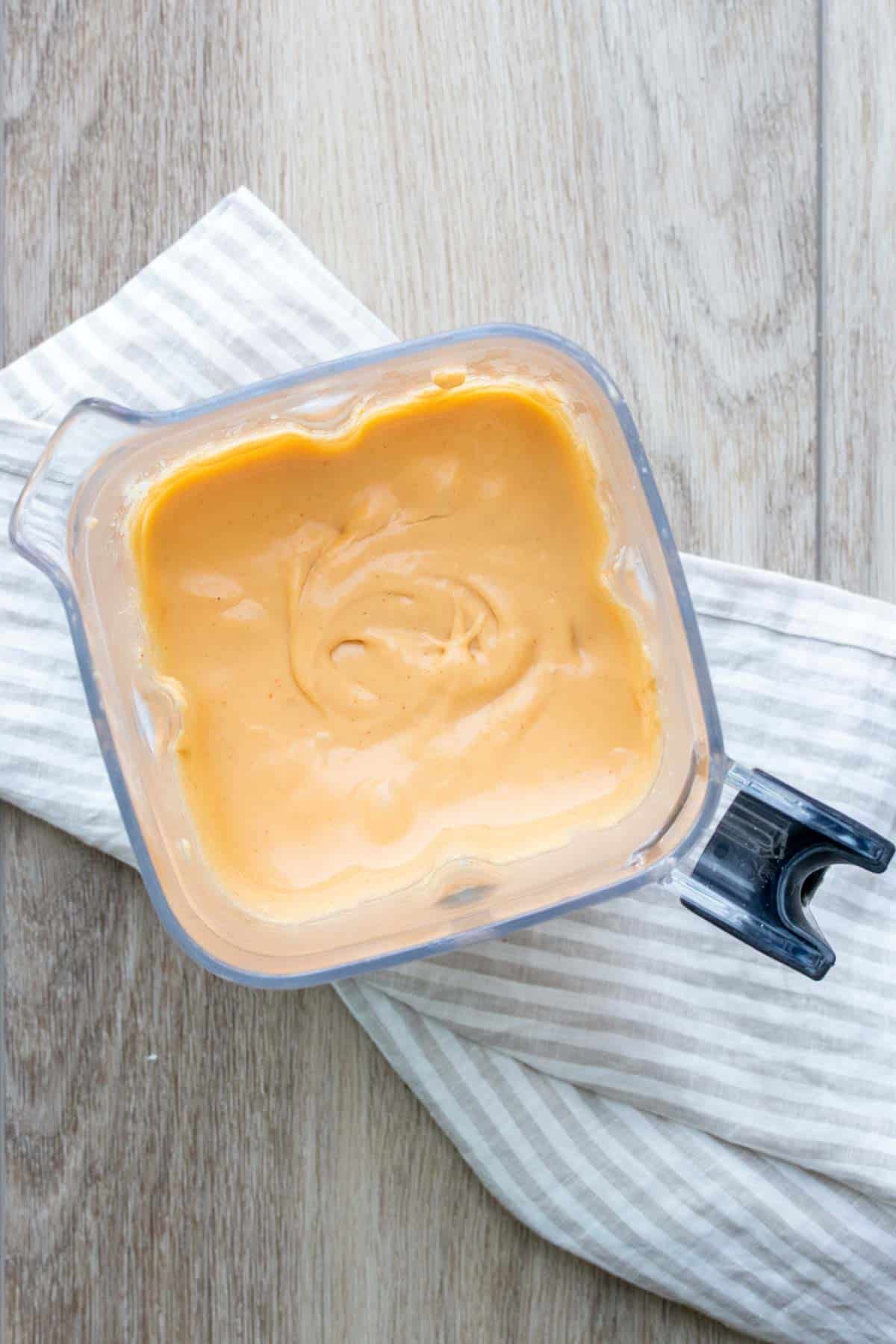 How to use vegan cheese sauce
The question really should be, how do you NOT use it! SO many things you can do, so little time. Here are some of my top faves:
Mac and cheese of course, SO good.
Drizzle it over veggies, okay maybe it's more of a drench than a drizzle.
Nacho cheese dip, I add chopped nacho jalapeño slices.
Eat it with a spoon…Don't judge, just try it.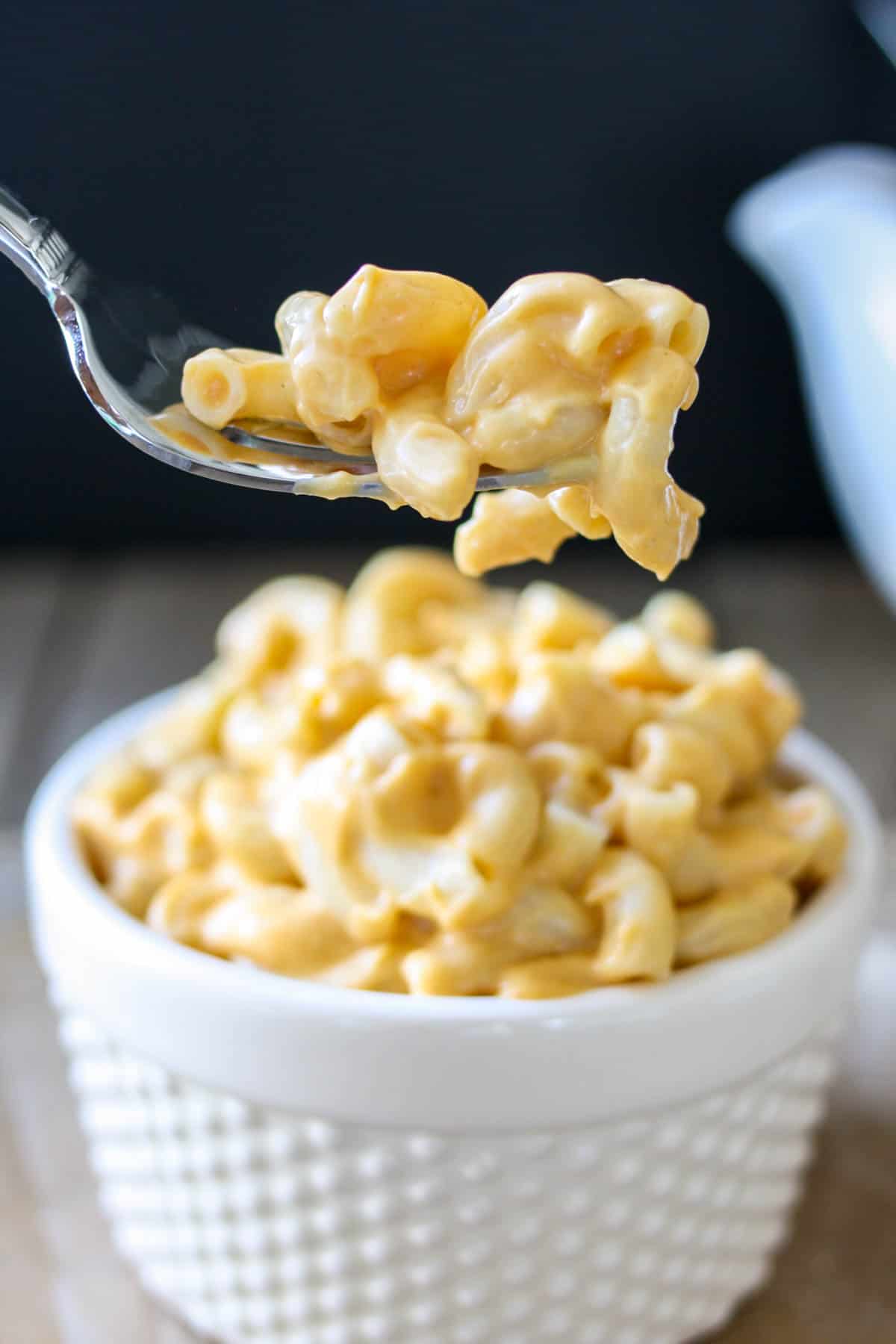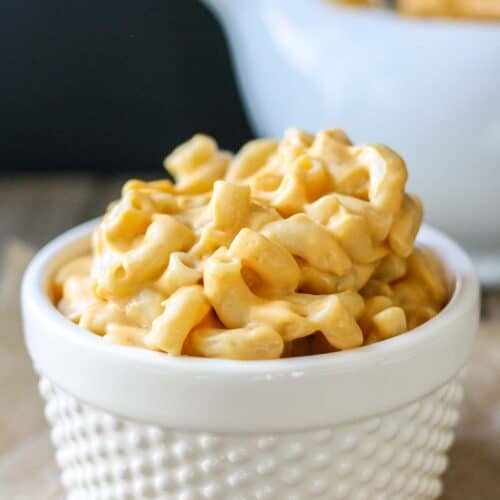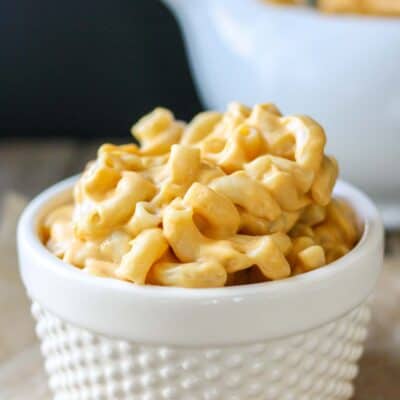 The Best Vegan Cheese Sauce Recipe
This vegan cheese sauce is the absolute best ever hands down! Made with healthy whole food ingredients, creamy and amazing!
Ingredients
2

cups

cooked potato

(about 3-4 potatoes, see note)

2

tablespoons

cooked red pepper

(about 1/3 of a medium sized pepper)

3

tablespoons

cooked orange carrot

(about 4-5 baby carrots or one medium sized)

5

tablespoons

cooked sweet or yellow onion

(about 1/2 a small)

1/2

cup

raw cashews

(see note)

1

teaspoon

roasted garlic

(about 2-4 cloves, depending on size)

1

teaspoon

fresh lemon juice

3/4

teaspoon

chickpea miso

(see note)

1/2

teaspoon

ground mustard seed

1/2

teaspoon

paprika

1 1/2

teaspoons

sea salt

(can use less or more depending on taste preference)

Your favorite pasta if making Mac and Cheese
Instructions
Roast the garlic by peeling and wrapping it in tin foil with a splash of veggie broth. Roast at 400 F (205 C), in a regular or toaster oven, while you cook the veggies.

Put potatoes (peel if you don't want specks of skin), red pepper, carrots, onion and cashews in a pot and cover with water. If you don't have a high speed blender and are grinding the cashews, then don't boil but grind them dry and place them in the blender.

Cook over high heat until water boils, about 15 minutes if uncovered. Turn heat to medium and boil another 20 minutes, until potatoes are tender.

When done, drain water (keeping some to thin out sauce if prefer a thinner sauce), separate veggies and put the cashews in the blender. I use a fork to fish out the veggies, then drain the cashews over a pasta strainer.

Measure out the needed amount of each veggie and place each in the blender. Add the rest of the ingredients.

Blend on high until you get a creamy gooey consistency. If you have a tamper tool use it to help mix the sauce as it blends. If you don't have one, then you will need to stop and push down the ingredients every once in a while.

If you want to thin it out, add some of the reserved cooking water, 1 tablespoon at a time until you get the desired consistency. Use nice and hot!
To make the ultimate Mac and Cheese:
Cook your pasta according to package directions.

Drain pasta reserving about 1 cup pasta water.

Add the pasta back into the pot and add desired amount of cheese sauce.

Then add pasta water 1 tablespoon at a time, mixing well in between additions, until you get the desired consistency for your Mac and Cheese. If your pasta is too starchy (as some gluten free pastas are) you can also use regular water or even non dairy milk to do this. Add salt if needed, it most likely will since the sauce is no longer as concentrated. Devour!
Notes
Makes 3 1/2 cups sauce. Serving size for nutrition info is 1/2 cup.
Nutrition info is for cheese sauce only.
I used red potatoes but any starchy potato will work, just don't use sweet. It also won't work to substitute with something that is not an actual potato (such as another root vegetable). 
If you are not using a high speed blender, you can grind the dry cashews into a fine powder using a coffee grinder (do not boil them for this method). You can also soak them overnight prior to boiling with the veggies or just boil them with the veggies.
You can make this nut free by eliminating the nuts, however you will lose some of the thickness and creaminess. It will still be pretty good in taste, but just lacking some of those elements. You can also try subbing with another nut if you are allergic to cashews, I suggest walnuts or macadamias, however the flavor will be different. I did try it with multiple nuts and liked the taste of the cashews best.
If you don't have chickpea miso, you can try using a white miso although it will be a little more mild in flavor so you may need more. See the comments for others that have tried using white miso.
I did not add any liquid to this when I made it, but depending on what you use it for, you may want to thin it out with some water, water from the boiled veggies or pasta water if making mac and cheese.
You can reheat this in the microwave or in a pot with a splash of nondairy milk (I use cashew) and mix well. Add splashes of milk and mix until you have the right consistency. It may need more salt depending on how much milk you add.
You can also freeze leftovers in a freezer safe container as it freezes great. Defrost slowly when ready to eat. You may think it didn't freeze well, but as you heat it up the consistency comes back!
Tips to prep ahead:
Cook the veggies and roast the garlic. Store in the fridge in an airtight container until ready to use.
Baby/toddler food idea:
This can be mixed into any baby food or be used for a toddler as a dip. You could also just blend the veggies on their own for baby.
UPDATE 2/2019:
I had a reader make this with success using her instapot for the veggies. She threw all the ingredients into the instant pot with 2 cups of water (she put the garlic in raw). Set it to manual high pressure for 5 minutes, let it naturally release then blended in a high speed blender until smooth. 
Recipe by Veggies Don't Bite, visit our site for more great plant-based recipes.
Nutrition
Calories:
94
kcal
Carbohydrates:
12
g
Protein:
2
g
Fat:
4
g
Saturated Fat:
0
g
Polyunsaturated Fat:
0
g
Monounsaturated Fat:
0
g
Trans Fat:
0
g
Cholesterol:
0
mg
Sodium:
478
mg
Potassium:
274
mg
Fiber:
1
g
Sugar:
1
g
Vitamin A:
1230
IU
Vitamin C:
6.9
mg
Calcium:
11
mg
Iron:
1
mg
Nutrition and metric information should be considered an estimate.
Never miss a recipe!
Sign up here and get a FREE quick and easy meal guide!