A vegan spinach artichoke dip so creamy you won't believe it's healthy! The perfect party appetizer for summer picnics, bbq's or any time of year.
This recipe was originally published on 9/16/18
Taking the dairy out of traditional dairy filled foods can be tricky, but with a little creativity you can remake your favorite traditionally unhealthy recipes in a healthy whole food way.
Vegan Spinach Artichoke Dip
It's amazing what plants can do. If you haven't realized it already by browsing this site, and many awesome others, you really can fool people into thinking things have dairy, when in fact they don't.
What is spinach artichoke dip made of?
The traditional version is usually some mix of cream cheese, mayo, sour cream and regular cheese. To make a vegan version, one made with whole foods, I had to take a different approach.
Since my creamy buffalo cauliflower dip is one of my most popular creamy dips, I used the same base that I have there; potatoes, cashews, and white beans. These blend together to make an irresistible creamy base that is also healthy.
I put my own twist on it based off of my vegan spanakopita recipe, that combined with my other tricks made one of the best vegan spinach dip recipes I have ever tried!
I also added the option of topping this vegan spinach dip with my grateable Parmesan. If you all have not seen this recipe yet, I highly recommend it! It really adds an extra layer of flavor to this dip.
What do you eat spinach artichoke dip with?
The best thing about this vegan dip is that it is good with so many things! Here are some of my favorite things to eat it with and ideas on what else you can do with it:
crackers
tortilla chips
pita chips
raw veggies
bread
spread it in a wrap or sandwich
mix it with pasta
How long can spinach artichoke dip sit out?
Dairy filled spinach artichoke dip includes ingredients that can spoil if left out too long. Once it has cooled, the general rule of thumb according to the USDA is a few hours.
However this vegan spinach artichoke dip has no dairy in it. The base is vegetables and nuts so the risk of it spoiling is much lower. If you want to be ultra safe, then follow what the USDA recommends, but I have left this dip out at a party for the evening and it was still perfectly safe to eat.
Is spinach dip supposed to be hot or cold?
Traditionally, spinach dip is baked and served hot. This vegan spinach dip is also baked and best served straight from the oven, but you can definitely eat it cold as well.
There really isn't one way to eat spinach dip. You can even warm it up again after it has been refrigerated.
How To Make Vegan Spinach Artichoke Dip
Vegan spinach artichoke dip is a little different than the traditional version. You need to blend up that creamy base before you can mix it all together. Of course, you can use ready made vegan cream cheese but it won't be as good or as healthy.
Before you start, here are some tips to make sure you get this right:
Defrost your frozen spinach and squeeze out the water from it and from the artichoke hearts before using. If you don't do this, you will get way too much watery liquid and your dip will end up yuck.
Use artichoke hearts in water. Not the ones in oil, you'll just end up with a slippery mess when you go to squeeze them out, and the dip will be all wrong.
Saute the spinach, artichoke and onions until just browning. This gives a slight caramelized flavor to it and makes it extra yummy.
Soak your cashews or grind them in a coffee grinder (best method) if you do not have a Vitamix. You don't want nut chunks in your dip, plus the creaminess won't all be released so you won't get that extra creamy result.
If you must use apple cider vinegar instead of white distilled, be aware the tang won't be the same. I have created and tested LOADS of sauces, both for my vegan cookbook and the vegan sauces on my website, and the two vinegars are good for different things. The white gives a much more sour tanginess to things, which is needed here. Apple cider vinegar has an underlying sweetness that pairs well with other flavors, but in this dip it isn't enough sour tang.
Squeeze the water out of the spinach and artichokes.
Saute it all.
Blend the creamy part.
Add in the veggies.
Bake! You can use a bread bowl or a baking dish.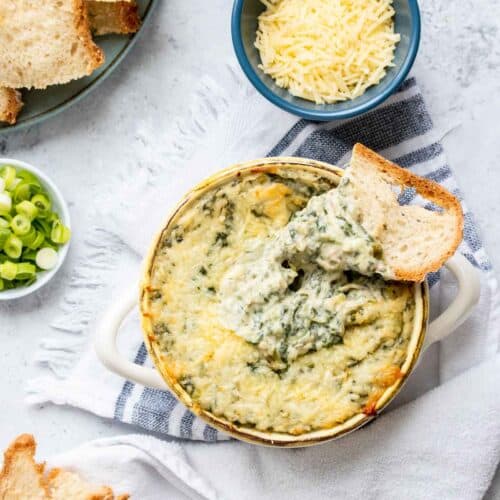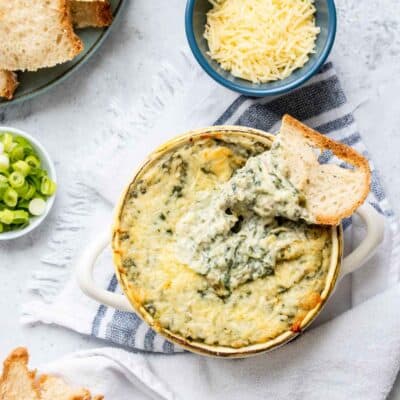 Healthy Vegan Spinach Artichoke Dip Recipe
This vegan spinach artichoke dip is so creamy you won't believe it's dairy free. Made with whole food ingredients, it's healthy and delicious!
Ingredients
10

ounces

frozen or fresh spinach

, defrosted (about 8 packed cups fresh spinach)

14

ounces

artichoke hearts

, 1 can (make sure they are in water and not oil)

½

cup

sliced green onion

Oil, broth or water to sauté

¾

cup

cooked potato

, about 1 medium potato (see note)

¾

cup

raw cashews

(see note)

¾

cup

cooked white beans

, drained and rinsed

¾

cup

cashew milk

(another creamy non-dairy milk will work too)

3

cloves

garlic

¼

cup

distilled white vinegar

1

teaspoon

sea salt

½ - 1

cup

vegan Parmesan

, to top (optional, see recipe)

crushed red pepper for garnish

, optional
Instructions
Preheat oven to 350 F/ 175 C

Squeeze out the water from the defrosted frozen spinach if using frozen, use your hands and squeeze until most of the water is removed. You will get one cup spinach after removing the water.

Then, squeeze out the water from the artichoke hearts in the same way. You will get one cup artichoke hearts after removing the water.

Sauté the spinach (if using fresh just put it right into the pan), artichoke hearts and green onion with a drizzle of oil, broth or water over medium heat until they are hot and just begin to brown. Add more oil, broth or water as needed so they don't stick. But also be careful to sauté until all the liquid is gone. Takes about 5 or so minutes. Set aside.

Place potato, cashews, white beans, milk, garlic, vinegar and salt into a high-speed blender and blend until smooth.

Add sautéed veggies and pulse to incorporate. Pulse only a few times if you want the dip chunky, and more if you prefer it with smaller pieces.

If using a bread bowl, then cut the top off and scoop out the soft bread inside (you can use your hands), leaving about a ½ inch border of bread.

Pour mixture into the bread bowl (you may have a little left over depending on how big your bread bowl is) or a square baking dish (I used 8 x 8). You can also use a skillet if you prefer. If using a bread bowl, put it on a baking sheet.

Sprinkle Parmesan over the top if using.

Bake at 350 degrees for 15-20 minutes, or until the top is beginning to brown and the dip is heated through. Everything is cooked already so no need to worry about the veggies cooking, but you want it nice and heated all the way through.

Once done, you can take out the dip and add the bread top and bread pieces to the cookie sheet. Bake for 5 minutes to get a slight crisp. This is totally optional.

Enjoy nice and warm with the bread pieces, your favorite tortilla chips, veggies and crackers!
Notes
I used red potatoes but any starchy potato will work, just don't use sweet. You can easily cook the potato in the microwave, or you can do it in the oven. You can also boil it but that will add more liquid to the recipe so you will need to reduce the milk by about ¼ to ½ cup. Start with using ¼ cup milk and keep adding until you get a thick, but scoopable consistency.
If you are not using a high speed blender you can either soak the cashews overnight, boil them for 30 minutes or grind them into a fine powder using a coffee grinder.
The Parmesan is an optional topping but it adds such good flavor. Make it and keep the rest in your fridge to top anything and everything.
Tips to prep ahead: Make Parmesan if using. Soak cashews if not using a high speed blender.
Recipe by Veggies Don't Bite, visit our site for more great plant-based recipes.
Nutrition
Calories:
115
kcal
Carbohydrates:
12
g
Protein:
5
g
Fat:
5
g
Saturated Fat:
0
g
Polyunsaturated Fat:
0
g
Monounsaturated Fat:
0
g
Trans Fat:
0
g
Cholesterol:
0
mg
Sodium:
404
mg
Potassium:
389
mg
Fiber:
2
g
Sugar:
1
g
Vitamin A:
3385
IU
Vitamin C:
12.3
mg
Calcium:
55
mg
Iron:
2.2
mg
Nutrition and metric information should be considered an estimate.