A vegan bolognese so authentic and perfectly textured, you'll forget it's made out of plants. Rich and hearty, this comforting sauce is the perfect cozy meal.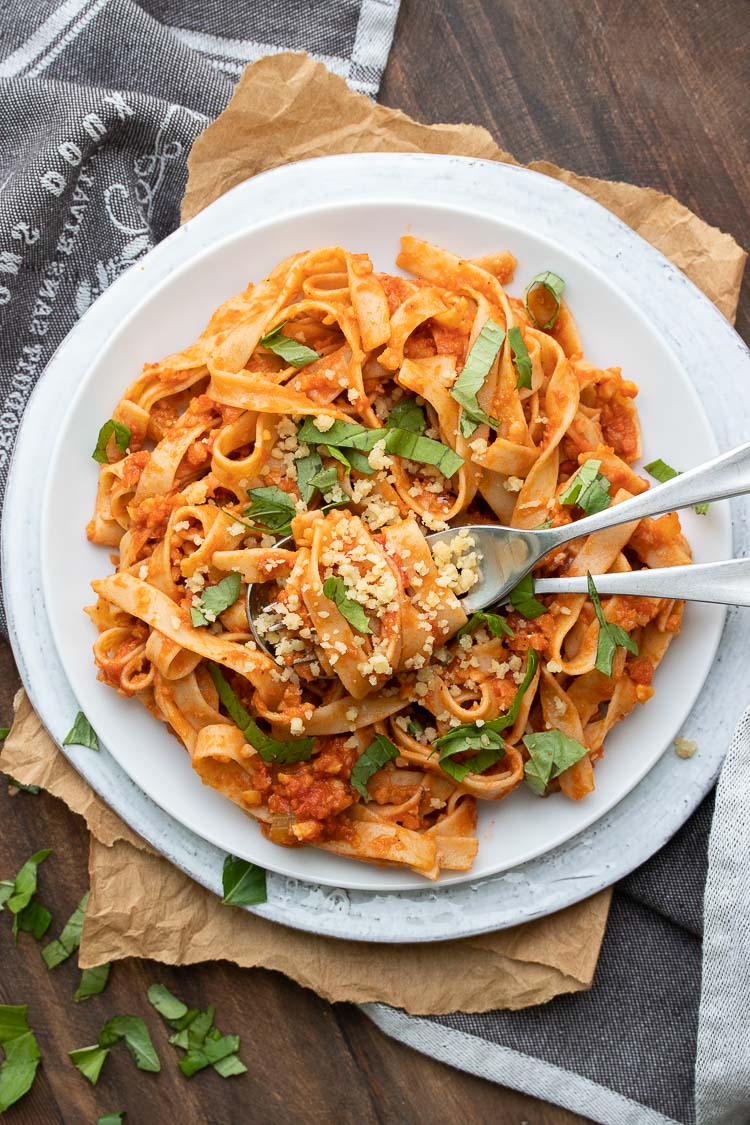 This is probably one of the
best sauces I have ever made
. We are comfort pasta meal fanatics, and I am always looking to better myself in that department. After much research, lots of experimentation, and taking elements from my mom's old recipes, I finally did the impossible: a whole foods based, tofu free, authentic tasting bolognese.
The truth behind bolognese
I did a lot of reading up on traditional bolognese before I set out to create this recipe (yes, I am a food dork). I have other recipes on this site that we love as a bolognese substitute, but I wanted a true authentic, but vegan, "meat" sauce in my back pocket.
With the huge success of my vegan taco meat, the texture is unreal, I knew I had to take this concept I came up with and apply it elsewhere. Namely, in a bolognese sauce. This sauce not only has the most amazing texture, but it's super healthy and made of ALL whole foods. No tofu, no fake meats.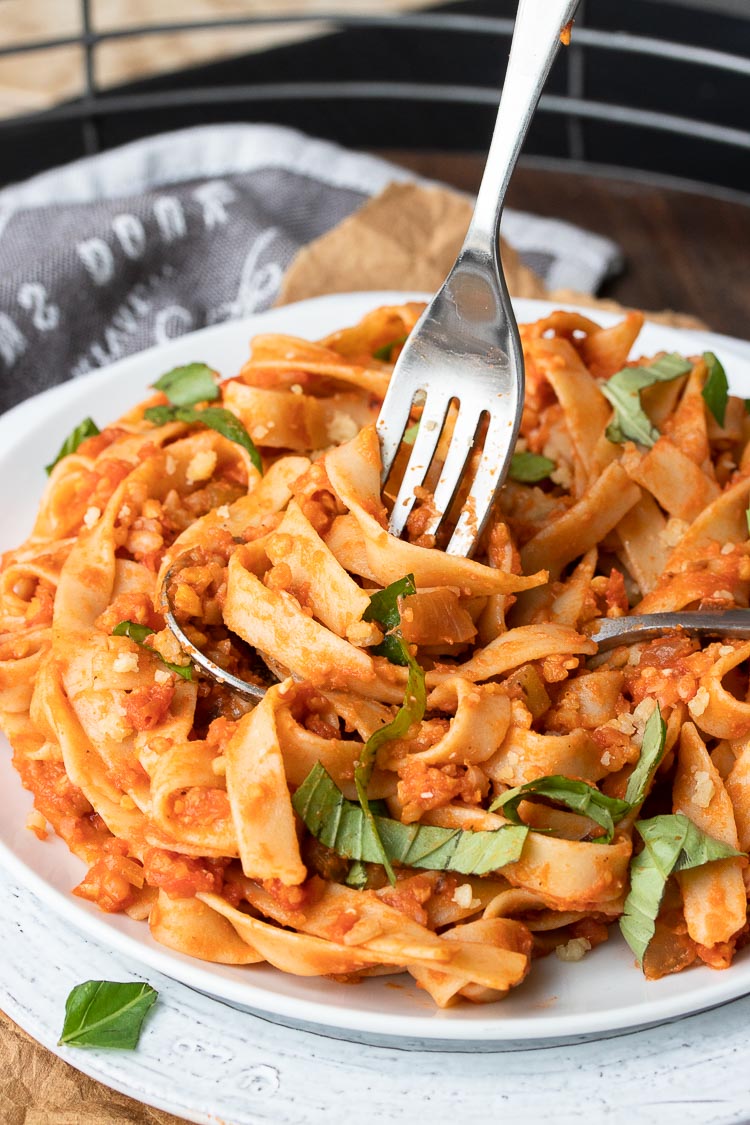 I did loads of research to find out what else is in a real traditional bolognese sauce, or "ragu alla bolognese". From wikipedia, to research on the history of it's origination, there is loads out there. But the bottom line was that the following ingredients seemed to be the main part of a true classic bolognese recipe:
a "soffritto" of onion, celery and carrot
ground beef
pork or pancetta
white wine
milk
broth
some tomato, but not a ton
and believe it or not, no herbs (they simply season with salt and pepper)
The sauce itself is actually a meat sauce with a touch of tomato, versus a tomato sauce with some meat as we typically know it to be here. So how do I create a meat based recipe out of plants? No problem.
Healthy vegan bolognese like you've never had before
As I mentioned, I used the idea from my vegan taco meat as the base to this classic bolognese. The texture of this vegan meat is incredible and my process is unlike anything you've seen before. I am huge on texture so I wouldn't settle for anything less. I also had a few tricks up my sleeve to get the flavor spot on.
Step 1 is to saute the soffritto of veggies (and garlic) until nice and browned, to the point that they are caramelized and the bottom of the pan is getting browned and sticky. This helps give some of the meaty flavor because when you brown meat for traditional bolognese, you get brown bits on the bottom of the pan. 
After that, you deglaze the pan with white wine (learned this from my mom). All you really need to do is stir the veggies with the white wine, scraping the bottom until the wine is cooked off.  This is where my second trick to getting some of that meaty, pancetta type flavor into this sauce comes in. Liquid smoke, just a touch for that pancetta like flavor. You add it in with the white wine while deglazing and it leaves behind the most incredible taste. 
Then you add the other ingredients and bring it to a boil, it will seem really watery but trust me it will thicken. After it gets boiling, you turn it on low and let it simmer while it does it's magic. Go do laundry, catch up on emails, or scream at your kids. Just go about your business. 
Once the sauce has been simmering for about 1 to 1 ½ hours, it thickens up and the flavor is intensely amazing. Then is when you put in the "meat" you made while it was cooking. Folding it in slowly and allowing the flavors of the sauce to absorb.  
Serve it over flat wide noodles for a true classic Italian touch. 
I am so excited for you all to try this. Don't be afraid that it takes time to simmer. As much as I love a quick meal, a true classic bolognese, that can now be enjoyed with whole food vegan ingredients, just can't be beat! Don't forget to tell me what you think!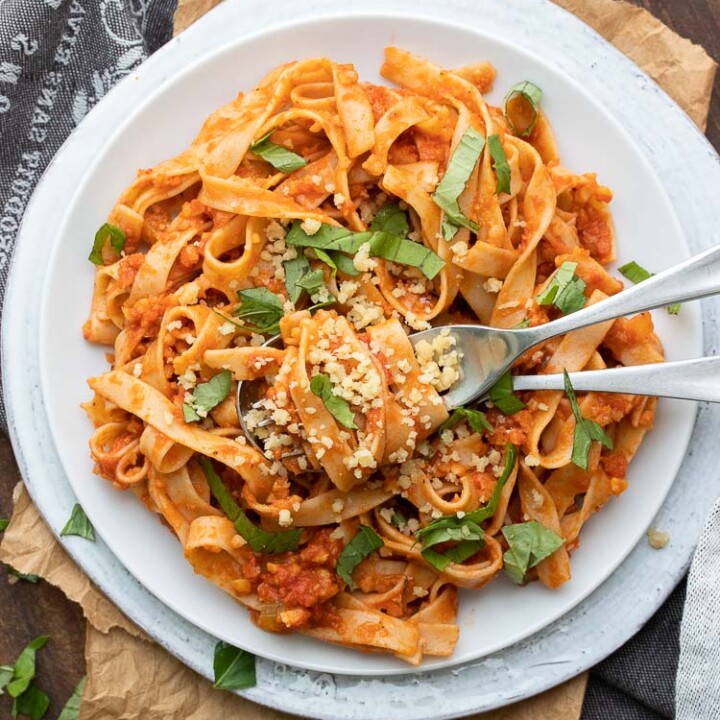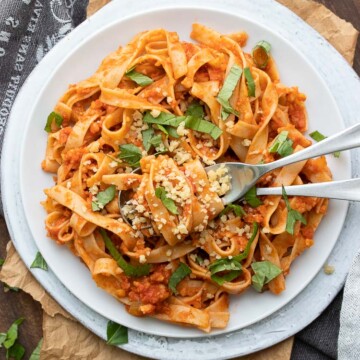 Classic Healthy Bolognese Sauce (Vegan)
A vegan bolognese so authentic and perfectly textured, you'll forget it's made out of plants. Rich and hearty, this comforting sauce is the perfect cozy meal.
Ingredients
Sauce base:
½ cup celery , diced
½ cup carrots , diced
½ cup sweet or yellow onion , diced
2 teaspoons garlic , chopped (about 2-3 cloves)
1-1 ½ teaspoon sea salt
¼ cup veggie broth or 1 tablespoon oil to sauté
1 cup white wine , make sure to use vegan wine to keep this fully vegan
¼ teaspoon liquid smoke
28 ounces crushed tomatoes
2 cups cashew or almond milk
1 cup veggie broth
¼ teaspoon ground black pepper
"Meat" portion:
½ cup dried garbanzo beans , soaked overnight
¼ cup short grain brown rice
Instructions
Sauté the celery, carrots, onion, garlic and ¾ teaspoon salt in a sauté pan over medium heat until brown and caramelized. About 8-10 minutes. You can use oil or broth (if you are oil-free), but make sure you get it nice and browned.

Add the wine and liquid smoke, and simmer as you gently stir and scrape the pan to get all the browned stuff stuck to the bottom off. This is called deglazing. Keep going until most of the wine has evaporated, about 5-7 minutes.

Then add the tomatoes, milk, broth, the rest of the salt (start with ¼ teaspoon and add more if needed) and the pepper. Bring to a boil, then reduce the heat to low and simmer for 80-90 minutes. Stir every 20 minutes or so. You decide how "saucy" you want this, simmer on the lower end for a saucier end result. Don't forget that when you add the "meat" at the end, it will suck up some of the liquid.

While it is cooking, make the "meat" portion. Put the rice in a medium sized pot and fill it with water, make sure you have plenty of water so that when you add the chickpeas it will cover them.

Partially cover and bring to a boil (about 7-8 minutes, depending on stove top).

Turn the heat down to medium and cook partially covered an additional 10 minutes (should be about 17-18 minutes total rice cooking time). The texture of the rice should be just beginning to get chewy, not hard but not fully cooked.

Add the soaked chickpeas and cook an additional 8 minutes.

Drain and rinse. Put the mixture in a food processor.

Pulse until you get a crumbly meaty like texture. You may need to stop and mix every few pulses. Set aside.

When the sauce is done cooking, it will have thickened up well. Add about 1 ½ to 2 cups of the meat. You can add as little or as much as you prefer.

Continue to stir and cook the sauce until you get the thickness you prefer.

Serve over your favorite pasta and devour.
Notes
Nutrition facts are for the bolognese only, they do not include the pasta.
If you don't do wine, then you can sub with 1 cup veggie broth, but I highly recommend the wine as it helps give it the amazing deep flavor.
If you do not have liquid smoke, you could leave it out or try using a bit of smoked paprika. The liquid smoke is definitely the best option but the sauce will still be good without it.
The meat portion makes a little over 2 cups. I only used about 1 ½ cups in my sauce. You can decide how little or how much you want to add. The extra can always be used at a later date, or it can also be frozen.
Recipe by Veggies Don't Bite, visit our site for more great plant-based recipes.
Nutrition
Calories: 282kcalCarbohydrates: 45gProtein: 10gFat: 3gSaturated Fat: 0gPolyunsaturated Fat: 0gMonounsaturated Fat: 0gTrans Fat: 0gCholesterol: 0mgSodium: 930mgPotassium: 996mgFiber: 9gSugar: 14gVitamin A: 3175IUVitamin C: 22mgCalcium: 120mgIron: 4.6mg
Nutrition and metric information should be considered an estimate.
Never miss a recipe!
Sign up here and get a FREE quick and easy meal guide!