This vegan tiramisu recipe is a quick and easy twist on the classic version. Perfect for a snack or a make ahead dessert option, and great for on the go!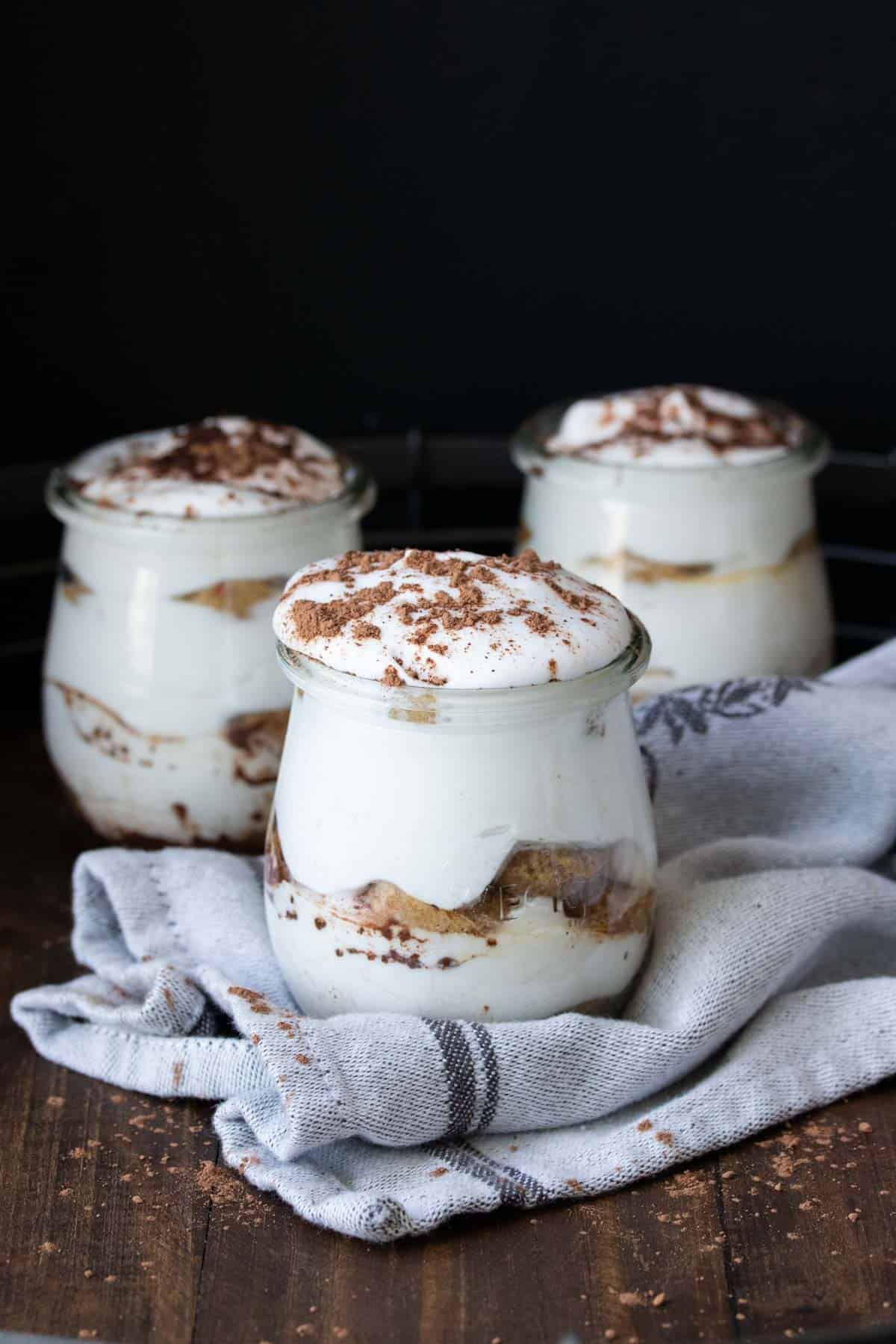 This post was sponsored by MadeGood but the content and opinions expressed are fully my own.
I love a fancy dessert, but I don't love the time it takes to make them. So I often create what I call "cheater" versions. This is one of them! It may not be just like the original, but dang it's delicious!
Simple Tiramisu Basics
Typically Tiramisu is an Italian layered dessert recipe full of dairy and multiple layers that takes some time to put together, especially if you are making them from scratch. So I decided to tackle both of those issues at once and make an easy version that was dairy-free!
Ingredients
Here are the main components of my vegan version:
Soft baked cookies
Coconut whipped cream
Coffee
Cocoa powder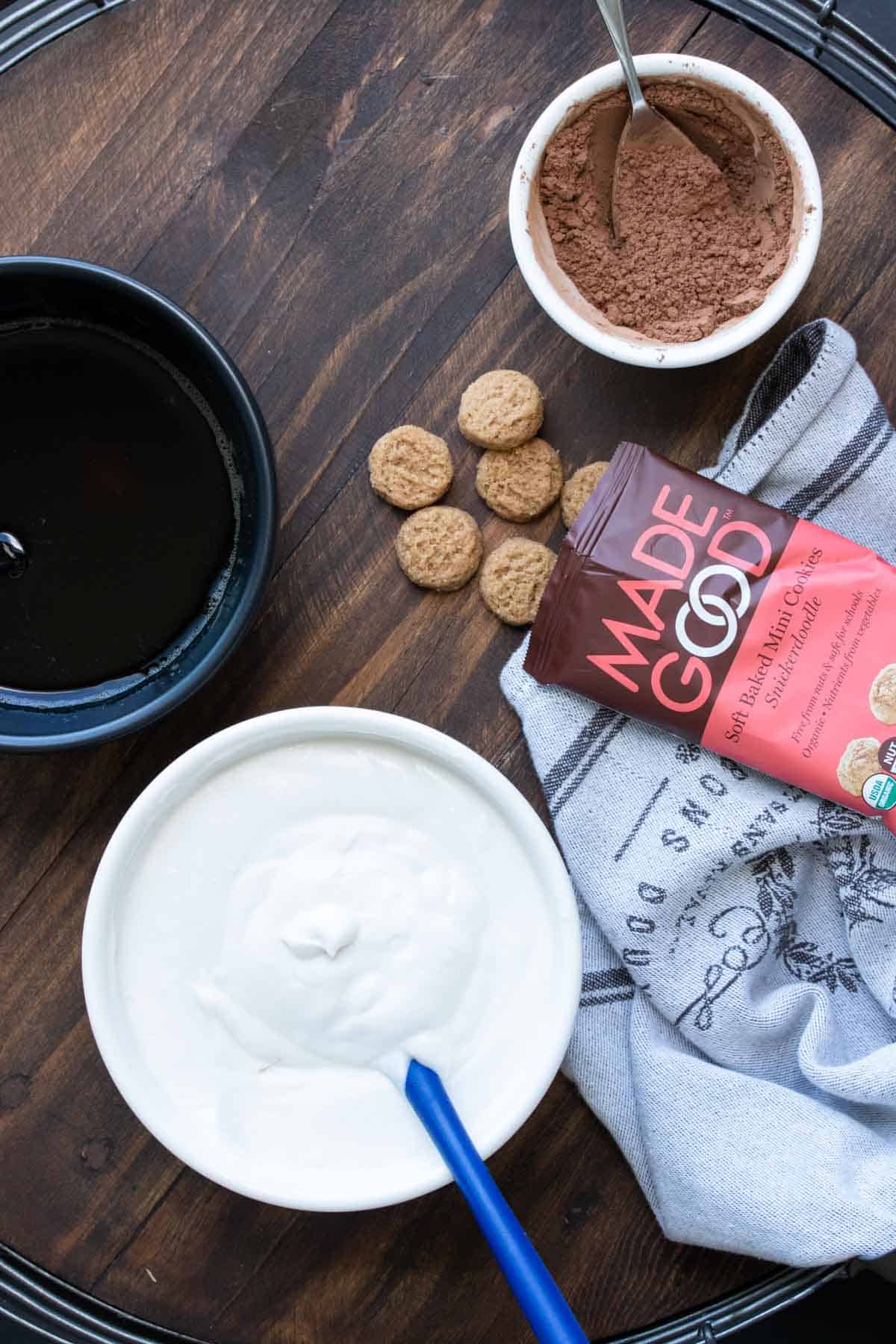 For the cookies, I used the mini cookies by MadeGood. We love these because they are made with simple ingredients, are gluten-free and vegan, and mini in size so easy to use in individual jars!
They have many flavors, but I loved the snickerdoodle best because it goes best as a tiramisu base. Because they are soft baked, they take less time to settle into the final soft dessert product.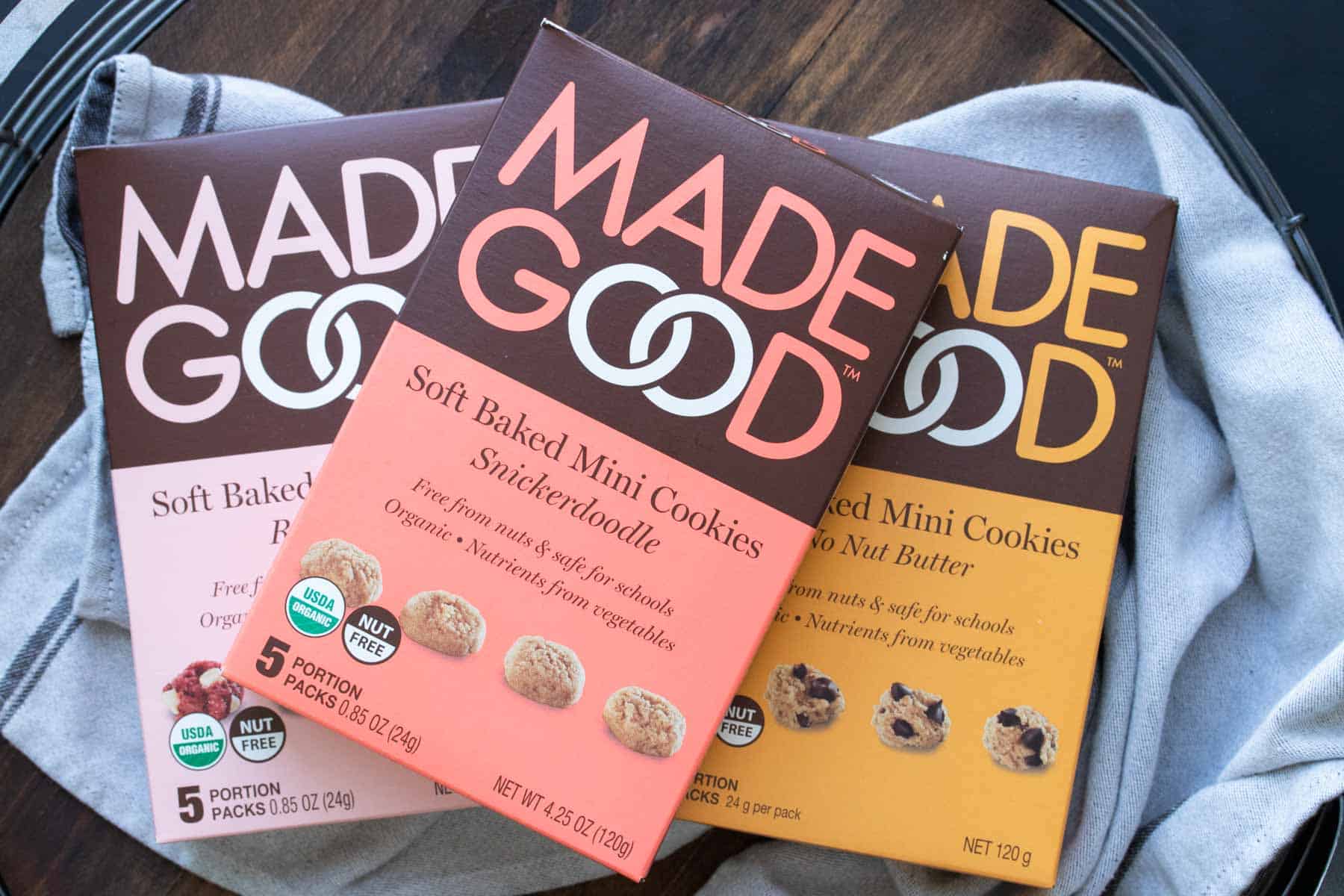 For the whipped cream, you can use store bought or make it yourself with my homemade coconut whipped cream recipe. The mascarpone is easy to make, and can be made ahead of time so it's ready day of. But you can always use store bought too!
While traditional tiramisu often has alcohol, this one is alcohol free. Mostly because I didn't want to deal with it, but also I was trying to keep this as simple as possible.
How to Make Easy Vegan Tiramisu
I created this recipe as an individualized jar because it made it super easy. But you can always make it in a pan too!
Make the coffee mixture.
Make the creamy mixture.
You will be dipping each cookie in the coffee mixture. Then you are going to layer the jars as follows: cocoa powder, cookies, Creamy layer and again three times.
Let it set in the fridge for at least 1-2 hours, as long as you are using soft cookies this should be long enough. And enjoy!
Tips and Tricks
In order to get this made and set just right, I have a few tips to share:
When you dip your cookies, put the entire group for that layer in at once and let them sit a few minutes. This will soften them enough so they don't need as long to set.
Take the cookies out of the coffee mixture with a fork so you don't carry extra liquid into the layer.
If you decide to use harder cookies you'll need to let them sit a little longer.
When mixing the creamy layer, use a whisk to make it fluffy and whipped.
Common Questions
How far ahead can I make this?
This recipe will keep in the fridge for 3-5 days and still be delicious! Make it ahead of time for a super easy treat!
How long does this take to set?
If you are using soft cookies, this only needs 1-2 hours to set. If you use harder cookies, it will need closer to 3-4 hours.
How do I store this?
I love making this in individual jars. You can simply use jars with lids and store in the fridge. If you make in a pan, then cover with plastic wrap and make sure it has a good seal.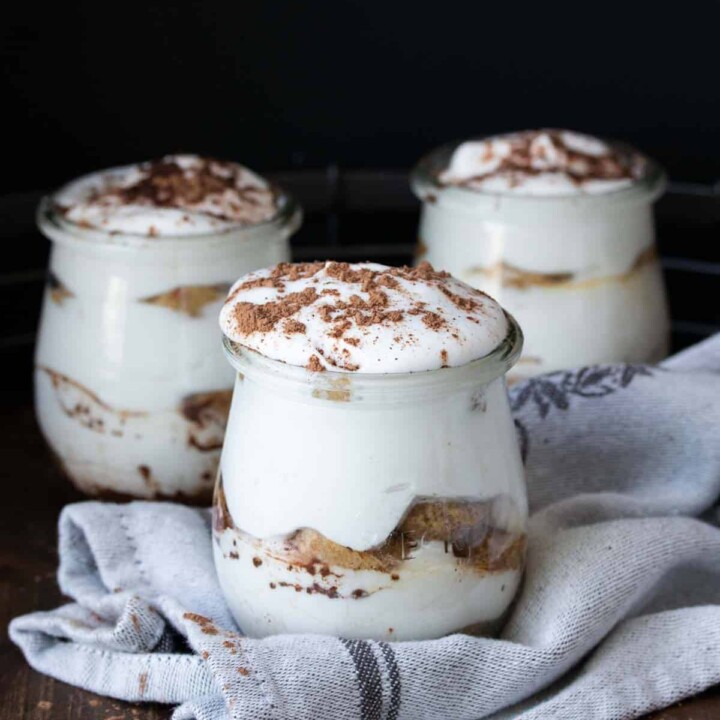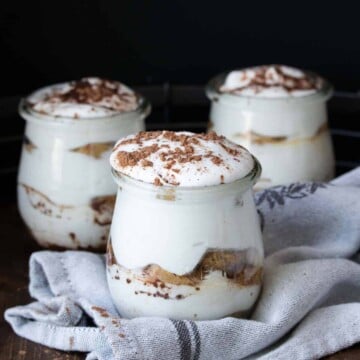 Easy Vegan Tiramisu Recipe
This vegan tiramisu recipe is a quick and easy twist on the classic version. Perfect for a snack or a make ahead dessert option, and great for on the go!
Ingredients
Cookie layer:
45 mini cookies or 9 regular sized cookies , I used the MadeGood snickerdoodle flavor soft baked mini cookies
1 cup coffee
½ teaspoon almond extract
1 tablespoon cane sugar , optional
Instructions
Mix the coffee, almond extract and sugar and set aside.

Mix the mascarpone, whipped cream and sugar and set aside.

Mix the cocoa powder and espresso and set aside.

Dip the cookies in the coffee mixture.
Build the tiramisu as follows:
Add a sprinkle of topping at the bottom of each jar

Add 5 mini cookies

Add about 3 tablespoons of cream layer

Add a sprinkle of topping

Repeat two more times until you end with the cream layer sprinkled with topping.

Put jars in the fridge to set for at least two hours. Then enjoy!
Notes
 This recipe makes 3 six ounce jars. If you want to make this in a square pan, double the recipe.
The mascarpone recipe makes 2 cups, so half the recipe or make it all to use elsewhere.
Nutrition facts will change depending on the cookies you use.
Recipe by Veggies Don't Bite, visit our site for more great plant-based recipes.
Nutrition
Calories: 876kcalCarbohydrates: 81gProtein: 12gFat: 61gSaturated Fat: 25gSodium: 332mgPotassium: 507mgFiber: 8gSugar: 41gVitamin C: 8mgCalcium: 54mgIron: 5mg
Nutrition and metric information should be considered an estimate.
Never miss a recipe!
Sign up here and get a FREE quick and easy meal guide!