Gallo Pinto is a traditional Costa Rican breakfast. This authentic recipe easy to make, healthy and uses up leftover ingredients!
Many times this is served alongside eggs, plantains and tortillas but can be eaten however you prefer. It's a staple meal that keeps you full for hours!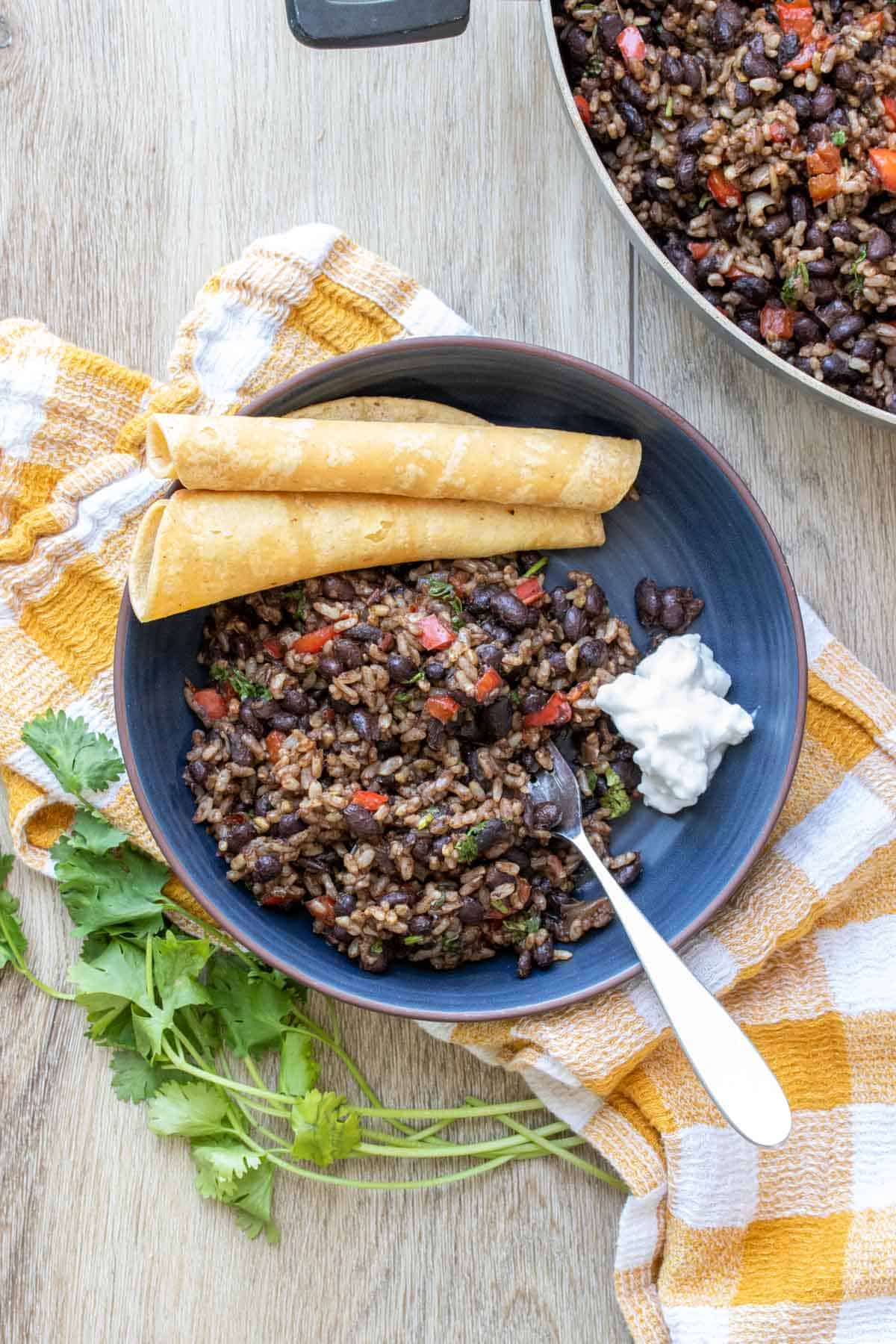 This post was originally published on October 14, 2021.
This recipe is based off of my good friend from Costa Rica's homemade recipe that she throws together without measuring. I made it multiple times to figure out amounts of each ingredients and then tasted and approved by her whole family! I love it served with my vegan scrambled eggs.
Ingredients
To make this classic Costa Rican rice and bean recipe you will need the following ingredients: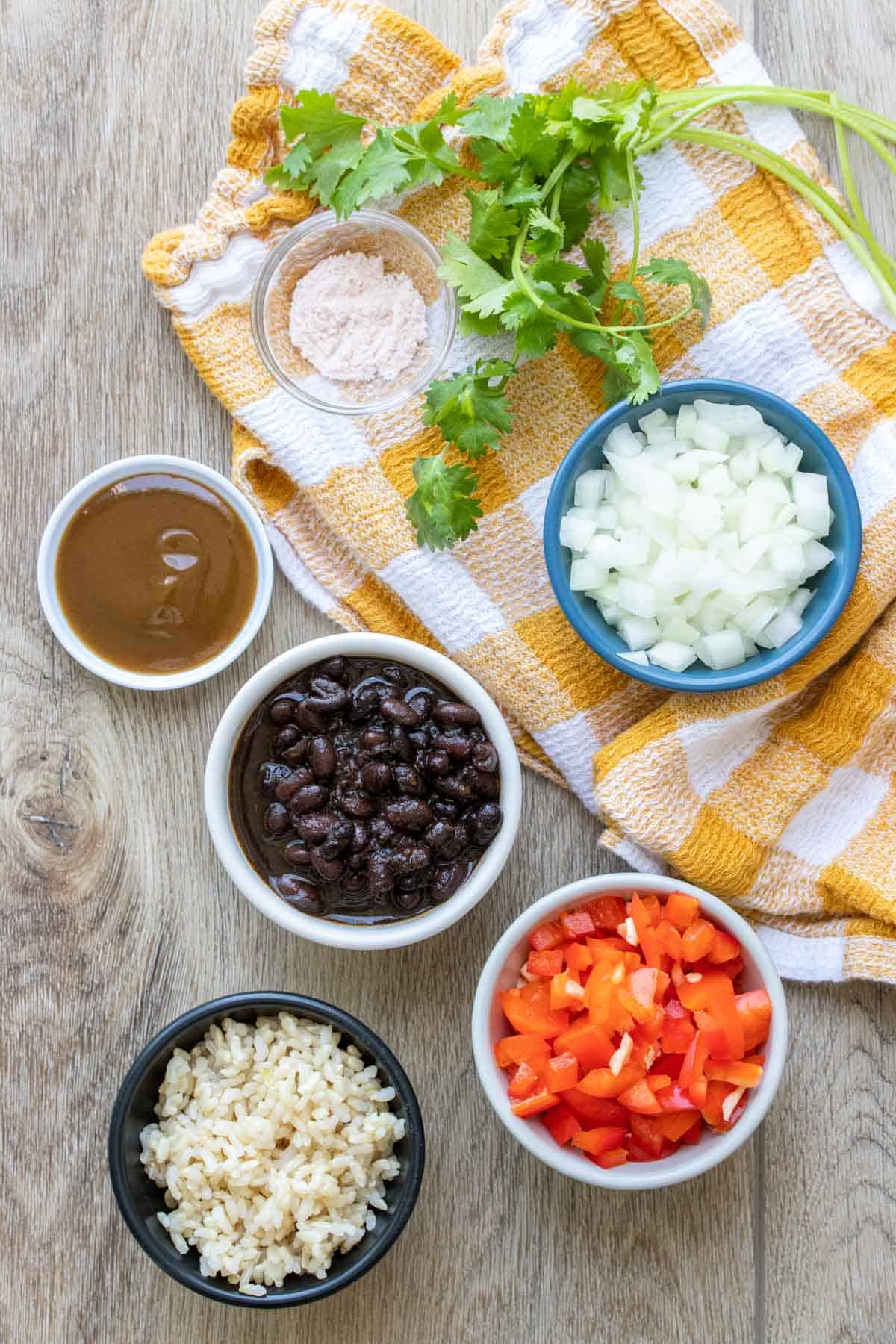 The salsa mentioned, Lizano, is a classic Costa Rican condiment. You may be able to find it at some grocery stores or specialty stores. If you can't find it anywhere it is online. The flavor is so unique and delicious I do not recommend substituting it for anything else. Plus, once you get a taste you'll want to put it on everything!
How to make Costa Rican Rice and Beans
Gallo Pinto is an amazingly easy recipe that makes great use of leftovers. Here's what to do:
Sauté the onions and peppers.
Add the beans with juices.
Mix in the rice and Salsa Lizano.
Stir in the cilantro.
Serve!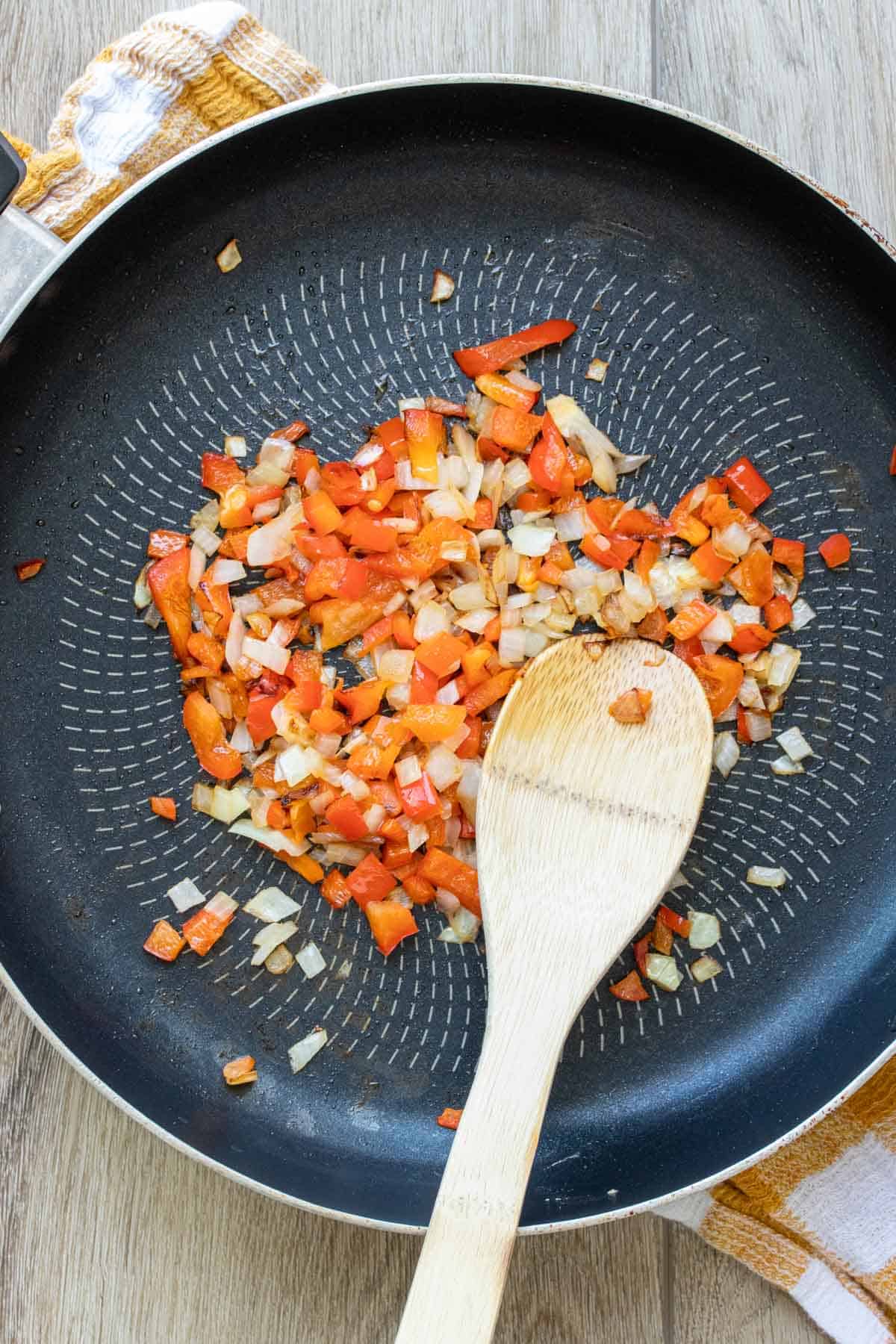 What to Serve With Gallo Pinto
Gallo pinto is generally served as a breakfast dish alongside eggs, avocados, plantains, and a corn tortilla. However, it also makes an excellent side dish any time of day!
Dress it up with toppings as an entree, or serve with other tasty meals. Here are a few ideas to get you started:
Flavor Tips
Mix it up and try different beans such as pinto beans, white beans, or kidney beans.
If you must use canned beans you can, but the liquid won't be as rich and savory as homemade.
White rice is the traditional choice, but you may switch it out for brown rice, or other grains like quinoa, barley, etc.
Make sure the rice used is cooked al dente so it doesn't get too mushy. Leftover rice, at least a day old, is ideal for the dry texture.
Meal Prep and Storage Tips
Prepare this recipe for Costa Rican rice and beans partially or completely in advance. Or, make extra and save the leftovers for easy meals!
Make the rice and beans up to 3 days in advance.
Chop up the peppers and onions up to 3 days ahead of time as well.
Store the rice, beans, and chopped veggies in separate airtight containers in the refrigerator until ready to make the dish.
Store any leftover gallo pinto in an airtight container in the refrigerator for up to 3-5 days.
Keep it even longer in the freezer! Seal in a freezer safe airtight container for up to 3 months.
Reheat in a skillet over medium heat, or quickly in the microwave.
Common Questions
What is the national dish of Costa Rica?
Gallo pinto, a dish made with rice, beans, peppers, and Salsa Lizano, is the national dish of Costa Rica.
Why is rice and beans called gallo pinto?
The name translates to "spotted rooster". It was named this due to the speckled appearance of the dish.
What is a typical breakfast in Costa Rica?
Gallo pinto is a common Costa Rican breakfast. It is often served with eggs, corn tortillas, sausage, sour cream, and plantains.
What is the seasoning in gallo pinto?
The majority of the flavor in Costa Rican rice and beans comes from salsa Lizano. Its flavor is unmatched and should not be substituted in this recipe.
More Easy Vegan Recipes
Easy recipes are the best recipes! These family friendly plant based meals are so simple to put together, you're going to love them!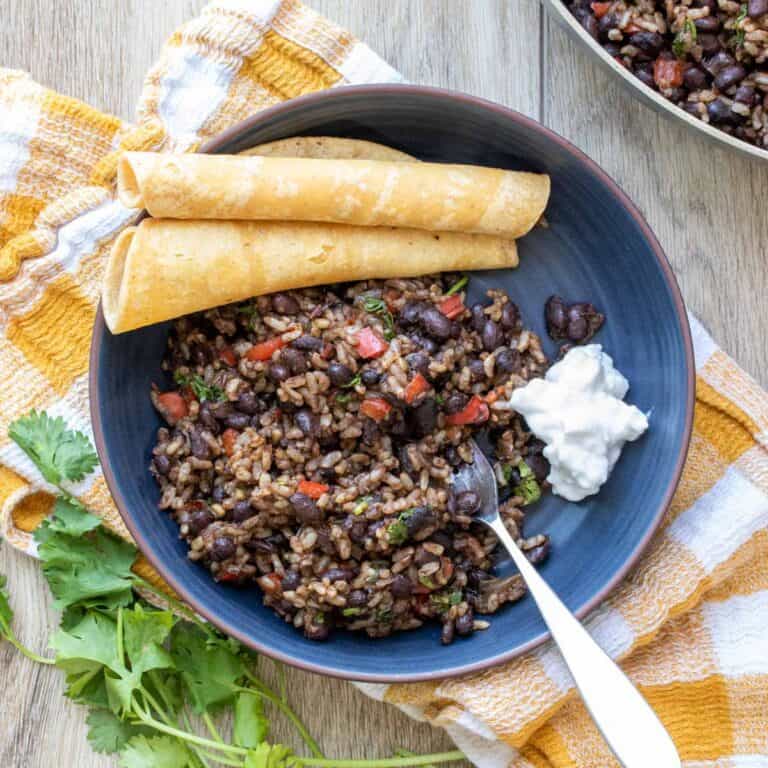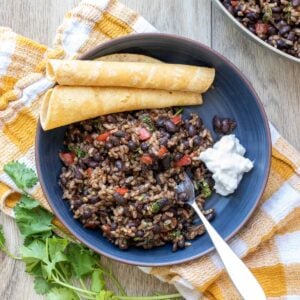 Gallo Pinto Recipe (Costa Rican Rice & Beans)
Gallo Pinto is a traditional Costa Rican breakfast. This authentic recipe easy to make, healthy and uses up leftover ingredients!
Ingredients
½ cup chopped yellow onion
½ cup chopped red pepper
½ teaspoon sea salt , optional (will depend on black bean salt content and how much Salsa Lizano you use)
Drizzle of oil or broth to saute
2 cups homemade black beans juices , ½ recipe my homemade black beans (see note)
3 cups cooked rice , al dente so it doesn't get too mushy
2 - 4 tablespoons Salsa Lizano , start with 2 and taste to adjust (see note)
¼ - ½ cup cilantro , adjust to your liking
To serve (optional):
Eggs , my vegan egg recipes work great
Instructions
Saute the onion, pepper and salt in a pan over medium heat with oil or broth until they soften (about 3-5 minutes).

Add beans with juices. Cook until almost all the juice is gone.

Add the rice and Salsa Lizano. Stir it and let it dry up.

Turn off the heat and mix in the cilantro.

Serve with eggs, other sides/toppings or plain!
Notes
This is traditionally made with leftover beans and rice. Just make sure there is enough juice in the beans. If you are in a pinch you can use canned beans with their liquid but the end flavor won't be as rich and savory as my homemade beans have a lot of flavor as is.
The rice is best old and cold, cooked al dente so it doesn't absorb too much liquid and get mushy.
Salsa Lizano is traditional in this dish. You can find it online, in a specialty market or in the ethnic aisle of some grocery stores. There isn't really a straight substitute as it is a very unique flavor but some sources online say you can use Worchester sauce. My Costa Rican friends say it's more like A1 steak sauce. Adjust the amount for your preference as it may change depending on the beans you use.
Recipe by Veggies Don't Bite, visit our site for more great plant-based recipes.
Nutrition
Calories: 254kcalCarbohydrates: 52gProtein: 9gFat: 1gSaturated Fat: 1gPolyunsaturated Fat: 1gMonounsaturated Fat: 1gSodium: 441mgPotassium: 380mgFiber: 7gSugar: 3gVitamin A: 654IUVitamin C: 28mgCalcium: 49mgIron: 2mg
Nutrition and metric information should be considered an estimate.
Never miss a recipe!
Sign up here and get a FREE quick and easy meal guide!