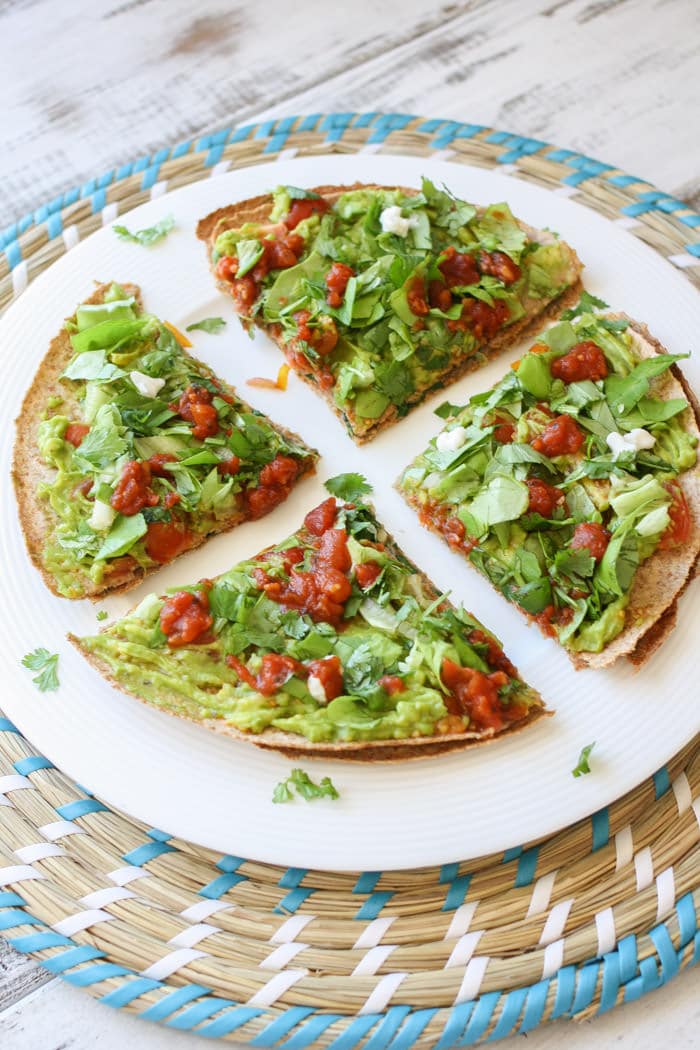 I love it when you throw together a random dinner because you have nothing planned and it turns out awesome. This recipe was exactly that! I had no idea what to serve for dinner and was feeling lazy, so I looked in my refrigerator and freezer to find some leftover Spicy "Refried" Lentil Dip, tortillas, and a bunch of fresh veggies. Next thing we knew, we were eating a new favorite quick meal! We call it Mexican Pizza because of it's crispy tortilla crust layered with creamy lentil filling and topped flavorful ingredients. It was tasty and hit the spot. The kids loved it too, especially building their own.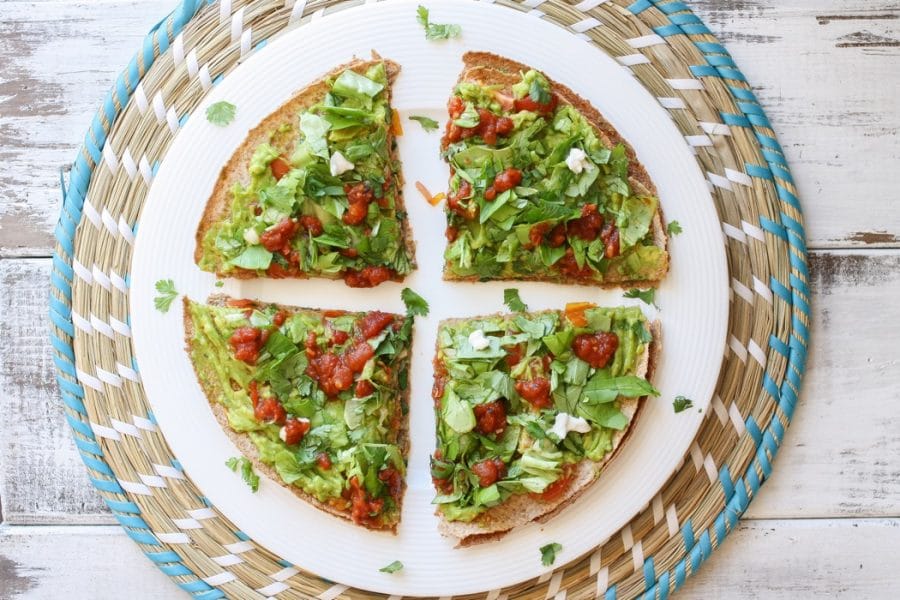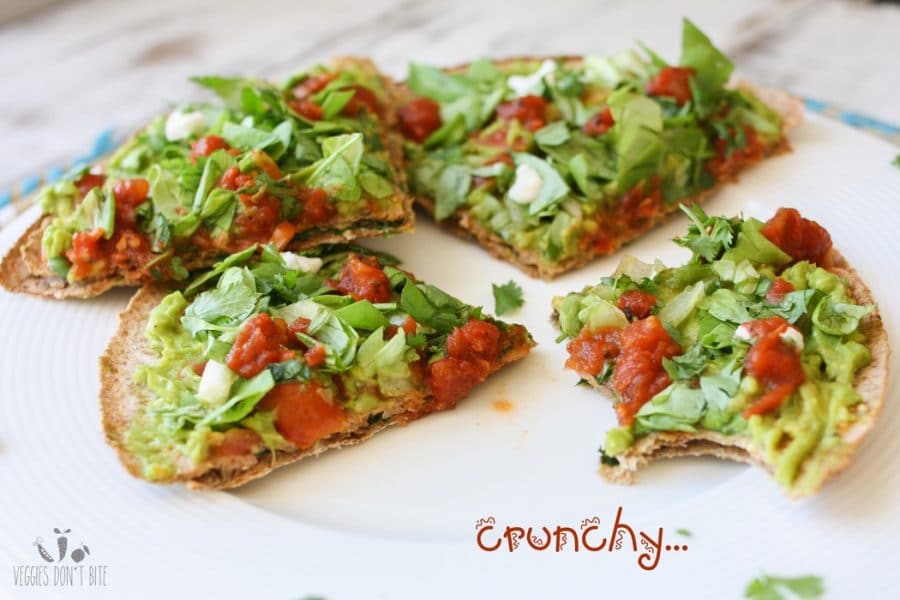 I love that you can make each person their own pizza, and customize it for their preferences! These are the kind of meals that make everyone happy, even the feisty 2 year old. You can add as many or as little toppings as you want, spice it up or make it mild. There is so much versatility in this recipe, you can't go wrong! So gather your beans and fresh veggies and give this one a try. You won't be disappointed!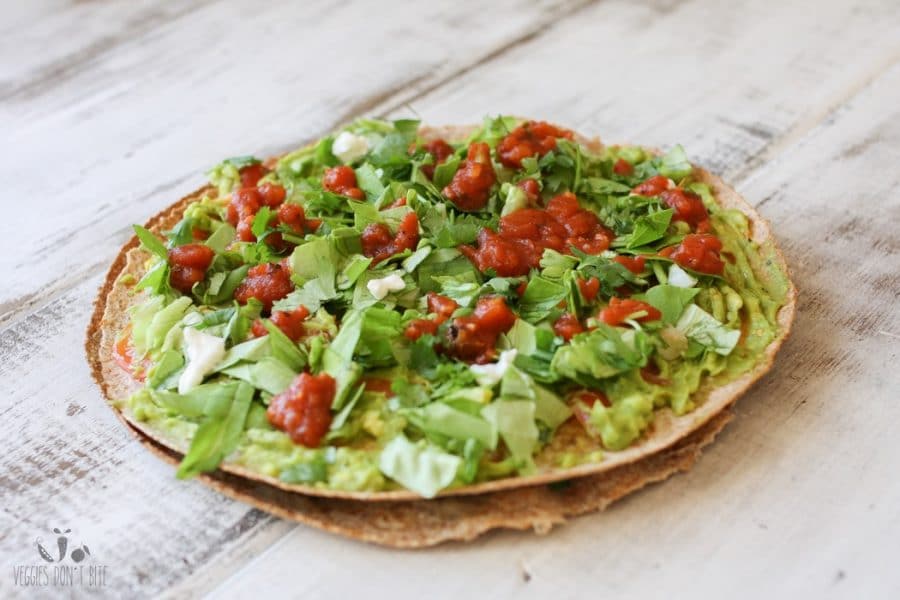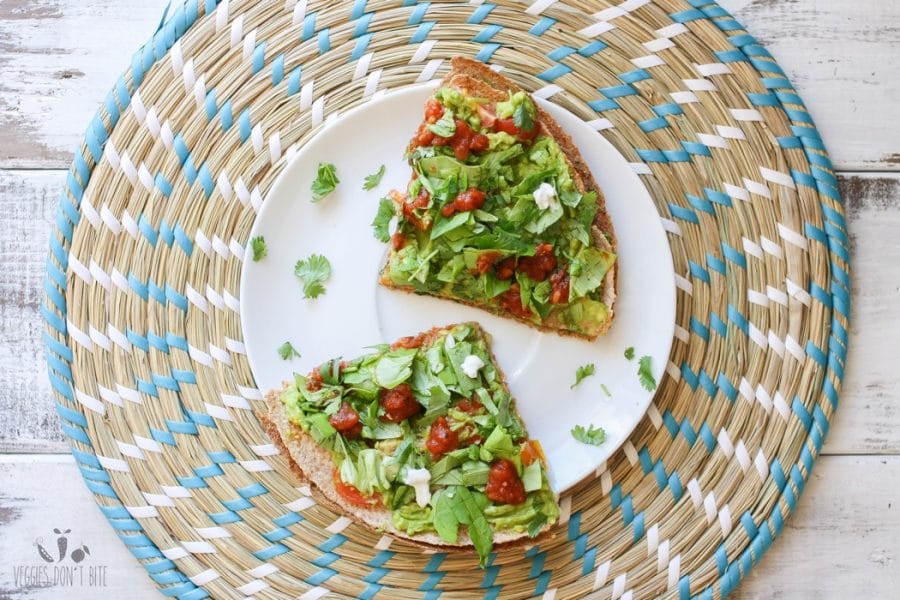 Try this other great Mexican meal!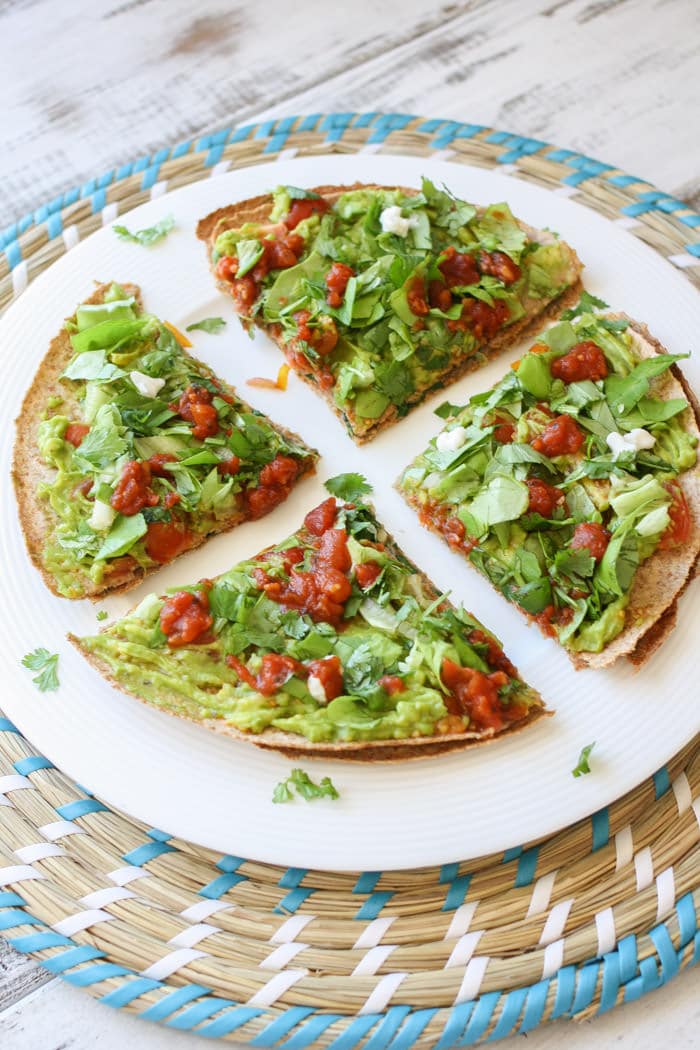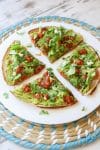 Mexican Pizza
Recipe Notes
Junk food gone healthy! This vegan Mexican pizza is filled with protein, fresh veggies and plenty of flavor. Eating "bad" never felt so good!
Ingredients:
1 cup chopped kale
1 cup chopped tomatoes
½ cup sliced green onions
½ cup chopped cilantro
2 cups chopped lettuce
Guacamole, double the recipe
Salsa of choice
Vegan Sour Cream, half the recipe
your favorite hot sauce (optional)
note: You can add or delete any of the toppings and use regular sour cream if you aren't concerned with it being totally vegan. You can also add some vegan cheese, such as Daiya, on top of the lentil dip when putting it together (or regular cheese if you don't mind it not being vegan). If you want to make this without spice, then don't add the peppers when making the "Refried" Lentil Dip, this makes the dip very kid friendly.
Instructions:
Preheat oven to 350. Place tortillas on cookie sheets and bake for 3-4 minutes on each side.
Make Spicy "Refried" Lentil Dip, Guacamole, and Sour Cream if it isn't already prepared.
Wash and chop veggies.
Once tortillas are done, spread ¼ of a cup bean dip on 4 of the tortillas, sprinkle with chopped kale and green onions. Add cheese here if using. Cover with the remaining tortillas. Spread another ¼ cup of bean dip on top of the second tortilla and sprinkle with a handful of chopped tomatoes.
Bake for another 5 minutes. Once done, spread ½ cup Guacamole on top of each pizza, cover with lettuce, cilantro, salsa and sour cream. Using a pizza cutter slice pizza and enjoy!