This fresh Mexican salsa recipe is easy and packed full of flavor! It is so delicious, the store-bought favorites don't compare to this homemade version.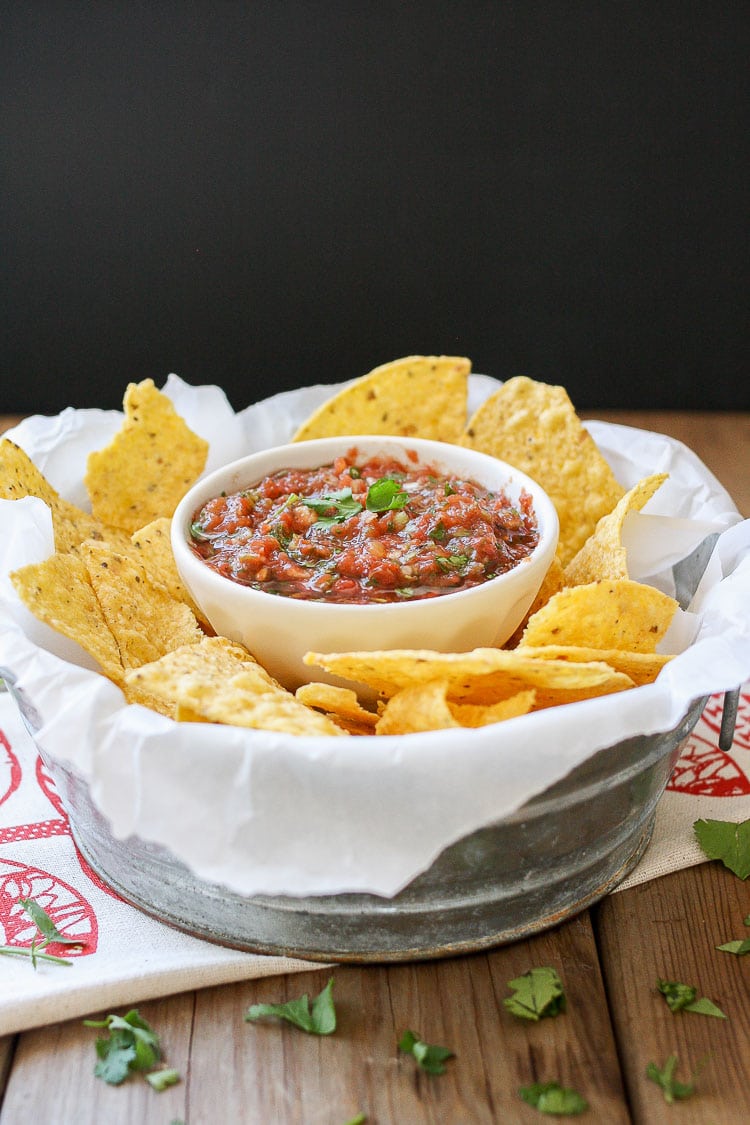 This post was originally published on August 30, 2015.
Salsa. And chips. It's a food group. I could literally eat it all day and be happy. Unless the salsa is awful. There is nothing worse than a bad-tasting salsa. I personally need salsa with some flavor, a little pizzaz. So I obviously had to jump in and make my own!
Mexican Salsa Recipe
I have my go-to Mexican restaurants, always judged at the top because their salsas are superb! Like hot sauce, I love salsa on my food. Loads and loads. Especially fresh Mexican salsa! YUM.
My version of fresh Mexican salsa has a lot of different flavors going on. A little fresh tomato, but also a touch of fire-roasted flavor. I loved the combo of these two to make the ultimate end result!
What are the ingredients for salsa?
There are so many types of salsas out there, but there are some basics that most share in common. Here is a basic list:
Tomatoes of some sort (fresh, roasted, tomatillos, etc)
Onion
Cilantro
Peppers
Garlic
Salt
Lime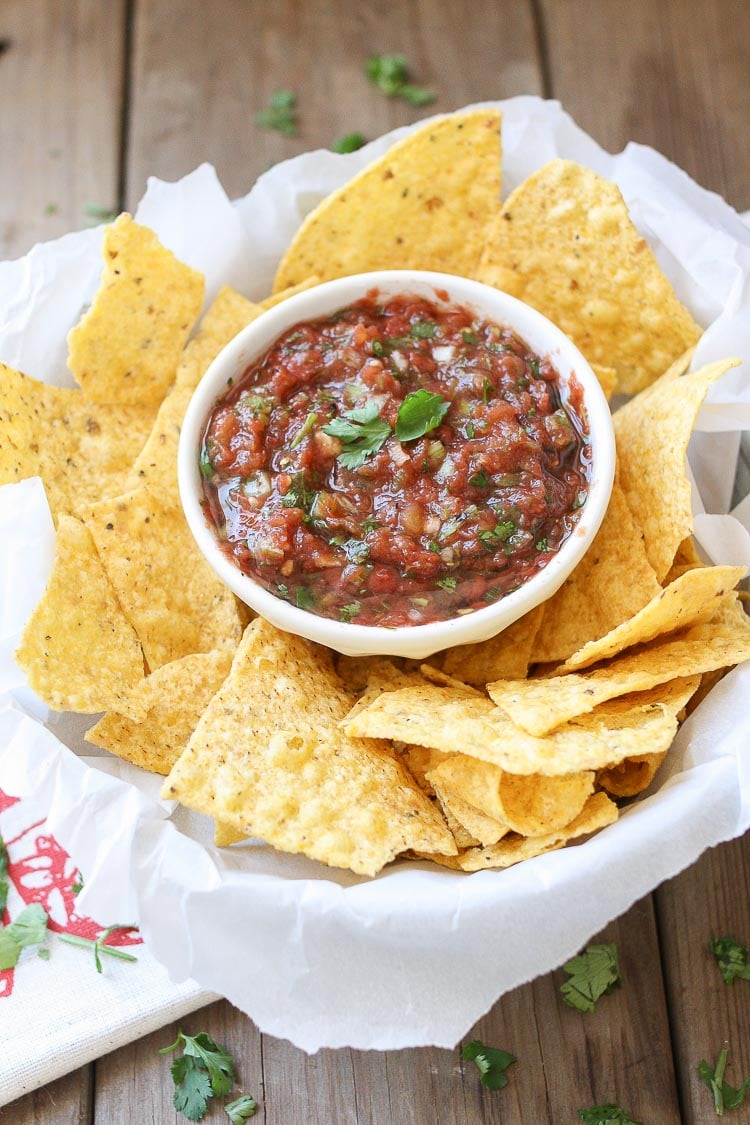 What is the best salsa?
Obviously mine! Haha! Totally kidding, kinda. The best salsa is a personal opinion but I believe that it needs to be flavorful! I like all kinds of salsa, so first you should nail down what you are looking for in flavor.
Different types of salsa are good for different things. There is fresh, roasted, green, mild, spicy, sweet, etc. I love them all!
What kind of tomatoes are best
This depends on the type of salsa you want. I have recipes for both a homemade roasted salsa (in my cookbook) and this more fresh salsa recipe and use both. I like the roasted one for eating but also for using in enchiladas and other baked recipes too.
So different recipes use different tomatoes. If you are using only roasted tomatoes that will give you a more deep roasted flavor. If you are using mostly fresh tomatoes, you will have a fresher lighter flavor. And there is even tomatillos for a more tangy type salsa!
Do you have to peel the tomatoes?
This depends on the end result you are going for. For this recipe, I do not peel them. I don't find the need since it is blended but if you are making it chunky and you do not like the texture of the skins, then definitely peel them.
If you are canning a salsa however, you may want to peel the tomatoes because the skins are a little tough and with canning they will stand out. Click here to watch a video on the canning process!
Shelf life and storing
This salsa will last about 5-6 days in an airtight container in the fridge. The good news is that it is so delish, it probably won't last that long! If you can't eat it all within that time frame, I would recommend making a half recipe.
I would not recommend freezing this salsa, it just isn't going to hold up well and will become watery since it is based on fresh tomatoes.
How To Make Fresh Mexican Salsa
Put all ingredients into a food processor or blender. Don't over blend if you want some texture.
You can strain it through a mesh strainer for a chunkier version, or just get to dipping!
Tips for making this more or less spicy
This is a mild salsa recipe, perfect for all ages. If you are a spice addict (like me), you can add some fresh jalapeños, cayenne pepper or even chipotle pepper to spicy it up. You could also add some hot sauce if you want some extra tang with the spice.
Serving suggestions
I love Mexican food so I have loads of great recipes that this salsa pairs perfectly with! Here are some of my favorites: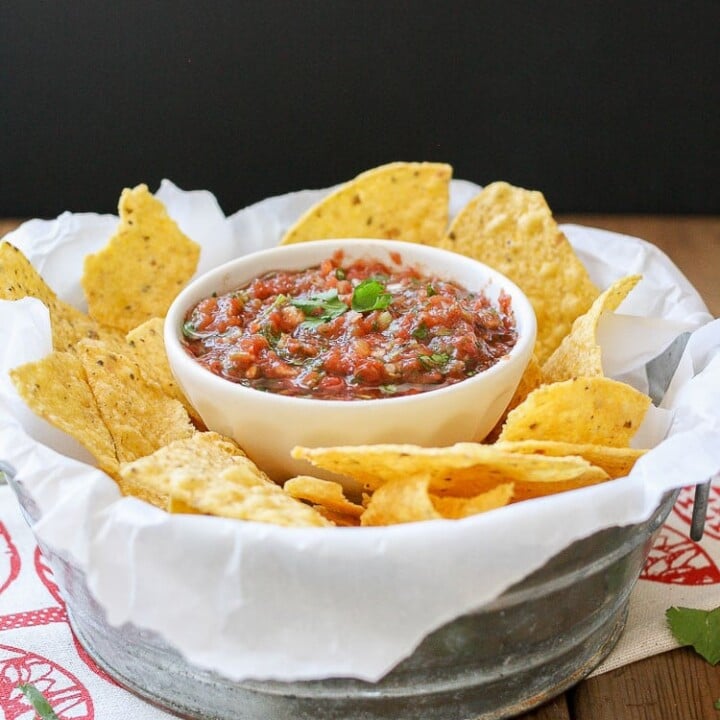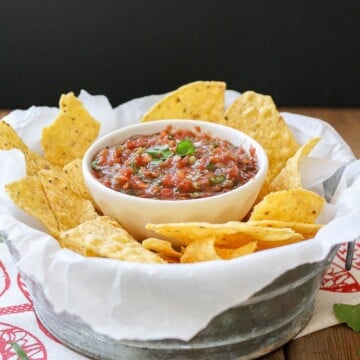 Easy Fresh Mexican Salsa Recipe
This fresh Mexican salsa recipe is easy and packed full of flavor! It is so delicious, the store-bought favorites don't compare to this homemade version.
Equipment
blender or food processor
Ingredients
2 cups chopped fresh tomatoes , about 4 average sized tomatoes
15 ounces fire roasted chopped tomatoes , drained (1 can)
½ cup sliced green onion , about 1-2 onions
½ cup chopped sweet or yellow onion , about ½ of an average sized onion
1 cup chopped cilantro
2 cloves fresh garlic , or 4 cloves roasted garlic if preferred
1 tablespoon apple cider vinegar
1 tablespoon lime juice
1 teaspoon sea salt
cayenne, chipotle pepper or fresh jalapeños , optional for added spice
Instructions
If using roasted garlic, peel garlic and mix with a splash of oil or veggie broth and some salt. Wrap in tin foil, and/or parchment and roast at 400°F/200°C in a regular or toaster oven, about 20-25 minutes, until garlic is browning and looks caramelized.

Drain fire roasted tomatoes.

Place all ingredients except green onions and cilantro into a food processor or blender and pulse until coarsely chopped. 

Add green onions and cilantro and pulse a few more times.

If you prefer a less liquid salsa, drain using a fine mesh strainer.

Serve!
Notes
This salsa is a fresh tomato flavored salsa. If you want a more fire roasted flavor use more canned fire roasted tomatoes and less fresh. As long as you keep the total volume of tomatoes the same as the recipe, it will turn out great.
The veggies only need to be coarsely chopped for measurement purposes since you will be blending them.
This makes about 4 ½ cups salsa. Serving size is ½ cup.
Baby/toddler food idea:
This is a mild salsa so any child able to eat tomatoes is able to enjoy this as a dip. Many babies can't handle the acidity of tomatoes until later so take caution before offering to an infant. It is probably best to wait until they are at least 8 months old.
Recipe by Veggies Don't Bite, visit our site for more great plant-based recipes.
Nutrition
Calories: 14kcalCarbohydrates: 3gProtein: 1gFat: 1gSaturated Fat: 1gSodium: 235mgPotassium: 114mgFiber: 1gSugar: 2gVitamin A: 451IUVitamin C: 7mgCalcium: 11mgIron: 1mg
Nutrition and metric information should be considered an estimate.
Never miss a recipe!
Sign up here and get a FREE quick and easy meal guide!