This quick and easy fresh Mexican salsa is so fresh and flavorful you'll forget all about your bottled friends. It's made with fresh tomatoes, lime and roasted garlic….get your chips ready!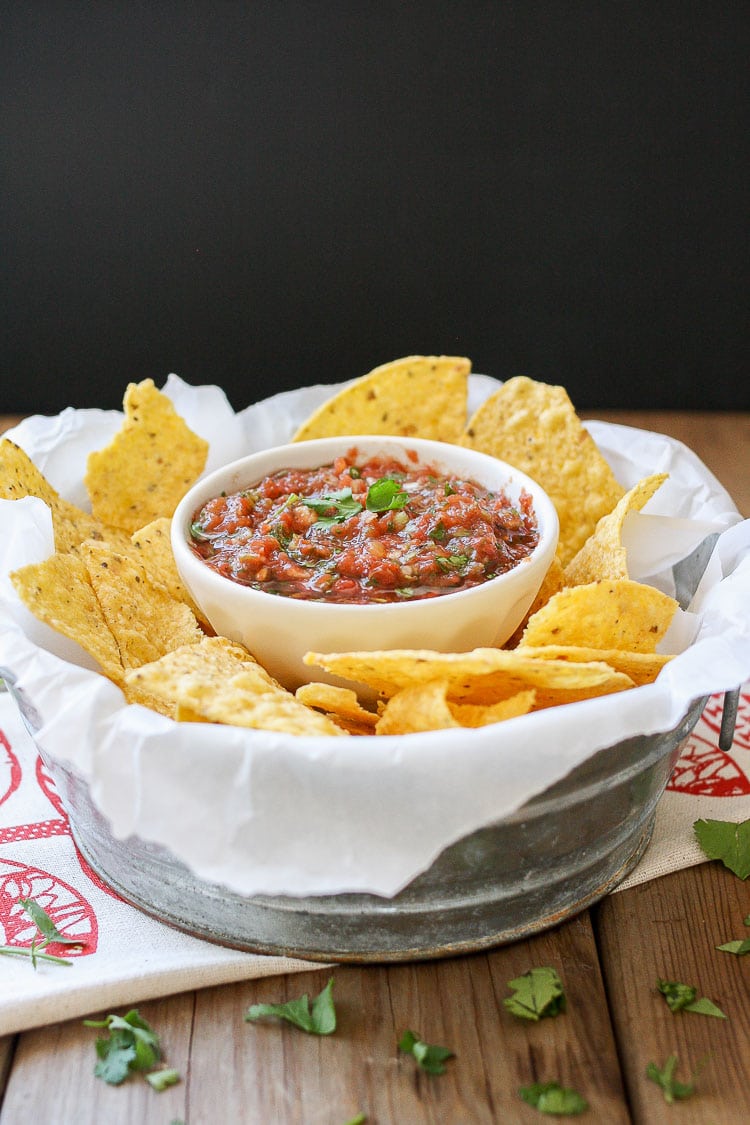 Salsa. And chips. It's a food group. I could literally eat it all day and be happy. Unless the salsa is awful. There is nothing worse than a bad tasting salsa. I personally need a salsa with some flavor, a little pizzaz.
I have my go-to Mexican restaurants, always judged at the top because their salsas are superb! Like hot sauce, I love salsa on my food. Loads and loads. Especially the fresh Mexican salsa! YUM.
My sister's hubby makes some darn good salsa, but since he lives with her and not my personal salsa maker (oooh, note to self, need one of those), I decided to create my own. And lucky for you, I decided to share 😉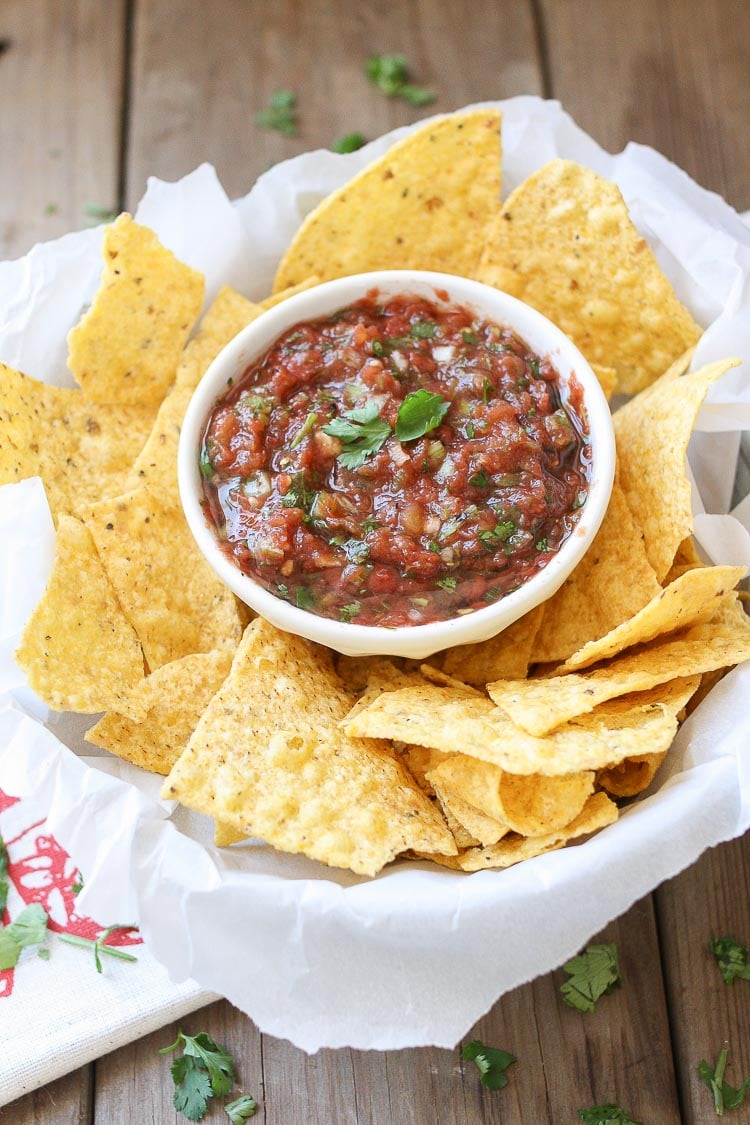 This Fresh Mexican Salsa Has So Much Flavor!
My version of fresh Mexican salsa has a lot of different flavors going on. A little fresh tomato, but also a splash of fire roasted. Both green and sweet onion. Vinegar and lime juice. Cilantro, obviously. And the key, roasted garlic. You can use fresh if the roasted freaks you out, but the roasted gives it a sweet garlicky feel and it is superb!
More Healthy Tasty Dips You Might Like;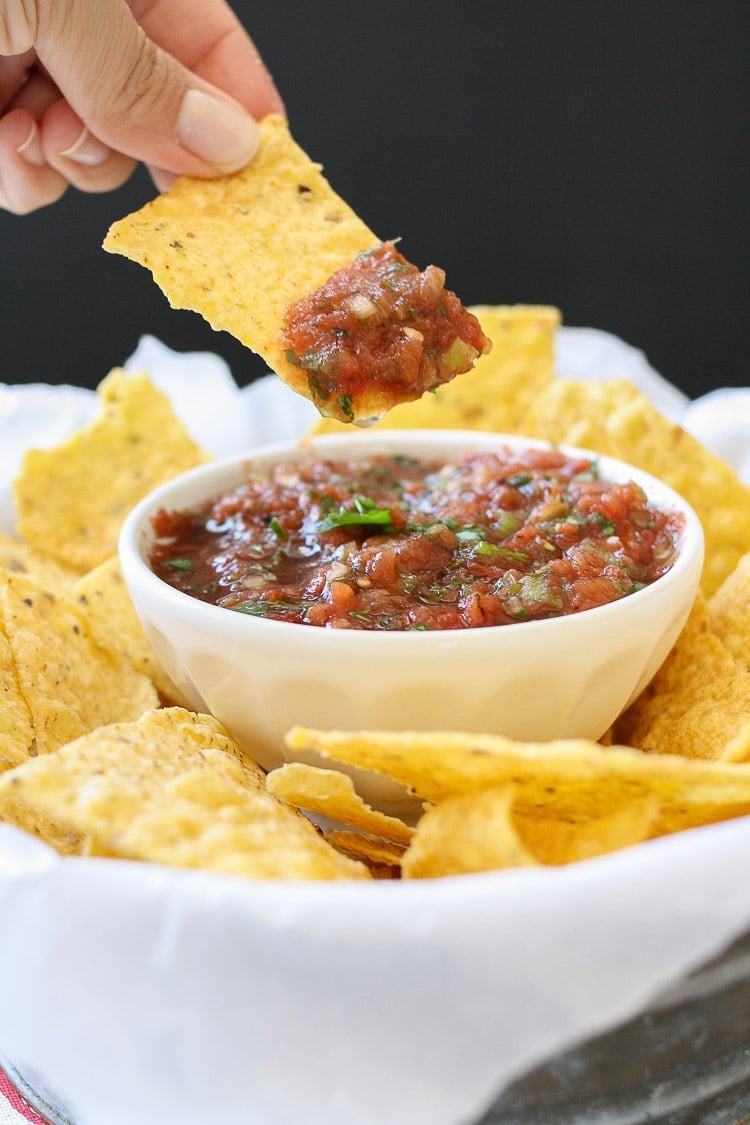 You'll Want To Save Some For Later….
Now here's the thing, you're going to need to make this asap. Once you do, put half of it aside. Why? Well, because you DON'T want to be out of it when you make my Ultimate Mexican Nacho Burger, that's why.
I know you'll probably eat it all and not listen, so just go ahead and make a double batch and set some aside.
Let me know how many times you had to slap your hand from eating it ALL! Leave a comment here, find me on Facebook or tag me on Instagram in your main comment at both @veggiesdontbite #veggiesdontbite so I don't miss it! I respond to all your comments, I'm never ignoring you! And while I respond, I am most likely snacking on this salsa and chips. It's addicting. But I can stop if I want. Who am I kidding, no I can't…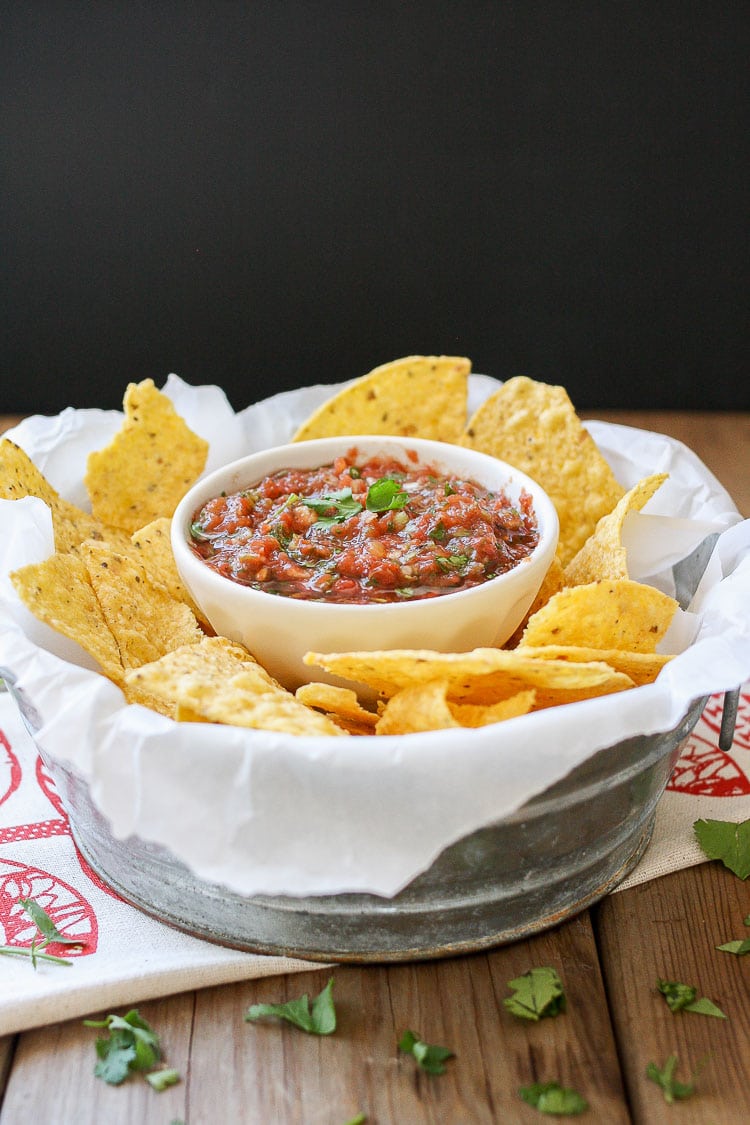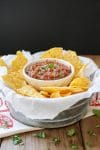 Easy Fresh Mexican Salsa
This quick and easy fresh Mexican salsa is so fresh and flavorful you'll forget all about your bottled friends.
Keyword:
healthy salsa, homemade spicy salsa
Ingredients
2

cups

chopped fresh tomatoes

1

can

15 ounces fire roasted chopped tomatoes (drained)

1/2

cup

sliced green onion

1/2

cup

chopped sweet onion

1

cup

chopped cilantro

measured loosely

4

medium cloves roasted garlic

or 2 medium cloves fresh garlic if preferred

1

tablespoon

apple cider vinegar

1

tablespoon

lime juice
Instructions
If using roasted garlic, peel garlic and mix with a splash of veggie broth and some salt. Wrap in tin foil, and/or parchment and roast at 400°F/200°C in a regular or toaster oven, about 20-25 minutes, until garlic is browning and looks caramelized.

Drain fire roasted tomatoes. Place all ingredients except green onions and cilantro into a food processor and pulse until coarsely chopped.

Add green onions and cilantro and pulse a few more times. If you prefer a less liquid salsa, drain using a fine mesh strainer.
Recipe Notes
This salsa is a fresh tomato flavored salsa. If you want a more fire roasted flavor use more canned fire roasted tomatoes and less fresh. As long as you keep the total volume of tomatoes the same as the recipe, it will turn out great.
You can also use the garlic fresh instead of roasted. Just cut down to 2 cloves because it is much stronger in flavor when used fresh.
The veggies only need to be coarsely chopped for measurement purposes since you will be putting them into a food processor.
Baby/toddler food idea: This is a mild salsa so any child able to eat tomatoes is able to enjoy this as a dip. Many babies can't handle the acidity of tomatoes until later so take caution before offering to an infant. It is probably best to wait until they are at least 8 months old.
Nutrition Facts
Easy Fresh Mexican Salsa
Amount Per Serving
Calories 22
% Daily Value*
Fat 0g0%
Cholesterol 0mg0%
Sodium 6mg0%
Potassium 178mg5%
Carbohydrates 4g1%
Protein 0g0%
Vitamin A 675IU14%
Vitamin C 11.1mg13%
Calcium 19mg2%
Iron 0.4mg2%
* Percent Daily Values are based on a 2000 calorie diet.