This simple healthy guacamole recipe is the perfect dip for those times you need something fast. It pairs well with almost anything and is super delicious!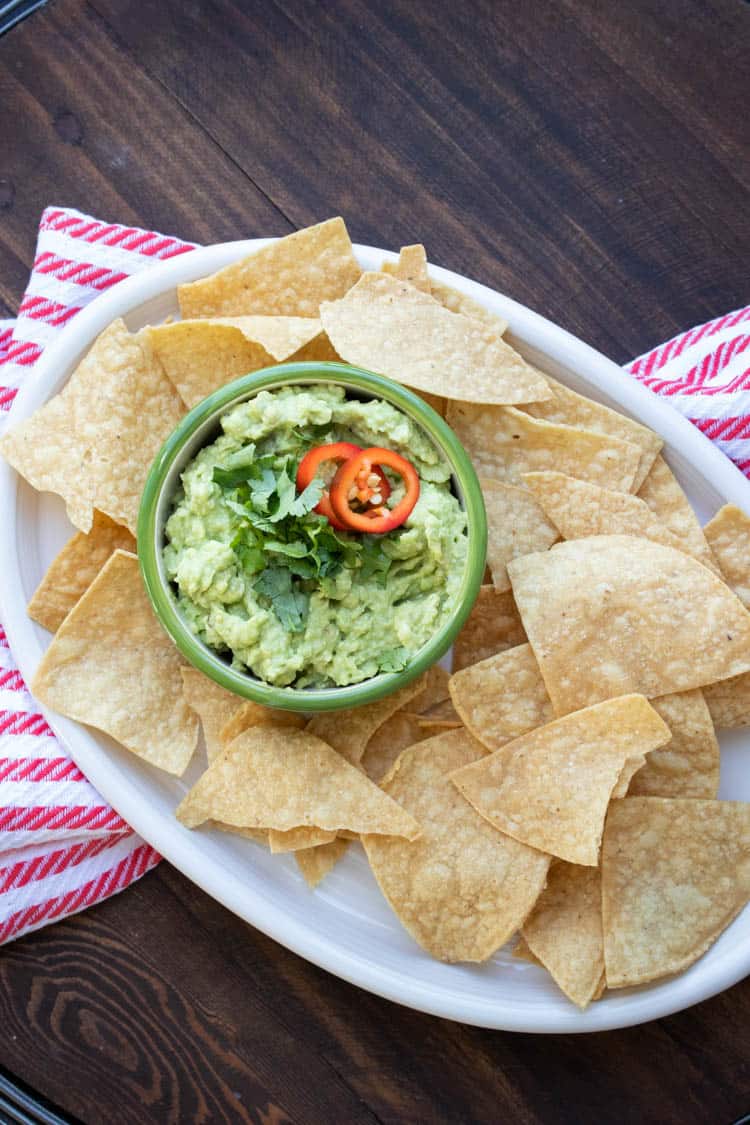 This post was originally published on November 18, 2013.
Guacamole...need I say more? This recipe is so simple and easy. It's not uncommon for it to be considered dinner for us. Pair it with chips and some veggies and you basically have everything you need!
Healthy Guacamole
Avocado is such an amazing food, it is packed with nutrients and is so versatile. It doesn't take much to make it an amazing dip. Really just some salt, pepper and my signature, lemon!
Many turn to limes when they make guacamole, but I have always made it with lemon. Growing up, my family was Greek so when we moved to San Diego and Mexican food because part of our regular routine, my mom of course had to make her own version.
Since lemon is more common in Greek cuisine, she used it when making her guacamole. I actually love the flavor it gives and the tanginess it provides. So it's always my go to when making this simple guacamole recipe.
Choosing the perfect avocados
Avocados are delish and healthy, but choosing the perfect one can be tricky. There's a few key things to look for when choosing the perfect one.
You want to choose an avocado that has a nice dark color with hints of green on the skin, it should also be slightly textured with no holes or dents.
When you lightly squeeze the avocado, it should give just a bit to pressure but not be squishy or mushy.
If the area under the stem is green, you're good to buy it. If it's brown it is overripe. This is one of my go to strategies!
Can guacamole be healthy?
It sure can! When kept simple, like in this recipe, guacamole is very healthy! Avocados are packed with heart-healthy fats and fiber. Make sure you're picking healthy dippers too, a great option are my oil-free baked corn tortilla chips!
Guacamole can also be healthy when fully loaded, like this loaded guacamole recipe I have, but it all depends on what you fill it with. If the ingredients are nutritious, then you have yourself a great healthy choice.
How do you keep guacamole from browning?
The browning in avocados come from oxidation, the process of the avocado reacting with the oxygen in the air. While it doesn't mean that the guacamole is bad, it can be a visual turn off when it comes to eating it.
There are many strategies out there for keeping the process from happening. I have tried all of these, but most of the time, since this recipe is so simple, I just make it fresh.
The goal for keeping guacamole from browning, is to keep the flesh from being exposed to the air, so any barrier will do. These can range from liquid to physical barriers. Here are a few ideas if you need to keep your guacamole stored for longer periods of time:
Mix it with citrus, like I do here with lemon. Citrus has natural antioxidants which slow down the process of browning by working against the oxygen.
Seal it with parchment or plastic wrap. Literally press the wrap to the top of the guacamole to create a solid barrier. You want to make sure it is a good quality wrap however because some can still allow oxygen through.
Brush the top with oil. This creates a seal and helps block the oxygen.
Water. Pour about an inch over the top of the guacamole after you put it in a container. Water creates a physical barrier from the oxygen keeping it from reacting to turn it brown. When ready to eat, simply pour it out and mix.
Pair it with onion. Onions have sulfur which helps slow down oxidation.
Ultimately though, you can simply keep the guacamole in a good airtight container and scrape off the brown top, since it will be nice and green underneath!
How long does guacamole keep?
Homemade guacamole will last around 1-2 days, after that, it should be thrown away. But again, since this recipe is so easy, enjoy yourself and eat it all!
How do you spruce up guacamole?
While I usually love keeping my guacamole simple, I sometimes want to spice it up, like I did in this fully loaded guacamole recipe. There are so many ways you can make it fancier, here are some ideas:
Different colored peppers
Onions
Diced tomatoes
Cilantro
Garlic
Jalapeños
Cotjia cheese (this vegan cotija cheese recipe is delish)
Corn
Chiles
Jicama
Mango, papaya or pineapple
Tomatillos
Chipotle peppers
Pepitas
How Do You Make Fresh Guacamole?
This is one of the most simple healthy recipes there is! It has all the nutrients your body needs and it is so good.
Put avocado flesh into a container with the salt, pepper and lemon and mash well.
Pair with your favorite dippers and enjoy!
How to use guacamole
There are so many awesome ways you can use this simple guacamole recipe, here are some of our favorites!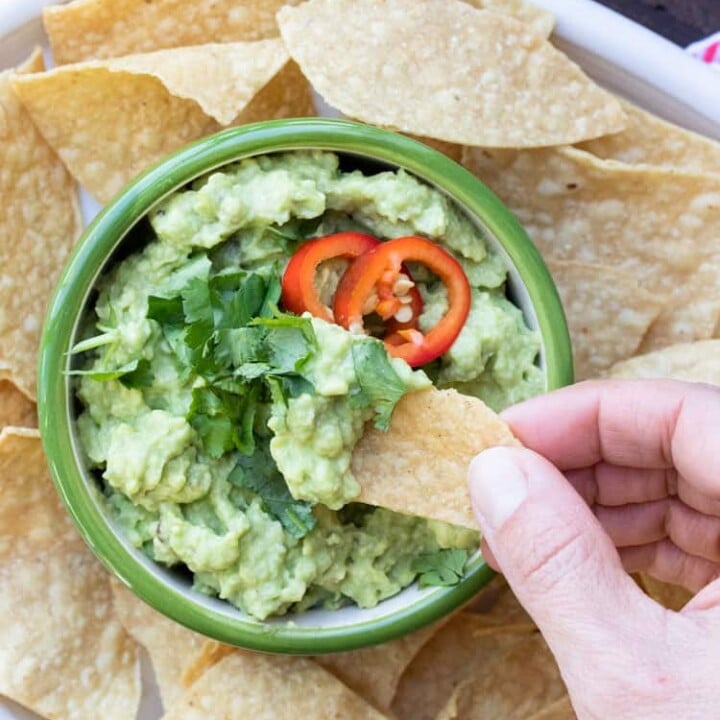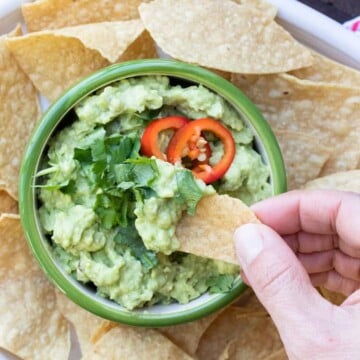 Simple Healthy Guacamole Recipe
This simple healthy guacamole recipe is the perfect dip for those times you need something fast. It pairs well with almost anything and is super delicious!
Instructions
Mash avocado in a bowl. I use a fork or whisk.

Add salt, pepper and lemon juice. Mix well.
Notes
This makes about 1 ¼ cups. Serving size is ¼ cup.
Recipe by Veggies Don't Bite, visit our site for more great plant-based recipes.
Nutrition
Calories: 193kcalCarbohydrates: 10gProtein: 2gFat: 18gSaturated Fat: 3gSodium: 112mgPotassium: 585mgFiber: 8gSugar: 1gVitamin A: 176IUVitamin C: 12mgCalcium: 14mgIron: 1mg
Nutrition and metric information should be considered an estimate.
Never miss a recipe!
Sign up here and get a FREE quick and easy meal guide!