Raw Strawberry Margarita Cheesecake Cups. Fresh strawberries, creamy cashews and a splash of lime come together to make this favorite margarita flavored dessert. So smooth you'll forget it's vegan!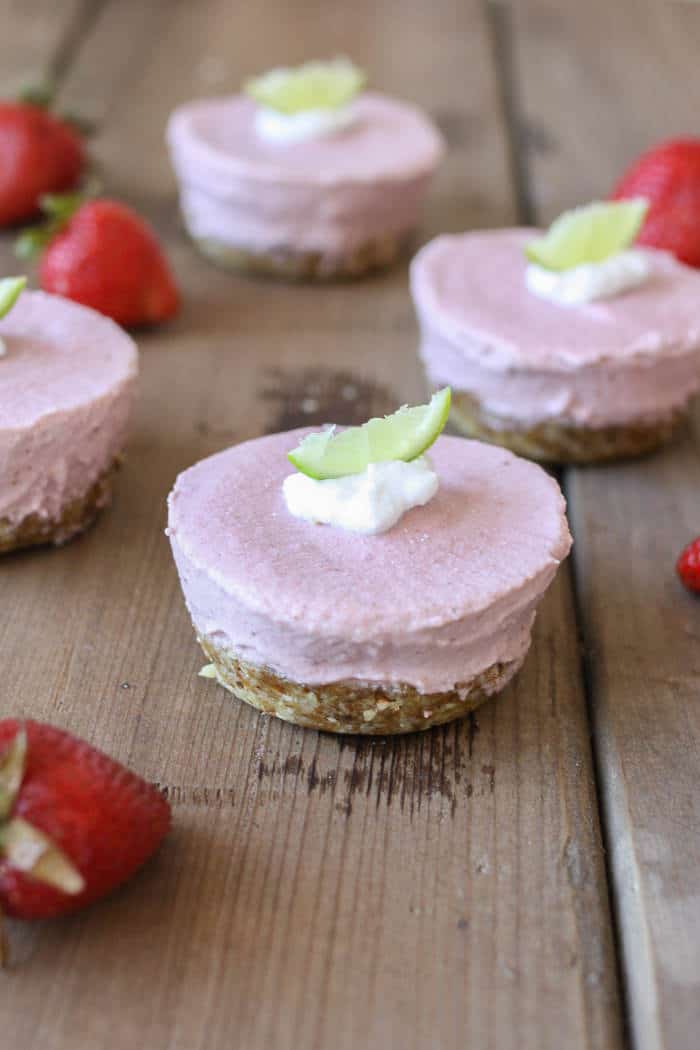 Strawberries signal the start of summer, and being a Southern California girl, strawberry margaritas are the next step! There's nothing better that a cool refreshing fresh strawberry margarita, I have enjoyed both the virgin and the adult variety, and either way they relax me to the core. So it was natural for me to turn one of my favorite drinks into a family friendly creamy vegan dessert.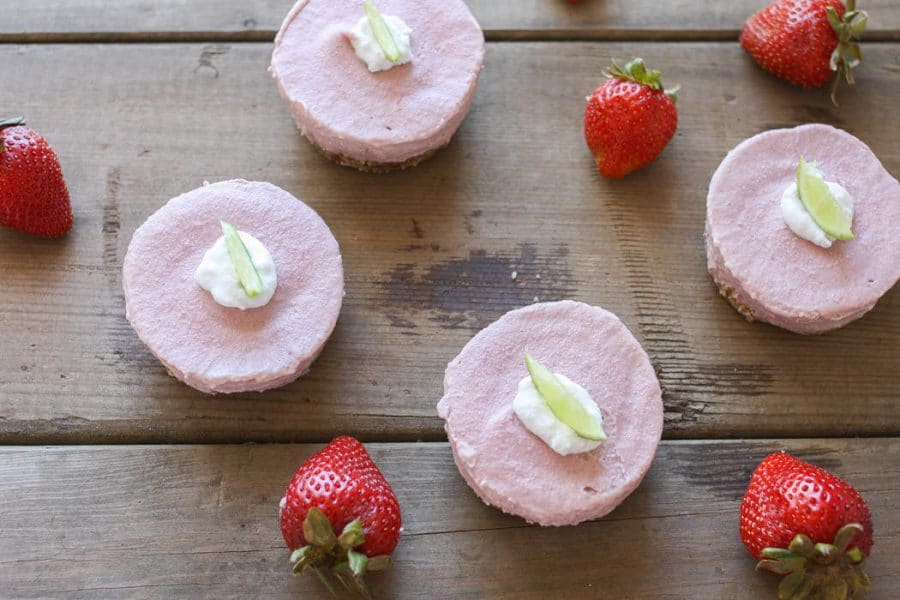 I wanted this sweet treat to be delicious but also healthy, a no guilt eat with your bikini on type of dessert. So I focused on using fresh strawberries and limes and sweetened with the natural goodness of dates, my date paste to be exact. The flavors complement each other beautifully and the creaminess of the cashews is the perfect touch. The crust adds an extra layer with a touch of salt to offset the sweetness of the filling, but again uses purely dates to achieve that rich nutty taste. My kids loved indulging and I had no problem saying yes to seconds! All natural sweeteners, fresh in season fruit and a taste you'll love. It's a no fail dessert. Time for that summertime party you always wanted to throw!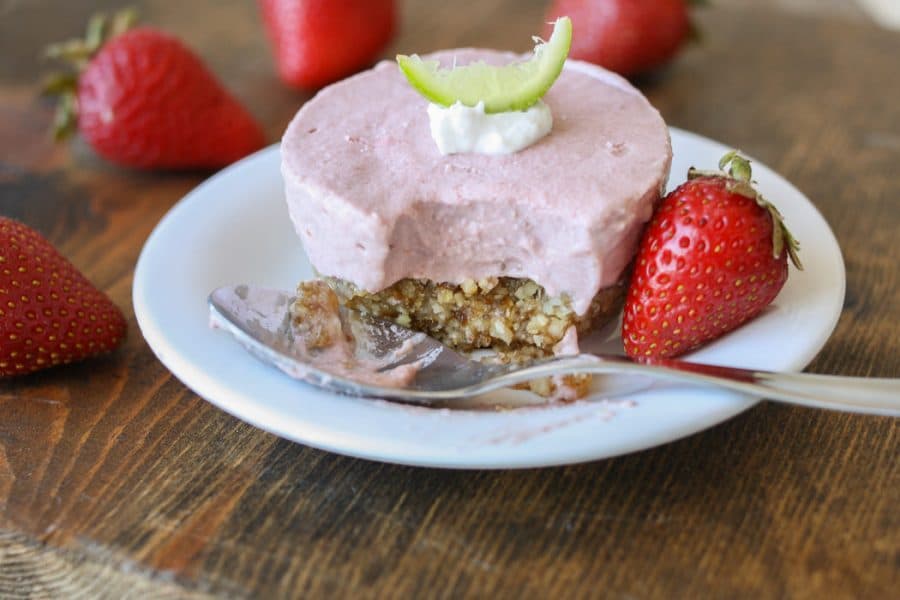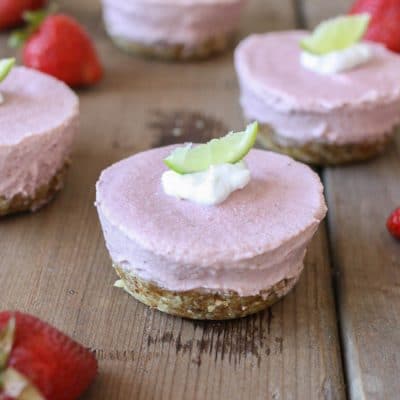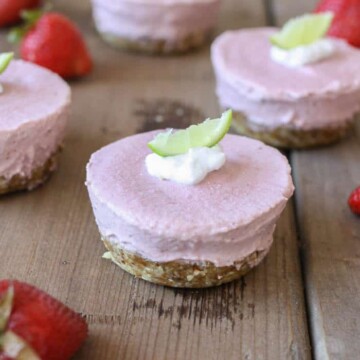 Raw Strawberry Margarita Cheesecake Cups
Fresh strawberries blend with creamy cashews and a splash of lime to make this all time favorite margarita flavored dessert. So smooth you'll forget it's vegan.
Ingredients
Garnish (optional):
sliced fresh strawberries
sliced limes
Vanilla Coconut Cream Garnish
Instructions
Soak your cashews overnight making sure to fill bowl with plenty of water as cashews expand quite a bit. If you don't have time, soak at least 2-3 hours. The longer you soak them, the smoother the consistency.

Place all crust ingredients in a food processor, blender or high speed blender and pulse until nuts and dates are chopped well.

Drop 3 spoonfuls of mixture in each section of a muffin tin, making sure to place mixture on top of parchment strips if using. Press down until mixture is firm and creates a crust like bottom layer.

Next, put all filling ingredients in a food processor, blender or high speed blender and blend until smooth and creamy. If you are not using a high speed blender, then you will have to blend for a while to get a smooth consistency but eventually you will. When I use my food processor it takes about 5-7 minutes.

Put 3 spoonfuls of filling on top of crust layer in muffin tins. You may need to add more, depending on your tins. You want the filling layer to be about ¼ to ½ inch from the top of the tin.

Freeze overnight for best results, or for at least 2 hours. Remove from freezer about 10 minutes before you are ready to serve, but not much longer or they may get too soft. Use tabs to pull up each cheesecake cup and place on a serving platter. Garnish with sliced fresh strawberries, limes, and/or Vanilla Coconut Cream Garnish. Enjoy!
Notes
Before I start, I cut strips of parchment paper (about ½ inch wide and 4-6 inches long) to put under each cheesecake cup.
This makes tab-like sides that you can pull up easily when removing them and so that they don't fall apart.
The coconut oil is optional, but the consistency will be a little bit different if you leave it out. You can also sub another sweetener for the dates and date paste, but again consistency may be different.
You can use frozen strawberries if you do not have fresh, but make sure to let them thaw out before you use them. Also, frozen may be more watery so you may need to cut down on some of the almond milk.
Recipe by Veggies Don't Bite, visit our site for more great plant-based recipes.
Nutrition
Calories: 458kcalCarbohydrates: 27gProtein: 8gFat: 38gSaturated Fat: 15gCholesterol: 0mgSodium: 66mgPotassium: 434mgFiber: 4gSugar: 15gVitamin C: 15.8mgCalcium: 48mgIron: 2.9mg
Nutrition and metric information should be considered an estimate.
Never miss a recipe!
Sign up here and get a FREE quick and easy meal guide!