7 ingredients and 5 minutes to a protein filled treat perfect for busy days! These pumpkin energy balls are a great way to satisfy the candy craving.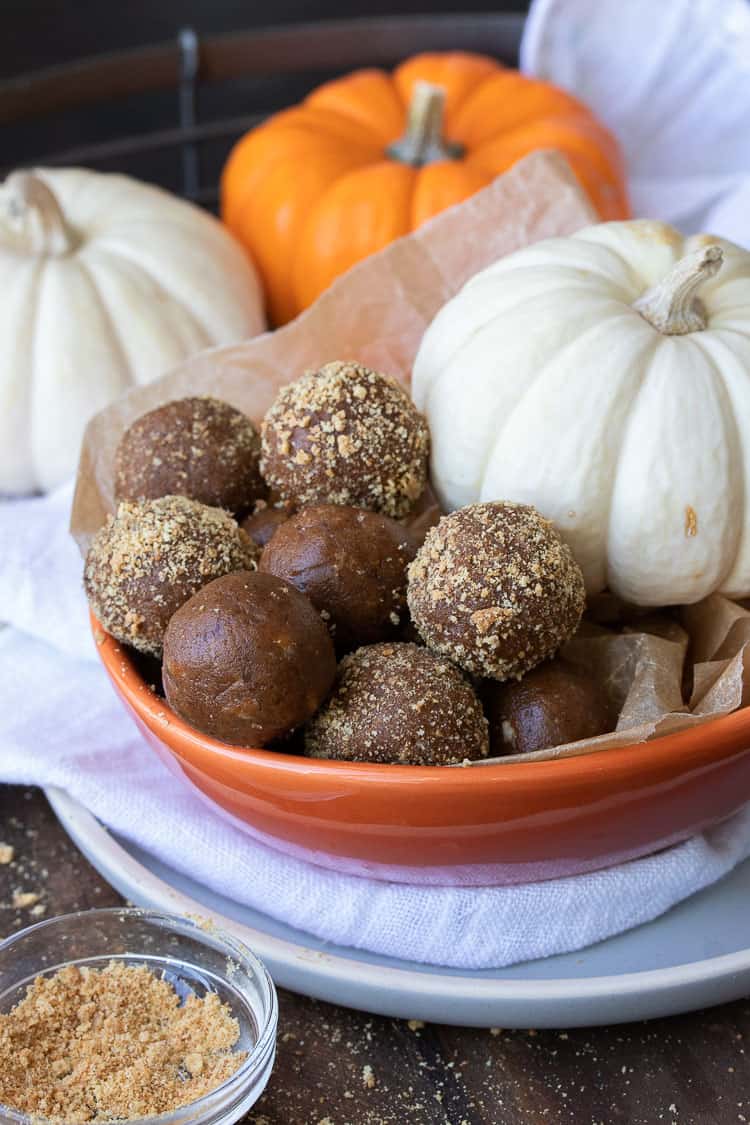 This is a sponsored conversation written by me on behalf of NOW Foods. The opinions and text are all mine.
This recipe was originally published on 10/29/18
It's always hard to resist sneaking just one little candy treat this time of year. The problem is that it never stops at one. Before you know it, you're knee deep in wrappers and feel like crap. This is where these delicious fall treats come in.
Pumpkin Energy Balls
We've all been there, including me. I now buy our Halloween candy early (yes, I buy Halloween candy), then hide it in the cupboard until my kids remind me we need candy and I have to think to remember where I put it.
Every year I try and find ways to satisfy my fall sweet tooth a bit better than shoveling candy into my face. After you all went all nutso over my protein brownie bites, and then asked for more flavors, I set out to conquer another. And here we are. Pumpkin pie, in pumpkin energy ball form.
Are protein balls good for you?
It really depends on the ingredients inside, like anything. If you're using whole foods, then yes they are a great choice in treats. But if you're using refined sugars, then they may not be the best choice.
Even though I definitely still use sugar from time to time, because balance, I try and pick more natural unrefined sugars when I can. Maple syrup is one of my top picks.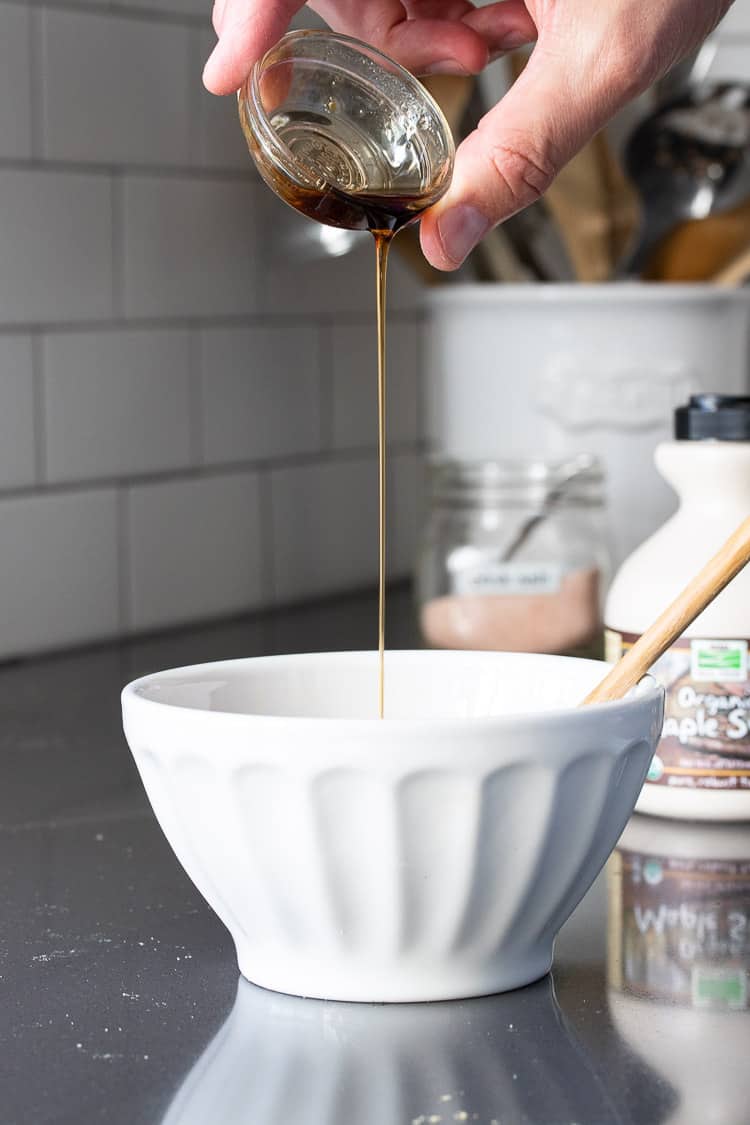 And when it comes to maple syrup, the brand 100% matters. Have you ever had bad maple syrup? Yeah, gross. Real maple syrup needs that rich, warm, woody flavor that draws you in like a blanket. It's unlike anything else, and it sweetens treats with perfection.
I have talked about it before, back in my recipe for maple roasted carrots, but my favorite maple syrup is the one by NOW Foods. It is super rich, thick and sweet, warm and delicious. As if you were eating it right out of the sugar house pots. No wonder it gives raw treats such incredible flavor.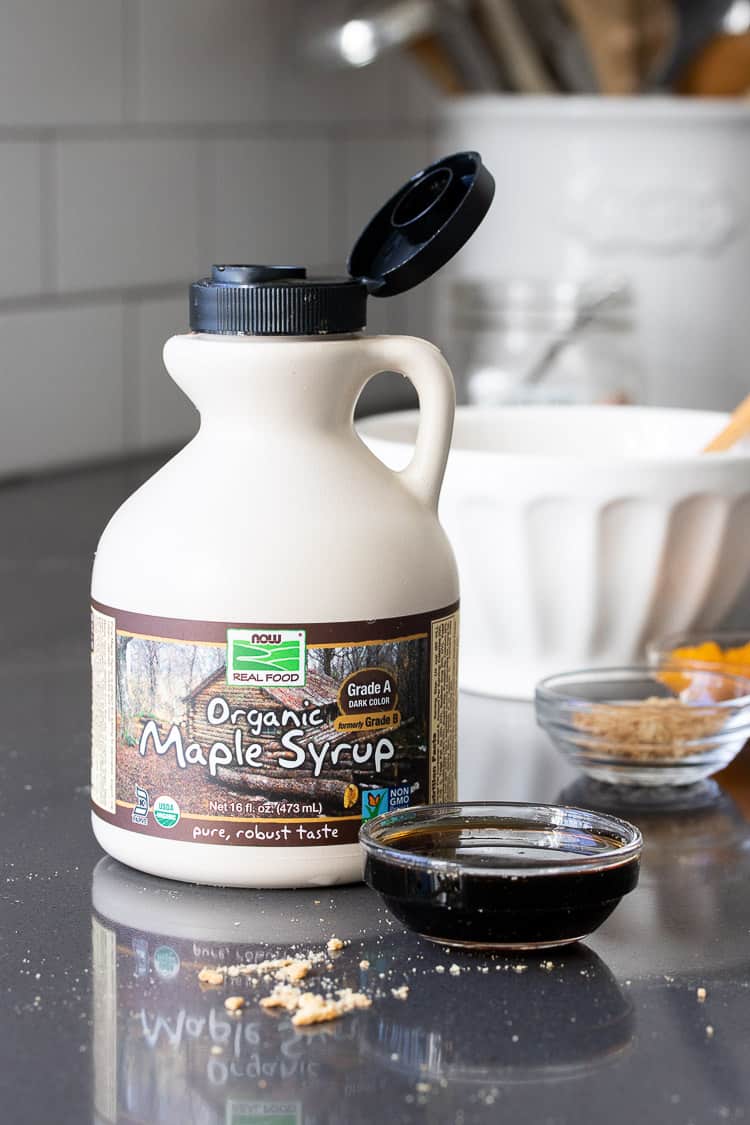 Do energy bites have to be refrigerated?
If you eat them within a few days, and I can pretty much guarantee you'll devour them day 1, then you can keep these in an airtight container on the countertop.
If you happen to have leftovers, maybe you lose your tastebuds for a few days, then put them in the fridge where they can last for a week.
How do you store energy bites?
The best way to store these is in an airtight container on the countertop. The outer cookie, if you use it, may soften or get stale if left too long so keep that in mind. Transfer them to the fridge after a few days.
Different protein powder choices
My favorite type of protein powder is pea protein. I like it because it is simple (made with peas), low in carbs and fat, I like the flavor and it's vegan. But there are other options you can try as well:
Hemp
Soy
Brown rice
Plant mix
Whey, casein or egg- these are not vegan
Depending on what you you want in a protein powder will depend on which one is best for you. Flavor is the biggest issue so trying them all and seeing what you like is a good first step.
For this recipe, you can also sub oat flour if you don't want to use protein powder.
How to Make Pumpkin Energy Balls
These pumpkin energy balls come together faster than you can rip into a bag of store bought Halloween candy. They taste like pumpkin pie, give you the energy of a protein shake and have the health benefits of broccoli.
Ok, maybe I lied on the broccoli part, but it's definitely healthier than a snickers bar.
Mix all the dry ingredients in a bowl. 
Mix in the wet ingredients. 
Get it nice and smooth, then chill while you clean up. 
Roll into balls and devour! 
I would highly recommend stocking these in your kitchen. And hide a few in the cupboard, especially if you have thief children that steal your profits without shame.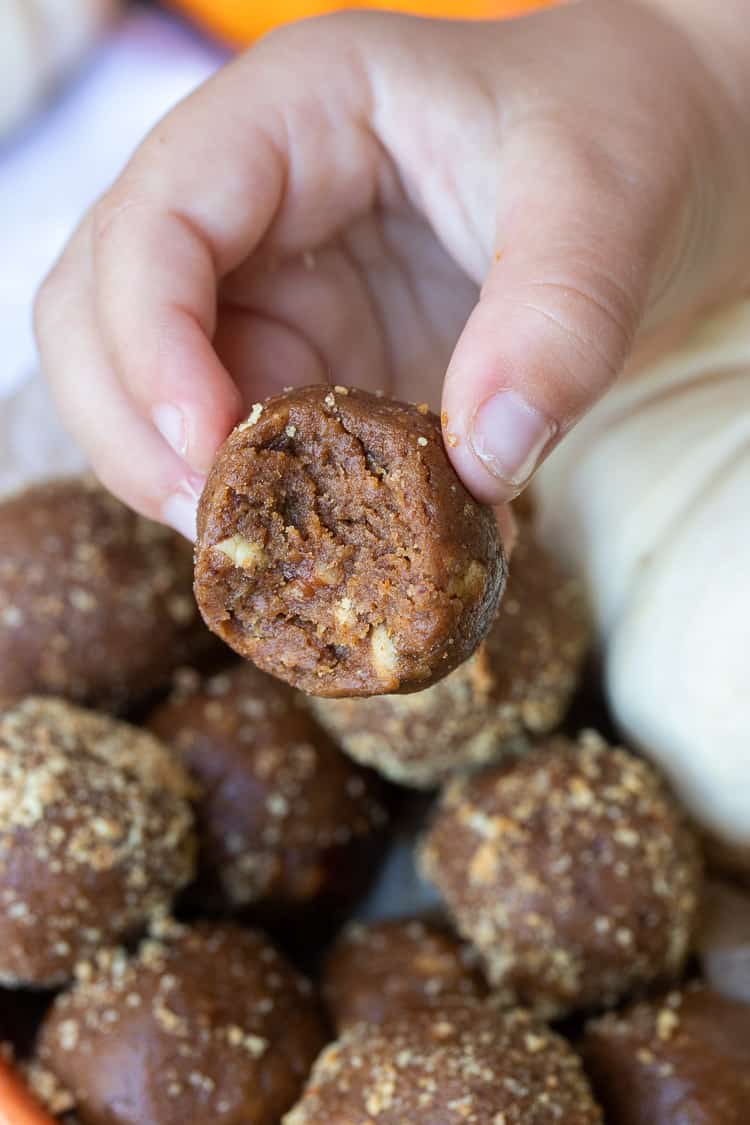 Optional mix in ideas
If you make these as often as we do, you may want some ideas on keeping these exciting. Here are some other things I have mixed in that we loved:
shredded coconut
walnuts
peanuts
chocolate chips
pistachios
hemp seeds
pumpkin seeds
sunflower seeds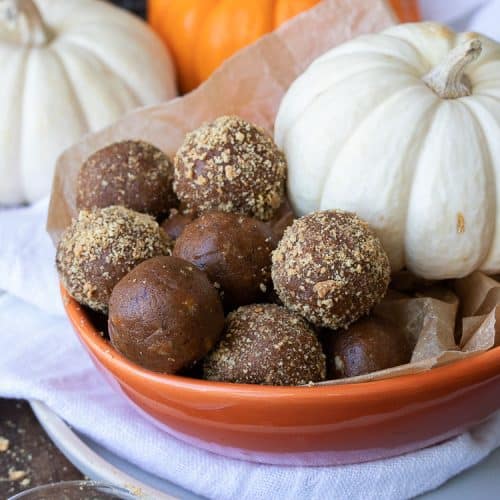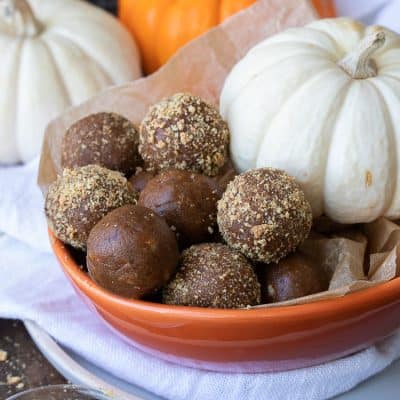 No Bake Pumpkin Energy Balls
7 ingredients and 5 minutes to a protein filled treat perfect for busy days! These pumpkin energy balls are a great way to satisfy the candy craving.
Ingredients
½

cup

crushed hard cookies or graham crackers

, plus extra if you want to coat them after (use vegan to keep this fully vegan, gluten free if needed)

2

tablespoons

unflavored pea protein powder

, or oat flour (16 grams if measuring oat flour)

1 ½

teaspoons

pumpkin spice

¼

teaspoon

sea salt

¼

cup

almond butter

, may need more liquid if yours is too dry (see note)

2

tablespoons

maple syrup

(I use NOW Foods)

2

tablespoons

pumpkin puree

2

tablespoons

chopped pecans

, optional
Instructions
Put the cookies, pea protein or oat flour, pumpkin spice, salt and pecans, if using, in a bowl. Mix to combine.

Add the almond butter, maple syrup and pumpkin. Mix well. A fork helps combine everything well.

Chill while you clean up.

Roll into balls.

If you want, you can then roll the balls in extra crushed cookies so they have an outer "crust," this is totally optional but easy and delicious!
Notes
These make 10 balls about 2 inches in size.
You can use any hard type cookie you prefer, a graham type works best, just make sure it can be crushed easily. I easily crushed my cookies by putting them in a plastic bag and using the back end of a wooden spoon.
To make this nut free leave out the pecans and use sunbutter, this will change the flavor slightly but will allow it to be completely allergy friendly.
You can sub another kind of protein powder, just make sure it is unsweetened and unflavored.
If your almond butter is dry you may need more liquid. Add pumpkin, water or milk slowly to get the consistency you prefer.
If you do not have, or do not want to use, a protein powder, you can sub oat flour. Use the same amount.
Nutrition info does not include the pecans.
Recipe by Veggies Don't Bite, visit our site for more great plant-based recipes.
Nutrition
Calories:
73
kcal
Carbohydrates:
7
g
Protein:
2
g
Fat:
4
g
Saturated Fat:
0
g
Polyunsaturated Fat:
0
g
Monounsaturated Fat:
0
g
Trans Fat:
0
g
Cholesterol:
0
mg
Sodium:
93
mg
Potassium:
69
mg
Fiber:
0
g
Sugar:
3
g
Vitamin A:
465
IU
Vitamin C:
0.2
mg
Calcium:
31
mg
Iron:
0.7
mg
Nutrition and metric information should be considered an estimate.