These healthy peanut butter balls taste like pure decadence. Easily made with a few whole food ingredients, these are a wholesome snack any time of day!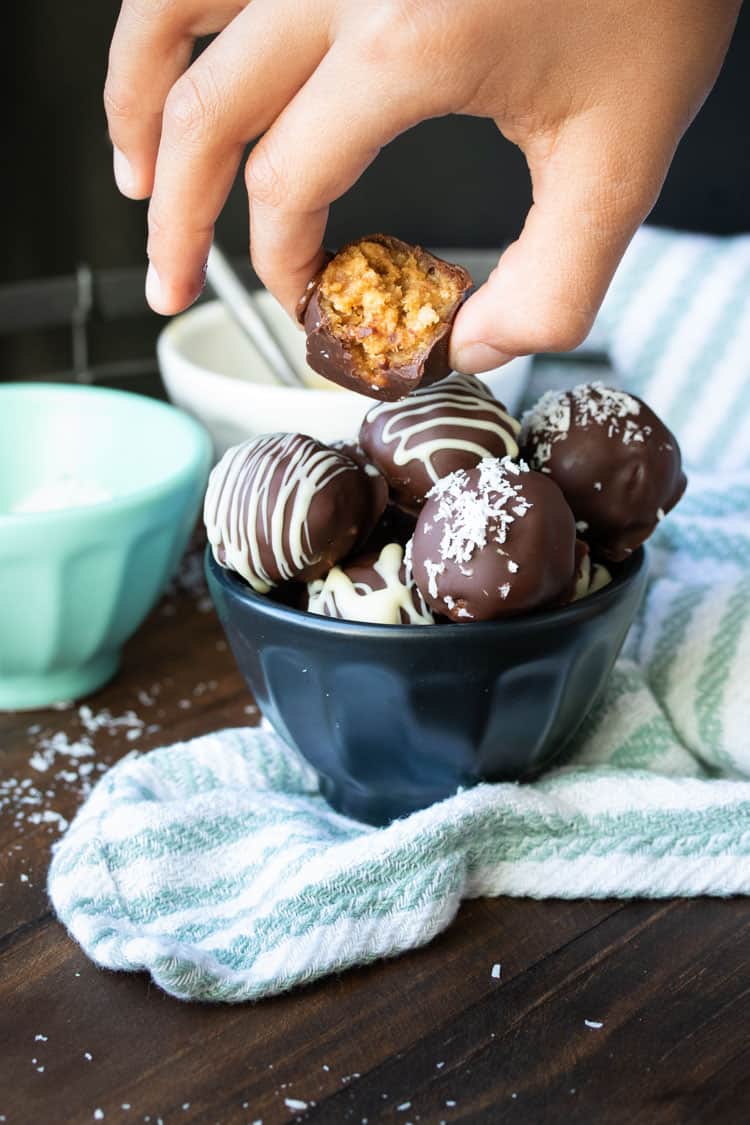 This post was originally published on 12/26/2013
I love that these can be used as a treat, dessert, or party snack. Who could ask for a more versatile recipe? No one I tell you! These are perfect for those holiday parties we all will be attending very soon, as they are easily made in bulk and easy to take with you.
Healthy Peanut Butter Balls
This recipe can quickly become addicting. In a healthy, but feel like dessert kind of way. Which is awesome because I am not a skip dessert person.
Another thing that makes these so great is they are easy to make. These are NO BAKE peanut butter balls. No oven necessary, which is always a big perk!
Nut Allergy? Here's how to make these allergy friendly.
If you have a general nut allergy, you can absolutely sub sunflower butter! This allows for these treats to still be tasty, but safe for you to eat. There will be a slight different flavor, since you aren't using peanut butter but they will still be delish!
If you simply have a peanut allergy, you can sub any other nut butter here. The flavor will take on the nut butter you choose, but they will be great!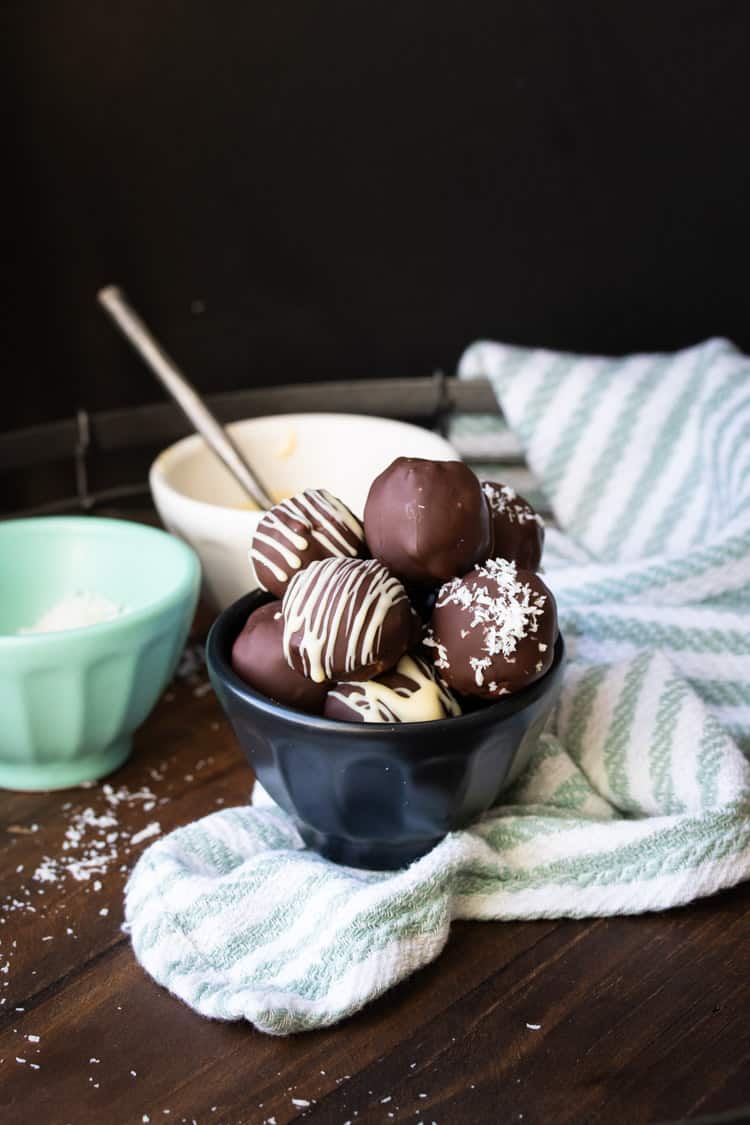 Storing Healthy Peanut Butter Balls
These are easily made ahead of time so that you have one less thing to do the day you need them. Make them as stated, then put in an airtight container and store in the fridge or cool area on the counter.
Because they are coated with chocolate, the chocolate will melt a little if not in a cool place. They are good a few days out of the fridge since there is no dairy.
Making in bulk
This recipe yields 36 peanut butter balls. Doubling or even tripling the recipe will give you more pieces to work with if you want to gift them (or eat them all alone, no judgement). One serving is 3 balls so more is more in my opinion.
Make the batch in one giant bowl. Because these aren't baked, it won't affect the final result when making a bigger batch. Getting friends (or kids wanting to earn a few bucks) to help you roll the balls would be super helpful. My little 4 year old did a great job!
These are best eaten within a few days, but will last for 5-7 in the fridge. For the best gift, make them no more than a day or two ahead of time so that your lucky receiver has some time to enjoy them.
Healthy peanut butter balls make great gifts
Your friends and family will love you when they get these treats this season! You can decorate these in a variety of ways to make them even more fun. Here are a few of our favorite decor ideas:
Sprinkle shredded coconut over the top.
Drizzle with white chocolate.
Use dried cranberries/cherries/etc and pretzels or cereal twigs to make reindeer.
You can package these in cute cellophane bags or arrange on a plate covered in plastic. The presentation will be adorable and a perfect holiday gift, you can even tie them with a bow!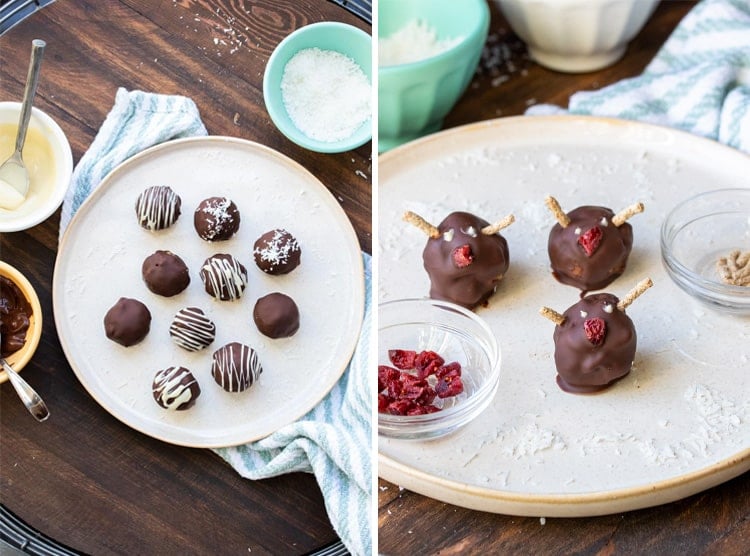 Undipped or dipped in chocolate?
These are a great uber healthy snack if you leave them undipped. However, chocolate. So we usually lather these in deep chocolatey flavor. It's obviously quicker not to dip each ball, but there are ways to make the dipping go fast.
I like to just get on in there when it comes to chocolate. So I melt the chocolate in a big bowl, then drop a handful of peanut butter balls in at a time. Using a spoon to take one out at a time, then my fingers to place them on a parchment lined baking sheet.
When you are done, the bonus is you can lick the chocolate off your fingers!
How to Make Healthy Peanut Butter Balls
These are really simple to make and use few ingredients. You can choose how fancy you want to decorate them or even leave them undipped!
Mix the peanut butter base.
Add in the crispy rice.
Roll into balls.
Dip in chocolate.
Decorate if you want!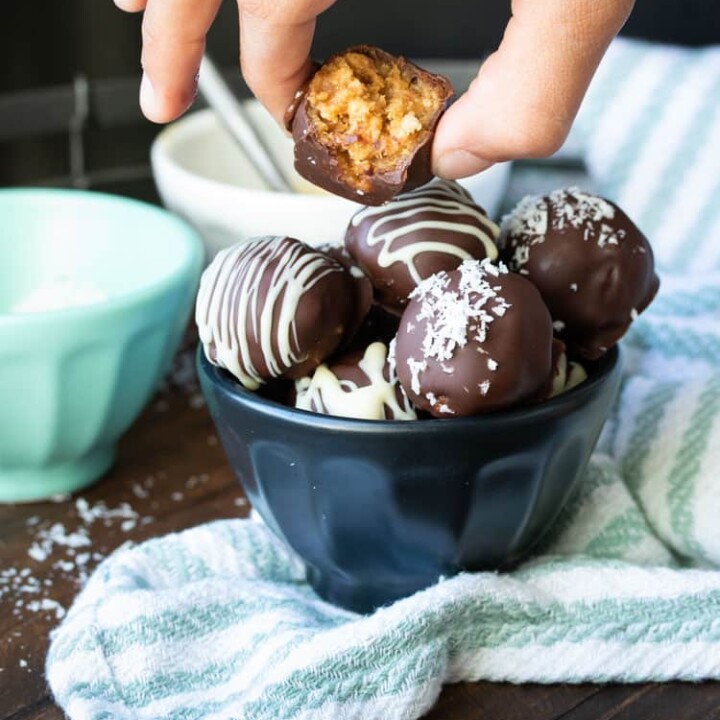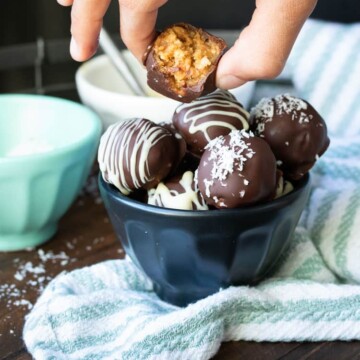 Healthy Peanut Butter Balls
These healthy peanut butter balls taste like pure decadence. Easily made with a few whole food ingredients, these are a wholesome snack any time of day!
Ingredients
1 cup  peanut  butter  , see note
½ cup maple syrup (see note for date option)
1 teaspoon vanilla extract
½-3/4 teaspoon sea salt , depending on whether your peanut butter has salt
2 cups crispy rice cereal , 1 cup of it crushed a bit (see note)
1 cup vegan chocolate chips
drizzle coconut oil or coconut butter , optional but will help thin out the chocolate so it's easier to dip the balls in
Optional decor
white chocolate , melted and drizzled over the top
ground nuts of choice
chopped cranberries or cherries , for reindeer nose
skinny pretzel sticks or cereal twigs . for reindeer antlers
Instructions
Put peanut butter, maple syrup, vanilla, and salt in a bowl and mix well. If the peanut butter isn't runny, you may need to warm it in the microwave a bit to help it mix better. You can also add it to a food processor if you want.

Add the crispy cereal to the bowl, both the crushed and whole.

Mix until you form a dough. I like to use my hands. If using a food processor, you may need to pulse slowly then also mix in a bowl to get it all mixed well.

Line a baking sheet with parchment paper. Roll small chunks of dough into balls and place on the cookie sheet. If not coating in chocolate, put in the fridge to harden for about 10-15 minutes.

If coating in chocolate, melt the chocolate chips and coconut oil/butter, if using, in the microwave 30 seconds at a time, or on the stove top, until most of the chips are melted. Mix with a spoon to melt the rest. You don't want to overheat it and burn the chocolate.

Using a fork or spoon, slowly place the balls into the chocolate, making sure to cover completely, then put them back on the cookie sheet.

When done, if decorating with coconut, nuts or reindeer do so now. Then put them in the fridge to harden, about 15-20 minutes. Keep cool before serving so they don't soften.

If you want, decorate with white chocolate drizzle and return to the fridge.
Notes
Make sure your peanut butter isn't too dry or it won't mix well.
Sub sunflower butter for nut free.
Take 1 cup of the rice cereal and crush into small pieces in a plastic bag or bowl. 
If you want to use dates, make sure they are soft. You will need to use the food processor option in order to get the dates pureed. Put everything in a food processor and pulse. Start with about 10 dates and work up from there if needed. You can also use a mix of dates and maple syrup.
This recipe makes 36 balls, serving size is 3 balls.
Recipe by Veggies Don't Bite, visit our site for more great plant-based recipes.
Nutrition
Calories: 588kcalCarbohydrates: 59gProtein: 15gFat: 36gSaturated Fat: 12gSodium: 429mgPotassium: 388mgFiber: 5gSugar: 41gCalcium: 55mgIron: 1mg
Nutrition and metric information should be considered an estimate.
Never miss a recipe!
Sign up here and get a FREE quick and easy meal guide!