These smoky maple roasted carrots are a perfect, easy, throw together side dish that will help bring some calm to the craziness of the season! They're healthy, packed with flavor and drizzled with a sauce that will make you lick your plate clean.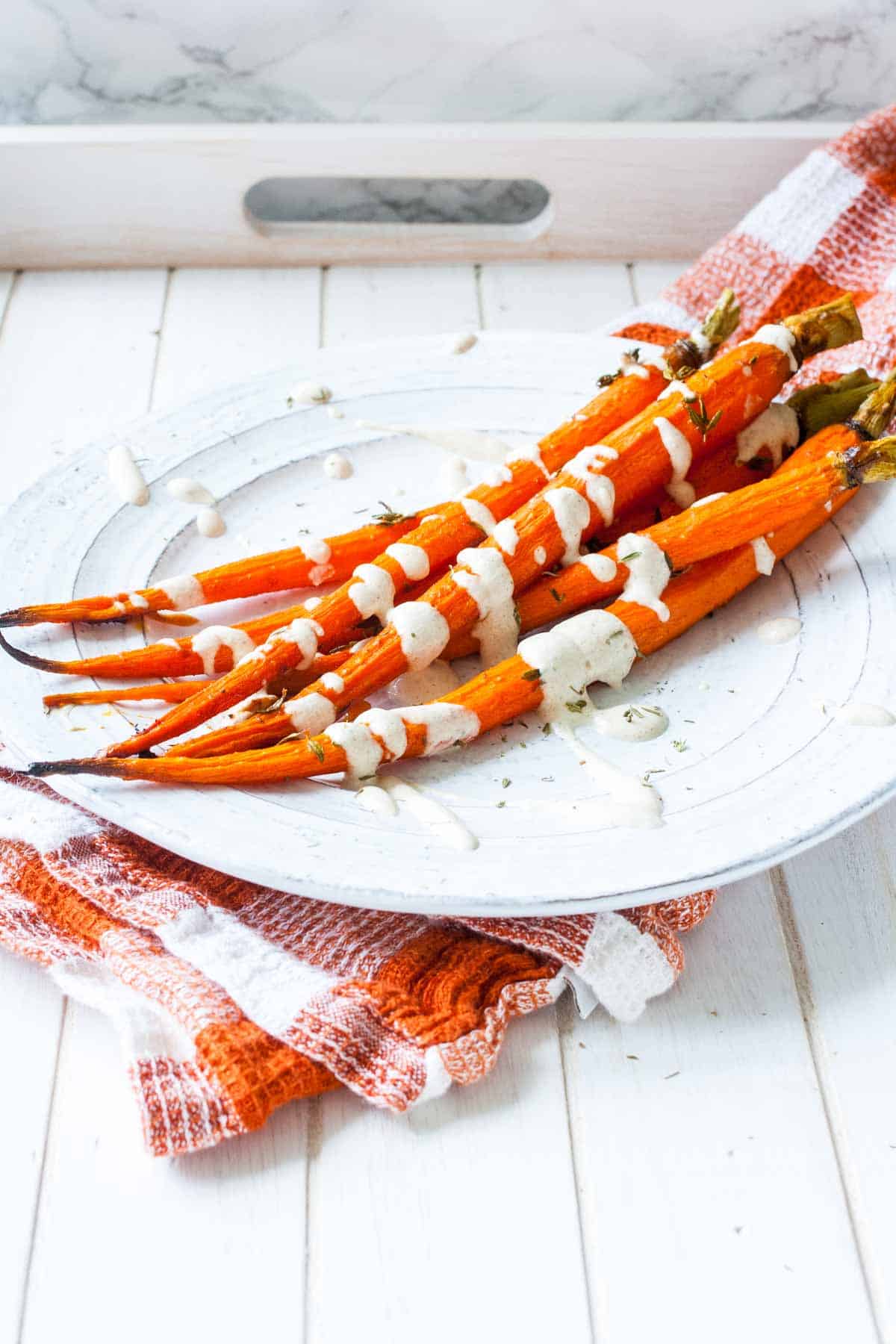 This post was sponsored by NOW Foods but the content and opinions expressed are fully my own.
Now that Halloween is here, it's time to think about the next phase of fall. Thanksgiving. And these smoky maple roasted carrots are number one on my veggie side dish menu this year! I mean, what is better than a super easy, super tasty, and healthy recipe that your kids devour? As a mom, NOTHING.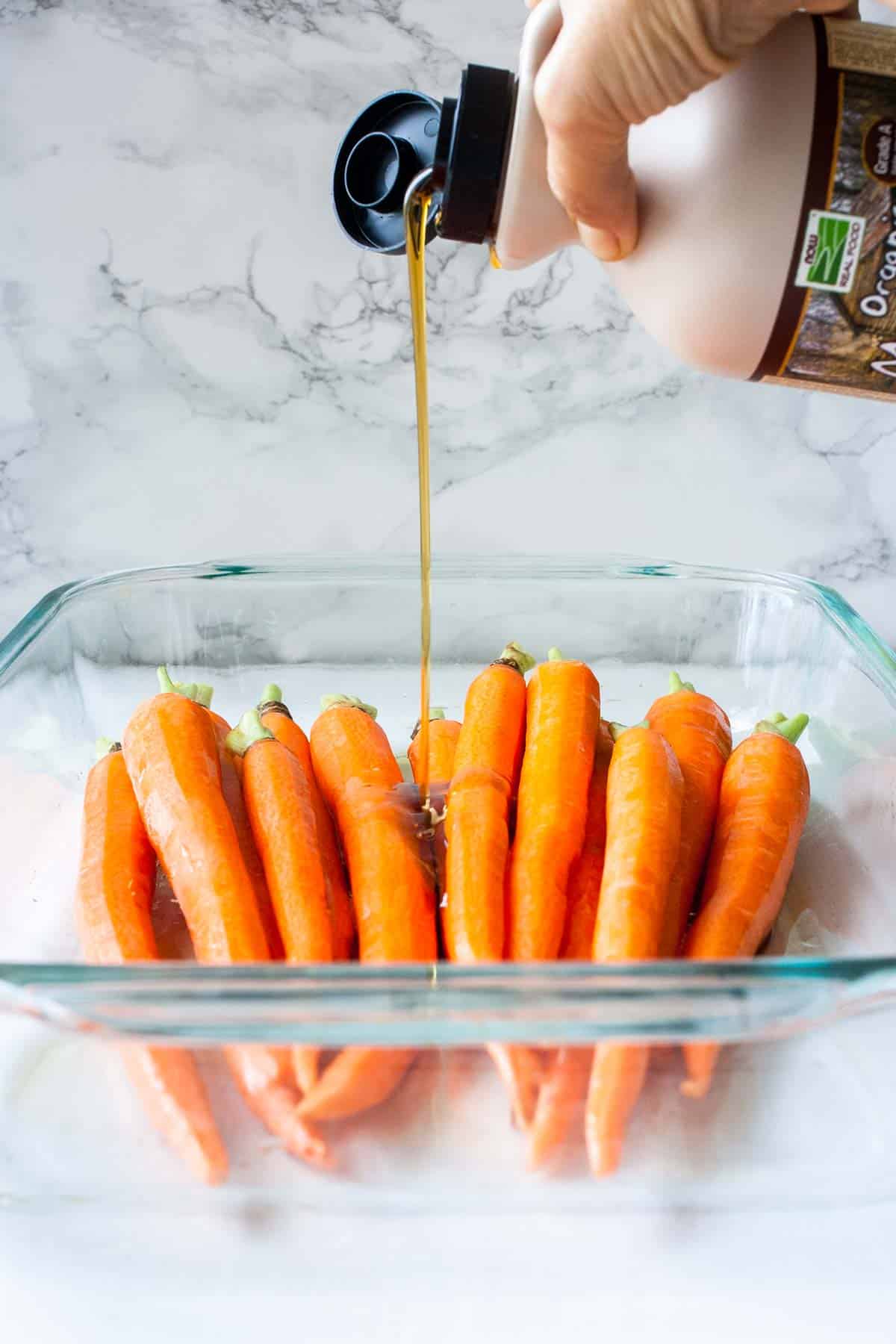 Thanksgiving is all about the sides and dessert!
Truth be told, even when I ate meat, I wasn't much of a Thanksgiving person. I always was one of those people that loaded up on sides. To me, those made a meal. Well, that and dessert (side note, if you haven't tried my Simple Vegan Pumpkin Pie or my Layered Pumpkin Caramel Pie, you NEED THEM IN YOUR LIFE).
So when I set off to start my side dish checklist for this year, I wanted to create something simple but fun. I started thinking about flavors, and smoky came to mind. With smoky, I often think maple. And in a moment that can only be described as kismet, my eyes met the brand new container of NOW Foods maple syrup I had in my cupboard.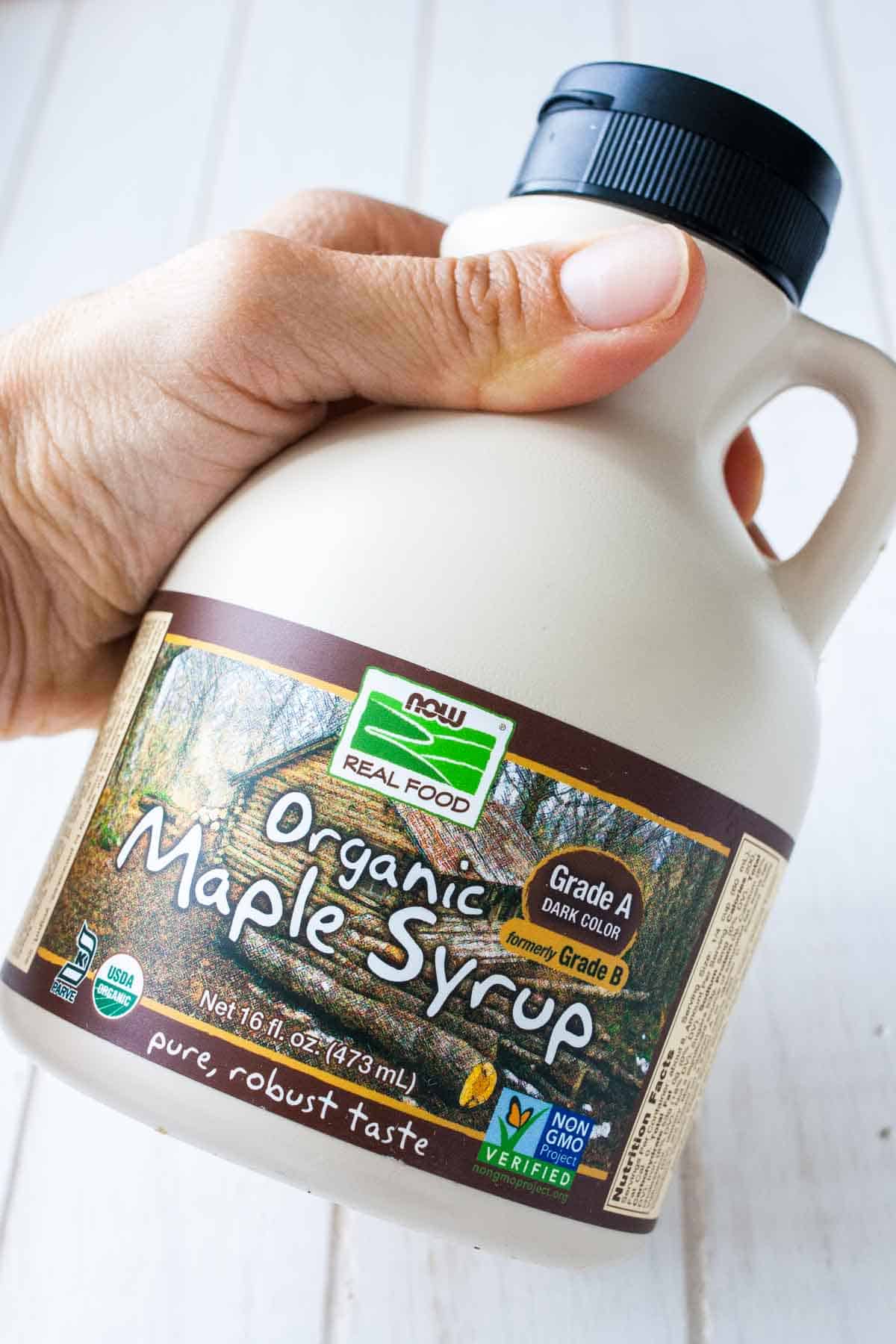 It's all about the flavors!
The smoky and maple flavor of these roasted carrots go heavenly together. But I still wanted another layer in there. Something to counteract that sweetness. Lemon thyme drizzle was born. Almond based, fresh ingredients, and a perfect pair to this side dish. I drizzled it on and dipped it in!!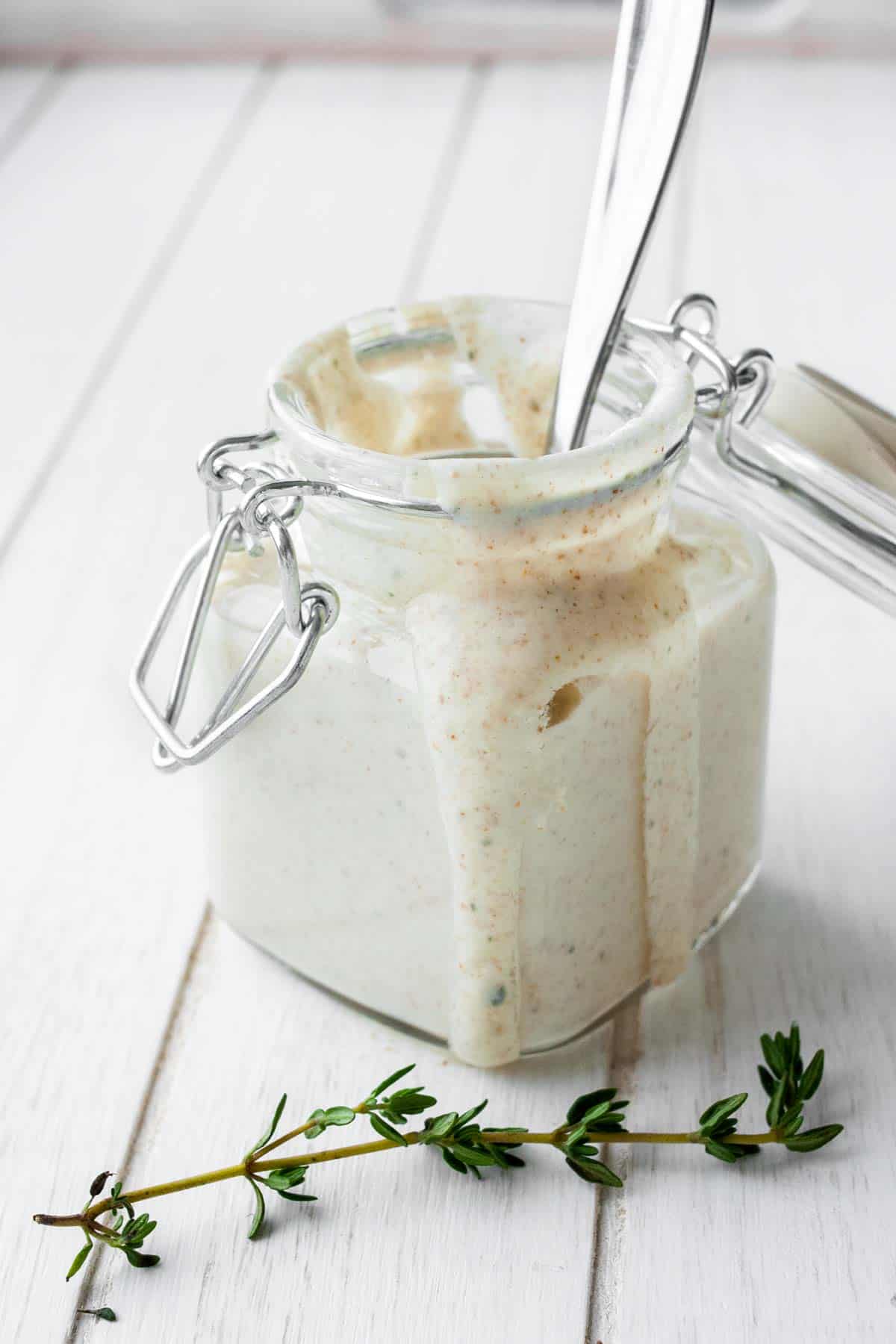 Perfect Smoky Maple Roasted Carrots in 5 Easy Steps:
Wash and peel carrots (if necessary).
Put all ingredients into a dish with the carrots and coat well.
Bake.
While baking, put sauce ingredients into blender to make lemon thyme drizzle.
Devour.
See how easy this is?! My kids loved the hint of maple on them. I have made them multiple times, mainly because they keep asking for smoky maple roasted carrots and you just can't say no to more veggies! Plus, super easy for the youngest one to eat cut up in little pieces. I have more Thanksgiving deliciousness to come, so stay tuned, but in the mean time MAKE THESE!!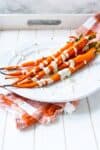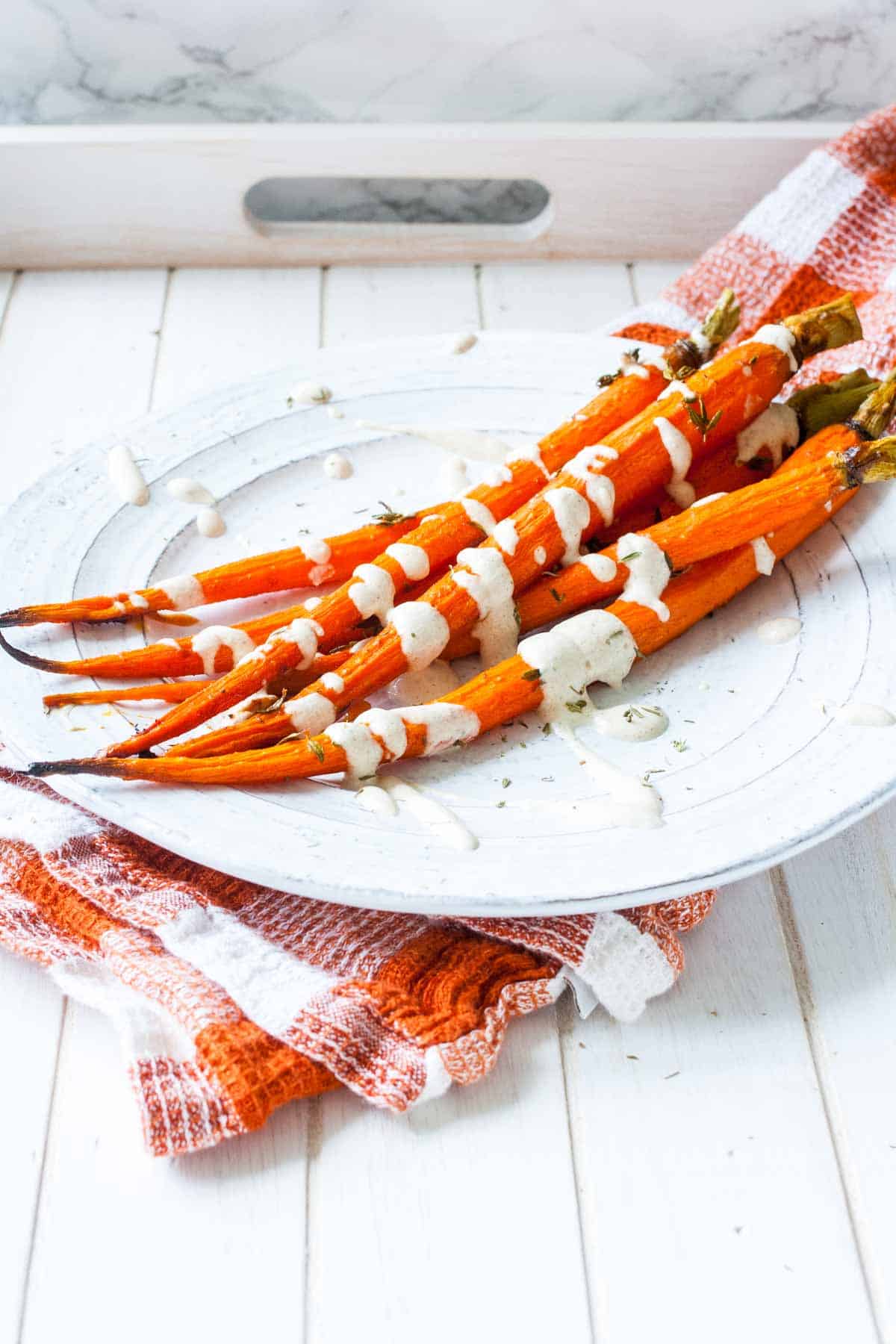 Smoky Maple Roasted Carrots with Lemon Thyme Drizzle
Smoky maple roasted carrots are your favorite holiday side dish this year! So easy to make, great for the entire family and a lemon thyme sauce to die for!
Keyword:
healthy side dish, Vegan Thanksgiving
Ingredients
Lemon Thyme Drizzle:
1

cup

water

½

cup

raw almonds

1

tablespoon

plus 1 ½ teaspoons fresh lemon juice

1 ¾

teaspoons

apple cider vinegar

½

teaspoon

Himalayan pink salt

1

tablespoon

fresh thyme
Instructions
Preheat oven to 400°F/200°C.

Wash and peel carrots (if needed). Place carrots into a baking dish.

At this point you can put all the other ingredients into the dish (not the sauce, just the carrot flavorings) and simply use your hands to mix and coat well. Or you can put the flavor toppings into a small bowl, mix well, then pour over the carrots to coat.

Bake carrots at 400°F/200°C for 35 minutes. You can bake less or more depending on how cooked you prefer them. (see tip 1 in notes).

While they are baking, make sauce by putting all ingredients, except for thyme, into a high speed blender and blending until smooth. Then put in thyme and pulse to break up and incorporate. Refrigerate until ready to use.

When the carrots are done, remove from oven and allow to cool for about 10 minutes. Then drizzle on lemon thyme sauce and devour! The sauce is great used as a dip too.
Recipe Notes
You can also transfer the carrots onto a parchment lined cookie sheet before roasting, just make sure to get all the flavor onto the carrots.
Be aware that the maple syrup does tend to burn while baking, so if it collects or pools in a certain area you may get some burning. The carrots should be fine, you can easily throw away or clean off the burned syrup pieces.
I preferred the flavor of the fresh thyme on the carrots, but feel free to use dried.
The sauce makes 1 1/2 cups. 
Tips to prep ahead
Baby/toddler food idea
Make sure they are cooked well.
Cut into small pieces and serve with drizzle as a dip.
Nutrition Facts
Smoky Maple Roasted Carrots with Lemon Thyme Drizzle
Amount Per Serving
Calories 155
Calories from Fat 81
% Daily Value*
Total Fat 9g 14%
Sodium 619mg 26%
Potassium 303mg 9%
Total Carbohydrates 16g 5%
Protein 4g 8%
* Percent Daily Values are based on a 2000 calorie diet.