These maple roasted carrots are the perfect side for your next holiday meal. Easy to make, great for the entire family and a lemon thyme sauce to die for!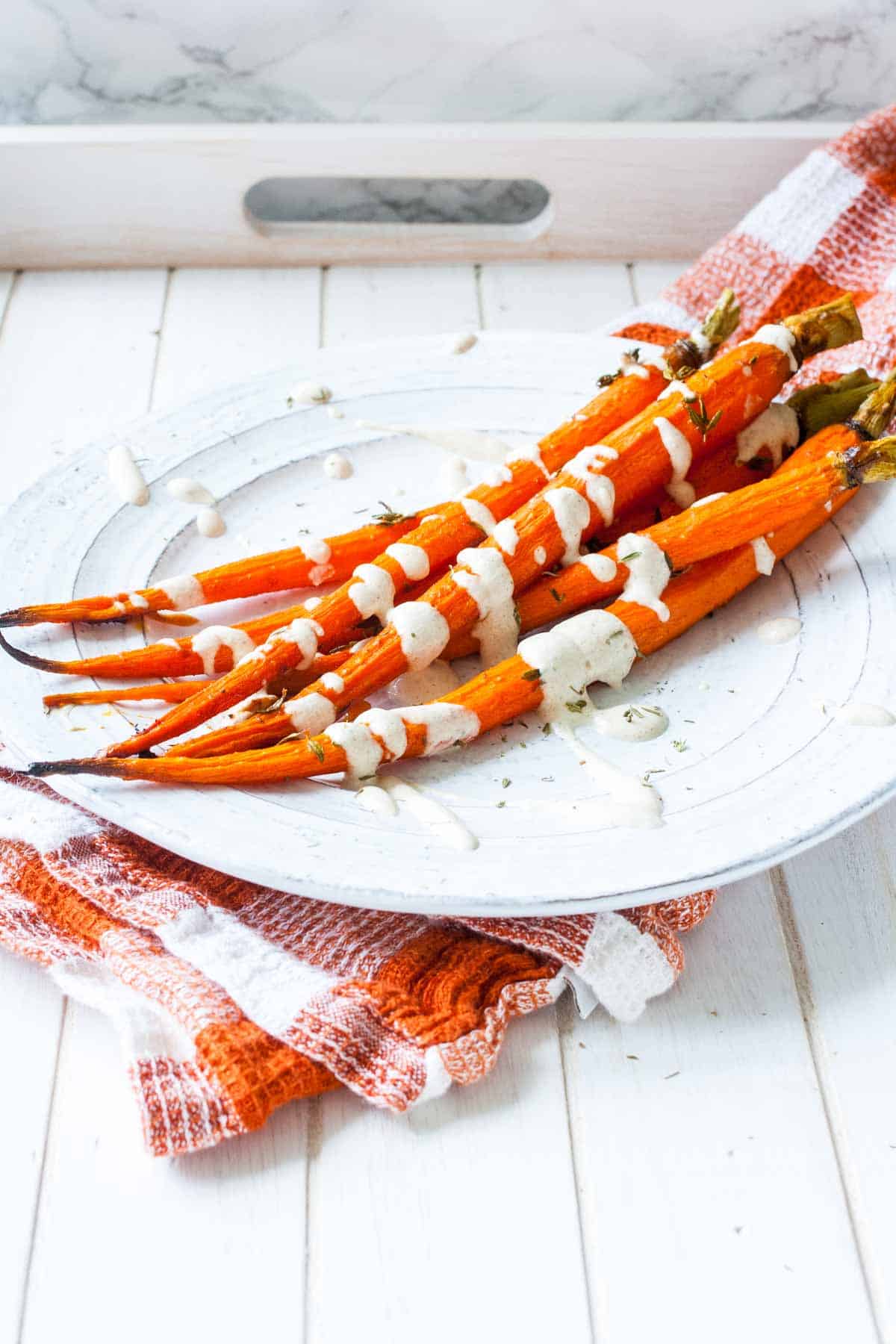 This post was sponsored by NOW Foods but the content and opinions expressed are fully my own.
This post was originally published on 10/31/2016
I'm always looking ahead to holidays, especially the delicious ones that come in fall. Since my life is pretty much sides during this season, I need all the delicious things on my table.
Maple Roasted Carrots
This maple roasted carrots recipe are number one on my veggie side dish menu. I mean, what is better than a super easy, super tasty, and healthy recipe that your kids devour? As a mom, NOTHING.
Tips on choosing carrots
Since this is such a simple recipe, you want to make sure that the ingredients you use are top notch. When it comes to the carrots, you want them flavorful. So make sure that you get fresh full size carrots. Look for those with a rich orange color.
As much as I love the baby carrots, those would not be my first choice. They would bake up too soft, which isn't my favorite.
Tips on choosing maple syrup
The other main star is the maple syrup, and let me tell you that there IS a difference between kinds of maple syrup. The first thing you need to look at is the ingredients. There should only be one, maple syrup! No sugar, no additives.
One of my top faves when it comes to maple syrup is NOW Foods maple syrup. It is made of pure maple syrup, the flavor is top notch and it's organic. The perfect complement to this recipe!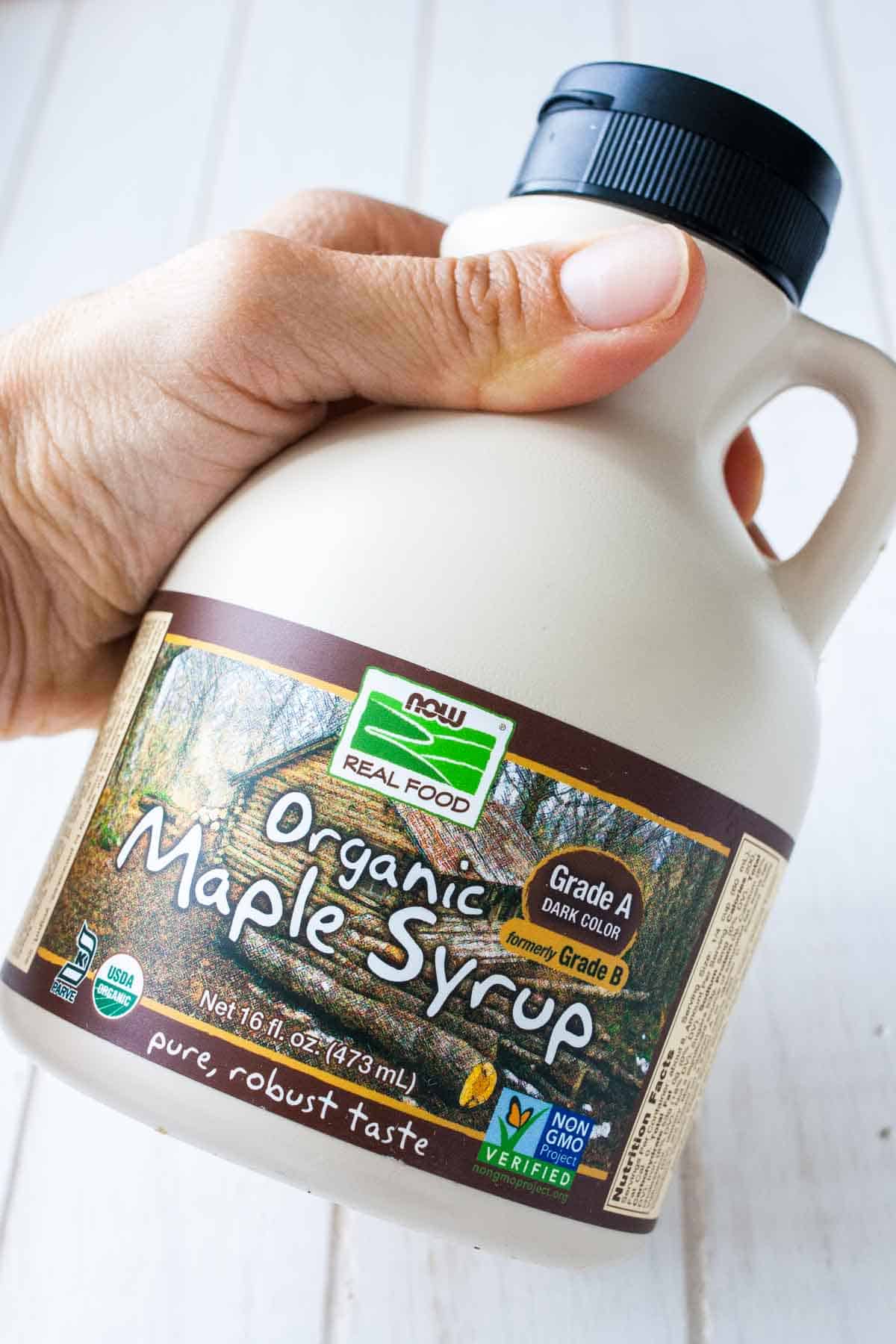 Tips for baking
Since you are baking maple syrup, and it's a sugar, there is a chance it can burn. This will mostly happen if it pools in one area of the pan. So you need to watch it carefully and take it out at the right time.
You can also make sure that you use your hands to coat the carrots well with the maple syrup. I tried baking these on a parchment lined cookie sheet instead of in a pan and that helped as well.
How do I store maple roasted carrots?
While I doubt you will have leftovers, these carrots are still good the next day. Store them in an airtight container in the fridge. To reheat, you can use the microwave or heat again in the oven. Add a little bit of broth into the bottom of the pan to avoid them drying out and burning.
Can I prep these ahead of time?
Because there isn't much to the recipe, other than getting the carrots peeled and ready, there isn't a whole lot extra to do. However, you can make the awesome lemon thyme drizzle the day before so it's ready to go!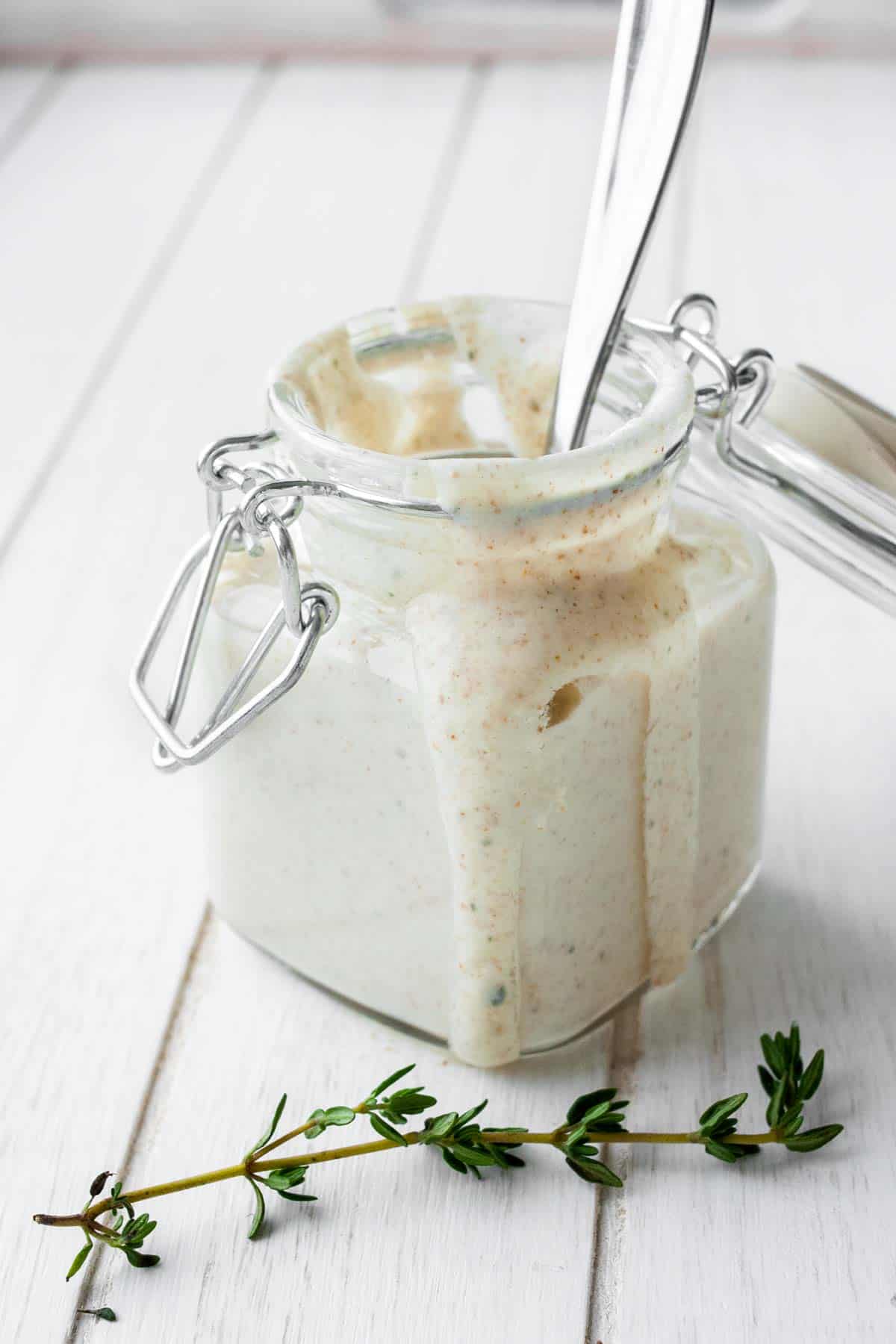 How to Make Maple Roasted Carrots in 4 Easy Steps:
These are a perfect addition to the holidays because they are simple and easy. Since so many things are the exact opposite of that during the holidays, it's so refreshing to have one thing to count on!
Put the carrots in a dish and mix in other ingredients.
Bake.
While baking, put sauce ingredients into blender to make lemon thyme drizzle.
Devour.
Super easy and kid approved. Great for all ages, little guys can mash these right into their mouth, just cook them a little softer. Adults can also mash them in, I don't judge.
Other veggies you can sub for the carrots:
brussels sprouts
sweet potatoes
butternut squash
cauliflower
potatoes
beets
parsnips
What else can I serve with these awesome roasted carrots?
Truth be told, even when I ate meat, I wasn't much of a turkey or roast or whatever person. I always was one of those people that loaded up on sides. To me, those made a meal. Here are a few other great sides we love, both for holidays and every day:
We can't forget the dessert though! After eating all these healthy veggies, we need to finish it off with the best vegan dessert ever: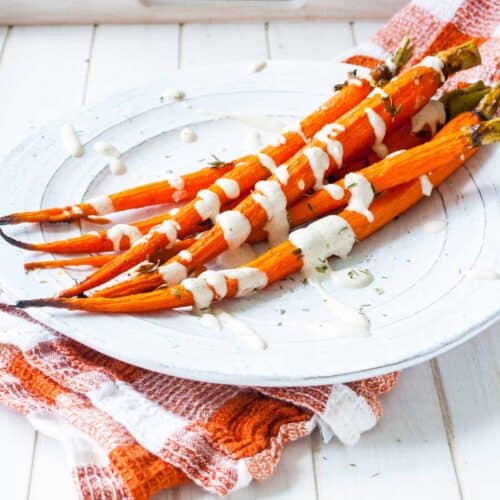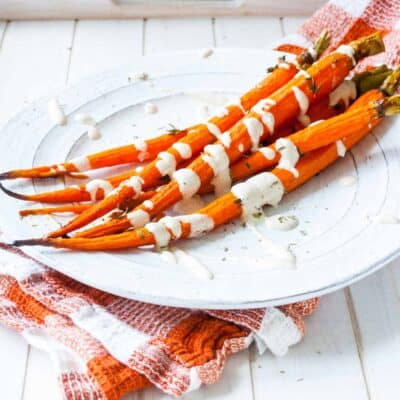 Smoky Maple Roasted Carrots with Lemon Thyme Drizzle
These vegan maple roasted carrots are the perfect side for your next holiday meal. Easy to make, great for the entire family and a lemon thyme sauce to die for!
Ingredients
1

bunch

carrots

, about 6 large

2

tablespoons

maple syrup

, I use NOW Foods brand

2

tablespoons

veggie broth

, low sodium if needed or 2 teaspoons favorite roasting oil if using oil

1

tablespoon

fresh thyme

, or 1 teaspoon dried

1/2

teaspoon

smoked paprika

1/2

teaspoon

sea salt

1/2

teaspoon

lemon juice
Lemon Thyme Drizzle
1

cup

water

1/2

cup

raw almonds

4 1/2

teaspoons

fresh lemon juice

(1 tablespoon plus 1 1/2 teaspoons)

1 3/4

teaspoons

apple cider vinegar

1/2

teaspoon

sea salt

1

tablespoon

fresh thyme
Instructions
Preheat oven to 400°F/205°C.

Wash and peel carrots (if needed). Place carrots into a baking dish.


At this point you can put all the other ingredients into the dish (not the sauce, just the carrot flavorings) and simply use your hands to mix and coat well. Or you can put the flavor toppings into a small bowl, mix well, then pour over the carrots to coat.


Bake carrots for 35 minutes. You can bake less or more depending on how cooked you prefer them. (see tip 1 in notes).

While they are baking, make sauce by putting all ingredients, except for thyme, into a high speed blender and blending until smooth. Then put in thyme and pulse to break up and incorporate. Refrigerate until ready to use.

When the carrots are done, remove from oven and allow to cool for about 10 minutes. Then drizzle on lemon thyme sauce and devour! The sauce is great used as a dip too.
Notes
You can also transfer the carrots onto a parchment lined cookie sheet before roasting, just make sure to get all the flavor onto the carrots.
Be aware that the maple syrup does tend to burn while baking, so if it collects or pools in a certain area you may get some burning. The carrots should be fine, you can easily throw away or clean off the burned syrup pieces.
I preferred the flavor of the fresh thyme on the carrots, but feel free to use dried.
Serving size is 2 carrots.
The sauce makes 1 1/2 cups. Nutrition info includes using half of this sauce.
Tips to prep ahead
Baby/toddler food idea
Make sure they are cooked well.
Cut into small pieces and serve with drizzle as a dip.
Recipe by Veggies Don't Bite, visit our site for more great plant-based recipes.
Nutrition
Calories:
157
kcal
Carbohydrates:
23
g
Protein:
3
g
Fat:
6
g
Saturated Fat:
0
g
Polyunsaturated Fat:
0
g
Monounsaturated Fat:
0
g
Trans Fat:
0
g
Cholesterol:
0
mg
Sodium:
610
mg
Potassium:
490
mg
Fiber:
5
g
Sugar:
14
g
Vitamin A:
19265
IU
Vitamin C:
14
mg
Calcium:
98
mg
Iron:
1.5
mg
Nutrition and metric information should be considered an estimate.
Never miss a recipe!
Sign up here and get a FREE quick and easy meal guide!