These vegan oatmeal raisin cookies are made with whole food ingredients, are gluten-free and taste like decadence. They will win over any cookie lover!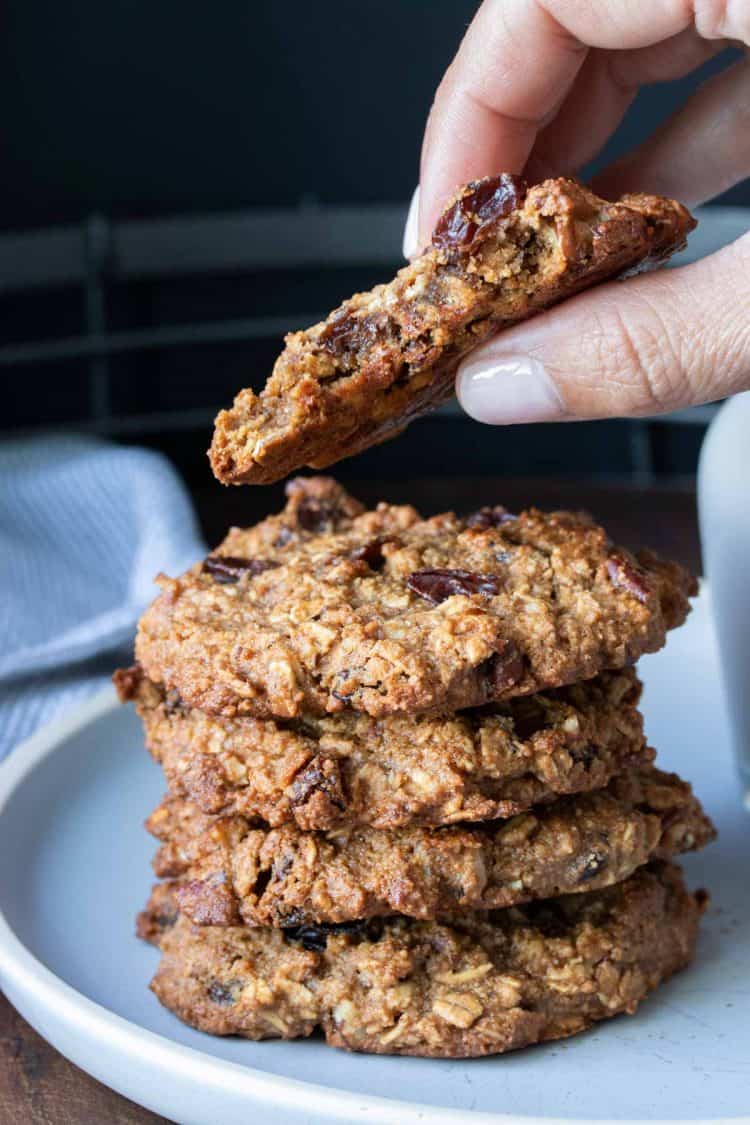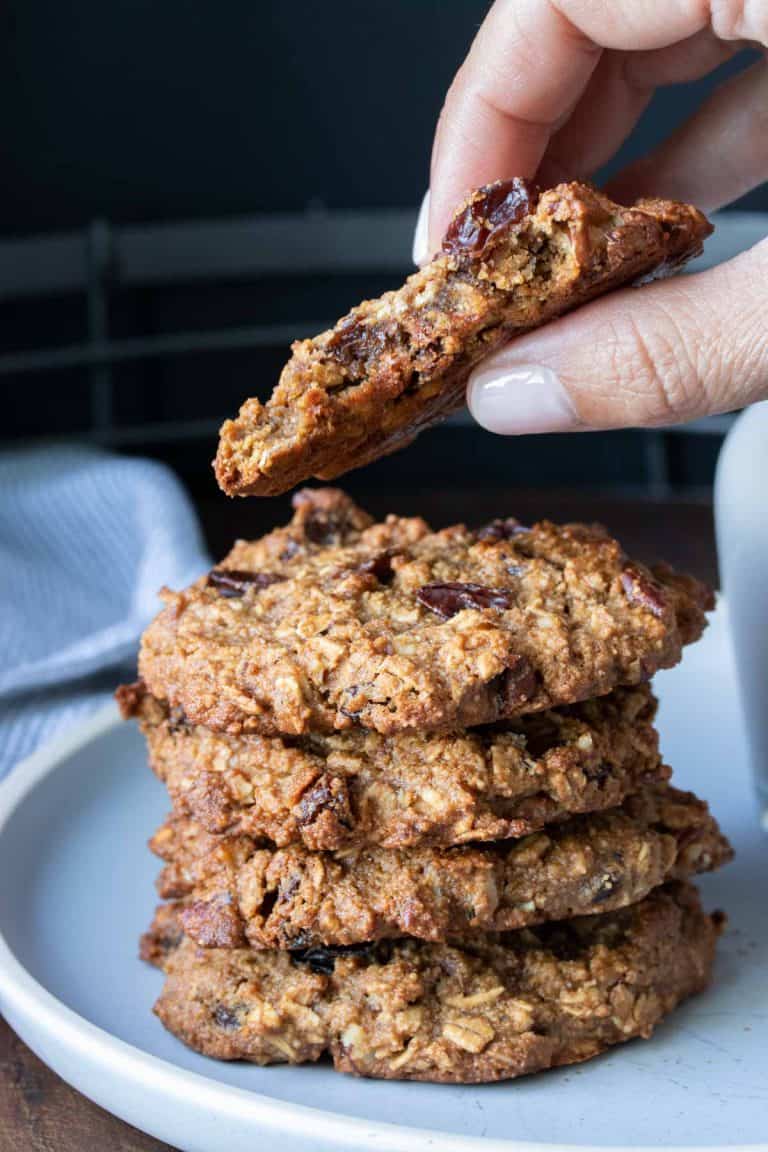 This recipe was originally published on 4/17/14
Chocolate chip cookies are a favorite of mine, but there is something about the deep rich flavor of a good oatmeal raisin cookie that speaks to me. Plus, it's always good to switch up your cookie game!
Ingredients
I made these healthy oatmeal raisin cookies with the goal of creating an amazing cookie made of all whole foods. I want them to be the dessert you actually can't tell is healthy.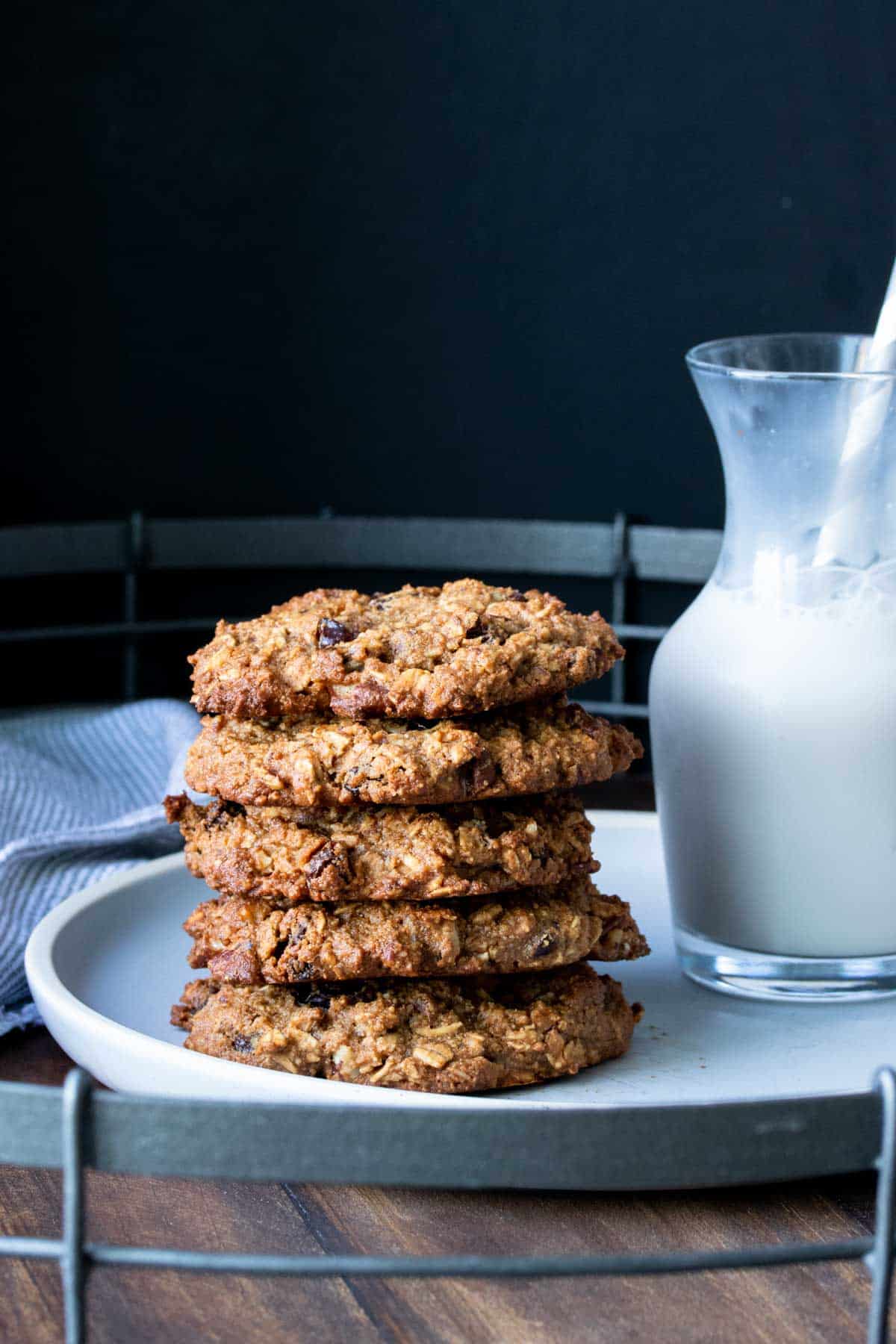 When it comes to the main ingredients, they are quite simple, nothing weird or hard to find:
rolled oats
almond flour
almond butter
applesauce
raisins (ours are purely dried grapes with no added sugar)
pecans
using maple syrup and coconut sugar instead of refined sugar
I also give a few options for an even healthier version, so check the notes in the recipe. The original recipe makes a crispier chewy cookie, and the lower sugar versions make a softer fluffier cookie.
When it comes to oats, you need to make sure you use certified gluten-free oats if needed. While oats naturally don't contain gluten, the way they are grown is open to cross contamination so you need to be careful.
I don't like steel cut oats because they don't give the same end texture nor do they bake well. I also don't like quick oats because they aren't hearty enough.
How to Make Vegan Oatmeal Raisin Cookies
These are a fairly easy, mix in a bowl and bake type of cookie. The ingredients are basic but in order to get the best flavor I added some molasses and cinnamon to give them a deep rich flavor.
Mix everything except the raisins and pecans in a bowl.
Add the raisins and pecans.
Put spoonfuls on a cookie sheet.
Bake.
Devour!
Mix in ideas
My husband isn't a fan of raisins, so whenever I make these I experiment with other options for mix ins. Here are some ideas that we loved:
chocolate chips
walnuts
peanuts
slivered almonds
dried blueberries
dried cranberries
shredded coconut
Tips and Tricks
This is a pretty full proof recipe, but here is some info to help you along the way!
For the best texture you need accuracy with the flours. Which is why I include precise weights. If you don't have a scale, then you can purchase this fairly inexpensive one.
If you prefer to measure, then measure the flours by scooping your measuring cup into the flour versus spooning it into it. This is how I measured when getting my weights.
I suggest baking these on a parchment lined cookie sheet. Parchment helps crisp the cookie for that perfect outer texture.
If you want to make the dough ahead of time, you can store it in the fridge for about 3-5 days. Any longer than that and you should freeze it.
To freeze the dough, I like freezing in balls or scoops and storing them in a freezer bag or air tight container. That way I can grab as many as I want. Make sure to bring to room temp before baking if you want them to spread out and have the same crisp but chewy texture.
You can also freeze the baked cookies, but they do dry out a bit in the freezer so keep that in mind. Bring them back to room temperature and then pop them in the toaster oven on light to warm and crisp them a bit.
Common Questions
Are oatmeal raisin cookies healthier than chocolate chip?
The only reason I'm going to say yes, is that the chocolate chips themselves can have a lot of added sugar. However, it really depends on the ingredients used. If both kind of cookie uses whole food healthy ingredients, then I wouldn't say one is much better than the other.

You could also use chocolate chips without the refined sugar, or even dark chocolate without much sugar at all. So in this case you're good to go shoveling either in your mouth like cookie monster.
Why are my oatmeal cookies hard?
Usually the texture of a cookie is a direct result of the dry versus wet ingredients combination. If you use too much flour, or too little of the wet ingredients, it will end in a dry hard cookie.

It also can be that you swapped out an ingredient. Baking is a science so altering one thing in a recipe can cause a very different end result.
If you are in altitude, this can also cause your cookies to end up hard because liquids and moisture evaporate faster the higher up you are.
How long do these vegan cookies last?
Because these are vegan and don't contain any dairy ingredients, you can easily keep these on the counter overnight after you bake them. They are best fresh but if you don't finish them, they will still be good for a few days.

You can also keep them in the fridge. If you do, pop them in the toaster oven or a few second in the microwave to warm them just a tad before eating.
How do I store oatmeal raisin cookies?
You definitely want to make sure that the cookies are completely cool before storing them or they will soften. I leave these on the counter overnight to fully ensure they are cool. Then store in an airtight container. I keep them out of the fridge, but you could also store them in.
Other vegan cookies you will love
Here are some of my other favorite vegan and gluten-free cookies: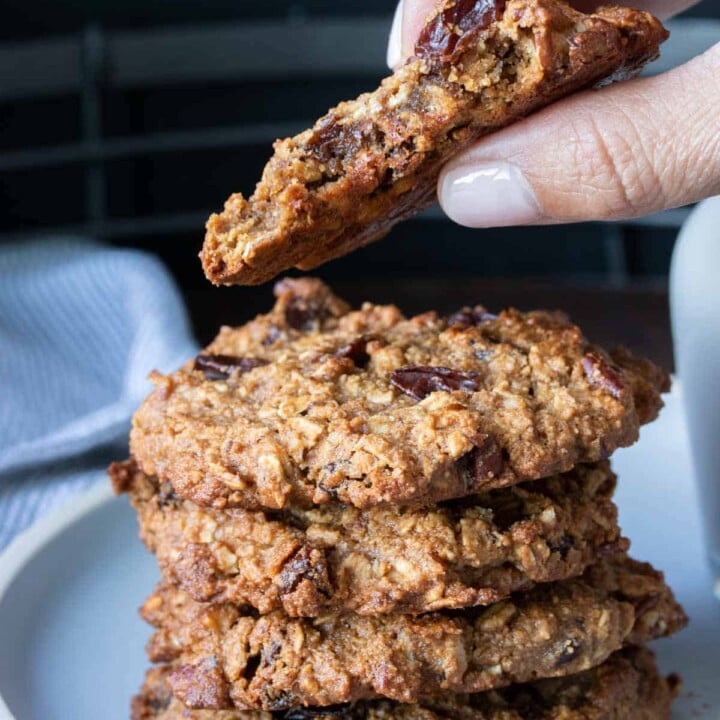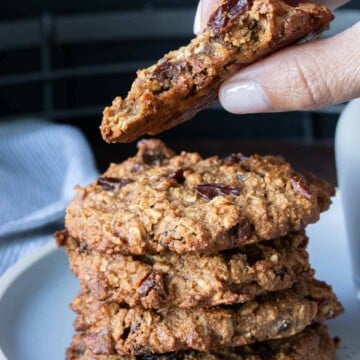 Vegan Gluten-Free Oatmeal Raisin Cookies
These vegan oatmeal raisin cookies are made with whole food ingredients, are gluten-free and taste like decadence. They will win over any cookie lover!
Ingredients
¾ cups rolled oats , gluten-free if needed (1 cup for softer cookie version, see notes)
¾ cup fine grain almond flour (1 cup for softer cookie version, see notes)
½ cup coconut sugar (leave out for softer cookie version, see notes)
1 teaspoon cinnamon
½ teaspoon baking powder
¼ teaspoon sea salt
½ cup maple syrup
¼ cup apple sauce (½ cup for softer cookie version, see notes)
¼ cup almond butter
1 teaspoon molasses
½ cup raisins
½ cup chopped pecans , optional
Instructions
Preheat oven to 350F/180C

Mix oats, almond flour, sugar, cinnamon, baking powder and salt in a large bowl.

Add the maple syrup, apple sauce, almond butter, and molasses and mix well.

Add the raisins and pecans if using. Mix until combined.

Drop spoonfuls onto a parchment lined cookie sheet. Press down to slightly flatten the cookie if you want.

Bake for 20-23 minutes or until golden brown and crisp at the edges. Cookies will harden a bit more as they cool.
Notes
This makes a chewy crispier cookie. For other options, see below.
You can sub date paste for the maple syrup if you want a less sweet cookie. You will need to add a bit of water to thin out the batter a bit depending on how runny your date paste is. See the photo in the post for what the consistency of the dough should look like. Keep in mind the consistency will change.
If you want another lower sugar option, make the following changes but keep in mind this yields a softer fluffier cookie:

total 1 cup oats
total 1 cup almond flour
no coconut sugar
total ½ cup apple sauce

The softer cookie maintains a better texture the next day.
Recipe by Veggies Don't Bite, visit our site for more great plant-based recipes.
Nutrition
Calories: 171kcalCarbohydrates: 27gProtein: 3gFat: 7gSaturated Fat: 1gSodium: 60mgPotassium: 166mgFiber: 2gSugar: 14gVitamin C: 0.3mgCalcium: 62mgIron: 0.8mg
Nutrition and metric information should be considered an estimate.
Never miss a recipe!
Sign up here and get a FREE quick and easy meal guide!