This easy guide on how to roast peppers will get you homemade amazing roasted peppers to use in anything! Little prep with most of the work by the oven.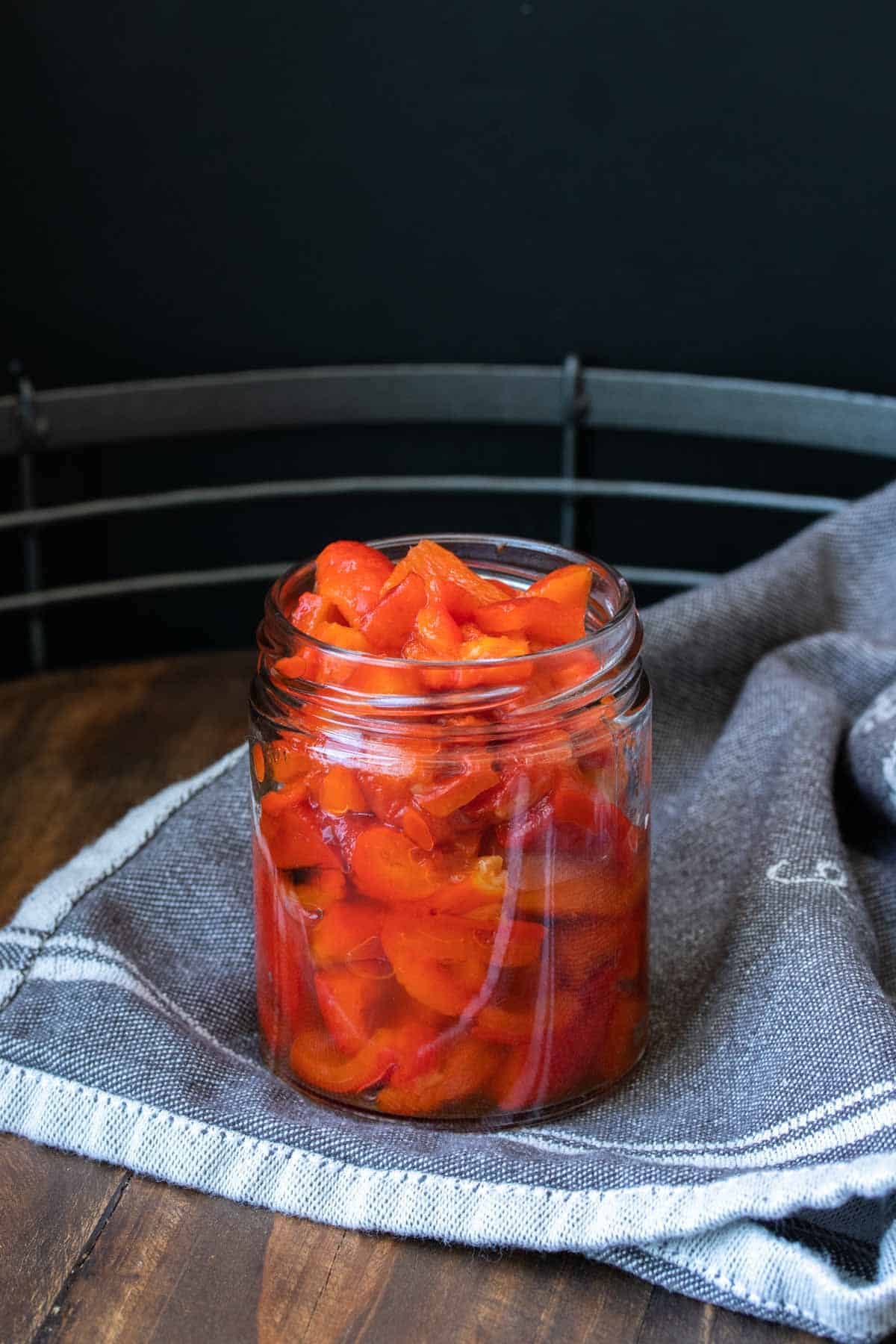 Adding roasted peppers to your recipes brings an extra layer of flavor. I love roasting them myself because it is super easy and much more flavorful than buying them.
Roasting Basics
Roasting veggies is one of my absolute favorite things. It can change the initial flavor and add a layer of richness. One of the best veggies to roast at home to use in many ways is red peppers.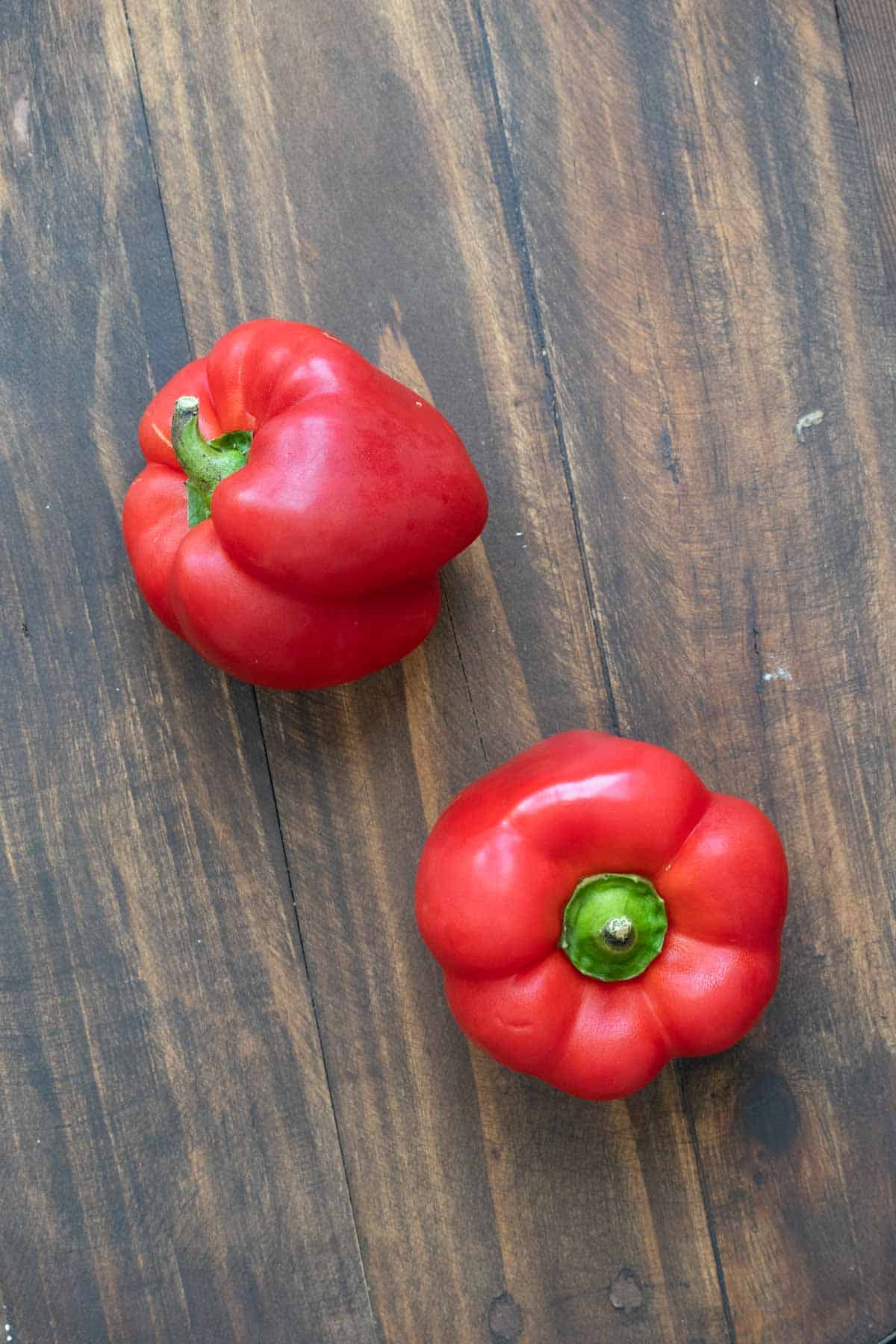 Why do you roast peppers?
Roasting peppers not only softens the texture but it also softens the flavor. It makes using them really easy as they can be cut or blended into other recipes.
It adds an extra veggie, and one with great nutritional value, and ups the flavor of sauces and other meals.
As I mentioned, roasting any vegetable helps bring an extra sweetness and caramelized like flavor. This adds so much goodness to recipe!
Ways to roast
There are many ways you can roast a pepper:
In the oven- Works for however many peppers you can fit on a baking sheet with space in between.
On the grill- Works for however many peppers you can fit on your grill with plenty of space in between.
Even using the stove top- Be careful with the open flame.
Roasting in the Oven
Roasting peppers in the oven is as simple and easy as roasting regular veggies.
Put the peppers on a parchment lined baking sheet. I like using parchment as it helps crisp them up.
Roast. You want some of the skin blackened.
When done, wrap in foil for about 5 minutes to steam and make it easier to remove the skin. You can also put them in a plastic bag. After done, remove the skin. If you do this under running water it makes it easier.
Use in all the ways!
If you prefer to use your grill, follow the same instructions but put the peppers directly on the grill.
If you want to use the stove top, you need a gas stove, use tongs to char each pepper over the fire by putting them directly on the flame. Rotate until most of the pepper is blackened. Then follow the steaming directions.
How to steam and remove the skin
After roasting, you need one extra simple step to make the peppers easier to clean. Simply wrap in foil or put them in a plastic bag, and let sit for about 5 minutes.
The heat will be trapped in and will help the pepper skin separate from the flesh. After about 5 minutes, simply peel the skin off easily! If you peel the skin under running water it makes it easier.
How to prepare for roasting
The best way to roast peppers is whole, because cleaning them and cutting is much easier once cooked. However if you prefer to cut the peppers beforehand then you can do that as well.
One thing to remember is that if you cut it into pieces before cooking, it may be harder to remove all of the bits of skin.
If you are using a hot pepper, you may want to remove the veins so that the pepper isn't too spicy. The spice is actually in the vein not the seeds!
If you want to keep it whole, but remove the veins and seeds, then simply cut around the top, and carefully pull out the stem, veins and seeds. You can also make a small slit down the side and carefully remove them that way.
How to Use Roasted Peppers
Here are some of my favorite ways to use homemade roasted peppers! Remember that you can always buy them for a super fast meal, but roasting at home gives a better flavor.
Tips and Tricks
Here are some tips to make sure you get the most out of your roasted peppers!
When it comes to deciding on what pepper to use, think about your end goal with flavor. If you are looking for a softer sweeter result then use a red, yellow or orange pepper as they tend to be sweeter. If you want a more tangy flavor, use green. And if you want spice, use a hot pepper!
It's easier to clean the pepper after roasting as it is softer and the skin and seeds/top come off easier.
Roast then slice or chop the pepper and store in the fridge to prep for recipes you will be making during the week. See the list of all my recommendations for how to use them!
If you want to roast and prep in bulk, cut the peppers after they are cool. Then wrap the cut peppers in plastic, then foil and store in the freezer in an airtight container or freezer bag.
When ready to use frozen peppers, allow to defrost on the counter for best results. This way they will slowly come to room temp.
Common Questions
How do you store roasted peppers?
Roasted peppers can be stored in an air tight container in the fridge for about 5 days. It's best to use them by then for the best flavor.
Are roasted peppers good for you?
Just like any veggie gives you awesome nutrients, so do peppers! Don't overdo it on the oil, some is ok but too much oil isn't great for heart health.
What do roasted peppers taste like?
Roasting a veggie brings out a sweet caramelized like flavor. Especially in peppers that are naturally sweeter. Think the flavor of the raw veggie, but richer and with a sweet undertone.
Does roasting peppers make them hotter?
If you are roasting a spicy pepper to begin with then it can spread the spice, this will depend on if you remove the veins. The veins are where most of the spice is concentrated, so when roasting, this will spread to the entire pepper if you leave them in. However if you remove the veins, then the pepper will lose some of it's spice.
How do I know if the pepper is charred enough?
You want each pepper to be blackened in parts all around the pepper. The skin will begin to blister a bit. If you steam it and the skin doesn't come off, you did not let it cook enough.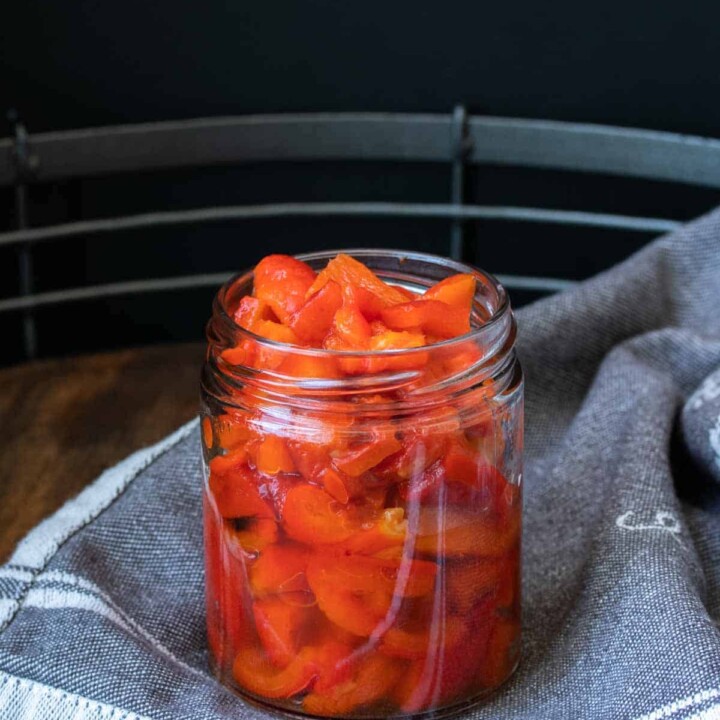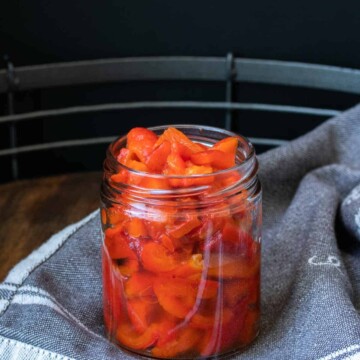 How to Roast Peppers
This easy guide on how to roast peppers will get you homemade amazing roasted peppers to use in anything! Little prep with most of the work by the oven.
Ingredients
2 red peppers , medium sized
drizzle olive oil , optional
Instructions
For the oven:
Preheat oven to 400 F/ 205 C

Put peppers on a parchment lined baking sheet and brush with oil if using.

2 red peppers, drizzle olive oil

Roast for 40-45 minutes, flipping half way through. You want the skins popping and crisp but not too charred.

Once done, wrap in foil or put in a plastic bag and allow to to sit about 5 minutes. This will steam them so the skin peels off easily.

Unwrap and peel the skin off. It should come off easily since it steamed in the tin foil or bag. If you do this under running water it makes it easier.

Cut as needed and use!
For the grill:
Follow directions above but put the peppers right on the grill leaving about one pepper width in between each pepper.

Allow to roast about 5-7 minutes on each side over medium hight heat. Watch as grills vary.
For the stove top:
Using tongs to hold each pepper over the open flame and cook until popping and crisp.

Follow the rest of the directions above.
Notes
Once sliced it makes about ¾ cup of pepper
Nutrition facts are for peppers and 1 teaspoon of oil.
Serving size is 3 tablespoons.
Recipe by Veggies Don't Bite, visit our site for more great plant-based recipes.
Nutrition
Calories: 27kcalCarbohydrates: 4gProtein: 1gFat: 1gSaturated Fat: 1gSodium: 2mgPotassium: 126mgFiber: 1gSugar: 3gVitamin A: 1863IUVitamin C: 76mgCalcium: 4mgIron: 1mg
Nutrition and metric information should be considered an estimate.
Never miss a recipe!
Sign up here and get a FREE quick and easy meal guide!