Eating whole foods is great, but sometimes supplements for immunity can be very helpful. Learn more about creating a wiser immune system!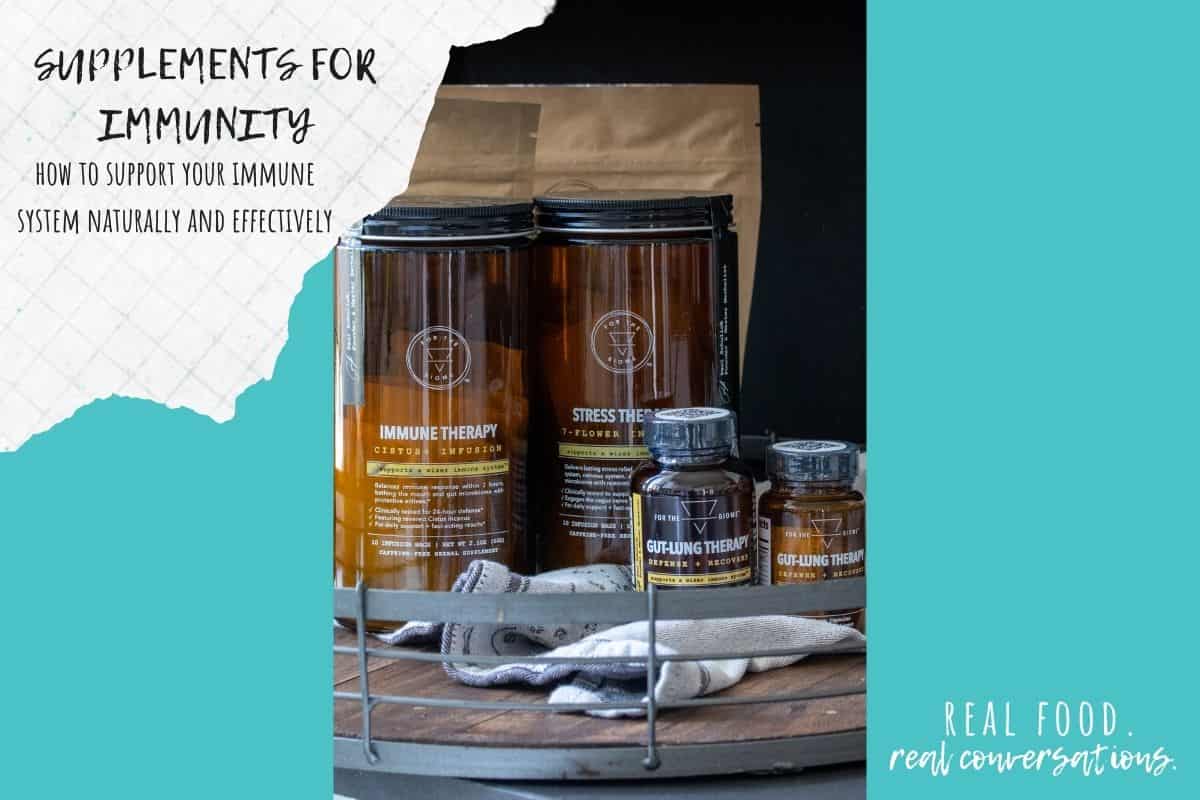 This post was sponsored by For the Biome but the content and opinions expressed are fully my own.
Our guest today is from the brand For The Biome and is an expert in creating a healthy immune environment.
Podcast: Play in new window | Download | Embed

Subscribe now! Apple Podcasts | Google Podcasts | iHeartRadio | Stitcher | TuneIn | Deezer | RSS | More
Paul Schulick is a master herbalist, author and the founder of both New Chapter, and his latest venture, For The Biome. For The Biome's mission is to deliver solutions for body, mind, and microbiome that build strength and resilience amidst modern health challenges. Schulick is renowned for pioneering whole-food fermented vitamins integrated with science-backed herbals.
He has once again shifted the paradigm by redefining the immune category with time-tested ingredients that are new to market. For The  Biome's three immune products—Immune Therapy Cistus+ Infusion, Stress Therapy, and Gut-Lung Therapy—are formulated in Vermont and launched March 2021.
Learn more about For The Biome through their channels on Instagram and Facebook! Use the code VEGGIES15 for 15% off any order.
Why You Need a Wise Immune System
The immune system is important when aren't feeling well, but it's also so much more than that. Our immune system is on 24/7 and is always restoring our physiology and clearing and cleaning the debris and cells that need to be removed, those that are not great for our body. It needs to be at work all the time.
This makes our bodies amped up by all it is exposed to, which means our immune system is also amped up. So it often doesn't get a chance to relax and be quiet so that it can really restore itself. This is why, despite all the hype around "boosting" the immune system, what we all really need is balance within the immune system.
For the Biome's Immune Therapy contains a unique class of polyphenols called polymeric polyphenols; these are unique because they are able to help regulate the immune response, so that your system can respond to threats appropriately, and then return to balance when the threat has been dealt with .
Research shows that within one hour of taking Immune Therapy, immune cells (called monocytes) move from the bloodstream into the tissue, so that they are in the best position to respond to any immune challenges. After two hours the heavy hitters of the immune system, Natural Killer cells and T cells, are standing at attention and ready to respond if they're needed. At this point, those monocytes move back into the bloodstream, where they can be on the lookout for new immune threats.
There are proteins within the immune system called cytokines that are important because they help our immune system function. Cytokines respond when something is threatening the immune system. However an overload of cytokines can throw the body out of balance.
But with the right support (like the Immune Therapy Cistus+ Infusion by For The Biome), the immune system can balance its response: immune activation is supported, but so is the return to balance: it's helping the body to respond more efficiently and effectively.
How to Keep Your Immune System "Strong"
Instead of using the word stronger, it seems more appropriate to use the word wiser. The reason is that you want your immune system to have the wisdom to know when to activate and send out the troops effectively, and to know when to retreat and head to the lookout posts, so that it's ready for the next attack. A wise immune response is balanced and efficient.
When your body is exposed to things it doesn't like, your body goes into flight or flight response. But when it likes something it goes into the state of rest and digest. So when you support your immune system, you are able to better get into that rest and digest state so you can absorb your nutrients better, rejuvenate, and be in a better state of mind.
Here are some things you can do for your immune system:
Address what is going on in the mind. Bring connections with friends, family and environment in and do things to help calm your mind like meditation.
Be in nature. Get outside, breathe fresh air and see sunlight.
Eat a diet with wholesome food that is nutrient rich.
Add in supplements where needed.
How Do You Know What Supplements Are Good?
One of the most important things to focus on is simplicity and common sense. Look at the source where the supplement came from and ask yourself if you trust the source. Not just the formulator but the legacy and history of the brand.
Look at the label and ask yourself:
Is this something that has been used for a long period of time?
Has it been tested or scientifically studied?
Is it something grown in nature?
Chamomile for example can have a wide variety of quality. I grew up drinking chamomile straight for the mountains of Greece, and can tell the different between that which is not quality.
Quality of Supplements
Making sure you have quality supplements is so important. When you work with a brand, their quality testing should be on point.
For example, when For The Biome tested rosehips for quality, they found some that didn't even have any vitamin C in it, the prime vitamin in rosehips!
So making sure that the brand is always on top of testing all of the ingredients they use is key. Especially because it can be dangerous if things are added that are not good for us.
Another important thing is to make sure the brand is always up on the current science. New things are discovered every day so supporting a company involved in clinical studies and always learning the latest and greatest will give you the best result.
This is important to make sure we are doing the best for our body.
How Long Do Supplements Take To Work?
Depending on the brand and supplement you use, it can take varying amounts of time to see and feel results.
But here is what is being seen with the supplements from For The Biome
Stress Therapy- clinical studies tested subjects before using Stress Therapy, and again after 7 straight days of use, and the results showed improvements in clarity of mind, ability to adapt to stress, emotional strength… and the list goes on! Some customers have even reported that the experience is quite fast, and they start noticing the soothing impact. right away.
Immune Therapy Cistus+ Infusion- clinical science proves that Immune Therapy begins to influence your immune system within 1-2 hours..
Gut-Lung Therapy- clinical studies on DR7 (the live probiotic superstrain in Gut-Lung Therapy) have proven that it supports respiratory and emotional health! For The Biome did pre-clinical research on their fermentate (the fermented portion), which shows that it can affect immune cells within 24 hours of taking it. Some customers have reported feeling the effects the same day, while others find that it takes a bit longer.
Overall, with the right lifestyle and all around self care you can see benefits long term.
Learn more about For The Biome through their channels on Instagram and Facebook! Use the code VEGGIES15 for 15% off any order.