This recipe for vegan chickpea blondies is absolute delicious perfection. Healthy, easy to make and even gluten-free! You won't be able to get enough.
I love a good dessert that is filled with a little nutrition and this baby hits the nail on the head!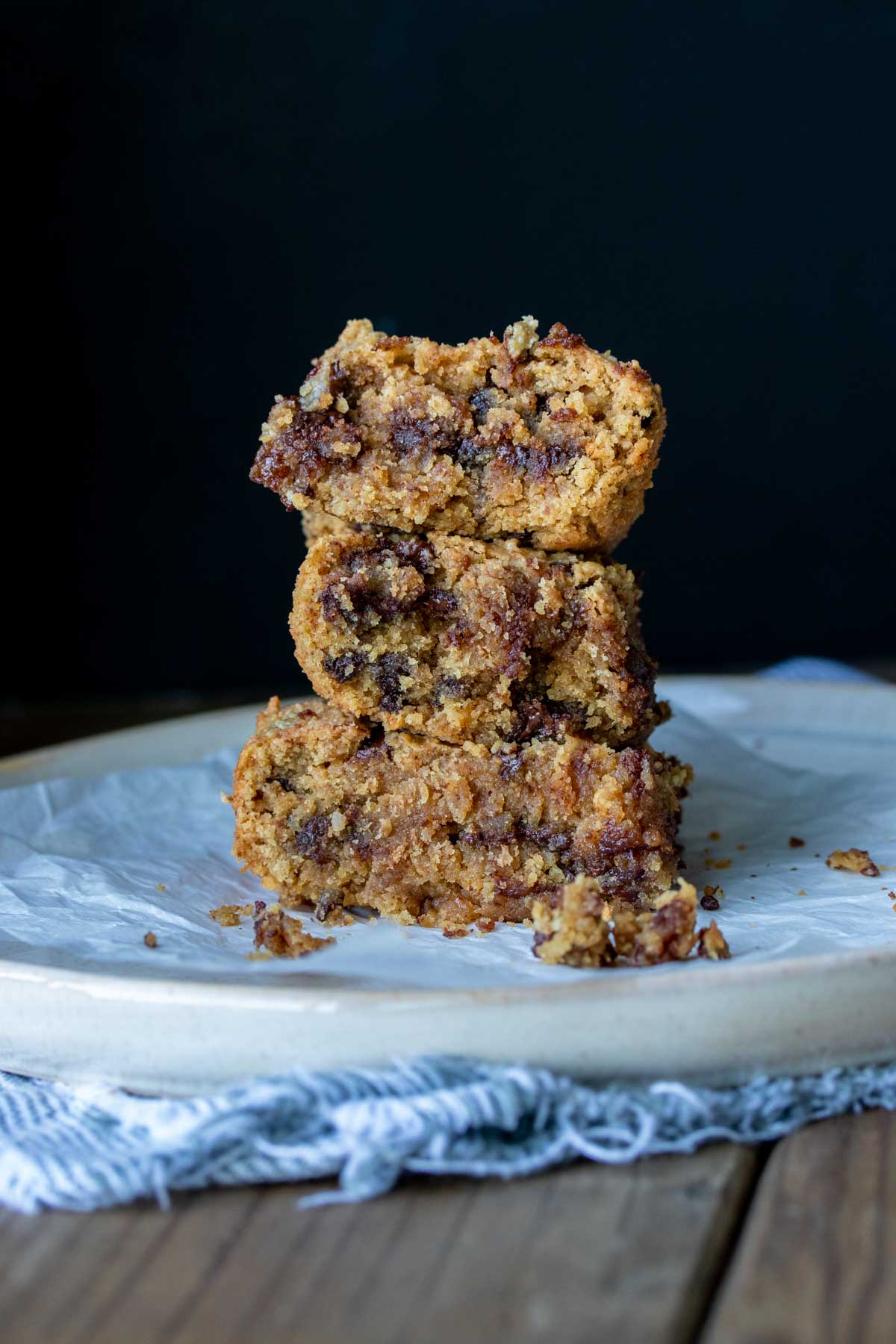 This post was originally published on March 30, 2020.
This conversation is sponsored by California Beans. The opinions and text are all mine.
I love all things vegan chocolate chip cookie and vegan brownie, gluten-free of course. These easy vegan blondies feel like the perfect combo of both!
Ingredients
Making chickpea blondies both vegan and gluten-free is easier than you think! Here is what you need:
Oat flour
Almond butter
Chocolate chips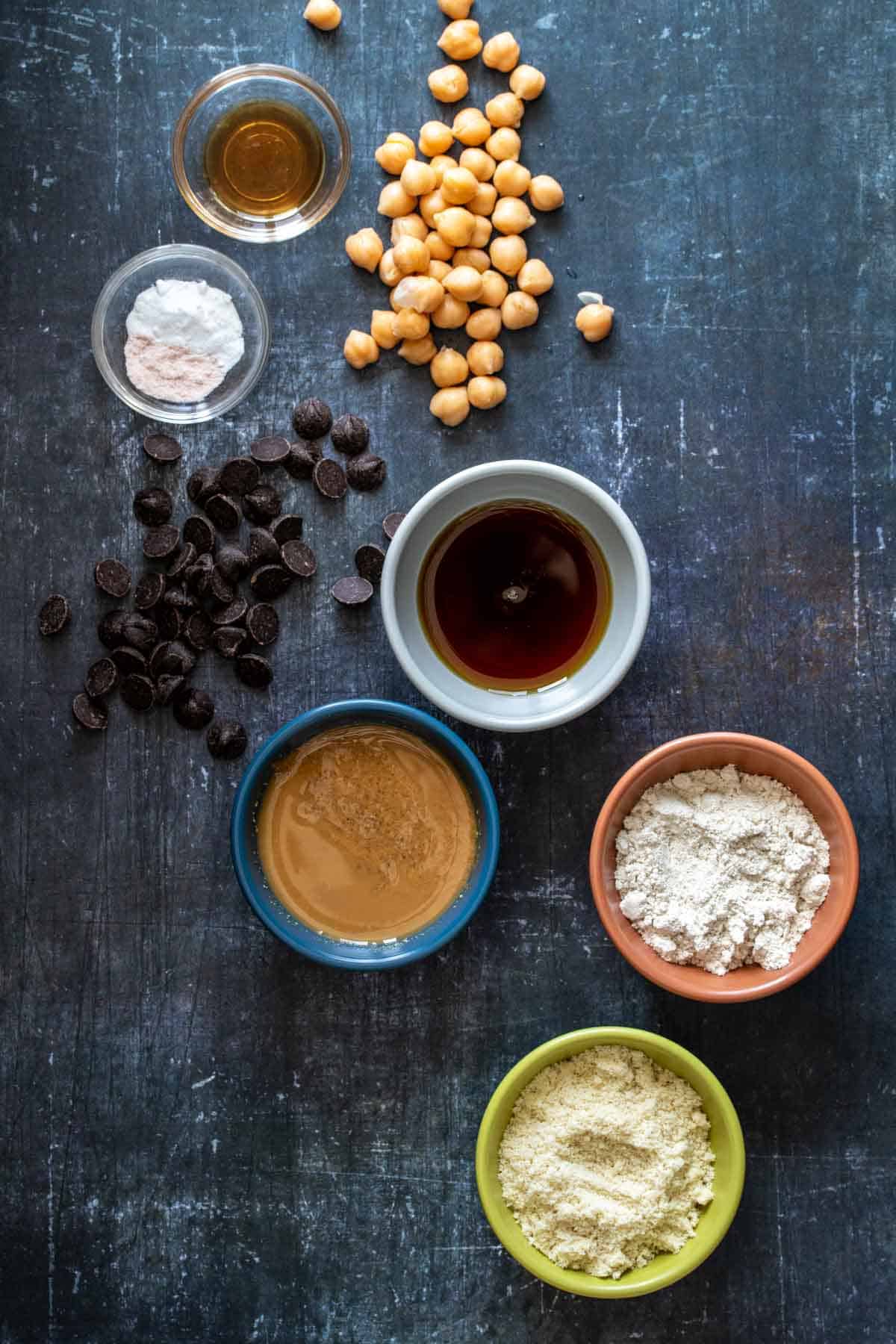 How to Make Vegan Blondies
This easy blondie recipe requires some blending in order to get the chickpeas nice and smooth. After that it's simply mix and bake!
Mix the dry ingredients in a bowl.
Use a blender or food processor to combine the wet ingredients with the chickpeas.
Stir it all together and fold in the chocolate chips.
Put in a greased baking dish.
Bake and enjoy!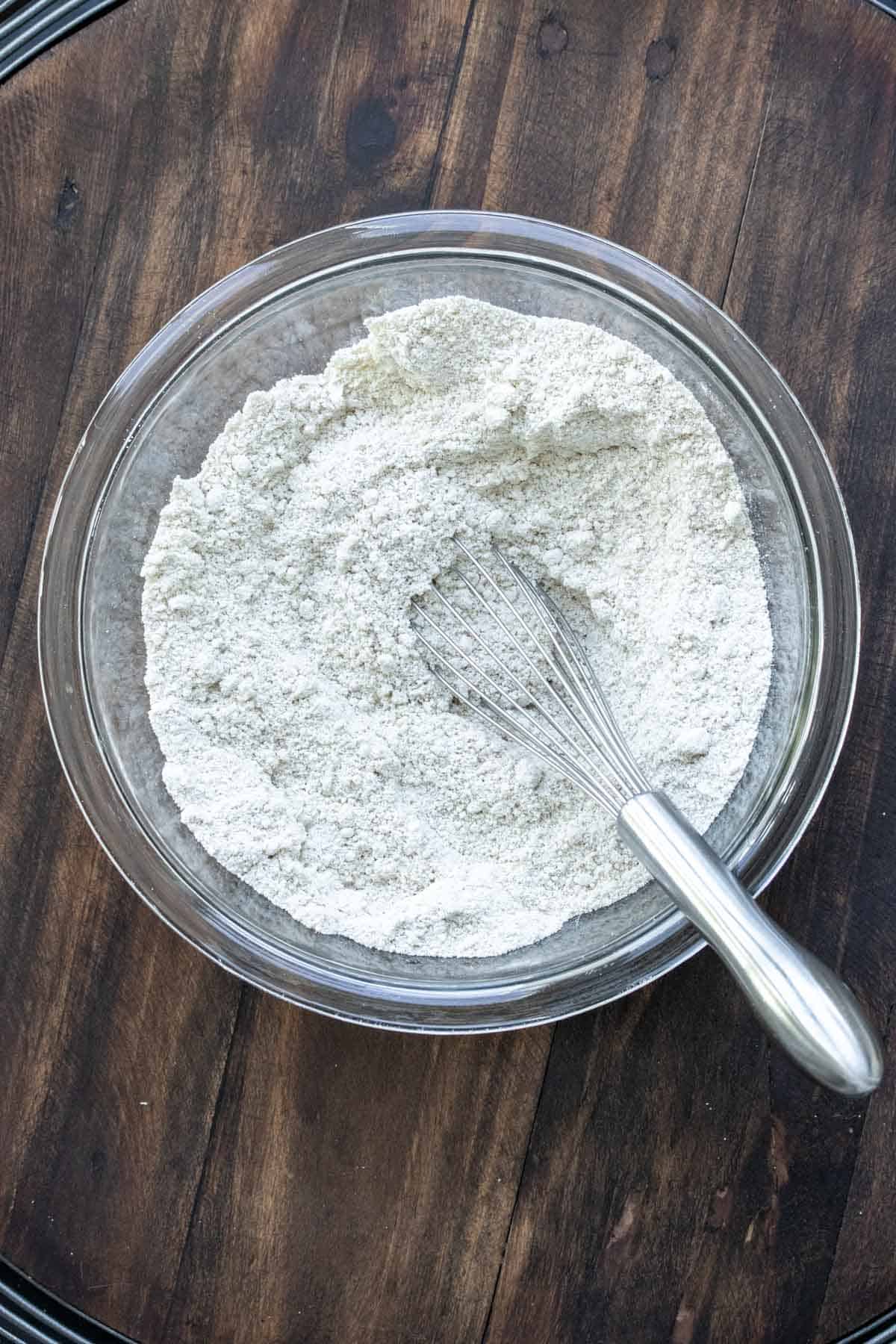 And if you want a step by step tutorial, check out my video below! The video is sponsored by California Beans and the amazing California bean farmers.
Blondie Mix-In Ideas
The best part about this vegan blondie recipe is the versatility! You can add so many delicious options to change up the flavors. Chocolate chip blondies are my favorite flavor, but some other great mix-ins are:
How to Store Blondies
These vegan and gluten free blondies do best in an airtight container so they don't dry out, and should be eaten within a few days.
You can also store them in the fridge for up to 3-4 days but after that the texture and flavor won't be as good.
If you want to keep these for longer, you can also try freezing them. Make sure to let them cool completely, do cut into squares. This keeps the texture the best. Wrap the entire large square in plastic, then foil to help prevent freezer burn. After that, store in an air tight container in the freezer for up to 3 months.
When you are ready to eat, allow to defrost slowly on the counter. Once they have reached room temperature, cut into squares. You can also warm them a bit in the microwave or toaster oven.
Tips for Reducing the Sugar
Chickpea blondies are a dessert, so they definitely has their fair share of sugar. However the sugar comes mostly from maple syrup so we'll just call them healthy blondies!
If you are looking for something less sweet, you can try a few different options (note that any change in the recipe, will change the end result):
Reduce the amount of maple syrup, but add a little water to make up for the loss of liquid. Slowly add one teaspoon until you get the same batter like consistency.
Use date paste instead of maple syrup. When making the date paste, add enough water to get the same consistency as maple syrup.
Baking Tips
For the best gluten free blondies texture you need accuracy with the flours. Which is why I include precise weights. If you don't have a scale, then you can purchase this fairly inexpensive one.
If you prefer to measure, then measure the flours by scooping your measuring cup into the flour versus spooning it into it. This is how I measured when getting my weights.
Is it better to use canned or dried chickpeas?
You can use canned or dried chickpeas in this particular chickpea blondies recipe because you are blending them completely. Both are great and will give the same end result. However there is a process for using dried beans.
Dried chickpeas have a little more of a "meaty" chewy texture which is why I love them for many plant-based meaty alternative recipes, like my vegan taco meat. But for this one, either kind works!
How to Cook Dried Chickpeas
There are a few extra steps you will need to do in order to use dried beans in this recipe (or any recipe for that matter!). For a full comprehensive post check out all about how to cook dried chickpeas here.
Keep in mind that 1 cup dried chickpeas makes 3 cups cooked chickpeas. Here are the instructions:
Soak the amount of dried beans you need overnight. For this recipe you will soak ⅓ cup dried to get one cup cooked.
Drain and rinse the chickpeas the next day and put them in a pot covering them with water.
Bring to a boil.
Reduce to a simmer and cook for about 30-40 minutes. You want them pretty soft, so start checking around 30 minutes and stop cooking once they are soft enough to mash in between your fingers.
If you are making other recipes where you do not want the chickpeas too soft, make sure you stop cooking prior to the 30-40 minutes. I'd start checking around 20-25 minutes.
Common Questions
What are blondies?
Blondies like super extra thick cookies that are prepared and served similar to brownies.
What's the difference between blondies and brownies?
The main difference is that brownies are made with cocoa for a chocolate flavor, whereas blondies don't have chocolate in the mix.
What does a blondie taste like?
Blondies taste similar to a chocolate chip cookie, a bit of vanilla and almost like butterscotch. However, they're more thick and gooey than cookies.
Why are chickpeas called garbanzo beans?
Some people may call chickpeas garbanzo beans! They are actually the exact same bean. Turns out, chickpea is the Latin word, while garbanzo bean has Spanish origins. But both are the same thing!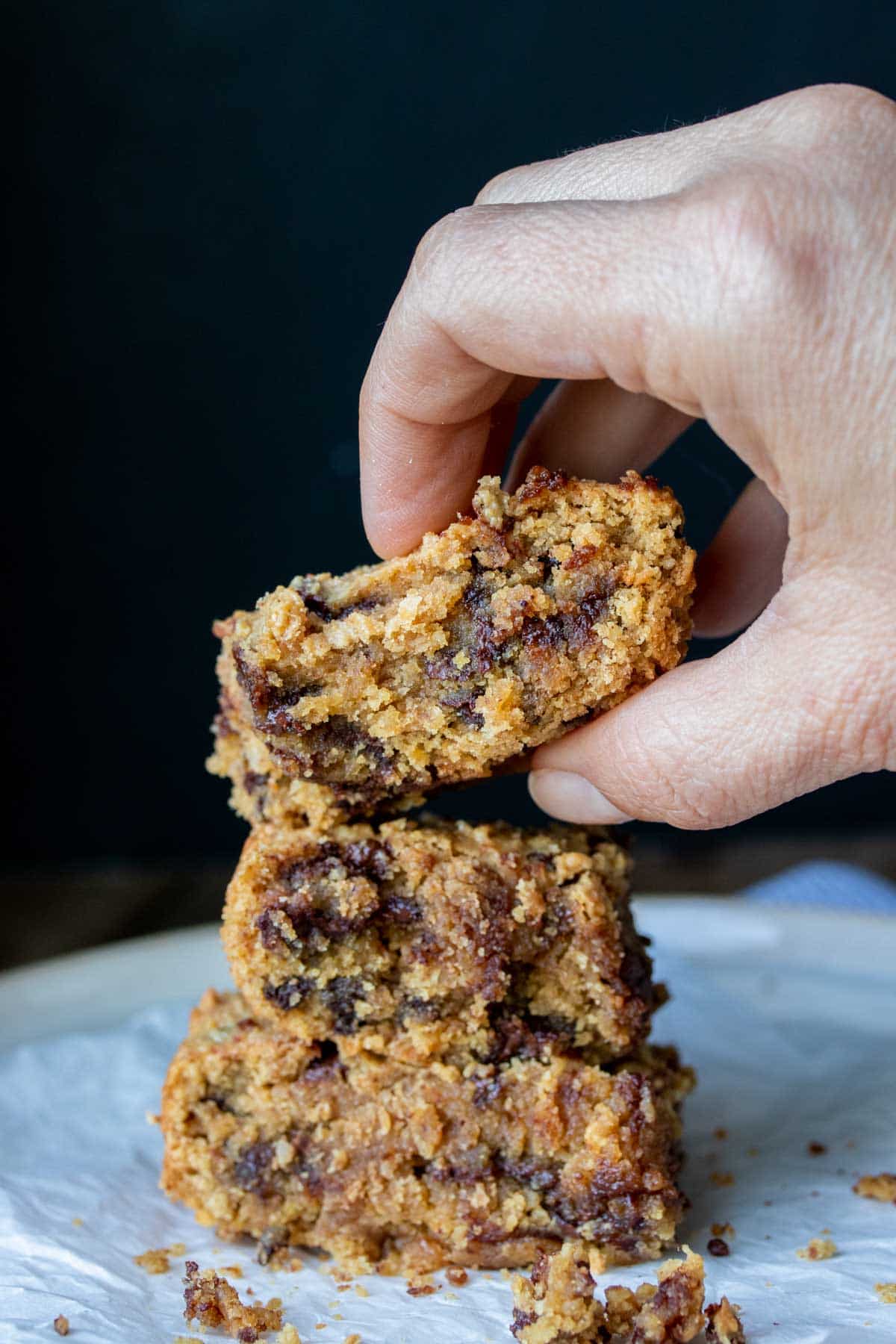 More Vegan Desserts
Devour these vegan chickpea blondies then move on to one of these tasty plant based recipes: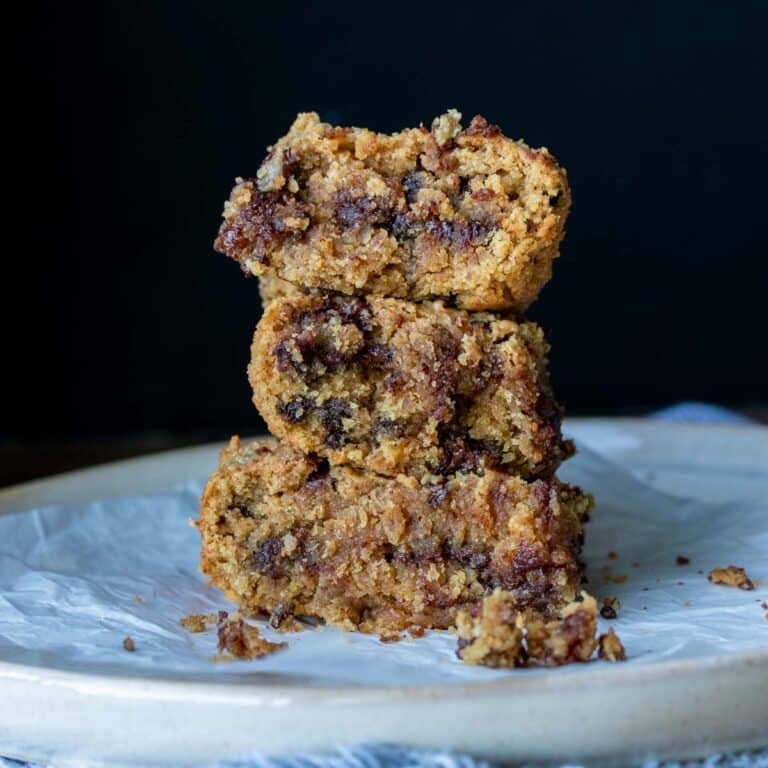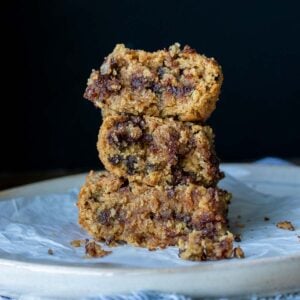 Vegan Chickpea Blondies (Gluten Free)
This recipe for vegan chickpea blondies is absolute delicious perfection. Healthy, easy to make and even gluten-free! You won't be able to get enough.
Equipment
Food processor or blender
Instructions
Preheat oven to 375 F/ 190 C.

Put flours, baking powder and salt in a large bowl and whisk to break up clumps.

Put maple syrup, chickpeas, almond butter and vanilla into a food processor. You can use a blender too if you prefer. Blend until smooth.

Add the blended mix into the bowl with the flour and mix until combined.

Fold in the chocolate chips.

Pour into a prepared square baking dish.

Bake for 25-28 minutes or until a toothpick comes out clean.

Allow to cool completely before cutting, this allows it to set more and helps with the texture.

Devour!
Notes
If you are cooking chickpeas from dried beans, make sure to cook them well so they are soft.
These are made in a square pan then cut into 16 pieces to get the servings.
Recipe by Veggies Don't Bite, visit our site for more great plant-based recipes.
Nutrition
Calories: 239kcalCarbohydrates: 29gProtein: 5gFat: 12gSaturated Fat: 1gSodium: 84mgPotassium: 189mgFiber: 3gSugar: 18gCalcium: 91mgIron: 1mg
Nutrition and metric information should be considered an estimate.
Never miss a recipe!
Sign up here and get a FREE quick and easy meal guide!