Vegan caramel sauce with no dairy or refined sugar but loaded on flavor actually does exist. Easy to make, and even easier to eat! Use this caramel sauce over ice cream, on cakes, tarts and more!
The taste of fall in a gooey sticky mess. This caramel sauce will have you searching for new things to put it on, I may or may not have tried it on almost everything in my fridge and pantry. No dairy, no refined sugar but loaded with deliciousness.
I created this one night while on a caramel rampage. I was working on my newest mason jar dessert, when I went off on a tangent and just started whipping out all sorts of caramel.
I was a mad scientist and my kitchen was my lab. I would stop for nothing! Muahahahaha!!! I'm talking pumpkin, peanut butter, almond butter, cinnamon…the list goes on.
I pretty much ate about half of this with a spoon while making it. And I may have slapped a few hands away, in full on "MINE!" toddler style. I'm not proud of my behavior, but I dare you to try and share.
The good news? This vegan caramel sauce is SO darn easy to make. Whisk. Cook. Eat. Oh you may also want to let it cool before the eat part, just saying.
So go make this. Make a lot, because I promise you won't want to share. Serve it with apples, cookies, a simple spoon. Whatever you can grab, dip and shove into your mouth! And then when you're done wiping up the evidence, tell me how you ate it.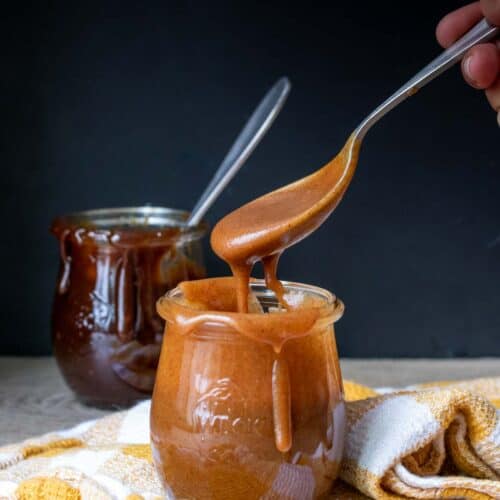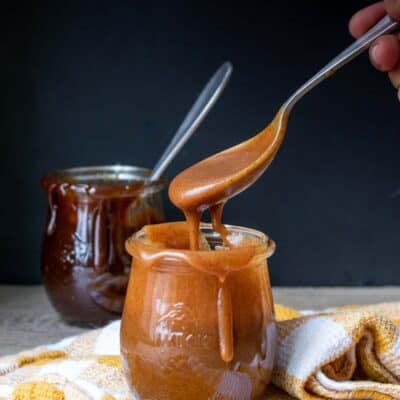 Vegan Caramel Sauce Recipe (2 Ways)
These vegan caramel sauce recipes are hands down incredible. Using only 4 ingredients with a cook and no cook option you just can't beat!
Ingredients
Stovetop:
1

cup

coconut sugar

¾

cup

coconut cream

, see note

1

teaspoon

vanilla extract

¼

teaspoon

sea salt

1

tablespoon

cornstarch

, mixed with 1 tablespoon cold water to thicken if needed (see note)
Optional flavors:
Pumpkin puree

, add about ¼ cup

Pumpkin pie spice

, add about ½ teaspoon

Cinnamon

, add about ½ teaspoon

Peanut butter

, sub for the almond butter in the no cook version

Bourbon

, add about 2 tablespoons

Sea salt

, extra for salted caramel
Instructions
Stovetop:
Place sugar and cream into a small pot and whisk together well.

Cook over medium heat until you get a slow rolling boil, whisking the whole time. If you don't whisk, the sugar will burn and stick to the pot.

Allow to boil, while whisking, for about 5-10 minutes until you see it thicken. Test thickness by taking some out with a small spoon and cooling it. You can also drizzle some on a cold plate (cool it in the freezer) and if it hardens then it's ready. It will thicken more as it cools. If you want this thick caramel that will firm up a bit then you really want to reduce it for about 10 minutes and check with the spoon method. You can also use a candy thermometer and make sure it gets to 225 degrees for a thick result that will firm up better. If you want it more of a runnier sauce, then cook for around 5 minutes.

When done, remove from heat and mix in the vanilla and salt.

Allow to cool and use as needed!
No cook:
Combine everything in a bowl and whisk well until smooth and sticky.

Serve as needed!
Notes
Coconut cream is the top layer from a can of full fat coconut milk, stored in refrigerator for 2-3 days or freezer for 2-3 hours. You need about 1 can of full fat coconut milk to get ½ cup coconut cream. Some brands also sell the cream alone (like Thai Kitchen).
This keeps great in the fridge for about a week. You can heat it in the microwave before you use it if you want it a little runnier.
The stove top version is better when you want a super thick sticky caramel that will firm up a bit. The no cook version is best as a sauce and when you don't want it to firm up much as it doesn't get harder in the fridge.
If you need it to be thick and harden when cool then you can also add the cornstarch for an extra thickening boost.
The stove top version makes 1 cup reduced and ¾ cup really reduced. The no cook version makes 1 cup. Serving size is 2 tablespoons.
The nutrition label is for the stovetop version. The nutrition info for the no cook version is as follows: Calories- 179 g Carbohydrates- 23 g Protein- 3 g Fat- 9 g Sodium- 69 g Fiber 2 g Sugar 19g 
Recipe by Veggies Don't Bite, visit our site for more great plant-based recipes.
Nutrition
Calories:
112
kcal
Carbohydrates:
17
g
Fat:
5
g
Sodium:
73
mg
Potassium:
1
mg
Sugar:
13
g
Calcium:
1
mg
Nutrition and metric information should be considered an estimate.
Never miss a recipe!
Sign up here and get a FREE quick and easy meal guide!