How do you get a rich vegan mushroom risotto when you're using only whole food ingredients? Come check out this healthy and perfect recipe!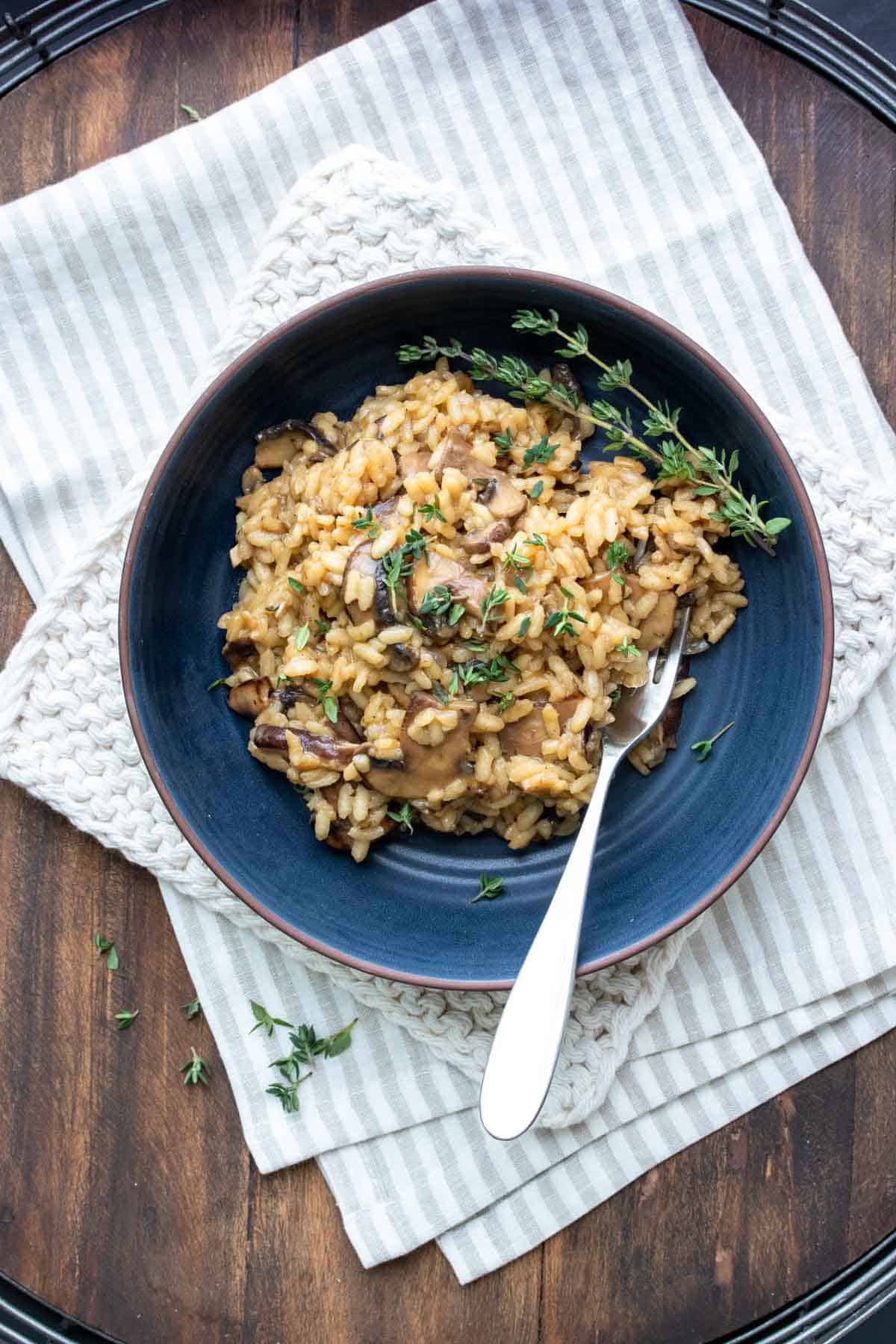 This is a sponsored conversation written by me on behalf of Silk. The opinions and text are all mine.
This post was originally published on February 22, 2016.
Sitting down with a giant bowl of rich flavorful risotto is the ultimate comfort. But the butter filled recipes always made me feel heavy and bloated. But not this one!
Risotto is a bit of a labor of love, but it's not difficult per se, it just takes a little patience. I love taking the time to make this delectably satisfying dish, it just feels so fancy yet the kids actually eat it too!
Plus, with my tips you can speed up the process, which is always welcome in my crazy busy household!
Ingredients
No butter is needed to get the best rich and creamy risotto you know and love! Here's what you'll need: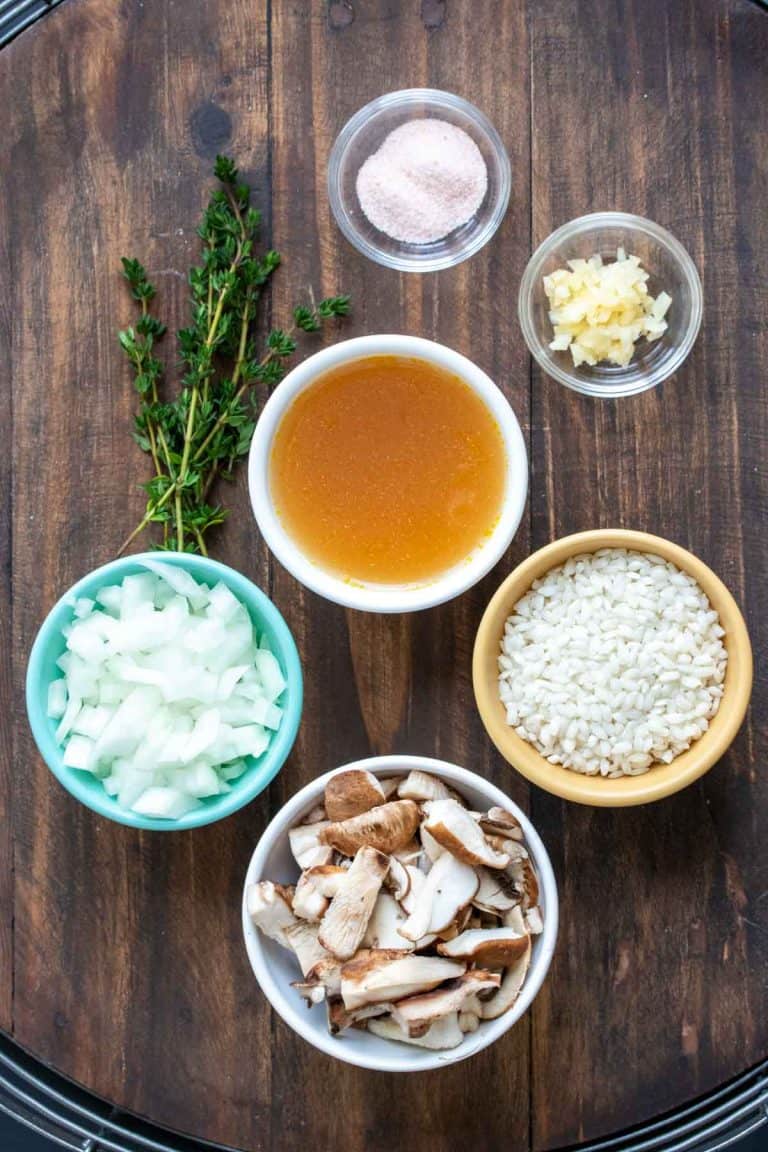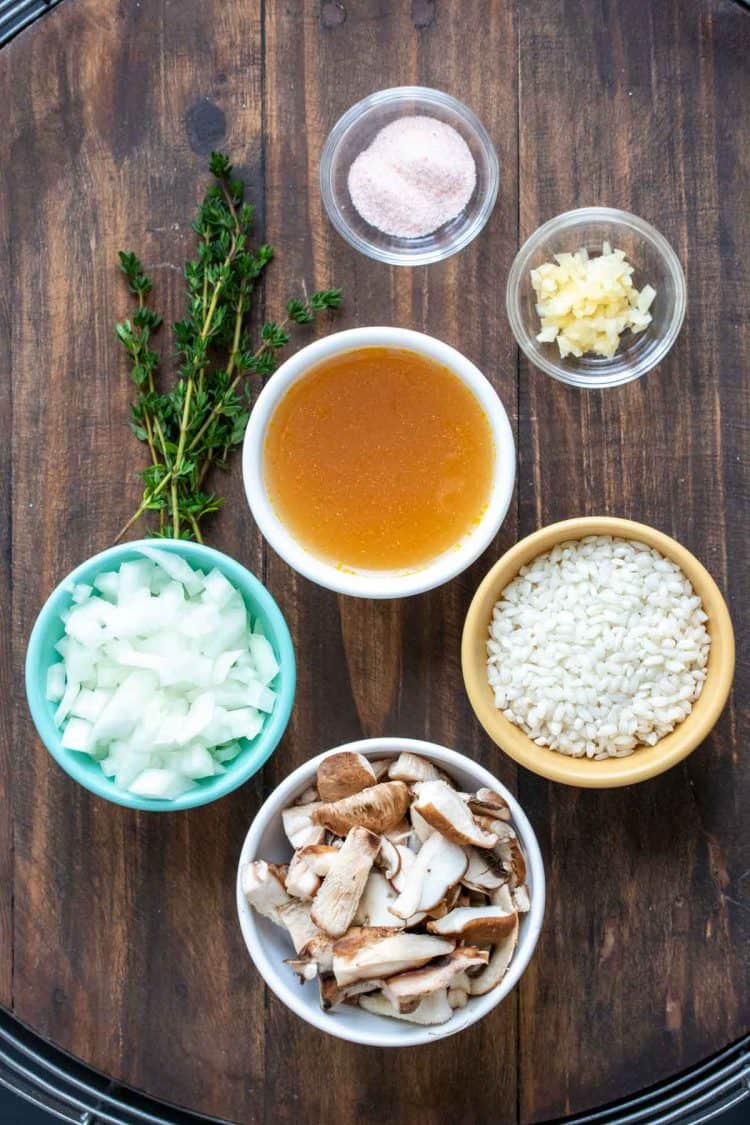 To get this extra rich in flavor, I suggest adding in two other ingredients:
How To Make Vegan Risotto
Sauté onion, mushrooms, and seasonings.
Add the rice and toast.
Add the wine (if using) and cook until absorbed.
Stir in warm broth ½ cup at a time letting it absorb completely before adding more, repeat until you reach your desired consistency.
Enjoy!
Flavor suggestions
The great thing about risotto is that you can tweak it a few different ways to fit your preferences and it tastes amazing no matter what! Here's a few ways you can adjust this recipe:
Serving suggestions
Risotto is a hearty enough dish to stand alone, but I like to serve a variety of foods at dinnertime. Any of these plant based dishes go wonderfully with this recipe:
Tips and tricks
Common Questions
What can vegans eat with risotto?
Anything plant based! I like to serve with a side of veggies or a salad.
What can I use instead of Parmesan in risotto?
You can simply omit the parmesan and your risotto will still be delicious, or better yet you can use a Vegan Parmesan!
What liquid do you use for risotto? 
Broth and white wine are the traditional liquids, sometimes people add milk or cream for a creamier result. I like to use white wine, vegetable broth, and dairy free milk.
Is risotto typically vegan?
It is not as it usually uses butter and parmesan cheese. Luckily though those are easy to sub out for plant based ingredients!
More Vegan Rice Recipes
Rice is one of those incredibly versatile foods, it's used in basically every cuisine! It's easy to have cooked on hand to make up quick meals the family will actually eat. Check out these other recipes that feature the great grain!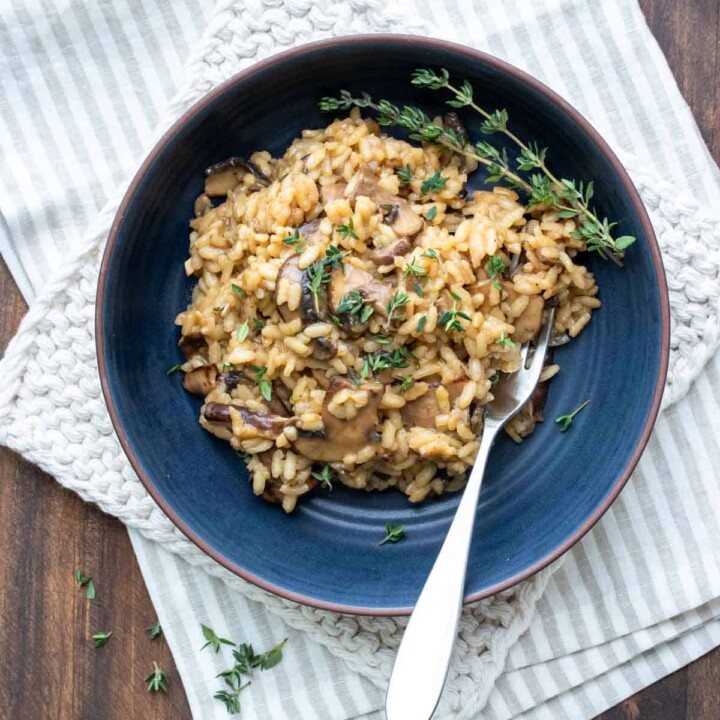 Creamy Vegan Mushroom Risotto Recipe
How do you get a rich vegan mushroom risotto when you're using only whole food ingredients? Come check out this healthy and perfect recipe!
Ingredients
1 cup chopped yellow or sweet onion
Drizzle of your favorite oil to sauté , or broth if oil free
1 pound mushrooms , sliced
2 teaspoons fresh thyme leaves
2 cloves garlic , chopped
1 teaspoon sea salt
1 ½ cups Arborio rice , see note
½ cup white wine , sub with broth if you don't want wine (see note)
7-8 cups veggie broth , low sodium if needed
1-4 cups unsweetened dairy free milk of choice , optional, but recommended, to sub for some of the broth (see note)
½-1 cup vegan Parmesan , optional (see note)
Instructions
Put the broth, plus subbed in milk if using, into a pot and warm on low. You want this warm when you add it to the rice so that it cooks faster.

Sauté onion and oil, or broth if oil free, until onion is soft. About 5 minutes.

Add the mushrooms, thyme, garlic and salt and sauté until the mushrooms have released all of their liquid and are browning. About 5 more minutes.

Add the rice and cook until toasted a bit. About 2-3 minutes.

Add the wine and cook until it's absorbed, about 2-3 minutes. If you are not using wine, skip this step.

Add the warmed broth (or broth/milk mix) about ½ cup at a time and stir the rice until it's absorbed. Then keep adding until all done or you reach a consistency you like. I used all of it. This takes about 20-25 minutes.

If using Parmesan, mix it in at the end.

Serve!
Notes
You can use another rice if you prefer, but arborio gives it a creamy texture. You can even use orzo to make this an orzo based risotto.
If you are not using the wine, just add an extra ½ cup broth to the total. Keep in mind the richness flavor wise will be lost a little.
If you want this extra creamy sub 1-4 cups of the broth with your favorite dairy free milk. I have done from 1 to 4 and the more you sub the creamier and even more amazing it is.
For extra cheesy flavor mix in Parmesan at the end. This makes it even richer.
The old version of this recipe is a lazy risotto recipe that makes a creamy sauce added directly to cooked rice. Here is the sauce recipe:
1 cup boiled potato (about 1 medium sized potato)
4 garlic cloves, roasted
¾ cup raw cashews (soaked overnight if not using high speed blender)
1 ½ cups veggie broth
1 cup unsweetened dairy-free milk, I used cashew
2 tablespoons fresh lemon juice
1-2 teaspoons sea salt
1 teaspoon apple cider vinegar (optional for added tang)
Simply blend all sauce ingredients. Saute the onion, garlic, mushrooms, thyme and salt in a pan. Then add the sauce and cook until thickened. Add the cooked rice (or orzo if you prefer) into the pan and mix to combine.
Recipe by Veggies Don't Bite, visit our site for more great plant-based recipes.
Nutrition
Calories: 370kcalCarbohydrates: 72gProtein: 9gFat: 1gSaturated Fat: 1gPolyunsaturated Fat: 1gMonounsaturated Fat: 1gTrans Fat: 1gCholesterol: 1mgSodium: 815mgPotassium: 497mgFiber: 4gSugar: 6gVitamin A: 48IUVitamin C: 7mgCalcium: 22mgIron: 4mg
Nutrition and metric information should be considered an estimate.
Never miss a recipe!
Sign up here and get a FREE quick and easy meal guide!