Vegan banana oatmeal blender pancakes are so delicious, fluffy, and soft you'll have no idea they are made with healthy whole food ingredients!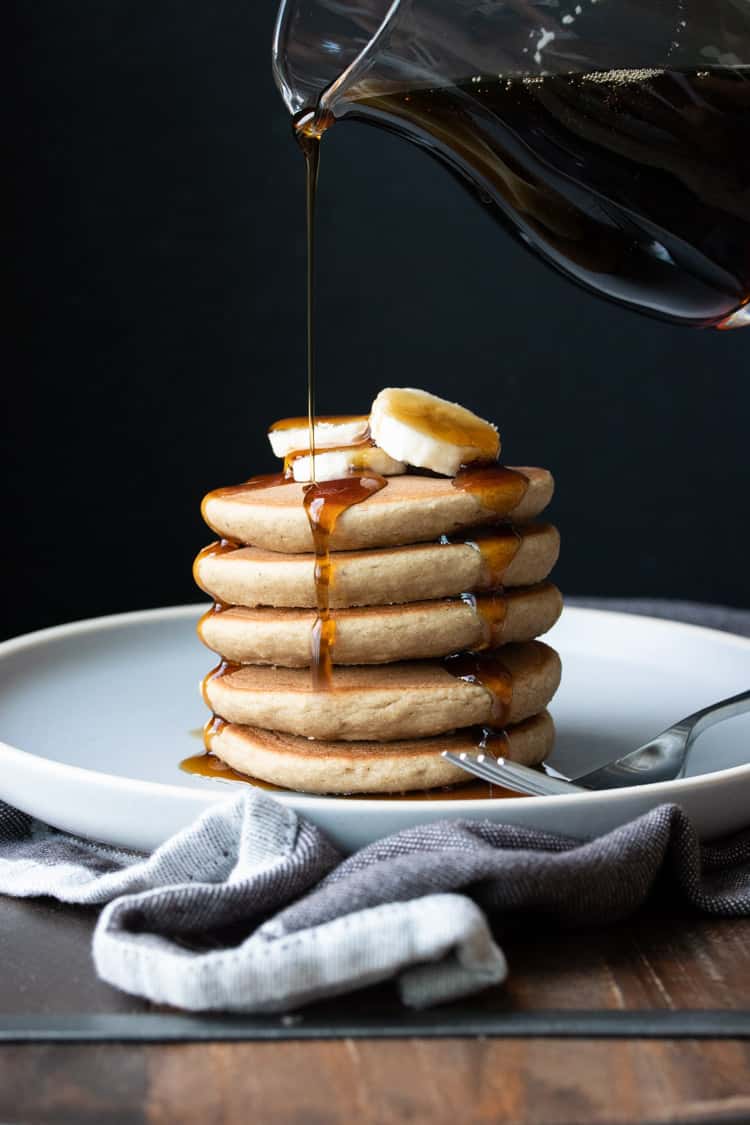 This recipe was originally published on 11/18/13
As much as I love a good breakfast, pancakes have always been my nemesis. The work I put in is outnumbered by the lack of enjoyment I get since my family attacked the fruits of my labor like a pack of wolves feasting on prey. Until now, because these are SO easy!
Blender Pancakes
Our usual mornings consist of running around trying to get out the door for school, so when we have a few extra moments to enjoy the ease of the morning, I take the opportunity to make my family's favorite, pancakes.
And because these come together in a blender so fast and easy, I always make a triple batch.
Can you make pancakes in a blender?
Absolutely! It makes it so quick and easy, just dump and blend. The batter comes out perfectly smooth and you can pour into the pan like a champ. The end result is soft and fluffy pancakes you can't stop eating...says my family.
Why is a blender better than mixing in a bowl?
Now I know that many pancakes, like these fluffy chocolate ones, are easily made in a bowl. But there are times that a blender is the better option.
Why? Because a blender gets certain ingredients, like mashed banana, perfectly smooth so that you have no chunks and are left with soft fluffy pillows of goodness instead.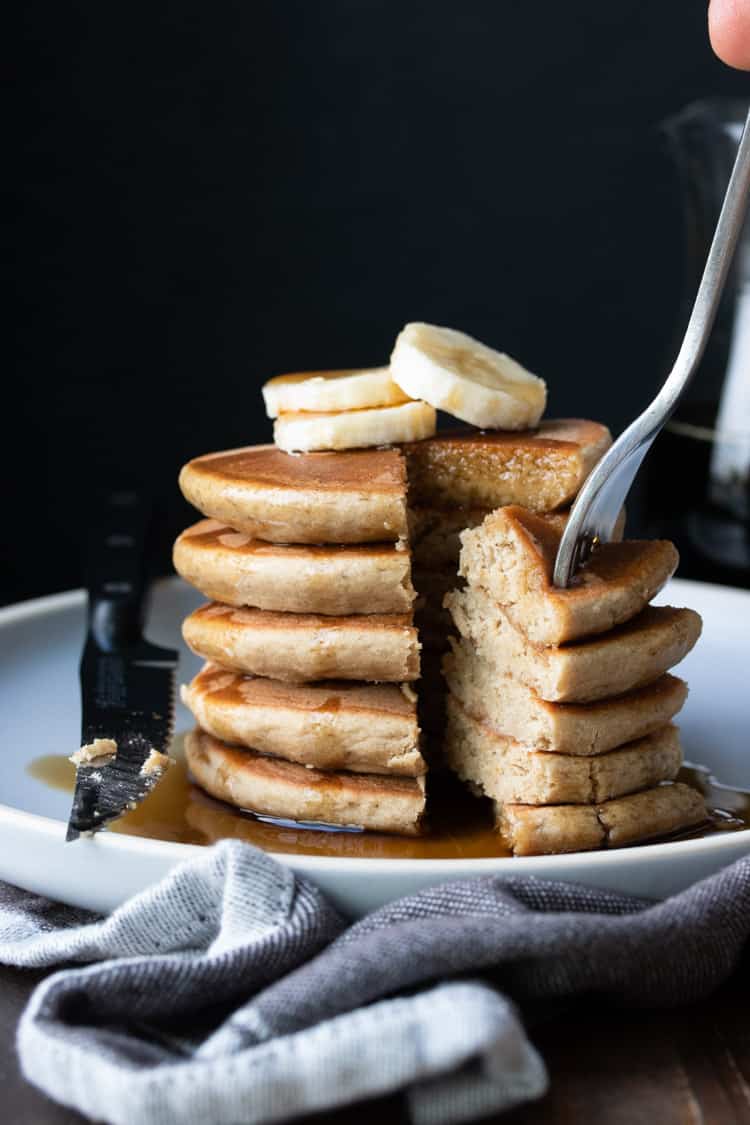 Can you freeze blender pancakes?
Absolutely! Make a double batch, or with my family triple, and let them cool completely. I mean, leave them on the counter so that they are room temp. If you pack them away with any heat they will mush. And yuck on that.
Once cooled, wrap them in parchment or plastic wrap. The in tin foil. Then store in a freezer ziploc bag or airtight container. When you are ready to eat, bake them in the oven for about 5 minutes on 375 F/ 190 C or heat them quick in the microwave.
How to Make Vegan Banana Oatmeal Blender Pancakes
It's as easy as dump, blend and cook. Here are the few steps you need for breakfast perfection:
Gather all you need
Blend
Cook on a griddle or pan
Serve!
What can you serve with these blender pancakes?
While these are made to be just as good plain, my kids eat them like cookies, they are amazing with all kinds of toppings. We switch it up every time, so here are some of our favorite ideas:
chocolate chips
slivered almonds
sliced bananas
plain maple syrup

Mix in options
While these are made to be simple in flavor, like the toppings, it's fun to mix it up from time to time. Here are some fun ideas on what you can mix into the batter to change up the flavor:
chocolate chips
chopped pecans
chopped walnuts
chopped peanuts
both chocolate chips and peanuts for a chunky monkey type theme
sprinkles, yep it's fun
finely diced apples
blueberries
shredded coconut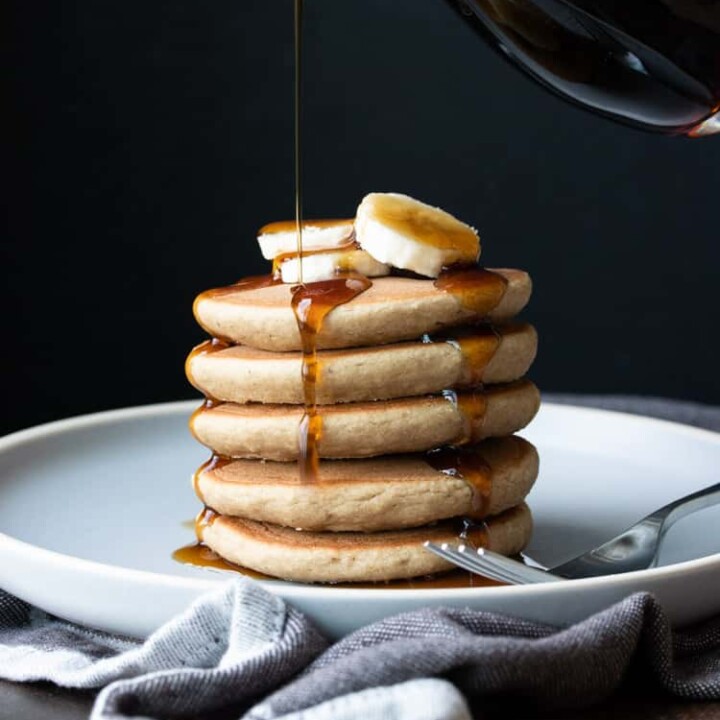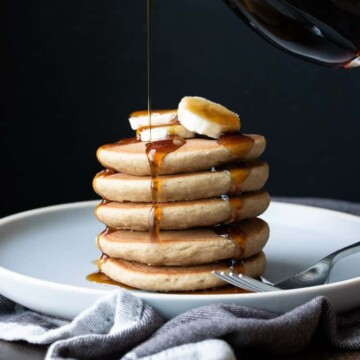 Vegan Banana Oatmeal Blender Pancakes
Vegan banana oatmeal blender pancakes are so delicious, fluffy, and soft you'll have no idea they are made with healthy whole food ingredients!
Ingredients
1 ¼ cups oat flour , gluten-free if needed
¼ cup almond flour , finely ground is best
2 tablespoons potato starch
1 tablespoon baking powder
¼ teaspoon sea salt
½ cup mashed ripe banana , the riper it is the sweeter these will be (see note)
½ cup cashew/almond milk , or dairy free milk of choice
¼ cup maple syrup
1 tablespoon apple cider vinegar
Instructions
Place all ingredients into a blender (can also use a food processor) and blend until everything is mixed and the batter is nice and smooth. Don't over blend.

Allow the batter to sit a bit while you clean up. This gives the baking powder time to react. 15 minutes is ideal but even 5 will help. Your last pancakes will be fluffier than your first, depending on how long you let it sit.

Pour a large spoonful of batter on a hot griddle or pan for each pancake. Smooth out the tops. You should be using medium low heat.

Cook for 3-4 minutes on each side. Different pans cook differently so check and see if they need longer. If the pancake does not come off easily, it isn't done yet.

Allow to cool a bit to let the texture to set. Serve with your favorite toppings!
Notes
Some of my bananas gave me a little less than a ½ cup, it still worked great so don't worry about getting exactly ½ cup.
These can be frozen for easy breakfasts on busy mornings, follow the instructions in the post for the best way to freeze.
If you want to make your own oat flour using rolled oats, make sure you blend it until finely ground.
Any milk should work here, but a creamy one yields the best result.
You can also use a food processor to blend these. The key is to get the batter smooth so there is no chunky banana.
Recipe by Veggies Don't Bite, visit our site for more great plant-based recipes.
Nutrition
Calories: 142kcalCarbohydrates: 24gProtein: 4gFat: 4gSaturated Fat: 1gSodium: 82mgPotassium: 297mgFiber: 2gSugar: 8gVitamin C: 1mgCalcium: 95mgIron: 1mg
Nutrition and metric information should be considered an estimate.
Never miss a recipe!
Sign up here and get a FREE quick and easy meal guide!