If you want to know how to make the best thick vegan smoothie bowl you've come to the right place. You'll be blown away by how easy it is!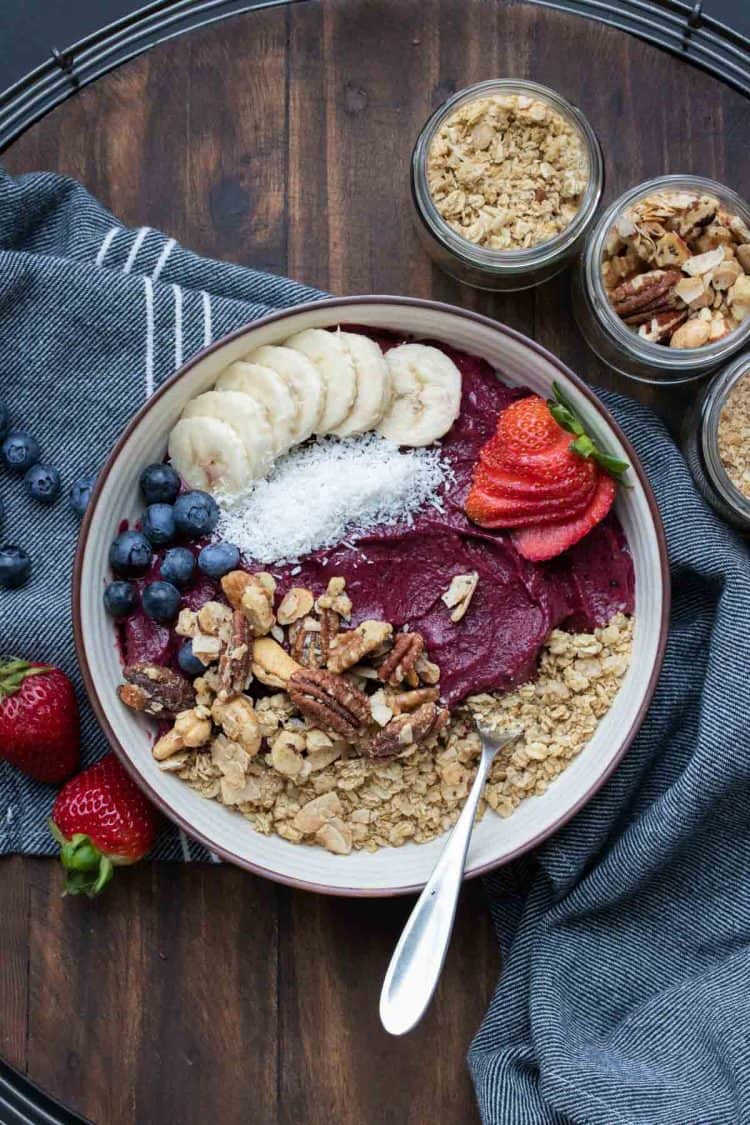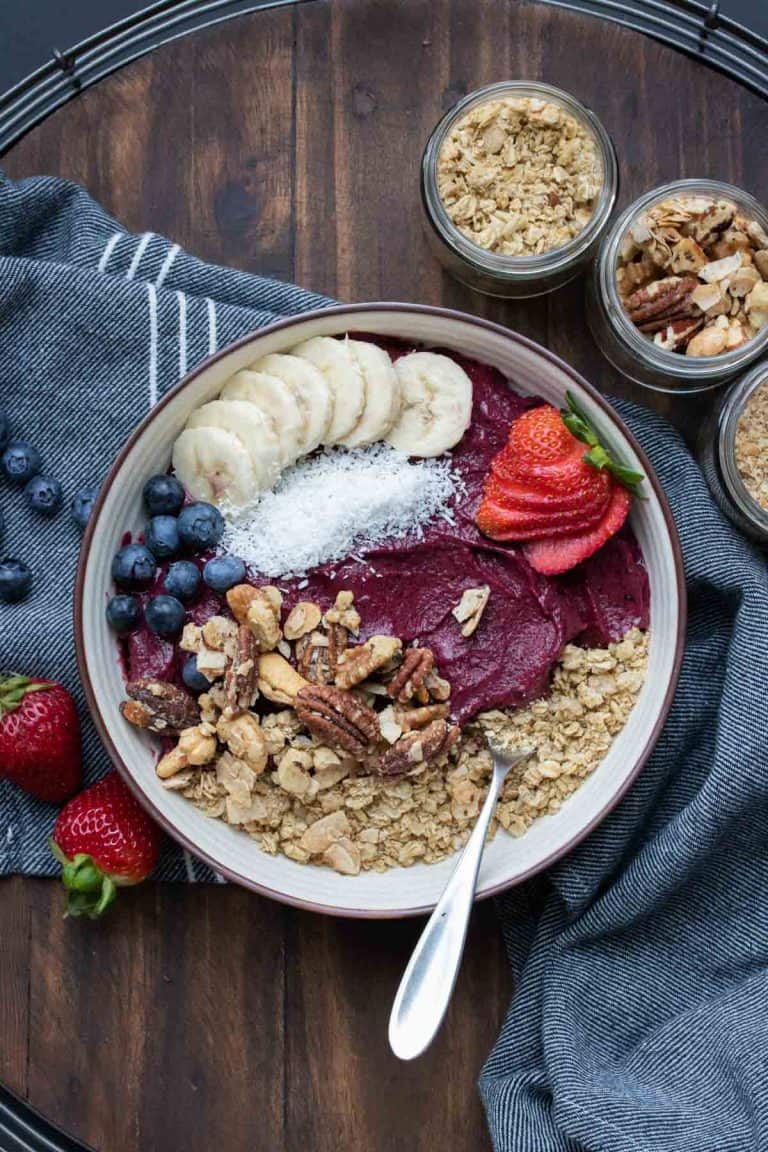 This post was originally published on September 8, 2014.
Getting the perfect smoothie bowl texture is not easy! If it's too thin, it's like soup. If it's too thick, it's impossible to blend it smooth. But I have the secret!
What is a Smoothie Bowl?
It's basically what it says, a smoothie so thick you eat it in a bowl! Because of how thick it is (or at least how thick it's supposed to be), you need to eat it with a spoon.
Smoothie bowls are loaded with yummy toppings too to give them even more yumminess and nutrition.
But, what's the point of a smoothie bowl anyway?
While drinking all the nutrients that a smoothie packs in is great, sometimes you want to feel like you're eating something substantial. Not that a smoothie can't be substantial, but there's a different when you eat something.
So you make it super thick, load on the toppings and dig in with a spoon. It's almost the same feeling as a bowl of loaded oatmeal but super cold!
What is the difference between a smoothie and a smoothie bowl?
To make it easier to see the difference, check out the chart I made:
Smoothie
Drink
Use a straw
In a glass
Everything is blended inside
Easy to transport
Gulped down fairly fast
Smoothie Bowl
Eat
Use a spoon
In a bowl
Ingredients can be blended in and also put on top
Better to sit and eat
Meant to be enjoyed slowly
How to thicken a smoothie bowl
Now it's time to dish the secrets I've been keeping! Jk, upon some searching, my trick is actually not as novel as I thought. But still a great way to get the best most thick vegan smoothie bowl!
So it all started when I was mid cocktail making. I had been crushing ice in my blender all morning to use in my fun poolside drinks and realized, crap we're out of ice! So I looked in my freezer and found some frozen fruit.
I started pulsing the fruit into little pieces. I realized that the little fruit shards weren't going to be the best ice replacements, so I poured the booze into the blender and decided to just make frosty drinks.
What I realized was the by pulsing the fruit first, the blender didn't have to work as hard to blend once the liquid was in, so it didn't let off as much heat so that led to a super thick yummy result!
So for the best most thick vegan smoothie bowl ever:
Pulse the frozen fruit first.
Keep the blender on low for less heat!
Are smoothie bowls healthy?
Heck yes! With the right whole food nutrient rich ingredients that is. Frozen fruit, greens, nut butters, etc are all amazing for you.
Toppings
Here are some of our most favorite things to top our smoothie bowls with!
Chopped nuts
Seeds (like pumpkin, sunflower, chia, hemp and flax)
Fresh fruit
Dried fruit
Frozen fruit
Nut butter
Shredded coconut
Chocolate chips
Cacao nibs
Granola
Honey (not vegan)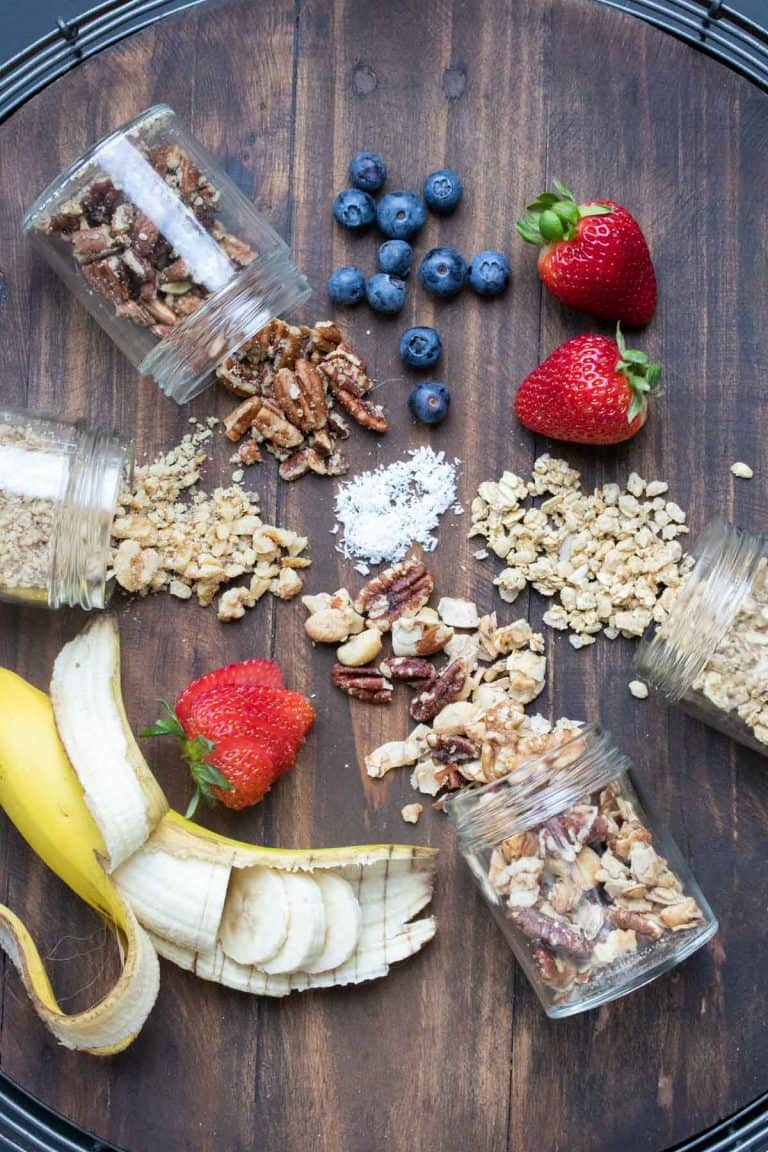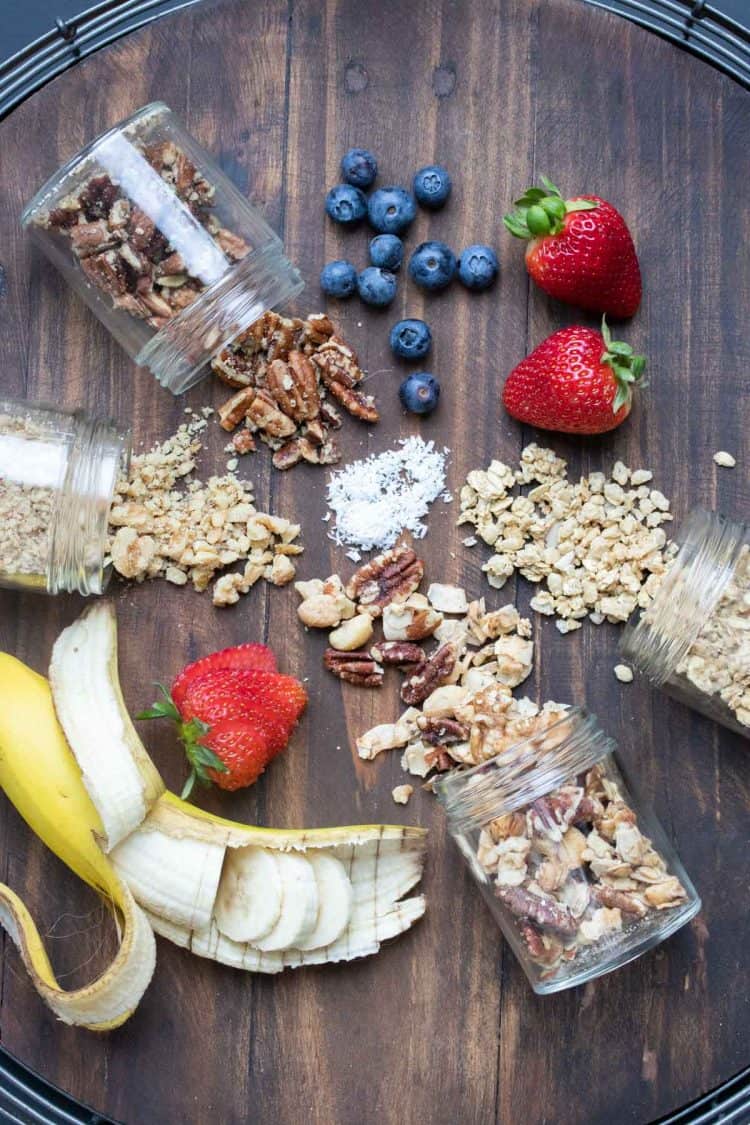 Flavor ideas
There are an unlimited amount of ways you can combine ingredients to make absolutely delicious smoothie bowl! Here are some of our favorites:
Green: freeze avocado, banana, fresh spinach/kale as your base.
Mango: mango would be a base but adding bananas and pineapple is also delicious and matches well.
Citrus: frozen oranges and pineapple.
Pina colada: this is best with frozen pineapple as a base.
Acai bowl: this traditional base is amazing and packed with nutrients
Spring theme: frozen peaches and strawberries.
Peanut butter banana: frozen bananas are the base and adding peanut butter with your dairy free milk of choice.
Chocolate lovers: frozen bananas as a base with cocoa powder or even chocolate chips.
Chocolate peanut butter: same as a chocolate lovers but add peanut butter with the milk.
Pitaya bowl: another traditional base sold at stores. Gives the hot pink fun look you see at smoothie bars.
A few vegan smoothie bowl recipes on the site (some of my very first creations so don't judge the photos and post, lol):
Tips for prepping ahead:
While you can't necessarily make a smoothie bowl ahead of time because, well, it melts. You can still be prepped and ready to make it go fast! Here are a few things I like to do to be prepared:
Have the frozen fruit measured out and stored in bags or containers per servings.
Have all my toppings ready to go.
Pre-measure the liquid I am using and store in a jar in the fridge.
That way the morning of, all I have to do is dump and blend! Then top with what I prepped. For more quick prep breakfasts check out this freezer-friendly list!
How To Make The Best Thick Smoothie Bowl
Here are the easy steps to get yourself the most thick amazing smoothie ever:
Add the frozen fruit to the blender.
Pulse the fruit until you get small pieces.
Add the liquid and nut butter and blend until thick and smooth.
Top with your fave things and devour!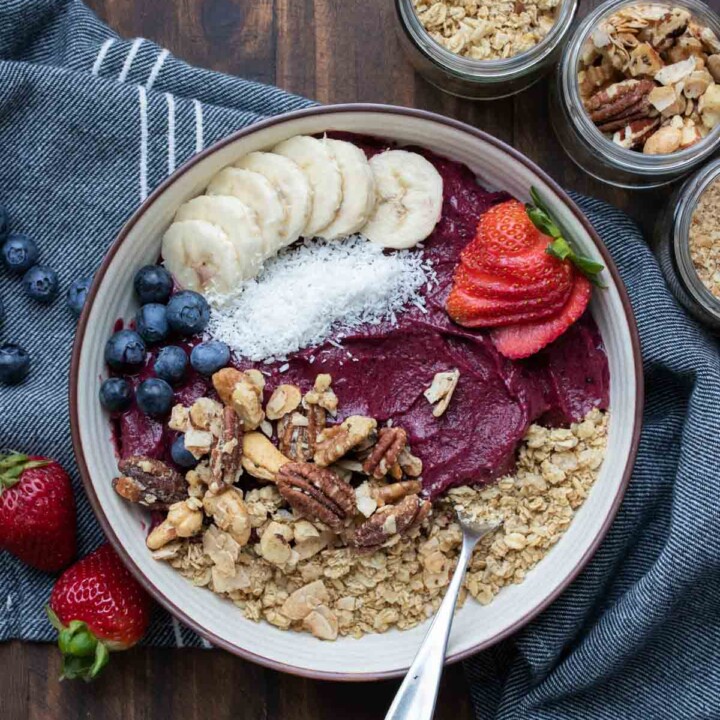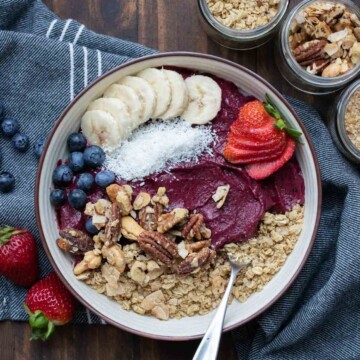 The Best Thick Vegan Smoothie Bowl
If you want to know how to make the best thick vegan smoothie bowl you've come to the right place. You'll be blown away by how easy it is!
Ingredients
2 cups frozen fruit , see note
4-6 tablespoons dairy-free milk , use canned coconut milk for the most creamy version
1-2 tablespoons almond or peanut butter , optional
Optional toppings:
Fresh fruit
Dried fruit
Nuts
Shredded coconut
Granola
Instructions
Put frozen fruit into a blender. Pulse to chop into small pieces, you almost want it shredded. Make sure you pulse and not blend so that it doesn't get stuck.

Add the milk and nut butter if using. Blend or pulse on low while stopping to move the mixture around. If you have a vitamix, the tamper will work well for this. Do not blend on high or the heat will melt the mixture.

Once it is the consistency of a thick frozen yogurt, pour into a bowl and serve topped with the toppings you want!
Notes
This works best using only frozen fruit. You can freeze fresh fruit to use at a later date.
By blending the frozen fruit first, you are getting it into small pieces so that it blends smoother and faster.
The nutrition facts include the nut butter and use a frozen berry mix as the fruit. Info will change depending on the fruit you use.
See post for flavor ideas.
Recipe by Veggies Don't Bite, visit our site for more great plant-based recipes.
Nutrition
Calories: 267kcalCarbohydrates: 37gProtein: 6gFat: 11gSaturated Fat: 1gSodium: 79mgPotassium: 120mgFiber: 12gSugar: 21gCalcium: 128mgIron: 1mg
Nutrition and metric information should be considered an estimate.
Never miss a recipe!
Sign up here and get a FREE quick and easy meal guide!