This healthy coffee smoothie is the perfect way to start your day. Enough coffee to give you a boost, but full of wholesome ingredients!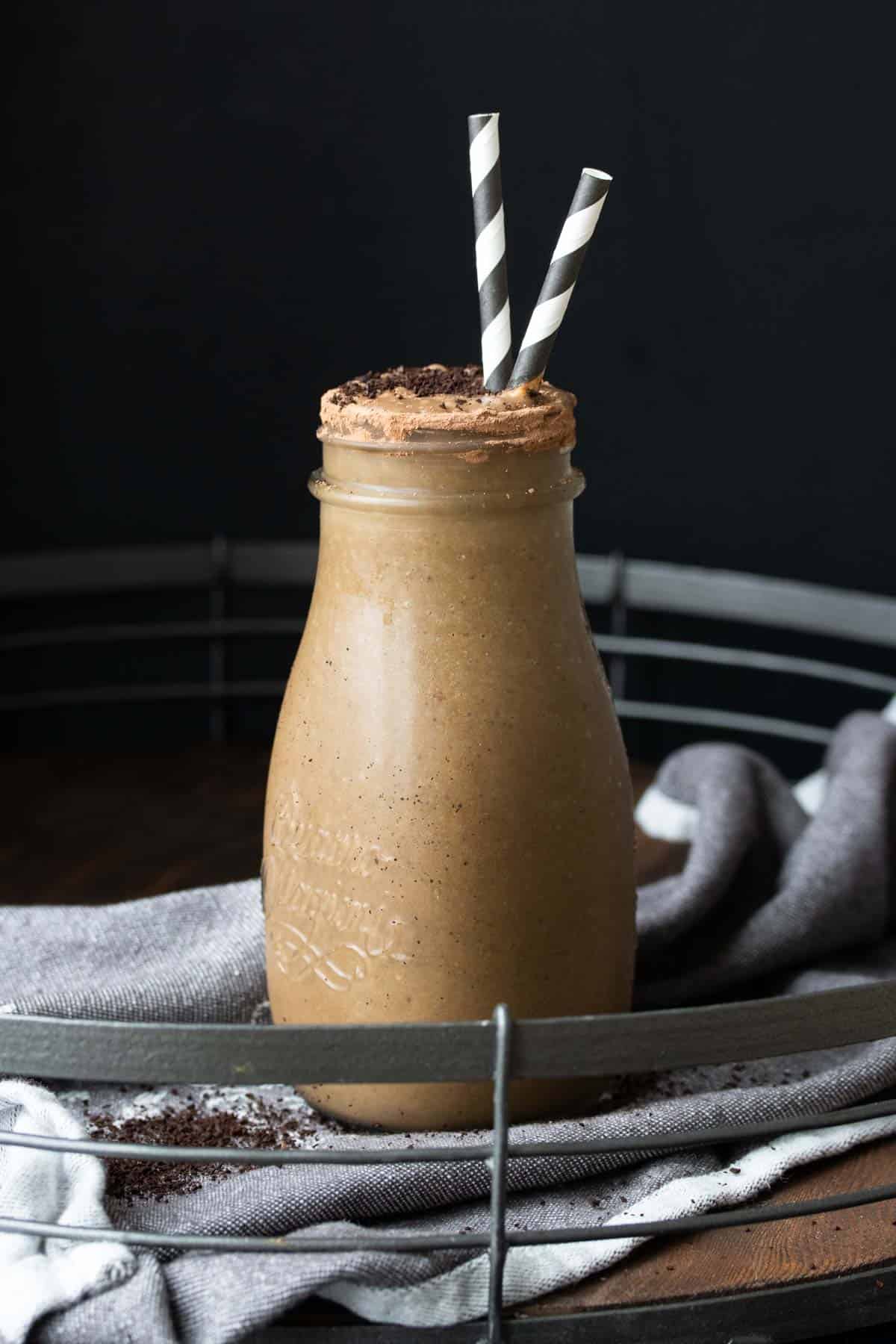 I love starting my day on the right foot, and that for me is a good workout and a breakfast that gets me going. As a mom of three littles and running my own business, I need all the nutrients and energy I can get!
Coffee Smoothies
I have never been a coffee drinker until about a month ago. Let that sink in. Yep, my energy level is natural. So you can imagine what happens when I do drink coffee!
Why did I start? Well, the main reason is personal but basically I needed a natural way to get things going. Coffee beans are full of antioxidants and in small amounts can actually be beneficial for a variety of things.
It's when you add all the extra crap that coffee drinks take a turn for the worst. Which is why I created this perfect cold way to get my buzz on!
Ingredients
I use a few main ingredients to make sure this coffee smoothie is packed with all the things I want in my body, and leaves out those I don't.
Spinach
Pea protein
Finely ground espresso beans
Chia seeds
Dates to sweeten
How To Make A Coffee Smoothie
Don't worry, you won't need a cup of coffee before making this nutritious smoothie- it's THAT EASY!
Put all ingredients in a blender and blend.
Pour in a cup and enjoy!
Tips for adding extra nutrition
This smoothie already packs a punch of nutrients, but any of these additions can boost the health factor even more! (Not to mention make the smoothie more substantial!)
Protein powder
Sunflower seeds
Other greens like kale or collard greens
Oats
Chickpeas
Sweet potato
Avocado
Flavor variations
While this smoothie is excellent as it is, it's nice to shake things up once in a while! Try adding in any of these ingredients to give a little extra flavor:
Peanut butter
Banana
Strawberries
Blackberries
Blueberries
Pumpkin
Chili powder
Mint
How to prepare smoothies ahead of time
While you can make a smoothie the night before, then store in the freezer and blend again in the morning, this isn't my favorite way to prep ahead. I prefer my smoothies freshly blended, but that doesn't mean you can't prep!
One thing I like to do for this coffee smoothie is add all of the ingredients, except the milk, spinach and ice, into glass containers and keep them in the cupboard to grab and dump in the morning. I prep a week at a time.
You could also add the spinach and milk to these and keep them in the fridge, but I don't find those hard to measure and add to the blender each morning.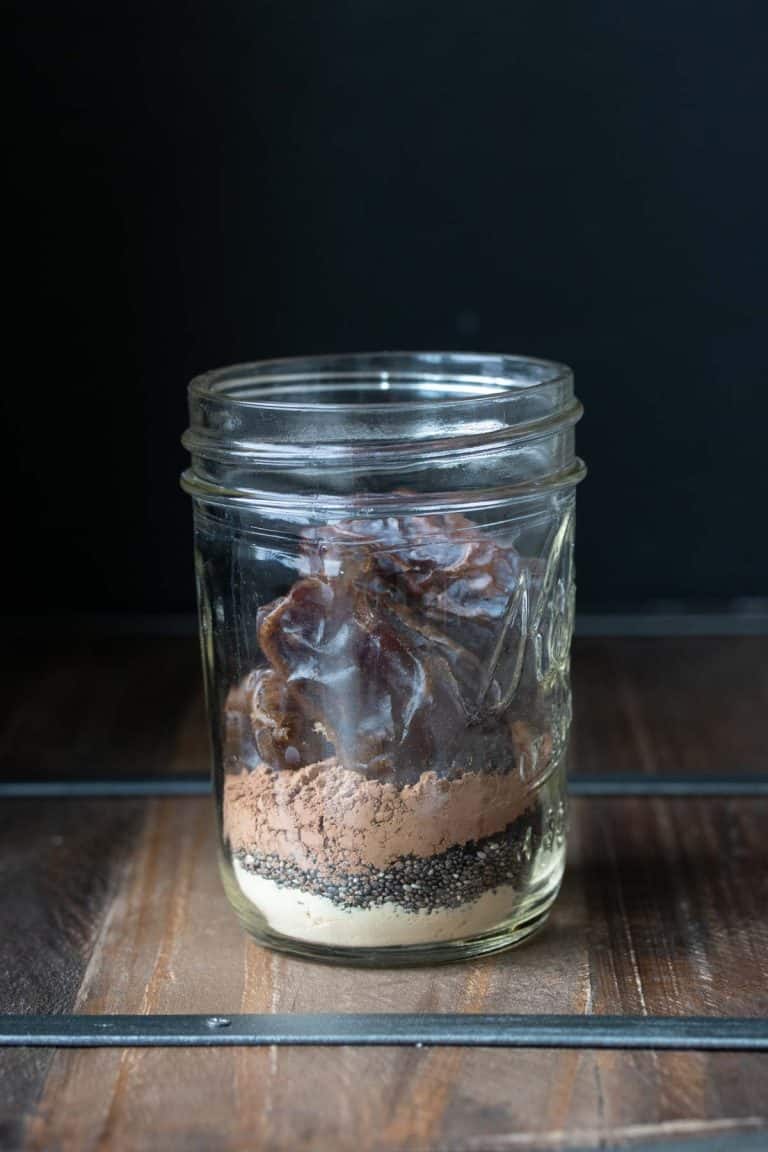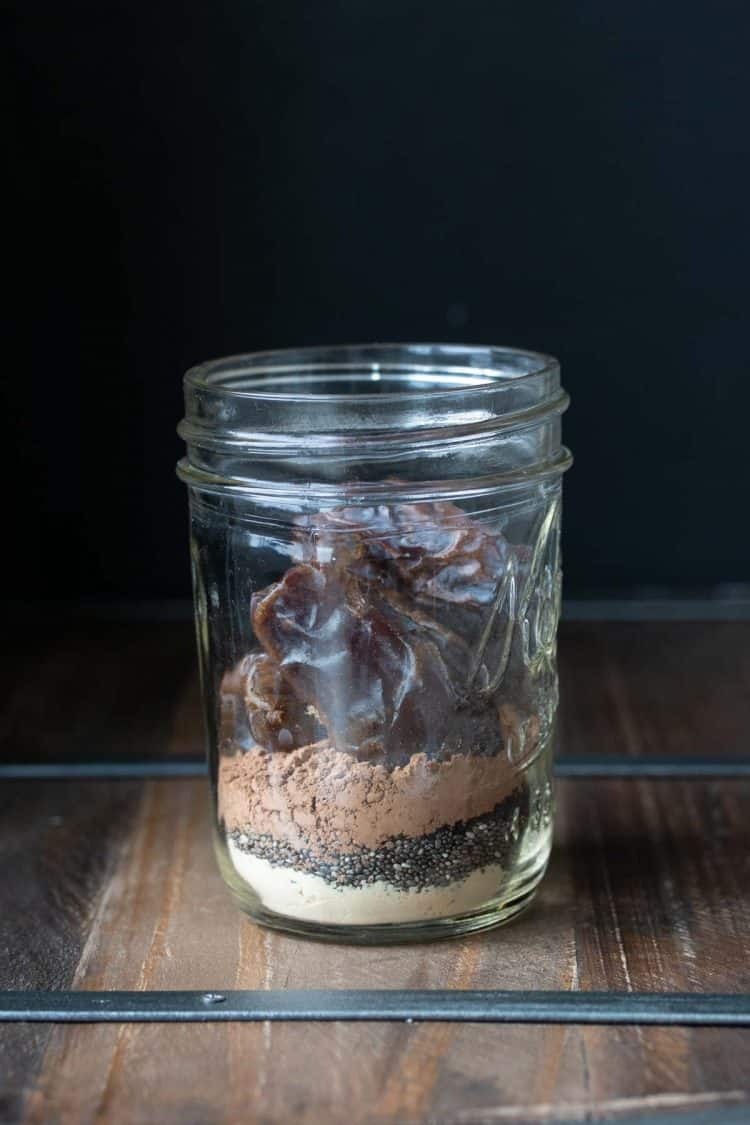 Common Questions
How do you add caffeine to a smoothie?
The best way to get a pick me up from your smoothie is to add some coffee! I've found that ground espresso gives the most flavorful & creamy flavor.
Can you add coffee grounds to a smoothie?
Absolutely! Although you want to make sure it's finely ground or the smoothie will be gritty. Freshly ground coffee, or espresso, is packed with antioxidants and caffeine so you don't need much to get the boost you usually get from the brewed version. A little goes a long way!
Can you add coffee to a smoothie?
You can substitute some of the milk for brewed coffee, but the flavor won't be as rich, and it could be more icy instead of creamy.
What is the difference between ground espresso and ground coffee?
Espresso is coffee, it's just a mix of different types of coffee beans from different places. It is also ground finer than regular coffee beans, which is why I use it in this coffee smoothie. When brewing espresso, the brewing time is also much shorter than drip coffee.
Are raw chia seeds good for you?
Chia seeds are nutrient powerhouses! They are so easy to add to things, and a great way to pack in some extra health benefits into things. Here are some of the top reasons to add chia seeds into this coffee smoothie:

1. They have very few calories for all the nutrients they carry
2. Loads of antioxidants
3. High fiber content
4. They have a good amount of protein for their size
5. They are higher in omega-3 fatty acids than many other plant based foods
6. They absorb water, which helps to thicken the smoothie!
What fruit goes well with coffee?
I think the question should be what DOESN'T go well with coffee? Pretty much any fruit will taste great in this smoothie, but a good rule of thumb is to use any fruit that tastes good dipped in chocolate. Strawberries, bananas, blackberries, blueberries, etc.!
Other Smoothies To Try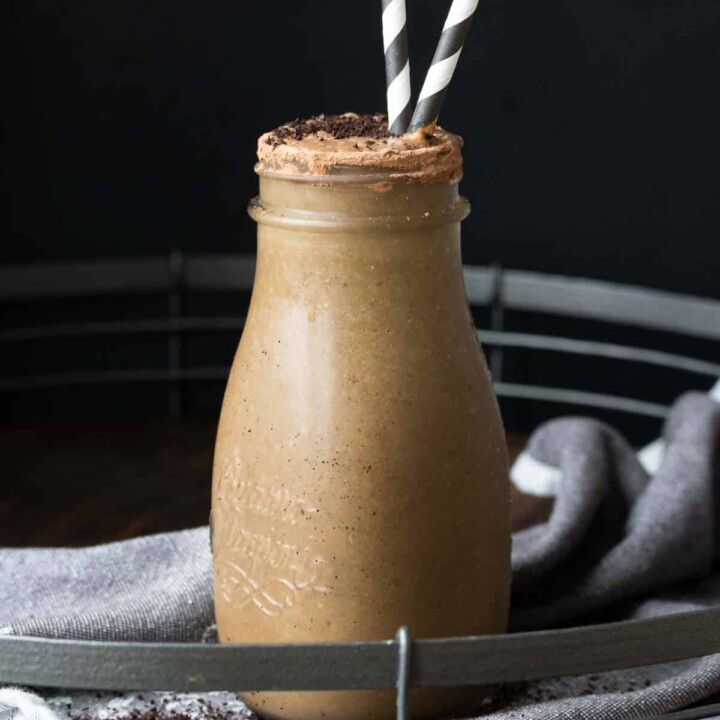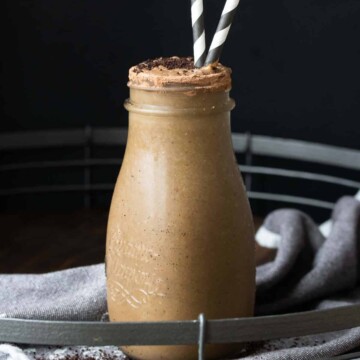 Healthy Protein Coffee Smoothie
This healthy coffee smoothie is the perfect way to start your day. Enough coffee to give you a boost, but full of wholesome ingredients!
Ingredients
¾ cup dairy free milk , I used cashew
1 cup fresh spinach
2 tablespoons cocoa powder
3 dates
1 tablespoon pea protein
2 teaspoons chia seeds
½ teaspoon finely ground espresso
¼ teaspoon vanilla bean powder , or you can use vanilla extract
¼ teaspoon cinnamon
¼ teaspoon sea salt
12 ice cubes
Instructions
Add everything into a blender.

Blend until smooth and creamy.
Notes
You can sub brewed coffee for some of the milk, but the result won't be as creamy.
Tips to prep ahead:
Put all the ingredients except the milk, spinach and ice into containers or bags to make one week worth of prep. The dump into a blender the day you are making it.
Recipe by Veggies Don't Bite, visit our site for more great plant-based recipes.
Nutrition
Calories: 238kcalCarbohydrates: 28gProtein: 21gFat: 8gSaturated Fat: 1gSodium: 674mgPotassium: 458mgFiber: 10gSugar: 14gVitamin A: 2815IUVitamin C: 8.4mgCalcium: 318mgIron: 3mg
Nutrition and metric information should be considered an estimate.
Never miss a recipe!
Sign up here and get a FREE quick and easy meal guide!