Crispy on the outside, cheesy sauce on the inside, these baked mac and cheese balls are filled with whole food ingredients and hidden veggies and taste out of this world!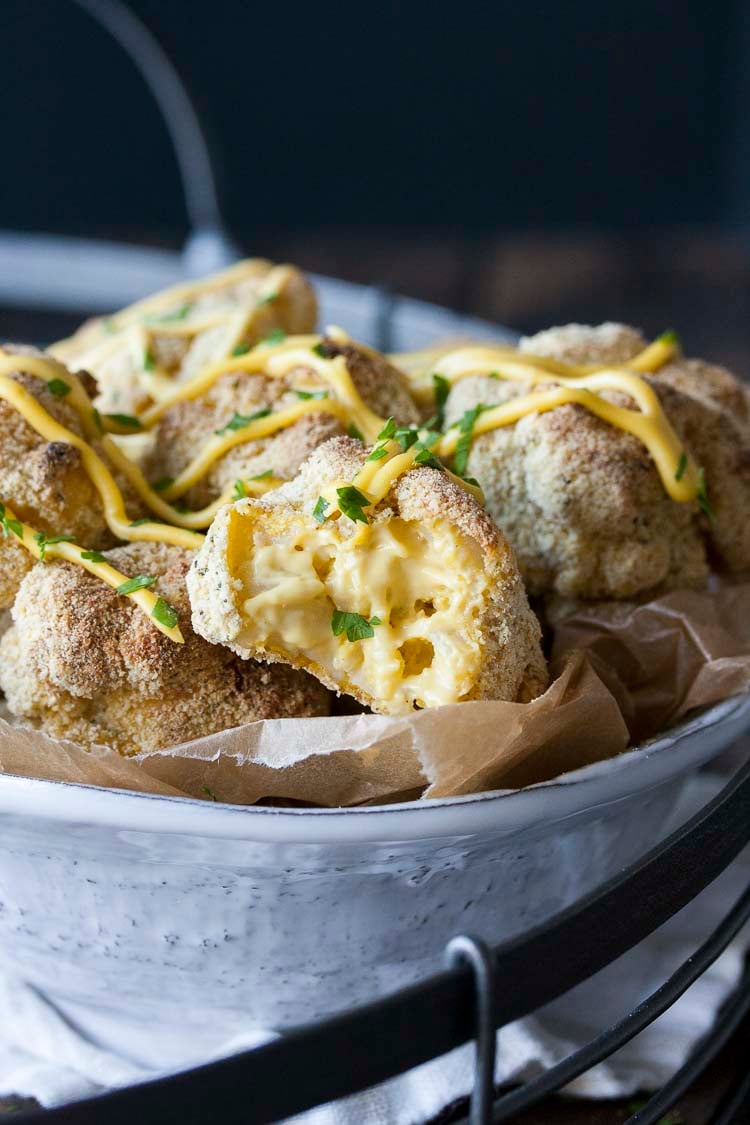 This is a sponsored conversation written by me on behalf of NOW Foods. The opinions and text are all mine.
As if mac and cheese couldn't get any better. Umm, it can. Crispy baked mac and cheese balls. Vegan at that. The best thing about these, is that the creamy vegan cheesy sauce is all whole foods based, there are no processed ingredients. Everything is easy to find and the sauce is quick to throw together. The only issue is not burning your mouth as you try and shove them in straight from the oven. That may have happened.
All the vegan cheese sauces please
The success of my creamy vegan cheese sauces has been awesome. I have created quite a few already: the Ultimate Cheese Sauce, Sharp White Cheese Sauce, Mexican White Cheese Sauce, and even a Green Mac and Cheese for fun. I have many cream sauces as well, so clearly we like our sauce.
This didn't stop me, however, from creating yet ANOTHER cheesy sauce for these vegan baked mac and cheese balls. This may be one of my favorite yet, and it was even approved by my picky little middle.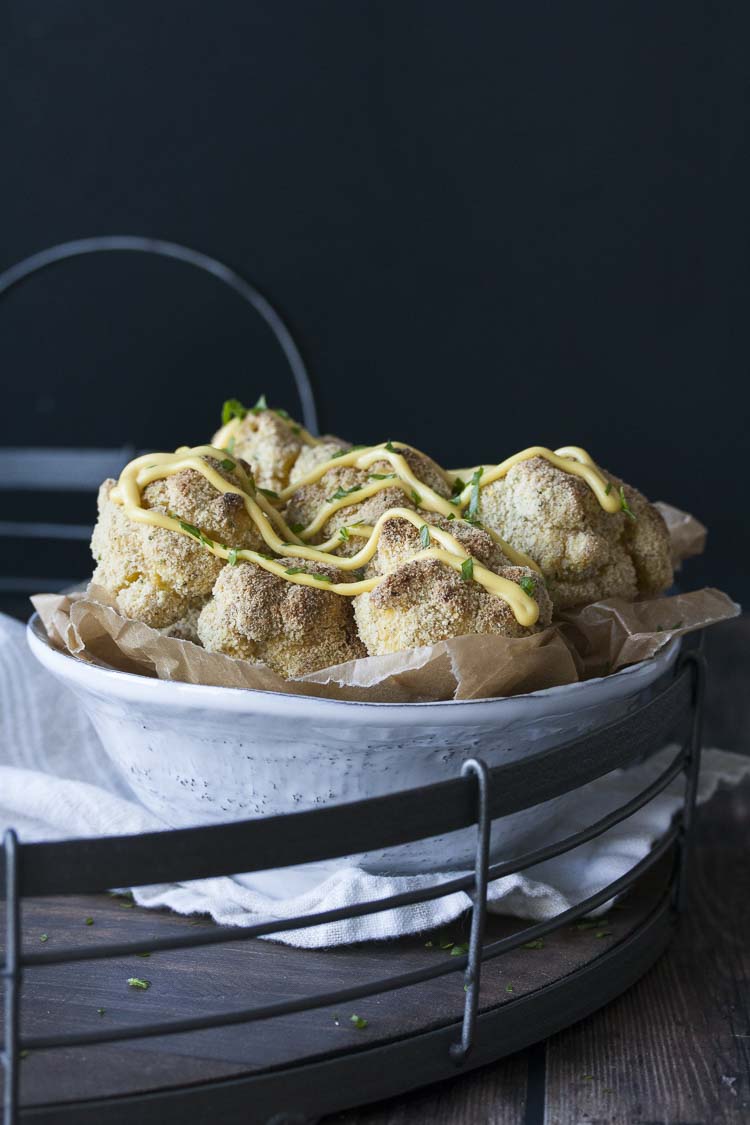 No yeast. Ever.
The thing that's unique about many of my cheese sauces, is that I don't use any nutritional yeast. I'll be honest, I don't really love the stuff. I know, it's almost sacrilegious. But if there's anything that I am, it's truthful.
I sometimes will sprinkle it dry on things, or include it in sweets (see my Raw or Baked Pumpkin Layered Pumpkin Pie) because I think it does give a slight buttery taste in some sweet things. But I do not think it has a cheesy flavor. Sorry friends.
What this cheese sauce does include though, is all whole food ingredients. Things like veggies, cashews, vinegar and cashew milk; all in the right proportions to make this creamy cheesy like goodness. Do you want to lick the screen?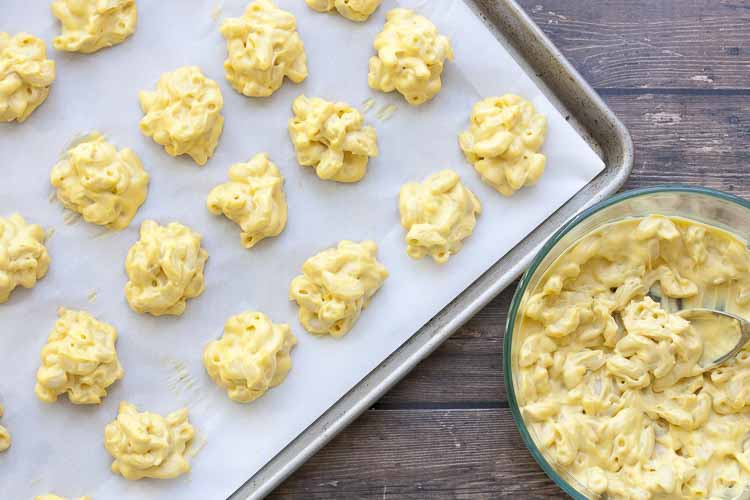 The perfect mac and cheese balls
Getting mac and cheese balls spot on can be tricky. You want them creamy, not dry and hard. You want the pasta chewy not mushy. And you want the outside crispy, not soft. I trialed and tested these using many different techniques and came up with a few must do's when it comes to nailing the perfect baked mac and cheese balls.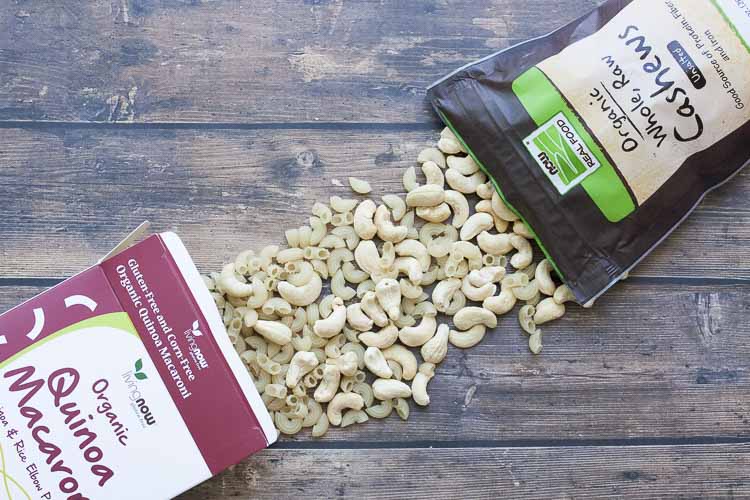 Tips and tricks for nailing baked mac and cheese balls:
Use good gluten free pasta (if you are going gluten free). I cannot stress this enough. Not only does it need to be good immediately after cooking, but it needs to STAY good. The Living Now Quinoa Macaroni Pasta has the perfect texture, cooks amazing and it is still good as time passes. It is made with 3 simple ingredients: rice, quinoa and amaranth. That's it. No added junk. Plus it tastes just like regular pasta, so when serving these at a party, no need to worry that anyone can tell.
Don't overbake. This is a tough one because you want the crispy outside and the tendency is to keep baking. After many trials and errors, I found that the perfect combo is to bake just until the coating begins to get crisp, then simply broil for a few minutes to get that uber crispness on the outside. This keeps the inside creamy and the outside crisp!
Use lots and lots of sauce. It may seem like you're oversaucing. But you aren't. Trust me. There is never enough cheese sauce.
Instead of using the "put in a bowl, chill and scoop" method, drop spoonfuls of the mixture onto a parchment lined cookie sheet first, then chill. This is one that everyone will have different opinions on, and feel free to do it your way. But, I found that when I made my balls before I chilled, it was much easier, and way less messy. And I got the creamy cheesy goodness spot on.
Make sure your cashews are good. I have had a bad traumatic experience with cashews. If you have too, you know exactly what I'm talking about. People, quality foods matter. This includes things like nuts! There is nothing more disappointing, and I mean nothing, that making a big batch of creamy cheesy delicious sauce only to take a bite and realize the cashews were bad. That was the last time I skimped on cashews. Luckily there are more good brands than bad out there, but I know I am always getting quality when I use the ones by NOW Foods.
Save some cheese sauce to drizzle over the top or dip in while you eat. See 3 above, there is never enough cheese sauce.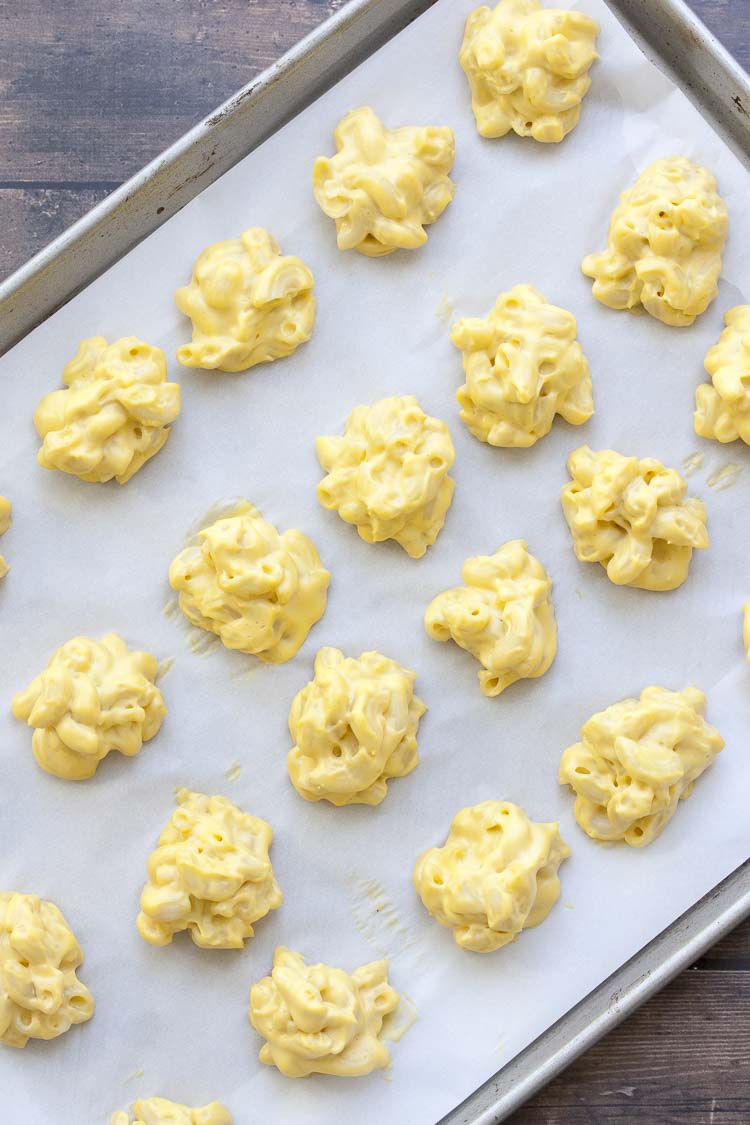 Excuse me now while I go shovel more mac and cheese balls into my face. You'll find me in the closet because that's where I had to hide them so the rest of my family will stop stealing my goods.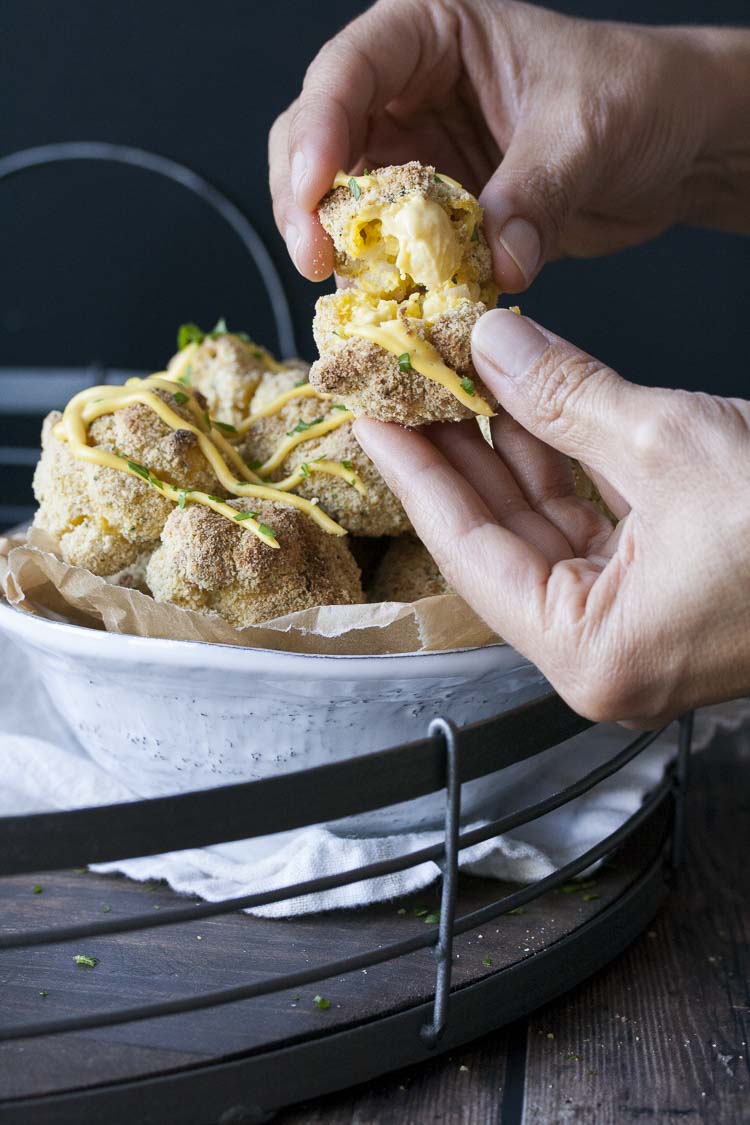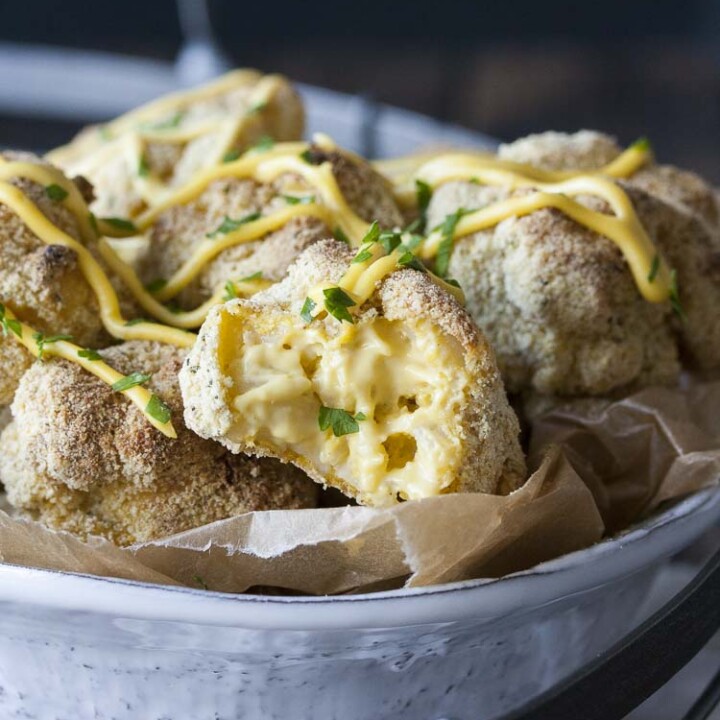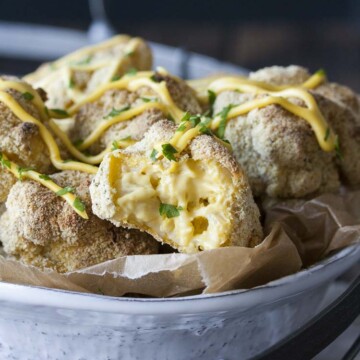 Crispy Baked Mac and Cheese Balls (Vegan + Gluten Free)
Crispy on the outside, cheesy sauce on the inside, these baked mac and cheese balls are filled with whole food ingredients and hidden veggies and taste out of this world!
Ingredients
Cheese sauce:
2 ½ cups cooked potato (about 2-3 medium potatoes, see note)
½ cup cooked sweet or yellow onion (about ½ a medium onion)
5 tablespoons cooked carrots (about 5-6 baby carrots or one large carrot)
¼ cup cooked yellow pepper (about ⅓ of a whole medium pepper)
4 cloves garlic
1 ½ cups raw cashews (see note, I use NOW Foods brand)
½ cup unsweetened cashew milk
4 teaspoons apple cider vinegar
2-3 teaspoons sea salt (see note)
⅛ teaspoon ground mustard
Crispy coating:
¾ cup cornmeal
¾ cup breadcrumbs (gluten-free if needed)
½ cup hemp seeds
1 ½ teaspoons sea salt (may need an extra ½ teaspoon depending on preference)
Extras:
2 cups unsweetened cashew milk
8 ounces macaroni pasta (I use Living Now Quinoa Macaroni Pasta)
Instructions
To cook the veggies, I boil potato, onion, carrots and yellow pepper together in a pot of water until soft.
Make cheese sauce:
Once cooked, place the veggies into a high speed blender with the garlic, cashews, milk, vinegar, 2 teaspoons salt, and ground mustard.

Blend on high using the blenders tamper tool to help mix the ingredients around. It will be thick and hard to get going but the tamper tool will help and eventually everything will blend smooth.

Take out 1 ½ cups for drizzle and dipping, then add the last teaspoon salt and blend again.
Make balls:
Cook pasta according to package directions, but cook al dente (I cooked 2 minutes less than the package said).

Combine the sauce left in the blender and the cooked pasta in a large bowl. Mix well.

Drop spoonfuls, about 2-3 inches big, onto a parchment lined cookie sheet, making them as round as possible.

Chill for at least an hour, 2-3 is better. You want the pasta balls easy to handle and not falling apart.

Meanwhile, combine the cornmeal, breadcrumbs, hemp seeds and salt in a food processor and pulse to incorporate to make crispy coating. Place mixture into a bowl. You can also simply mix in a bowl but you wont have ground hemp seeds.

Once the mac and cheese balls are chilled, preheat the oven to 400 F (200 C).

Carefully pick up the parchment paper with the chilled balls on it and move it to the counter, then line the cookie sheet with more parchment paper. You can also simply line another cookie sheet if you're too nervous to move the one with the balls on it.

Put the two cups of milk in a bowl. Dip each mac and cheese ball in the milk, then into the bowl of crispy coating. I use one hand to dip into the milk, then put it in the crispy coating where I use my other hand to cover it well and then place on the clean parchment lined cookie sheet. This avoids clumpy wet coating.

Once done, bake for 20-25 minutes or until the crispy coating just begins to crisp.

Then broil for 1-2 minutes until browned. Do not overbake or you will lose the creamy cheesy inside.

Devour smothered in more cheesy sauce, careful not to burn your mouth. This will not be easy as it will be very tempting to grab them from the cookie sheet and shove into your mouth.
Notes
Recipe makes 5 cups cheese sauce.
Nutrition info accounts for ALL the sauce being used, even the extra you set aside to dip in.
Prep time includes the 60 minutes it takes to chill the balls.
I used red potatoes but any starchy potato will work, just don't use sweet.
If you are not using a high speed blender you can either soak the cashews overnight or grind them into a fine powder using a coffee grinder.
Feel free to adjust the salt for your preference, just remember that when sauce is mixed with pasta the saltiness in the flavor goes down quite a bit, which is why it needs more here.
Tips to prep ahead: Soak cashews if needed. Cook veggies ahead of time. If you do this remember to bring them to room temperature before you make the sauce or it will take a long time to get the sauce smooth in your blender (it eventually will though).
Baby/toddler food idea: make balls smaller and give extra sauce as a dipper.
Recipe by Veggies Don't Bite, visit our site for more great plant-based recipes.
Nutrition
Calories: 92kcalCarbohydrates: 11gProtein: 2gFat: 4gSodium: 312mgPotassium: 92mgVitamin A: 430IUVitamin C: 3.1mgCalcium: 7mgIron: 0.9mg
Nutrition and metric information should be considered an estimate.
Never miss a recipe!
Sign up here and get a FREE quick and easy meal guide!