This green mac and cheese is loaded with hidden veggies. It's so creamy and flavorful you won't believe it's dairy free!
Serve this recipe for St. Patrick's Day or anytime you want to mix up your mac and cheese game!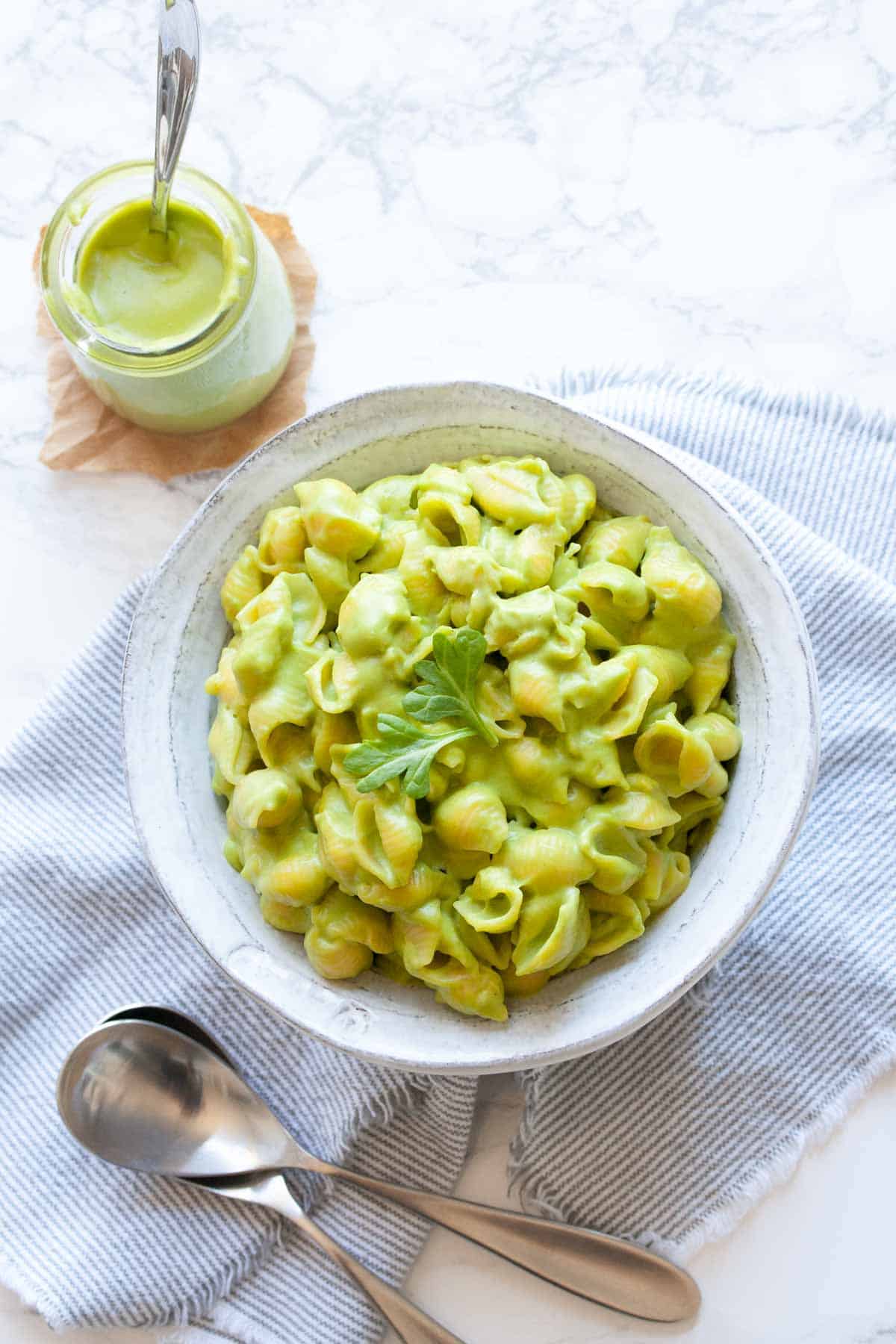 This recipe was originally published on 3/13/17
I start St. Patrick's Day with my healthy shamrock shake and end it with this green mac and cheese. Both are packed with hidden veggies but you'd never know!
Ingredients
The special base of this green mac and cheese with veggies is so incredibly creamy you'd have no idea it's plant based!
Here is what you need to make the dairy free mac and cheese recipe:
Cauliflower
Potato
Onion
Spinach
Garlic
Cashews
Dairy free milk - see notes below on the best kind to use!
Apple cider vinegar
Lemon juice
Salt
Mustard powder
Pasta of choice (for dairy free gluten free mac and cheese use gluten free pasta)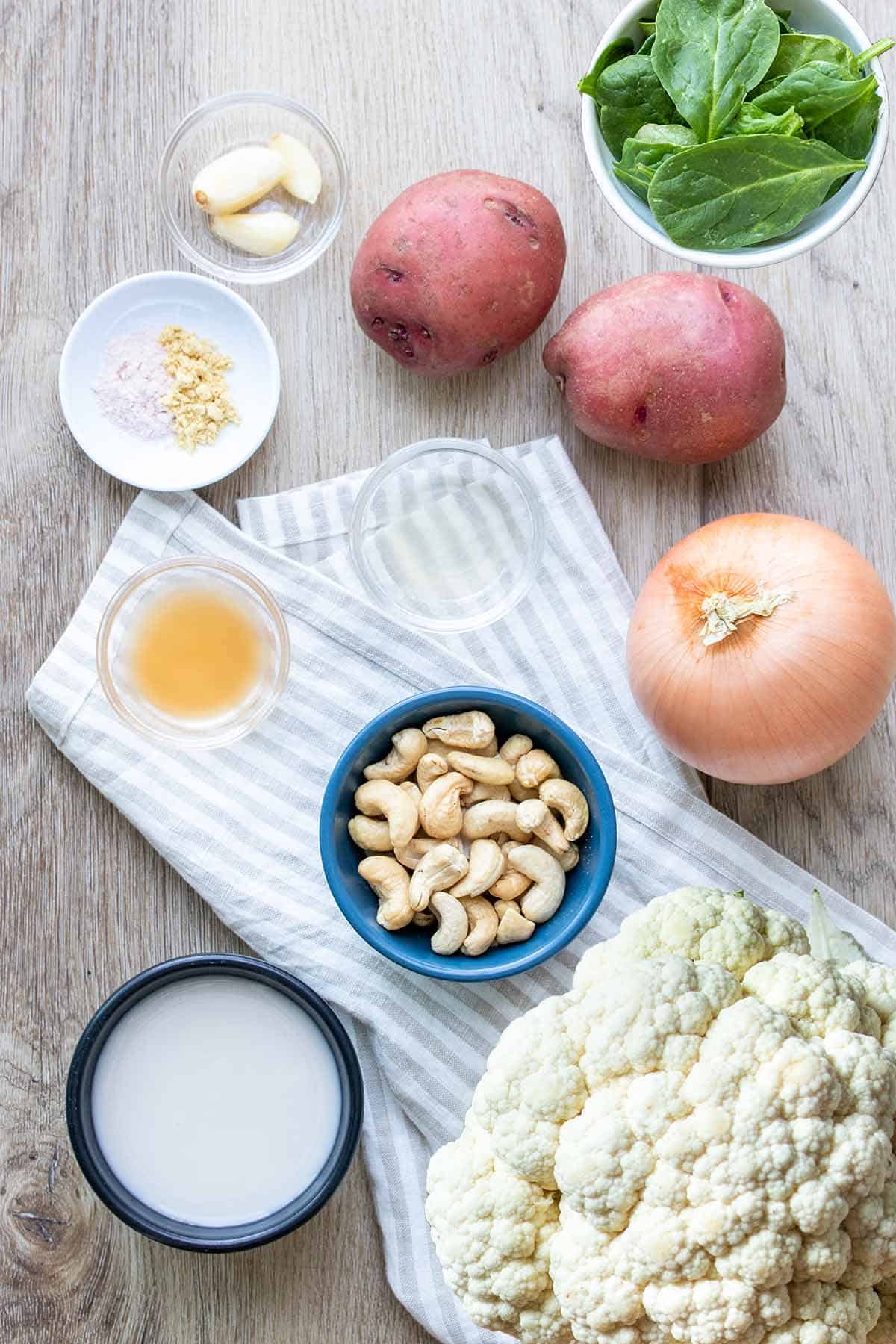 How to Make Green Mac and Cheese
The steps are similar to my other dairy free mac and cheese recipes, just more green from the hidden veggies! Lucky for us it's super simple. Don't you love it when healthy food isn't a complicated process?
Put cooked veggies in a blender with all sauce ingredients.
Blend.
Add the sauce to your favorite pasta and mix.
Serve!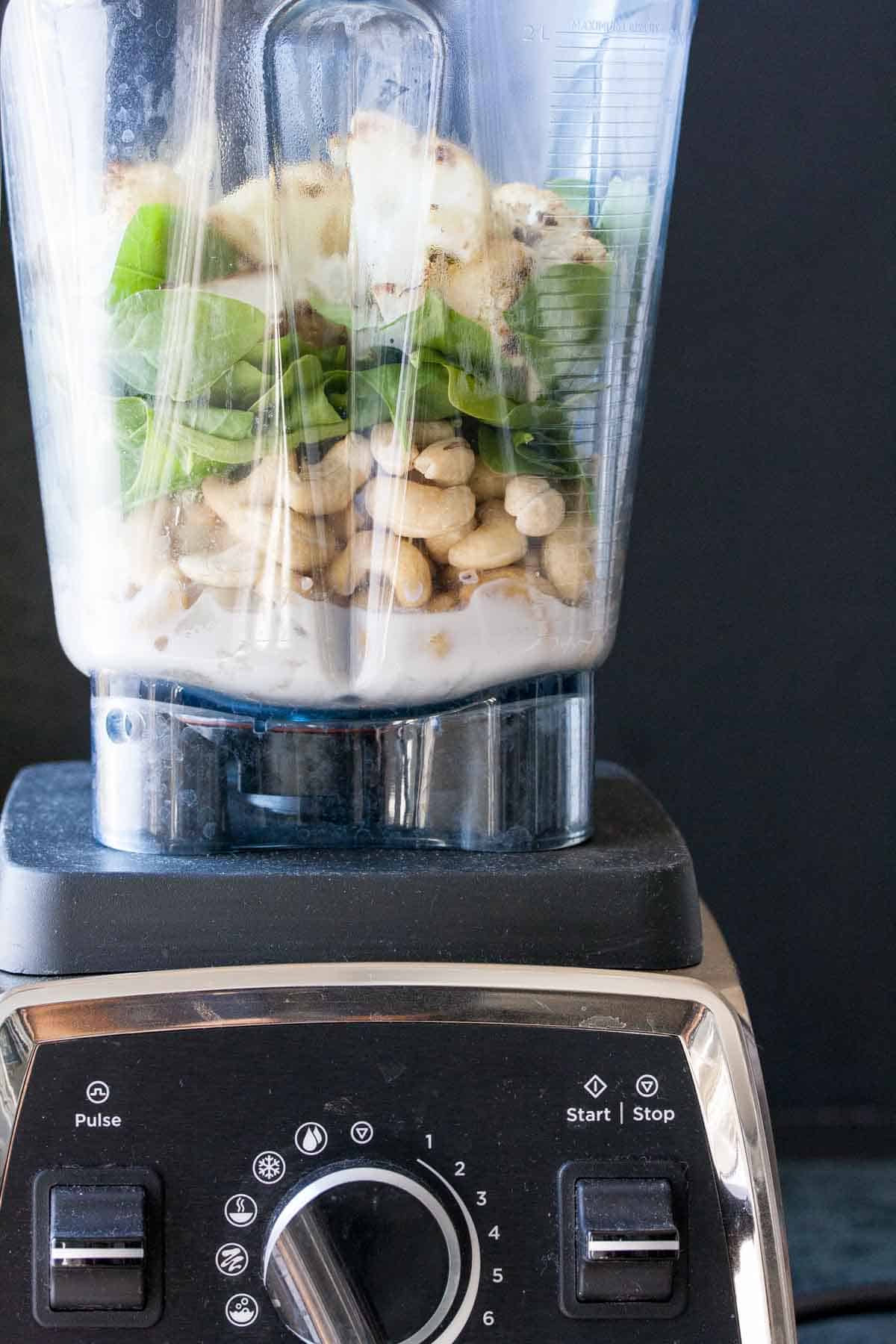 How to Prep Ahead and Storage Tips
Want to have this green mac and cheese ready to go when you are? You can either prep a lot or a little:
Cook the cauliflower, potato, onion and cashews in advance.

Store in an airtight container in the refrigerator until ready to blend.

Completely make the sauce and store in the refrigerator for up to 3-5 days.
Freeze the dairy free cheese sauce for up to 3 months in an airtight container.

Defrost in the refrigerator the night before, or quickly in the microwave.

Reheat the prepared sauce in a saucepan on the stove, or in the microwave.

The consistency may change a little, simply give a good stir or re-blend.
If you need to thin it out you can stir in some dairy free milk until you reach your desired consistency.
What to Serve With Green Mac and Cheese
Make an entirely green meal by pairing this green macaroni and cheese with any of the following:
What is vegan mac and cheese made of?
I usually make my vegan mac and cheese with veggie based cheesy sauces like classic vegan cheese sauce or vegan sharp white cheese sauce. But for this dairy free mac and cheese recipe I upped my game and made a fun colorful version.
I love using whole foods to mimic all things creamy and cheesy. And don't think this is a sham, because my vegan creamy sauce game is legit!
My base in this green mac and cheese is loads of veggies: cauliflower, potato and even spinach for that signature green look.
The timing is perfect for St. Patrick's day, but let's be clear, you should eat this ANY DAY. So many reasons why:
Hidden cauliflower
Packed with spinach but undetectable in taste
Fun and colorful
Easy to make with a quick zip in the trusty high speed blender (or regular blender when you grind the cashews or soak them well)
Perfectly festive for St. Patrick's day, Easter or even Christmas
How do I get my toddler to eat vegetables?
Let me start with saying, I think it's very important to present your kids with veggies constantly. It takes over 25 times for a child to be exposed to something before they can decide if they like it or not. So keep sharing new veggies and fruit and don't despair!
One great way to to serve mac and cheese with veggies, but here are a few tips I like to live by:
Always present a new veggie with another you know they like.
Allow them to come shopping and pick out their own new veggie they'd like to try.
Get your kids involved with cooking and meal prep so they feel in control
Present the veggies in many ways, different shapes, placed different containers, and cooked with different techniques
Use holidays to present themed food, name the meals too, this was a great fun dinner for St. Patrick's Day! I told my kids that this was Leprechaun Mac and Cheese. The only snafu was when they looked wide eyed at me and asked if I made it with actual leprechauns, so I had to think fast and assure them it was purely four leaf clovers. Phew. Crisis averted.
Have wine stocked near by, it's always a good back up for you
Because the reality is that most of us will constantly be enduring veggie meltdowns, I also advocate to sneak in veggies everywhere you can. Which is why I created this hidden veggie green dairy free mac and cheese recipe!
It's packed full of healthy ingredients, so when the meltdowns happen, I can walk away without a full hostage negotiation.
More Dairy Free Mac and Cheese Recipes
Love the comforting taste and feel of good 'ole macaroni and cheese? Enjoy it any time without the dairy with any of these plant based recipes: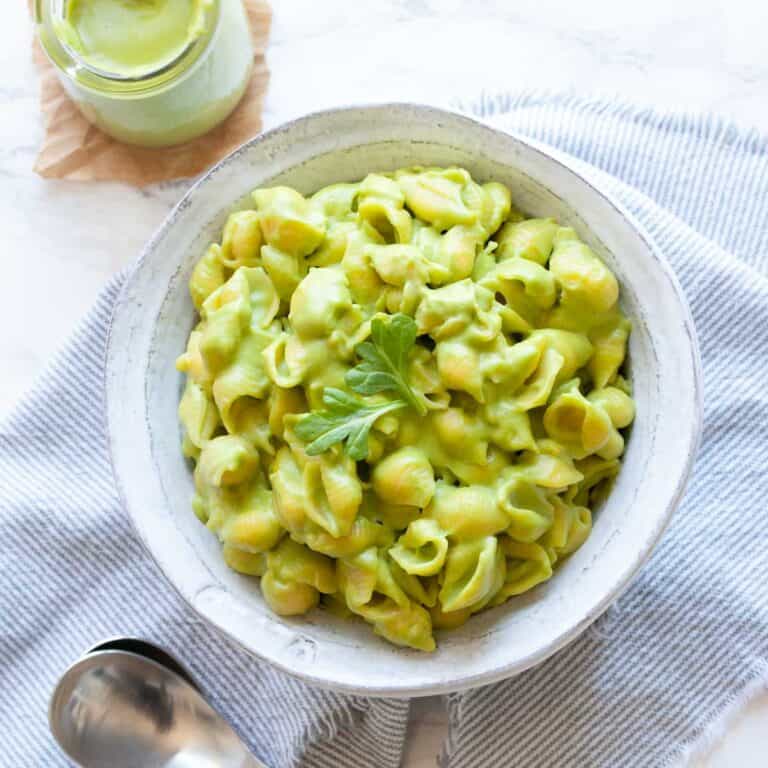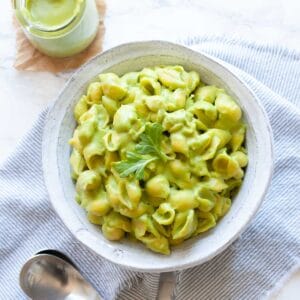 Dairy Free Green Mac and Cheese
This green mac and cheese is loaded with hidden veggies. It's so creamy and flavorful you won't believe it's dairy free!
Ingredients
1 cup cauliflower , chopped (about ¼ of a head)
1 cup cooked potato , about 1 medium potato
¼ of a medium onion
1 cup fresh spinach
1 clove garlic , medium size
¾ cup raw cashews (see note)
½ cup unsweetened cashew or almond milk , I use Silk brand
1 tablespoon apple cider vinegar
2 teaspoons fresh lemon juice
1 ½ teaspoons sea salt
¼ teaspoon mustard seed powder
Instructions
Preheat oven to 450 F/ 230 C

Chop cauliflower and sprinkle with a bit of broth or oil. Spread out on a parchment lined cookie sheet. Bake for 20 minutes until slightly crisp.

Meanwhile, cook potato and onion by boiling until soft.

Once cauliflower, potato and onion are done, put them in a high speed blender with all other ingredients, except pasta, and blend until smooth.

Cook your favorite pasta according to package directions. Drain and rinse, then return to pot.

Pour sauce over pasta and mix over low heat until thick and gooey.

Serve!
Notes
Sauce makes about 3 cups.
The best method to cook the potato is by boiling it with the onion. See instructions.
If you are not using a high speed blender you can either soak the cashews overnight, boil them with the potato and onion or grind them into a fine powder using a coffee grinder.
Tips to prep ahead
Cook cauliflower, potato, onion and cashews.
Baby/toddler food idea
Best kid food ever. Overcook pasta for young baby and mash well.
Recipe by Veggies Don't Bite, visit our site for more great plant-based recipes.
Nutrition
Calories: 369kcalCarbohydrates: 63gProtein: 10gFat: 8gSaturated Fat: 1gSodium: 615mgPotassium: 251mgFiber: 3gSugar: 1gVitamin A: 470IUVitamin C: 12.2mgCalcium: 15mgIron: 2.3mg
Nutrition and metric information should be considered an estimate.
Never miss a recipe!
Sign up here and get a FREE quick and easy meal guide!