A melomakarona recipe perfect for the holiday season. You'd never know these Greek Christmas cookies are gluten-free and vegan!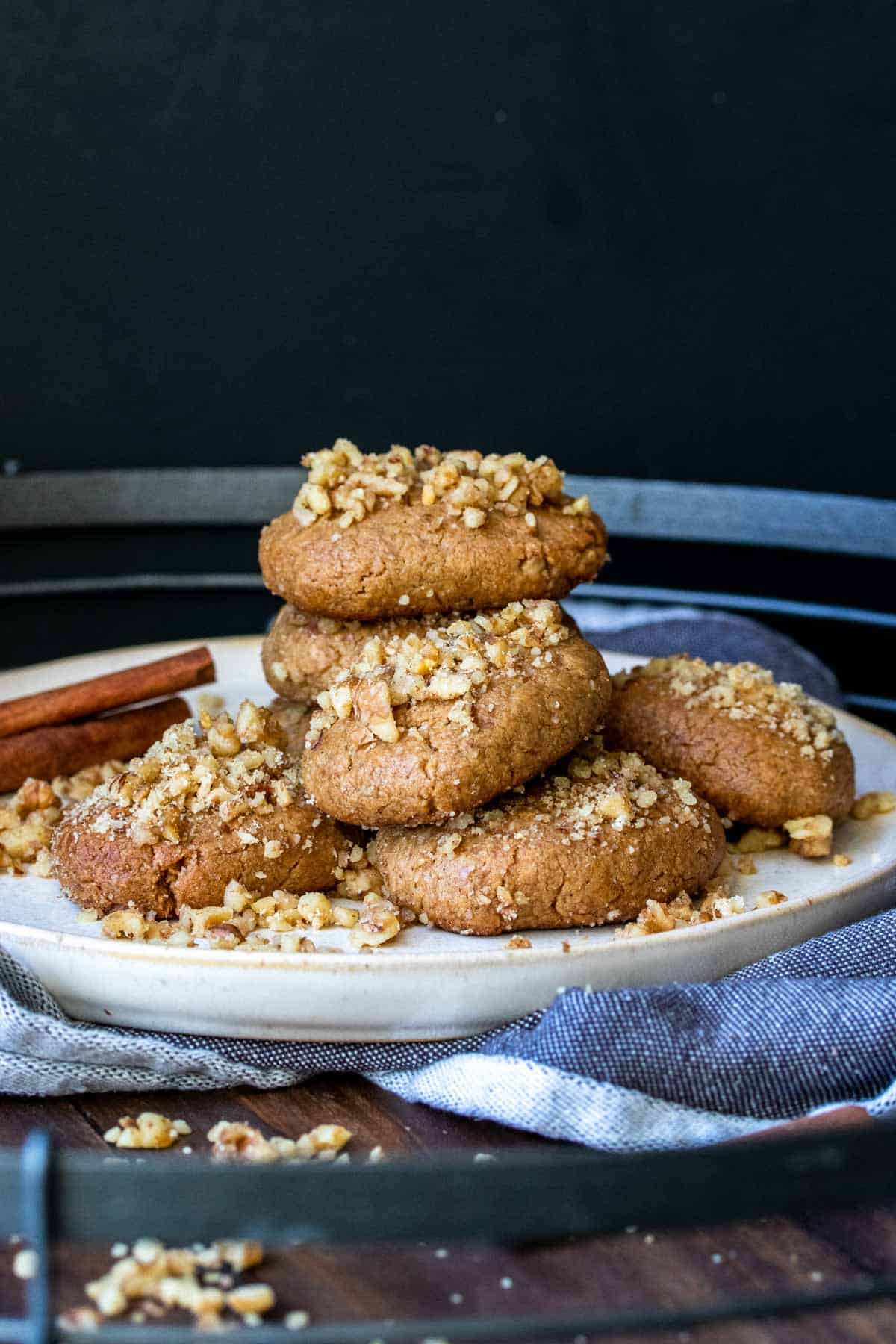 This recipe was originally published on 12/23/13
After the success of my vegan spanakopita, a holiday tradition and recreated from my mom's original recipe, I knew I needed to add more Greek traditions to this site. My sister and I use to make these walnut and honey cookies every year with my mom and yiayia. I remember sneaking bites of dough and getting scolded!
Ingredients
These cookies are actually vegan if you simply use vegan butter and swap honey for maple syrup, but because I wanted a healthier version avoiding all the butter and oil in my mom's original recipe, plus I wanted a gluten-free option, I needed to recreate them.
Here is what you need for the cookies:
oat flour
sugar
walnuts
baking powder
cinnamon
all spice
cashew butter
orange juice
brandy
Here is what you need for the syrup:
water
sugar
maple syrup
cinnamon stick
lemon slice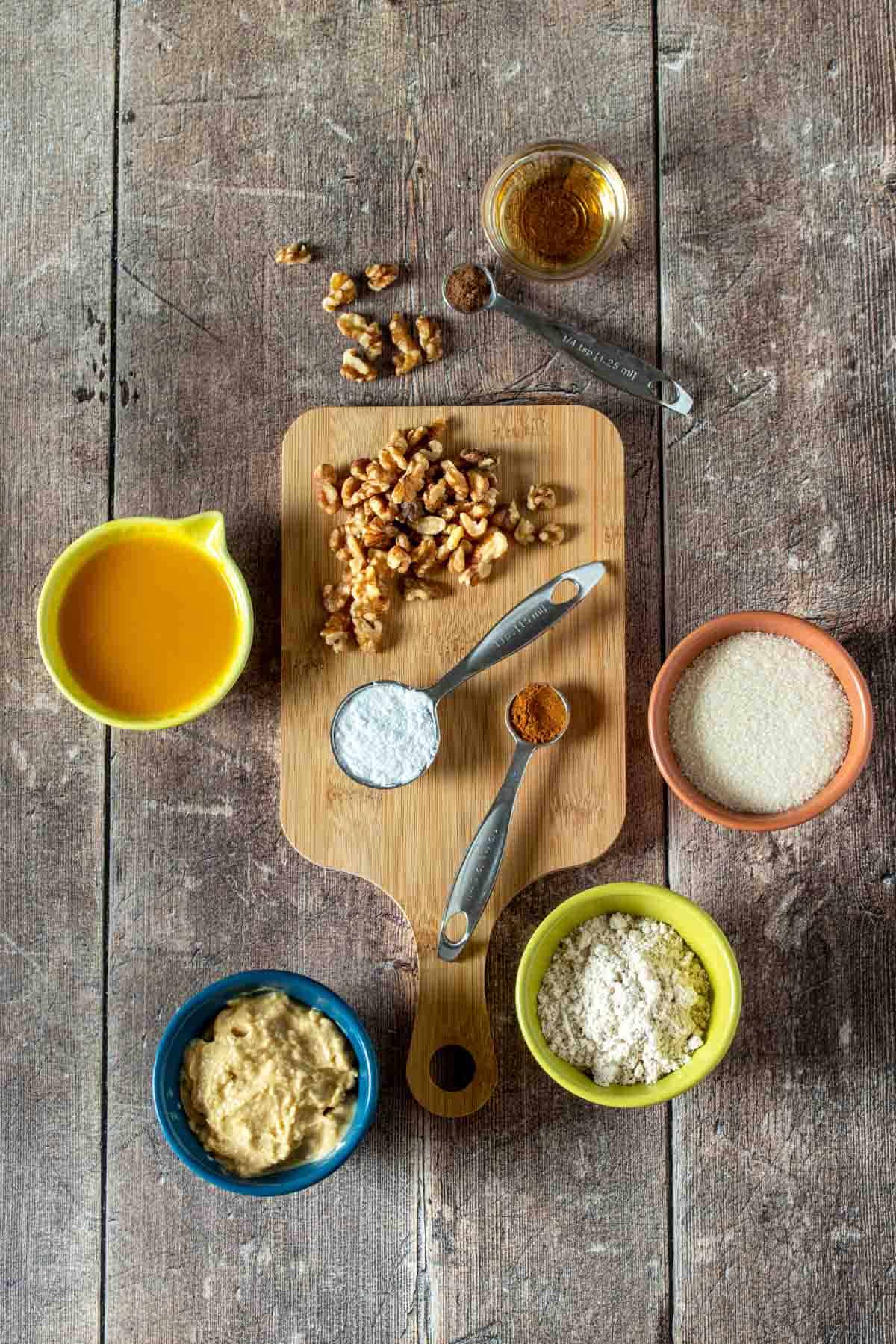 How to Make Greek Christmas Cookies (Melomakarona)
Making these cookies is not hard at all. Mixing the dough and shaping them can be a fun tradition for the whole family, even the littles.
When we were really young, my mom used to shape the main cookie for us, then we would press it onto the cheese grater to put the pattern on.
Mix the dry ingredients.
Add in the wet and shape the dough.
Shape the cookies and press on the pattern.
Bake.
Dip into the syrup.
Top with chopped walnuts.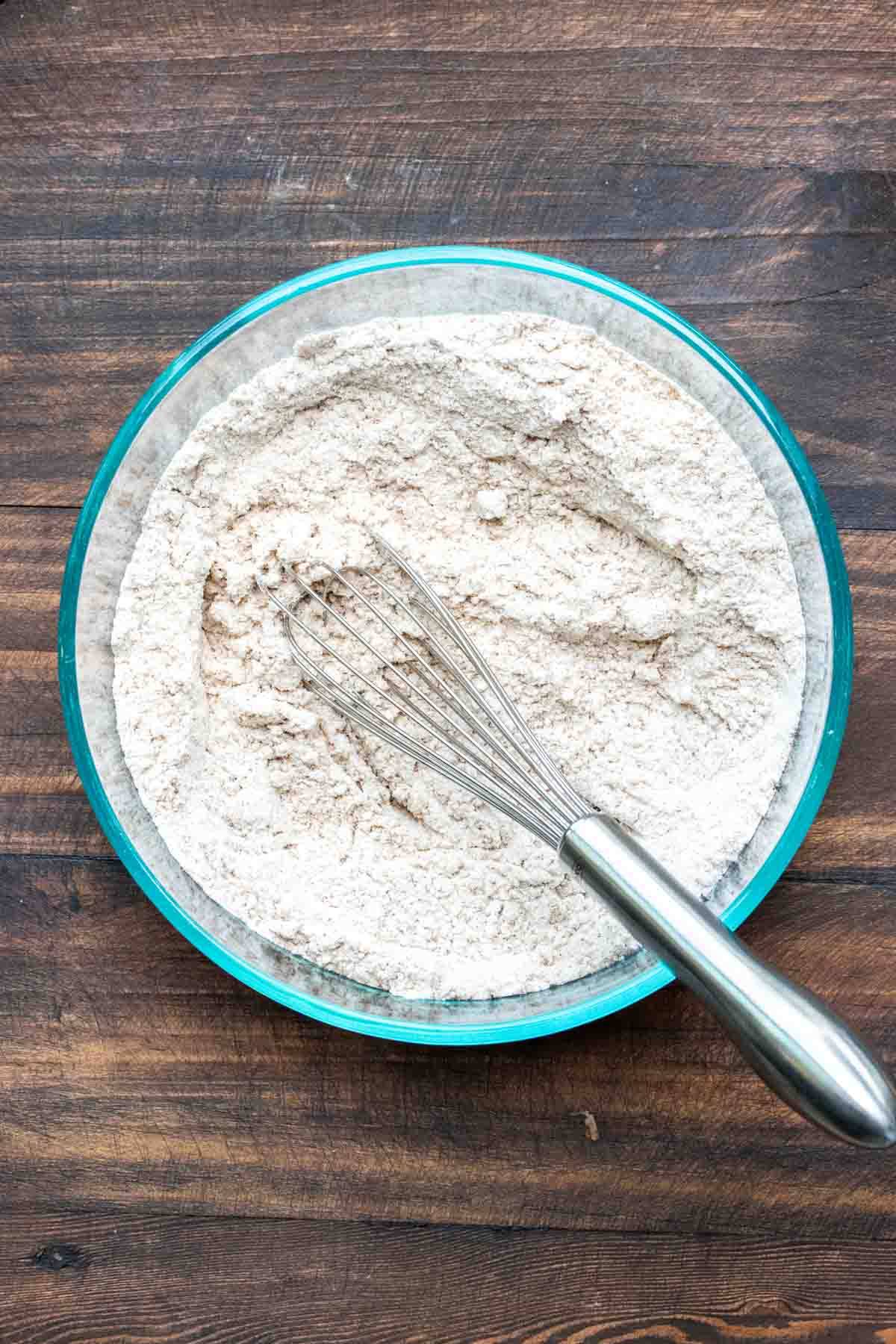 What does melomakarona mean?
The word "melo" means honey, which is what makes the syrup that you dip these cookies in. If you are strict vegan, subbing maple syrup works just as well.
The word "makarona" means pasta, but the term originally came from the ancient Greek word "makaria," which was a piece of bread served at funerals that had the shape of these Greek cookies. Some areas also call them Finikia.
They have some key flavors to them that give them their traditional flavor. Orange juice, brandy, cinnamon and all spice are all blended together for that signature taste!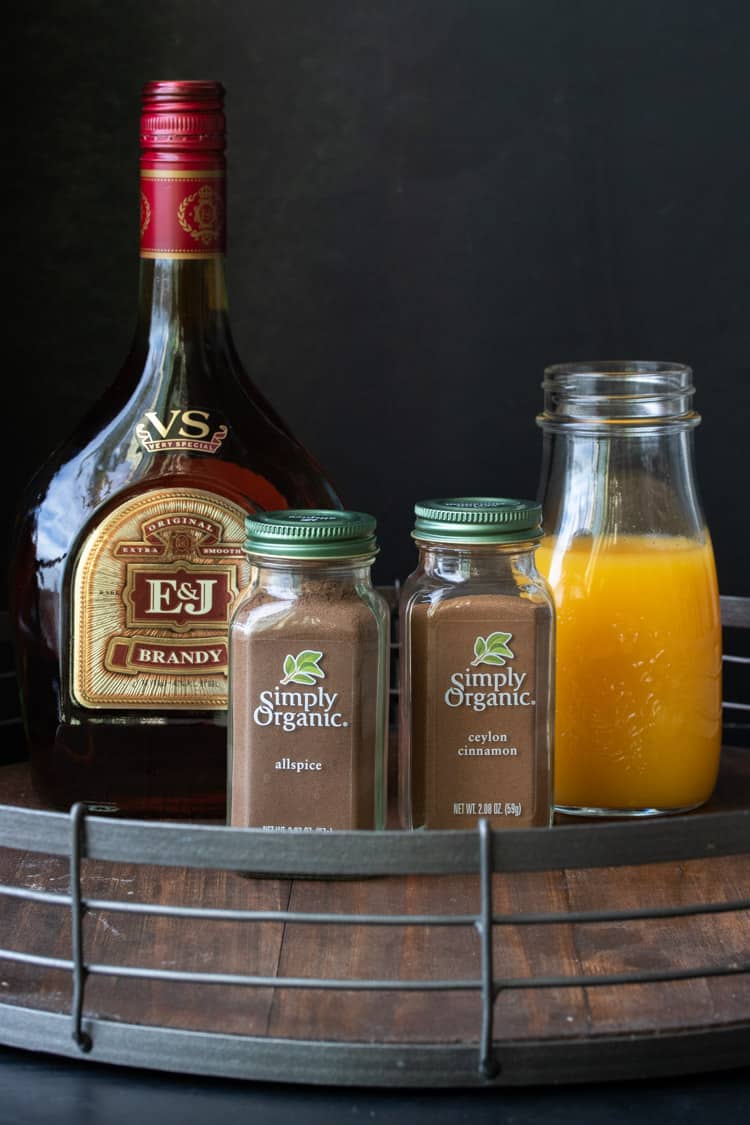 Tips for making melomakarona
I am so happy my mom had us help her to make these cookies from a young age. I learned a lot from watching her and continue to learn each year! Here are some of the best tips I gathered to make sure these come out perfect every time:
Don't be afraid to use your hands! I can still picture my yiayias hands as she mixed the dough.
Make sure the dough is soft and doesn't stick to your hands.
When shaping the cookies, shape into a cylinder, then press onto the cheese grater to get the final shape plus the fun pattern on top (I think my mom still has the green one we used!).
Let the cookies cool completely before dipping in the syrup!
Dip them in the syrup for only a few seconds or they will fall apart.
Arrange them in a single layer on your platter, they will stick together and fall apart if you put them on top of each other. My mom also used cupcake liners to put each cookie in after they were dipped and cooled completely. This way you can stack them.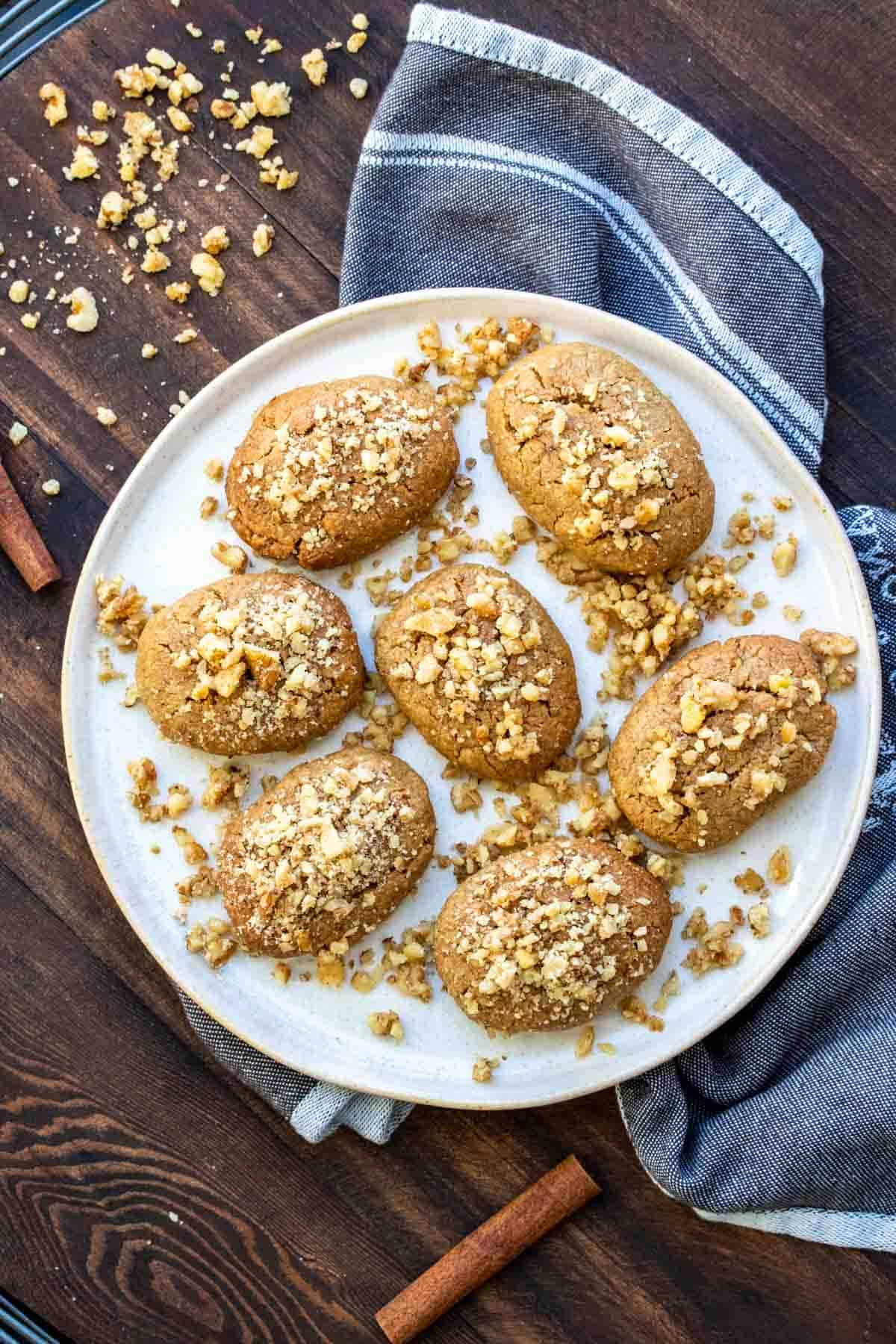 Can I make melomakarona ahead of time?
Per tradition, we always took a whole day to make batches and batches of our melomakarona. This was usually done 3-5 days before Christmas so we could get them to everyone and then have some left for Christmas dinner.
However, she waited to dip them in the syrup until the day before she was going to serve them, or give them as gifts. They are a sturdy harder cookie but after dipping soften, so it's best to eat them within a few days of dipping them.
My mom always left them out on the counter after they were done, because they are best at room temperature. But after Christmas, we stored them in the fridge in an airtight container. The texture stays amazing!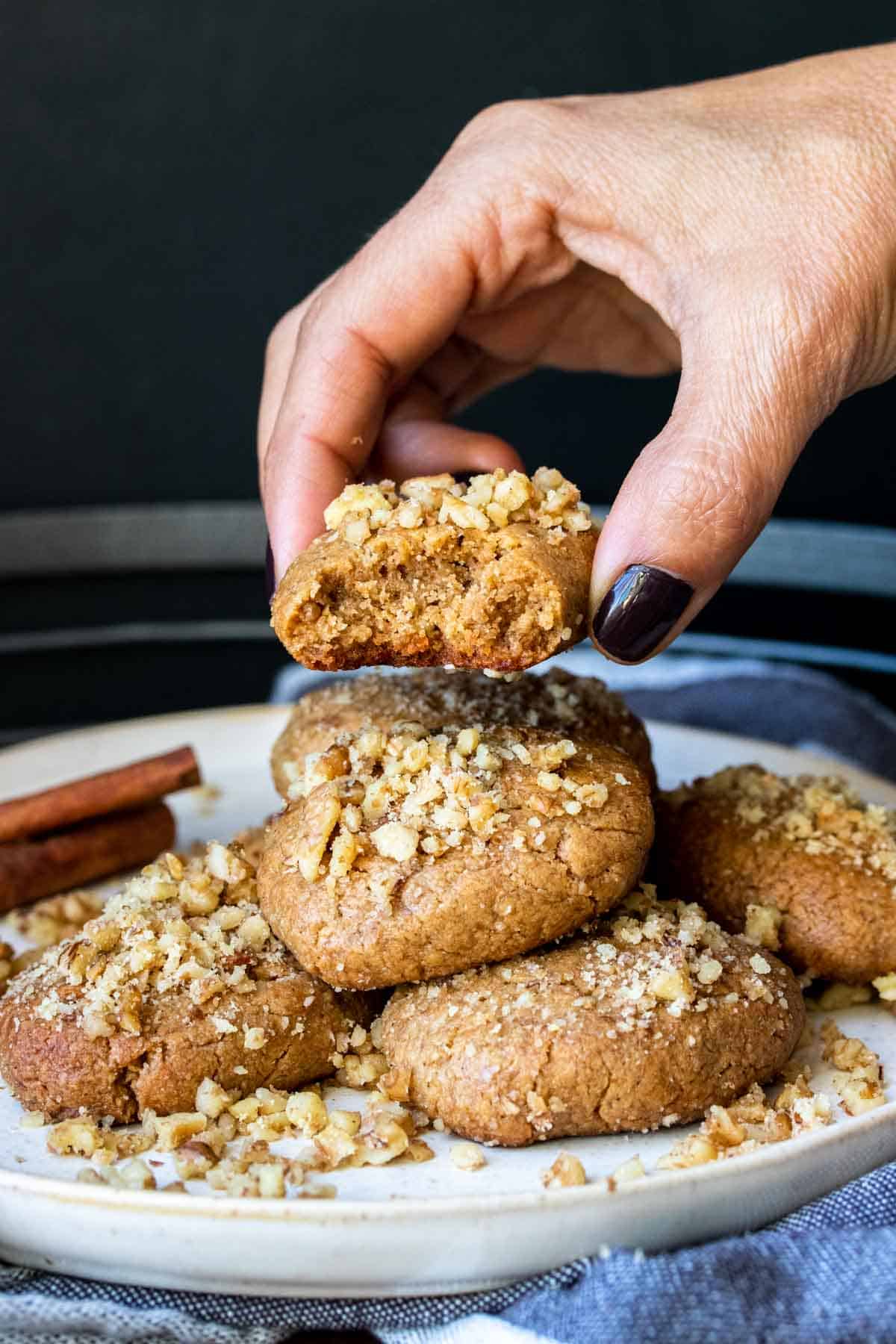 Can I freeze melomakarona?
While like any cookie, fresh is best, however if you decide you want to make these cookies further in advance, you could do that. There are a few options so that they still turn out delicious.
Bake the cookie, but do not dip them in the syrup. Once completely cooled, wrap in plastic wrap, then foil, then put into a ziploc freezer bag or airtight container and freeze. Once ready to eat, take them out of the wrapping and place them in a single layer on the counter so that they come to room temperature. Then dip into the syrup once defrosted.
Make the dough, but don't bake. Wrap the dough in plastic, then put in an airtight container. Store in the freezer until ready to use. Once ready, defrost on the counter to room temp. Make as directed in the recipe.
Giving melomakarona as gifts
In Greek culture, making melomakarona to give others is a Christmas tradition. While other families decorated sugar cookies, we made and packaged little plates of melomakarona for all of our friends and family.
Everyone loved our cookies and looked forward to them every year. So we liked to make sure they looked pretty! Here is our strategy:
Find cute festive holiday plates.
Use cellophane or plastic wrap that is holiday themed, whether it is just a plain red or green or has a fun holiday print on it.
Put two pieces of the wrap under the plate in a criss cross fashion, then bring both overhead and tied it with a holiday ribbon.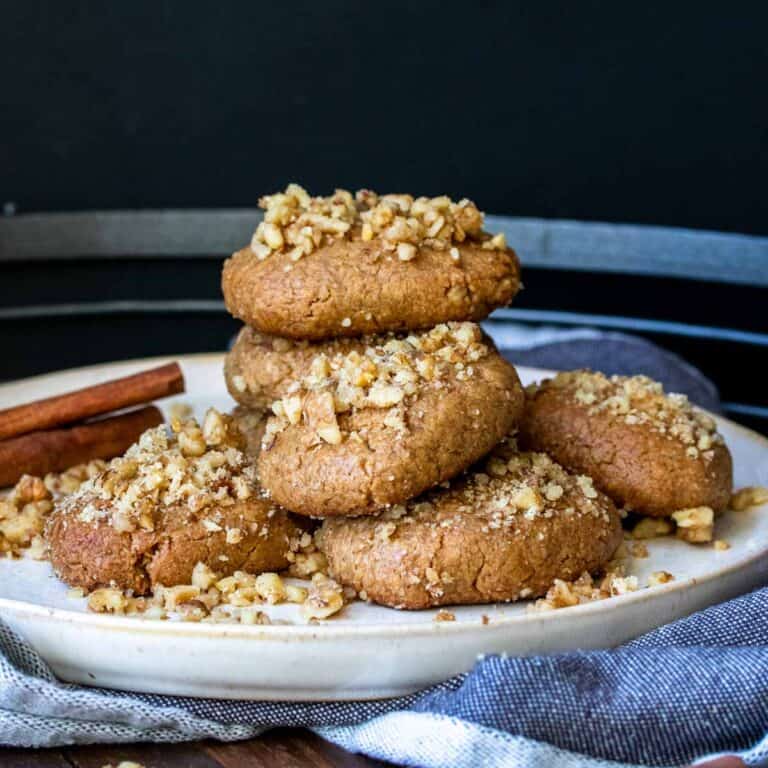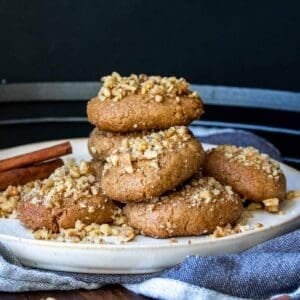 Melomakarona Recipe (Greek Christmas Cookies)
A melomakarona recipe perfect for the holiday season. You'd never know these Greek Christmas cookies are gluten-free and vegan!
Instructions
Preheat oven to 350 F/ 175 C

Combine oat flour, sugar, walnuts, baking powder, cinnamon and all spice in a bowl and whisk to mix.

Add in the cashew butter, orange juice and brandy. Using a fork mash the mixture together until it becomes dough like. Use your hands to mix it well and form a ball of dough.

Form into oblong patties about 2-3 inches long and ½ inch thick. Press each cookie on the back of a cheese grater to make a pattern on top. This isn't necessary but traditional.

Place on a baking sheet and bake for 20-25 minutes until golden at the edges. Mine took 23 minutes.

Once cookies are completely cool (the next day is best), prepare the syrup. Combine all ingredients in a saucepan and bring to a boil. Lower heat to simmer. Remove cinnamon stick and lemon if desired (can get in the way while dipping the cookies).

Begin dipping the cookies, use a serrated spoon to dip each cookie into the syrup. Be careful to only dip for a few seconds so the cookies don't fall apart, but making sure to completely cover the cookie.

Place them on a platter and sprinkle with chopped walnuts over them as you go.
Notes
Can use coconut sugar if you want but the flavor will change slightly.
I used store bought cashew butter made only with roasted cashews. You can try raw or making your own too. If the cashew butter you use has any other ingredients then the texture may change slightly.
You may need to add more flour if your dough is too sticky. This can happen if the cashew butter is overly runny. Start at the lower range and add a tablespoon at a time until your dough doesn't stick to your hands a lot.
Recipe by Veggies Don't Bite, visit our site for more great plant-based recipes.
Nutrition
Calories: 180kcalCarbohydrates: 23gProtein: 4gFat: 9gSaturated Fat: 1gSodium: 5mgPotassium: 171mgFiber: 1gSugar: 12gVitamin A: 12IUVitamin C: 5mgCalcium: 35mgIron: 1mg
Nutrition and metric information should be considered an estimate.
Never miss a recipe!
Sign up here and get a FREE quick and easy meal guide!