These vegan and gluten free zucchini fritters not only give you a dinner idea, they keep you fed for days. One recipe, many ways to serve it!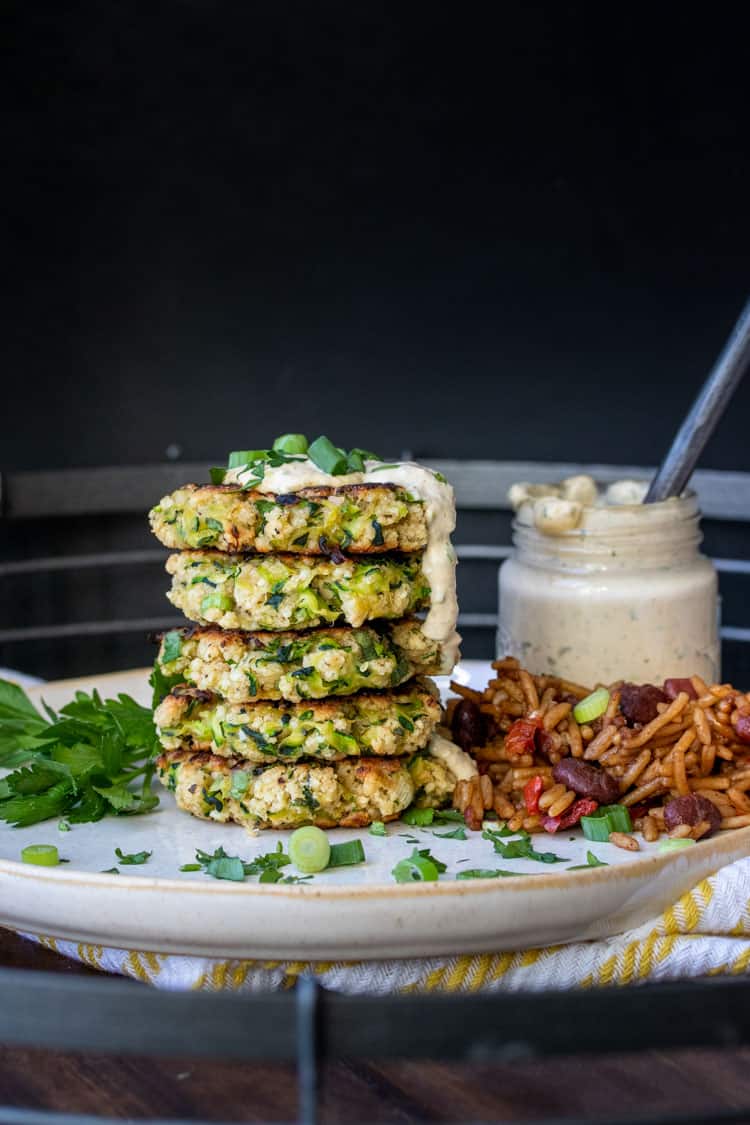 This is a sponsored conversation written by me on behalf of Knorr®. The opinions and text are all mine.
I love me a good leftover meal, but I like to keep things exciting. Which is why I created this recipe, paired it with some Knorr® Cajun Sides Red Beans & Rice, and showed you how to stretch out your time and dollar with multiple exciting dinners!
Zucchini Fritters with Cajun Red Beans and Rice
I love zucchini. Mostly because it goes with so many things! It has a mild flavor and while it's a wholesome star, it's also perfect taking a back seat and letting the sides steal the flavor show. Which is why these zucchini fritters are a perfect addition to your meal.
What goes with zucchini fritters?
You really can do ALL the things with these bad boys. My first favorite trick is using a quick and easy ready to go side, the Knorr® Cajun Sides Red Beans & Rice pairs perfectly with these!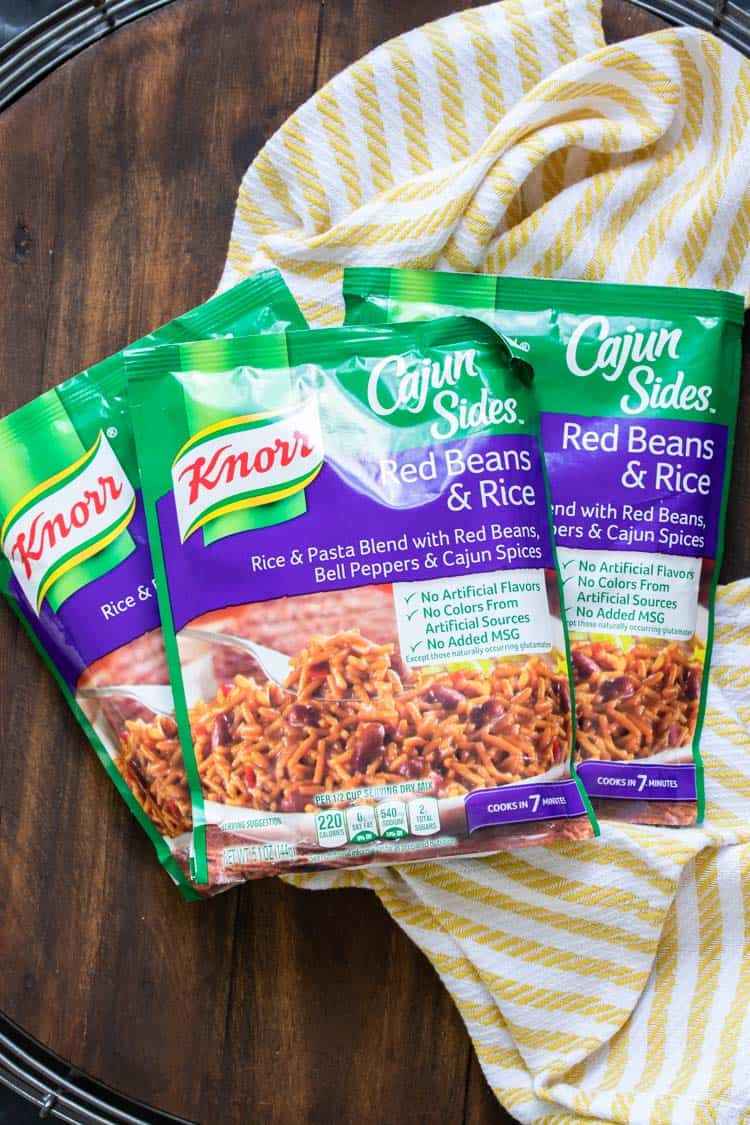 It's done in less than 10 minutes, and the flavor is delicious! I even caught my husband eating it out of the bowl when I wasn't looking. Just like all their sides, Knorr® boasts:
No artificial flavors
No colors from artificial sources
No added msg
You can find it just about anywhere and it's affordable (see here where you can find it near you)
If you're in a must save for the holidays kinda situation, this is perfect because you can make this whole meal for $2.50 a serving. Plus because you can double up and make this in so many ways, you save time and money by buying in bulk!
If you really want to bump these up a notch serve them with this vegan remoulade! Or any other sauce you love. Sauce makes a meal even better!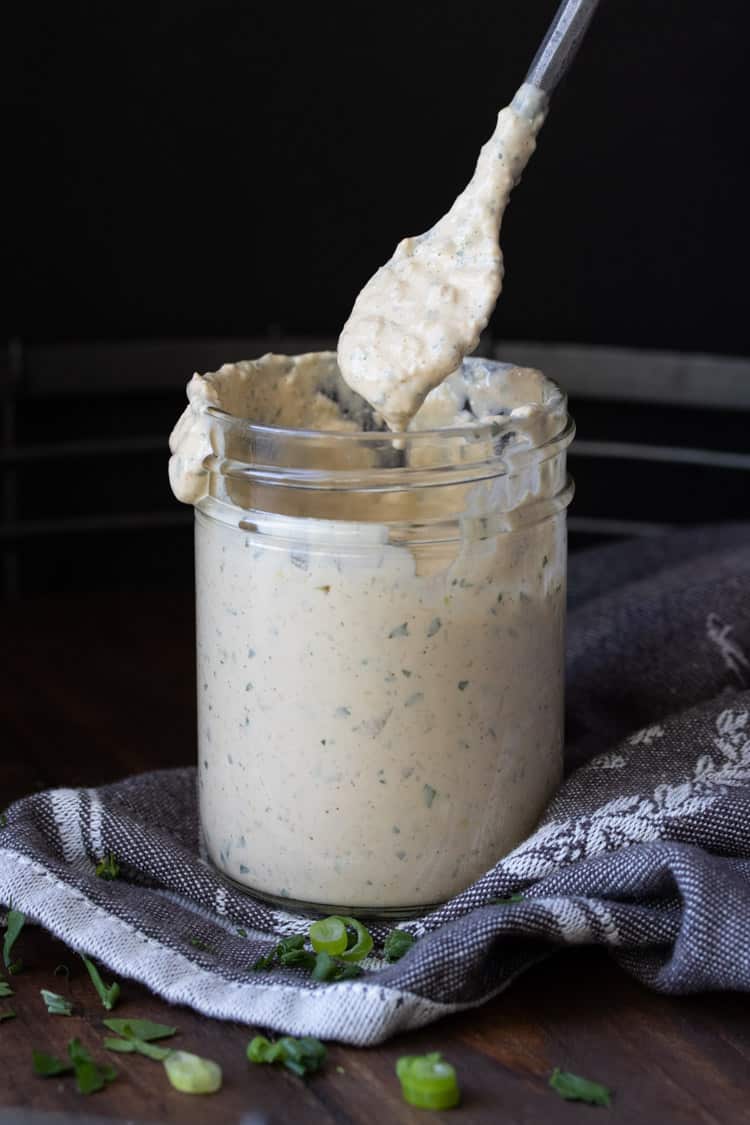 Ways to switch up a zucchini fritter meal
There are loads of ways you can serve this meal so you don't get bored! First, you can double up this recipe and save it for another day or freeze for another time. Here are some of our favorite ways to serve it:
Have a "make your own Cajun bowl" night- We love make your own bowl nights. Not only do they let everyone create a dinner they will eat and not whine about, but they are so easy and a perfect way to stretch out leftovers. With the Knorr® Cajun Sides Red Beans & Rice as a base, you can top it off with the fritters as patties or balls.
You can even make the fritters as tots for the little ones- Instead of making patties or balls, shape the fritters into to like pieces. See this veggie tot recipe for guidance in shape. Then give them the sauce as a dip and serve the rice and beans on the side. Little ones can use their hands to shove all that great food into their mouth! PS- sorry for the mess that's about to happen.
Wrap it all up for an on the go lunch- Another great way to stretch leftovers is to throw it all in a wrap. You really can make anything a taco or burrito! Put in some zucchini fritters, layer on some of the Cajun Sides Red Beans & Rice, drizzle a little sauce and boom. Perfect to-go lunch!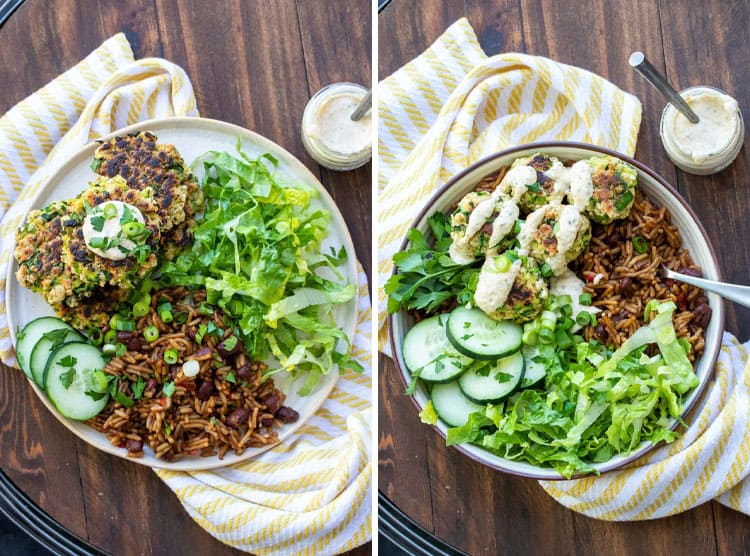 How do you keep fritters crispy?
Traditionally zucchini fritters are made with eggs, maybe some dairy, and flour or breadcrumbs. But it's easy to tweak them to fit whatever diet need you have.
Since I am somewhat of a patty expert (I do have an entire vegan cookbook full of burgers), and I can promise you that you don't need eggs, dairy or gluten to keep these babies together or to keep them from getting soggy.
The secret is in the ratio of wet to dry ingredients. You need some kind of binder to keep them together, but it does not need to be eggs. My secret here is simply the combo of almond flour, gluten-free breadcrumbs, a touch of sauce and perfectly moist zucchini.
You can easily use regular flour and breadcrumbs if you don't need to cut out the gluten! You need enough to bind, but not too much. Making sure to squeeze the water out of the zucchini is the key. Zucchini has a lot of moisture, especially when cooked.
It's also important to have some fat in the recipe so that it crisps up better. That is why I use the nut-based sauce (but any yogurt or sour cream will work too) along with some almond flour.
How do you drain shredded zucchini?
I like to release the water in two ways:
I salt the shredded zucchini and allow the water to be drawn to the surface.
I squeeze the zucchini in a paper towel to soak up all the extra liquid.
Can you freeze zucchini fritters?
Yes! Make sure that you freeze them after they cool down. Wrap them in parchment and foil, then store in an airtight container.
How to Make Zucchini Fritters
This meal is easy to put together! Here are the simple steps:
Get the liquid out of the shredded zucchini.
Make the fritter mixture.
Shape into patties or balls.
Make the rice.
Put it all together!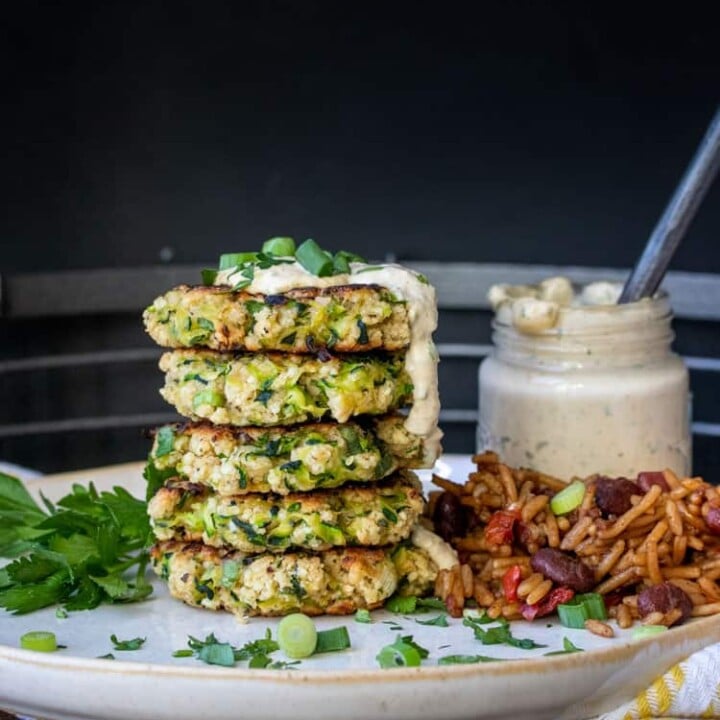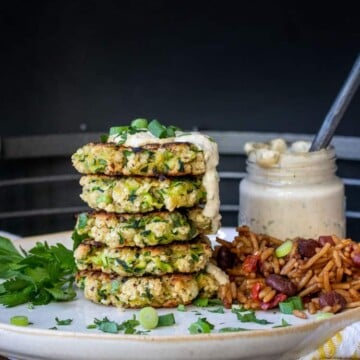 Vegan Gluten-Free Zucchini Fritters Recipe
These vegan and gluten free zucchini fritters not only give you a dinner idea, they keep you fed for days. One recipe, many ways to serve it!
Ingredients
3 cups grated zucchini , about 3 medium zucchini or 1 pound
½ cup breadcrumbs , gluten free if needed
¼ cup almond flour , or regular flour if you don't need gluten free
¼ cup chopped green onions
2-3 tablespoons vegan remoulade , sour cream or plain yogurt (see note)
¾ teaspoon sea salt , may vary depending on sauce used
½ teaspoon ground black pepper
¾ teaspoon garlic powder
Instructions
Mix ¼ teaspoon salt with the grated zucchini. Allow it to sit for a few minutes while you assemble the other ingredients.

Squeeze out the liquid from the grated zucchini. I like to put it in a paper towel and squeeze.

Mix all ingredients in a bowl (along with the remainder of salt).

Shape into patties (or you could do balls or tot shapes).

Cook in a pan over medium heat for 7-9 minutes on each side. You could also try baking at 400 F/ 205 C for about 10-12 minutes on each side.

Serve with sides of choice! See post for serving ideas.
Notes
If you use a sour cream or plain yogurt you may need more salt since the remoulade has salt.
Start with 2 tablespoons sauce/cream/yogurt and mix well. If it seems too dry after a few minutes then add more. The amount depends on how much liquid you were able to get out of the zucchini.
You can also cook your own rice and beans, but this ready mix made this dinner super fast.
This recipe makes 8 fritters, serving size is 2 fritters. Nutrition info will vary depending on the sides chosen.
Recipe by Veggies Don't Bite, visit our site for more great plant-based recipes.
Nutrition
Calories: 125kcalCarbohydrates: 15gProtein: 5gFat: 6gSaturated Fat: 1gSodium: 435mgPotassium: 292mgFiber: 3gSugar: 3gVitamin A: 248IUVitamin C: 18mgCalcium: 34mgIron: 1mg
Nutrition and metric information should be considered an estimate.
Never miss a recipe!
Sign up here and get a FREE quick and easy meal guide!