Get ready for a restaurant quality meal made at home! This General Tso's Tofu recipe is bursting with flavor, is easy to make and made healthy as can be with my no oil option!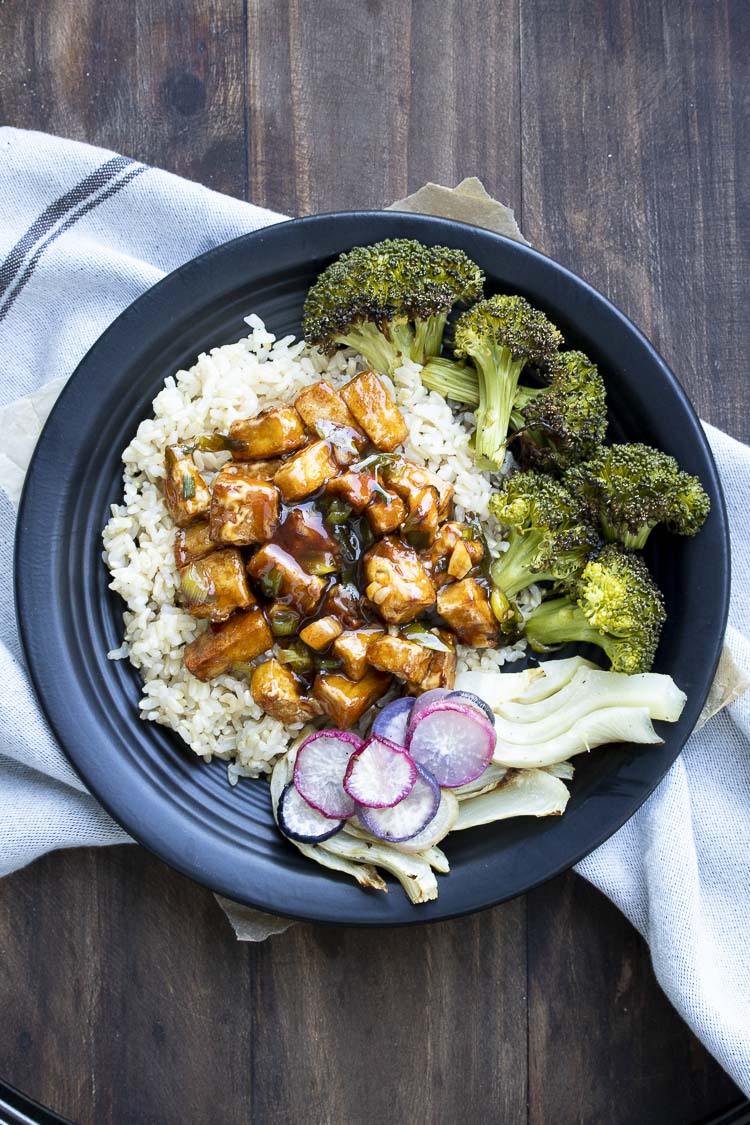 This is a cookbook review written by me on behalf of Chloe Coscarelli, for which I received a free copy of the book and a kit by Nasoya. All the opinions and text are all mine.
Going out to Chinese food was always one of my favorite indulgences, but as I got healthier, my stomach couldn't take the fried food and loads of salt frequently found in these restaurants. In comes Chloe Flavor, the new cookbook by vegan celebrity chef Chloe Coscarelli. Now we can all make this delicious, indulgent, but secretly healthy dinner right in our own kitchen! And I also snuck in a NO OIL option for an even healthier punch.
Chloe Flavor Cookbook: the ins and outs
Can we just start with how cute this book looks on my cookbook shelf? The spine is the perfect yellow, and has a photo of pink, yellow and white donuts. Swoon. That is the first clue that this book is going to be gorgeous. I love the mouthwatering colorful photos and all the action shots. It makes me want to jump in and eat with her!
What really drew me in though was the fun titles she uses for the sections. You must have fun titles to really grab my attention. A few of my most favorites are:
but first, breakfast & brunch
oh, the pastabilities
fork it, bowls & plate it dishes
sweet yo' self
And the tagline for the book is: saucy, crispy, spicy, vegan. It's like this book is talking to me. I need Chloe to be my friend.
My next favorite thing about this book, she has ONE section on vegan kitchen staples…and that is it. On to the recipes. THANK YOU. I need my cookbooks to be just that, filled with recipes. I appreciate the tips and tricks, as long as they are short and sweet, but I need those yummy recipes!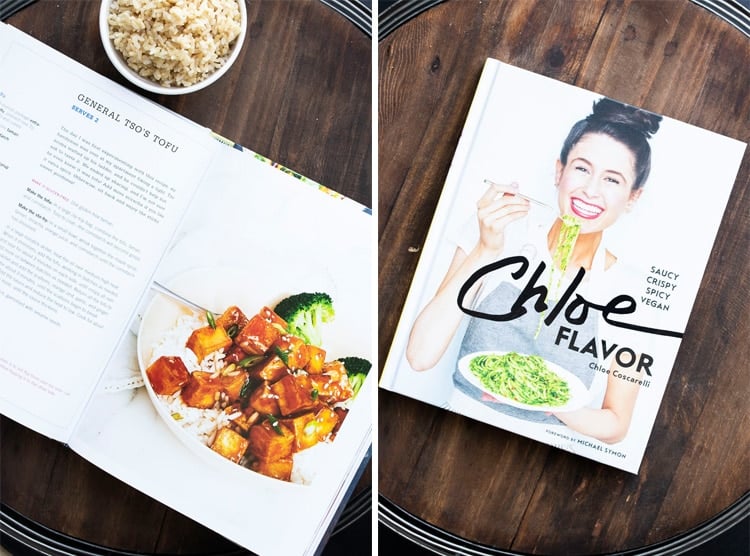 On to this General Tso's Tofu I speak of
Chloe partnered with Nasoya to help launch this cookbook so I also got a fun tofu kit along with the book. Part of the kit was a tofu press. If you are like me and don't think you need a tofu press….you are wrong. Straight up truth, plain and simple. I was blow away by how cool a tofu press is! I know, I'm late to the show, but it is my new favorite tool!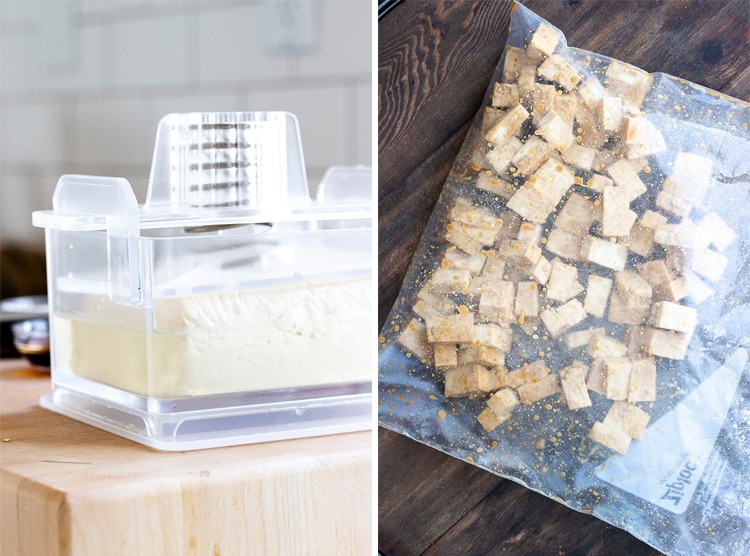 I used the press while prepping the rest of the recipe, and even in that short time, my tofu came out so much more flavorful! Apparently pressing your tofu to get out the water allows the marinade to absorb better which leads to better tasting tofu. Hmph. Who knew? Well, now I do and I am addicted.
This recipe is awesome. Really easy to make, and super versatile! The sauce is simple but full of flavor, and leftovers can be used with so many things! I altered things a bit in order to satisfy my no-oil crew, and I added a bunch of my current favorite veggies into the mix, because extra veggies are awesome.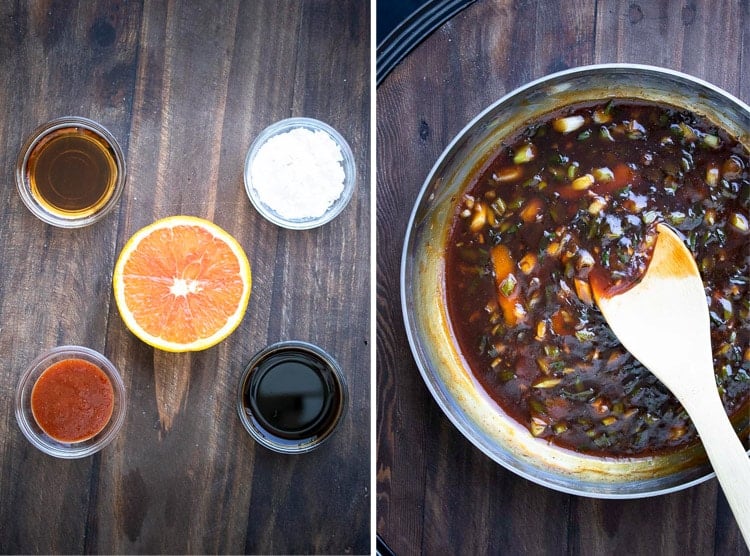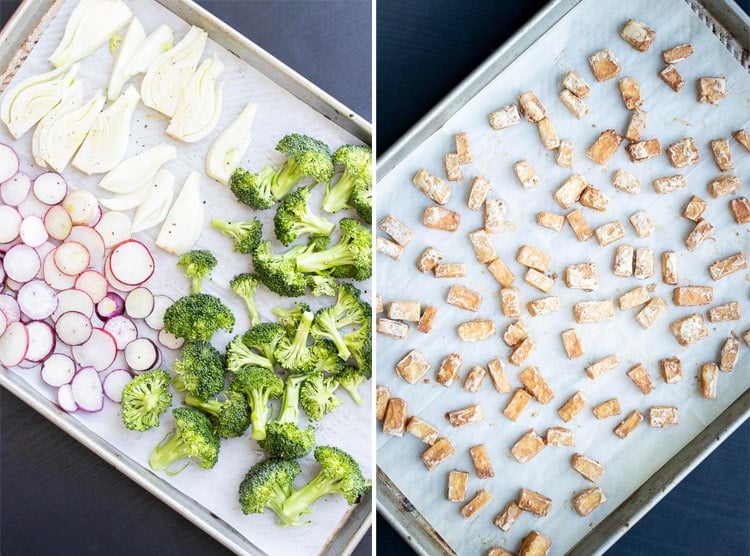 I followed the recipe as written, but instead of frying the tofu I baked it similar to my recipe for crispy baked tofu. It turned out like complete perfection! I then added it to the sauce once it was all thickened in the pan. The crispiness maintained perfectly and my kids literally devoured it. This is the perfect low-fat meal that is all encompassing: protein, veggies and exploding with flavor!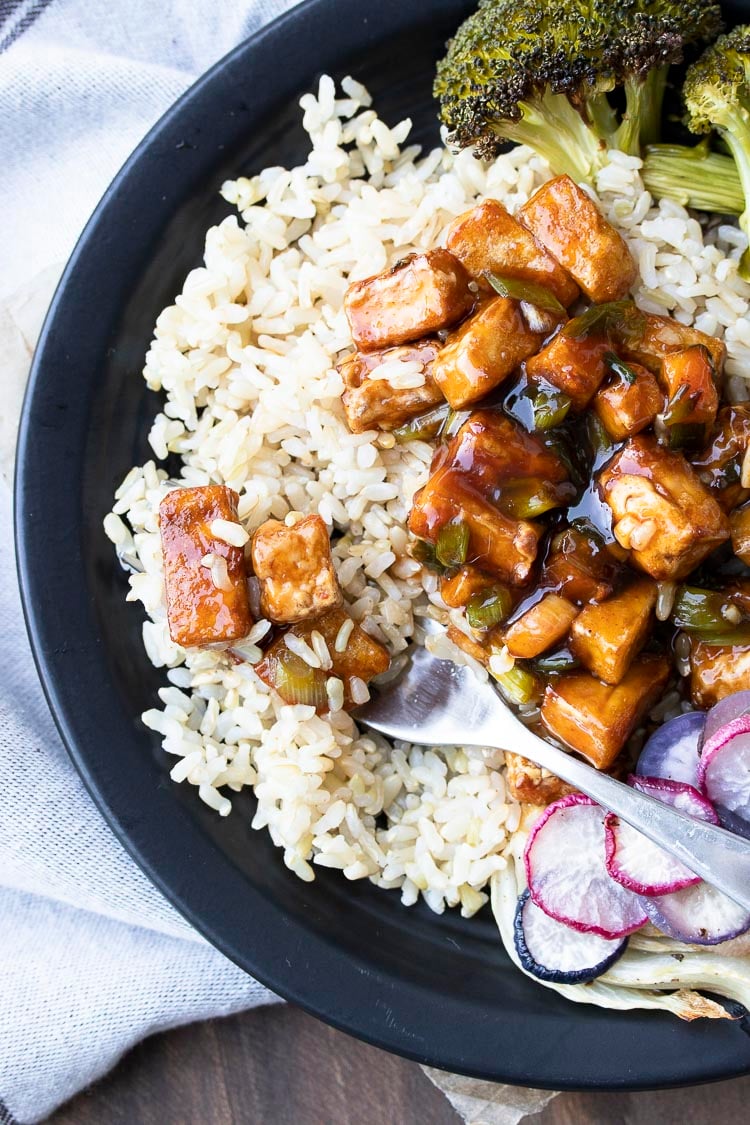 If you're looking for a delicious soy free Chinese take out gone healthy, try my Chinese Style Vegan Orange Cauliflower recipe!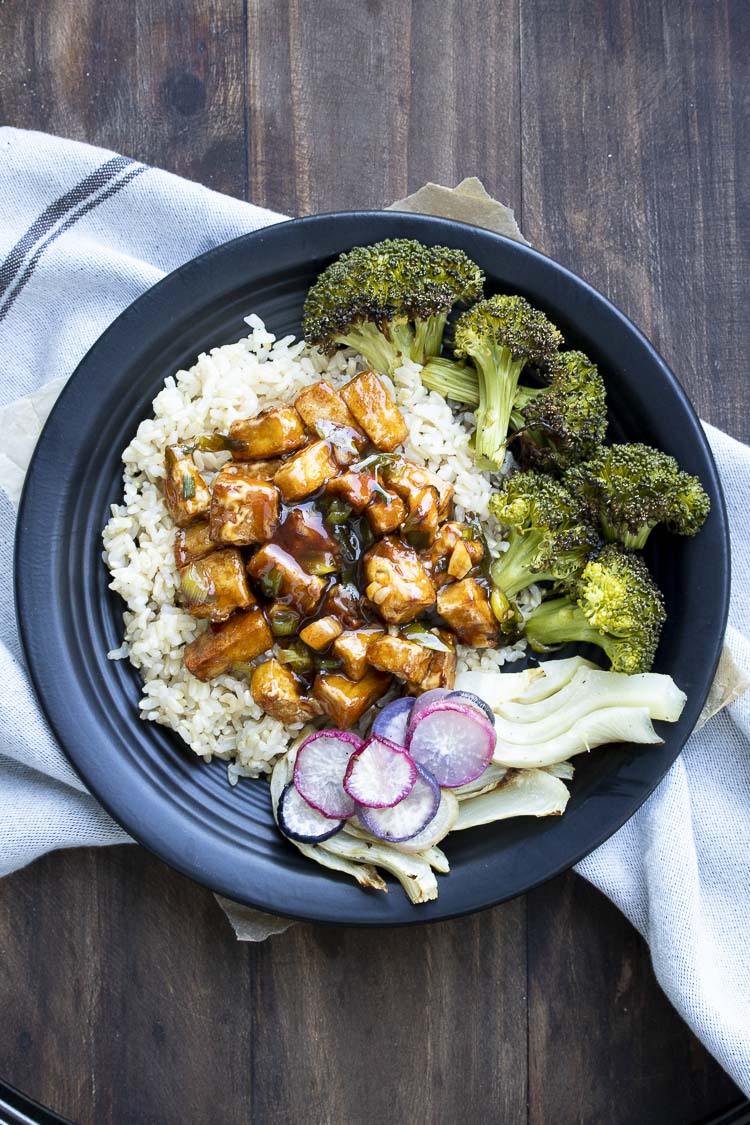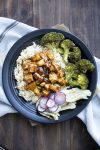 General Tso's Tofu
Shared with permission from the amazing new cookbook Chloe Flavor by Chloe Coscarelli.

The day I was first experimenting with this recipe, my handyman was over at my apartment fixing a light. The aroma wafted up his ladder, and he couldn't help but ask to taste it. We ended up sharing, and I'm not sure he even knew it was tofu! Add more sriracha if you like it extra spicy. Otherwise, sit back and enjoy the sticky sweet goodness!
Keyword:
chinese tofu recipe, vegan general tso
Ingredients
Tofu:
16

ounces

extra-firm tofu

, pressed and cubed (I used Nasoya brand)

2

tablespoons

tamari

, low sodium if needed

¼

cup

cornstarch
Stir-Fry:
¼

cup

pure maple syrup

2

tablespoons

tamari

, low sodium if needed

1

tablespoon

sriracha

Juice of 1 orange

1

tablespoon

cornstarch

2

tablespoons

vegetable oil

, plus more as needed (see note)

4

scallions

, cut into ¾-inch pieces

2

large strips

orange zest

, removed with a vegetable peeler

2

cloves

garlic

, minced

2

teaspoons

fresh ginger

, minced

Steamed rice

, for serving (see note)

Broccoli

, for serving (see note)

Sesame seeds

, for garnish
Instructions
Make the tofu:
In a large zip-top bag, combine the tofu, tamari, and cornstarch. Toss to coat—the cornstarch will become goopy
Make the stir-fry:
In a small bowl, whisk together the maple syrup, tamari, sriracha, orange juice, and cornstarch until the cornstarch has dissolved


In a large nonstick skillet, heat the oil over medium-high heat

When it shimmers, add the tofu, working in batches as needed, and sear for about 3 minutes on each side, until crispy all over

Return all the tofu to the skillet and add the scallions, orange zest, garlic, and ginger. Cook for about 3 minutes, until the scallions begin to break down

Add the sauce and reduce the heat to low. Cook for about 5 minutes more, until the sauce thickens

Serve over rice, garnished with sesame seeds
For oil-free option:
Make the tofu in a zip-top bag as stated. Then spread it out on a parchment lined cookie sheet. Bake at 450 F (230 C) for 25 minutes or until crispy. Then skip to the 4th direction under making the stir fry and cook the scallions, orange zest, garlic, and ginger as stated but on their own. Add the sauce, and then once it is thickened add the baked crispy tofu and mix.

I also baked my veggies (see notes) at the same time as the tofu. Bake on a separate parchment lined cookie sheet. You can continue to roast the veggies once the tofu is done if needed.
Recipe Notes
Tip CRISPY TOFU: The key to having crispy tofu cubes is to not flip them over too soon. Let each piece get nicely browned before flipping it to the other side
My alterations:
Follow the additional instructions on how to make this oil-free, I did not use the oil mentioned in the ingredients.
I added 4 cups of veggies (I roasted 2 cups broccoli, 1 cup fennel and 1 cup radishes at the same time I baked the tofu when making the oil-free version). This made my recipe come out at 4 servings instead of 2 (as is in the original recipe). 
I also added 2 cups of brown rice for serving.
I did not use all the sauce, save extra for future use.
Nutritional info is done for my version of 4 servings (including the veggies and brown rice listed above). Double it if doing the 2 servings of the original recipe.
Nutrition Facts
General Tso's Tofu
Amount Per Serving
Calories 337
Calories from Fat 27
% Daily Value*
Fat 3g5%
Cholesterol 0mg0%
Sodium 668mg28%
Potassium 548mg16%
Carbohydrates 61g20%
Protein 14g28%
Vitamin A 490IU10%
Vitamin C 66.4mg80%
Calcium 117mg12%
Iron 2.5mg14%
* Percent Daily Values are based on a 2000 calorie diet.