These vegan Thai peanut noodles are easy to make and are full of flavor! Filled with protein, veggies and done in 15 minutes, the perfect weeknight meal!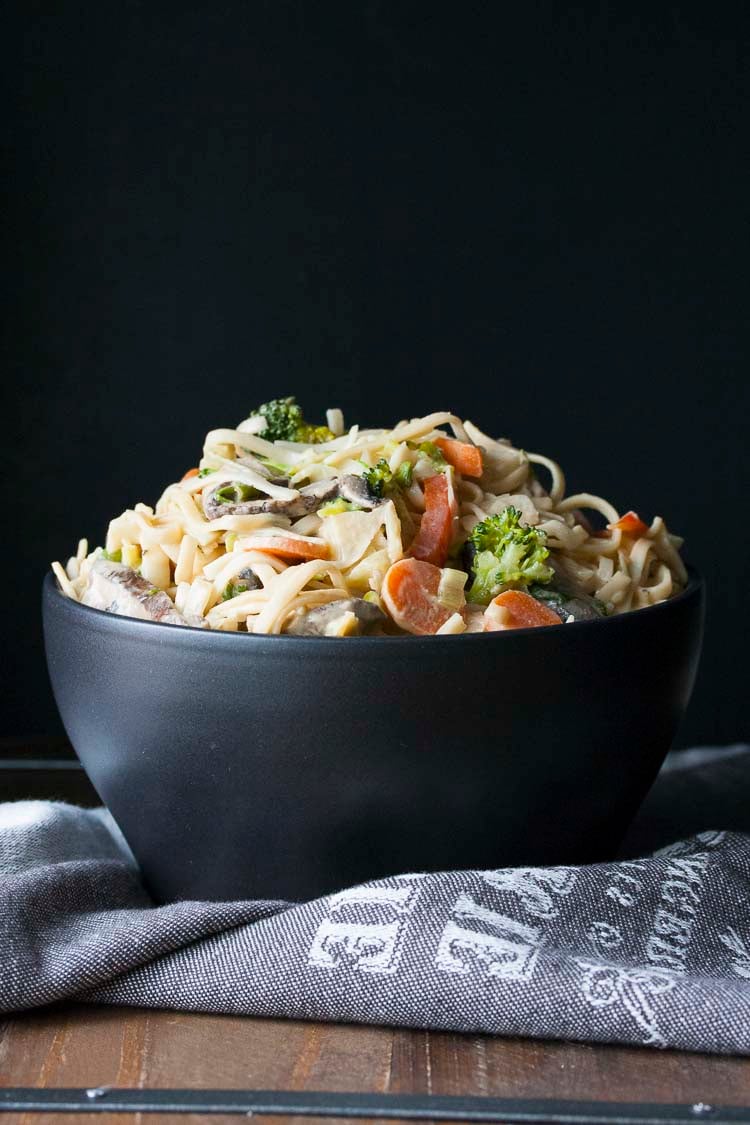 This post was originally published on
This is a cookbook review written by me on behalf of Sam Turnbull, for which I received a free copy of the book. All the opinions and text are all mine.
Quick weekday dinners can be the difference between failure and survival in my world. Much like the BBQ Chickpea Sliders we have been devouring lately, and my Grilled Burritos we can't get enough of, these 15 minute noodles mixed with veggies and smothered in peanut sauce are a quick fix to the hangry monster in all of us.
Vegan Thai Peanut Noodles
These vegan peanut noodles are literally a clean out your fridge veggies, mix some quick sauce in a bowl and toss with some noodles kind of meal. I'm talking to you "I don't cook" people.
You don't even need to cook the veggies unless you want to, and you can even buy already cooked noodles if you're really desperate. So technically speaking, it's a no cook meal if you make it that way!
This amazing quick and easy creation is from the Fuss Free Vegan Cookbook by Sam Turnbull. And I get to review it for you! Really, I'm just giving you the important deets, this awesome recipe and a link so you can go get one for yourself!
Sam is the peppy fun blogger from the site It Doesn't Taste Like Chicken. If you haven't heard of it, go check that baby out.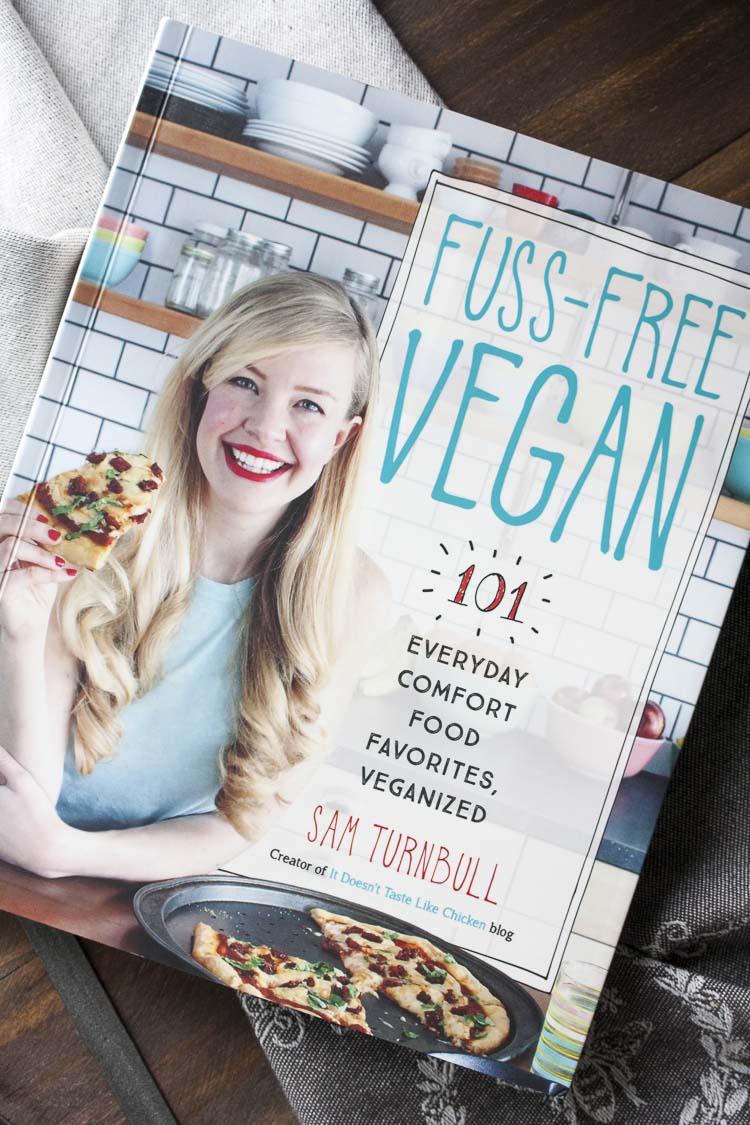 Some key things to know about Fuss Free Vegan:
101 recipes, including breakfast, snacks, soups, salads, desserts and more!
How to stock your vegan pantry and fridge
How to eat vegan on a budget
Meal planning suggestions
Tips on how to make meals easier
Tips on how to kick things up a notch
Amazing photos for every recipe that make you want to lick the page (I don't suggest you do it though)
Sam created this book for easy to make comfort food meals without weird ingredients. Staples like pancakes, pizza, pasta, cookies and others fill this fun and cheery book. This is the book she wishes she had when she started eating vegan!
I love her fun chapter titles, like Morning Munchies and Let's Get the Party Started. No snooze fest when you're reading this cookbook!
What noodles do you use for peanut noodles?
You can use any noodles you like! I love using pad thai noodles or other types of brown rice noodles because of the texture and mild flavor. But any long fettuccini or spaghetti like noodles will work!
How do you cook Thai noodles?
It depends on the kind of noodle you use, but you cook them much like regular pasta.
Boil water.
Add in the noodles.
Cook for about 5 minutes. You want them cooked but still firm so they don't fall apart when mixing with the sauce and veggies.
Are there eggs in rice noodles?
In general, rice noodles are only made with rice flour and water. You should always double check the ingredients in the package you buy but all of the rice noodles I have seen do not contain eggs.
What kind of peanut butter do I use?
In this recipe it calls for any peanut butter you choose, smooth or chunky. I think either one works great, depending on the texture you are looking for!
It's probably best to use a natural peanut butter with minimal ingredients. You especially want to stay away from peanut butter with added sugars because it will change the flavor of this recipe.
How to prep ahead
This is a great recipe to prep ahead! I often like to slice and chop fresh veggies and put them in containers to use throughout the week. This would be a perfect recipe for that. Simply take the prepared veggies and dump them in the pot!
You can also make the sauce ahead of time so it's ready to go.
How to Make Vegan Thai Peanut Noodles
15 minutes is all it takes to have these on the table! I love a fast meal, but when it tastes amazing and is full of veggies it's an extra score!
Make the sauce.
Mix it with the cooked noodles and veggies.
Serve!
Ideas for what to mix in
This recipe can literally include almost anything you have in the fridge! It's a fabulous clean out the fridge meal. Here are some of the things we have tried:
Broccoli
Mushrooms
Cabbage
Bok choy
Peppers
Onions
Carrots
Zucchini
Snap peas
Cauliflower
Ideas for adding more protein
While you are getting a good dose of protein with the peanut butter in this recipe, here are some other ways you can add some extra:
Other Asian recipes to serve with these thai peanut noodles
You can also serve it with other Asian recipes for an entire take out like experience, here are some of my favorites: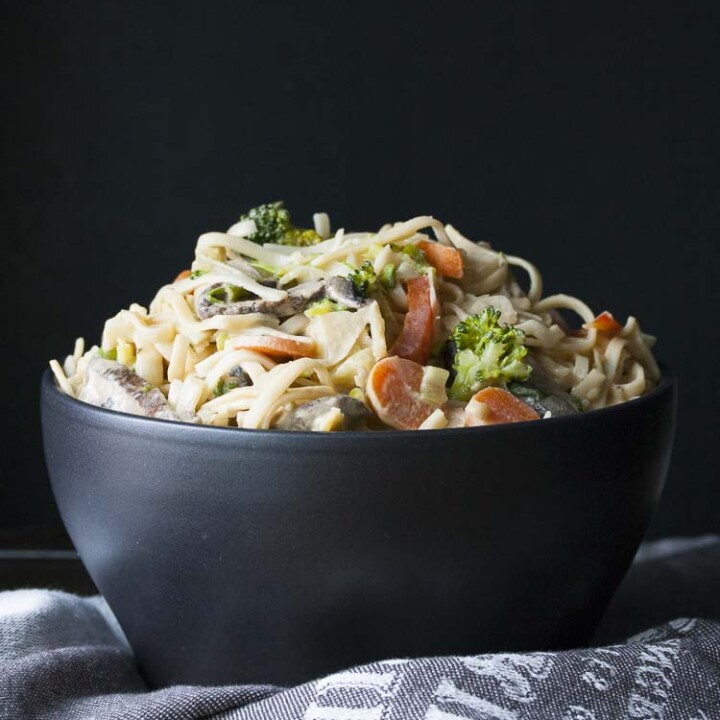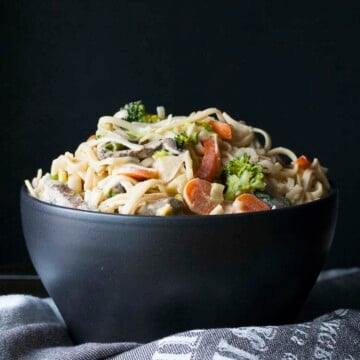 Vegan Thai Peanut Noodles
These vegan Thai peanut noodles are easy to make and are full of flavor! Filled with protein, veggies and done in 15 minutes, the perfect weeknight meal!
Ingredients
For the peanut sauce:
½ cup natural peanut butter , smooth or crunchy
½ cup water
3 tablespoon soy sauce , gluten-free if preferred
2 cloves garlic , minced
2 tablespoon fresh lime juice (1 lime)
1 Tbsp agave or maple syrup
1- inch piece fresh ginger , peeled and minced
2 teaspoon your favorite hot sauce (optional)
1 teaspoon sesame oil (omit for oil-free)
For the noodles:
6 oz vegan chow mein noodles or rice noodles
1 red bell pepper , chopped
1 medium carrot , peeled and cut into matchsticks
2 green onions , chopped
¼ cup peanuts , roughly chopped (salted, roasted, raw, whatever you like!)
Handful cilantro , roughly chopped
Instructions
For the peanut sauce, in a small bowl, mix together all of the sauce ingredients. Set aside.

Cook the noodles according to the package directions. Drain them and return them to the saucepan. Add the peanut sauce, bell pepper, and carrot. Toss well to combine.

Garnish with green onions, peanuts, and cilantro. Add more hot sauce if you like.
Notes
I love the fresh crunch of raw red bell pepper and carrot in this dish, but if you don't happen to have those in your fridge, you could also try chopped cucumber, thinly sliced cabbage, cooked edamame, snow peas, basil leaves, or cubed tofu.
This dish is super versatile and a great fridge cleaner-outer.
Excerpted from Fuss Free Vegan: 101 Everyday Comfort Food Favorites, Veganized. Copyright © 2017. Samantha Turnbull. Published by Appetite by Random House®, a division of Penguin Random House, Canada Limited. Reproduced by arrangement with the Publisher. All rights reserved.
Recipe by Veggies Don't Bite, visit our site for more great plant-based recipes.
Nutrition
Calories: 429kcalCarbohydrates: 57gProtein: 14gFat: 17gSaturated Fat: 2gSodium: 1085mgPotassium: 464mgFiber: 4gSugar: 8gVitamin A: 3540IUVitamin C: 44.5mgCalcium: 49mgIron: 1.9mg
Nutrition and metric information should be considered an estimate.
Never miss a recipe!
Sign up here and get a FREE quick and easy meal guide!