This two in one recipe is so fresh, light and flavorful you'll be coming back to it over and over. Use this fresh citrus salsa and vegan citrus cream sauce in anything and everything! Perfect for roasted veggies, tacos, as a delicious appetizer dip, or even as a spread for veggie filled wraps.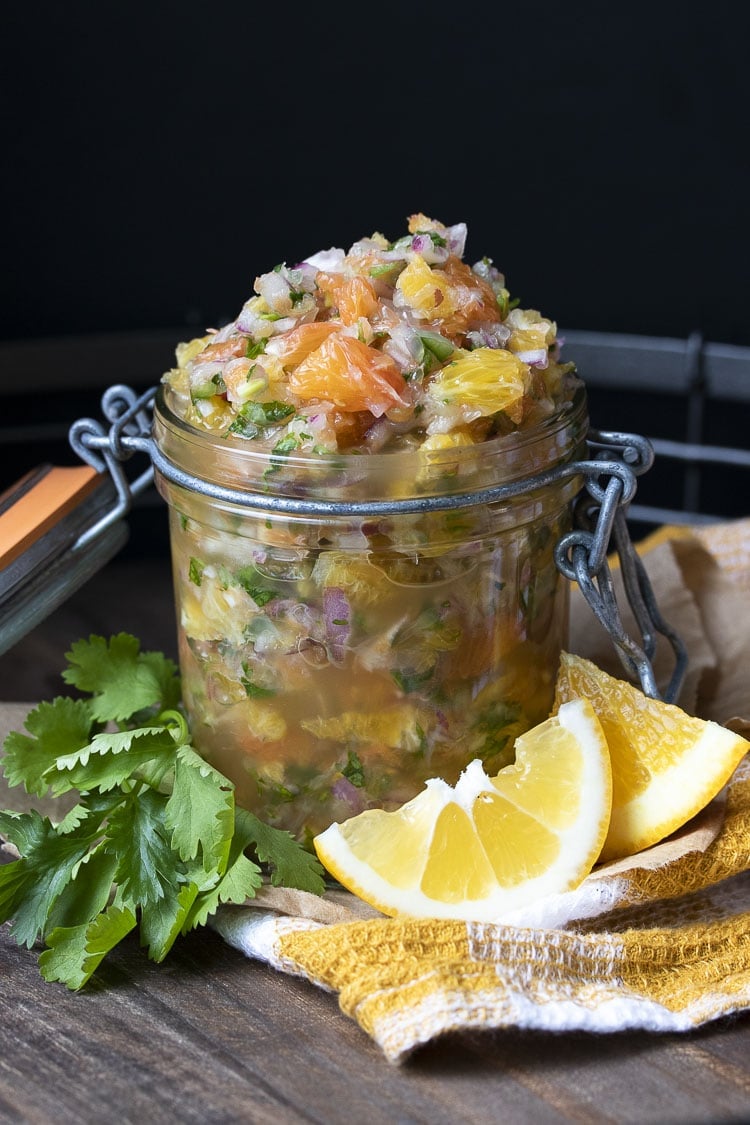 What started as a craving for something light and summery, ended up in two incredible recipes we can't get enough of. I love the combination of citrus with a touch of salt and spice to kick it up a notch. It's a refreshing change from the every day tomato based salsas, and the flavor is unreal! Plus, it is so versatile!

But how do you get two recipes from one?
I'm glad you asked. It went a little something like this: Came up with delicious citrus salsa. It was uber juicy so decided to strain it. The flavor was so good, I simply could not waste the juice. Threw it in a blender with some cashews and a touch more lemon and the rest is history! Vegan citrus cream sauce is insanely good.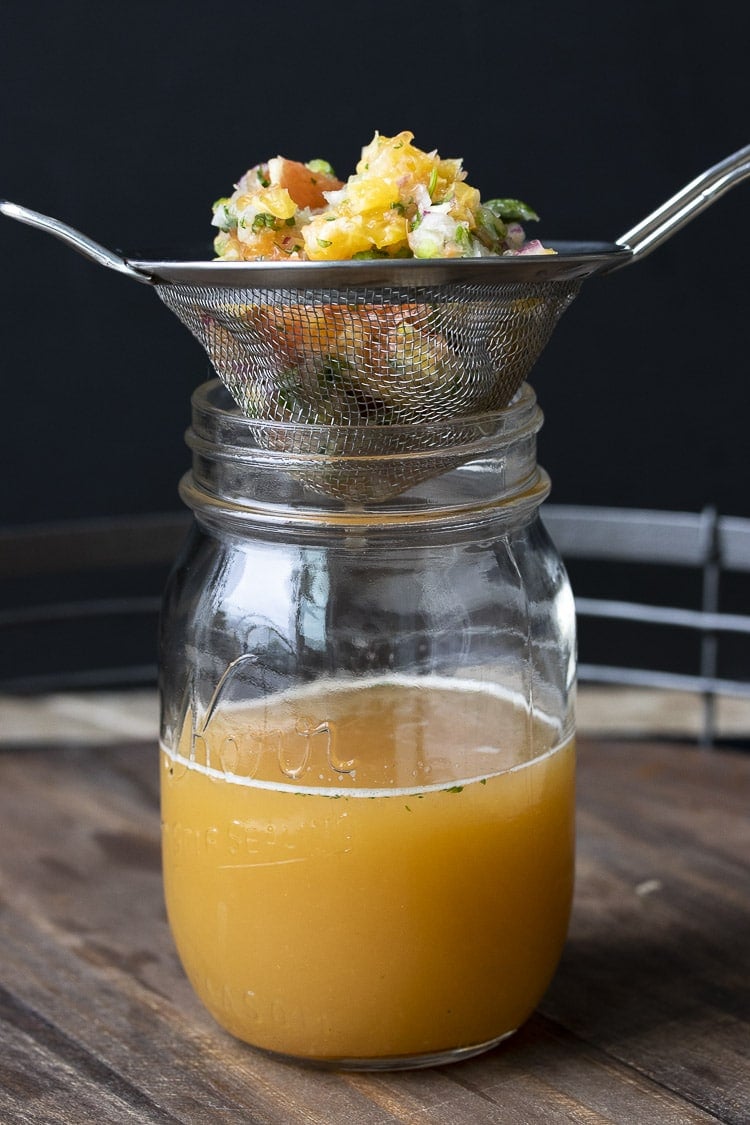 My kids love the combination of the sweet and salty flavor in both of these toppings. The fresh pepper gives it a touch of spice, but not enough to make it super spicy. You can always adjust to meet your spice needs (read, I almost triple it because I'm crazy like that).

Tips and tricks to making this citrus salsa and citrus cream sauce
This really is an easy recipe to throw together if you take the lazy way out, and most of the time that's my jam. But, I also put a little effort into figuring out how this could be jazzed up with all the bells and whistles. Here is my list of all the things. All the things to really pump this up!
Instead of simply chopping the oranges and grapefruit, you can take your time and get only fruit meat. Cut the fruit into fourths and invert each piece. Then peel the peel of of the fruit, and carefully remove each section of pulp from the skins. The oranges can be more delicate so if this is too cumbersome simply slice the peels off as much as you can, then chop.
When straining the salsa to get the juice, allow it to sit and move around with your fingers to drain as much juice as you can.
Put the fruit into the processor last. They puree easily and you want the cilantro, onion and pepper chopped before you stick the fruit in or you will get really pureed salsa. Citrus salsa is best a bit chunky.
If you don't have a high speed blender, the best way to get ultra smooth and creamy citrus cream sauce is using a coffee grinder to grind the cashews. You do this without soaking them, this works much better than soaking and really does give an ultra smooth result! Also make sure you clean the grinder, coffee flavor will not pair well with this, LOL

Oh the uses you can find!
This stuff is like the gift that keeps on giving. As much as I love my traditional tomato based salsa, we are so obsessed that we keep finding new ways to use it. If you find one not listed, I'd love to hear what you did in the comments below!
Chips and dip, and a little citrus drizzle
Tacos, because duh
Use the cream as a mayo like spread
Top a baked potato, try a baked sweet potato for a real flavor bomb
Swap regular tomato salsa for this citrus variety in a burrito
Veggie wrap, grilled veggies or raw
Summery light and flavorful nachos, we liked it best with black beans
Veggies and citrus cream dip
Quesadillas smothered in both
On top of enchiladas, not baked with it but once they are served
Spread the cream on grilled corn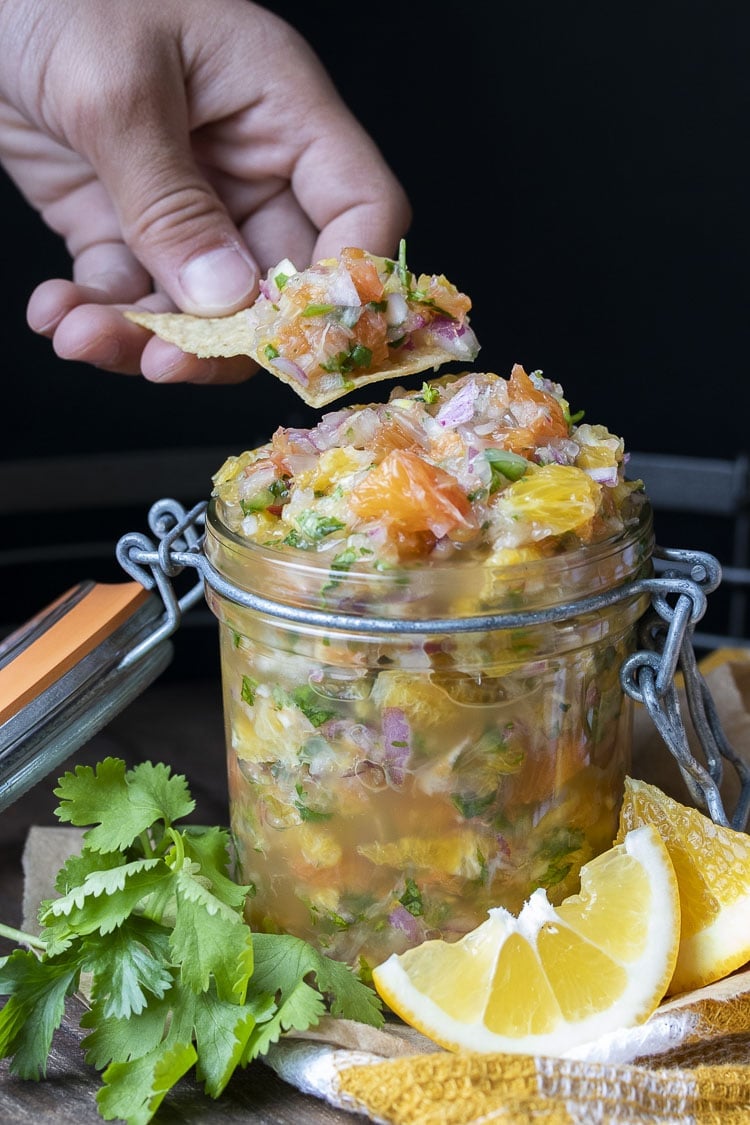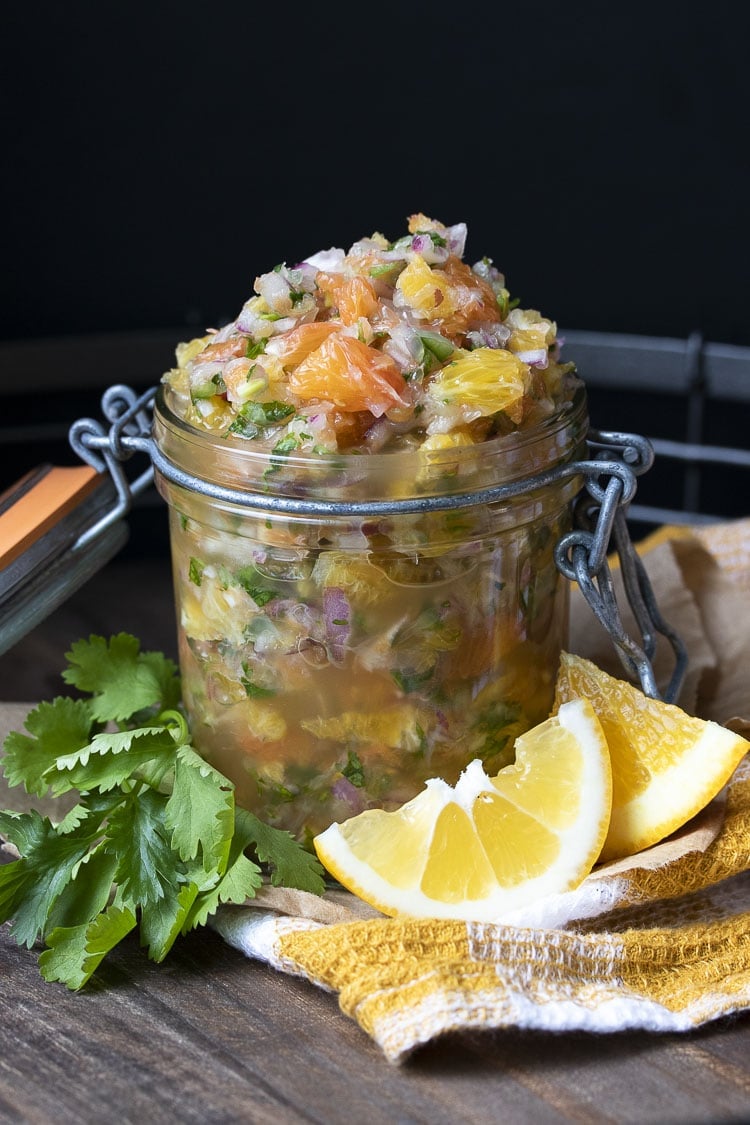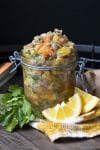 Fresh Citrus Salsa and Vegan Citrus Cream Sauce
This fresh citrus salsa and vegan citrus cream sauce is a two in one recipe that is so light and flavorful you'll be coming back to it over and over again!
Course:
Appetizer, Snack, Topping
Cuisine:
American, Mexican
Keyword:
Creamy citrus sauce, salsa with fruit
Ingredients
2

cups

oranges

, peeled and coarsely chopped (naval variety are best, about 3-4, see note)

1

cup

grapefruit

, peeled and coarsely chopped (about 1 grapefruit, see note)

½

cup

red onion

, coarsely chopped (about 1/4 of a medium onion)

¼

cup

cilantro

, packed in for measuring

1

tablespoon

Serrano pepper

, chopped and seeds removed (about 1/2 a pepper)

1

tablespoon

lemon juice

, Meyer lemon is best

2

teaspoons

apple cider vinegar

½

tablespoon

garlic

, roughly chopped (about 2-3 cloves)

1 ½

teaspoons

sea salt
Citrus Cream Sauce:
1

cup

juice from salsa

, see instructions

1 1/4

cups

cashews

(see note)

2

teaspoons

lemon juice

, Meyer lemon is best
Instructions
You can peel the skin off of the oranges and grapefruit or leave it on. I made it both ways and while it is nice to have all fruit meat, the skin didn't bother me much. The easiest way to remove the thin white skin from the grapefruit and oranges so that you only get the pulp is cut them into fourths and invert them, see photo in post. Peel the peel off of the fruit and then individually get each section out of the skin. For the oranges, it can be hard because they are more delicate so cut the peel and thick white sections off and simply chop that way. Or do this for both to make it easy.

Put onion, cilantro, pepper, lemon juice, apple cider vinegar, garlic, and salt in a food processor. Pulse until chopped.

Add cleaned grapefruit and oranges to the processor and pulse a few times. I like mine chunky.

Drain the salsa with sieve and save the juice. You should get 1 cup juice. If you don't your citrus wasn't ripe enough. If you get less juice, then when making the cream, simply adjust the amount of cashews and lemon juice for whatever amount of citrus juice you got from the salsa. For example, if you get ½ cup citrus juice, use ½ cup plus 2 tablespoons cashews and 1 teaspoon lemon juice.

To make cream, put all the ingredients in a blender and blend on high until smooth and creamy.

Use both toppings in tacos, as a dip, in wraps, over nachos or simple devour with a spoon!
Recipe Notes
This recipe makes 2 different toppings within one recipe, EACH one makes 1 1/2 cups to total 3 cups. The serving size is 1/4 cup of EACH, so 1/2 cup total. The nutrition info includes it all, both 1/4 cup salsa and 1/4 cup cream.
You can always not make the cream if you prefer not to.
If you are not using a high speed blender, you can grind the dry cashews into a fine powder using a coffee grinder (do not boil them for this method). 
Nutrition Facts
Fresh Citrus Salsa and Vegan Citrus Cream Sauce
Amount Per Serving
Calories 201
Calories from Fat 99
% Daily Value*
Fat 11g17%
Cholesterol 0mg0%
Sodium 524mg22%
Potassium 364mg10%
Carbohydrates 21g7%
Protein 6g12%
Vitamin A 645IU13%
Vitamin C 48mg58%
Calcium 45mg5%
Iron 1.9mg11%
* Percent Daily Values are based on a 2000 calorie diet.