This Greek salad recipe is as traditional as it gets from my mom's authentic kitchen! Use dairy free feta to make it vegan, your tastebuds won't know the difference!
Horiatiki means Greek village salad and doesn't have lettuce in it. It's simple with the flavors of tomato, cucumber and red onion paired with feta cheese and simple spices like salt, pepper and Greek oregano.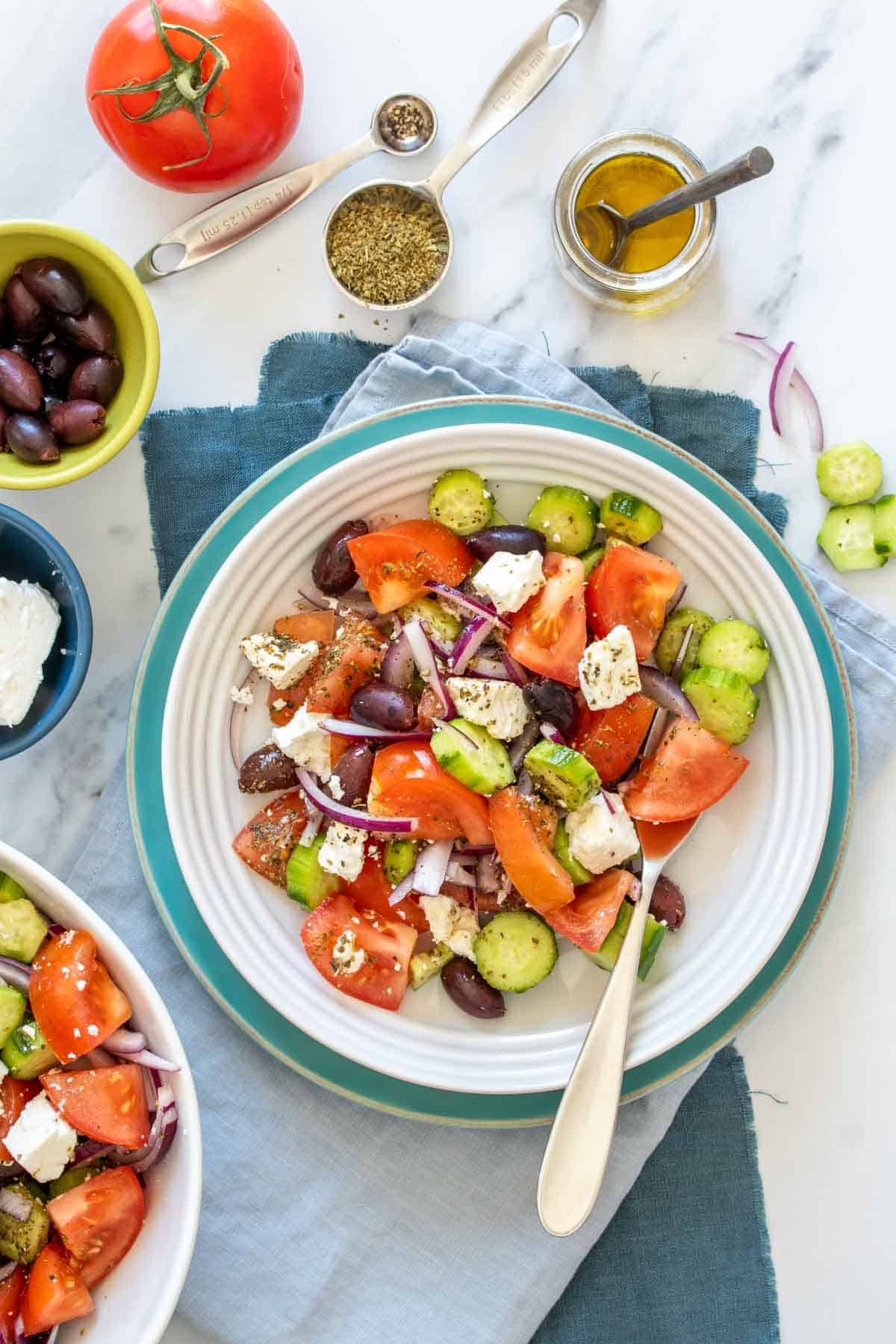 This post was sponsored by Rubbermaid but the content and opinions expressed are fully my own.
To make this Greek salad vegan, simply use my dairy free feta recipe or buy store bought vegan feta. Many brands sell it now. I also show you how to prep and store ingredients so that you can throw this together in under 5 minutes whenever you need it!
How to Make Traditional Greek Salad
This easy Greek salad is so simple to make, but so flavorful and delicious! We pair it with bread and make it a main meal in the summer when our tomatoes and cucumbers are growing like crazy!
I also love to stay organized and prep everything ahead of time and store in the fridge using my Rubbermaid EasyFindLids™.
This means I can make this in under 5 minutes any time I need it, whether it's outside at dinner or a party I am throwing this helps keep things fast and stress free!
Ingredients
Here is what you need: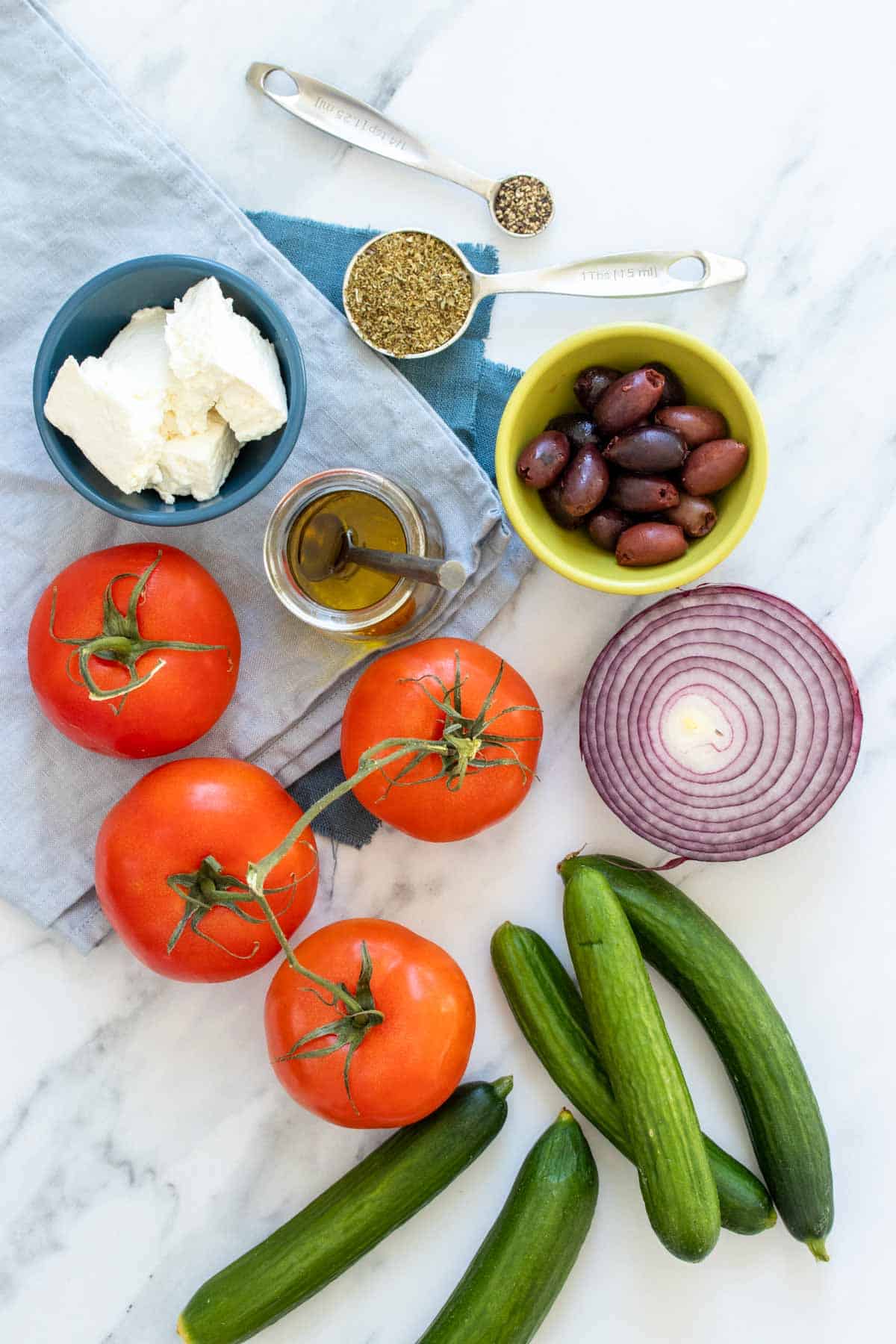 Step by Step Instructions
Here is all you need to do:
Put the tomatoes, cucumber and onion in a bowl and stir.
Add the feta, olives spices, and olive oil.
Mix well and enjoy!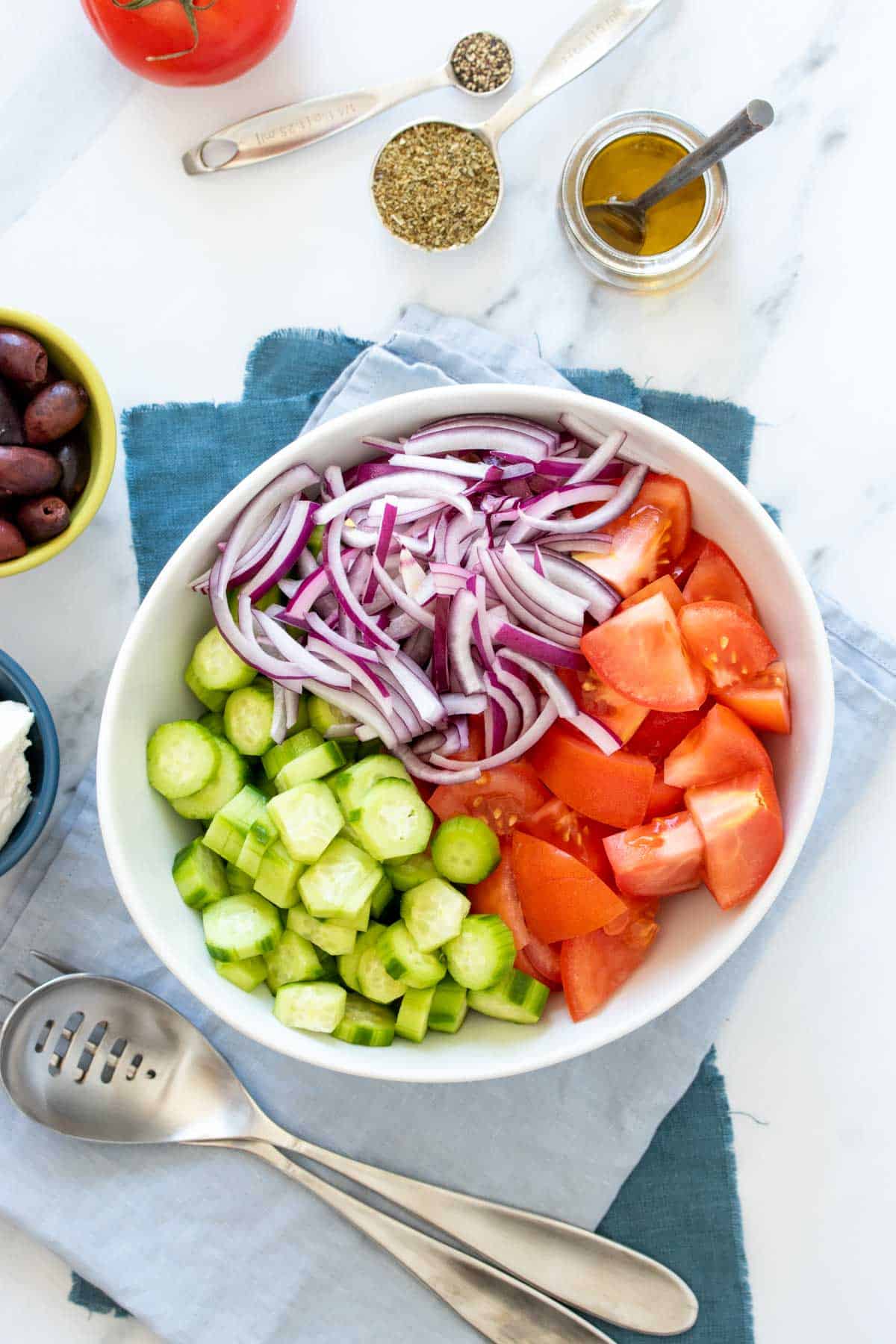 Serving Suggestions
As mentioned earlier, this traditional Greek salad can be served on its own with some crusty bread, but it also pairs well with so many other recipes! Here are some of our favorite plant based foods to serve alongside this salad:
How to Prep Greek Salad
As if this salad recipe wasn't easy enough, it can be prepped ahead of time as well! I love to use my Rubbermaid EasyFindLids™.
This makes it a great recipe to serve at parties, potlucks, and holidays when you don't want to be in the kitchen all day. (I'm looking at you Mother's Day!)
However, mixing it all up and letting it sit for too long will result in a not-so-crunchy texture. Since hardly anyone likes a soggy salad, here's what I do to prep everything while preserving the perfect crispness: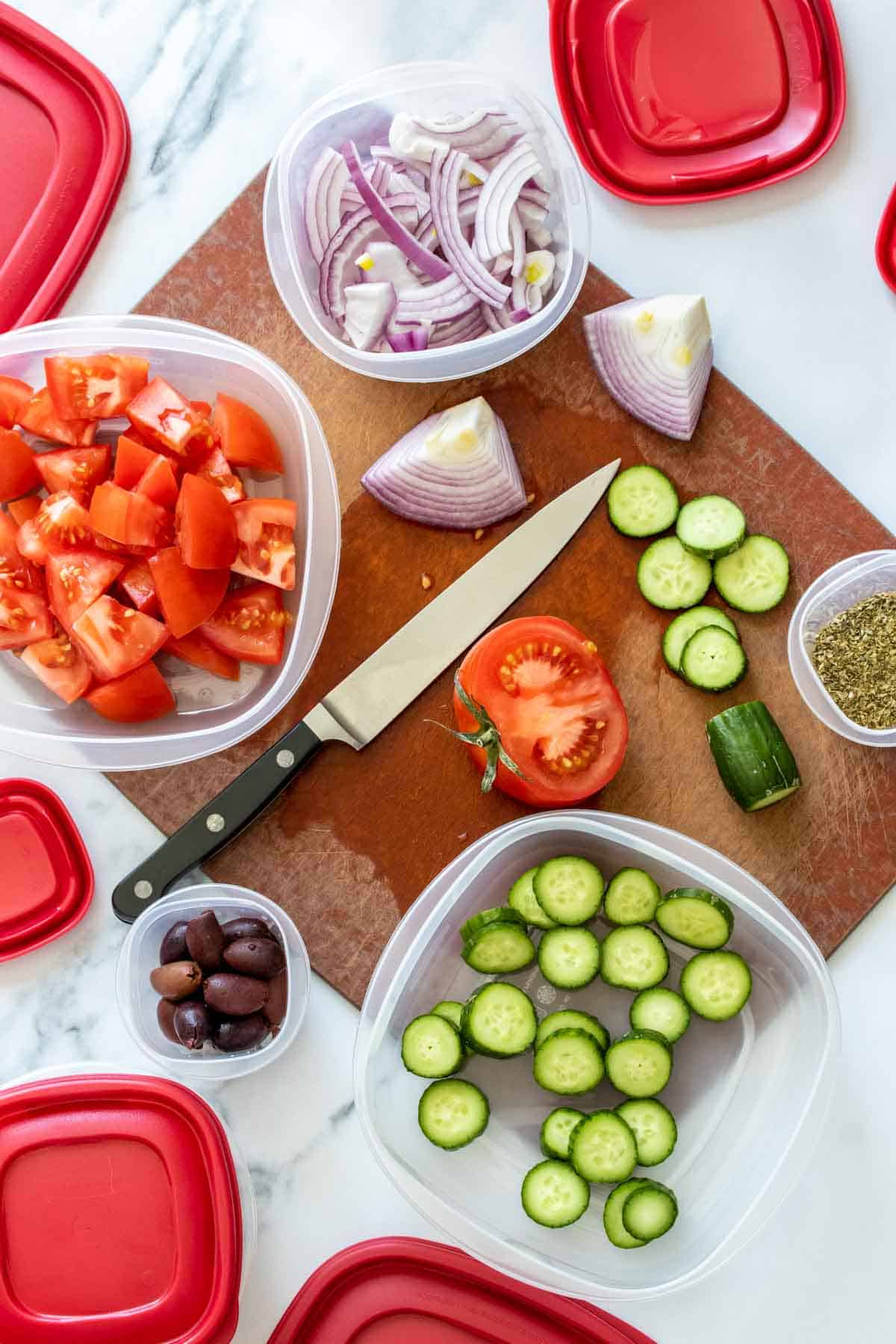 Storage Tips
The Rubbermaid EasyFindLids System™ is ideal for storing the components of this salad recipe! They come in all sorts of sizes and shapes so you can prep a lot or a little at once depending on your needs and storage space.
Here are a few more reasons why these containers are this mom's best friend:
I hate looking for matching lids! Luckily, these lids snap together with the bases, which means no more missing lids!
Speaking of lids, many of the lids fit a variety of sizes of bases, which means awesome space saving abilities!
The modular system also stacks together super nicely which helps to keep my kitchen more organized. Let's be honest, there's something so satisfying about opening a cabinet and seeing everything exactly where it should be.
They're also freezer-safe, which is excellent for making freezer meals in advance.
Did I mention microwave safe? Reheat right in the BPA-free base to save on dishes!
And the real winner? Dishwasher safe, becuase the endless hand washing is something no one wants to do!
Common Questions
What is traditional Greek Salad made of?
The authentic recipe is made with large chunks of tomatoes, cucumbers, onions, olives, feta cheese, herbs, and a light drizzle of olive oil. This version captures those traditional flavors but uses a dairy-free feta to keep the recipe vegan.
Does Greek Salad contain lettuce?
If you're going for authenticity, no, Greek salad does not have lettuce or leafy greens of any kind. However, if you like it there's no reason to not throw it in!
Is a Greek Salad Healthy?
It sure is! This Greek salad recipe is filled with nutritious whole foods making it a healthy choice for an entree or side dish.
More Vegan Salad Recipes
Keep things fresh and try out these plant based recipes: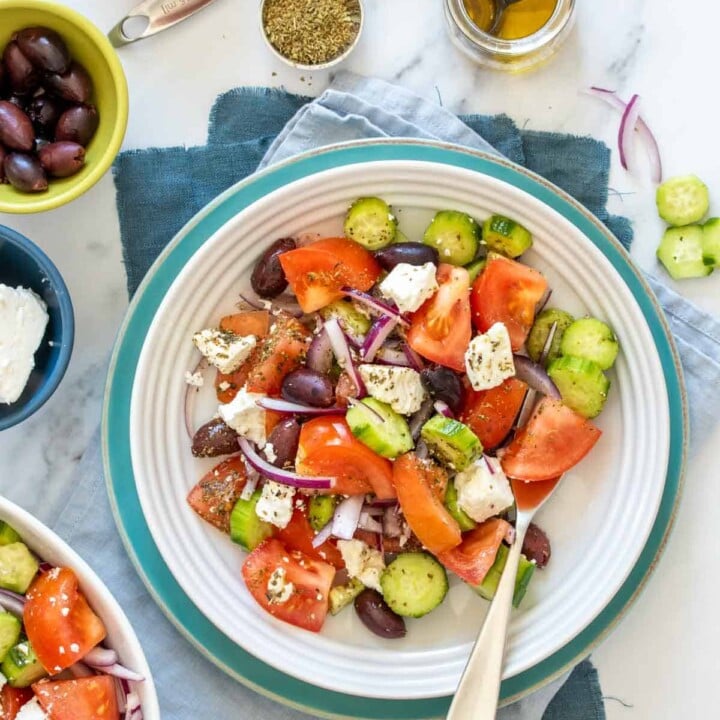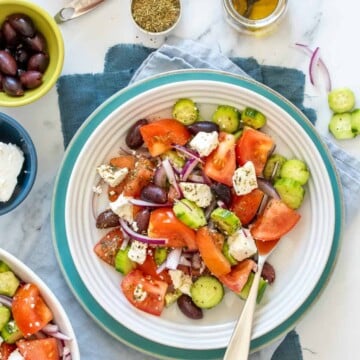 Vegan Traditional Greek Salad Recipe (Horiatiki)
This Greek salad recipe is as traditional as it gets from my mom's authentic kitchen! Use dairy free feta to make it vegan, your tastebuds won't know the difference!
Ingredients
1 pound tomatoes , cut into pieces (about 3 medium sized)
1 pound cucumbers , cut into pieces (you can peel too if preferred)
½- ⅓ red onion , sliced
½ - 1 cup vegan feta cheese , cut into small pieces or crumbled (about ⅓ - ½ pound, see note)
⅓ - ½ cup kalamata olives with pits , can leave pits out if you prefer
1 tablespoon dried Greek oregano
¼ teaspoon ground black pepper
Sea salt , optional to taste (may not need due to the feta and olives)
Drizzle of olive oil , or remove if oil free
Instructions
Mix the cucumber, tomato and onion together in a large bowl.

Add the feta cheese, olives, oregano, salt (if using), pepper and olive oil.

Mix together so everything is combined well and spread around.

Serve with your favorite bread!
Notes
If you make my vegan feta recipe you will need ½ to 1 sof my recipe.
You can adjust each of the ingredients for what you prefer.
If you don't use the olive oil, the flavor will change some.
Recipe by Veggies Don't Bite, visit our site for more great plant-based recipes.
Nutrition
Calories: 239kcalCarbohydrates: 19gProtein: 8gFat: 16gSaturated Fat: 1gPolyunsaturated Fat: 1gMonounsaturated Fat: 1gSodium: 578mgPotassium: 678mgFiber: 4gSugar: 7gVitamin A: 1093IUVitamin C: 21mgCalcium: 70mgIron: 3mg
Nutrition and metric information should be considered an estimate.
Never miss a recipe!
Sign up here and get a FREE quick and easy meal guide!