Ribollita Soup is a hearty and delicious Tuscan soup. It is stocked full of veggies, so satisfying and has the best flavor!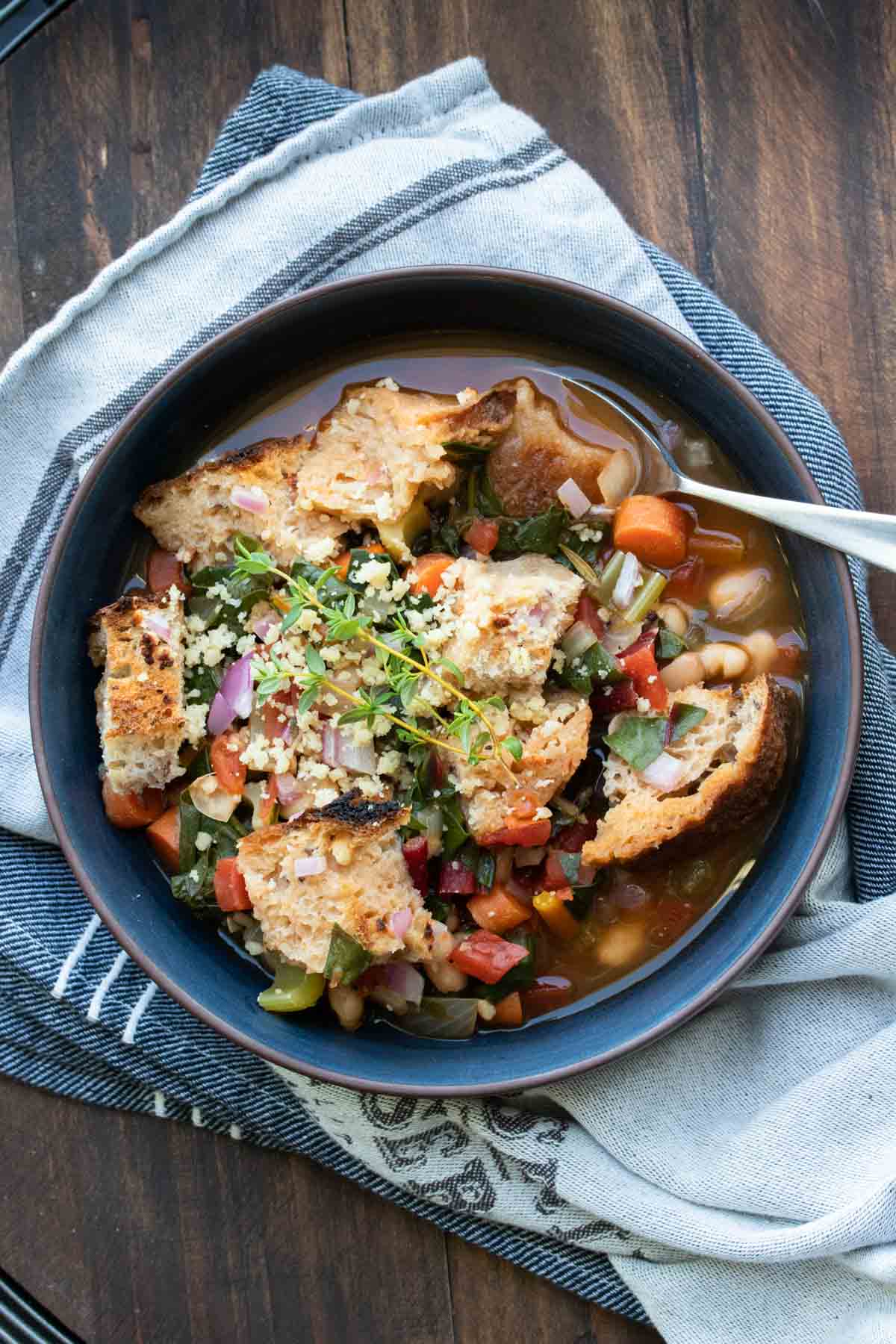 This post was originally published on February 10, 2020.
Like my pasta fagioli and kale and white bean soup, this soup is a one stop meal everyone will love.
The added bread really makes this an incredible meal. I use gluten-free bread so I can devour it along side the whole family!
How to Make Ribollita Soup
This is a traditional Tuscan dish that my family just loves! This soup is a delicious combination of bread, beans and lots of vegetables. It is considered to be a peasant's soup in Tuscany, but that doesn't deter us. I'll take peasant status to be able to eat this all day!
Ingredients
Onion
Carrots
Celery
Garlic
Cannellini beans
Diced tomatoes
Fresh Herbs
Swiss chard
Bread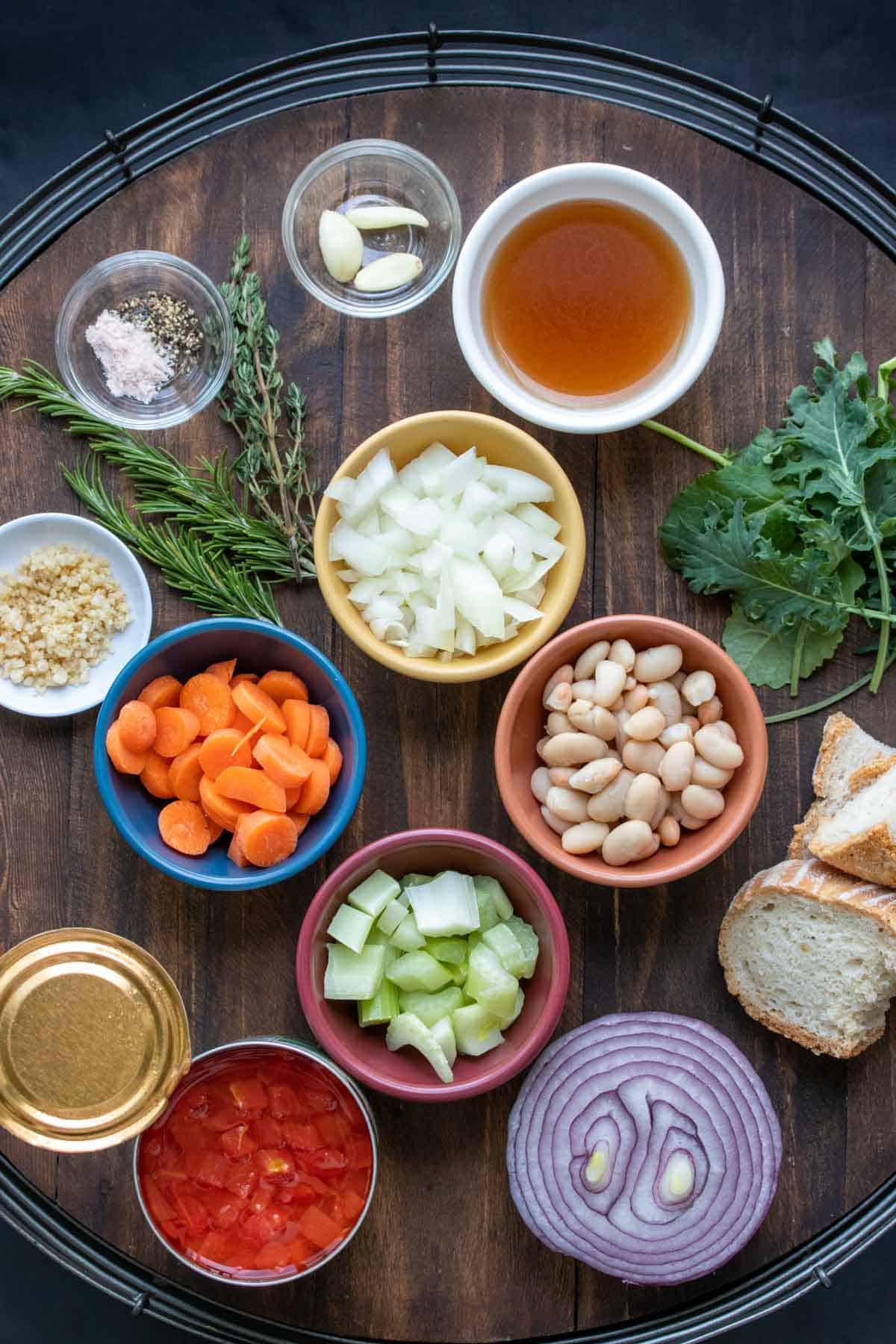 Step by Step Instructions
Sauté the veggies.
Add beans, tomatoes, broth and herbs.
Top with bread, red onion, and parmesan.
Broil.
ENJOY!
What to Serve with Ribollita Soup
There are loads of delicious side dishes that would go great with this recipe. Here are a few favorites: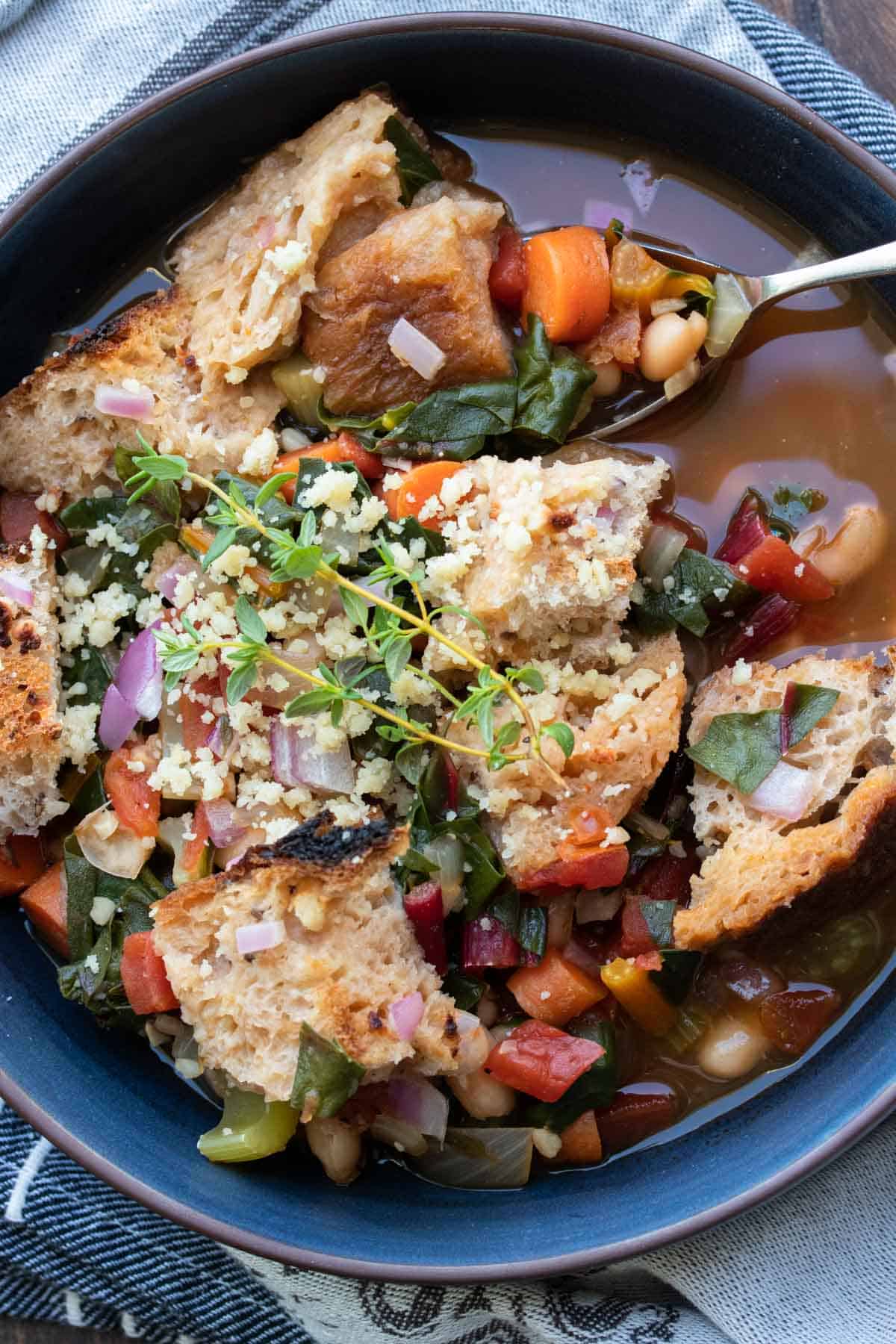 Tips for adding extra vegetables
This is already a pretty vegetable-packed soup, but you can always add in more carrots, celery, and kale. If you're wanting something different or need to use up veggies you have in the fridge, go for it. Anything goes!
Tips for increasing protein
While white beans are a great protein source, you can always add other types to beef it up a bit (no pun intended haha!). Things like veggie sausage, tempeh or even a veggie based bacon would be delicious. And of course if you're a meat eater you could go that route.
Tips for storing and reheating
This soup is a great one to have on hand for leftovers. I love making a double batch and keeping it for later in the week. It gets tastier each time you heat it up, just like the tradition says!
The only thing I would caution on is to be careful if you are not a huge mushy bread lover like me. But I have you covered! Here is how I avoid this:
Make the soup base, stop before adding the bread and red onion.
Keep the base in the fridge or freeze for later use.
Keep cubed bread, chopped red onion, and Parmesan if using, prepped and ready.
When ready to eat, bring soup back to room temp then add the bread and red onion (and Parmesan) and broil like directions say.
Common Questions
Is ribollita vegan?
Each recipe varies, but as this recipe shows it is very easy to make with completely plant based ingredients.
What does ribollita mean in English? 
The name "Ribollita" means reboiled. It originated in Tuscany and is one of their more traditional recipes. The dish is a result of the "don't throw anything away" mentality of the Tuscan culture.

Peasants would gather the leftover bread and the juices from the leftover meals and then add whatever vegetables they had growing in the garden. The soup would cook overnight ready for consumption the next day. It could be reheated over and over and taste even better each time.

There are many variations of this soup, but the basics are the leftover bread, cannellini beans, and Tuscan kale. Added to it are inexpensive veggies such as carrots, potatoes, celery, and onion.
What kind of bread should I use?
The best bread to use if you want that crispy edge is a whole bread loaf then cut it into pieces. They are sturdy enough to withstand the liquid and not completely melt away. I use a whole grain loaf because I love the grainy texture.

Using sandwich slices works but you'll get a much more mushy soup. And we all know how I feel about mushy...

Of course if you are gluten free, you can either look for a gluten free loaf at your local grocery store, or you can make one yourself! This gluten-free bread mix by Simple Mills is an easy option (to keep it vegan sub flax eggs or vegan egg).
How long does homemade trifle last?
Trifle is best before 2-3 days once it has been assembled. The cake layer will become too mushy the longer it is stored.
More Vegan Soup Recipes
Cozy up with any of these healthy plant based recipes: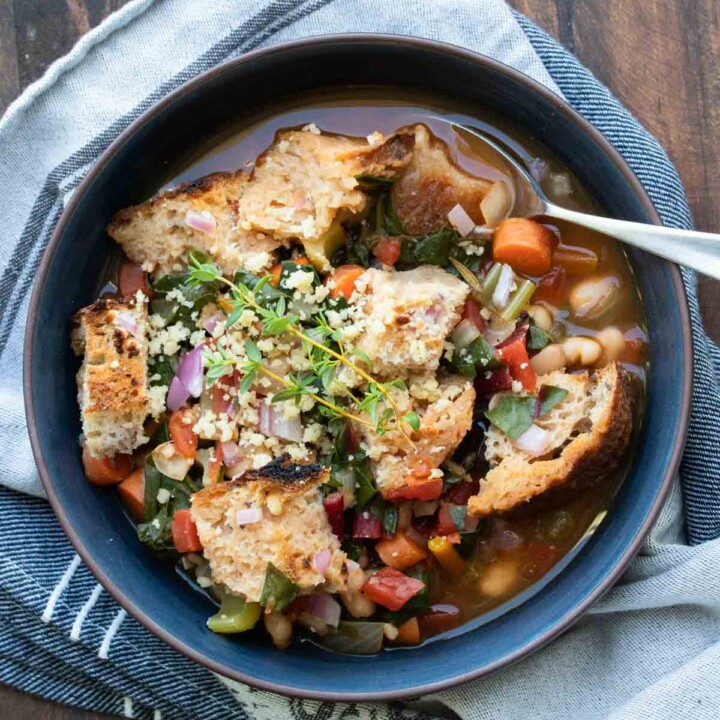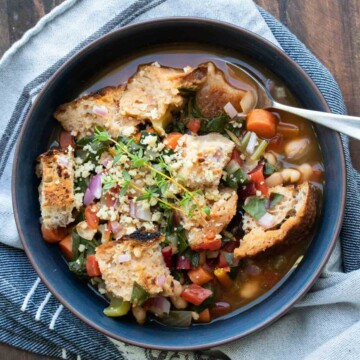 Ribollita Soup Recipe
Ribollita Soup is a hearty and delicious Tuscan soup. It is stocked full of veggies, so satisfying and has the best flavor!
Ingredients
1 ½ cups chopped sweet or yellow onion
¾ cup chopped carrots
¾ cup chopped celery
3 cloves garlic , minced
1- ½ teaspoons sea salt
½ teaspoon ground black pepper
Drizzle of your favorite oil or broth for oil free
30 ounces cannellini beans , rinsed and drained (2 cans)
15 ounces diced tomatoes , 1 can
8 cups veggie broth , low sodium if needed
1 sprig fresh rosemary
4 sprigs fresh thyme
1 bunch swiss chard , 5-6 large leaves
2-3 cups cubed bread , from a loaf is best (gluten-free if needed)
¾ cup chopped red onion
½ cup vegan parmesan , optional for topping
Instructions
Saute onion, carrot, celery, garlic, salt and pepper over medium heat with oil or broth until onion caramelizes, about 10 minutes.

Add beans, tomatoes, broth, rosemary and thyme.

Bring to a boil, then lower heat to a simmer and cook covered for about 15 minutes.

Take out the rosemary and thyme sprigs.

Add the chard, mix in.

Top with the cubed bread and red onion. Sprinkle with Parmesan if using.

Broil on low for 5 minutes.

Serve!
Notes
You can change up the veggies in here with anything you have laying around or need to use up. Just keep the total amounts about the same!
Recipe by Veggies Don't Bite, visit our site for more great plant-based recipes.
Nutrition
Calories: 194kcalCarbohydrates: 40gProtein: 11gFat: 1gSaturated Fat: 1gPolyunsaturated Fat: 1gMonounsaturated Fat: 1gTrans Fat: 1gCholesterol: 1mgSodium: 910mgPotassium: 347mgFiber: 10gSugar: 8gVitamin A: 3334IUVitamin C: 15mgCalcium: 152mgIron: 5mg
Nutrition and metric information should be considered an estimate.
Never miss a recipe!
Sign up here and get a FREE quick and easy meal guide!