Greek comfort food meets plant-based in this vegan Greek pastitsio. All the flavor of the traditional version but with a healthy twist!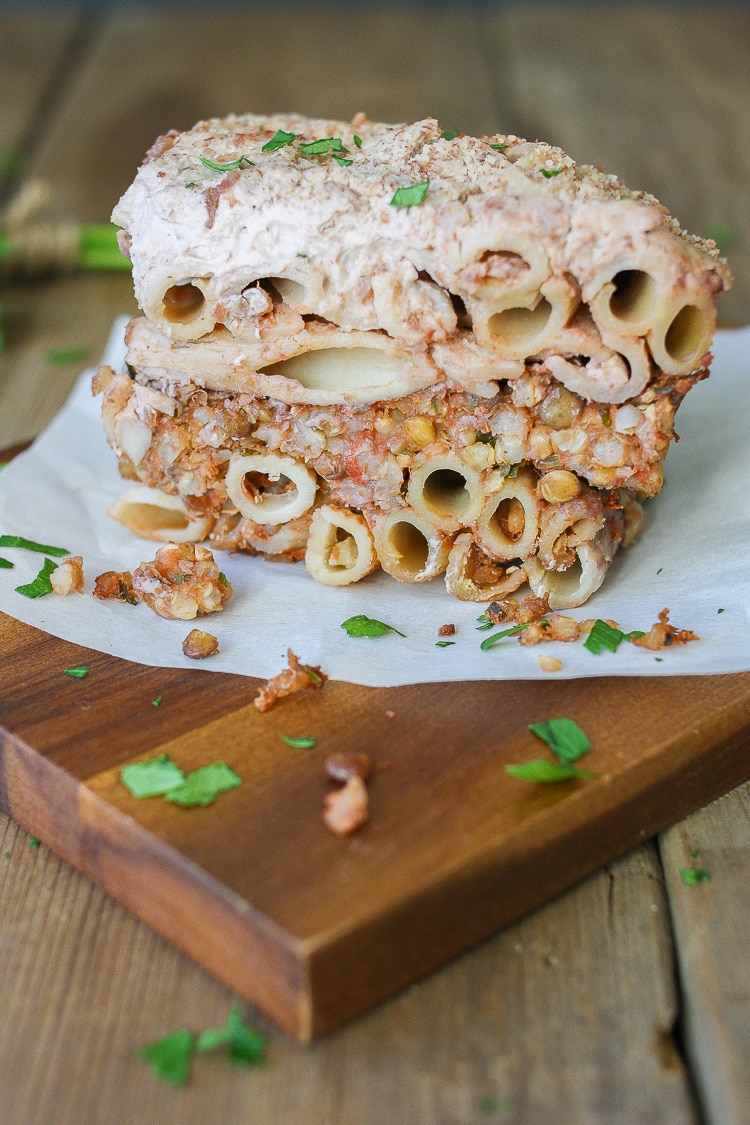 It's finally here my friends, a vegan version of my favorite Greek dish growing up, Pastitsio! Go ahead and drool now, because this totally vegan version is Greek mom approved!
I made so many trials of this, I was determined to get it right. Not just "Yeah, it's not bad," but I needed my authentic Greek mom to like it and want seconds. And as soon as that happened, I was at peace and ready to share with all of you!
Traditionally this Greek Pastitsio is made of layers of ground meat sauce, noodles and béchamel. Not exactly what I'd call healthy, it actually borders on "heart attack on a plate" status if I'm being honest. But man I loved it so much and my mom's was hands down the best stuff ever! If you order it out at a Greek restaurant, you often find spices like cinnamon and cloves in it.
I'm not going to lie, flavors like this kind of makes me gag in my savory food. I really don't like them and neither does the rest of my family. So my mom's Pastitsio is the only one I have ever truly loved since it was sans the gag factor. If you've had this dish before, feel free to add the additional spices, but it surely does not need it!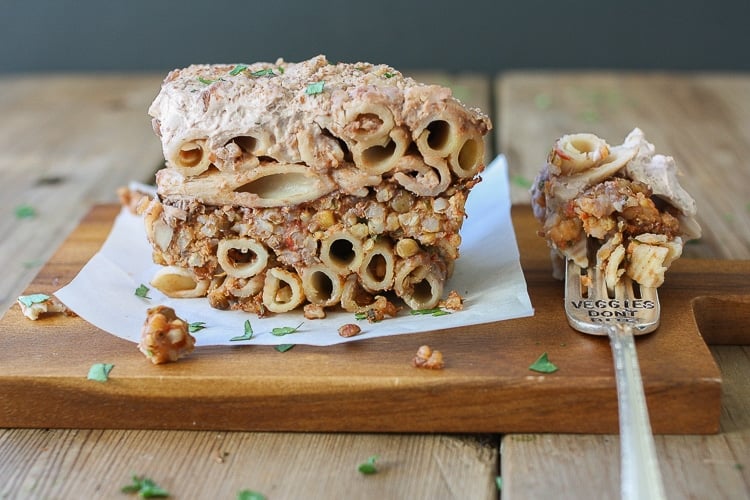 Vegan Greek Pastitsio In The Making
When I first started this big undertaking, I decided the best way to tackle it was layer by layer. The béchamel was the easiest, so I started with that. Cream sauces are somewhat of a specialty of mine, so I knew I could get spot on with it.
I used a combo of cauliflower and nuts to get that perfect creamy taste without it getting too heavy and overpowering. It turned out amazing! I literally had to stop myself from licking my Vitamix, blades and all. This creamy concoction will definitely be seen again on the blog!
Next came the "meat," which needed to be hearty, flavorful and help keep the noodles somewhat together. I stuck with the lentil base that many vegan "meat" substitutions consist of, but then I added some brown rice. I felt the rice would give it a little more substance and a bit more of the texture I was looking for.
After playing around with cooking times, ways to cook each, and combination of ingredients, I finally got it. The key was to cook the rice separately but not completely, then finish off the cooking time in the pot with the rest of the sauce. On top of that, I used my immersion blender to chunk it up a bit so that you didn't see all whole pieces of lentils and rice. This also helped get it to stick together with the noodles while baking.
And by the way, how cute is this new fork I got from the amazing Aly at For Such a Time Design?!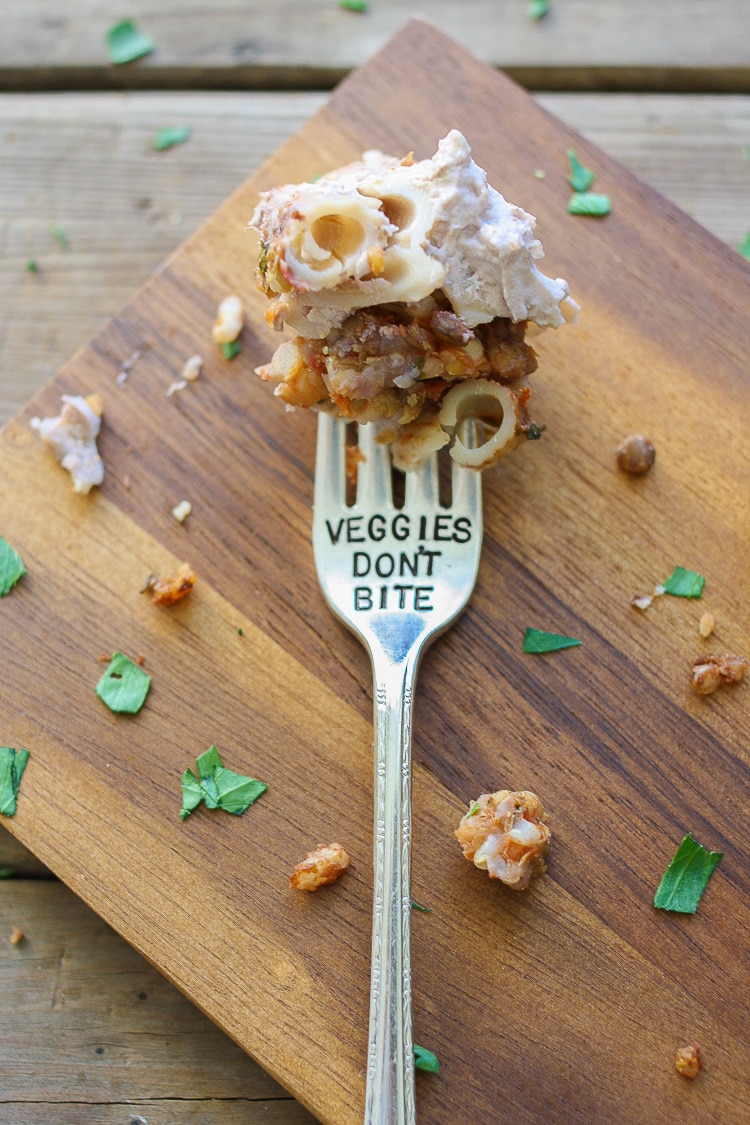 Comfort Food Made Healthy
I served this Greek Pastitsio as the main dish for the Christmas dinner I hosted and it was a hit! I wanted something hearty that could stand in as a main dish and I think I created our new tradition!
Making Greek Pastitsio is like putting together a lasagna, it isn't your go to quick dish, but it's worth every minute. You can speed it up by making the parts ahead of time and then putting it all together the day you want it. Plus, it freezes pretty well, so like a casserole, it's a great weekend meal to create and have leftovers.
If you're a Greek food fan then you need to try this pastitsio recipe! It's so much healthier than the original, and it does not compromise on taste!
As always, I love comments on the blog if you make it, so make sure to let me know! You can also tag me on Instagram at veggiesdontbite #veggiesdontbite so I don't miss it! Hope you enjoy!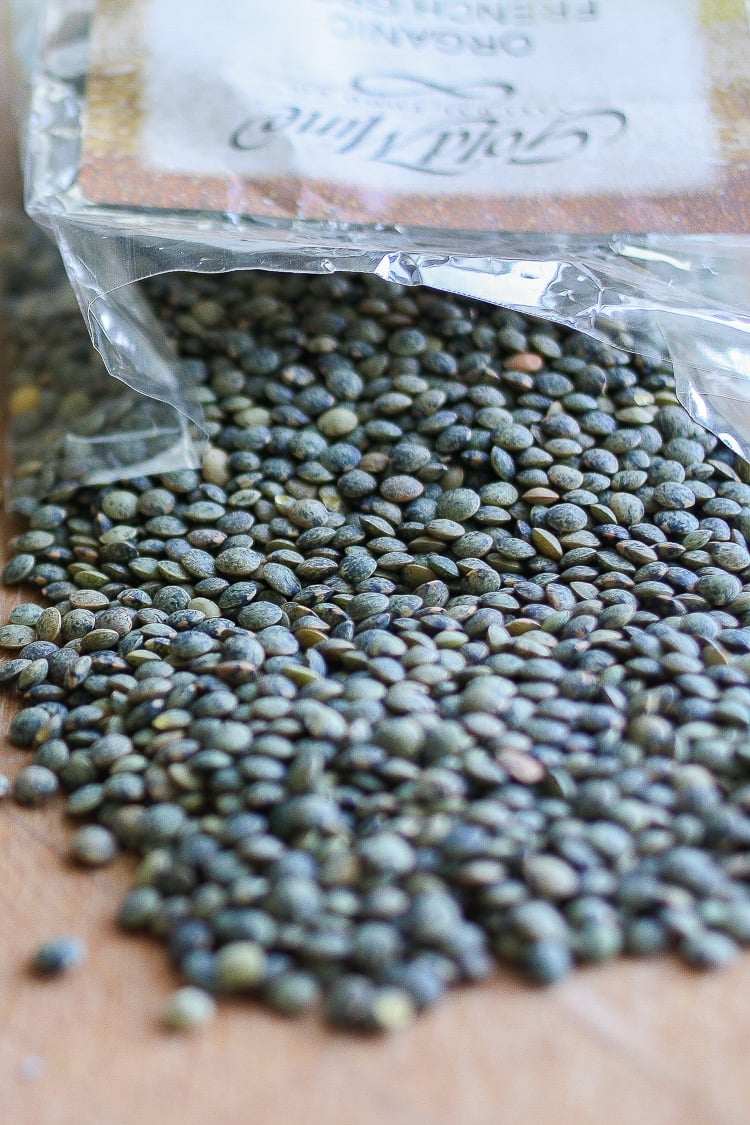 Other Vegan Greek Recipes You Might Like;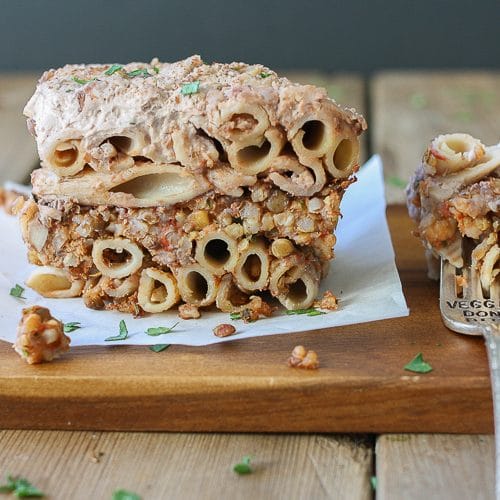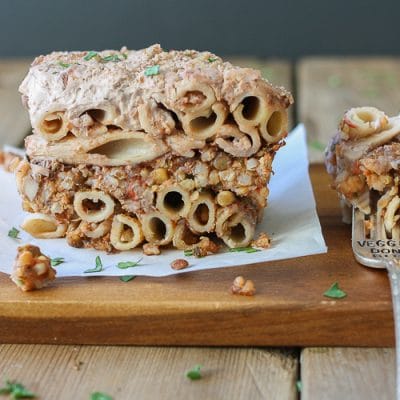 Vegan Greek Pastitsio
Greek gone vegan like never before! This traditional dish takes on a new healthy look without losing any of the authentic taste. Fiber, protein, deliciousness all in one!
Ingredients
Instructions
Preheat oven to 350 F/ 175 C.

Cook brown rice in 2 cups veggie broth in a pot over the stove, watching to make sure it doesn't burn. Remove from heat once all the broth is absorbed. The rice will be very al dente when done but you don't want it fully cooked so that it doesn't get mushy when adding it to the final dish.

Boil cauliflower until very soft. Once soft, strain and add it along with all other cream sauce ingredients to a high speed blender and blend until smooth and creamy. You can use a regular blender, but may need to mix it a while to get a smooth consistency. Set sauce aside.

Chop onion and sauté in veggie broth or olive oil in a sauté pan until slightly cooked.

Add lentils and sauté until onions become soft. Add more veggie broth if it gets too dry.

Add tomatoes and parsley to the pan.

Sauté for a few minutes, then add wine, salt and pepper. Add rice and continue to cook until lentils begin to get soft and rice softens a little. You do not want it to get overly cooked.

Once done, pour into a bowl and use an immersion blender to pulse mixture until chunky but not mushy. You want pieces of rice and lentils and not a paste. If you do not have an immersion blender, you can pour the sauce into a food processor to chop, but be careful with the sauce being too hot.

Cook pasta according to package instructions, but less about a minute or so. You want the pasta slightly al dente since it will be baking again in the oven.

In a bowl, mix half of the pasta with 1 cup of the "meat" sauce and ½ cup of the cream sauce. Place on the bottom of a 9 x 12 baking dish.

Then spread remaining "meat" sauce evenly over the pasta. The sauce makes quite a bit so if it seems to be too much for you, you can leave some out and use it as a pasta sauce at a later time. It also freezes well.

Mix the other half of the pasta with 1 cup of the cream sauce and place over "meat" sauce layer.

Pour the remaining cream sauce over the top and spread evenly. Top with Parmesan if using.

Cover with foil and bake for 35 minutes. Remove foil and bake an additional 15 minutes. Let cool and set before cutting and serving for best results.
Notes
Makes a 9 x 12 baking dish
If you are not using a high speed blender, there are a couple of options for making your sauce smooth: You can use a coffee grinder to grind the nuts into a fine powder, or make sure to soak them overnight, or for at least 2 to 3 hours. If you forget, you can also boil them for 30 minutes.
I used the green lentils here because they stay the most firm when cooked. You can use brown, but they will get a tad mushier. I wouldn't recommend red as they get very soft.
You can use water to cook the rice in but the broth gives it a little more flavor.
If you do not have fresh tomatoes, you can use canned or bottled crushed tomatoes but I found they give a tangier flavor that I didn't love.
You can also use more broth instead of the white wine if preferred, but it gives a great flavor to the dish.
If you want to make this nut free, you can sub with more cauliflower, white beans, sunflower seeds or a combo of any or all. The consistency and taste when baked may not be exactly the same but it will still work.
I use veggie broth throughout this dish so take note when calculating how much you need.
Nutrition info includes the cauliflower cream sauce version.
Tips to prep ahead:
Make the cream and "meat" portion beforehand, then simply boil the pasta the day of and put the dish together. Make sure you set the sauces out to get to room temp before assembling.
Recipe by Veggies Don't Bite, visit our site for more great plant-based recipes.
Nutrition
Calories:
601
kcal
Carbohydrates:
80
g
Protein:
20
g
Fat:
23
g
Saturated Fat:
2
g
Polyunsaturated Fat:
0
g
Monounsaturated Fat:
0
g
Trans Fat:
0
g
Cholesterol:
0
mg
Sodium:
108
mg
Potassium:
761
mg
Fiber:
10
g
Sugar:
7
g
Vitamin A:
900
IU
Vitamin C:
21.4
mg
Calcium:
68
mg
Iron:
4.3
mg
Nutrition and metric information should be considered an estimate.
Never miss a recipe!
Sign up here and get a FREE quick and easy meal guide!