This is hands down the best vegan Greek pastitsio recipe you will ever find! Based on my mom's traditional recipe, it's healthy and has a flavor that's unreal. You won't miss the meat or dairy at all!
Growing up, this was my absolute favorite dish. While it takes some effort and love to put it together, you can easily prep ahead of time to make it quick day of!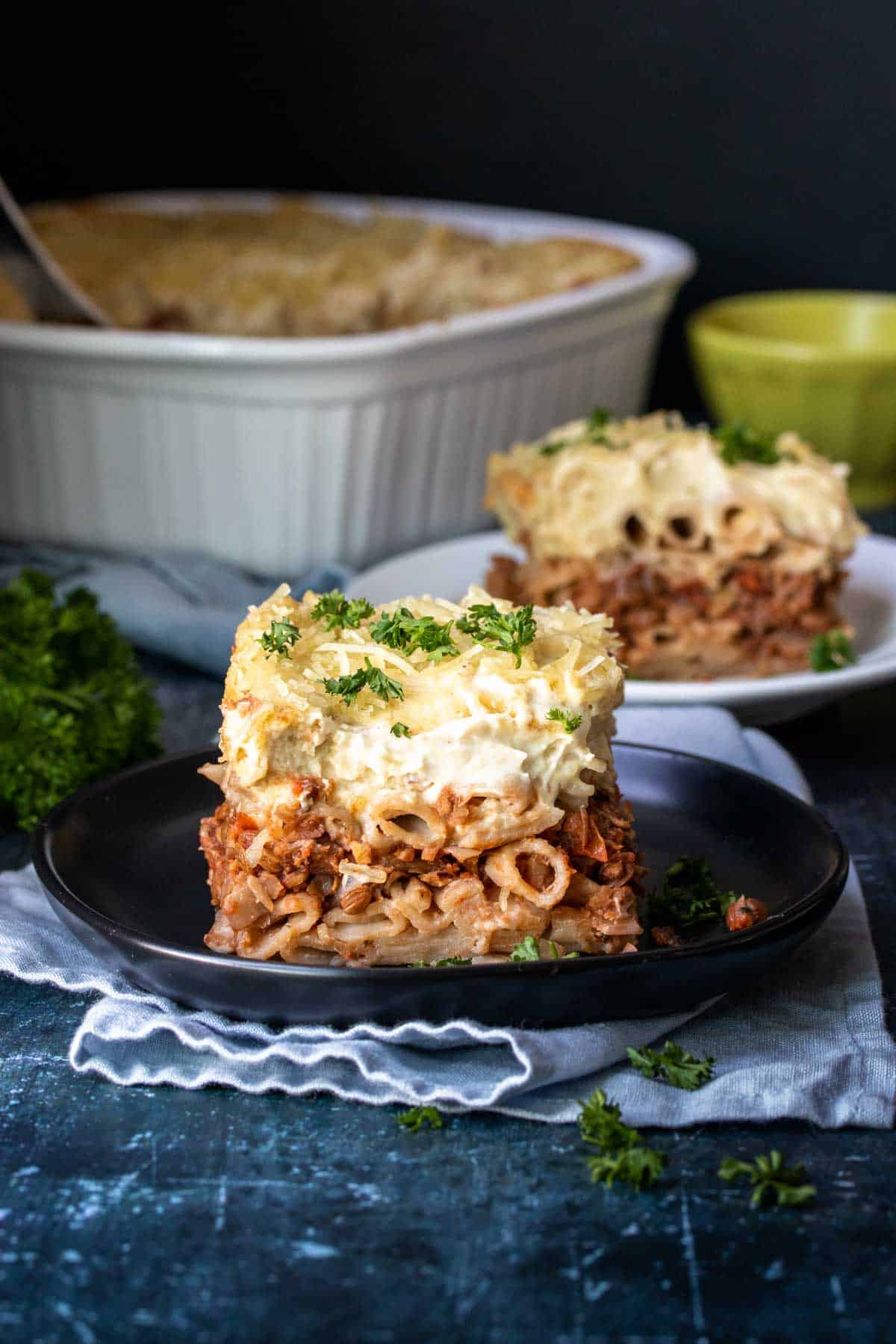 This post was originally published on January 12, 2015.
I can't get over how good this recipe is. I never thought I could replicate the same flavors that I grew up with, but boy did I hit the mark! Bonus, it has some sneaky veggies you'd never guess were in there making the nutritious factor even better!
How to Make Vegan Pastitsio
There are three main layers to pastitsio: the pasta, the "meat" sauce and the bechamel. You can easily make the "meat" sauce and the bechamel ahead of time, then day of cook the pasta and build to make it a little less time consuming.
Replicating the original meat and dairy based recipe was a little tricky, but once I broke down the parts it was easier than I thought. While the ingredient list is a little long due to the many layers of this vegan pastitsio, the effort is well worth it!
Ingredients
To make the "meat" sauce you need:
Chickpeas
Walnuts
Onion
Broth
Lentils
Tomatoes
Parsley
Tomato sauce
Wine
Salt
Pepper
For the rest of the dish:
Pasta
Reserved pasta water
Tapioca starch
Milk
Salt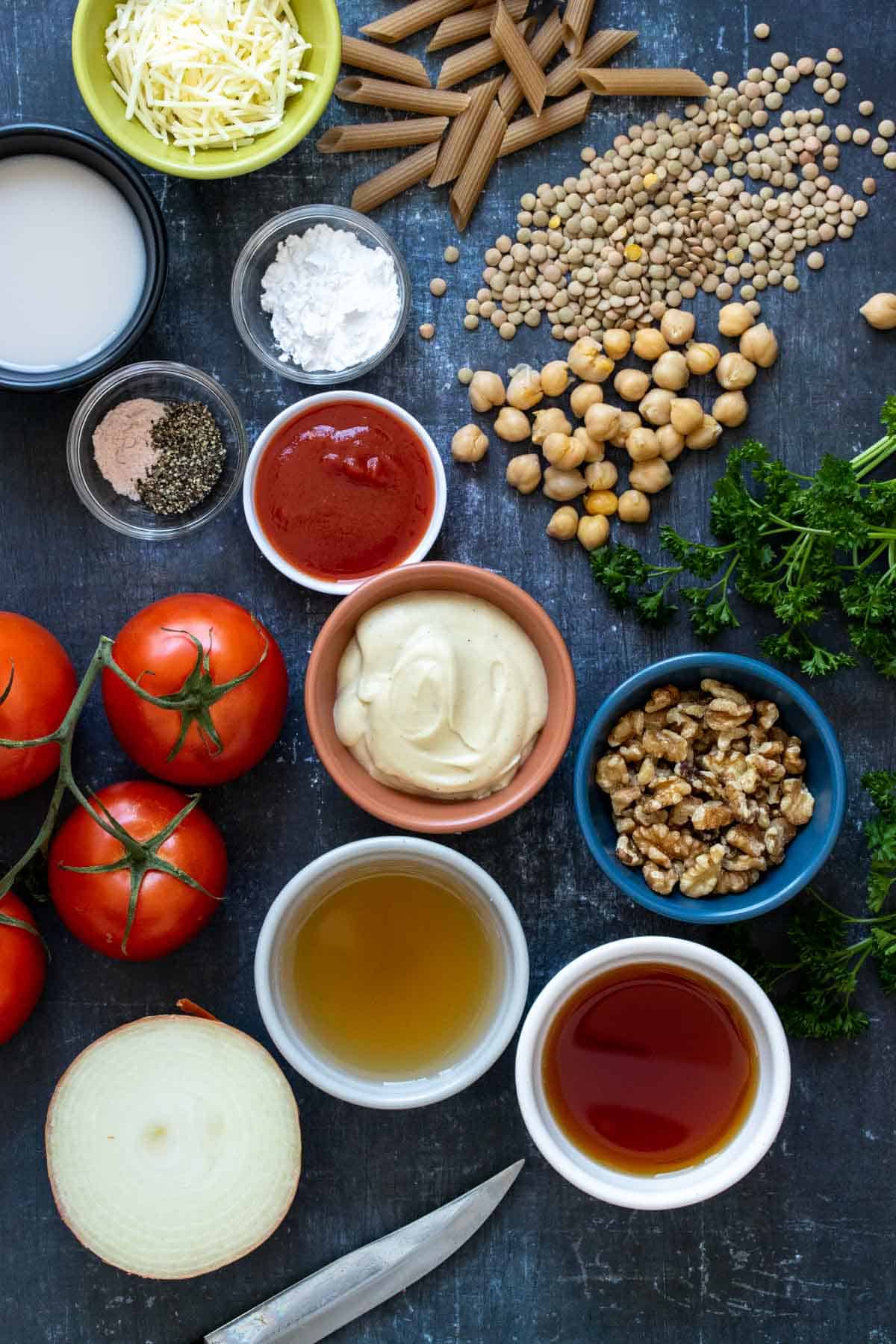 Step by Step Instructions
Cook and coat the pasta:
Cook the pasta and reserve some pasta water.
Make a slurry.
Whisk pasta water with slurry to make an egg like mixture.
Coat pasta with the mixture and cheese.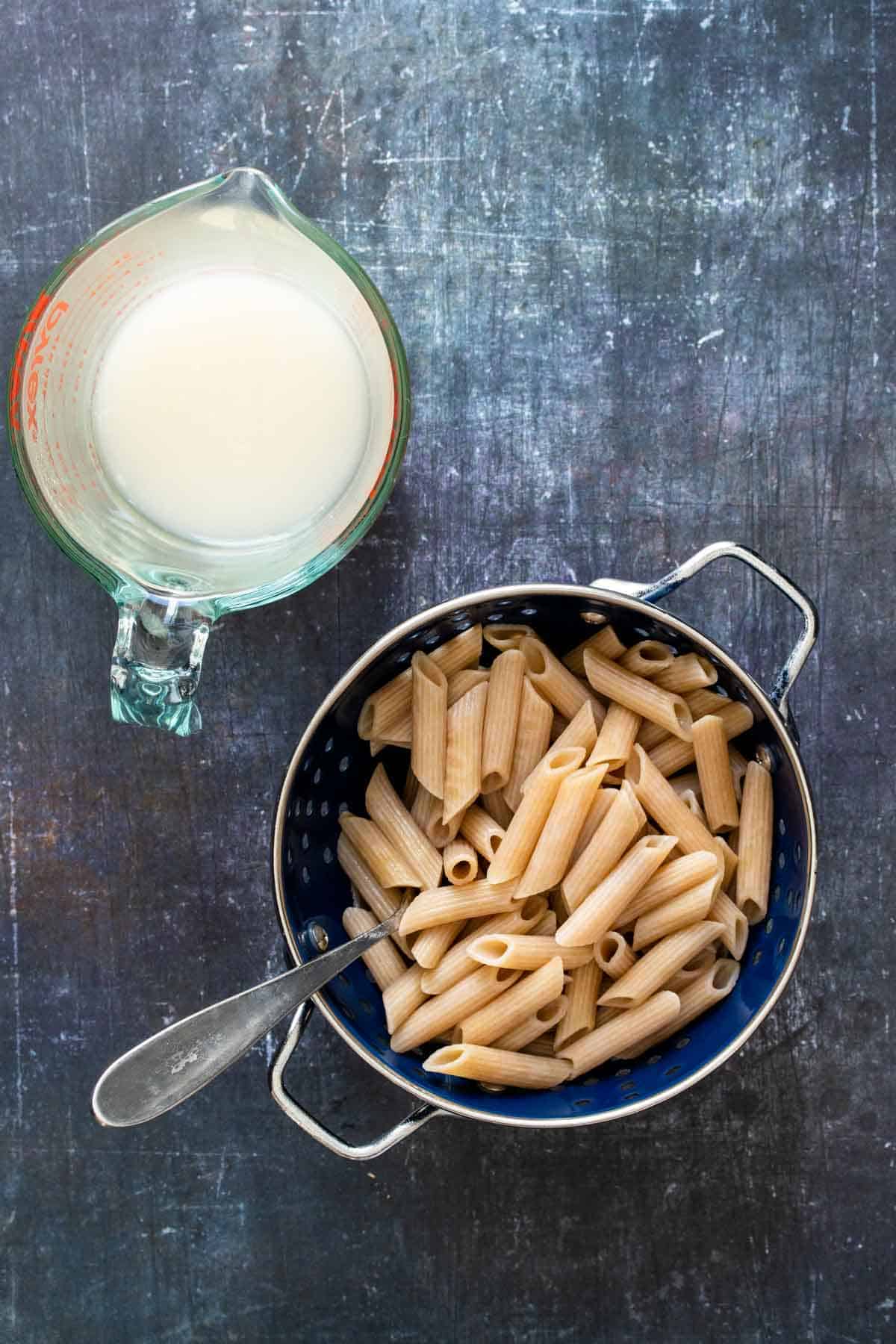 Prep the meat sauce:
Chop the walnuts and chickpeas together.
Process the tomatoes into a chunky sauce.
Sauté the onions.
Add the lentils, cauliflower, tomatoes and parsley.
Stir in the tomato sauce, wine, salt and pepper.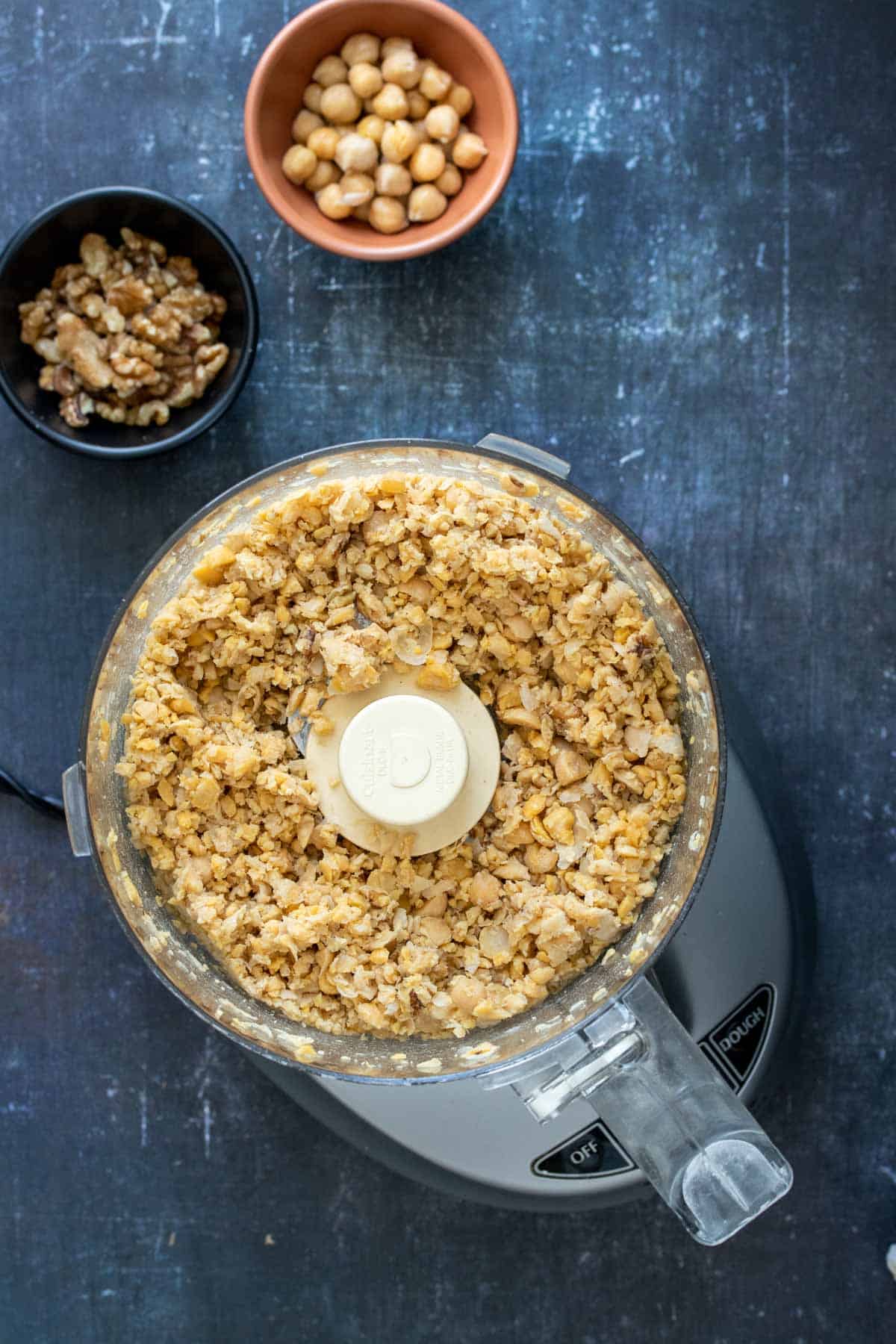 Assemble the dish:
Place half of the pasta in the bottom of a baking dish.
Spread the meat sauce over the top.
Sprinkle with Parmesan.
Add the other half of the pasta.
Cover with Béchamel.
Top with Parmesan.
Bake.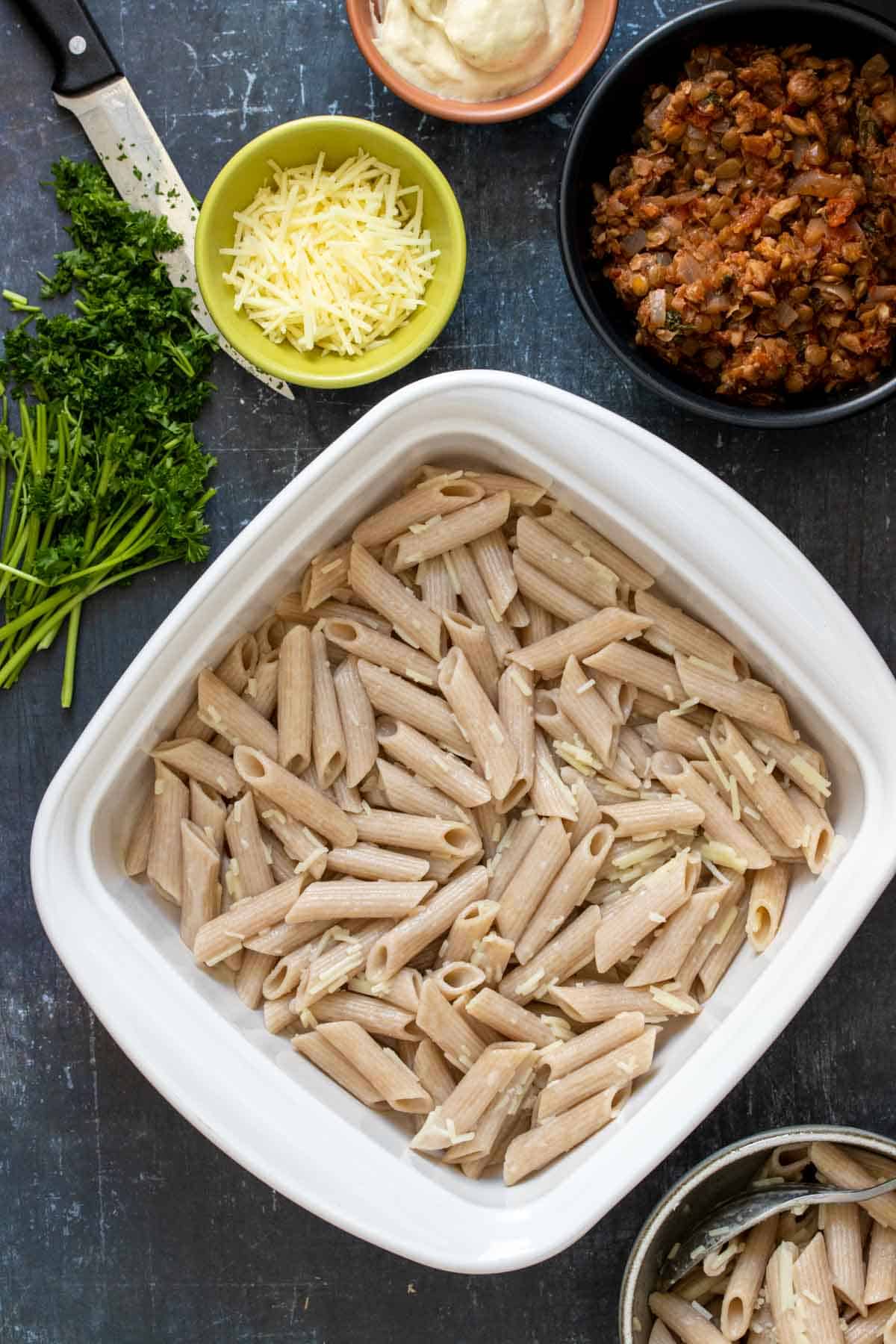 Serving Suggestions
Pair this vegan pastitsio with any of the following plant based side dishes for an amazing feast: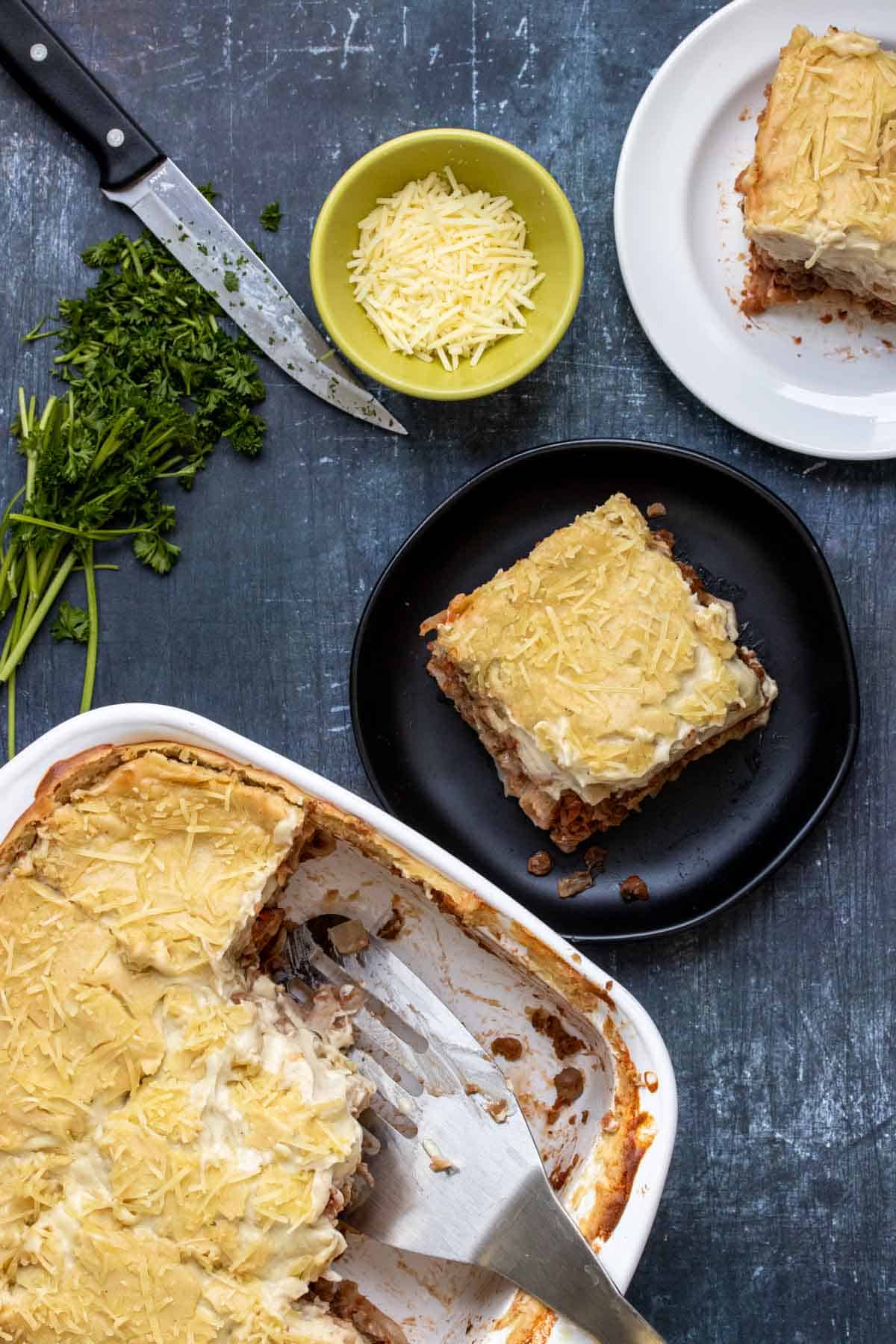 Preparation Tips
A square 9 inch baking dish is ideal. A smaller dish will be too tall, a larger one will make it thinner. Any size will work but results will be different.
Choose your favorite tube pasta (gluten-free if needed) such as rigatoni, ziti, penne or even macaroni.
This recipe was tested with 12 ounces of pasta, for a more filled dish use 16 ounces.
For a richer flavor you can toss the pasta in some butter. If you do this you likely will not need to add more salt.
Firm lentils like green or brown are best in this recipe, as opposed to the soft texture of red lentils.
Canned or bottled crushed tomatoes will work instead of fresh, however it will change the flavor to be more tangy.
A food processor is the fastest and easiest way to chop the tomatoes, but if you don't have one you can simply use a knife.
Prep Ahead Tips
If you are making the components for this vegan pastitsio from scratch, you can do so ahead of time to make it easier the day of serving.
Make the vegan béchamel up to 5 days in advance and store in an airtight container. You can also keep it in the freezer for up to 3 months, just defrost in the fridge the day before assembling the dish.
The vegan Parmesan can be made and refrigerated for up to a week, and frozen for 3 months.
Prep the "meat" portion up to 3 days ahead of time and keep in an airtight container.
The day of let the sauces come to room temperature while you prep the pasta portion.
Assemble, bake, and enjoy!
Common Questions
How long does pastitsio last in the fridge?
You can keep pastitsio in an airtight container in the refrigerator for 3-5 days. Or, wrap it well and freeze for up to 3 months.
How do you reheat pastitsio?
You can either bake in a 350°F oven for 25 minutes or until it's heated in the center. Or you can quickly microwave smaller portions until warm.
Do you put eggs in béchamel sauce?
Many versions of the sauce do not contain eggs, however the Greek version usually contains egg yolks. My vegan recipe skips out on all eggs and dairy though!
More Vegan Greek Recipes
Explore more Greek flavors with these tasty plant based recipes: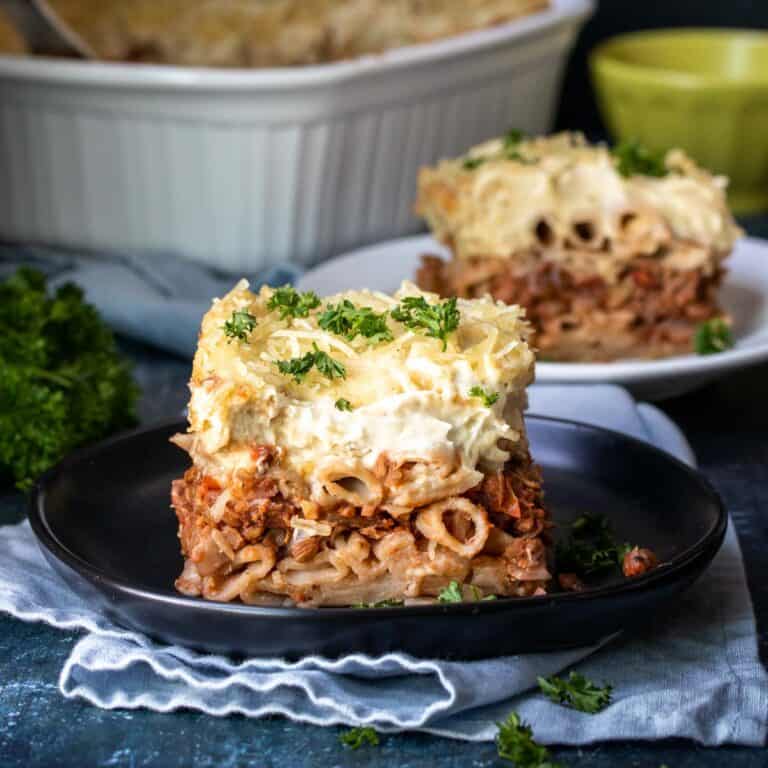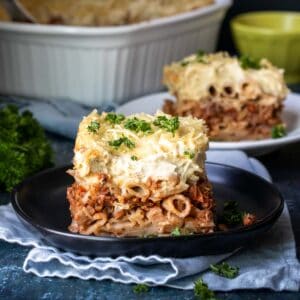 Vegan Greek Pastitsio Recipe
This is hands down the best vegan Greek pastitsio recipe you will ever find! Based on my mom's traditional recipe, it's healthy and has a flavor that's unreal. You won't miss the meat or dairy at all!
Equipment
Blender , to make bechamel if using homemade
Ingredients
1 pound tube shaped pasta , gluten free if needed (see note)
½ cup reserved pasta water from pasta
1 tablespoon tapioca starch , sub with cornstarch if preferred
½ cup dairy free milk of choice , can sub ¼ vegan butter (see note)
¼ teaspoon sea salt
1 ½ cups vegan Parmesan Cheese , see note
3 cups vegan Bechamel , double my Bechamel recipe (you will have a little left over)
Instructions
Preheat oven to 350 F/ 175 C.

Cook pasta according to package directions, but cook 2-3 minutes less so that it doesn't get mushy when baked in the pan.

Drain pasta reserving ½ cup pasta water.

Make a slurry using 2 tablespoons of the warm pasta water and the 1 tablespoon of tapioca, set aside.

Put the milk and rest of the pasta water into the pot where you cooked the pasta and heat it over low heat. Add ¼ teaspoon of salt. Slowly add in the starch mixture as you whisk it so it doesn't clump. It should slowly thicken and get somewhat egg like. Turn off the heat.

Add the pasta and ¼ cup of the Parmesan and mix around so the pasta is covered in the mixture. Taste and add more salt if needed, this will depend on the Parmesan you use. Set aside.
Make the "meat sauce:
Chop the chickpeas and walnuts into smaller pieces using a food processor. Set aside.

Sauté onion with oil, or broth if oil free, over medium heat until onion is soft. About 5 minutes.

Add the chopped chickpeas and walnuts, lentils, chopped tomatoes and parsley and saute until the juice from the tomatoes is gone. About 5-7 minutes.

Add 1 ½ cups of the broth, tomato sauce, wine, salt and pepper and cook covered for about 8-10 minutes. Don't let it burn.

Uncover, continue to stir and cook, checking the consistency and doneness of the lentils until the lentils are cooked and sauce is thickened but not dry. Add more broth into the pan as needed to make sure it doesn't burn.
Build the Pastitsio in a square baking dish as follows:
Add half the pasta to the bottom of the baking dish.

Cover in the "meat sauce" and spread so it covers the top. Press it down so it's nice and firm. This helps it mix into the pasta a little to secure the layers.

Sprinkle with ½ cup of the Parmesan.

Add the other half of the pasta on top. Press down so it blends into the "meat" portion and secures the layers.

Cover with the Bechamel.

Sprinkle with the last ½ cup of the Parmesan.

Bake for 35-40 minutes, until browning on the edges and the center feels like it has firmed up.

Let cool and set for at least 30 minutes before cutting and serving for best results. Enjoy!
Notes
Makes a square baking dish. I used a 9 inch dish, if you use an 8 inch it will give you a tall almost overfilled end product. If you use a 10 inch it will be shorter. All work but keep this in mind. It is a pretty filled dish as it is with a 9 inch.
Any tube like pasta works, like rigatoni, ziti, penne or even macaroni. I tried this recipe with 12 ounces pasta and it worked well, 16 ounces (or 1 pound) will make it a little more filled).
If you make one full recipe of my homemade vegan Parmesan, it will make about 1 ¼ cups. So you can double it to have some left over or stick with one recipe and simply reduce the amount used in each portion of this recipe.
You can use butter in the pasta for a richer flavor. If using butter don't add the salt with the pasta.
I used the green or brown lentils because they stay the most firm when cooked. Green is very firm. Brown has a slightly softer texture but work great. I don't recommend red because they get too soft.
If you do not have fresh tomatoes, you can use canned or bottled crushed tomatoes but the flavor will be much tangier and not the same.
I use a food processor to chop the tomatoes to make it faster, but you can use a knife.
Tips to prep ahead:
Make or gather the bechamel and Parmesan, and make the "meat" portion beforehand. Then simply put together the pasta portion with the rest the day of. It's easier if you set the sauces out to get to room temperature before assembling.
Recipe by Veggies Don't Bite, visit our site for more great plant-based recipes.
Nutrition
Calories: 514kcalCarbohydrates: 64gProtein: 19gFat: 17gSaturated Fat: 1gPolyunsaturated Fat: 2gMonounsaturated Fat: 1gTrans Fat: 1gCholesterol: 1mgSodium: 670mgPotassium: 730mgFiber: 9gSugar: 6gVitamin A: 595IUVitamin C: 13mgCalcium: 54mgIron: 10mg
Nutrition and metric information should be considered an estimate.
Never miss a recipe!
Sign up here and get a FREE quick and easy meal guide!