A kids body image is developed through the example of the adults in their life. When we have a healthy body image, they can too!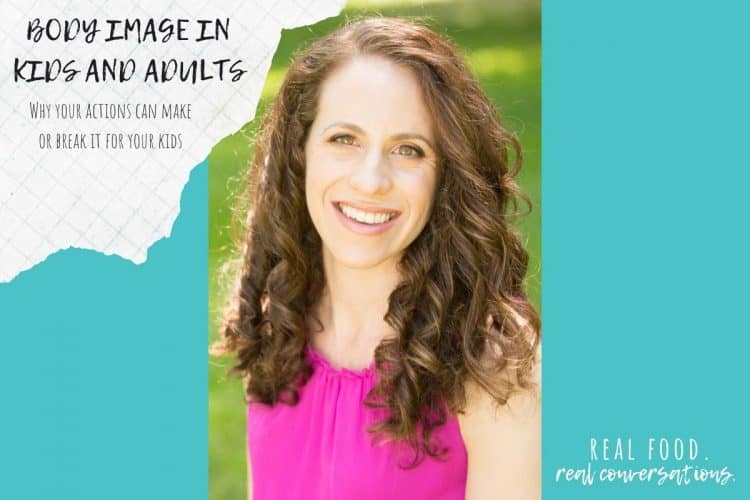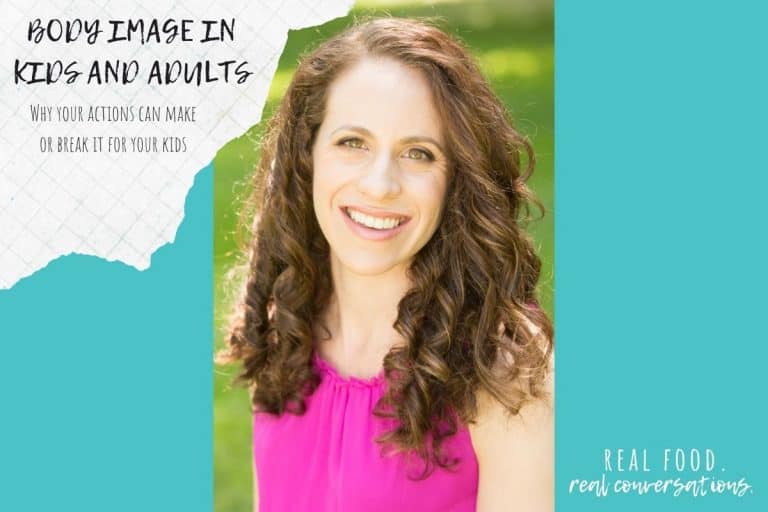 Kids see everything. They take our word in as the rules to live by. So making sure what we are putting out there is healthy for their mindset and will help foster their development is so important.
Podcast: Play in new window | Download | Embed

Subscribe now! Apple Podcasts | Google Podcasts | iHeartRadio | Stitcher | TuneIn | Deezer | RSS | More
Julie Revelant: Health Journalist
Julie is the founder of JulieRevelant.com, where she teaches parents how to raise healthy kids who crave healthy foods.
Julie has written hundreds of stories for print and digital outlets including FIRST for Women magazine, Woman's World magazine, Esperanza magazine, EverydayHealth.com, Reader's Digest (digital), WhatToExpect.com, theBump.com, and Babble.com.
For nearly 6 years, Julie wrote Healthy Mama, a column for FoxNews.com where she covered pregnancy, postpartum, maternal and children's health and nutrition.
Growing up, food was a center point in life. Every occassion involved food, and loads of it. She was raised to feel that if you didn't eat what was offered it was almost rude.
This led to an aura of overeating and away from listening to body cues for hunger.
Struggling with Body Image as an Adult
One of the things that is hard for us as adults, especially those of us with kids, is paying attention to how we talk about ourselves.
How we were raised around food has a lot to do with that. If we saw our mothers try diet after diet, talk about how they looked in a negative way, and struggled with their own body image it set a precedence that this is normal.
When we pay attention to what we say, take a step back and really listen, it helps us hear how we talk about ourselves better.
While teaching our kids about nutrition is important, it's even more important that we start with us when it comes to teaching our kids body positivity and maintaining a healthy mindset.
Kids Body Image Struggles
While it may seem crazy, kids struggle with body image. Especially in today's world. With all they have access to on social media, it isn't easy. Which is why it is that much more important that we lead by example.
Girls may seem to struggle more than boys, but it is still so important to address these issues with boys too.
Boys don't express it as much but they too struggle. Not only that, but as a mother of three boys I want to raise them to be able to support a woman one day (if they happen to marry a woman) and also be able to raise girls with a healthy body image (if they have daughters).
Helping Kids with Body Image
There was a study done that showed how daughters talked about body image in the same way as their moms. Both in a negative scenario and a positive one.
There are some important things to remember in order to help support your kids when it comes to body positivity:
Lead by example. Don't say things like "I look fat." or "I need to go on a diet."
Focus more on how we feel inside, like exercise makes me feel so much better. Or it helps me focus on my work when I get out and am active.
Ask them what they like about themselves, focusing on things other than looks.
Avoid using words that attach emotion to food or are opinion based.
Focus on foods and how they make you feel versus if they are "good" or "bad."
Talk about how people come in all shapes and sizes and celebrate all bodies. Don't make comments on other people's bodies, good or bad.
Strategies for a Healthy Body Image
Julie had some great strategies of how she helps maintain a healthy body image. Here are some of her tips:
Focus on strengths, talents and qualities versus how we look.
Eating wholesome foods and being active.
Environments where self worth is important and celebrated.
Finding organizations that support positive self image.
Have family dinners, studies show this helps a ton!
Don't label food with words like good, bad, etc.
Be attuned to the media you consume, this can have a huge influence.