A comprehensive guide on how to store produce so that it lasts longer and doesn't spoil. Save money and time with these tips and tricks!
There is nothing worse than going for that fruit or vegetable you need, and finding it spoiled and rotten. But not anymore!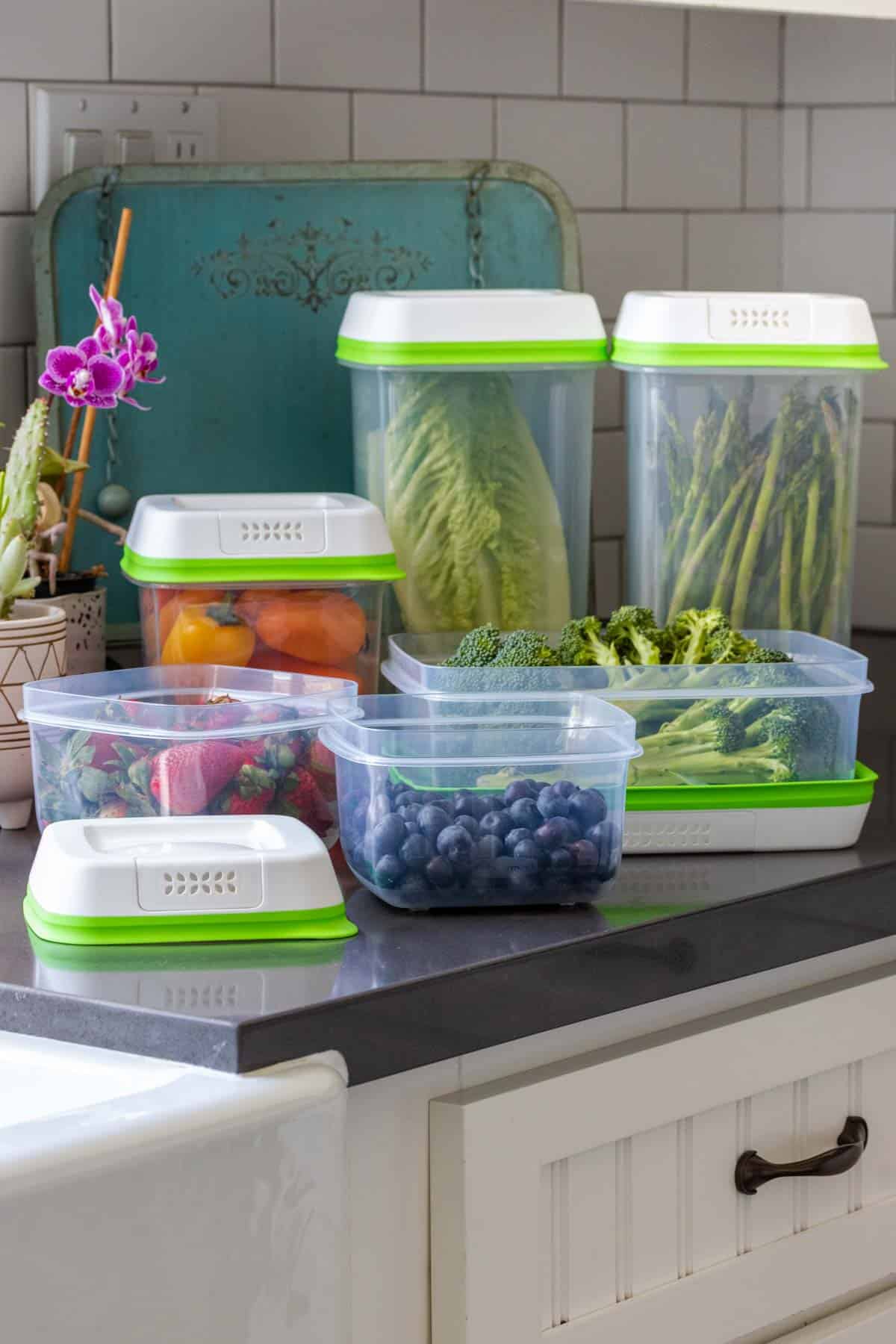 This post was sponsored by Rubbermaid but the content and opinions expressed are fully my own.
Other than learning how to prep vegetables, knowing how to store them so that you can keep them long term is one of the most important things to know. Especially if you're like me, a busy mom who doesn't have time to go to the store more than once a week!
How to Store Vegetables and Fruit
Having fresh produce on hand makes it easier to put together nutritious meals anytime. Summer is peak season for plenty of fresh fruit and veggies. So when you get home with overflowing bags of produce you want to keep it as fresh as possible, for as long as possible!
To learn the best way for how to store produce keep reading, and enjoy fewer trips to the store and less food in the trash can. And, take it a step further and learn how to organize your fridge!
The Best Storage Containers for Keeping Produce Fresh
Thankfully Rubbermaid has created the FreshWorks™ line to help avoid produce spoiling too soon, because no one likes food waste!
While any container will do, these really help to extend the shelf life. One of the biggest reasons for this is their revolutionary FreshVent™ Technology. This feature allows for the flow of oxygen and carbon dioxide in and out of the container.
This happens through a vent and filter in the lid, but no worries about having to switch it out, it's durable and doesn't need to be changed out!
They also have an elevated base that lifts up the produce above any moisture, as well as allows air to flow all the way around in order to keep them as fresh as possible.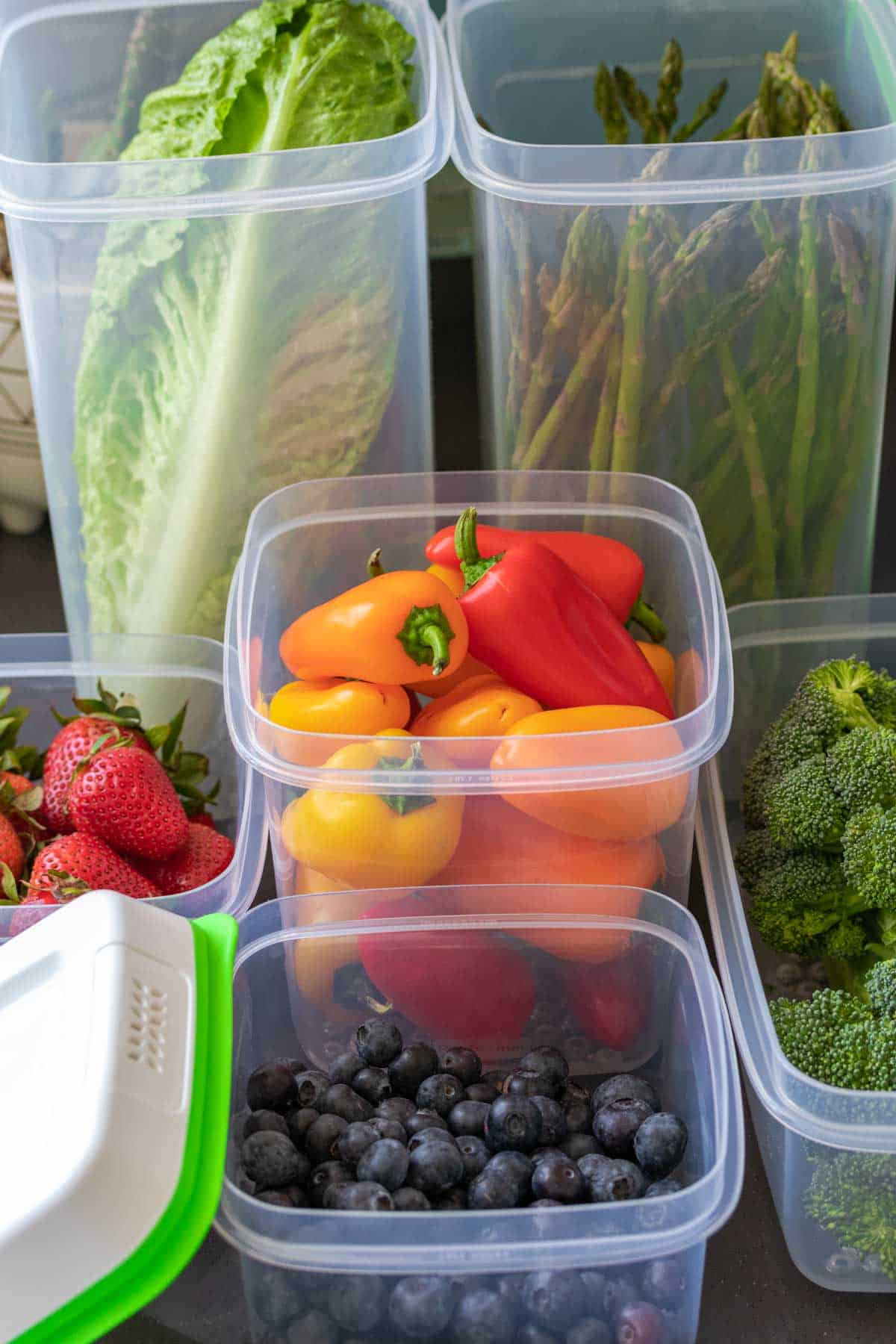 If you're hesitant to get designated produce storage containers I get it, our kitchens are overcrowded. However, this is actually a way to control that madness! When these containers are not in use they neatly nest together, saving space in your pantry.
And their modular space-efficient design actually allows you to organize your fridge better than you could ever imagine! I don't know about you, but my stress level is definitely reduced when everything has a home!
I love the variety of sizes they offer! These amazing containers come in the following 5 sizes, perfect for various types of produce and storage locations:
Medium Short (4.6 cups): recommended for blueberries
Medium (7.2 cups) recommended for strawberries
Medium Tall (12.7 cups): recommended for asparagus
Large Short (11.3 cups): recommended for bell peppers and broccoli
Large (18.1 cups): recommended for spinach and lettuce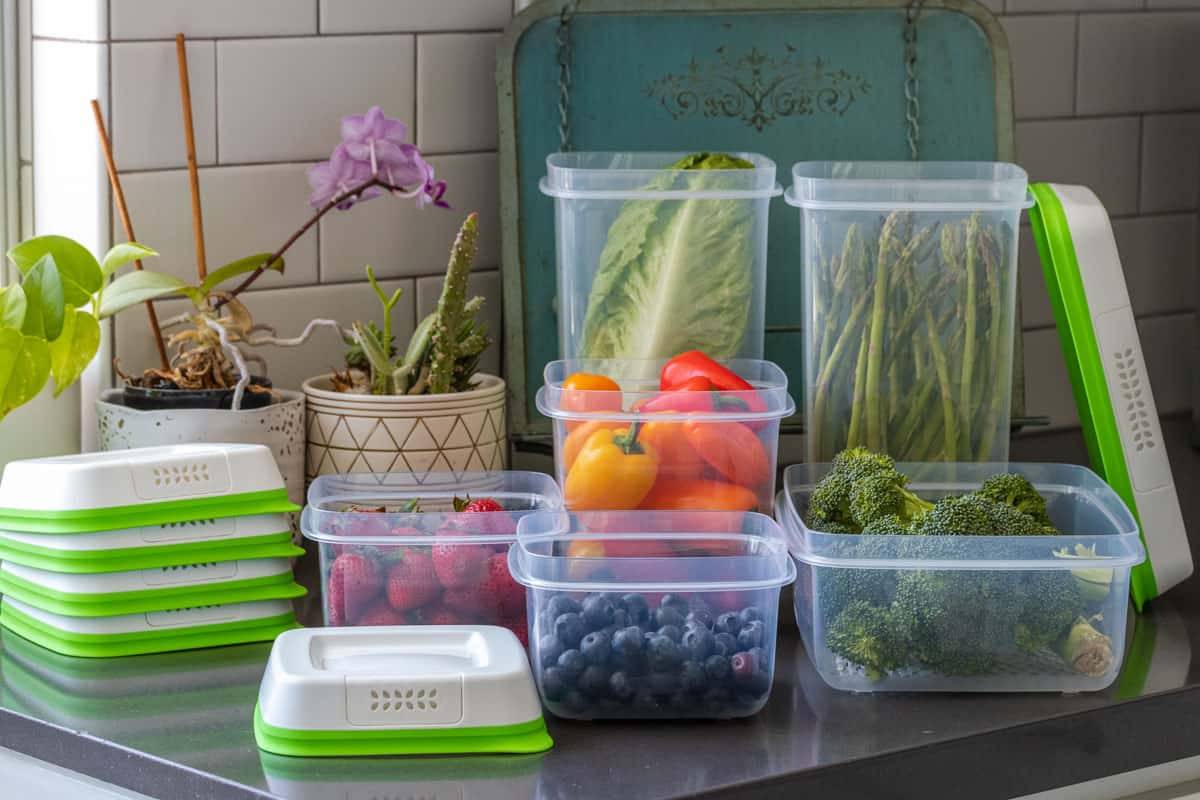 Fruits and Vegetables to Store in the Refrigerator
Some produce does better in the refrigerator than on the counter. The produce you should keep in the refrigerator includes:
Apples - after 7 days
Artichokes
Asparagus
Bell Peppers
Berries - blueberries, blackberries, raspberries, strawberries
Broccoli
Beets
Broccoli
Brussels Sprouts
Cabbage
Carrots
Cauliflower
Celery
Cherries
Corn
Grapes
Green Onions
Green Beans
Lettuce
Mushrooms
Pears - once ripe
Peas
Spinach
Sprouts
Zucchini and Summer squash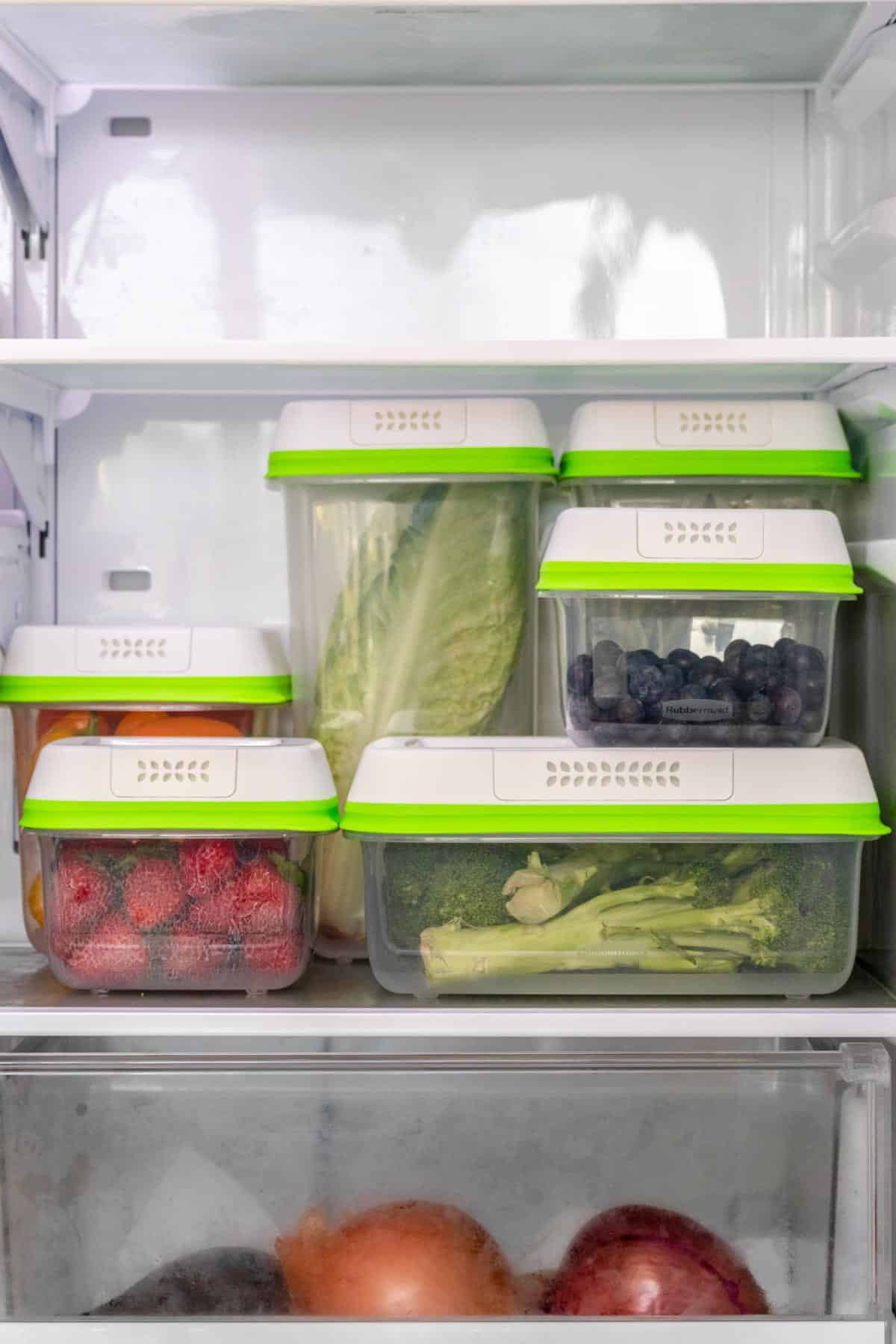 Produce to Store at Room Temperature
There are many fruits and vegetables that do better when kept on the counter or in your pantry. However once these produce items are ripe or have been cut they should be kept in the refrigerator.
Apricots
Avocados
Bananas
Garlic
Kiwi
Mangoes
Melons
Onions
Peaches
Pears
Pineapples
Potatoes
Tomatoes
Winter squash
How to Keep Produce Fresh
It's going to be a lot harder to get all your veggies in if you don't know how to keep vegetables fresh! And there's nothing like being able to pop in the fridge for some non-moldy fruit!
Other than making sure to use the right containers, which is why I love the Rubbermaid FreshWorks™ line, here are some other things you can do to make sure you get the most out of your produce storage:
The first step is to pick the freshest produce possible. This way you will have the maximum amount of time to get around to eating it!
Check your refrigerator temperature. If your refrigerator is not at 40°F or lower your food will spoil more quickly.
Wait to wash the produce! The idea of already washed fruits and veggies is nice, but it will speed up the spoiling process. Keeping them unwashed is your best bet for a longer shelf life.
Also, avoid cutting the fruit and veggies until you are ready to use them.
Keep everything separated. Certain produce emits a gas called ethylene, which can cause other food to spoil faster.
If you buy a package of multiple items such as berries, inspect each one as you transfer them to the storage container and toss any that have mold. You can also place the ones that look a little less fresh on top so you eat those first without spoiling the rest.