Many people want to know what a raw food diet is and how it differs from a traditional vegan diet. Our guest today is an expert on all things raw and is dishing out all the facts!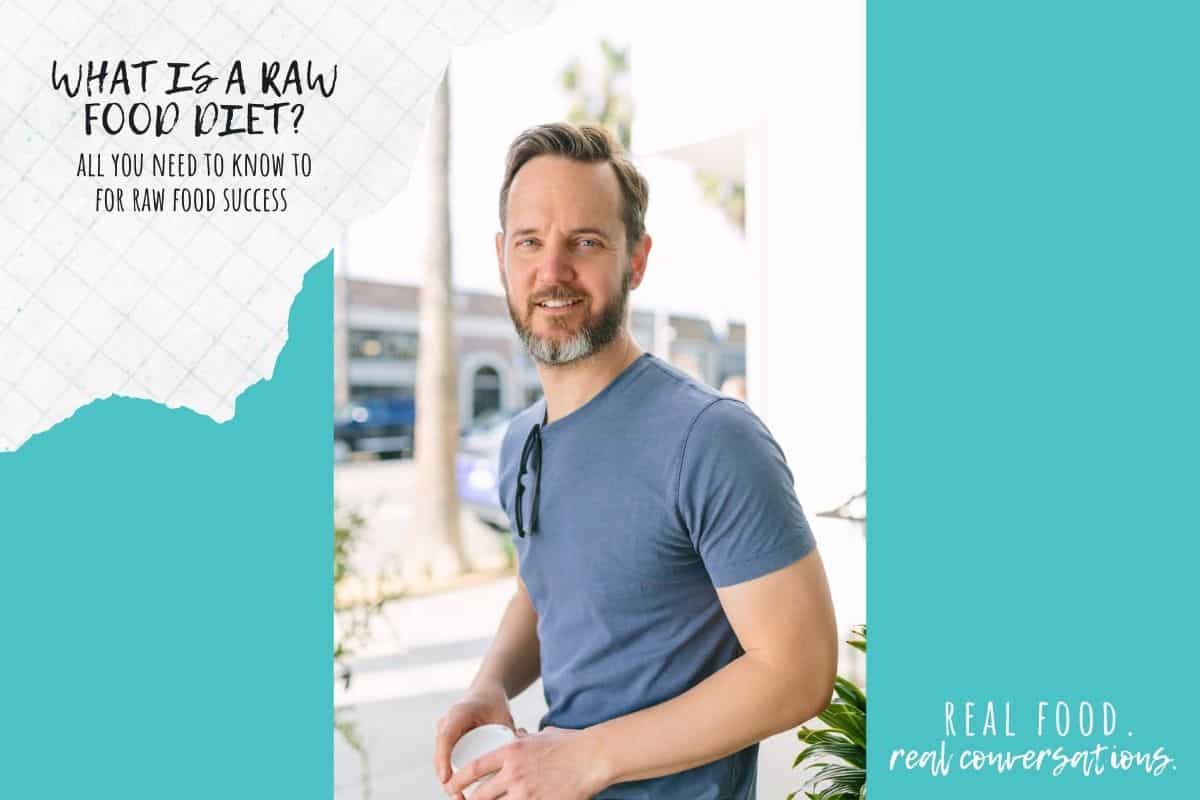 It can get confusing keeping it all straight, and with so much information online it's hard to separate the real info. So we are making it easy!
When it comes to deciding what way of eating is best for you, having up to date information you can trust is important.
Podcast: Play in new window | Download | Embed

Subscribe now! Apple Podcasts | Google Podcasts | iHeartRadio | Stitcher | TuneIn | Deezer | RSS | More
At the age of 28, Russell took a life-changing trip to Koh Samui, Thailand to clear up the acne that had plagued him for years. It was there he discovered raw food.
Russell's mission is to make raw food accessible every day. Whether it's raw sandwiches or show-stopping dinner parties, your meals can be amazingly healthy.
Today, Russell has had the pleasure of teaching raw food to thousands of people worldwide. Students have learned through his livestreams and online courses at therawchef.com.
Definition of a Raw Food Diet
A raw food diet focuses on food that is in it's raw state or cooked below 116 degrees Fahrenheit (although that exact number can change depending on who you ask). 116 degress is the temperature that food tends to lose the most delicate of it's enzymes.
Raw chefs use different ingredients that are in their natural state or dehydrated in a dehydrator. With this they can create all types of recipes, from food like pizza, crackers and even bread.
Sauces can also be made in raw form. The secret is using alternative methods like thickening with other raw foods (like sun dried tomatoes for a tomato sauce or cashews for a dip or dressing). Making things like crackers or pizza tortillas requires you to slowly crisp these foods in a dehydrator. It simply just takes longer.
The Theory Behind a Raw Food Diet
As we said before, food tends to lose it's enzymes at around 116 degrees Fahrenheit. So theories behind raw foods diets say that to get the most out of foods you want to keep the enzymes.
While not necessarily backed by science, theorists saw our body has enzyme bank account and if you eat food with all it's enzymes in it, you don't deplete them from you enzyme bank account which allows your body to be in it's best state.
Others will say that enzymes don't make it through stomach acid anyway so it doesn't make a difference. The bottom line is that you need to try and see what works for you.
Everyone needs to do their own research. If you eat something and it makes you feel good, then do it.
Is a Raw Food Diet Healthy?
Whether or not a raw food diet is the best for you depends on your individual body. You need to listen to your body and what works for it. Some people can't digest things that other people can, so while eating some raw food can make you feel amazing, others may not.
Ethically, you can't say a raw diet will solve all problems. What works for one person may not work for another. That being said, raw fruit and vegetables is filled with nutrients that our body loves and needs to function.
Nutritional deficiencies take a long time to show up, so it's hard to base how healthy a raw food diet is on that fact alone.
You also need to think about what satiates you, whether you can feel satisfied with simply fruits and vegetables or if you need other types of foods is purely an individual issue.
Examples of Raw Foods
You'd be surprised how many things you already eat that are raw! Here are some examples of raw food and also raw ingredients you can put together to make something:
Juices
Smoothies
Granola made in a dehydrator
Chia seed pudding
Oats (are steamed to preserve shelf life but ok when you are just starting)
Nut milks
Salads
Dairy free cheeses made from raw nuts
Dressings like my vegan ranch
Make a raw "meat" like this one from my zucchini roll ups
Fermented foods like sauerkraut or kimchi (make sure these are in the refrigerated area because if not they have been pasteurized and are not raw)
All fruits and veggies
Raw nuts and seeds
Nutritional yeast
Miso (we love chickpea miso)
Watch your reaction to these raw foods to make sure you can digest them ok. Sprouting nuts or soaking nuts can help with digestion, just like it helps when you soak and sprout beans.
How to Start a Raw Food Diet
If you want to give a raw food diet a try, starting with something that you are already eating and adding to it is a great beginning. You can also start with a part raw and part cooked diet, which can may also be easier to digest for some people.
Finding a good source to follow for ideas and recipes will ensure success, make sure to check out Russel's website for all sorts of recipes and support!
I would also suggest you use some meal prepping to help keep you organized as that will make sure you have something ready to go!