Learn how to meal prep vegetables and get new ideas for fast and easy meals in this comprehensive guide! If you're looking to make meal times easier with less stress you've come to the right place.
Prepping ahead can save you so much time! Using these simple tips for meal prepping veggies will help you get those healthy dinners on the table in no time.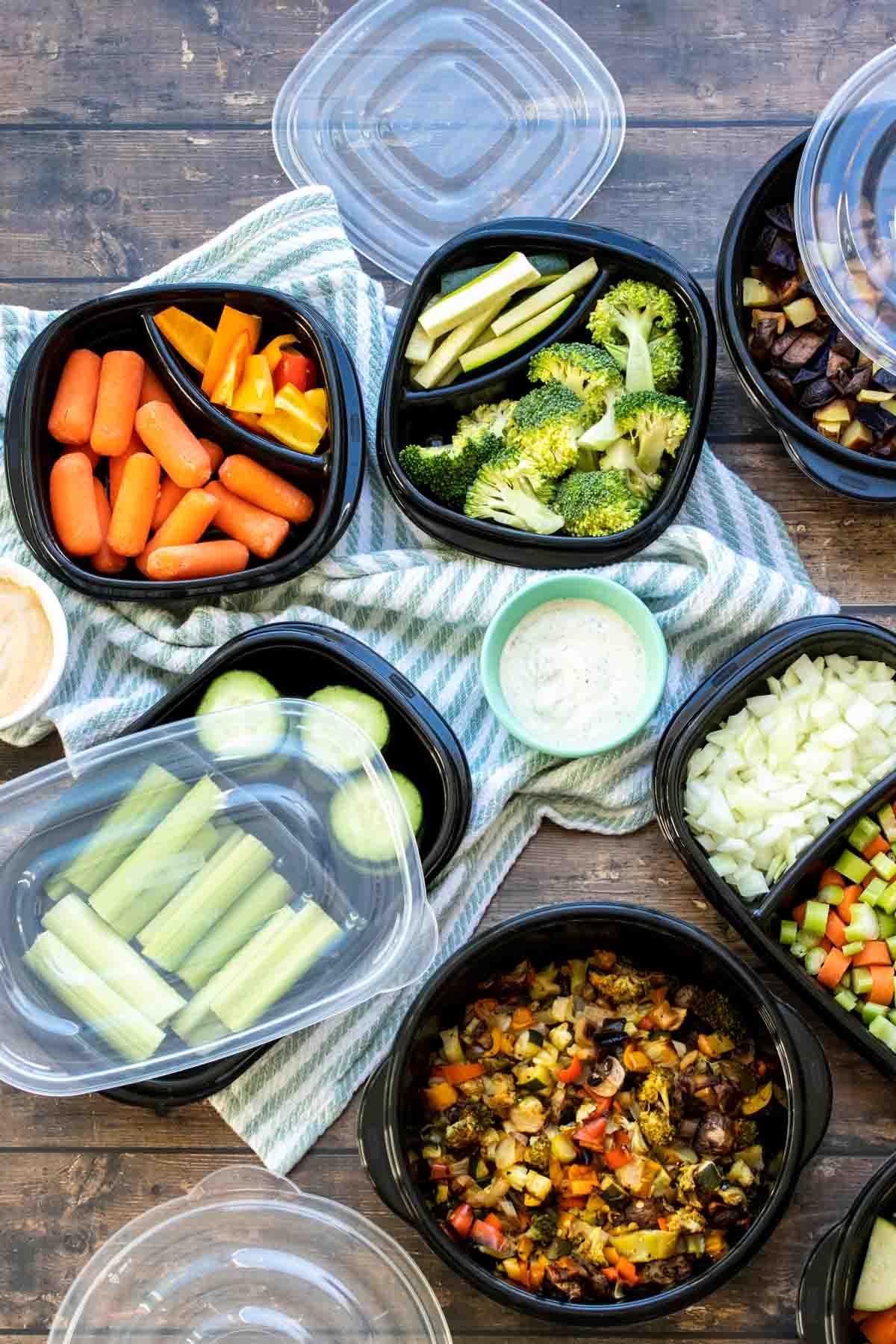 This post was sponsored by Rubbermaid but the content and opinions expressed are fully my own.
This post was originally published on February 3, 2020.
Take control of your meals so they don't control you! Prepping veggies is the first step towards healthy easy dinners. You can also learn how to store produce once you prep them too!
Benefits of Meal Prepping Veggies
One of the most time-consuming parts of cooking any meal can be chopping vegetables. Peeling, deseeding, chopping and the clean up takes forever sometimes. But if you meal prep vegetables ahead of time, this cuts a solid 20-30 minutes out!
Because I am starting the year with a positive pep in my step and a desire to not only save money by not going out as often, I want to be on top of my game with making nutritious meals for my family. Prepping ahead keeps me in line with my goals!
When you batch tasks, like prepping things all at once, your brain is able to focus on the same task without shifting to something new. Therefore, it expends less energy and you are able to get it all done faster. And in my life is 3 kid crazy, I am in for anything faster!
How to Meal Prep Vegetables
First off, you'll want to make sure you get your vegetables nice and clean. Between being picked, shipped and then handled at the grocery store. Your produce has had a lot of exposure. It's important to make sure they get cleaned properly before use.
Soak your vegetables in clean, cool water for 1-2 minutes before prepping.
For vegetables with thick skin, scrub gently with a clean produce brush.
Remove outer most leaves of lettuce, cabbage or other leafy vegetables that may have wilted because yuck.
Dry produce with a paper towel to make sure extra moisture doesn't attract bacteria or spoil your veggies quicker.
How you cut and prep vegetables will depend on their usage. If you already know what you'll be using the vegetable for, and will be using it in the next couple of days, go ahead and chop for that recipe.
If you're wanting to use vegetables as snacks for kids, cutting into thin strips and storing in a container easy for them to open.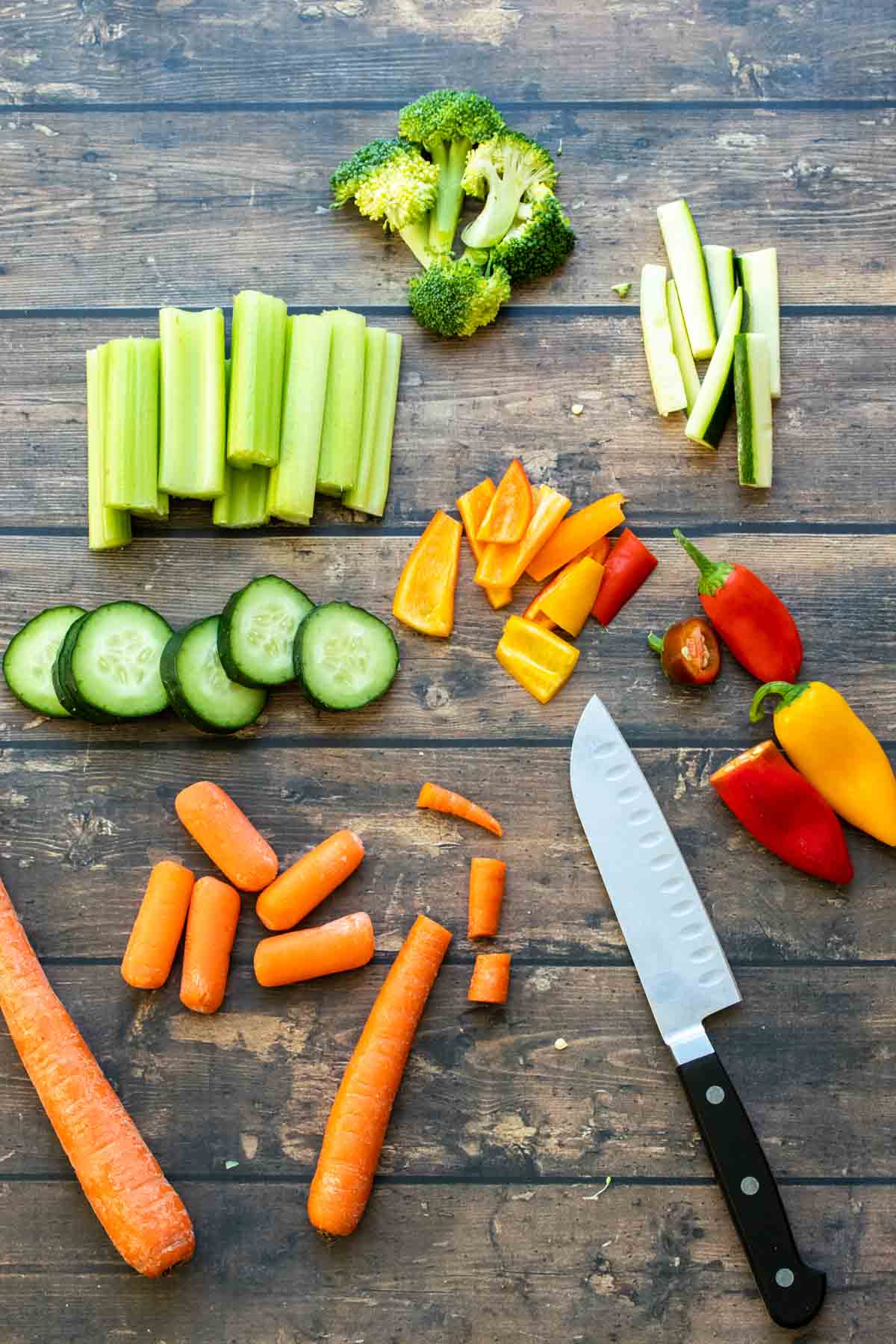 What veggies are good for meal prepping?
Before you start getting chop happy, it's important to know which vegetables will hold up to being meal prepped. Here are some that we find work well:
Carrots
Broccoli
Cauliflower
Asparagus
Green beans
Peas
Onion
Leafy greens
Eggplant
Yellow squash
Brussel sprouts
Celery
Beets
There are definitely some veggies that are best left prepped when needed. However this can be to each person's discretion because it also has to do with how fresh the produce is. For example, I have prepped cucumbers and tomatoes ahead of time without issue. Then another time they went bad after a day.
The fresher the produce is, the better they are for meal prep. Also, oxidation happens quickly in some produce, so you have to decide how much that bothers you. Here are some items that I sometimes leave for when I need them, unless I will use them the next day or within 2 days tops:
cucumbers
tomatoes
bell peppers
mushrooms
potatoes
avocado (often left until I need it due to oxidation)
Can you meal prep cucumbers?
You can, but like I said above it depends on how fresh they are. Super fresh cucumbers can be cut up and stored for up to 4 days in the refrigerator. A trick is to add a damp paper towel in the container to keep them from drying out!
But if they aren't super fresh, they can go bad fast. Check to see how firm the skin is. If it is nice and firm, and there is not softness to it, it's probably pretty fresh.
How many days in advance can you prep vegetables?
2 -3 days is best for storing fresh vegetables. After this, they start to lose their flavor and crispiness. But this guideline can change depending on the vegetable, how fresh it is and how much oxidation you can handle!
Is it good to cut vegetables the day before?
Absolutely! If you know you'll need them, you might as well chop them up ahead of time. I prep my veggies ahead of time often, but there are many times I just can't get my act together. This is when I make an effort to at least prep the night before!
Can I store cut vegetables in fridge?
Yes, this is the best place to store them. You'll want to make sure you're choosing the proper containers for storage as well. My current obsession has been these high quality Rubbermaid TakeAlongs® Meal Prep Containers.
I love them because the square snacker size and the rectangular food storage size have compartments! Why compartments? Because it helps keep the vegetables in their own little space. This way, not only will the flavors not meld together, but my kids won't have a defcon 4 tantrum when they go grab a carrot and god forbid a piece of broccoli touched it.
The other thing I love is that the TakeAlongs® Meal Prep bowl size is HUGE. It's the perfect dump bowl when you are prepping things like stir fries and veggie mixes to saute.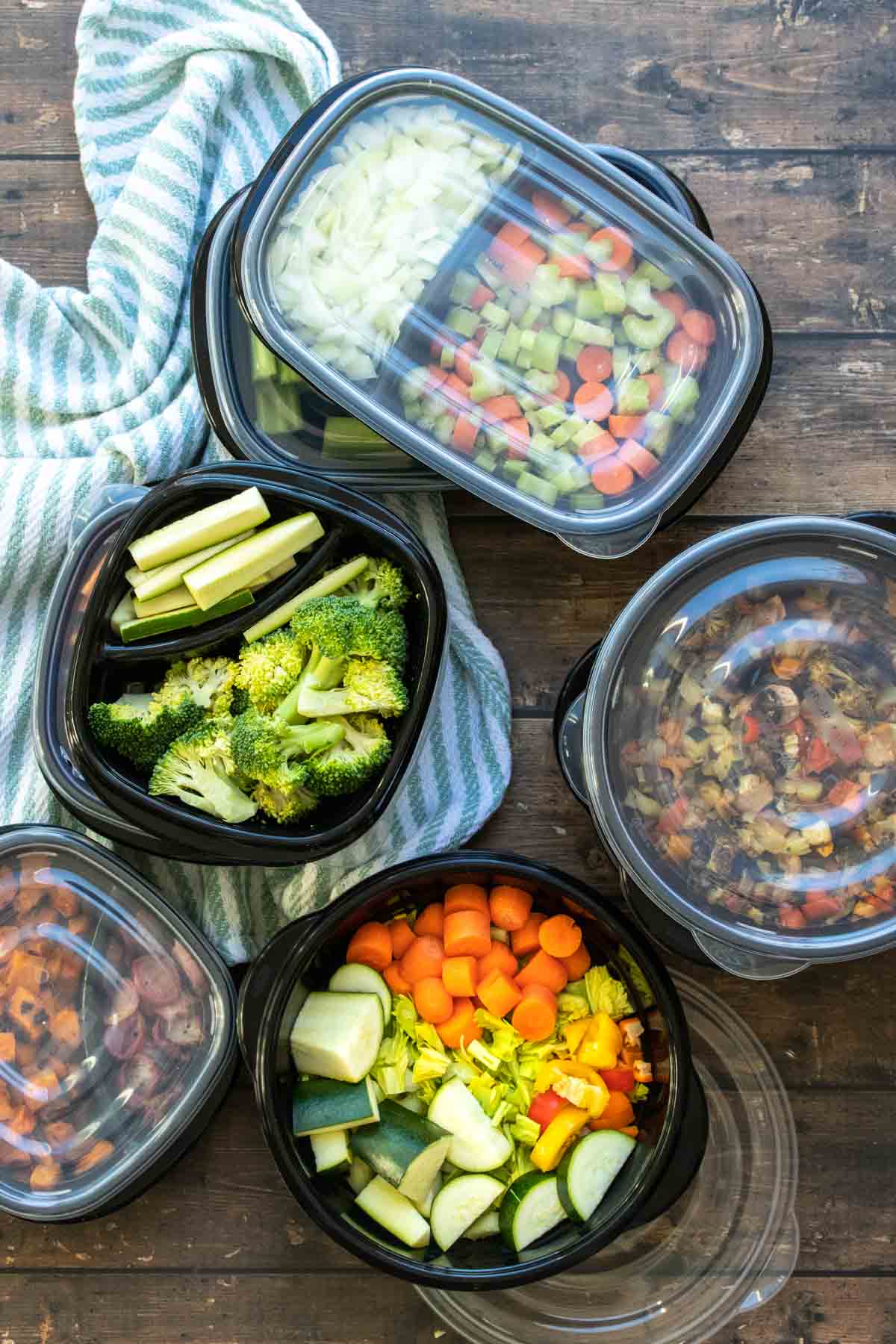 How do you store vegetables in the refrigerator?
Ultimately it depends on the vegetable! Leafy greens do best, rinsed, wrapped in a paper towel and then stored in a sealed container. Mushrooms do best kept dry like even using a paper bag before putting them into a container, and other vegetables should be stored in a container in the crisper drawer of your refrigerator.
Organization though is key. Clutter brings chaos and chaos does not lend itself to getting things done quickly and easily. I found that when I can stack containers by type, it takes up less room in the fridge. These Rubbermaid ones have 3 different sizes (square snacker size, rectangular food storage size and meal prep bowl size) so there are plenty of options.
Here is how I figure out what goes where:
Chop the veggies according to what I am needing them for: meal prep (diced, julienned, etc) or snacks (sticks, rounds, etc).
Organize each into the container they best fit in. I like to use the big bowl to dump things I will be cooking together, I use the containers with separators for things like snack veggies for each kid based on what they like. I even use some of the spaces for dippers like hummus or my vegan ranch that they love.
Stack them in the fridge one on top of the other, using the crisper drawer when needed.
How do you store vegetables in the fridge without plastic?
If plastic containers aren't your jam, or not something you own, you can use other means to store your veggies:
You can use glass containers.
Use the crisper drawer of your refrigerator.
Wrap with paper towels.
Use reusable cloth bags.
How to store stinky veggies you've prepped
While some veggies can do well in plastic or mesh bags, using containers is your best bet for keeping veggies fresh and keeping the smells from the more pungent ones from mixing.
Good sealed containers also prevents the smell from permeating throughout your refrigerator and contaminating other foods.
Plus you should make sure these veggies are not touching anything else, which is why using containers with dividers is perfect!
What if I have leftover vegetables?
If you have leftover vegetables that are close to going bad, you might consider cooking or roasting them. This will allow you to keep them for a couple of extra days and gives you side options for other meals! I often roast and then put them right back into the container, not needing to get anything else dirty!
Another trick I love, is when I am prepping, I use a big round bowl container (like the bowl sized Rubbermaid container I mentioned above), as a dump container. So if a recipe needs one cup of chopped carrots, and I have a handful of chopped carrots leftover, I just throw it into my dump container.
Same goes for things like the leaves from the celery that my kids refuse to eat, or even the stalks of broccoli.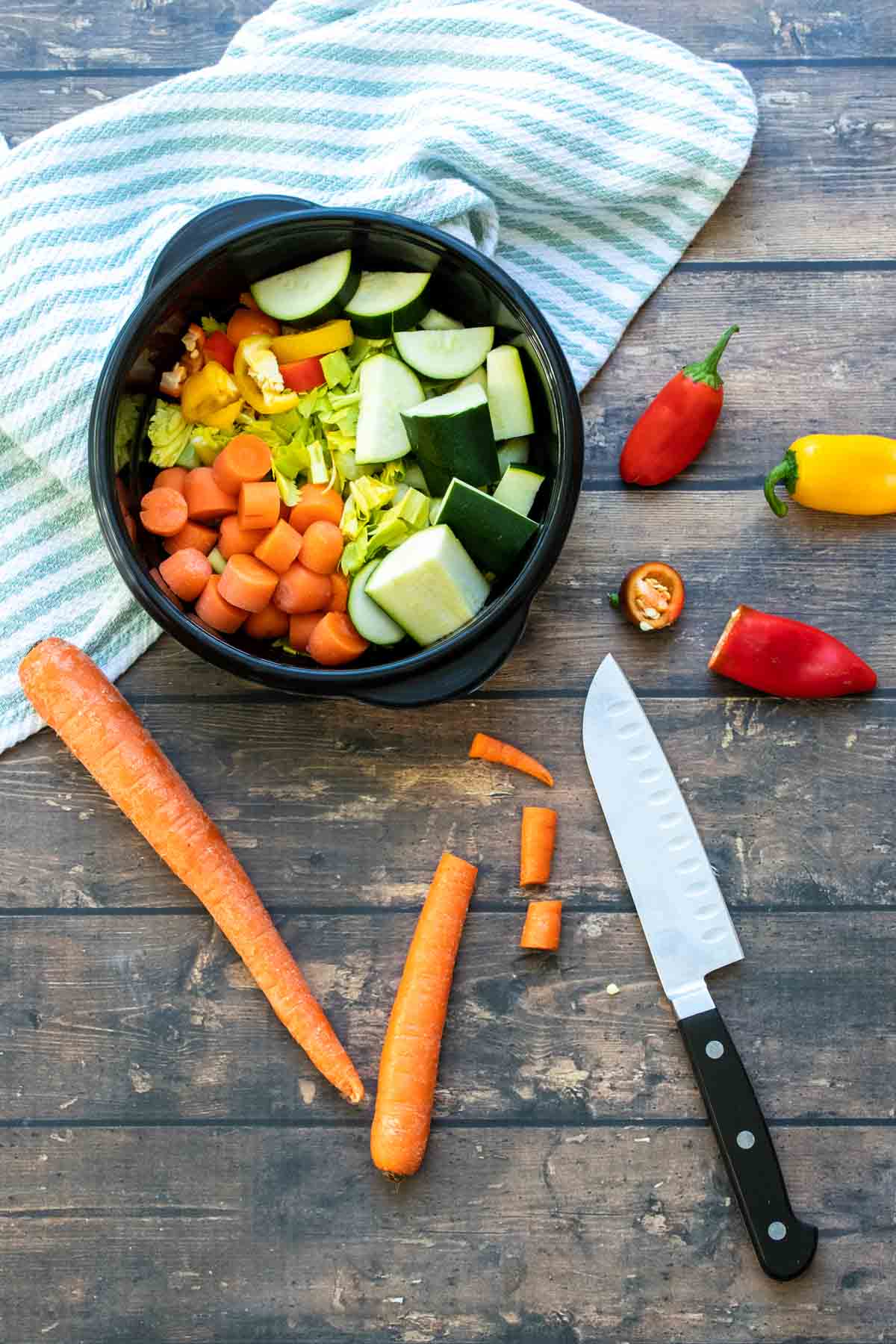 Then this dump container goes into my fridge and becomes the veggies I use for recipes that require any leftover veggies. Here are a few favorites:
Can You Meal Prep Cooked Vegetables?
Yes you can! Once the veggies are cooked they will keep in the refrigerator for up to 5 days. This is great for having ready to eat lunches and dinners that simply require reheating. However, the texture of the vegetables won't be exactly the same as freshly cooked.
Meal Prepping Vegetables Ideas
If you are meal planning, you'll know what vegetables you need each day. You don't want to cut up vegetables that you're not planning to use right away. So make sure you're only prepping for a couple of days at a time.
Prepping vegetables ahead helps you get more into your diet as it takes some of the work away. Meals can seem a lot more daunting when you have 2-5 vegetables you have to chop and prepare. If this work is done ahead of time, meals seem more manageable.
This also gives you healthier snack options. If you have vegetables in the fridge, ready to go, you and your kids may reach for these first over less nutritious options. Plus, the kids can grab them quickly without needing you to stop and make them a snack. Double win!
If you're looking for some great containers to get you started, check these Rubbermaid TakeAlongs® Meal Prep Containers out. They are accessible to a wide range of people because you can get them at Walmart. Plus Walmart offers large pack sizes, great for meal prepping in bulk for those larger families like mine!
Easy Meal Prep Recipes
Put your prepped veggies to use with these ideas:
Fresh salads - prep the greens and all your favorite toppings so you can quickly toss together a healthy meal.
Burrito Bowls - use lettuce, rice, or quinoa as a base and load them up with peppers, onions, tomatoes, etc!
Sushi Bowls - vegetables like cucumbers, carrots, and radishes are easy to have ready to go.
Fried Rice - it's so easy to use up basically any chopped veggies in this recipe!
Veggie Sandwiches - use hummus for a spread and load all your favorite prepped veggies, greens, and sprouts.
Soups - it's easy to pack soups with plenty of vegetables. Try this 20 Minute Coconut Curry, Miso Soup, or Vegan "Chicken" Noodle Soup.
Grazing Boards - fill a large platter with tons of vegetables, fruit, dips, nuts, and crackers or bread for a fun family meal.
Sheet Pan Meals - make life easy by tossing a bunch of prepared vegetables on a baking sheet and roast them with your favorite seasonings.
Casseroles and Comfort Food - it's simple to add vegetables to almost any casserole recipe! Our go-tos include this Enchilada Casserole, Pastitsio, Gluten Free Vegan Pot Pie.