Whether you are looking for a refreshing drink, or want to give your wellness a little love, this immune boosting smoothie is the perfect recipe!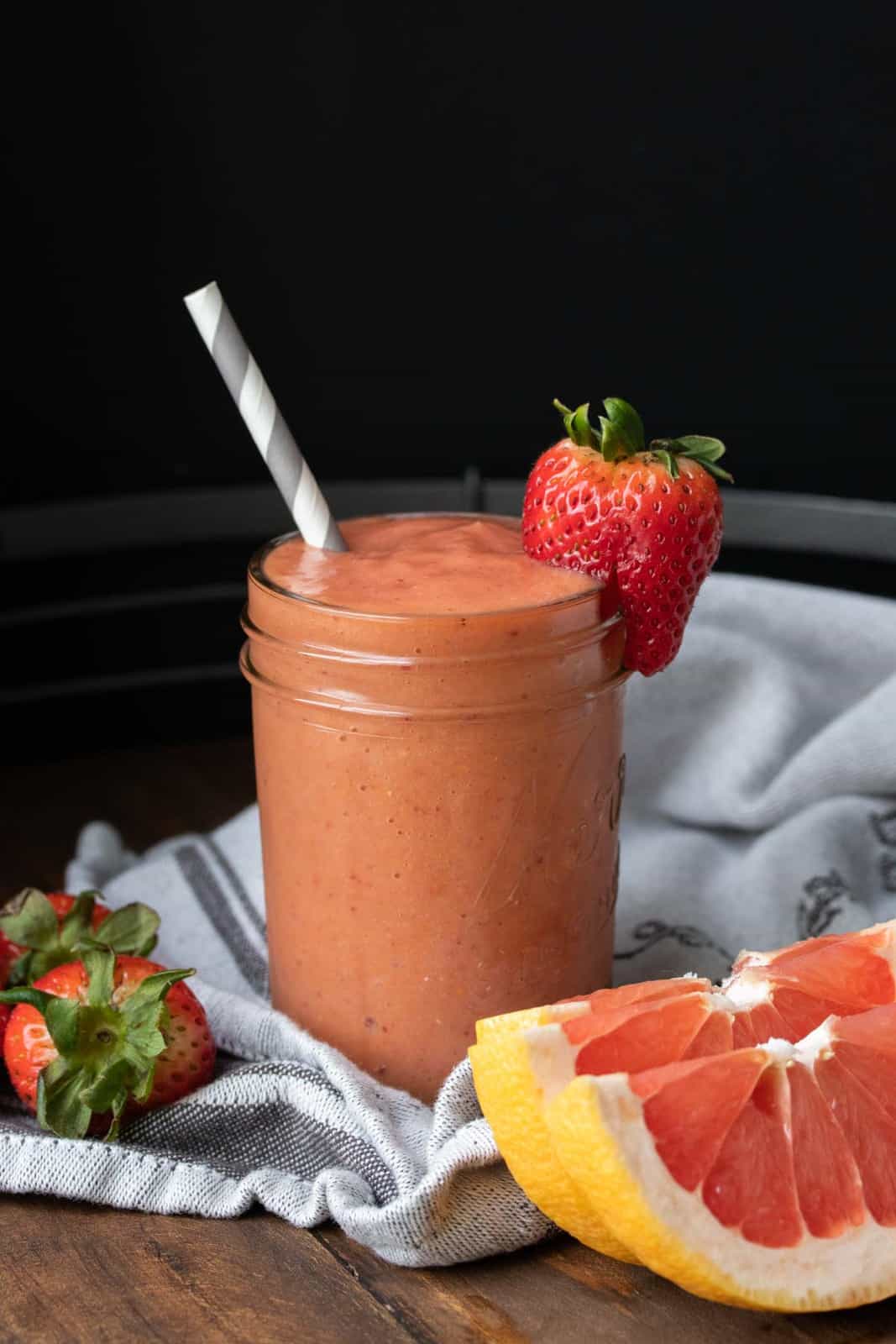 My immune system is pretty rock solid, something I credit to my overall attention to wellness. There are so many things that can help you fight those winter colds, and one of my favorites is delicious wholesome food!
Immune Boosting Smoothies
It's important to mention that while immune-boosting smoothies are awesome, they're not a one-stop quick fix to illness. Living a healthy lifestyle is only one part of making sure your body is functioning at it's best. And by healthy, I mean body AND mind
There is still so much that is unknown about how our immune systems function and scientists and doctors are learning more all the time. While some people take supplements to help their immunity, food is another great way to give support.
Managing what foods you're putting into your body, exercise and stress levels are all crucial to overall wellness. These smoothie ideas are a great step in ensuring you are putting the proper nutrient-rich food into your body in a tasty and easy way.
What can I drink to boost my immune system?
Drinks that are rich in vitamins and nutrients are going to help your body function at it's best. It's also important to make sure you stay hydrated, as water helps your cells to replenish and move nutrients around.
Are smoothies good when sick?
The Academy of Nutrition and Dietetics states that while there are no guaranteed smoothies that will cure an illness, helping support your immune system with nutrient-dense foods can't hurt.
Vitamin C alone won't cure a viral illness, but it will give your body the tools it needs to be able to battle it out. Same with the other vitamins I discuss below, there is no "cure-all" smoothie or drink.
But it is important to make sure you feed your body the nutrients it needs to be able to work at it's best level. Smoothies are definitely a great way to do just that!
What vitamin is best for your immune system?
There are 3 main vitamins when it comes to giving your immune system a boost. The Cleveland Clinic suggests getting adequate amounts of Vitamin C, B6 and E to help support a healthy immune system.
Vitamin C - This is the best immune-boosting vitamin. Being low in Vitamin C can actually make you more susceptible to getting sick! Your body does not store Vitamin C, so it is essential to make sure you get your daily dose to help keep your immune system in tip-top shape.
Vitamin B6 - This is a vitamin that is essential to biochemical reactions in the immune system. Your body cannot produce it, so you need to get it from food or supplements. Luckily this vitamin is found in many different foods!
Vitamin E - This vitamin is full of antioxidants, which help your body to fight off infections. This is also easily consumed in many different types of foods.
How to Make an Immune Boosting Smoothie
This is a quick and easy recipe that is perfect for the whole family! It's filled with loads of fruits and vegetables so an awesome wholesome snack.
Put everything into a blender, mix and match to fit your taste.
Blend until smooth.
Serve!
Tips for making the perfect smoothie
There is nothing worse than a watery smoothie. Nor an icy one. As an avid smoothie maker, I have some tips that ensure your smoothie has the perfect texture and flavor!
Ice will water down your smoothie, so it's much better to use frozen fruit.
Freeze cubes of milk or juice instead of ice to blend in.
Frozen bananas give you a really creamy consistency.
You can put grapes right into the freezer to use instead of ice.
Pineapple and mange makes a great frozen "ice cube" too.
Ingredient and flavor combo ideas
To cover those top 3 vitamins you'll want to ensure you add in some of the below ingredient ideas:
Vitamin C - oranges, chili peppers, sweet yellow peppers, guava, mustard greens, spinach, kale, kiwi, broccoli, lemons, papaya,  pineapple, mango and strawberries.
Vitamin B6 - chickpeas, bananas, squash, spinach, tofu, watermelon, and nuts.
Vitamin E - wheatgerm oil, sunflower seeds or oil, almonds, peanuts, peanut butter, spinach, collard greens, beet greens, leafy greens in general, pumpkin, mango, and avocado.
Other vitamins that can be helpful too:
Vitamin a: mango, carrot, spinach, sweet potato, broccoli
Zinc: mushrooms, spinach, broccoli, kale, chickpeas, lentils, black beans, chia seeds, pumpkin seeds, pinenuts, peanuts, pecans, and cashews
Also, vitamin d is good, but most of it is not vegan unless you have fortified orange juice or soy milk.
The good news is, many of these will go really well together! Other than the recipe I give here, here are a couple of simple combination ideas for you to try:
Orange, Mango, and Banana
Spinach, Kale, and Kiwi
Chili pepper, Papaya, Kiwi, and Mango
Watermelon, Mint, and Lime
Raspberry, Strawberry, and Blueberry
Strawberry and Banana
Bottom line, get creative!!! Smoothies are the best way to practice experimenting in the kitchen!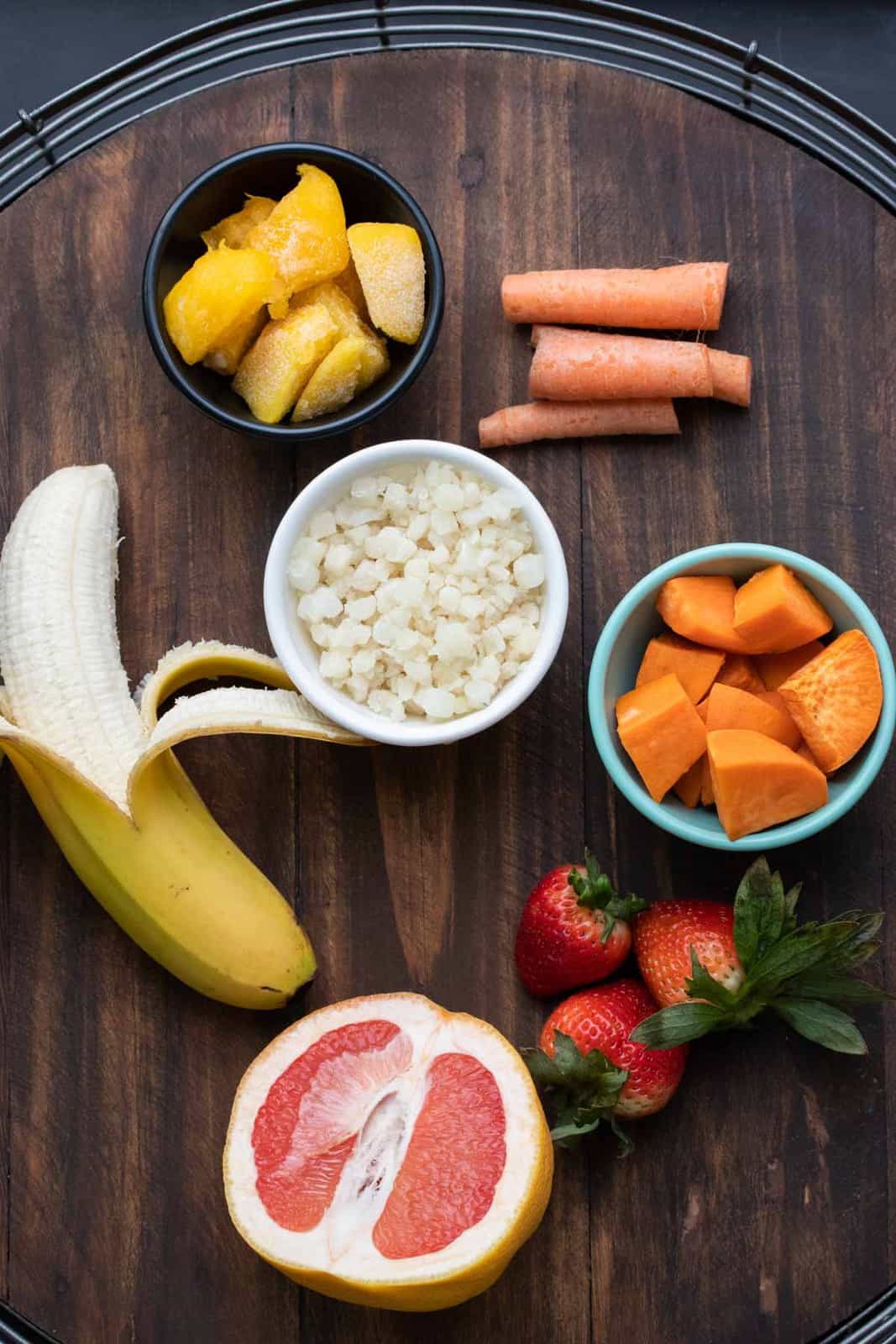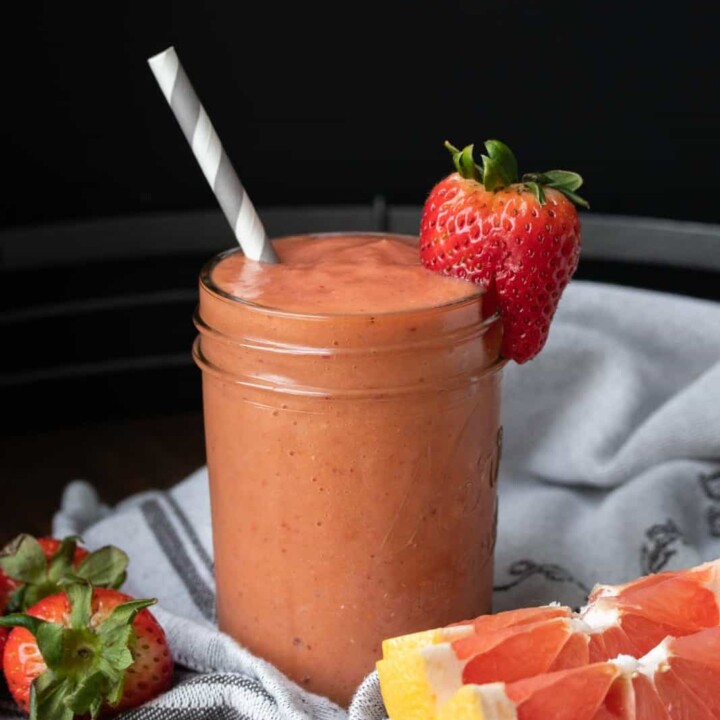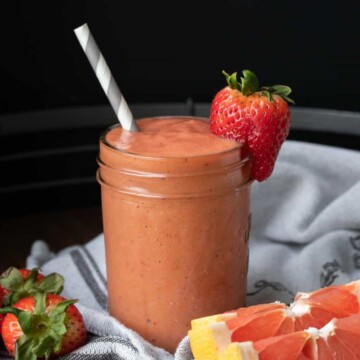 Immune Boosting Smoothie For Wellness
Whether you are looking for a refreshing drink, or want to give your wellness a little love, this immune boosting smoothie is the perfect recipe!
Ingredients
1-2 cups dairy free milk , depending on consistency you like
1 orange (or grapefruit)
¾ cup cooked sweet potato
¾ cup mango , frozen preferred
¾ cup strawberries , frozen preferred
½ cup cauliflower , or cauliflower rice (can be frozen)
1 large carrot
½ banana , frozen preferred
Instructions
Peel the orange.

Add everything into a blender and blend until smooth. Start with 1 cup milk and add more as needed,

Serve and enjoy!
Notes
Add less or more of each thing to find the flavor you like.
The milk amount depends on what ingredients you have frozen.
Add ice if you do not have anything frozen. You may need more milk if you use some ice.
Recipe by Veggies Don't Bite, visit our site for more great plant-based recipes.
Nutrition
Calories: 191kcalCarbohydrates: 43gProtein: 4gFat: 2gSaturated Fat: 1gSodium: 220mgPotassium: 751mgFiber: 8gSugar: 25gVitamin A: 12988IUVitamin C: 107mgCalcium: 222mgIron: 1mg
Nutrition and metric information should be considered an estimate.
Never miss a recipe!
Sign up here and get a FREE quick and easy meal guide!