A Greek butter cookie that's vegan, gluten-free and with a healthier butter free option. Both Kourabiedes recipes are incredible and Greek dad approved!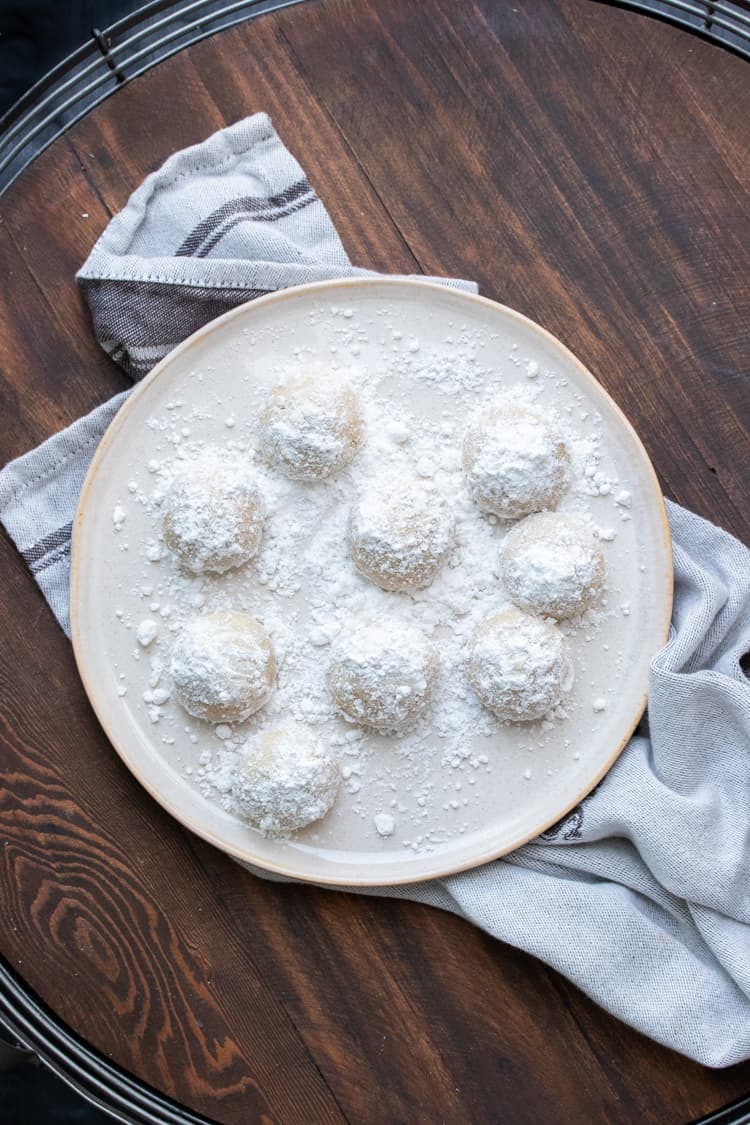 Kourabiedes are my dad's all time favorite cookie. I was hell-bent on creating a vegan and gluten free kourabiedes recipe that he would approve of. And while I was chasing that unicorn I figured I may as well perfect a healthier alternative that was butter free.
Kourabiedes- Greek Butter Cookies
Wait, did I say a butter free Greek butter cookie?! Am I crazy?! Well yes, but that's beside the point. The fact is that I did it. And BOTH versions are approved by my kourabiedes loving father who does not approve of food easily.
Every year around the holidays, we make Greek Christmas cookies. Growing up I longed for the families that made the traditional sugar cookies with all the frosting decor, but as I got older I started loving our traditions.
The three most popular Greek Christmas desserts in our house are baklava, melomakarona and these kourabiedes. I am so excited that I have perfected vegan versions of all of these. And gluten-free for two of the three (I have yet to find a good gluten-free filo dough for the baklava).
The weeks before Christmas the baking frenzy began. This was what we gave to neighbors and friends so there was no one and done baking situation, We. Baked. For. Days. And now, I plan to continue this tradition with my boys.
Can I make kourabiedes ahead of time?
Yes! We do this a lot. If you make these up to a week ahead of time, you can make them in their entirety and they will still be yummy. However if you want to prep far ahead of time, here are some tips to use and consider:
You can bake the cookies, cover in plastic wrap and store in an airtight container in the freezer until ready to serve.
You can simply make the dough, wrap tightly in plastic wrap, then freeze in an airtight container.
You can also do these both and store in the fridge if you will use them within a few days.
If freezing, allow to return to room temperature by putting on the counter.
How to store kourabiedes
The best way to keep these is on the counter. This keeps them at the right temperature for stuffing into your face. However, if you won't consume them within a week (first check your pulse), then store in the fridge in an airtight container.
Make sure to take them out of the fridge about 30 minutes before serving so that they can return to room temperature before serving.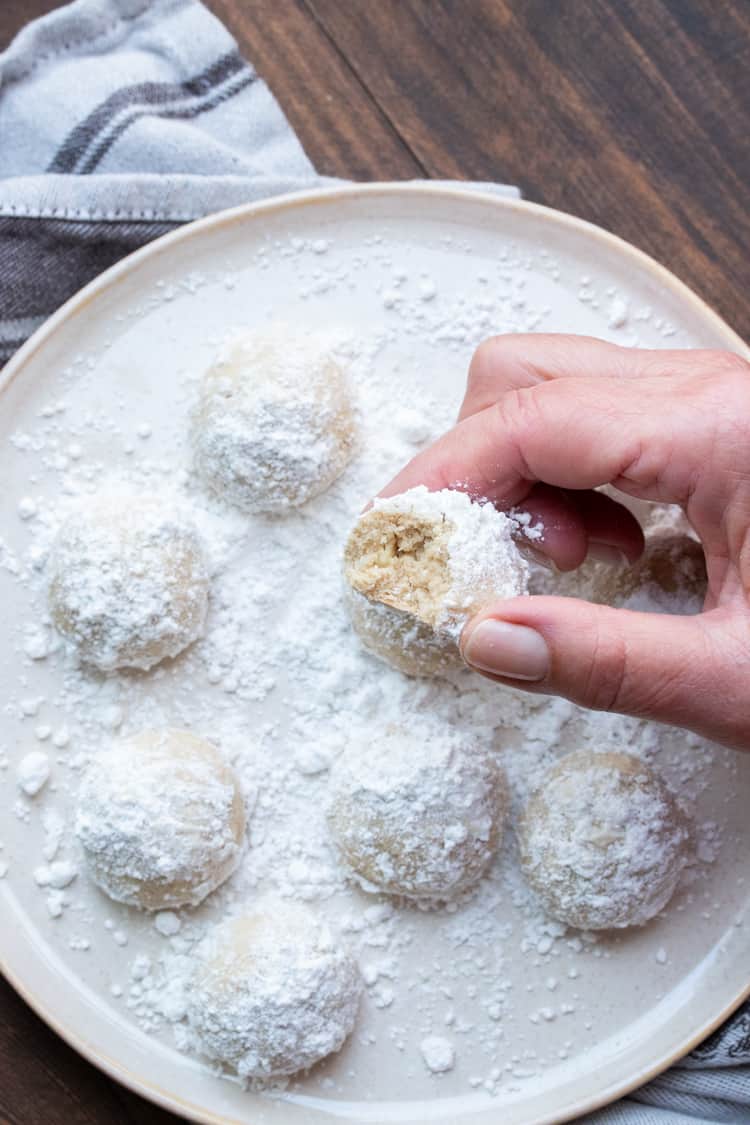 Gifting tips
Giving Greek Christmas cookies as gift was our thing. We loved it and so did the receivers! My mom always bought cute holiday plates, and wrapped them in cellophane or plastic wrap then tied with a cute holiday ribbon.
How To Make Kourabiedes
This kourabiedes recipe is really easy to make! The hardest part is getting the dough to form. I created two versions, one traditional using a vegan butter we love, and one using almond butter instead to give a touch healthier option. Both came out amazing!
Mix the dry ingredients.
Add the wet and form into dough. Here are both versions.
Roll into balls and bake.
Cover with powdered sugar.
Other delicious Greek Christmas recipes to drool over
Here are some of our other favorite Greek recipes we eat at Christmas time: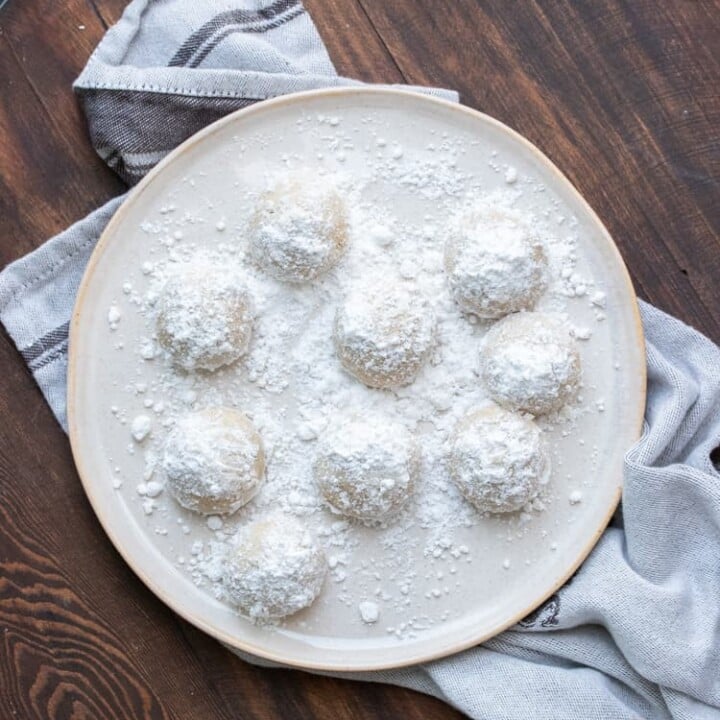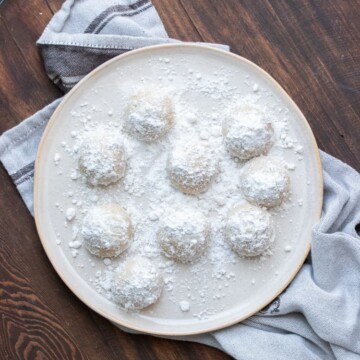 Kourabiedes (Greek Butter Cookies)
A Greek butter cookie that's vegan, gluten-free and with a healthier butter free option. Both Kourabiedes versions are incredible and Greek dad approved!
Ingredients
14 tablespoons oat flour , gluten-free if needed (¾ cup plus 2 tablespoons)
2 tablespoons brown rice flour
¼ cup powdered sugar (see note)
¼ cup chopped slivered almonds
½ cup butter
1 teaspoon brandy
1 teaspoon vanilla extract
1 cup powdered sugar , to sprinkle over the top at the end
Almond butter version:
½ cup oat flour , gluten-free if needed
¼ cup powdered sugar (see note)
¼ cup chopped slivered almonds
½ cup runny smooth almond butter (see note)
4 teaspoons milk , I used almond
1 teaspoon brandy
1 teaspoon vanilla extract
Instructions
Preheat oven to 325 F/ 165 C

Combine flour, sugar, and almonds in a bowl and whisk to mix.

Add in the butter, brandy, vanilla and milk if using. Using a fork mash the mixture together until it becomes dough like. Use your hands to mix it well and form a ball of dough.

Roll into balls about 1 inch in diameter.

Place on a baking sheet and bake for 15-20 minutes until golden at the edges. Mine took 18.

Allow to cool a few minutes but not totally cold. Place them on a platter and sprinkle with the extra powdered sugar. If the cookies aren't a tiny bit warm, the powdered sugar may not stick on the outside.
Notes
This recipe needs powdered sugar to keep it's integrity, if you want to try grinding coconut sugar into a powder and using it you can but the texture and flavor will change.
Make sure your almond butter isn't dry. This will make dry cookies. Add extra milk if it is.
Nutrition facts are for the almond butter version.
Recipe by Veggies Don't Bite, visit our site for more great plant-based recipes.
Nutrition
Calories: 72kcalCarbohydrates: 7gProtein: 2gFat: 4gSaturated Fat: 1gCholesterol: 1mgSodium: 2mgPotassium: 67mgFiber: 1gSugar: 3gCalcium: 28mgIron: 1mg
Nutrition and metric information should be considered an estimate.
Never miss a recipe!
Sign up here and get a FREE quick and easy meal guide!