This authentic Greek recipe has gotten a makeover and is better than ever. This vegan spanakopita is hands down the absolute best you've ever had!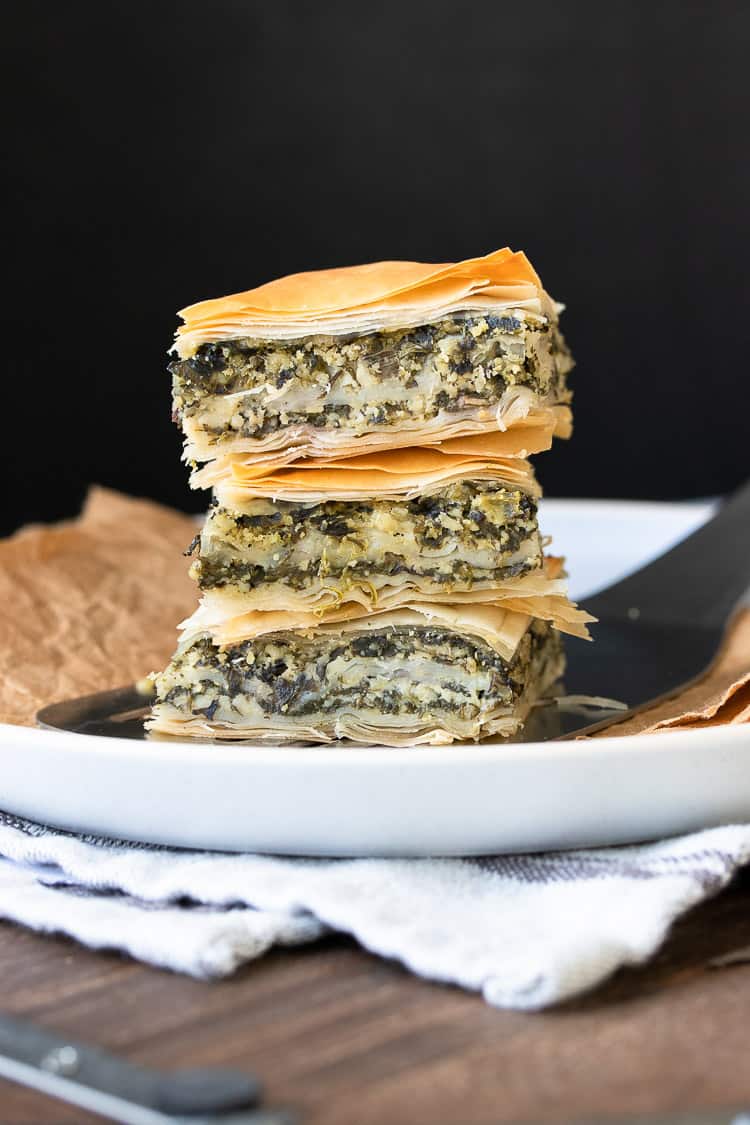 My mom has a famous spanakopita recipe. It's the only one I will eat, and anywhere she goes people ask her to bring it. My friends ask for it for their birthdays and my boys will take down the entire pan in a matter of minutes. I have wanted to make it vegan for years.
Well, it happened. And it happened hard. The true test was giving it to my boys who often eat her original version with feta. Let's just say that they asked me why I can't make "pita" like yiayia does. I may have danced in my kitchen like a fool.
I grew up eating my mom's spanakopita on a weekly basis, and now my boys take it down like hungry lions. It's as much a staple in our lives as water. I have always wanted to try a vegan makeover but it's such a coveted recipe that I was afraid to attempt it.
Well, lately I have been working with this incredible business coach, turned good friend, that has helped me tackle all these fears of mine that have been holding me back in scaling my business. So I decided, tackling this vegan spanakopita version was step one to my growth. And dang, I nailed it!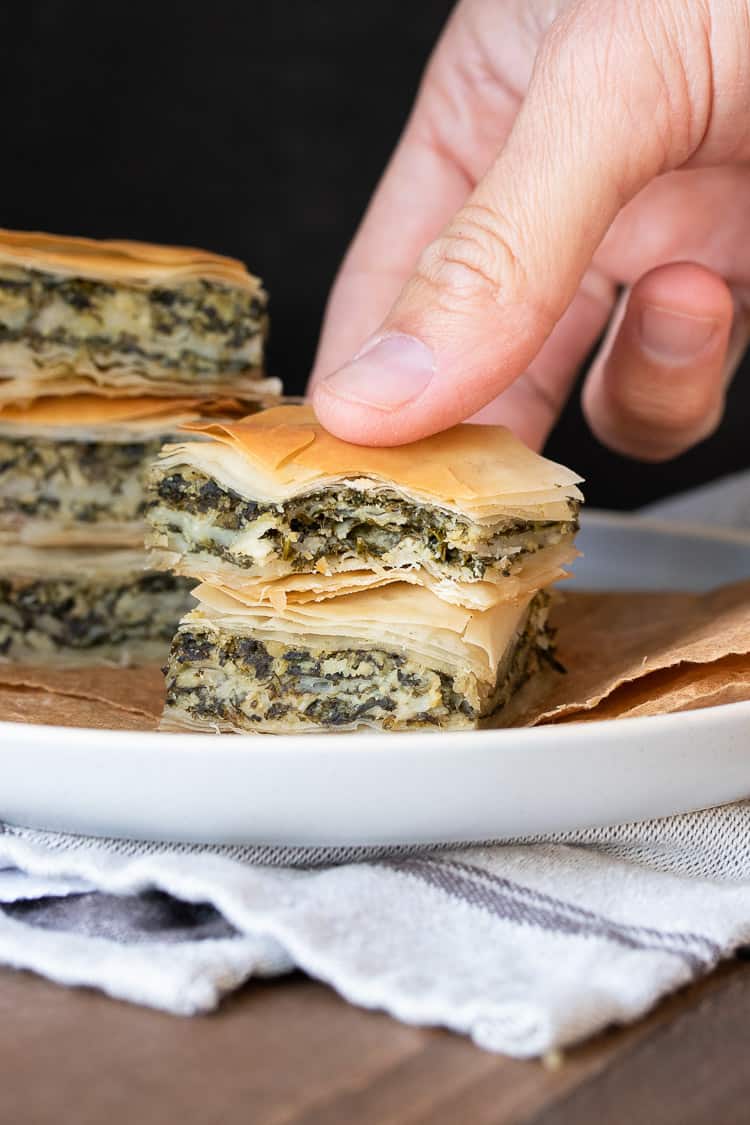 How do you mimic feta with a dairy free alternative
So feta is really just salt and tang. As much as I am against pretend feta (there is no recipe I found out there that comes close) in this vegan feta recipe all I needed to do was recreate the flavor because the texture is simply a ricotta like mixture.
One of my mom's personal twists in her original Greek spanakopita, is that she uses half feta and half cottage cheese to lighten up the filling. She has always done it this way so I knew that I could recreate that texture with cashews.
The flavor was easy, white vinegar gave the tang I needed and salt gave it that authentic saltiness. I left out the egg because you really don't need it for texture, but the rest of the recipe I followed as is.
Making vegan spanakopita step by step
The process itself is really quite easy, but there are multiple steps to getting it just right:
Sauté the green onion and greens. 
Blend the simple 4 ingredient "feta' like filling.
Combine the two. 
Layer the phyllo sheets at the bottom. 
Spread the mixture when you are half way through. 
Add the rest of the phyllo sheets. 
Cut into pieces. 
Bake and enjoy! 
The kind of phyllo you use doesn't really matter, but I have found that the thicker phyllo sheets are easier to work with and come out a bit better. So if you have a choice, try finding a package that says "thick" or "#9 thick" to signify a thicker phyllo sheet.
If you like this Greek recipe turned vegan, don't miss all the others I have created too!
Healthy Vegan Gyros and Tzatziki Sauce
And if you love to eat food that tastes good but is actually healthy, check out this post!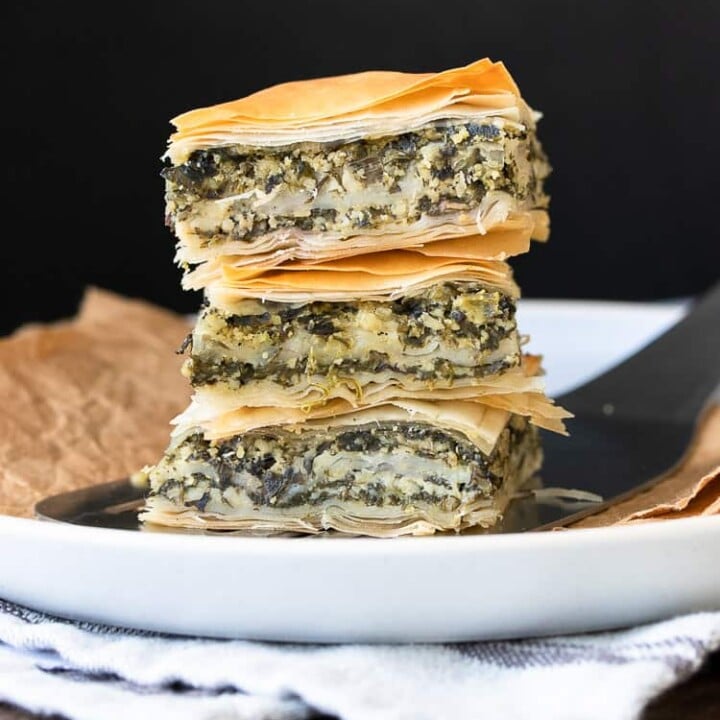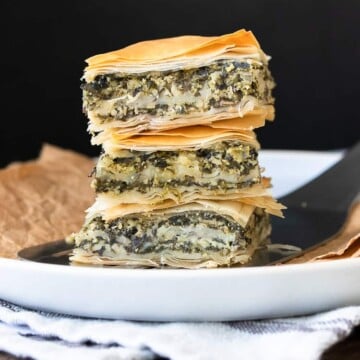 World's Best Greek Vegan Spanakopita
This authentic Greek recipe has gotten a makeover and is better than ever. This vegan spanakopita is hands down the absolute best you've ever had!
Ingredients
12 ounces fresh spinach , chopped (can also use a mixture of spinach and chard)
1 bunch scallions , chopped (about 6-7 scallion bulb pieces)
¼ cup dill
¼ cup parsley , either kind works but I use Italian flat leaf
¼ teaspoon sea salt
¼ teaspoon ground black pepper
Olive oil or veggie broth for sautéing
1 pound phyllo (filo) sheets , if you can find the thick ones use those (see note for gluten-free)
⅙ - ⅓ cup olive oil for brushing phyllo (filo) (see notes for oil free idea)
1 cup vegan feta cheese recipe , store bought or homemade (linked here, make sure to add these ingredients to your list if making homemade)
Instructions
Preheat the oven to 350 F/ 175 C.

In a skillet brown the scallions in olive oil or broth until soft, about 2 minutes.

Add spinach, salt and pepper and sauté until wilted, about 5 minutes. Turn off the heat.

Add dill and parsley and mix well. Put the mixture in a large bowl.

If making homemade vegan feta then in a food processor, add the cashews (drain and rinse them after the soaking), vinegar, water and salt. Pulse until you get a chunky but coarsely chopped texture.

Pour the store bought or cashew "feta" mixture into the bowl with the spinach and mix well.

Pour the olive oil for brushing in a glass bowl. Or use the method for the oil free version.

A little trick, cut the phyllo (filo) edge to fit the length of your pan, cut it while it is still rolled up in the package to make it easy. Meaning, keep it rolled, measure it in your pan then slice off the edge so that it fits in your pan well. You can keep the extra and use it for other things or if you're like my sister and I, we loved to eat it when we were young!

Brush the bottom of a 9x13-inch baking pan with a little bit of oil.

Then line the pan with half of one phyllo (filo) sheet, allowing the other half to hang over the edge, brush the half in the pan with some oil, then fold the other half over the top and brush it with oil too. See the photos in the post. This has to be done like this because the phyllo (filo) sheets are bigger than the pan.

You are going to do this for half of the phyllo (filo) sheets, brushing each sheet with the olive oil.

After you have used half of the sheets, spread the spinach mixture on top.

Then top with the remaining phyllo (filo) sheets brushing each of them with the olive oil again.

When done, cut into squares.

Bake for 60-70 minutes until it is golden brown on top. Begin checking at 50 minutes as ovens vary.

Let it cool completely before cutting through and serving.
Notes
You can also use frozen spinach for this recipe. Just make sure to squeeze out all the water after it defrosts so that it doesn't get watery.
Any kind of phyllo (filo) sheets will work but I find the thicker ones are quicker and easier. If you can find a package that says "thick" or "#9 thick" then get those.
To make this gluten-free, you can make your own filo (search online for recipes), you can buy gluten-free puff pastry (Schar brand makes one) or you can be creative and use gluten-free pizza dough or tortillas and make individual pockets.
If making homemade vegan feta, make the entire linked recipe to use here. If you forget to soak the cashews, simply boil them for about 25 minutes. They need to be soft so do not skip this step and use them dry.
If you want to keep this oil free, sauté with broth and you can try to use a version of the trick I used in my Vegan Baklava to get the phyllo crispy. It called for Aquafaba mixed with almond butter and maple syrup since it's a dessert, but you can try it with just the aquafaba or the Aquafaba and almond butter. It's better with the oil, but if you want to make this oil free, the aquafaba should work like it did in the baklava recipe. Keep in mind that the phyllo dough still has some oil in it.
This makes 24 pieces, each piece is a serving in the nutrition info.
Tips to prep ahead:
Make the filling the day before.
Recipe by Veggies Don't Bite, visit our site for more great plant-based recipes.
Nutrition
Calories: 107kcalCarbohydrates: 13gProtein: 3gFat: 4gSaturated Fat: 0gPolyunsaturated Fat: 0gMonounsaturated Fat: 0gTrans Fat: 0gCholesterol: 0mgSodium: 170mgPotassium: 121mgFiber: 0gSugar: 0gVitamin A: 1425IUVitamin C: 5.4mgCalcium: 18mgIron: 0.8mg
Nutrition and metric information should be considered an estimate.
Never miss a recipe!
Sign up here and get a FREE quick and easy meal guide!