This Italian style vegetable pasta salad is the perfect addition to picnics, bbq's, or just a summer poolside meal. Super easy and versatile!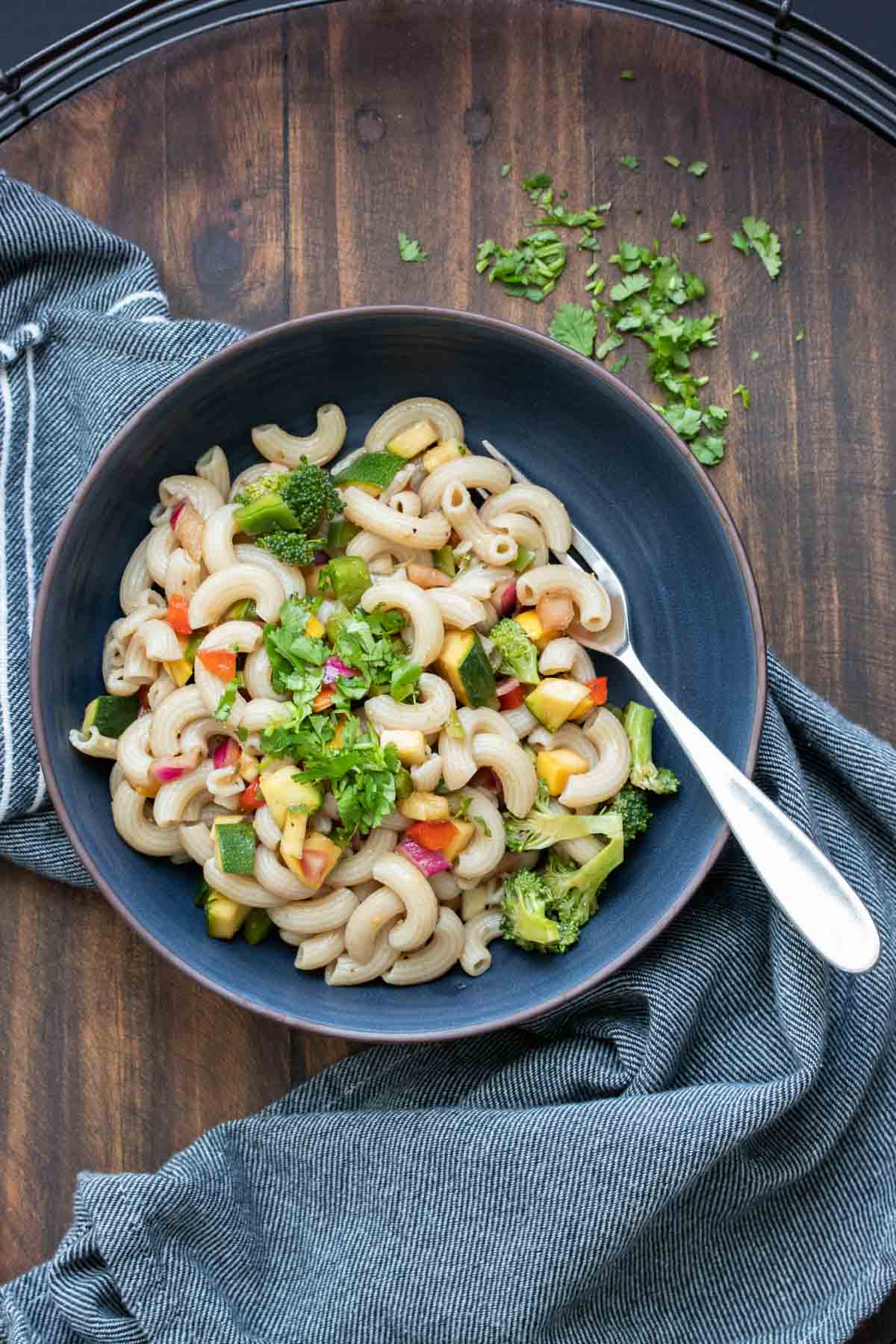 I love quick and easy recipes, especially those that you can bring to a poolside party or barbecue and don't require a lot of effort. Because let's be real, I'm dealing with crazy kiddos before we need to get anywhere and low effort is all I have!
Pasta Salad Basics
The key to a good pasta salad is taste. And this recipe here has some easy tricks to get in all the amazing flavors! All you need are your favorite veggies and some good quality pasta.
Ingredients
There are only three main ingredient groups to make this awesome pasta salad: pasta, veggies and dressing.
Veggie options
Anything really goes in pasta salad, so it all depends on what you like. Here is a list of ideas that I think work best:
Broccoli
Summer squash
Zucchini
Bell pepper, any color
Onion, red or yellow
Tomatoes
Mushrooms
Pasta for salad
The important thing with your pasta choice is that it has good texture when cold. This especially comes into play with gluten free pasta.
While many different gluten-free pasta's don't have the best texture cold, there are plenty that do. So make sure to test out the brand you use. I tend do find that gluten-free pastas that use a mix as the base, versus all one ingredient, have better texture cold or the next day.
How to Make Veggie Pasta Salad
To get the best flavor, I highly suggest planning ahead and marinating the raw veggies overnight. This helps soften them in an almost pickle like fashion. They absorb the dressing ingredients to give the end result a perfect punch in flavor.
Marinate the veggies in the dressing ingredients.
Add everything into a bowl.
Mix well!
Tips and Tricks
Here are some things to keep in mind while making this veggie pasta salad:
Chop the vegetables small and bite sized. They will soften better with the dressing.
Let the veggies sit in the dressing for at least a few hours for best flavor.
Make sure your pasta has good texture when cold.
You can switch up the vinegar and seasoning to change the flavor, just keep it to the same amounts.
To make it really easy, use prechopped veggies. You can even use a bottled dressing.
Common Questions
How far in advance can you make pasta salad?
Due to the texture of the pasta, I wouldn't make this more than 2 days in advance. While the flavor does marinate and get better the next day, much longer than that will break down the pasta.
Do you rinse pasta for a cold pasta salad?
Yes! Rinsing the pasta after you cook it, will help stop the cooking process so the pasta doesn't get too soft. It also removes some of the starch.
How do you store pasta salad?
This is best stored in an airtight container in the fridge to prevent the pasta from hardening.
Recipes to serve with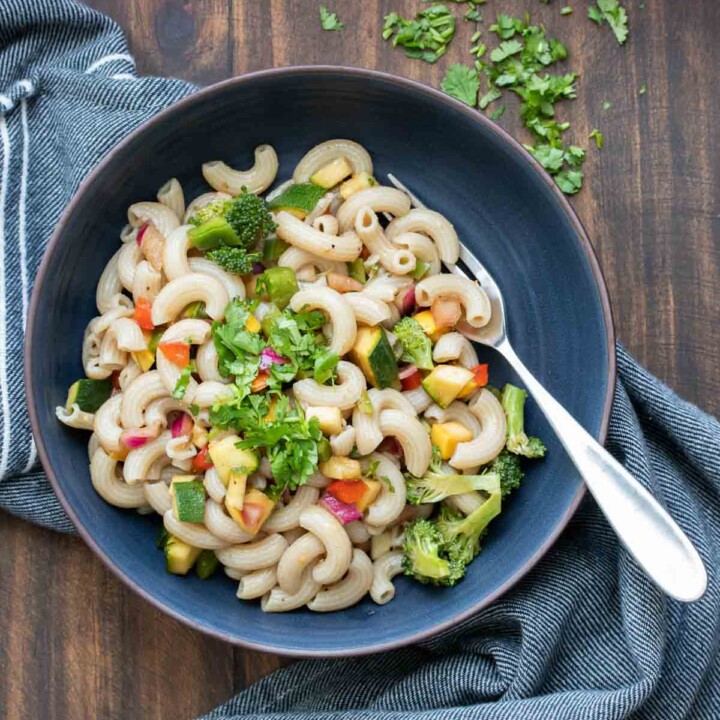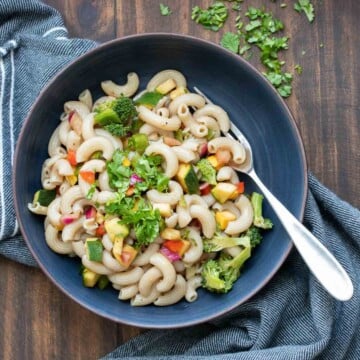 The Best Italian Vegetable Pasta Salad
This Italian style vegetable pasta salad is the perfect addition to picnics, bbq's, or just a summer poolside meal. Super easy and versatile!
Ingredients
1 cup chopped broccoli
½ cup chopped red bell pepper
½ cup chopped green bell pepper
¾ cup chopped yellow squash
¾ cup chopped zucchini
½ cup chopped red onion
12 ounces your favorite pasta , gluten-free if needed
Instructions
The night before, add everything except the pasta into an airtight container to allow the flavors to marinate. This is optional but yields the best end result.

The next day, cook pasta according to package directions. Rinse in cold water when done.

Add the veggie mix and pasta into a large bowl and mix well.

Serve!
Notes
You can add any veggies you prefer just make sure to keep the total amount the same.
To make this super quick, add the chopped veggies to the dressing mix and let sit while you cook the pasta.
Recipe by Veggies Don't Bite, visit our site for more great plant-based recipes.
Nutrition
Calories: 342kcalCarbohydrates: 72gProtein: 10gFat: 3gSaturated Fat: 1gSodium: 453mgPotassium: 307mgFiber: 4gSugar: 6gVitamin A: 883IUVitamin C: 68mgCalcium: 26mgIron: 2mg
Nutrition and metric information should be considered an estimate.
Never miss a recipe!
Sign up here and get a FREE quick and easy meal guide!