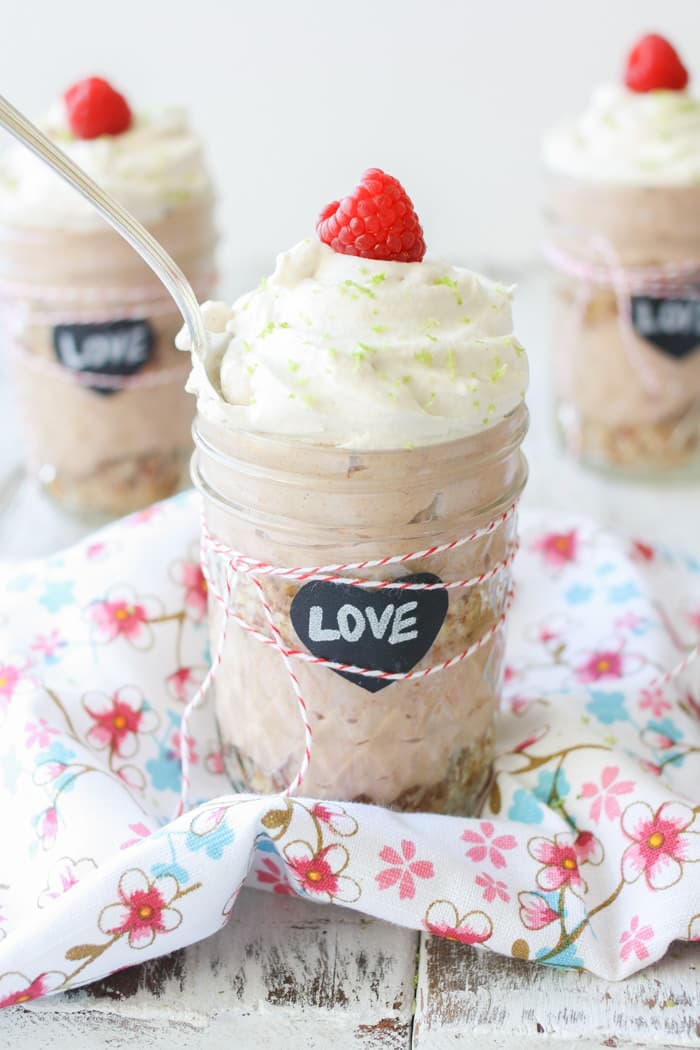 It's almost Valentine's Day and this year I am so excited to spend the weekend alone with my hubby because my awesome parents are taking the kids! And it's the real day too! Since baby number 3 is almost here, it will be a great way to get some quality time together. We have reservations for dinner and then seeing a movie, can't wait!! What are you doing??
Last year I posted all about chocolate, so this year I decided to go a different route. We have a lime tree in our back yard that literally births limes by the minute…it's insane! My husband pretty much demanded that I create a lime inspired recipe and get rid of some of these limes, so off I went! I LOVE key lime pie, so after the success of my Layered Pumpkin Caramel Pie, I thought it would be fun to try something similar with limes. Other than the manual squeezing of each tiny little lime, this recipe is SUPER easy…and if you're smart and actually juice your limes with a real juicer, it's even easier and you won't end up with lime blisters…lol.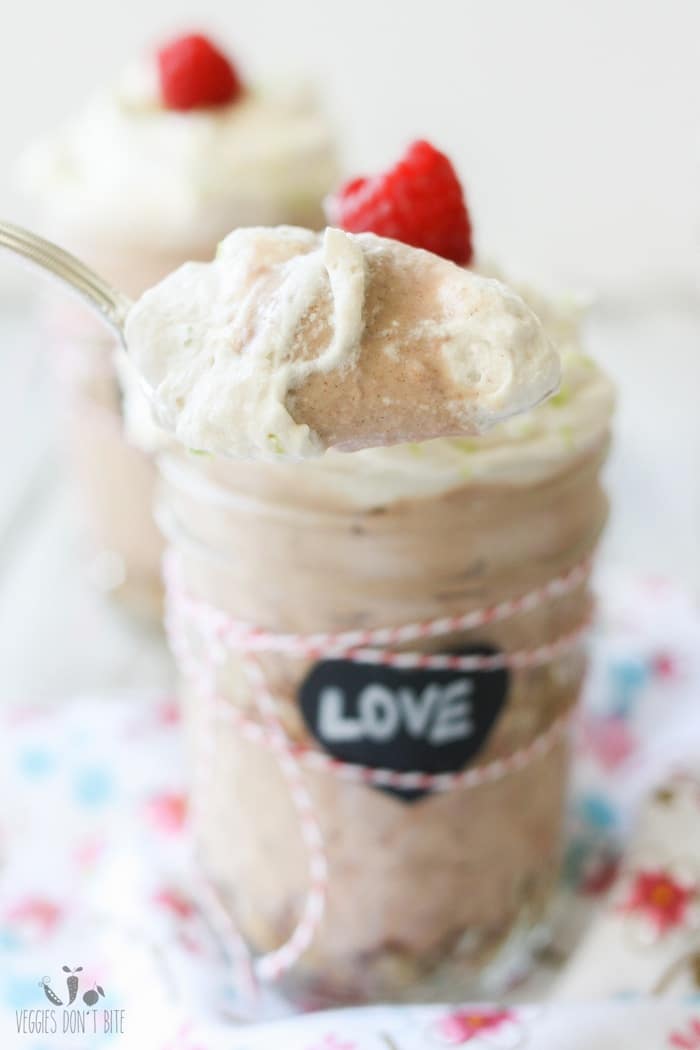 My boys loved the sweet and tart combination of this dessert. It's definitely for the tart lover and less of a super sweet indulgent dessert. I for one love tart, and it's a nice change from the richness of deep chocolate (which I love as well). It thickens really nicely in the refrigerator, and gets super creamy. The second time I made it, I made it in a big glass container and we ate a little bit all week. It's creaminess comes from a combination of both nuts and avocado, which is awesome to help get some goodness in the secret way, but I promise you don't taste it at all! It's the prefect ending to a rich flavorful Valentine's Day meal!
And while we are talking about awesome things, check out my beautiful spoon that I got from the very talented Aly at For Such a Time Design! Not only does it say it all, but every time I take a bite, I'm reminded of how awesome it is to be able to create and devour these delicious desserts that are free of preservatives and processed ingredients! You can even make this dessert with only dates as your sweetener. I tried the filling layer with both dates and coconut sugar and personally preferred the taste of the coconut sugar, so that's what I went with, however the dates were good as well and are a great option if you don't want any dry sugar. I have both ways in the notes section of the recipe below.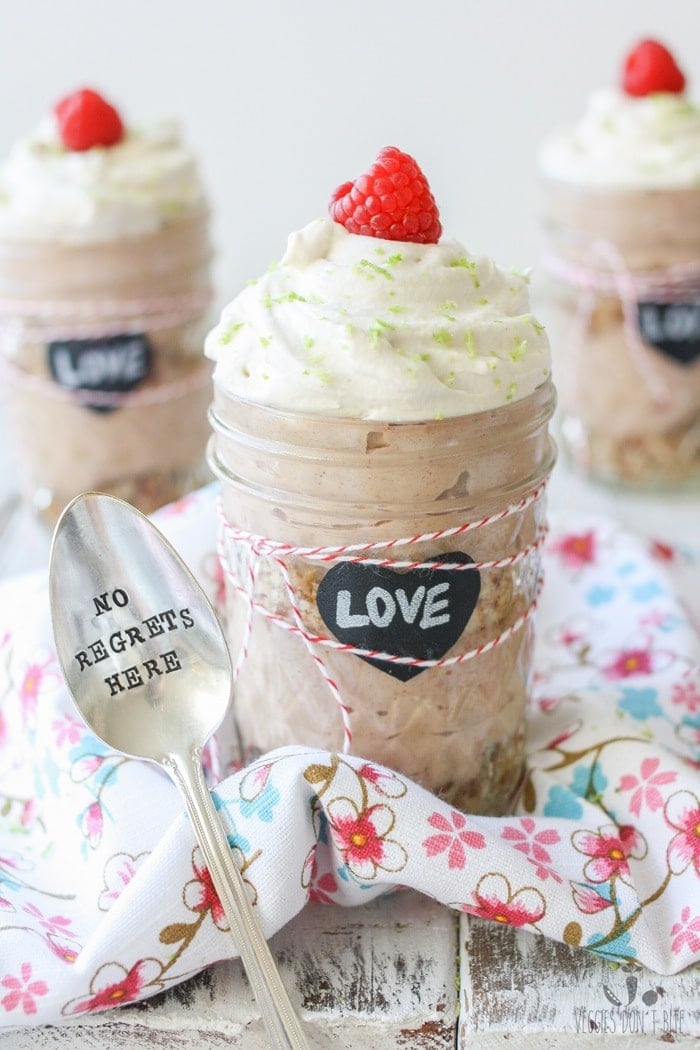 As always, I love comments on the blog if you try it, so make sure to let me know! You can also tag me on Instagram at veggiesdontbite #veggiesdontbite so I don't miss it! Hope you enjoy!
Key Lime Raspberry Pudding Parfait
Servings: Makes 6 jelly jars (8 ounce size)
Sweet, tart and full of goodness. Treat your valentine to this amazing dessert that is not only free of processed ingredients but also tastes great!
Ingredients:
Crust layer:
Filling layer:
1 avocado
1 cup raw cashews
top cream layer of 1 can full fat coconut milk (stored in refrigerator for 2-3 days or freezer for 2-3 hours)
½ cup almond milk
¾ cup coconut palm sugar
¼ – 1/3 cup key lime juice (depending on how tart you like it)
1 cup fresh raspberries
Whipped topping:
note: For the whipped topping, I got the best consistency when the can was very very cold. It will still work if not as cold, but it won't get as fluffy and light. You can use dates as a sweetener in the filling layer but when I tried both ways I preferred the taste of the coconut sugar, however dates work as well. If using dates, use between 15-20 depending on kind.
Tips to prep ahead: Make each layer in advance and store in the refrigerator. Take out the morning you are putting it together to allow them to return to room temperature before assembling.
Instructions:
Put all crust layer ingredients into a food processor, blender or high speed blender and pulse until chopped.
Remove one can of coconut milk from refrigerator or freezer. Open and gently take off the top creamy layer leaving the watery liquid behind (you can save it for another use or throw away). Put the cream and all other filling layer ingredients into food processor, blender or high speed blender and blend until smooth and creamy. Store in the refrigerator to allow it to thicken a bit. The longer it is stored, the thicker and more pudding like it becomes.
Remove the other 2 cans of coconut milk from refrigerator or freezer. Open and gently take off the top creamy layer of each leaving the watery liquid behind (you can save it for another use or throw away). Put the cream and coconut sugar or date paste into a bowl and beat with a stand or hand mixer until thick, light and whipped. I used my stand mixer and beat it for at least 5-7 minutes. If your cream is very cold, the outcome will be best.
Layer each 8 ounce jelly jar by putting a crust layer at the bottom, then switching between a layer of filling and crust until you fill the jar. Top with whipped topping, serve and enjoy!