Crispy, crunchy, loved by the entire family and easy to throw together. This asparagus fries recipe makes the perfect side or stand alone snack!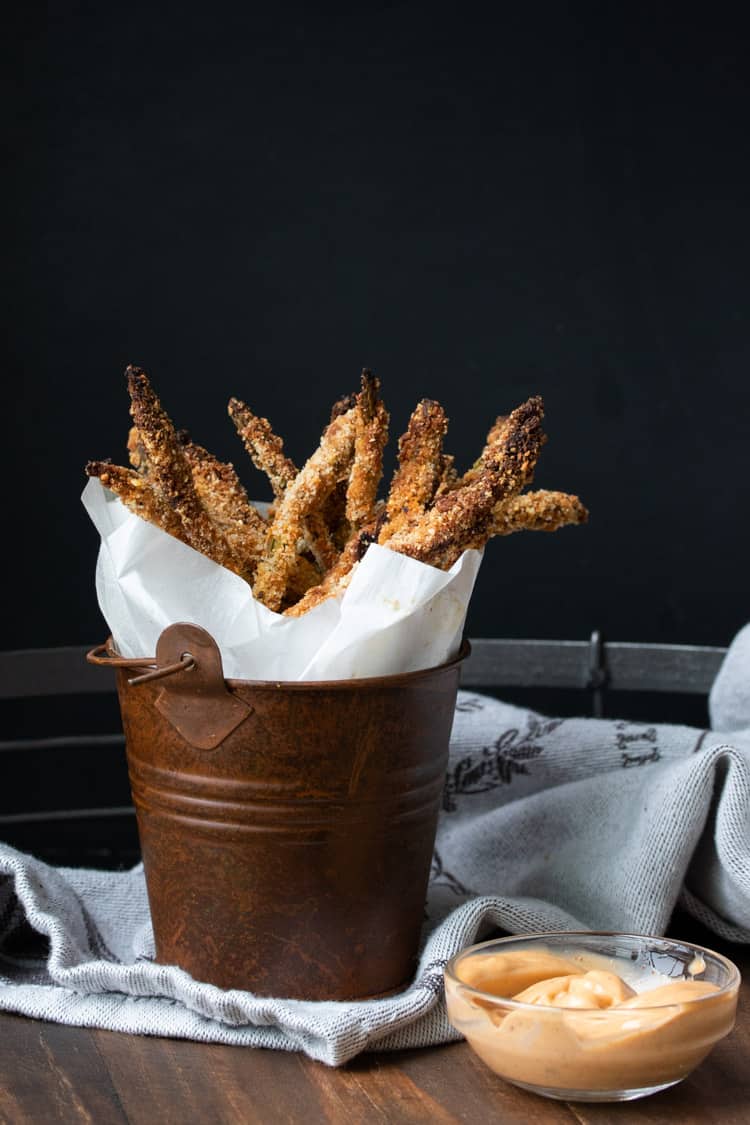 This post was originally published on January 22, 2018.
I love getting creative with ways to add more veggies into our diet. And let's be real, they can get boring fast. We also love us a good texture. So these crispy crunchy asparagus fries seemed like the perfect solution!
Asparagus Fries
While we all love us a good french fry, me especially, sometimes we need to change it up and find a way to combine our love for crispy things with a good dose of nutrition.
Veggie fries are not a new concept, we have had them out at restaurants plenty, but I do not fry things in oil at home so I wanted to find a way to get the crisp without the mess of hot oil.
How do you get asparagus fries crispy without frying them?
I am a sucker for crispy things, but my belly also doesn't love too much oil. So I have experimented a lot with different ways to get a crispy outer coating without the globs of oil.
As you can see in my crispy buffalo sliders and my crispy orange cauliflower, a crispy coating is definitely possible when you are trying to add some nutritious benefits. It's all in the ingredients. Here are my go to crispy coating ingredients I like to try:
breadcrumbs (gluten-free if needed)
cornmeal
almond flour
hemp seeds
I have used a combo of all of these at some point in my recipe creation and they all do great! To get the coating to stick, I have done anything from making a batter from the almond flour to using a touch of oil and maple syrup like I do here!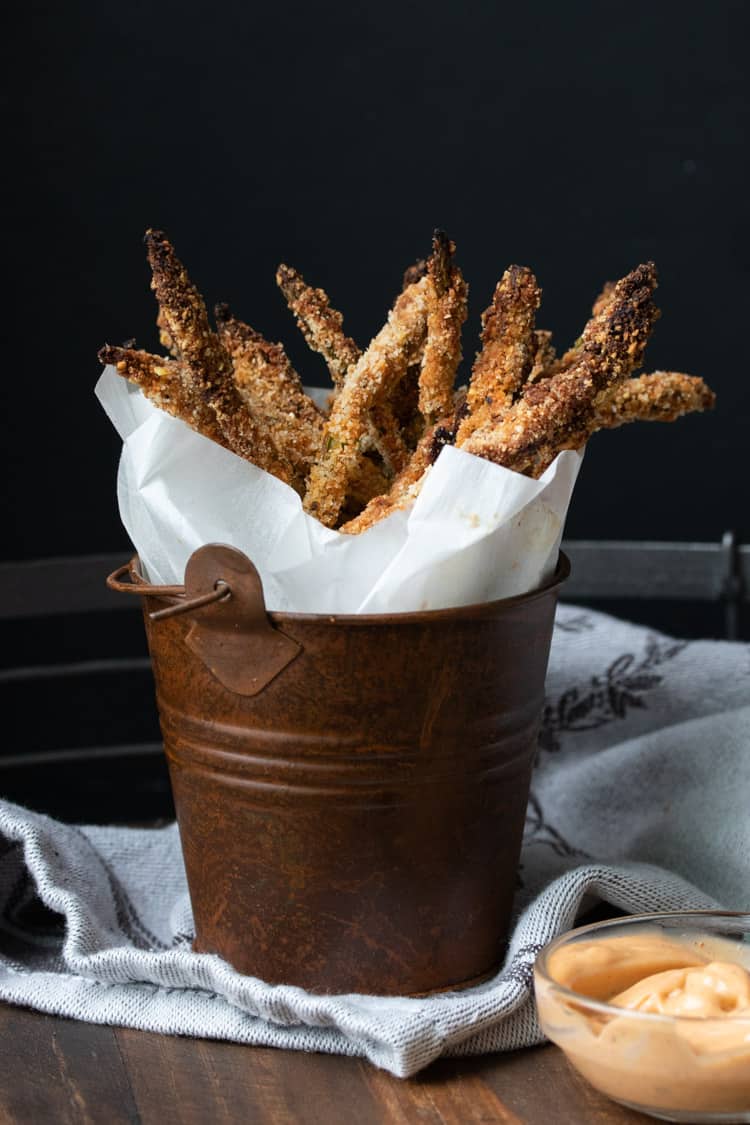 Tips for choosing asparagus
When looking for asparagus, you want as fresh as possible so that the texture will be just right. Fresh asparagus us bright green and firm. If it is limp or feels rubbery, it is old.
How do you cut asparagus?
The first thing you want to do before you use asparagus, is get off the woody bottom part. You can do this by simply cutting off the bottom white parts (about 2-3 inches), or you can let it naturally break off.
To do this, hold the asparagus spear at the ends with your hands, bend and snap it to break it off. It will naturally break off above the woody bottom.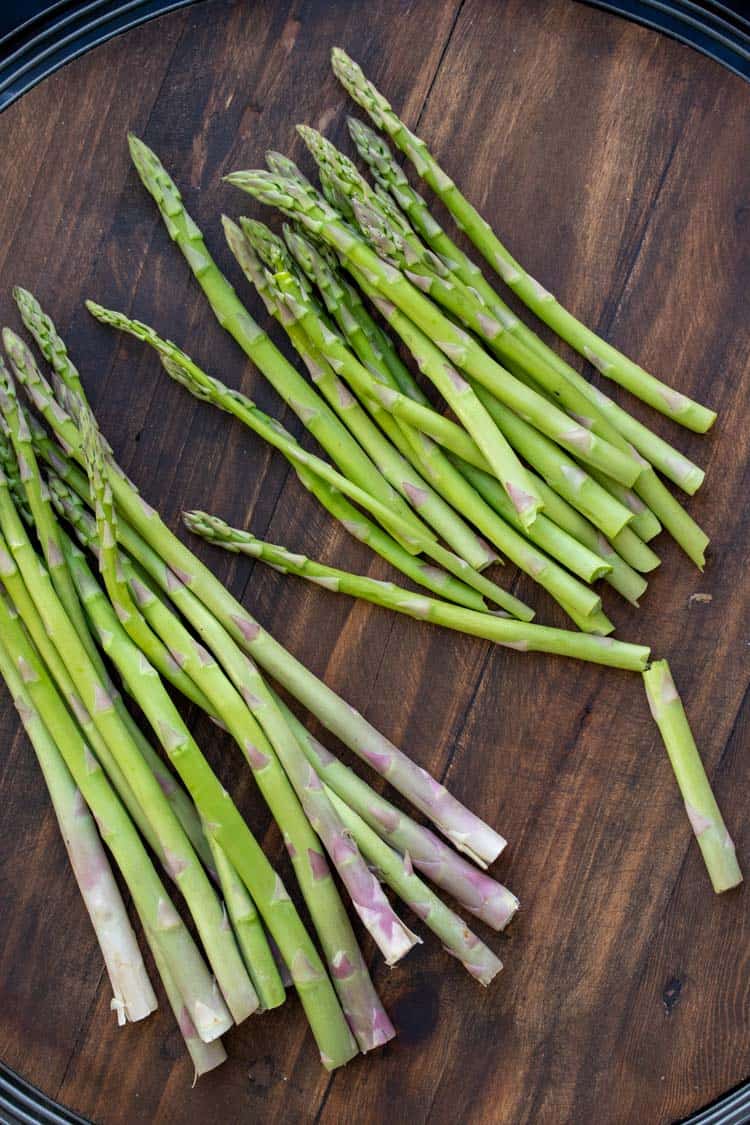 How to make asparagus fries
Prepping these asparagus fries is pretty basic. Once they are prepped, all you need to do is wait for the oven to do the rest of the work!
Mix the prepped asparagus with the wet ingredients (you can add spices here too, instead of with the coating, if you want).
Coat with the dry topping.
Bake and serve with dip of choice!
Tips for changing up the flavor
This recipe has a smoky undertone which pairs well with the hint of maple. But it's easy to switch that up! Here are some other flavors and spice ideas if you want to try something new:
Ranch: parsley, garlic powder, minced onion, onion powder, dill, black pepper, ground mustard
Italian: fennel seed, basil, oregano, thyme, lemon pepper, garlic powder, crushed red pepper
Mexican: cumin, chili powder, garlic powder, crushed red pepper, oregano
Greek: oregano, dill, garlic powder
Lemon: lemon pepper
Spicy: hot sauce (add with the maple), chipotle powder, garlic powder, lemon pepper
Asian: soy sauce or teriyaki (add with the maple), garlic powder, ground ginger
Indian: curry powder, turmeric, garlic powder
What to serve with asparagus fries
These asparagus fries are great with so many things! Here are some main dishes that we eat them with:
Dips for asparagus fries
I also love dipping them in some of our favorite sauces. Here are a few to try: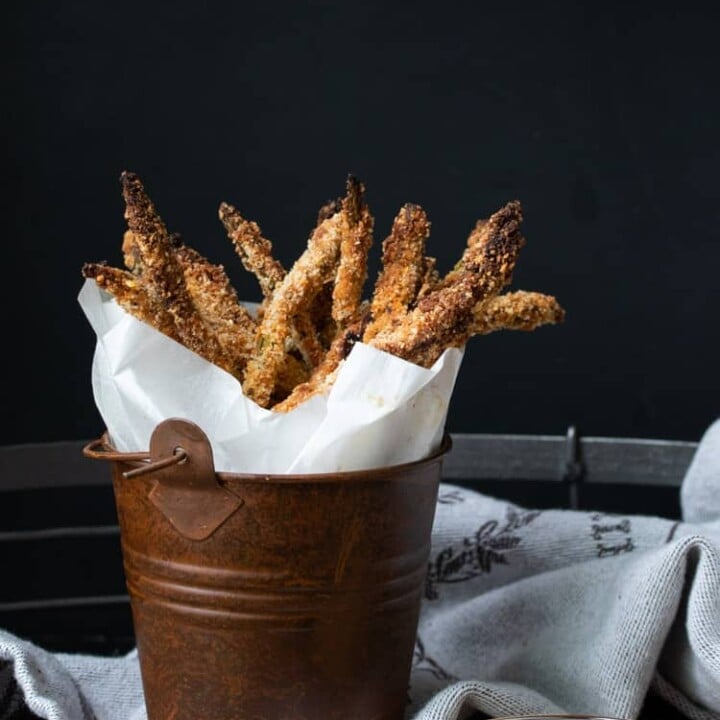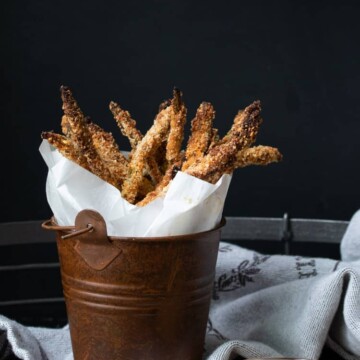 Oven Baked Asparagus Fries Recipe
Crispy, crunchy, loved by the entire family and easy to throw together. This asparagus fries recipe makes the perfect side or stand alone snack!
Instructions
Preheat oven to 400°F/ 200°C

Put asparagus in a flat pan (you can use a bowl but they may not lay flat) and mix with maple syrup, oil if using and smoked paprika. Mix to fully coat.

Place almond flour, breadcrumbs, cornmeal, salt and pepper in another bowl or pan and mix to combine.

One by one, put asparagus in the dry ingredient mix and toss to coat well. You can also add the dry coating in a plastic bag, place all the asparagus inside and shake to coat. This method is quicker but may not coat them as well.

Place the coated asparagus on a parchment lined baking sheet and bake for 30-35 minutes or until golden brown. Serve with your favorite dip.
Notes
When baking watch for burning as they can go from browning to burned fast. You want them crispy so start checking around 25 minutes as ovens vary.
Recipe by Veggies Don't Bite, visit our site for more great plant-based recipes.
Nutrition
Calories: 177kcalCarbohydrates: 20gProtein: 7gFat: 9gSaturated Fat: 1gSodium: 523mgPotassium: 266mgFiber: 5gSugar: 6gVitamin A: 1097IUVitamin C: 6mgCalcium: 69mgIron: 3mg
Nutrition and metric information should be considered an estimate.
Never miss a recipe!
Sign up here and get a FREE quick and easy meal guide!