This vegan banana bread is also gluten-free and so easy to make! It's perfect for the whole family and uses easy to find ingredients.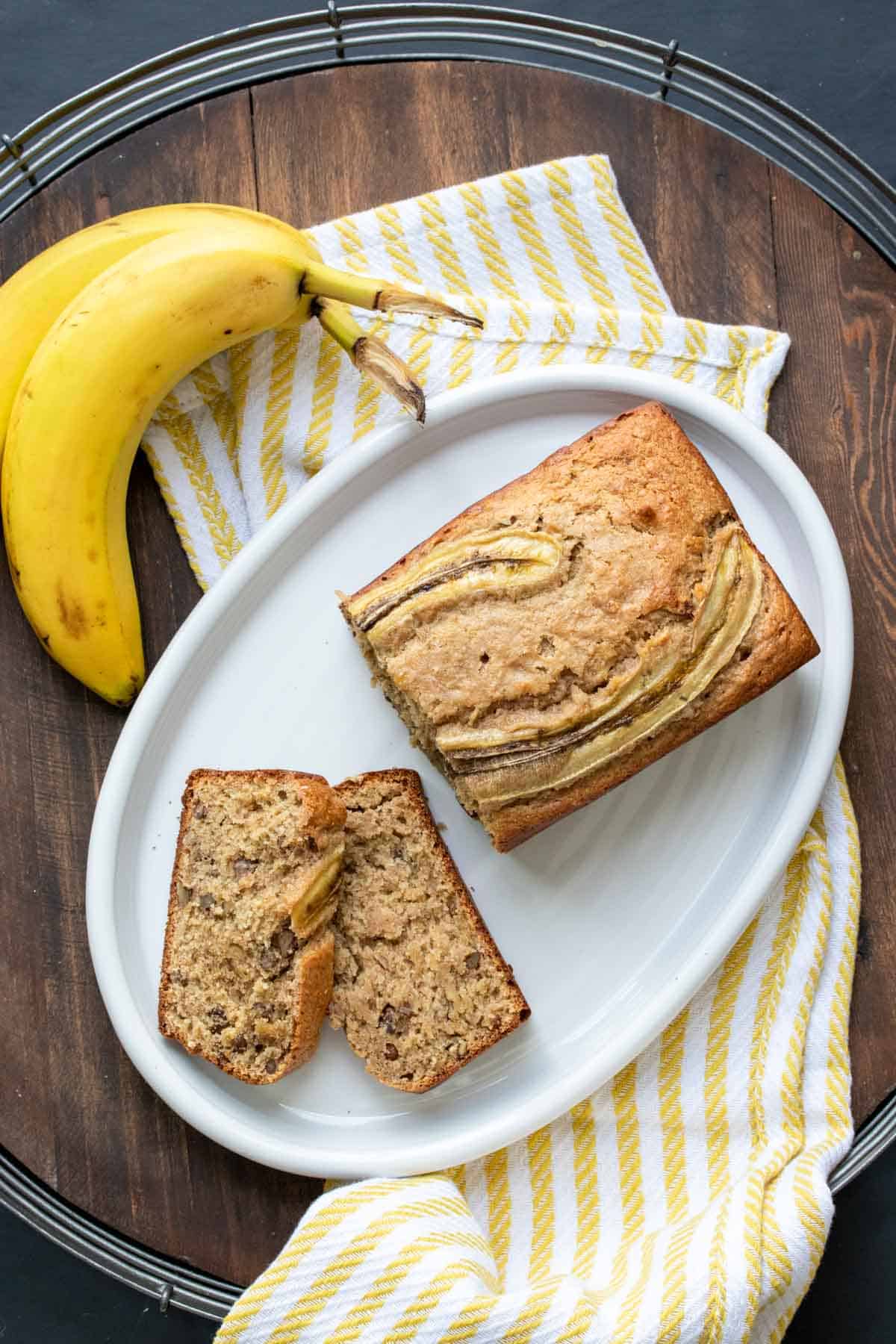 I am a sucker for a sweet flavored bread, and this banana bread will have you begging for over ripe bananas! I love that it's easy to make and gluten-free so I can eat it too!
Enjoy this quick bread with a smoothie for breakfast, as an afternoon snack, or for dessert!
How to Make Vegan Gluten-Free Banana Bread
The hardest part of making this banana bread is waiting for it to cool before slicing! All you need to do is simply mash, mix, and bake the perfect combination of plant based whole foods.
Ingredients
Oat flour
Cane sugar
Mashed bananas
Lite coconut milk
Unsweetened apple sauce
Apple cider vinegar
Seasonings
Nuts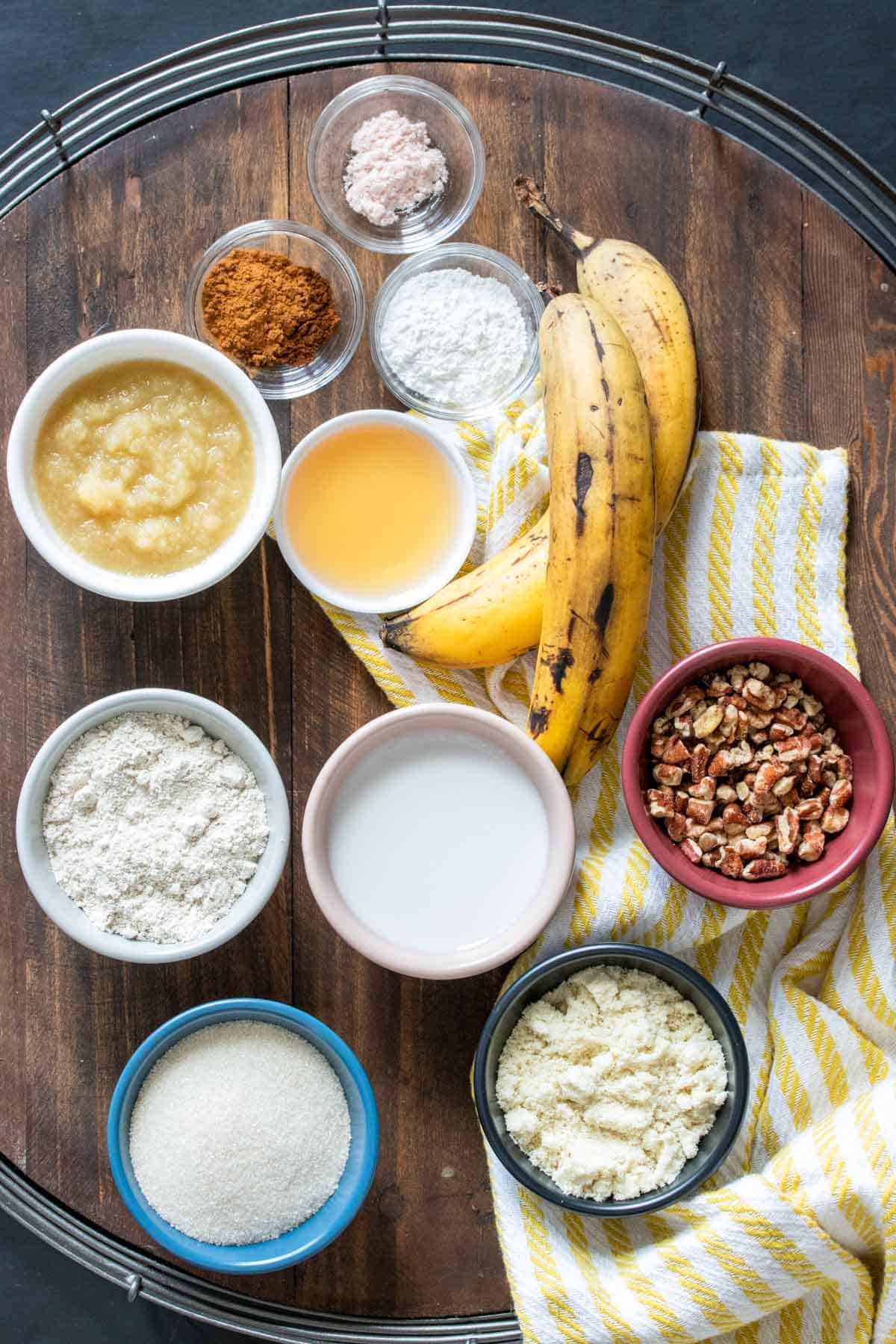 Step by Step Instructions
Mash the banana.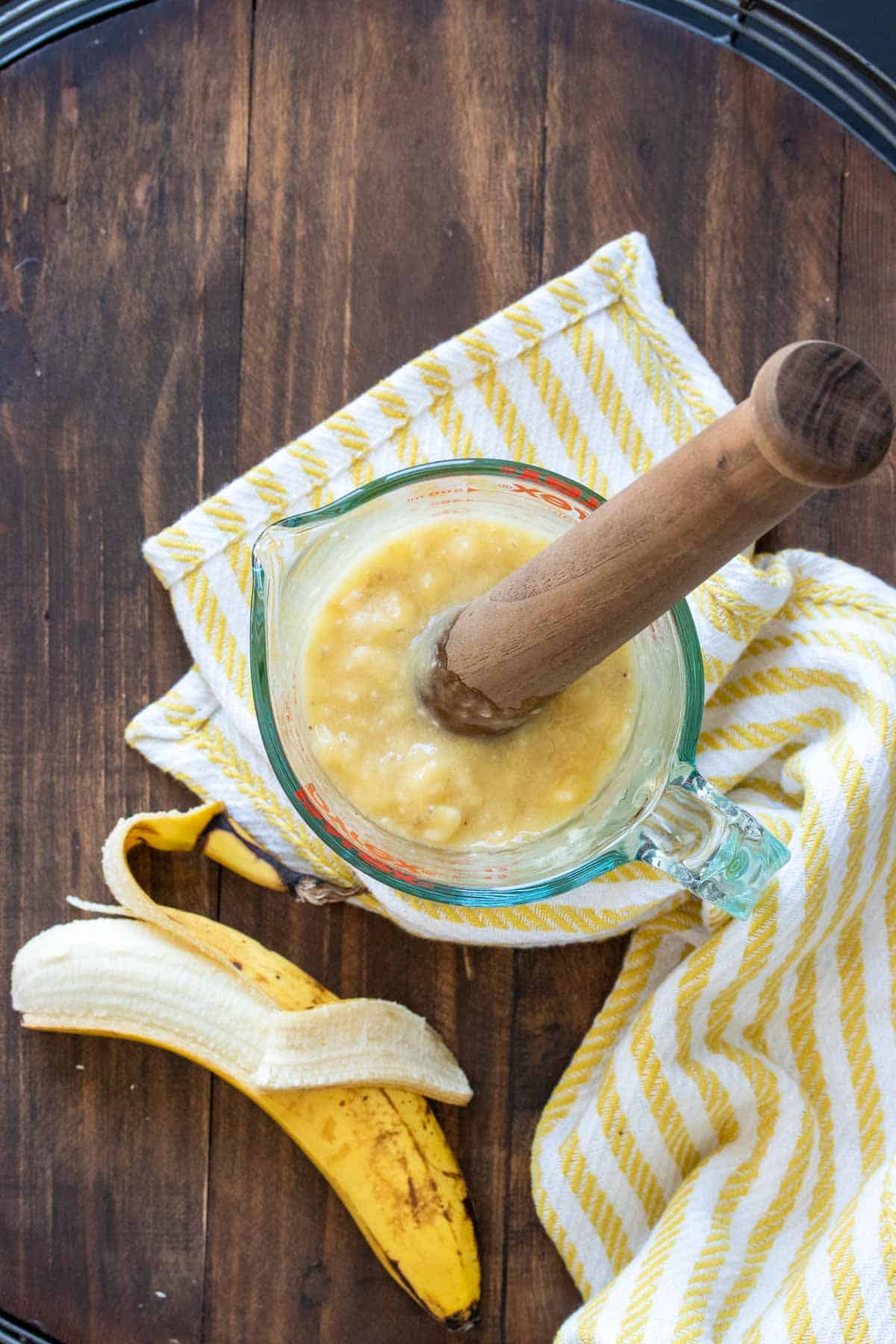 2. Mix the dry ingredients.
3. Add in the wet ingredients and combine into a thick batter.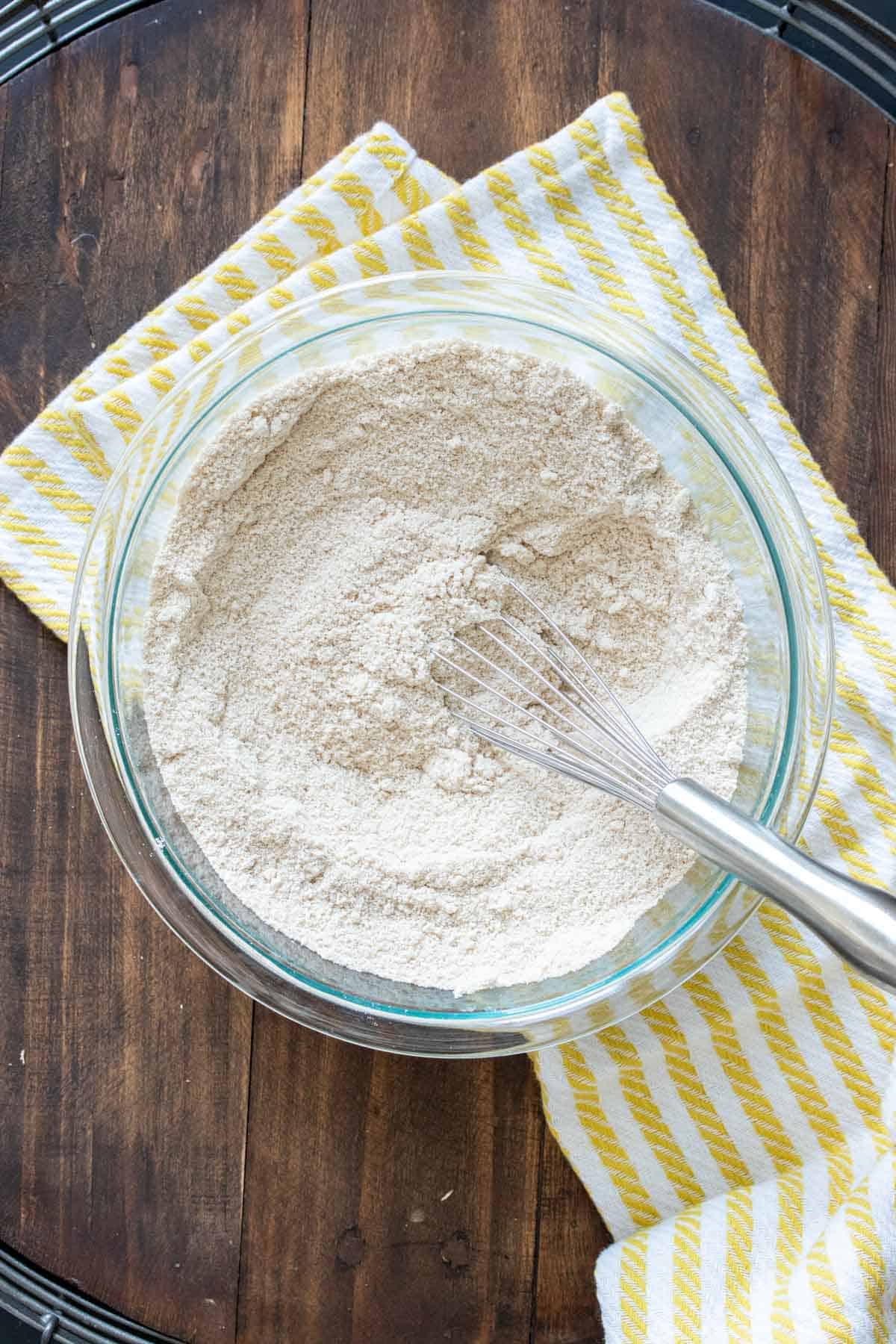 4. Pour batter into prepared loaf pan and top with sliced banana if preferred.
5. Bake.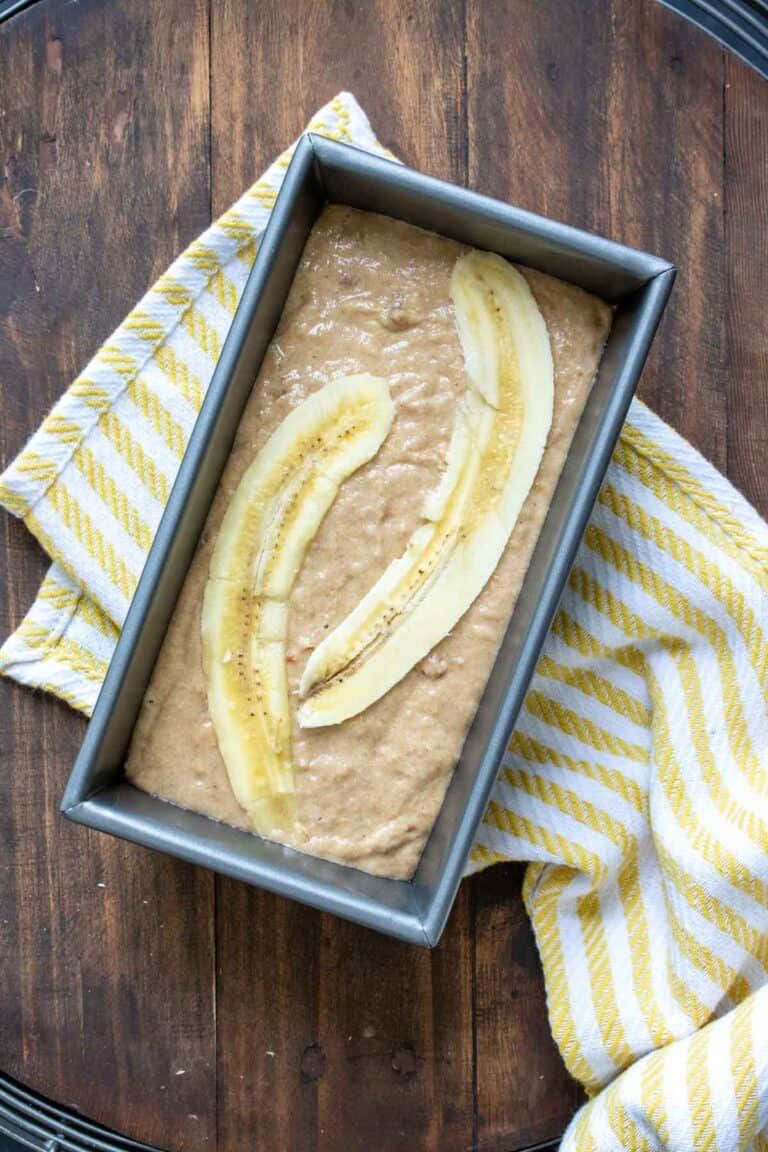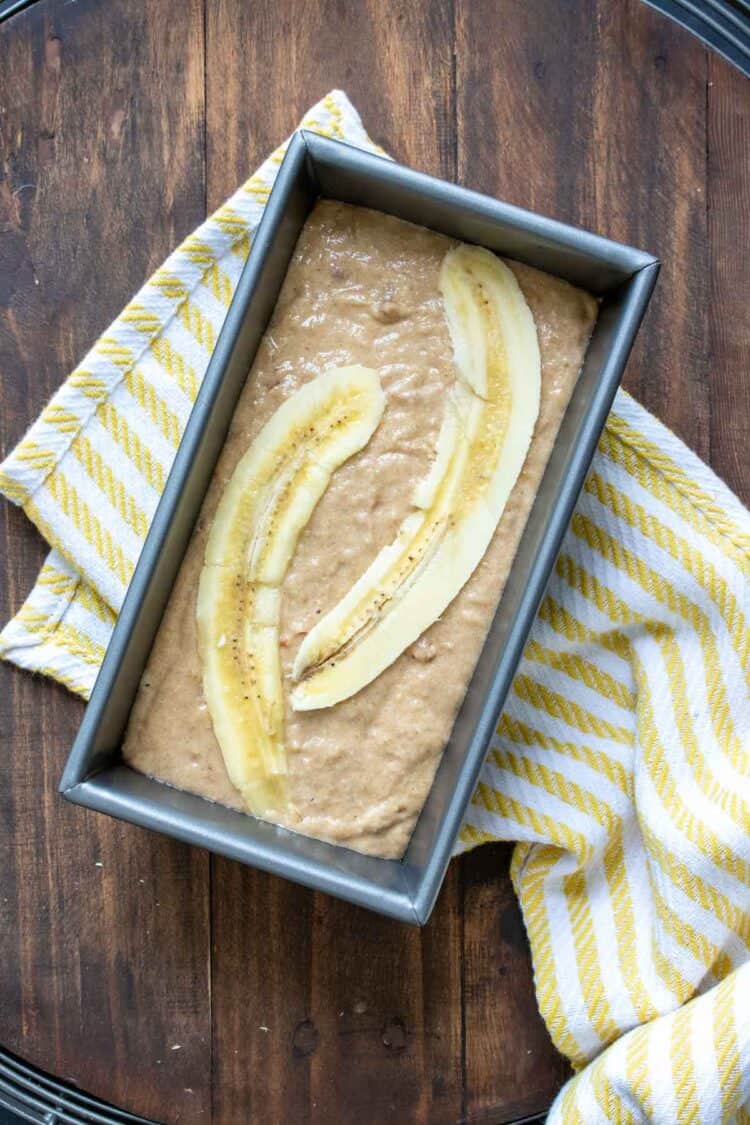 6. Allow the bread to cool completely, slice, then enjoy!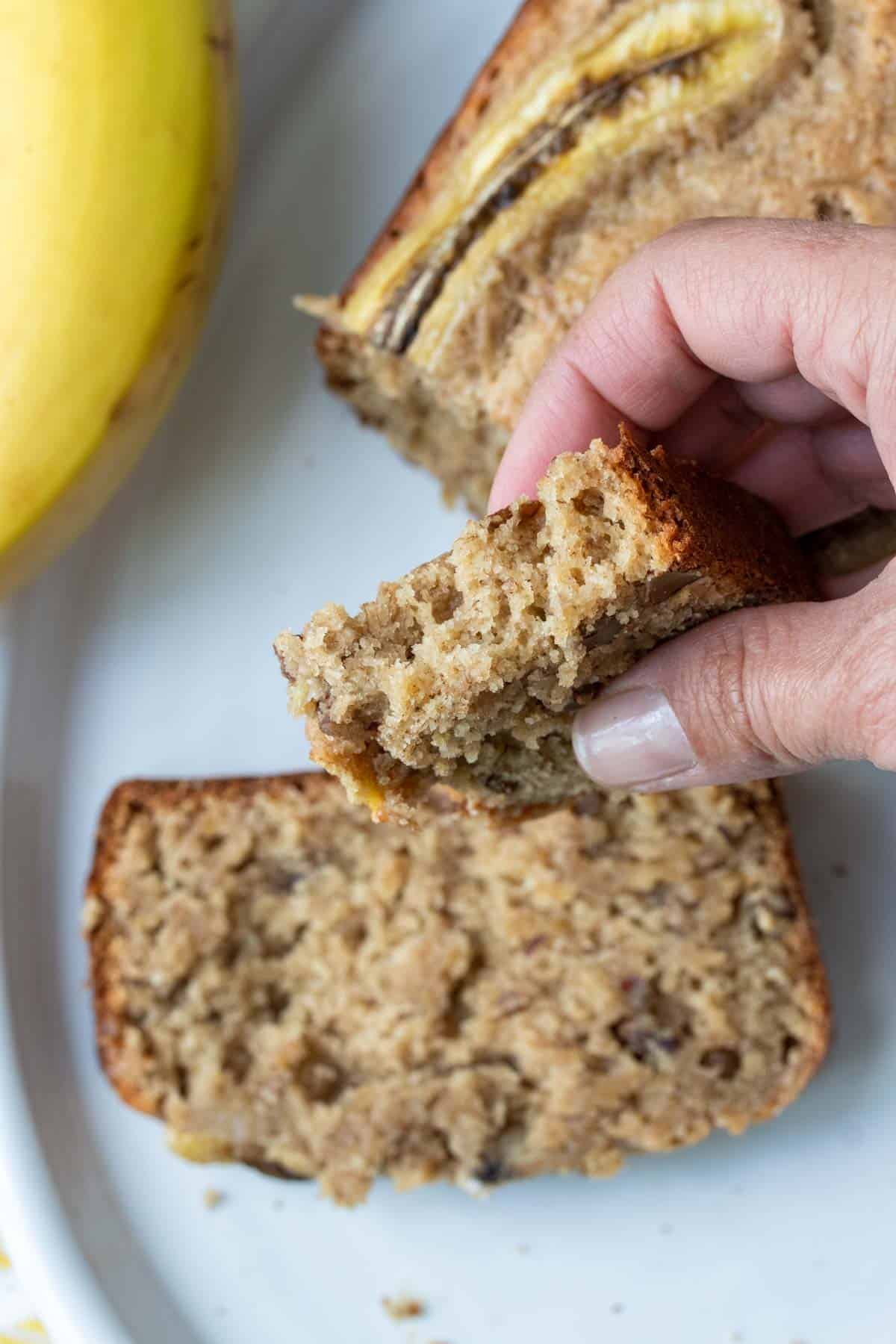 Mix in suggestions
No matter what you choose to add to your gluten-free banana bread batter, stick to about ½ cup. Any more could prevent it from holding together.
Walnuts
Pecans
Dried fruit- cranberries, figs, raisins, etc.
Chocolate chips
Coconut shavings
What to Serve with Banana Bread
You can dress up this gluten-free quick bread with any of the following plant based spreads and sauces:
Preparation Tips
The riper the banana the sweeter the flavor will be. Try to let it ripen so that it starts to get brown patches all over the skin.
Coconut milk is best for a rich and moist end result, but you can use cashew or almond milk as well.
For the best texture you need accuracy with the flours. Which is why I include precise weights. If you don't have a scale, then you can purchase this fairly inexpensive one.
If you prefer to measure, then measure the flours by scooping your measuring cup into the flour versus spooning it into it. This is how I measured when getting my weights.
Make it pretty by topping the batter with a thin slice of banana before you bake it.
Baking Tips
Prepare the loaf pan to avoid sticking. Rub coconut oil spray or other oil all over the inside, on the bottom and on the sides.
Nuts will contribute to the moisture and the bread will need to be baked a little longer if they are used.
Metal pans will reduce the cooking time and the it will brown the outside a little more.
If you are using a glass pan the bread will need to bake longer.
You will know when the bread is done when a toothpick comes out dry with crumbs on it.
Storage Tips
Allow the finished bread to cool completely before slicing. If it's still too warm it will be gummy and mushy.
Seal the cooled bread in an airtight container or wrapped in plastic wrap at room temperature for 3-4 days.
Or, keep the bread in the refrigerator for up to a week.
You can also freeze vegan banana bread for up to 3 months.
Common Questions
What do bananas do in bread?
Not only do bananas add great flavor, but they give baked goods amazing moisture. They act as a substitute for eggs, butter, or oil.
Why does my banana bread sink in the middle?
The main reason banana bread sinks in the middle is that it has not cooked long enough.
How do you know bananas are ripe?
Bananas should be yellow with some brown spots, if there is any green left it is not ripe. It should also be slightly soft, remove from the bunch easily, and is easy to peel.
Does banana bread have to be refrigerated?
It is not necessary to refrigerate banana bread, however it will keep it fresh for a few more days.
Can you freeze banana loaf?
Yes, banana bred can be frozen by sealing in an airtight container for up to 3 months.
How do you know when banana bread is done?
When a toothpick inserted in the center comes out dry with just a few crumbs the bread is done. You can also check with a digital thermometer, the center should be between 200°F and 205°F.
More Vegan Baking Recipes
Create the best treats with only whole food plant based ingredients! Here are some delicious gluten-free recipes to try: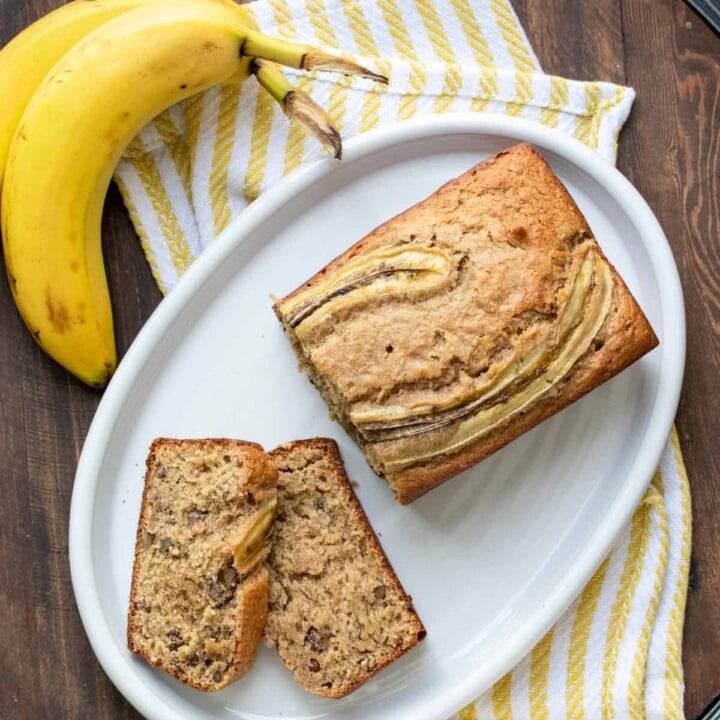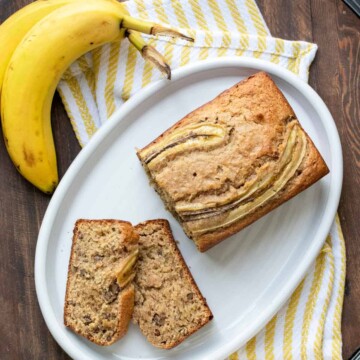 Vegan Gluten-Free Banana Bread Recipe
This vegan banana bread is also gluten-free and so easy to make! It's perfect for the whole family and uses easy to find ingredients.
Ingredients
1 ¼ cups oat flour
¾ cup almond flour
¾ cup cane sugar , see note
1 tablespoon baking powder
1 teaspoon cinnamon
½ teaspoon sea salt
¼ teaspoon ground cloves
1 cup mashed bananas , about 2-3 bananas depending on size (see note)
¼ cup cashew milk (or other low fat carton milk) , or lite coconut milk from the can (see note)
3 tablespoons unsweetened apple sauce
2 tablespoons apple cider vinegar
½ cup chopped walnuts or pecans , optional
Instructions
Preheat oven to 350 F/ 175 C.

Put flours, sugar, baking powder, cinnamon, salt and cloves in a bowl. Whisk well to remove clumps and combine.

Add banana, milk, apple sauce and vinegar. Stir to get a thick batter.

If using nuts, carefully fold them in.

Pour into a prepared loaf pan (I use a little coconut oil spray and rub it around).

Add sliced bananas on the top if desired.

Bake for 45-50 minutes. Until a toothpick comes out dry with crumbs on it. If you use a glass pan instead of a metal one, it may take longer.

Allow it to cool completely. I leave it on the counter for a few hours before cutting. If you cut too soon then it will be gummy and mushy. You can also put it in the fridge.

Enjoy!
Notes
Make sure your banana is nice and ripe, to assure it is sweet enough. You need to mash it well, or blend it so you don't have thick chunks. Be careful though if it is too ripe it may add more moisture and affect the end result. Mine were darker yellow with about 40-50% brown. Also, the amount of bananas will depend on their size. When I used 2 ½ bananas they measured about 6 ½ inches in length. But weighing is most accurate, using a measuring cup is the second most accurate way. Don't base it on the amount of bananas as that is just a guide for when you are shopping.
I tried the recipe using canned lite coconut milk, and also tried it with cashew milk in the carton. With the coconut milk it came out richer but I loved how light and fluffy it was with the cashew milk. So either works but the cashew milk (or another lower fat carton milk) will give a lighter texture.
If you use the nuts it will be a little more moist, so you may need to bake a touch longer.
You can top the batter with a thin slice of banana before you bake it for aesthetic purposes.
If you bake in a metal pan it will brown more on the outside, and take a little less time to bake than if you use a glass pan. If you use glass make sure to bake until the top is just browning and the sides are brown and pulling away from the pan.
Recipe by Veggies Don't Bite, visit our site for more great plant-based recipes.
Nutrition
Calories: 291kcalCarbohydrates: 42gProtein: 6gFat: 12gSaturated Fat: 2gPolyunsaturated Fat: 4gMonounsaturated Fat: 1gCholesterol: 1mgSodium: 137mgPotassium: 363mgFiber: 4gSugar: 23gVitamin A: 22IUVitamin C: 3mgCalcium: 109mgIron: 2mg
Nutrition and metric information should be considered an estimate.
Never miss a recipe!
Sign up here and get a FREE quick and easy meal guide!