Hidden gluten can wreak havoc on gluten sensitive bodies, so I am making it easier to find! All the info you need to eat without worry.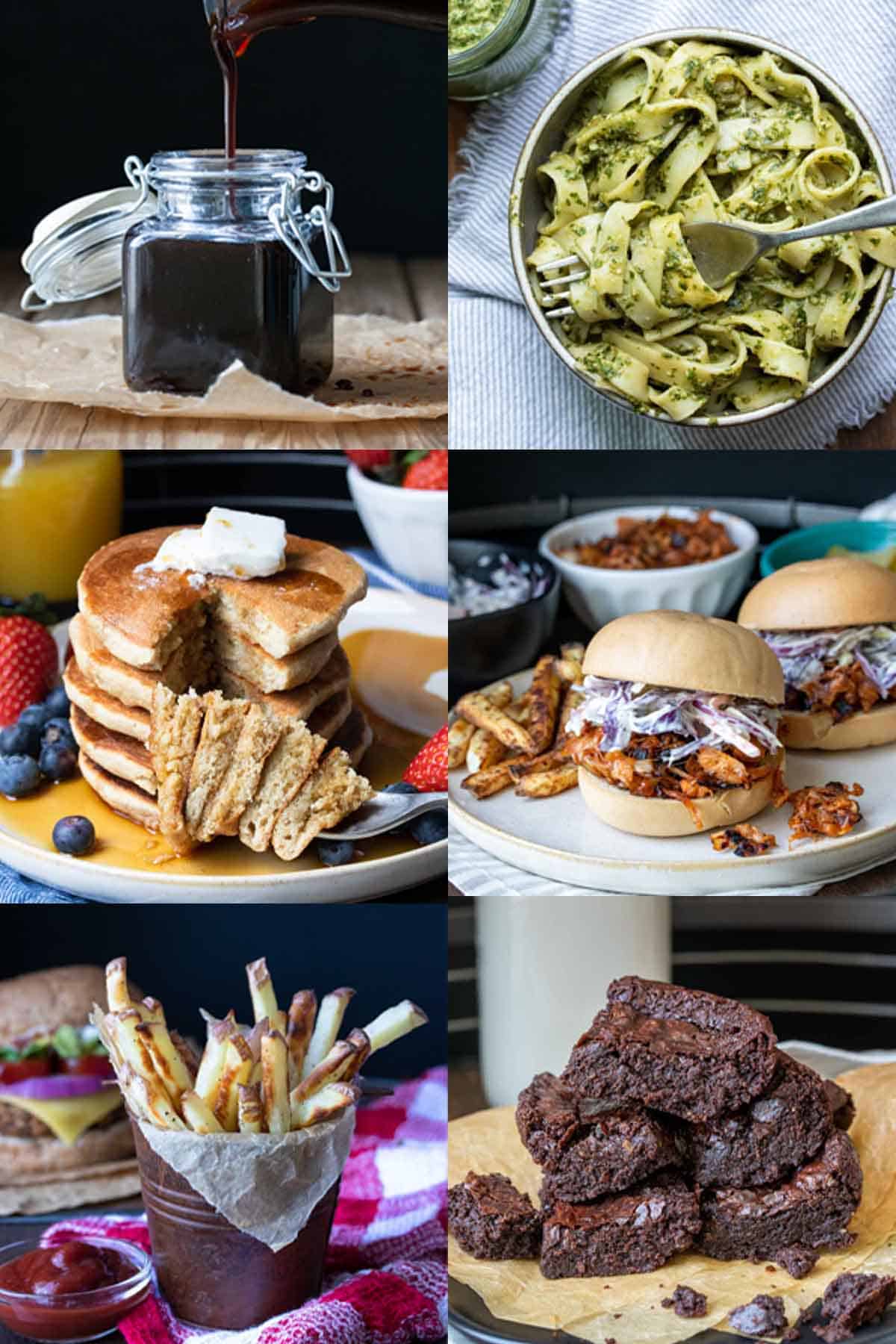 When you have dietary restrictions, it can get really stressful when it comes to meals. Since I cannot eat gluten, I feel this deep! Even cooking at home can be stressful because I still need to watch what I buy from the store.
Gluten naturally occurs in wheat, barley, and rye. These grains are common in many foods due to their ability to bind and thicken.
Because of these properties it is used in many recipes, and it is in many store bought foods that may otherwise be gluten-free. Below you will find a complete guide of what foods have gluten, and what to look for when shopping at the store.
Foods that Contain Gluten
Once you know that gluten comes from wheat, it's pretty easy to guess what foods have it. However, it can find its way into many things you may not even realize.
Common Foods with Gluten
Pasta and noodles. This includes spaghetti, fettuccine and other pasta shapes, as well as couscous, gnocchi, and ravioli. Also be aware of ramen, soba, and udon noodles.
Breads. Unless it is specifically gluten-free, most breads are made with wheat.
Baked goods and pastries. Cookies, cakes, croissants, rolls, donuts, etc, often contain wheat. Also classic pancakes, waffles, French toast, and crepes have gluten.
Snacks. Crackers, pretzels, graham crackers, and goldfish are all common ones to look out for.
Tortillas and tortilla chips. Flour tortillas specifically. Corn tortillas and chips can be gluten-free, but make sure to check the label to make sure.
Soups. Many creamy soups use flour as a thickener, or could contain barley.
Condiments. Soy sauce, ketchup, mustard, BBQ sauce, gravy, and salad dressings all have the possibility of being made with gluten and the labels should be read carefully.
Foods to Keep an Eye Out For
Occasionally some seemingly gluten-free foods can trick us. They can have gluten due to cross contamination, or it could be included for flavor, as a binder, or thickener.
Granola, cereal, and oats. Granola and oats themselves are gluten-free but other ingredients could have it, or it could be contaminated.
Bars. Granola bars and other snack bars may have wheat.
Fried food. Some fried food, including french fries, can be coated in a batter.
Potato chips. The flavoring can have malt vinegar or wheat starch.
Candy. A lot of candy can have gluten, especially candy bars and licorice.
Meat alternatives. Many plant-based meats have gluten filled ingredients.
Alcohol. Unless otherwise specified, beer, malt beverages, wine coolers, and some dessert wines will have gluten.
Medication and supplements. It can be used sometimes as a filler or coating, so if you absolutely can't have gluten make sure to check the label.
Flavorings. Coffees, creamers, ice cream, snacks, candy, etc. are all possible culprits.
How to Read a Label to Look for Gluten
Gluten goes by many more names than wheat, rye, or barley. Check your labels carefully and keep and eye out for these ingredients:
Bulgur
Semolina
Farina
Wheatberries
Durum
Emmer
Farro
Spelt
Graham
Triticale
Brewer's Yeast
Wheat Starch
Malt
Seitan
Udon
Einkorn
Khorasan
Common Questions
Where is hidden gluten found?
Gluten can be found in foods with flavorings and fillers such as processed meats or meat alternatives, snacks, candy, and condiments.
What naturally contains gluten?
Gluten is always found in wheat, barley, and rye.
What is gluten listed as in ingredients?
Gluten filled ingredients go by many names. In addition to wheat, rye, and barley, look for forms of malt, bulgur, durum, and semolina. See above for more hidden gluten ingredients.
Gluten-Free Alternatives
Since so many store bought foods can contain gluten, making your own homemade versions is a great way to keep things gluten-free. Here are some safe versions of classically gluten-filled recipes (Bonus, they're all plant-based as well!):