This vegan gluten-free zucchini bread is easy to make and tastes delicious! It's easy to make and perfect for the whole family.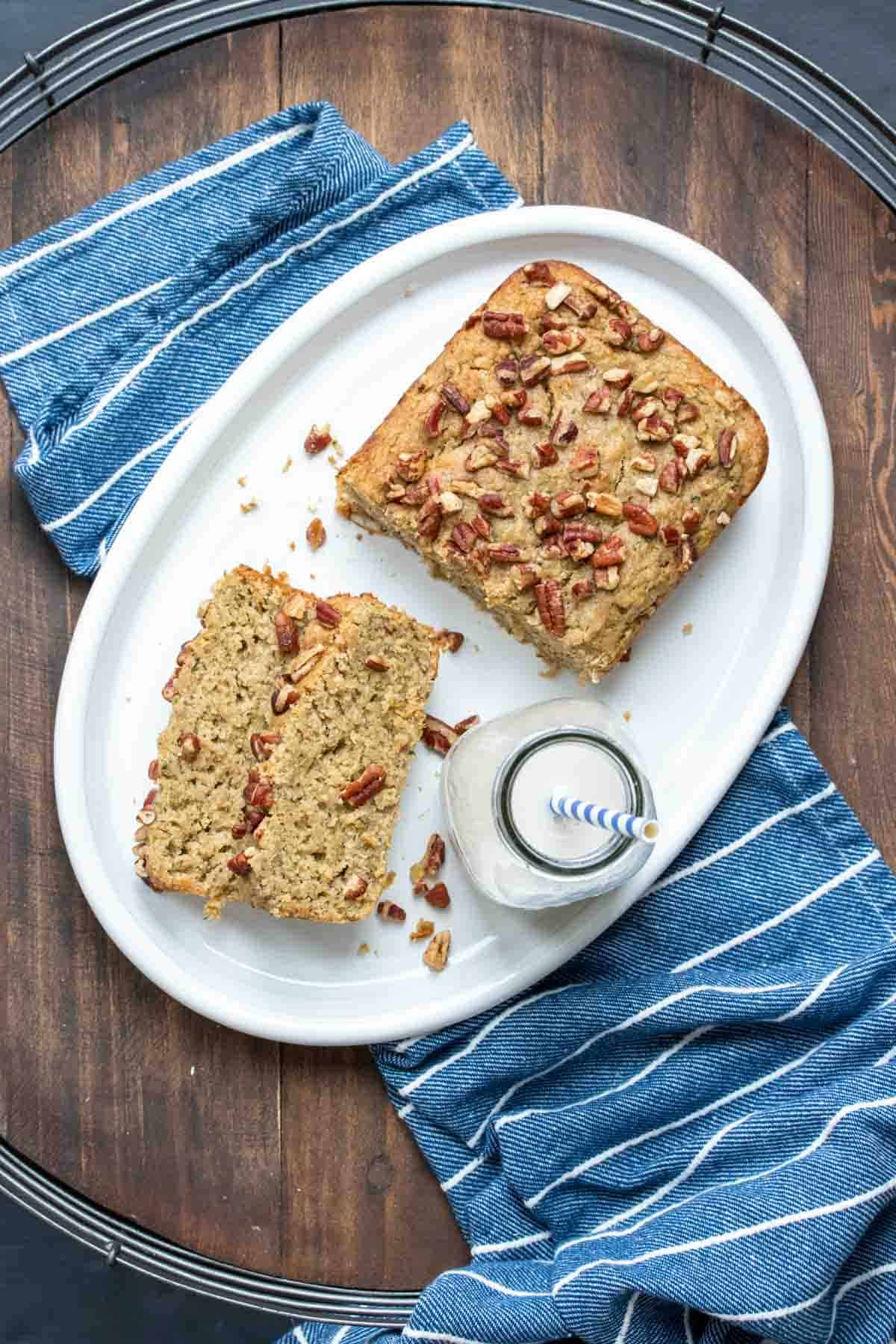 This is one of my top ways to get those extra veggies into my kids. While we love it as a bread, this works great as muffins too!
It's great for a quick breakfast, an afternoon snack, or even dressed up for dessert! Once you get the base down you can experiment with a variety of mix ins to enjoy a different flavor each time you make it. No matter if you make it plain or with a little something extra you're sure to love this quick bread!
Ingredients
In order to make this vegan and gluten-free zucchini bread you will need to gather the following ingredients:
Oat flour
Zucchini
Apple sauce
Dairy free milk
Apple cider vinegar
Sugar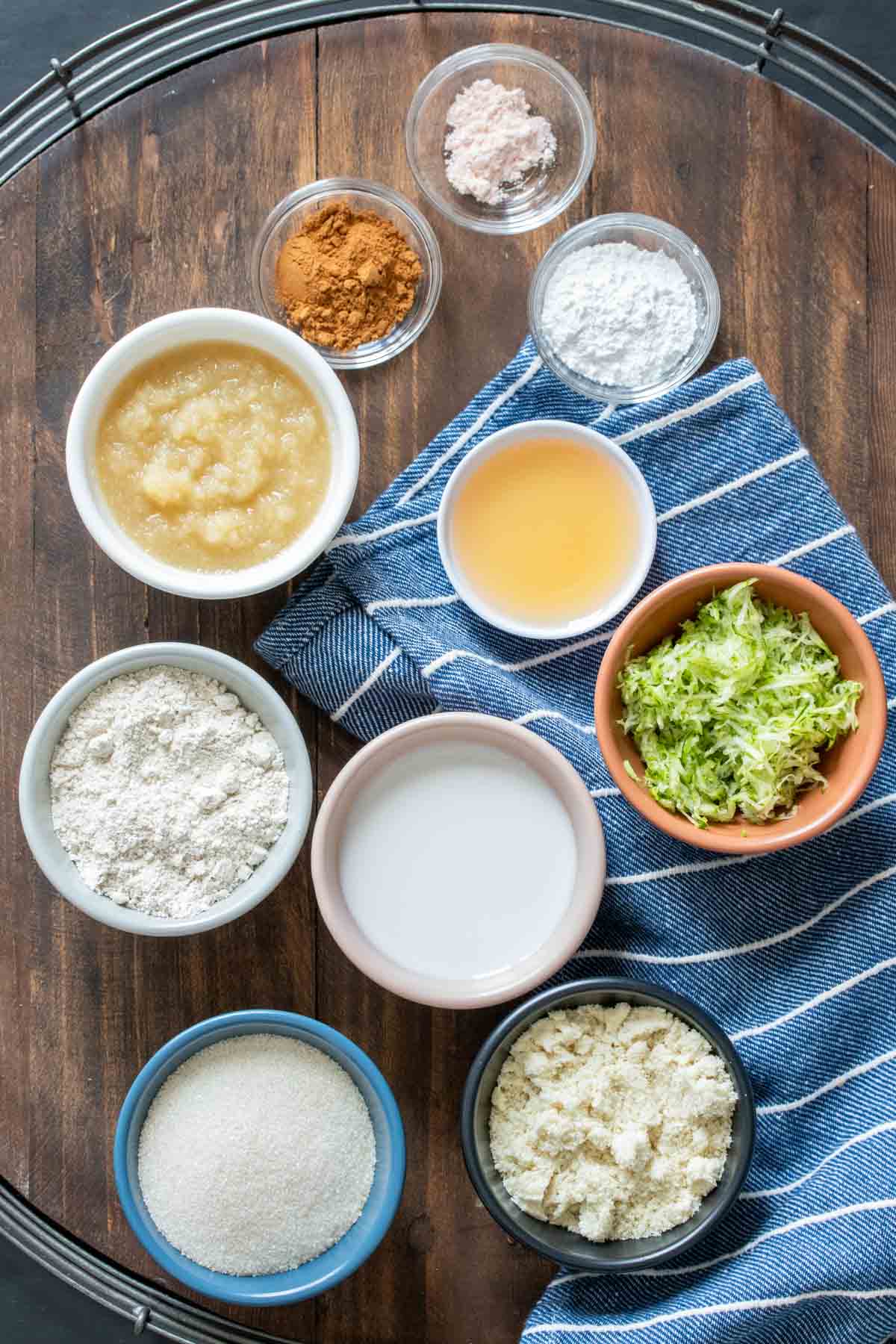 How to Make Gluten-Free Zucchini Bread
This vegan zucchini bread is simple to make with a few easy steps. Here's what to do:
Whisk dry ingredients.
Mix in the zucchini and wet ingredients.
Pour into a prepared loaf pan and top with nuts if using.
Bake.
Dig in!
Flavor suggestions
Get creative and add more texture and taste with mix ins! Include a cup or less of any of the following:
Nuts like pecans, walnuts, or pistachios
Chocolate chips
Raisins or other dried fruit
Coconut
Whether you're enjoying this bread for breakfast, a snack, or dessert, pair it with any of these spreads to finish it off with even more deliciousness:
Tips and Tricks
For the best vegan gluten-free zucchini make sure to follow these suggestions:
Squeeze all of the extra water out of the zucchini to avoid a gummy texture in the bread. It's also best to measure and weigh it after the moisture has been removed.
It will take a second to create the thick batter so keep mixing, the zucchini will add moisture as you stir.
Cashew milk or another dairy free milk is best. Avoid coconut milk in a can though since the fat content is too high and will result in gummy bread.
Start with just 2 tablespoons milk and once you've completely mixed in the zucchini add a little more at a time as needed.
You can also make this recipe in a muffin pan for individual portions. The bake time will change though so start checking them after 30 minutes.
Prepare your loaf pan before filling it with coconut oil spray or your favorite oil.
The zucchini bread is done when the top is browning and a toothpick comes out dry with crumbs on it.
Make sure to let the bread cool completely before slicing it to retain the texture.
Store the bread in an airtight container at room temperature for up to 3 days, or up to 1 week in the refrigerator.
You can also freeze it by sealing it in a freezer safe airtight container for up to 3 months.
Common Questions
Do you peel zucchini before making zucchini bread?
It is not necessary to peel zucchini before grating it for zucchini bread. It will cook in and be totally unnoticeable in taste yet will add pretty hints of green color in the bread.
What does zucchini do in bread?
Not only does zucchini add extra nutrients to baked goods, but it also creates a perfectly moist texture.
Why does my zucchini bread sink in the middle?
There are a few reasons this can happen. First off, if your batter is too wet the middle could sink, so make sure you squeeze as much of the moisture from the zucchini as you can. Also, use the correct size loaf pan, too small of a pan will cause bread to sink in the middle. Lastly, follow the instructions for baking, if your oven is too hot the bread will rise too quickly then fall.
How do you Grate zucchini for bread?
Cut one end off of the squash and use a cheese grater to create shredded zucchini.
Does zucchini bread have to be refrigerated?
It is not necessary to refrigerate zucchini bread, but it will extend the shelf life to one week.
Can you freeze zucchini loaf?
Yes you can! Just seal the bread in an airtight container and place in the freezer for up to 3 months.
How do you know when zucchini bread is done?
The top should be golden brown and a toothpick when inserted into the middle comes out clean with a few crumbs.
More Vegan Baking Recipes
Once you know how easy it is to create indulgent baked goods that are plant based and gluten-free the next part of your life begins! Here are more recipes I know you'll love: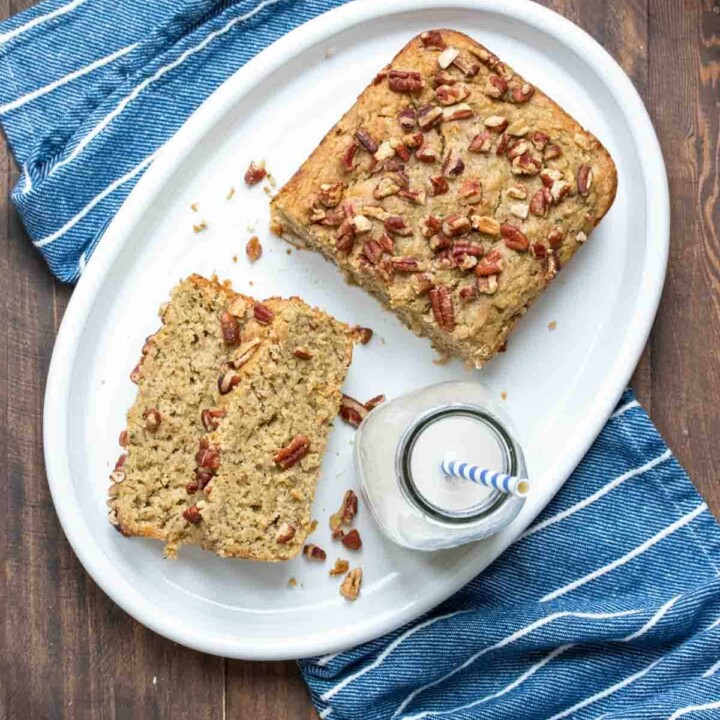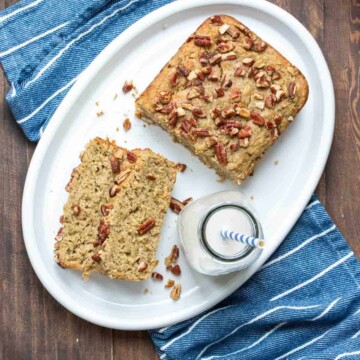 Vegan Gluten-Free Zucchini Bread
This vegan gluten-free zucchini bread is easy to make and tastes delicious! It's easy to make and perfect for the whole family.
Ingredients
1 ¼ cup oat flour
¾ cup almond flour
¾ cup cane sugar , see note
1 tablespoon baking powder
2 teaspoons cinnamon
½ teaspoon sea salt
1 ½ cups grated zucchini , squeezed with a paper towel (about 2 zucchini, see note)
2-4 tablespoons dairy free milk , I used cashew (see note)
3 tablespoons unsweetened apple sauce
2 tablespoons apple cider vinegar
Pecans or walnuts , to top (optional)
Instructions
Preheat oven to 350 F/ 175 C.

Put flours, sugar, baking powder, cinnamon and salt in a bowl. Whisk well to remove clumps and combine.

Make a well in the middle and add the zucchini, milk, apple sauce and vinegar. Mix to form a thick batter. It may seem dry at first, but keep mixing. The zucchini will add moisture as you mix it and it will turn into a thick batter.

Pour into a prepared loaf pan (I use a little coconut oil spray and rub it around). If you want, you can top with some nuts.

Bake for 36-40 minutes. Until the top is browning and a toothpick comes out dry with crumbs on it. If you use a glass pan instead of a metal one, it may take longer.

Allow it to cool completely. I leave it on the counter for a few hours before cutting. If you cut too soon then it will be gummy and mushy. You can also put it in the fridge.
Notes
You want to make sure to squeeze the zucchini well to get the water out, if you don't it will be gummy in texture. I measure and weigh it after I squeeze it out.
Don't use coconut milk in a can as the fat content is too high and it will make it gummy.
Start with 2 tablespoons milk and mix well to get a batter. If you can't get a batter after stirring until all the dry ingredients are mixed in then add 1 more tablespoon at a time until you get the batter. The amount varies with how much water you got out of the zucchini. See the photo in the post for what your batter should look like.
We love these even better made in a muffin pan. Start checking them at 30 minutes.
Recipe by Veggies Don't Bite, visit our site for more great plant-based recipes.
Nutrition
Calories: 218kcalCarbohydrates: 36gProtein: 5gFat: 7gSaturated Fat: 1gPolyunsaturated Fat: 1gMonounsaturated Fat: 1gSodium: 142mgPotassium: 291mgFiber: 3gSugar: 20gVitamin A: 50IUVitamin C: 4mgCalcium: 111mgIron: 1mg
Nutrition and metric information should be considered an estimate.
Never miss a recipe!
Sign up here and get a FREE quick and easy meal guide!