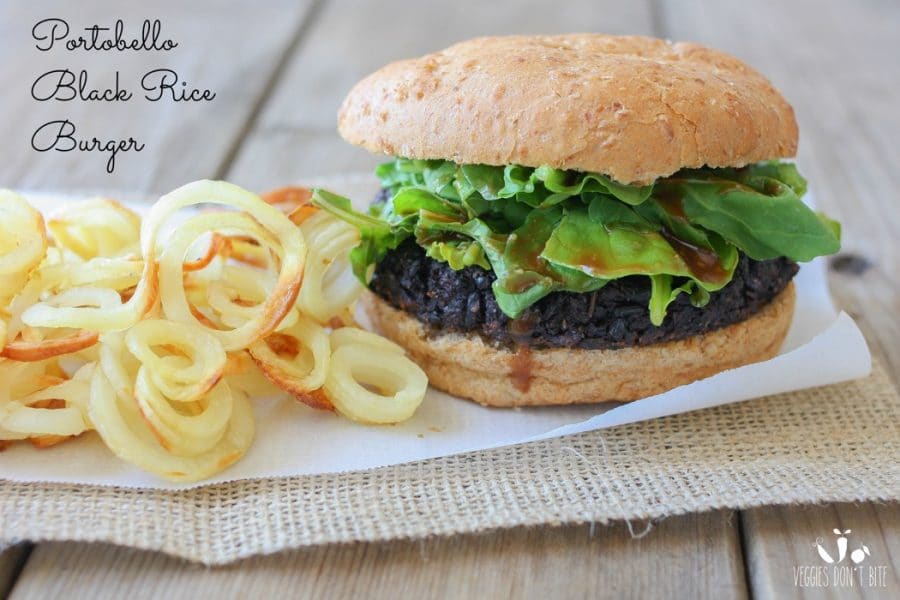 I am slightly obsessed with creating veggie burgers. Maybe it's because I have had so many awful ones, I'm not really sure, but one thing I know is that I love them! I have wanted to create a portobello burger for a while, but I wanted it as more of an ingredient versus the main burger itself. Needing a binder, I turned to black rice for its sticky consistency, sweet nutty flavor and powerful antioxidants. It worked fabulous and didn't fall apart at all, which is a sign of a good veggie burger. I haven't tried grilling these on the barbecue yet, but I bet they'd hold up well! Plus I love that the deep dark color of this rice gives you so many amazing nutrients! Filled with the same antioxidants found in blueberries and other deep dark foods, this rice is a great choice for any recipe.
I kept the seasonings simple in order to showcase the natural flavor in these burgers. Black rice is delicious, especially if cooked with veggie broth instead of water. It pairs really well with portobello mushrooms and the shallots and thyme add an extra level of flavor. I also hid some kale in here, because why not?! I used baby kale to avoid a strong taste, but you can also de-stem regular kale.
Because there is a hint of sweetness to the black rice I used, I wanted a topping that would complement it well. Putting my thinking cap on, I came up with a super simple and really delicious combination: miso and balsamic vinegar! I used chickpea miso and mixed it well with some balsamic, the result with an amazing flavor that made my taste buds happy. Sweet, tangy and the perfect dressing for some spicy arugula. This topping turned my burger from every day barbecue to gourmet lunch!
This dinner was a hit in our house, my kids loved the black rice and kept asking for more! So if you're tired of the same old bean based veggie burger give these a try! You won't be sorry.