An easy vegan remoulade with a cajun flair made with whole food ingredients. You will never know there is no mayo or oil!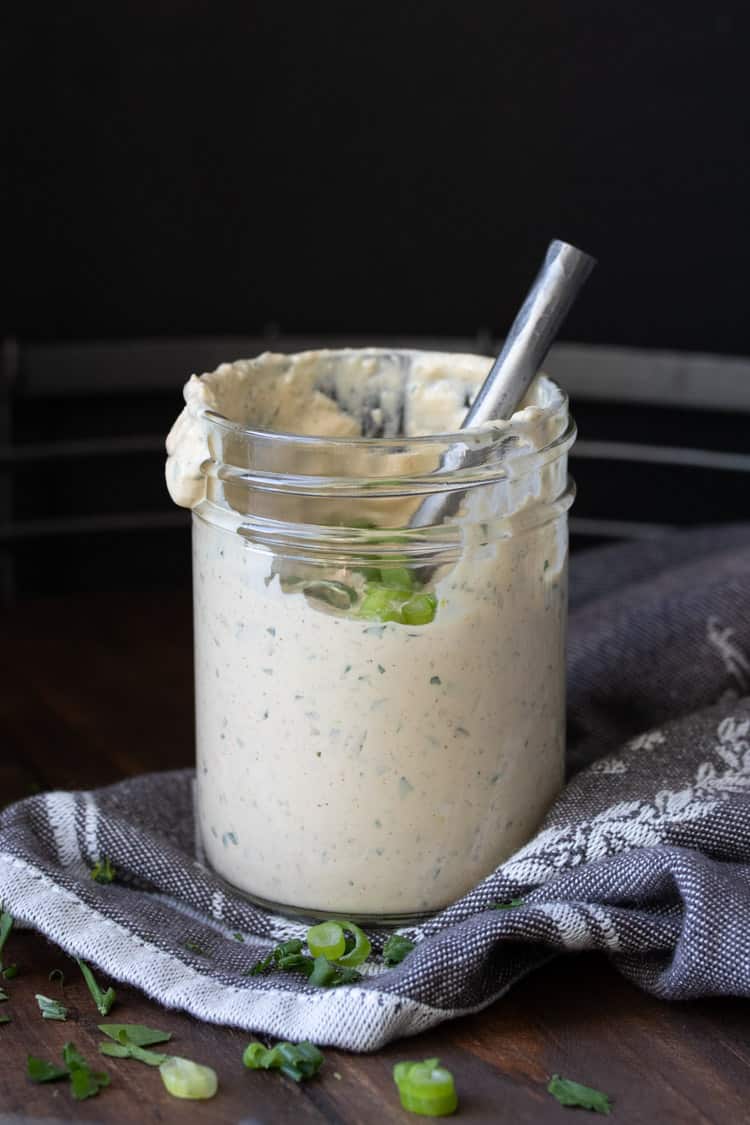 Sauce is the finisher of every meal. It takes recipes from good to incredible. And like everything I try and create, I love when I can put together a vegan sauce made with wholesome ingredients and you can't even tell!
Vegan Remoulade Sauce
One thing this website isn't short on is vegan sauce. I have more in my recipe notebook at home that aren't even on this website, you can say I'm slightly obsessed.
Since I didn't have a remoulade, I decided I needed to create one. I feel like remoulade is different almost anywhere I have it, so many kinds and flavors. So I stuck to a recipe based off of a cajun remoulade I had a while back that was so good I licked the bowl!
What is remoulade sauce made of?
Traditionally remoulade is mayo based, and it can definitely be made with a vegan mayo. In fact, I have one in my cookbook! So when creating this vegan remoulade recipe, I used that as a guideline, keeping the ingredients whole food based without any added oil.
The other components of a cajun type remoulade are different depending on the recipe, but here is a list of the most common ones I have seen:
mustard
hot sauce
pickles
parsley
green onions
garlic
lemon juice
What is vegan mayo made of?
There are many different vegan mayo recipes out there, but after experimenting with a variety of things, I found using cashews worked the best. Paired with lemon a distilled white vinegar for tang gave my vegan mayo recipe that perfect flavor.
However in this vegan remoulade, I swapped out the vinegar with pickle juice so that I could achieve the flavor I wanted.
What is the difference between aioli and remoulade?
Both recipes use mayo as a base. Aioli heavily relies on garlic as another main ingredient. There are many other aioli variations now, adding a variety of flavors, but the base of mayo and garlic stays the same.
Remoulade however uses other ingredients to get it's signature flavor. Things like pickles, green onions, mustard, hot sauce and lemon all help contribute.
How do you store vegan remoulade?
I store my sauce in an airtight container in the fridge. You can also store it in a glass jar with an air tight lid. Depending on the ingredients, it may go bad faster. But since my recipe is all whole foods, and no dairy, it lasts a good amount of time.
How long can you keep remoulade sauce?
It lasts about 7-10 days, if you don't eat it before then. I also freeze mine. I put it in a glass container, then layer a piece of plastic wrap over the top making sure that it makes a seal with the sauce. Then put an airtight lid on. This keeps it from getting freezer burn!
How to Make Vegan Remoulade
This is as easy as dump and blend! I love how simple it is to make, but still keeps it on the healthier side.
Blend all ingredients except the parsley, pickles and green onions.
Pulse everything else in.
Serve!
What does remoulade go well with?
For me, I can eat just about anything with a sauce! Whether I use it as a dip, pour it over greens as a dressing, or drizzle it over my meal...I'm all in. Here are some recipes and ideas on how to use this vegan remoulade: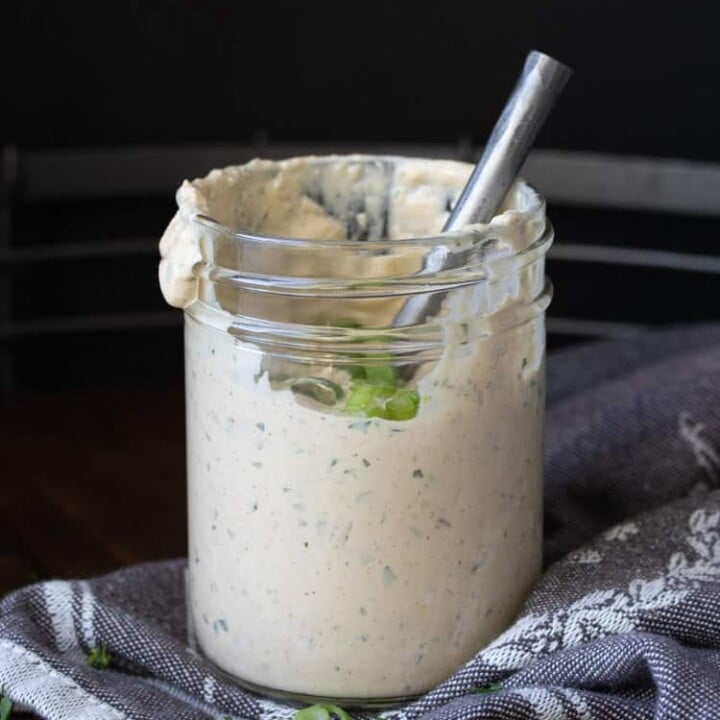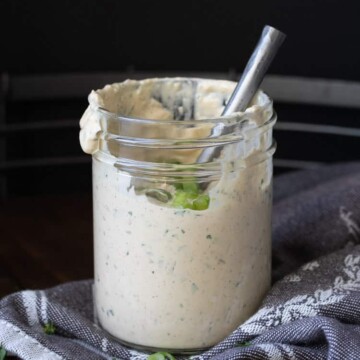 Cajun Vegan Remoulade Sauce
An easy vegan remoulade with a cajun flair made with whole food ingredients. You will never know there is no mayo or oil!
Instructions
Add the cashews, water, pickle juice, lemon, hot sauce, garlic, mustard and salt to a blender.

Blend on high until smooth

Add the onions, pickles and parsley to the blender.

pulse until well chopped and incorporated.
Notes
If you are not using a high speed blender, you can soak the cashews overnight, boil them for 30 minutes or grind the dry cashews into a fine powder using a coffee grinder (do not boil them for this method).
Stone ground mustard gives the best flavor but you can also use dijon.
I did not need extra salt but you may if your pickles are not very salty.
Recipe makes 2 ½ cups. Serving size is 2 tablespoons.
Recipe by Veggies Don't Bite, visit our site for more great plant-based recipes.
Nutrition
Calories: 96kcalCarbohydrates: 6gProtein: 3gFat: 7gSaturated Fat: 1gSodium: 146mgPotassium: 130mgFiber: 1gSugar: 1gVitamin A: 158IUVitamin C: 4mgCalcium: 13mgIron: 1mg
Nutrition and metric information should be considered an estimate.
Never miss a recipe!
Sign up here and get a FREE quick and easy meal guide!