Is there a connection between diet and menopause? There is a lot we can do as women while we go through this big change in our life!
Join us today as we chat with a triple board satisfied OBGYN all about menopause and how we can tackle this time in our life to make it through in the best way possible!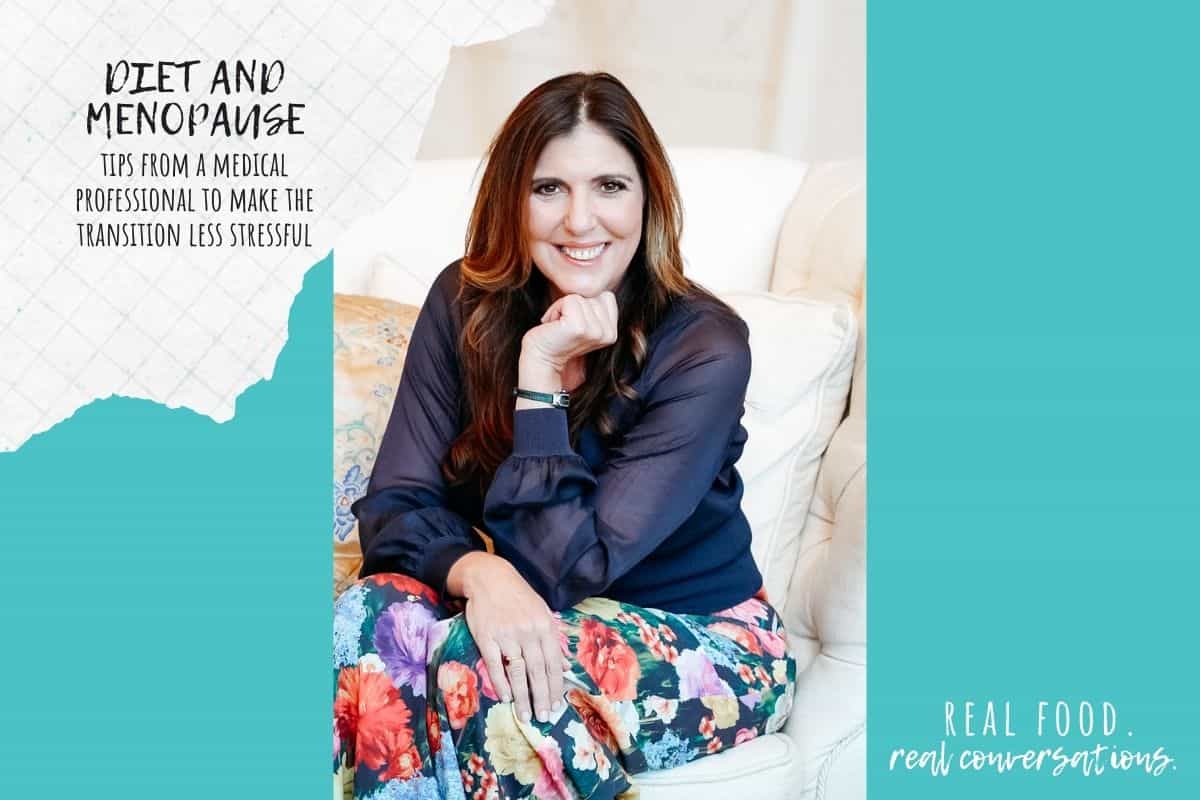 Having been through menopause myself (I was an early adopter yay me LOL!), this topic is such an important discussion to have. Learning the tools to navigate menopause in a way that works for you is the best thing you can do!
Podcast: Play in new window | Download | Embed

Subscribe now! Apple Podcasts | Google Podcasts | iHeartRadio | Stitcher | TuneIn | Deezer | RSS | More
Dr. Anna Cabeca, DO, OBGYN, FACOG, is triple-board certified and a fellow of gynecology and obstetrics, integrative medicine, and anti-aging and regenerative medicine. She has special certifications in functional medicine, sexual health, and bioidentical hormone replacement therapy.
For the past 20 years, she's served 10,000+ women in her private practice— and millions more through her books, online videos and articles.
When her own health took a troubling turn during menopause, she sought out the wisdom of healers around the world. She learned that modern medicine and time-tested natural remedies are not at odds. Working together, they create indisputable results and true well being. Using delicious, healing foods and simple lifestyle changes, Dr. Anna reclaimed her health and life.
Fueled by her belief that every woman deserves to be empowered and in control of their health and life, she developed the Keto-Green lifestyle, which has helped thousands of women opt out of menopause misery and experience a joyful transition to the next stage of their lives. With her methods, you, too, can breeze through menopause into your "second spring", feeling the best you ever have.
What is Menopause?
While many think menopause is a period of time, it actually isn't. Menopause is the actual day that is 12 months from your last period.
There are different stages you go through around the day of menopause, these are known as peri menopause and post menopause.
This is a time of neuroendocrine vulnerability, your glucose uptake increase and your progesterone plummets. This can begin as early as our mid 30's and comes with a multitude of symptoms.
Symptoms
The symptoms during the stages of menopause can vary from person to person and in severity. Because we are all different, we can't pinpoint the exact things we will go through, but here are some common signs:
hot flashes
mood swings, depression and anxiety
weight gain
sleep disturbances and insomnia
irregular menstrual cycles
changes in hormones as seen through blood work
Stages of Menopause
As we said, the actual name menopause is the day that lies 12 months since your last period. Here are the stages that lie before and after that day:
Pre menopause- this is the period before any symptoms of peri menopause begin. This is the time of main reproductive years for women.
Peri menopause- this is the period of time when you are experience menopausal symptoms. It can be anything mentioned above and on average starts anywhere between 35-55.
Menopause- the day that is exactly 12 months from your last period.
Post menopause- this is the period of time after the day of menopause.
However this all can be tricky because the terminology needs some work. For example, what happens when you've had a hysterectomy? Are you in post menopause even though you haven't naturally entered that stage? More work needs to be done in this area.
How long does menopause last?
The main stage of menopause, which is peri menopause, can last anywhere from 5-15 years.
This again can vary from woman to woman.
What Is the Best Diet for Menopausal Women?
There are a lot of opinions when it comes to women and menopause, especially in the diet area. But according to Dr. Anna and the work she has done, she treats her patients with a keto green diet.
This consists of:
dark green leafy greens
no sugar
low carbohydrates
foods that support a gut microbiome
fiber
fermented foods
Intermittent fasting,
avoid snacking, and instead eat 2-3 meals a day
What foods make menopause worse?
When you go through menopause, you have an increased risk for things like diabetes because as you go through menopause, you become more insulin resistant. Because of this, sugar and carbohydrates should be watched.
Choosing lower glycemic foods instead of higher glycemic foods is preferred.
Also, watching the quality of the food you eat. HIgher quality foods will give your body more of what it needs.
Another thing to be careful about is foods that contain gluten and dairy as they can lead to inflammation.
Treatments for Menopause
There are many ways to approach treating menopause, not just relying on a pill or a surgery. Here are a few things that Dr. Anna does to treat the women she works with:
Diet- look at what you're eating and change things up to things that help you get through this stage of life.
From peri menopause and beyond we want to support our bodies natural production of progesterone, so anything that will decrease cortisol, increase oxytocin and support the adrenal glands will help this.
Lifestyle factors to support all of this like gratitude journaling, getting good sleep and getting out in nature.
Adding supplements to your diet, like Dr. Anna's superfood formula Mighty Maca Plus (increases natural DHEA production).
Use a bio identical progesterone. This comes in topical and oral form. This helps you get sleep, helps brain, bones, etc.
Overall, just be careful with research and strategies you find. Look into who funded it and who it was based on, and make sure to see a licensed medical professional.
Hormones
We already talked about the need to become more insulin sensitive and make sure our diet and lifestyle keeps this into account. But there are other hormones we should focus on as well:
DHEA- from the adrenal glands and is for sexual health, energy, etc
Testosterone
Estrogen
Oxytocin which allows us to experience joy, laughter, love and connection
Cortisol which comes from stress
All of these can be dealt with through dietary and lifestyle changes. If we pay attention to what we eat, and live a life that practices mindfulness and avoid stress, we can make a lot of amazing changes in our bodies as we experience menopause.